CBD Oil for Tinnitus: Does Cannabis Help Ears Ringing Symptoms?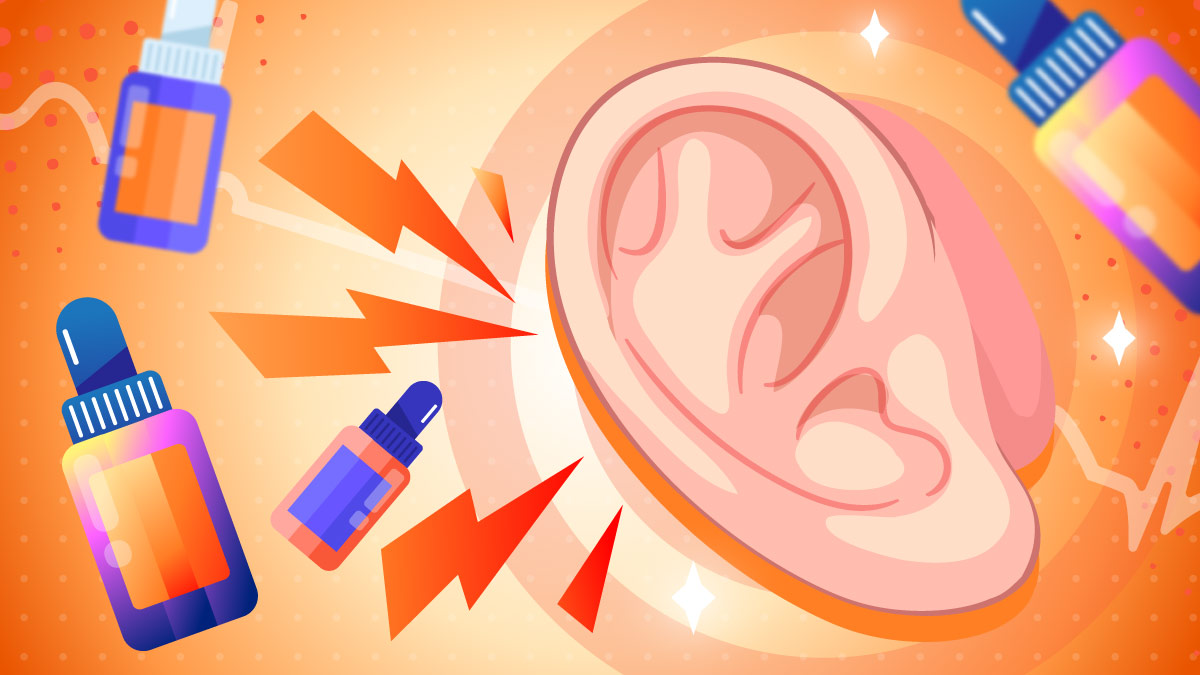 Medical researchers are still trying to figure out what could potentially cure tinnitus, an annoying audiological and neurological condition that affects over 50 million Americans. Tinnitus sufferers also struggle with the side effects of their condition, such as anxiety, sleep deprivation, and depression.
People are generally left to seek out whatever remedy they can find. For some, cannabidiol, also known as CBD, appears to be the light in the tunnel.
If you or someone close to you suffers from tinnitus, this article will explain the possible benefits of using cannabinoids for this condition. We'll also discuss whether or not CBD or any other cannabinoid can deteriorate your tinnitus, and most importantly, what studies are saying in this regard.
What You Need to Know About Tinnitus
As mentioned at the beginning of this article, over 50 million Americans suffer from tinnitus, a condition commonly known as "ringing in the ears." Tinnitus occurs when a person starts hearing sounds close to the head without an actual source of that sound. Tinnitus also manifests as ringing, buzzing, or hissing. The ringing can come and go at times, or it can be persistent. Sometimes, tinnitus can indicate hearing deterioration.
Causes of Tinnitus
Tinnitus may be caused by various events, including:
Excess ear wax
Exposure to loud noises
Head and neck injuries
Damage to the inner ear
Ear infections
Certain medications
These common triggers may lead to the disruption of normal nerve signals that travel to the brain through the hearing pathway. As a result, the brain is fooled into thinking that it receives a ringing or buzzing sound.
There's also a phenomenon known as subjective tinnitus, which has no identified cause. In cases of subjective tinnitus, some researchers suspect that the brain becomes hyperactive in certain regions, similar to seizures. Regardless of the cause, 50% of people with tinnitus also suffer from depression resulting from the negative impact of the noises on their daily life.
Conventional Tinnitus Treatment Options
Determining the go-to tinnitus treatment depends on the underlying cause. Given this, the first step in effectively managing this condition is identifying the cause through imaging and medical testing.
For example, if the blood vessel is creating pressure on a nerve, the stress can get alleviated through surgery.
Unfortunately, the reason for the majority of tinnitus cases is unknown. In these cases, doctors aim at reducing the symptoms of their impact on the person's quality of life. Most treatments for tinnitus and subjective tinnitus vary when it comes to the consistency of results.
Can CBD Help Treat Tinnitus?
CBD is extracted from the Cannabis Sativa plant, specifically from the hemp species. In its oil form, it can be taken sublingually (under the tongue) or added to food. Unlike THC, the second major compound in cannabis, CBD won't get you high because it doesn't have intoxicating properties.
The legal status of CBD is a bit foggy. CBD oils extracted from hemp are legal in all 50 states under the 2018 Farm Bill, while marijuana-derived CBD oil is allowed only in places that have medical or recreational marijuana laws. Moreover, hemp-derived CBD oil doesn't require a doctor's prescription.
In recent years, CBD has been touted for its therapeutic versatility. Its use in tinnitus — particularly in terms of subjective tinnitus — is being investigated by scientists. The reason why medical researchers are interested in testing the efficacy of CBD for tinnitus lies in limited evidence suggesting subjective tinnitus is triggered by an overactive brain.
Medications that are prescribed to calm the brain down, such as those for ADHD or seizure disorders, are sometimes recommended by doctors to patients with subjective tinnitus. However, these drugs have several dangerous side effects that are often worse than the condition.
Since CBD can mitigate the brain's hyperactivity, it could potentially help with tinnitus symptoms as well. What's more important, CBD can do it without the aforementioned side effects.
Researchers believe that CBD works similarly to anti-seizure drugs because it changes the activity of the CB1 receptors in the brain. This triggers the release of chemicals such as GABA, which have a calming effect on the brain, slowing down the firing of neurons (1). However, these results come from preliminary research; the effects of CBD on tinnitus haven't been yet investigated.
Related: Best CBD Gummies for Tinnitus
CBD for the Side Effects of Tinnitus
Although CBD may not help the tinnitus itself, it may alleviate some of its pesky side effects, such as anxiety and depression.
The aforementioned release of the GABA neurotransmitter can help with anxiety in people with tinnitus because it somehow calibrates their brain to not overreact upon experiencing regular stressors or tinnitus triggers for that matter.
Another way in which CBD may help with the side effects of tinnitus is through the modulation of the serotonin receptors in the brain (2). Serotonin is an important neurotransmitter that controls our emotions, mood, and feelings of well-being. Low levels of serotonin are associated with the development of anxiety and depression. CBD can help the brain effectively use the circulating serotonin concentrations in the blood by preventing its early breakdown. This works in a similar manner to selective serotonin reuptake inhibitors (SSRI) that are prescribed to people with depression.
If you suffer from sleep deprivation or insomnia, CBD may come in handy too. Research shows that CBD not only regulates our circadian rhythm (sleep-wake cycle) but it also may regulate REM stage disorders and extend the duration of the deep sleep stage (3). As a result, people who take CBD may go through more sleep cycles in a shorter time.
How to Use CBD Oil for Tinnitus
Like we said, CBD has become the go-to natural remedy for a wide range of ailments, from anxiety to pain & inflammation, depression, digestive issues, and skin health.
Since demand breeds supply, the increasing popularity of CBD has given rise to a wide range of products on top of the traditional CBD oil, such as capsules, edibles, topicals, concentrates, vapes, and even pet products.
The best type of CBD for Tinnitus should be the most bioavailable one.
Theoretically, CBD vapes offer the highest bioavailability, delivering up to 56% of the inhaled CBD to the body (4). However, these effects are relatively short-lived compared to other consumption methods; they last up to 4 hours, with peak effects at around 2 hours from inhaling.
Another way to take CBD is in the form of capsules or edibles. These products come with a premeasured dose of CBD per serving and help you avoid the earthy taste of hemp typical of full-spectrum extracts. On the other hand, oral CBD products need to be processed in the digestive system before entering the bloodstream, which means a delayed onset of effects. But since the CBD is released gradually, they also tend to last longer, up to 10 hours.
If you're looking for a golden mean that will offer a bioavailability that is closer to CBD vapes and the duration similar to edibles, we suggest that you opt for CBD oil drops. In its oil form, the CBD extract is taken sublingually — under the tongue — so the oil can absorb through the tiny vessels in your mouth. This, in turn, helps you avoid the first-pass metabolism in the liver, as only a small part of it gets swallowed down into the belly.
Some people also use CBD topicals to relieve localized problems, such as headaches, or to soothe the nerves in the head. Topicals interact with the skin's own endocannabinoid system; from there, they produce their relaxing, anti-inflammatory, and antioxidant effects. Topicals should be applied liberally to the affected area. The first signs of relief should come within 20–40 minutes.
Can CBD Oil Be Put in Ear?
There are stories of people using CBD oil topically with success for a wide range of ailments. However, there is no reason why someone would want to put CBD oil in their ear for tinnitus. There have been no studies regarding such use of CBD; there is even hardly any anecdotal evidence to support this purpose.
Don't get us wrong, putting CBD in your ear isn't pointless in itself. In fact, when you suffer from an ear injury or inflammation, using CBD topically can help ease the discomfort, but for now, doing so to relieve tinnitus seems like an attempt to prove CBD oil is a miracle cure for everything — which isn't the case.
Long story short, the only reason you may put CBD oil in your ear is that you want to, and you're not afraid of being a living experiment.
Hemp Extract vs CBD Oil for Tinnitus
Hemp extract and CBD oil can mean the same thing — or, on the contrary, two completely different products.
"Hemp extract" is an umbrella term to cover a range of products that are extracted from the hemp plant. The problem with this term, however, is that it doesn't indicate which part of the plant was used for extraction.
By this token, we can say "hemp extract" to describe CBD oil, but we can use the same term to talk about hemp seed oil.
Now, hemp seed oil doesn't contain any cannabinoids. It is a well-known superfood containing a great ratio of omega fatty acids, vitamins, trace minerals, and proteins — but you won't find any CBD in it. That's because hemp seed oil is made by cold-pressing the seeds.
CBD oil, on the other hand, is extracted from the plant's mature flowers. This part of hemp contains the most resin, where cannabinoids such as CBD are secreted.
When it comes to using hemp extracts such as hemp seed oil for tinnitus, there's no evidence to support their efficacy in this regard. Therefore, if you want to benefit from using cannabis for tinnitus, CBD oil may be a better option.
Should You Take CBD or THC for Tinnitus?
Anecdotal reports from cannabis users bring conflicting evidence. Some people claim that using cannabis has helped them reduce the severity of their tinnitus symptoms, whereas others report that the herb has made those symptoms worse. However, these reports come from cannabis users that have taken both THC and CBD for tinnitus. It is unknown whether CBD alone could relieve or deteriorate this disorder.
Safety: Can CBD Oil Make Tinnitus Worse?
According to two animal studies that analyzed the efficacy of CBD oil in the treatment of rats with tinnitus caused by aspirin toxicity, isolated CBD doesn't improve tinnitus symptoms. Furthermore, one study on rats found that the cannabinoid may even deteriorate tinnitus (5).
Nevertheless, since there's a lack of human research when it comes to using CBD oil for tinnitus, it's too early to draw definitive conclusions about its safety and efficacy in this subject.
Possible Side Effects of CBD
CBD has a well-established safety profile. Several international health agencies, such as the World Health Organization (WHO) have stated CBD is a safe and well-tolerated compound in humans. Some studies have tested doses as high as 1,500 mg daily for several days and have found no dangerous side effects (6).
However, there are a few mild adverse reactions you might experience when taking large amounts of CBD at a time, including:
Dry mouth
Dizziness
Fatigue
Diarrhea
There's also a risk of CBD-drug interactions, as CBD is the inhibitor of the Cytochrome p450 system, a group of enzymes responsible for metabolizing drugs. Taking CBD with certain medications may result in either a subtherapeutic effect or substance toxicity. If you take any medications that could potentially interact with CBD, we suggest that you consult with a doctor before buying any CBD product for tinnitus.
Final Thoughts on Using CBD Oil for Tinnitus
Tinnitus, also known as the ringing of the ear, is an annoying condition that — if left untreated — may result in anxiety, depression, insomnia, and other ailments that could be triggered by hearing constant noise.
To date, there aren't many effective tinnitus treatments. The use of CBD oil as a potential therapy for tinnitus is being investigated due to its calming effects on the brain. Studies, as well as anecdotal reports, bring conflicting evidence regarding the efficacy and safety of CBD for tinnitus
Further research on humans is needed in this area to draw any conclusions. However, you can use CBD to relieve the aforementioned side effects of tinnitus. CBD has been highlighted as a potent anti-anxiety and antidepressant compound by multiple studies.
If you believe that CBD oil could help you overcome this pesky problem with hearing strange sounds, make sure to always do your research before buying any product; only purchase from reputable brands that use organic hemp and test their extracts in a third-party laboratory to ensure they are safe and contain the advertised amount of cannabidiol.
What is your story with taking CBD for tinnitus? Have you tried it? Let us know in the comments below!
References:
Blessing, Esther M et al. "Cannabidiol as a Potential Treatment for Anxiety Disorders." Neurotherapeutics: the journal of the American Society for Experimental NeuroTherapeutics vol. 12,4 (2015): 825-36. doi:10.1007/s13311-015-0387-1
Russo, Ethan B et al. "Agonistic properties of cannabidiol at 5-HT1a receptors." Neurochemical research vol. 30,8 (2005): 1037-43. doi:10.1007/s11064-005-6978-1
Chagas, M H N et al. "Cannabidiol can improve complex sleep-related behaviors associated with rapid eye movement sleep behavior disorder in Parkinson's disease patients: a case series." Journal of clinical pharmacy and therapeutics vol. 39,5 (2014): 564-6. doi:10.1111/jcpt.12179
Millar, Sophie A et al. "A Systematic Review on the Pharmacokinetics of Cannabidiol in Humans." Frontiers in pharmacology vol. 9 1365. 26 Nov. 2018, doi:10.3389/fphar.2018.01365
Zheng, Yiwen et al. "Cannabinoid CB1 Receptor Agonists Do Not Decrease, but may Increase Acoustic Trauma-Induced Tinnitus in Rats." Frontiers in neurology vol. 6 60. 18 Mar. 2015, doi:10.3389/fneur.2015.00060
Taylor, Lesley et al. "A Phase I, Randomized, Double-Blind, Placebo-Controlled, Single Ascending Dose, Multiple Dose, and Food Effect Trial of the Safety, Tolerability, and Pharmacokinetics of Highly Purified Cannabidiol in Healthy Subjects." CNS drugs vol. 32,11 (2018): 1053-1067. doi:10.1007/s40263-018-0578-5