CBD Oil for Trigeminal Neuralgia: Is Cannabis a Viable Approach?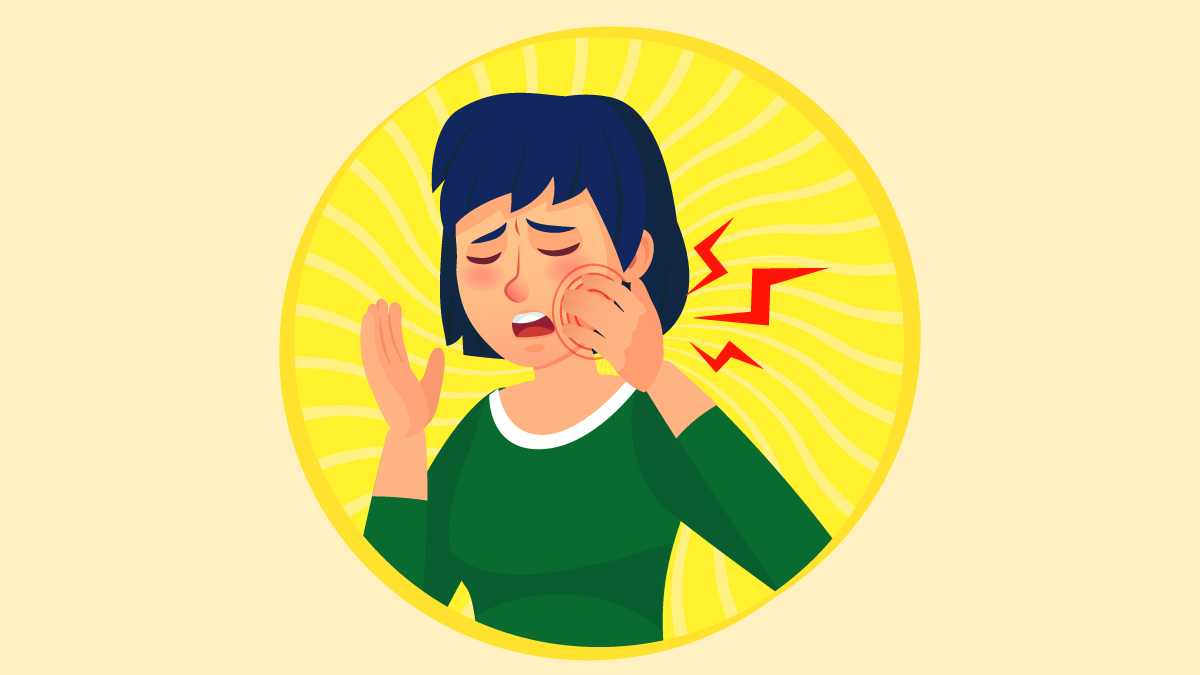 Neuropathic pain has many faces, one of which includes trigeminal neuralgia. This condition affects the nerves that transmit sensation from the face to the brain, causing severe discomfort comparable to an electric shock. The TN pain can be triggered by the slightest movement or touch anywhere on the face, commonly affecting the lips, gums, jaw, and cheeks.
People with trigeminal neuralgia usually suffer from flare-ups affecting one side of the face at a time. Although short-lived at the beginning, the episodes of burning sensation may become chronic, lasting for weeks or longer.
CBD has been mentioned by researchers as a potentially viable remedy for pain that is difficult to treat. Trigeminal neuralgia fits within this definition like a glove.
Today we'll elaborate on the problem of TN pain and how to treat it with natural resources.
CBD Oil for Trigeminal Neuralgia: Highlights
Trigeminal Neuralgia (TN) develops as a result of the damage caused to the trigeminal nerve, causing severe pain on the face.
CBD's interaction with the endocannabinoid system (ECS) may provide relief from neuropathic pain by mitigating the pain signals. According to a study published in Pharmacological Reviews, CBD strengthens nerve impulses in the ECS receptors, producing analgesic effects (1).
A review of studies concluded that topical CBD might be useful in reducing neuropathic pain and sensitivity to pain signals (hyperalgesia) (2).
Researchers have reported that hypertension (high blood pressure) increases the risk of trigeminal neuralgia. In a 2017 study, subjects who received CBD showed reduced resting blood pressure (3).
More clinical studies on humans are needed to support the preclinical findings of CBD's benefits for people with trigeminal neuralgia.
Why People Are Turning to CBD for Trigeminal Neuralgia?
The dysfunction of the trigeminal nerve can have debilitating consequences for the sufferers. It causes severe pain on the face that occurs upon even the slightest movement, such as touching, scratching, or rubbing. The condition may also cause muscle spasms and burning sensations on top of the shock-like pain.
The treatment of trigeminal neuralgia usually involves anticonvulsant medications, antispasmodic agents, surgery, and other procedures involving the trigeminal nerve. Antiepileptic drugs, such as carbamazepine and gabapentin have been used with some success, although they lack efficacy and intolerability with prolonged use.
This is where CBD starts to shine.
Studies on CBD and Trigeminal Neuralgia
CBD is an acknowledged antiepileptic treatment. Its anticonvulsant and neuroprotective properties have been recently posted in a study from the journal Molecules. These actions might be useful in reducing muscle spasms in TN patients (4).
Although studies haven't analyzed the efficacy of CBD on spasms caused by TN, there is evidence that CBD may have significant benefits for treating chronic pain caused by the condition.
One review has pointed to CBD as the potential reliever of hyperalgesia (pain sensitivity). The review mentioned that CBD can effectively block the pain pathway's neural transmission. The authors also highlighted the nociceptive effects of cannabinoids, describing them as the potential therapeutic approach to the management of TN pain.
The painkilling and anti-hyperalgesia effects of CBD were supported by an animal study published in the Journal of Experimental Medicine. The study suggested that CBD reduced pain and inflammation caused by neuropathy.
Neuropathy stems from dysfunction or damage in the nerves that may trigger pain, tingling sensation, muscle weakness, and numbness.
On top of the above findings, the authors of the study added that CBD was able to curb hyperalgesia in mice models. There was a conclusion that CBD reduced persistent inflammation and neuropathic pain.
Another paper from the European Journal of Pharmacology demonstrated remarkable anti-inflammatory and immunomodulatory effects of CBD. Cannabidiol was administered to rats with induced sciatic nerve pain. The research team found that CBD treatment lowered inflammation and reduced hyperalgesia (5).
Experts hypothesize that trigeminal nerve pain can be caused by the contraction of blood vessels in the trigeminal nerve. This contraction damages the trigeminal protective tissue. Furthermore, researchers noticed that high blood pressure contributes to the development of trigeminal neuralgia (6).
A 2017 preclinical study found that CBD has benefits for the cardiovascular system. The authors reported that healthy individuals (age 21–29) with hypertension caused by a stressful event showed lower blood pressure after taking CBD (7).
Since the majority of the studies on CBD and trigeminal neuralgia have been conducted on animal models and preclinical human samples, longitudinal clinical studies are needed to further prove CBD's ability to treat the condition.
How Does CBD Oil Work for Trigeminal Neuralgia?
The benefits of CBD for trigeminal neuralgia are attributed to the human endocannabinoid system (ECS). The ECS is the major regulatory network engaged in maintaining homeostasis in the central nervous system, peripheral nervous system, immune system, and organs. The ECS contains receptors that are found throughout the body, including CB1, CB2, and glycine receptors.
Studies have found that the modulation of the ECS might promote the healthy functioning of biological processes, providing a wide range of therapeutic benefits.
For example, a study published in the Journal of Experimental Medicine found that modulating the ECS translates into therapeutic effects for pain management. The authors also mentioned that glycine receptors in the central nervous system are important targets for reducing neuropathic pain. According to the study, cannabinoids such as THC and CBD might enhance the activity of the glycine receptors, resulting in analgesic effects.
Glycine receptors are ion channels that control the transmission of pain signals from the nerve to the brain.
The study found that oral CBD products resulted in a binding glycine activity that lowered neuropathic pain and hyperalgesia in animal models.
The Pros and Cons of CBD Oil for Trigeminal Neuralgia
The Pros
Numerous studies have demonstrated the therapeutic potential of CBD in pain management thanks to its ability to modulate receptors in the ECS.
Researchers agree that CBD might strengthen nerve impulses and increase pain resistance.
Animal studies have found that oral CBD solutions might be useful in lowering one's sensitivity to pain.
CBD can reduce blood pressure in healthy volunteers, indirectly reducing the risk of trigeminal neuralgia
Many international medical organizations agree that CBD is well-tolerated in humans and has a high safety profile.
The Cons
There is not enough clinical evidence to support CBD's efficacy in treating trigeminal neuralgia
CBD has a few mild side effects, including dry mouth, reduced appetite, drowsiness, and CBD-induced drug interactions
According to one animal study, extremely high doses of CBD can cause liver toxicity. However, these results haven't been confirmed on human subjects.
CBD vs. Alternative Treatments for Trigeminal Neuralgia
There are limited options when it comes to alternative treatments for trigeminal neuralgia. The alternative anticonvulsants, except for CBD, aren't supported by scientific studies. Recently, acupuncture has been touted for its effectiveness in treating neuropathic pain. There are lots of reports from TN patients who claim to have successfully treated TN with acupuncture.
Acupuncture is part of traditional Chinese medicine that uses tiny needles to balance the energy flow within the body. Studies also mention acupuncture's ability to support homeostasis in the ECS. However, direct studies are needed to find out how acupuncture affects cannabinoid receptors.
One study from Frontiers of Molecular Neuroscience has found that electroacupuncture increased receptor activity in the rat models of osteoarthritis, resulting in reduced pain. Electroacupuncture is performed by sending electric signals through the microneedles (8).
Weird as it may sound, CBD has similar effects on the body to electroacupuncture. One study has found that the modulation of adenosine receptors resulted in mitigated pain and lower inflammation in mice after they took CBD (9).
Vitamin B12 is another alternative for trigeminal neuralgia. Research shows that vitamin B12 has painkilling properties that may aid patients in managing neuropathic pain.
Several clinical studies have reported positive results after treating patients with methylcobalamin, a form of B12. These studies examined patients with different types of neuropathy, such as trigeminal neuralgia and diabetic neuropathy (10).
How to Take CBD Oil for Trigeminal Neuralgia?
CBD comes in different forms, concentrations, and formulas. It may be taken orally in the forms of capsules or gummies, or sublingually as oil drops. Some people vape CBD, while others use it topically for localized relief. The choice of the product boils down to your individual situation.
CBD oil is the most common format. It contains a hemp extract infused into an inert oil, such as MCT oil or olive oil. CBD oil comes with a dropper for easier and more accurate dosing. You just squeeze the preferred amount using the dropper, place a few drops under your tongue, and wait for up to 60 minutes until it absorbs through tiny capillaries in your mouth. The calming effects of CBD should be felt within 15–20 minutes.
If you don't like the taste of CBD oil, capsules and edibles are a good alternative. CBD capsules are available in the form of soft gels, providing a fixed dose of CBD per serving. They are better suited for busy people who take their CBD on the go. Since the CBD needs to pass through the digestive system before absorbing into the bloodstream, capsules have a delayed onset, usually around 40–90 minutes depending on your metabolism and whether or not you're taking CBD oil on an empty stomach.
Edibles work in a similar fashion, but they are made with fun flavors that make the whole experience more enjoyable. The most popular forms of CBD edibles are gummies and honey sticks.
If you're looking for the most effective way to deliver CBD to your system, CBD vape pens will be your best bet. Vaporized CBD gets into the bloodstream through the lung tissue, producing its effects within minutes after inhalation. CBD vapes also offer the highest bioavailability of all consumption methods, ensuring that up to 56% of the ingested substance is absorbed.
Finally, you may try a topical formulation, such as CBD creams for localized relief. Topicals work best for flare-ups because they address inflammation by interacting with the CB2 receptors in the skin's endocannabinoid system. The absorption rate and duration of CBD topicals vary between products; you may need to reapply the dose after a few hours for consistent results.
Dosage of CBD Oil for Trigeminal Neuralgia
There are not enough clinical trials to determine the effective CBD dosage for specific health conditions.
According to a study published in the British Journal of Pharmacology, a low dose may vary from less than 1 to 50 milligrams per one kilogram per day. Everybody is different, and factors like your age, gender, metabolism, weight, overall health, and prior experience with CBD will affect your optimal dosage range.
It will take some experimentation until you find out what works for you. It is recommended to start with a low dose, say, 10 mg of CBD once or twice daily for one week — and observe the results. If you don't feel any pain relief after that time, add another 10 mg to the dosage and continue for another week. Once you've found an effective dose, you can stick to it — people don't build a tolerance to CBD.
If you're thinking about adding CBD oil to your trigeminal neuralgia treatment, consult a holistic doctor experienced in CBD and cannabis therapies in general. Doing so will help you determine the right dosage range for your condition on top of avoiding potential negative CBD-induced drug interactions.
Summarizing the use of CBD for Trigeminal Neuralgia
Studies support CBD's therapeutic effects in a range of painful conditions, including neuropathic pain. CBD modulates the activity of the cannabinoid receptors in the ECS, mitigating pain signals and reducing inflammation throughout the body. Moreover, CBD has been found to reduce blood pressure when administered under stressful conditions. All these effects can have a positive impact on the symptoms of trigeminal neuralgia. CBD is also an acknowledged anticonvulsant and neuroprotectant, so it can prevent further damage to the trigeminal nerve.
More direct clinical trials are needed to prove CBD's efficacy specifically in alleviating TN pain. However, current findings, as well as reports from patients, are very encouraging.
Do you take CBD for trigeminal nerve pain? What products work best for you? Share your thoughts in the comment section!
Literature:
Pacher, Pál et al. "The endocannabinoid system as an emerging target of pharmacotherapy." Pharmacological reviews vol. 58,3 (2006): 389-462. doi:10.1124/pr.58.3.2
Liang, Ying-Ching et al. "Therapeutic potential of cannabinoids in trigeminal neuralgia." Current drug targets. CNS and neurological disorders vol. 3,6 (2004): 507-14. doi:10.2174/1568007043336833
Turner, C L et al. "Measurement of pulse pressure profiles in patients with trigeminal neuralgia." Journal of neurology, neurosurgery, and psychiatry vol. 74,4 (2003): 533-5. doi:10.1136/jnnp.74.4.533
The U.S. Food and Drug Administration. The FDA Approves First Drug Comprised of Cannabidiol.
Costa, Barbara et al. "The non-psychoactive cannabis constituent cannabidiol is an orally effective therapeutic agent in rat chronic inflammatory and neuropathic pain." European journal of pharmacology vol. 556,1-3 (2007): 75-83. doi:10.1016/j.ejphar.2006.11.006
Trigeminal Neuralgia Overview.
Jadoon, Khalid A et al. "A single dose of cannabidiol reduces blood pressure in healthy volunteers in a randomized crossover study." JCI insight vol. 2,12 e93760. 15 Jun. 2017, doi:10.1172/jci.insight.93760
Yuan, Xiao-Cui et al. "Electroacupuncture Potentiates Cannabinoid Receptor-Mediated Descending Inhibitory Control in a Mouse Model of Knee Osteoarthritis." Frontiers in molecular neuroscience vol. 11 112. 6 Apr. 2018, doi:10.3389/fnmol.2018.00112
Russo, Ethan B. "Cannabinoids in the management of difficult to treat pain." Therapeutics and clinical risk management vol. 4,1 (2008): 245-59. doi:10.2147/term.s1928
Zhang, Ming et al. "Methylcobalamin: a potential vitamin of pain killer." Neural plasticity vol. 2013 (2013): 424651. doi:10.1155/2013/424651