Is CBD Legal in Idaho? ID Hemp Laws (2023)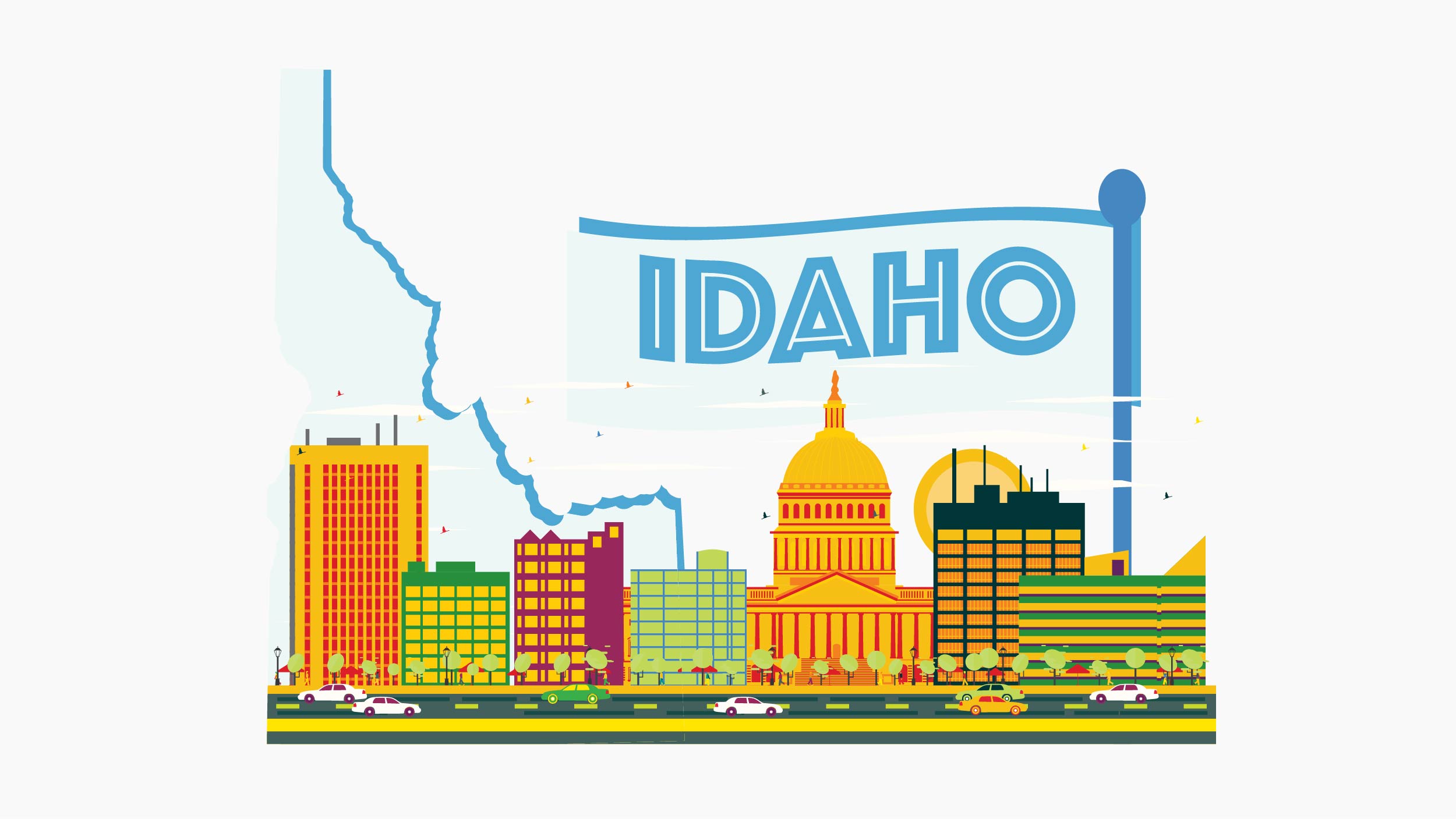 CBD is legal in Idaho but with a caveat. Idaho is among the strictest when it comes to CBD laws. The state only allows CBD only if it contains zero THC. Another conservative requirement is that CBD should come from the mature stalks of the plant.
The good thing is possession of CBD in Idaho has no limits as long as they conform to state guidelines.
So, how and where do you buy CBD oil in Idaho? How will you know if it is legal or not?
We will further learn more about the legalities of CBD oil in Idaho through this article.
Is CBD Oil Legal in Idaho?
CBD oil with zero THC is legal in Idaho. The CBD product is considered illegal if it does not satisfy this condition. Idaho has a conventional law on CBD use and possession. They even have a stricter conditions than the 2018 Farm Bill.
But even so, CBD products are available in local stores. It is just important that you buy them from licensed stores and sellers to avoid legal problems. You can also check for online stores that ship to Idaho.
Related: CBD Legality in the US
Let us now see how the law in Idaho treats both sources of CBD.
Marijuana CBD Oil in Idaho
Although many neighboring states have legalized marijuana for recreational use (California, Nevada, Oregon, Washington), Idaho has refused to legalize any marijuana use.
The state has severe penalties for simple possession. If you get caught with less than 3 ounces of marijuana in Idaho, your charges will be classified as a misdemeanor punishable by a $1000 fine and one year in prison. Possession of more than 3 ounces is a felony with a maximum punishment of 5 years in jail on top of a $10,000 fine.
To make things worse, you can be put into jail for 6 months just for being high.
Not to mention that your bank account will get lighter by $1000.
It's also prohibited to grow any marijuana plants in Idaho.
Why does the state take such a serious stance, whereas other states have, at least, loosened their marijuana policies? This is because marijuana is still in the same category of substances as meth, heroin, and LSD. Under the Controlled Substances Act (CSA), marijuana has no accepted medical treatment use and lacks accepted safety for use under medical supervision, but it carries a high potential for abuse.
Which, as we know, thanks to the findings of modern science, is far from the truth.
Individual states can either follow the federal law or introduce their own changes to cannabis regulations. However, Idaho decided to follow the CSA's provisions to the letter.
Related: Is Marijuana Legal in Idaho?
Can Doctors Prescribe CBD Oil in Idaho?
Unfortunately, Idaho doesn't have a medical marijuana program in place. The state currently doesn't accept any marijuana use. In 2012, 2014, and 2016, Idaho tried to pass medical marijuana laws that would grant access to marijuana and its derivatives (including CBD oil) to qualifying patients in Idaho. Marijuana would have been available for people with cancer, glaucoma, and epilepsy.
However, these initiatives didn't receive enough support from the voters to reach the ballot.
In 2015, state lawmakers passed a bill to allow the use of CBD oil for children with intractable forms of epilepsy, but Governor Otter vetoed the act, scared that it would compromise the state's drug laws.
Don't worry; there's still a chance for you to enjoy the benefits of CBD oil while in Idaho. It's 100% legal.
We mean the hemp-derived CBD oil.
Hemp CBD Oil in Idaho
As mentioned earlier in the article, there are two primary sources of CBD.
The first type of CBD oil is produced using mature marijuana plants. If you purchase marijuana-delivered CBD oil, it will contain high levels of THC and be illegal in Idaho.
Hemp-derived CBD oil, on the other hand, contains no more than 0.3% THC, which isn't enough to get the user high.
This type of CBD oil is legal in all 50 states under the 2018 Farm Bill. Changes in this document made it possible for farmers to grow hemp as an agricultural crop. Not only did it open the door for research around hemp, but it also provided ripe opportunities for commercial brands that use hemp for paper, clothing, fuel, food, housing, and CBD oil.
However, there's a catch with Idaho's laws regarding CBD. Namely, you can possess CBD oil as long as it contains no traceable THC content, so CBD oil in Idaho remains in a legal grey area.
CBD Oil in Idaho: Best Brands & Products
1. Royal CBD (Editor's Pick)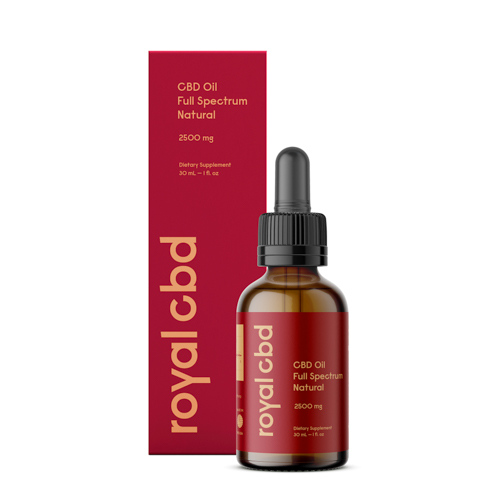 Get 15% off all Royal CBD products. Use code "CFAH" at checkout.
Product Details
| | |
| --- | --- |
| Potency | 250 mg – 2500 mg |
| Available Flavors | Natural, Berry, Mint, Vanilla |
| CBD per serving | 8.3 mg – 83.3 mg |
About Royal CBD
Royal CBD is a relatively new brand on the market. It was established by a group of friends from California with the goal of improving the quality standards of the CBD market. Since then, the team at Royal CBD has already been mentioned in the industry's leading magazines as one of the best companies selling CBD oils in the United States.
The Royal CBD line is sourced from organic, non-GMO hemp plants cultivated in Colorado to ensure clean and CBD-rich flowers, which are then extracted using pressurized CO2, ensuring pure and potent extracts without hurting the environment on the way. Aside from its premium full-spectrum CBD oil, Royal CBD also sells softgels, THC-free gummies, and broad-spectrum topicals.
The Royal CBD oil is available in four potency options, including 250 mg, 500 mg, 1000 mg, and 2500 mg. This is a great potency range for both new and experienced consumers alike. At 83.3 mg CBD in each milliliter, the strongest CBD oil can provide a massive dose for those in need and get you supplied with CBD for months if you use it for general supplementation.
Royal CBD products are tested in a third-party laboratory for their CBD content and purity to ensure that you're getting a safe and honest product.
The company ships to all 50 states and has a 30-day money-back guarantee program.
Pros
Cons

Made from locally grown organic hemp
Extracted with supercritical CO2
Infused with full-spectrum CBD
Available in 4 strengths and flavors
Up to 2500 mg of CBD per bottle
3rd-party tested for potency and purity
Great natural flavor

Not available in local CBD stores (this may soon change)
No vapes in its product lineup
2. Gold Bee CBD (Runner Up)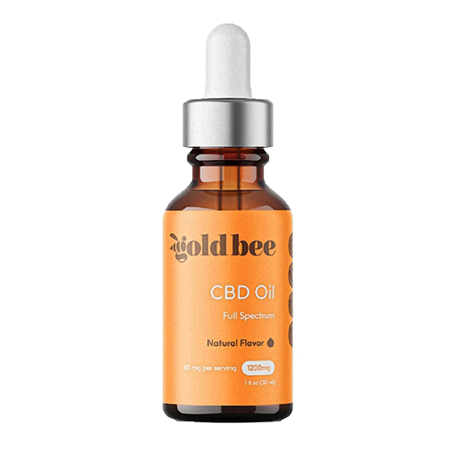 Product Details
| | |
| --- | --- |
| Potency | 300 – 1200 mg |
| Available Flavors | Natural, Honey |
| CBD per serving | 8.3 mg – 33.3 mg |
About Gold Bee
Gold Bee makes one of the best CBD oils in the low-to-mid potency range. It's a great brand for new consumers who want to experiment with different dosages and potencies of CBD but aren't likely to ingest more than 40 mg of CBD daily. Similar to Royal CBD, the company was established in California and partnered with Colorado growers to create their blend of high-CBD plants. These strains are also extracted using CO2 and contain full-spectrum CBD, so you get the entire hemp from the original plant.
The guys at Gold Bee have been working in the superfoods industry for the past few years, so they know the importance of quality when it comes to anything you consume regularly. Gold Bee is also a true maverick when it comes to the flavor of CBD oil. While most companies offer flavors like mint, berry, or vanilla, Gold Bee has infused their CBD oil with a natural honey flavor that not only masks the earthiness provided by full-spectrum CBD but also tastes surprisingly natural itself.
The company also makes softgel capsules, gummies, and CBD-infused honey sticks.
Pros
Cons

Sourced from US-grown organic hemp
Contains full-spectrum CBD
Up to 33 mg CBD/mL
Great potency range for beginners
Third-party tested for potency and purity
Great honey flavor

No high-strength CBD oils
Guide to Buying CBD Oil in Idaho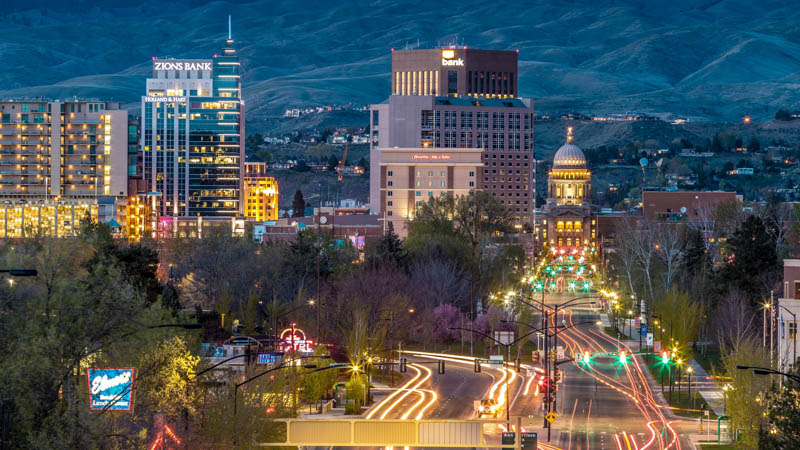 The CBD market is new and largely unregulated. There are many companies that sell outstanding products with quality ingredients. Still, many companies aren't afraid of churning out poorly manufactured CBD oil that can be dangerous for your health. For example, the FDA reported 52 cases of poisoning from mislabelled CBD products in Utah.
Currently, the best way to purchase quality CBD products in Idaho is to place an order with a trustworthy online store. But before we elaborate on that, we need to take a look at the quality criteria for buying CBD oil.
Important Considerations for Buying CBD Oil in Idaho
Make sure that your CBD oil has been tested by an outside lab. Third-party laboratories can analyze the CBD content in your product to check if it matches the amount stated on the bottle. They can also look for common contaminants and unwanted additives, such as pesticides, heavy metals, mycotoxins, and solvents.
Never buy from companies that make outrageous claims about CBD oil. CBD is a great supplement that can improve your daily life in many areas, but it won't cure any disease or fix broken limbs. If you see a company making such claims about its products, you shouldn't trust it.
Choose CO2-extracted CBD. CO2 extraction is by far the best method to produce CBD oil because it yields clean and potent extracts without using additional heat or solvents. If a company makes its products using CO2 extraction, it's a sign that they are committed to quality.
Look for full-spectrum CBD. Full-spectrum means that the product was made using the whole hemp plant, containing all naturally occurring compounds, such as CBD, trace cannabinoids, terpenes, and flavonoids. These compounds help your body process CBD more efficiently and are considered better than products based on single molecules.
Organic hemp is the best source of CBD oil. Organic plants are grown from non-GMO seeds, planted in clean soil, and cultivated under natural sunlight without pesticides or synthetic growth boosters. These aspects are particularly important for the quality of CBD flowers because hemp is natural bioaccumulators. As such, they absorb every substance from the environment they grow in, including the good and bad ones.
Where to Buy CBD Oil in Idaho
So, we've already established that Idaho is not the best place for getting caught with cannabis. It's also not the most progressive state (to say the least) when it comes to CBD laws. Although hemp-derived CBD oil is legal in Idaho, only products based on CBD isolate are allowed for sale.
Therefore, your best chance of getting quality CBD oil in Idaho is to find a reliable online retailer.
Below we highlight the perks of buying CBD online.
Reasons to Shop for CBD Online
First off, products found online are usually less expensive than that in-store. Online stores can cut out the middleman, hence better prices, discounts, bulk deals, coupon codes, and loyalty programs. It would be difficult to get such perks from your local head shop.
Moreover, buying CBD online is easier and more convenient. You can compare different products and prices without leaving your home; all you need to do is open several tabs in your browser and check who sells the best CBD oil out there. Doing so locally would be hugely time-consuming, as most CBD stores usually stock one or two types of CBD due to limited shelf space.
Finally, it's easier to research your potential vendor on the Internet. Online stores are usually run by experts whose whole life revolves around CBD and the hemp industry, so they eagerly boast about their mission and the quality standards they employ. Reputable CBD companies will publish the lab reports on their website or at least make them accessible on request.
If a company offers some money-back guarantee on its products, it's all the better. This is a sign that the people behind your CBD oil are confident about its quality.
Local CBD Retailers in Idaho
You can find CBD oil in Idaho by visiting vape stores, head shops, or health retail centers. However, if you want to buy CBD oil locally, you must ensure that the product contains 0% THC. Otherwise, it is illegal to purchase.
That doesn't mean you can't find decent CBD products in Idaho; you have very limited options.
Take a look at the list below to see if there's a store in your city that stocks CBD oil.
CBD Stores in Boise
Vape Affliction
Matrix Vapor Boise
Surman's Smoke Shop
CBD Stores in Coeur D'Alene
Vape Monkey, Inc.
Vapor Cafe
Discount Vapor & Accessories
CBD Stores in Twin Falls
CJ's Vapehouse
Your CBD Store
Snake River Vapors
If you don't see your city on this list or are worried about crossing the local law, your best bet is to place your order online.
Summary: What's the Best Way to Buy CBD Oil in Idaho?
Idaho is one of the least progressive states when it comes to cannabis laws. Legalization isn't even on the horizon, although Idaho is surrounded by states that have legalized marijuana for all uses.
The safest way to buy CBD oil in Idaho is through a trustworthy online store. Online stores provide more information on their products, offer a broader selection of CBD formats, and have better deals for their products than any local vendor. You can easily verify if the company is honest by checking if the company's claims find proof in third-party lab testing.
Most importantly, remember always to double-check the credibility of your potential supplier. Don't be one of those customers who have made poor decisions by getting hooked on fancy marketing buzzwords and great promises.