Is CBD Legal in Illinois? IL Hemp Laws (2023)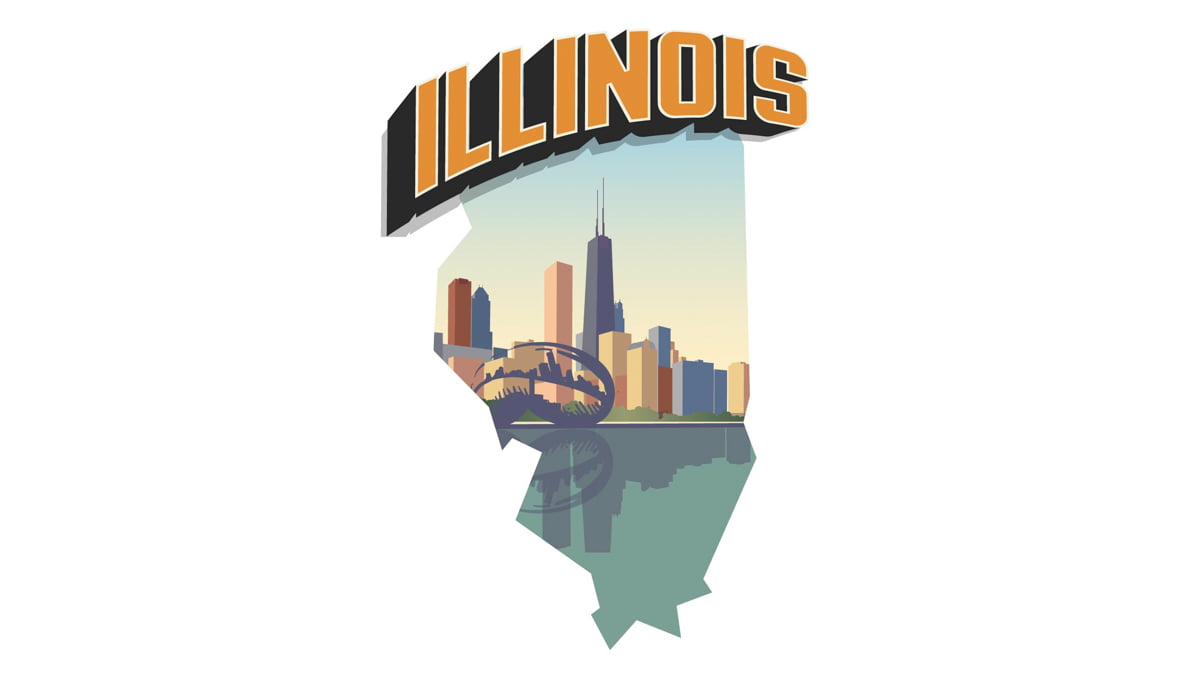 As the popularity of CBD oil has skyrocketed in Illinois throughout the last couple of years, the state's CBD market has huge potential to grow into a true CBD powerhouse in the near future. The current trends make marijuana and cannabis oil popular in the other states of the USA, as well.
Although marijuana can be used in Illinois only for medical purposes and under certain circumstances, CBD oil from hemp is perfectly legal. The state's authorities have launched a program that allows hemp research by the state's government in universities, so it looks like Illinois is one step forward to making their cannabis law even more lenient.
Before we show you where to buy CBD oil in Illinois, let's take a peek at the legality of CBD products in the state.
Update: We no longer recommend purchasing CBD oil locally due to contaminated and untested CBD oils being sold in Illinois stores.
Is CBD Oil Legal in Illinois?
Not every CBD oil is the same. Cannabidiol can be sourced either from the marijuana or hemp variety of the cannabis plant. As you might've guessed, the legality of CBD oil depends on the above categorization.
Related: State-by-State CBD Laws
Marijuana CBD in Illinois
On January 1, 2014, the state passed the Compassionate Use of Medical Cannabis Pilot Program. Since then, the laws have expanded, and Illinois has also issued a list of medical conditions that permit patients to use CBD legally.
A person qualified for the state's medical-marijuana program can possess up to 2.5 ounces of marijuana on a biweekly basis. However, the state law does not allow patients to grow their own plants – they need to buy them from state-licensed medical marijuana dispensaries.
Read more: Is Weed Legal in Illinois?
Although Illinois is making significant progress in moving towards cannabis legalization, the recreational use of the plant remains illegal, just in case you wondered if using CBD oil for reasons other than medical would get you in trouble with the law.
Hemp CBD Oil in Illinois
The state's policy permits CBD oil in Illinois that includes all CBD products sourced from industrial hemp. The hemp variety of the cannabis plant is grown to keep THC levels below the 0.3% threshold and therefore is non-intoxicating.
In addition to the current legal framework for hemp, Illinois passed a law enabling the cultivation and research of hemp by the state government and state universities. This nod in the direction of the local hemp growers will, in turn, give rise to the new research on the plant, one that could impact the legislation and future policymaking in Illinois in the coming years.
Where to Buy CBD Oil in Illinois?
If there are any CBD oil stores near you, go ahead and give them a try. Be careful, though, as different shops offer different quality standards for their assortment, so finding the right place may take some time.
But if you prefer to shop for CBD oil online, feel free to do so. The Internet is full of useful customer reviews, so you can scan through opinions about a certain company to see if they are respected by the community.
Buying CBD Oil Online in Illinois
Buying CBD online is undoubtedly convenient. Not only can you choose from the abundance of companies without going out, but it's easier to do a background check on the company of your choice before you give them your money.
Many online retailers are selling CBD oil these days, but if there's one thing you should particularly pay attention to, it's transparency. If the company speaks openly about its sourcing practices and extraction methods, if it provides customers with 3rd party lab testing results to prove the label claims – they are keepers.
Above all, we suggest that you stay away from companies that claim their CBD oil cures everything and those that are not honest about showing the lab testing results.
Not sure how to buy CBD Oil online? Check our GUIDE for more details!
PRODUCT
DETAILS

Best Overall CBD Oil

Royal CBD – Full Spectrum

Rated #1 for overall
Highest quality hemp oil on our list
100% organic, free of pesticides and artificial ingredients
Established brand with 24/7 customer support
30-day 100% money-back guarantee

Click for Best Price

Best Organic Formula

Gold Bee

Sourced from US-grown organic hemp
Contains full-spectrum CBD
Up to 80 mg CBD/mL
Great potency range for beginners
Third-party tested for potency and purity
Great kiwi-honey flavor

Click for Best Price
Local CBD Oil Stores in Illinois
There are plenty of decent-quality CBD oil stores in Illinois as the state begins to pick up on the benefits of CBD, following the leads of California and Colorado. For now, Chicago is the main hub in the state, but other Illinois towns and cities will open their shops, too, as professionals predict.
Chicago is the leader in terms of both the quality and prices of CBD oil sold there. Shops are run by true connoisseurs who are knowledgeable and passionate about cannabis, so that they will help you out should you need advice.
Below you will find the list of best shops to buy CBD oil in Illinois.
Best CBD Oil Stores in Downtown Chicago
| | |
| --- | --- |
| Name | Address |
| CBD Kratom (Bucktown) | 2048 N Damen Ave, Chicago IL 60647 |
| CBD Kratom (Andersonville Shop) | 5303 N Clark St, Chicago, IL 60640 |
| Vape Daze | 2817 W Belden Ave, Chicago, IL 60647 |
| Cloud Vapor Lounge | 2497 N Milwaukee Ave, Chicago, IL 60647 |
Best CBD Oil Stores in Des Plaines
| | |
| --- | --- |
| Name | Address |
| Vapor Haus | 617 W Golf Rd, Des Plaines, IL 60016 |
| Elixrz Vape Shop | 1345 N La Fox, South Elgin, IL 60177 |
Best CBD Oil Stores in Forest View
| | |
| --- | --- |
| Name | Address |
| Vaperz | 4537 S Harlem Ave, Forest View, IL 60402 |
Final Thoughts on Buying CBD Oil in Illinois
The love for CBD oil products is all over in the air of Illinois. While the state has taken important steps in accepting the benefits of Cannabidiol, the residents of Illinois can now enjoy the benefits of this compound. Even though full cannabis legalization is yet to be witnessed in Illinois, we hope it will happen sooner or later. For now, let us embrace the possibility of improving the quality of our lives with hemp-derived CBD oil.