Where to Buy CBD Oil in Michigan? Hemp Oil Laws & Legality (2022)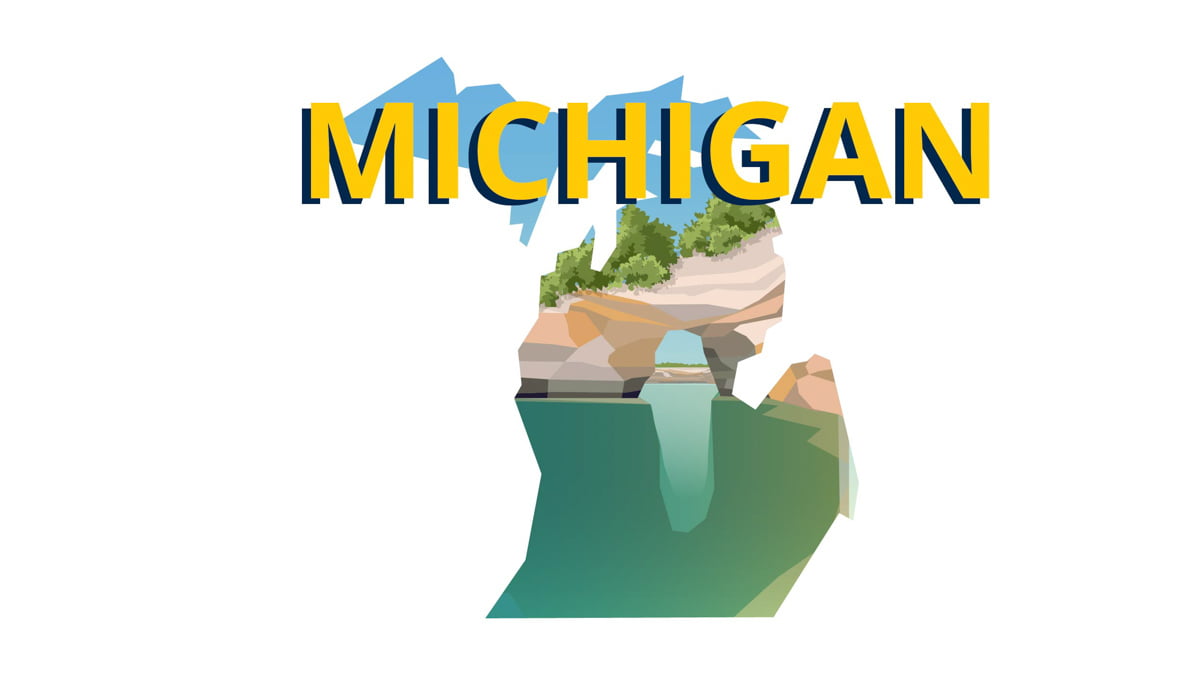 If you're still wondering about CBD's legality in Michigan, know that CBD extracted from hemp and marijuana are both legal in the state.
Michigan legalized medical marijuana in 2008, allowing the use of marijuana-derived CBD products with high THC levels.
In 2018, the 2018 Farm Bill legalized industrial hemp containing 0.3% THC, giving Michiganders access to hemp-derived CBD products. The state soon aligned its hemp laws with the federal government in 2019.
That same year, the state also legalized recreational marijuana.
This guide walks you through Michigan's CBD laws and on a federal level.
We'll also provide you tips in choosing an excellent CBD oil, where to find legal CBD products.
Where to Buy CBD in Michigan?
CBD oils in Michigan are available online and in-store, but buying online gives you more benefits.
Online cannabis shops are convenient, offer more CBD brands, and carry a wider assortment of CBD products — from oils to even pet CBD products. Shopping online also allows you to easily compare the different brands and their prices.
Moreover, buying CBD oil online gives you discounts when you buy in bulk or freebies when you sign up.
Be extra cautious when you buy online and know how to protect yourself.
1. Look for the Product's COA
You can easily tell that the CBD oil is from a trusted source when you see its COA or the laboratory result by an accredited testing facility.
Trusted brands upload their products' laboratory test results on their website as proof of their potency and purity. You'll see its cannabinoid levels as well and know if the product is really as advertised.
The COA also lets consumers know that the product is safe and not contaminated with toxins, residual solvents, or pathogens.
As a consumer, you should avoid CBD products with no COAs.
2. Avoid Brands That Make Too-Good-to-Be-True Claims
Dodgy CBD brands oftentimes make outrageous claims to gain their target market's attention. They also sometimes advertise their products as the cheapest in the market but of equal quality with the top brands.
If you see CBD brands like these, avoid them.
Not only are they non-compliant with the laws, but they're also misleading their consumers. More often than not, they're just after your money and don't care much for their consumers' welfare.
When it comes to CBD oil, remember that cheap doesn't always equate to good quality.
3. Read Reviews
Reading the reviews and feedback left by real customers gives you a good idea about CBD oil and its manufacturer. Through these, you'll know the expected results of the product and its side effects (if any).
Avoid CBD brands and products that have more negative reviews than good ones. You definitely don't want to consume something that's received a lot of bad reviews.
PRODUCT
DETAILS

Best Overall CBD Oil

Royal CBD – Full Spectrum

Rated #1 for overall
Highest quality hemp oil on our list
100% organic, free of pesticides, and artificial ingredients
Established brand with 24/7 customer support
30-day 100% money-back guarantee

Click for Best Price

Best Organic Formula

Gold Bee

Sourced from US-grown organic hemp
Contains full-spectrum CBD
Up to 80 mg CBD/mL
Great potency range for beginners
Third-party tested for potency and purity
Great kiwi-honey flavor

Click for Best Price
What Type of CBD is Right for You?
CBD products come in three types — pure CBD, broad-spectrum CBD, and full-spectrum CBD.
Pure CBD oil only has CBD in it and doesn't contain any additional cannabinoids and terpenes. Broad-spectrum CBD oil, on the other hand, has additional cannabinoids and terpenes but without THC. Full-spectrum CBD oil has additional cannabinoids, including THC as well as terpenes.
Of the three types, we recommend full-spectrum CBD oils if you're after a more potent product. THC strengthens the entourage effect and helps boost the cannabinoids and terpenes' beneficial effects.
Most full-spectrum CBD oils contain low levels of THC, so they won't get you high or trigger psychoactive effects.
Recommended and Trusted CBD Retailers in Michigan
Below is a list of our recommended CBD retailers in Michigan's biggest cities. These stores have a high number of reviews and good ratings.
CBD Stores in Detroit
House of Dank
Green Genie
JARS Cannabis East Detroit
CBD Stores in Grand Rapids
Shakedown Street
Green Mitten
The Grassy Knoll
CBD Stores in Warren
Smokers Alley Warren
Wild Bill's Tobacco
I Smoke & Vape
CBD Stores in Ann Arbor
Exclusive Ann Arbor Medical and Recreational Marijuana
Arbors Wellness
Bloom City Club
CBD Stores in Lansing
Cannaisseur Provisioning Center
Pure Options Lansing South
Pure Options Lansing East
Y-NOT-CBD
Jimmy's Cave
Deuces Wild Smoke Shop
Is CBD Legal in Michigan?
The popularity of CBD's health benefits has easily made it a household name, but it's created a lot of confusion from a legal perspective as well.
Under federal law, CBD from hemp is legal, and CBD from marijuana is not. Under Michigan's law, both sources are legal.
The state legalized medical marijuana in 2008 when the Michigan Compassionate Care Initiative was signed into law. While this allowed patients diagnosed with qualifying health conditions to grow their own plants, it did not allow the operation of dispensaries.
However, this oversight did not stop dispensaries from opening. Operating under the state's legal gray area, dispensaries served Michigan's medical marijuana patients.
It took Michigan almost a decade to finally address the issues with its current marijuana laws. In 2016, Governor Rick Snyder signed into law the bills that would regulate the state's medical marijuana market, including the operation of dispensaries.
This step finally gave registered patients safe access to legal, medical marijuana products.
When the 2018 Farm Bill was approved in December of 2018, it removed industrial hemp from the list of controlled substances, provided hemp contains no more than 0.3% THC. The 2018 Farm Bill also allowed hemp and all its parts to be used, including hemp-derived CBD.
In January 2019, Michigan passed the Industrial Hemp Research and Development Act to align state laws with federal laws.
Both these laws gave residents legal access to hemp-derived products. However, in line with federal laws, the state also prohibited CBD providers from marketing CBD as a health supplement. Adding CBD into foods and beverages was also prohibited.
In 2019, Rep. Greg Markkanen introduced House Bill 5085. This bill would allow veterinarians to discuss with pet owners the benefits and use of CBD oil and medical marijuana on their pets. In December 2020, the bill was finally signed into law.
Of note, Michigan voters approved Proposal 1 in November of 2018, legalizing marijuana for recreational use for adults over 21 years of age.
Do You Need a Prescription to Buy CBD Oil in Michigan?
Being 100% legal, residents don't need to provide any prescription, recommendation, or letter from their doctor to buy hemp-derived CBD oil in Michigan. There's also no possession limit to compliant hemp-derived CBD products.
The state's recreational marijuana laws also allow you to purchase CBD oil derived from marijuana even without a doctor's recommendation. However, you're also limited to what recreational users are allowed to possess.
If the amount isn't enough for your medical needs, you'll need to join the state's medical-marijuana program to be able to legally and safely possess higher amounts of medical marijuana.
Do You Need a Medical Card to Buy CBD Oil in Michigan?
No. You don't need to get a medical card to buy hemp-derived CBD oil with less than 0.3% THC. Hemp-derived products are available and legal on a state and federal level.
Again, you can buy marijuana-derived CBD oil in Michigan even without a medical card, but if the amount isn't sufficient to meet your health needs, you'll need to register with the state's program and get a medical card.
Being a registered patient with a valid card gives you the advantage of legally possessing more marijuana products for medical use.
Is CBD Legal in Michigan for Minors?
Hemp-derived products are available to people of all ages, but if you're going to use CBD oil on minors, we suggest talking it over with his pediatrician first for their expert opinion.
As for marijuana-derived CBD products, the minor will be assessed by a board-certified physician and a child disease specialist in Michigan to see if he's qualified to join the program and get a card.
If the minor qualifies, his primary caregiver will oversee his medical marijuana use.
Is Traveling with CBD legal in Michigan?
Traveling with CBD oil should be fine within Michigan and when crossing state borders, as long as the CBD oil is derived from hemp and contains no more than 0.3% THC.
Traveling with marijuana-derived CBD oil with a higher THC level should also be fine within Michigan.
However, crossing state borders with marijuana-derived CBD oil or any type of marijuana products, for that matter, is prohibited. Under federal law, hemp containing more than 0.3% THC is considered marijuana and illegal.
Can You Fly with CBD?
Flying with hemp-derived CBD oil won't get you in trouble with the law, as long as the product's compliant and has no more than 0.3% THC.
When boarding planes, we suggest downloading a copy of the product's COA or laboratory result to show as proof of its compliance and THC level.
Don't fly with marijuana-derived CBD oil or marijuana products. Again, marijuana is illegal under federal law, and flying with one can land you in legal problems.
Is Marijuana Legal in Michigan?
Medical and recreational marijuana is legal in Michigan.
The state legalized medical marijuana in 2008 and recreational marijuana in 2018.
Residents and non-registered patients above the age of 21 have access to legal recreational marijuana. All you need to buy legal weed in Michigan is a valid state ID or your driver's license.
Registered patients need to present their valid registry identification cards to buy medical marijuana.
How Much Marijuana Can I Buy or Grow?
In Michigan, registered patients are allowed to possess up to 16 ounces of marijuana-infused products in solid form, 7 grams in gaseous form, and 36 fluid ounces in liquid form. They're also allowed to grow up to 12 marijuana plants.
For recreational marijuana, adults are allowed to possess up to 2.5 ounces of marijuana on their person and up to 10 ounces at home. They're also allowed to possess no more than 15 grams of marijuana concentrates.
Recreational users are also allowed to grow up to 12 marijuana plants for personal use.
Is Smoking Marijuana Legal in Michigan?
Smoking marijuana is legal for both medical and recreational marijuana users in Michigan.
However, the state strictly bans smoking marijuana in public places or when operating vehicles.
What are the Types of Marijuana Allowed in Michigan?
Michigan allows these cannabis forms — flowers, oils, tinctures, edibles, capsules, extracts, topicals, vapes, and pre-rolls.
When Did Michigan Legalize Marijuana?
The state legalized marijuana for medical use in 2008 and recreational use in 2018. Sales for recreational marijuana only began in December 2019.
Final Thoughts — Buying CBD in Michigan
It's legal to buy hemp-derived and marijuana-derived CBD oil in Michigan.
You can buy hemp-derived CBD oil with less than 0.3% THC even without a medical card or a doctor's recommendation.
However, you'd need to be of legal age or have a medical card to buy marijuana-derived CBD oil with higher THC content.
Before buying CBD oil in Michigan, be sure to choose the source wisely. Read reviews, look for the product's COA, and more importantly, only buy CBD oil from law-compliant, trusted brands.