Is CBD Legal in Minnesota? MN Hemp Laws (2023)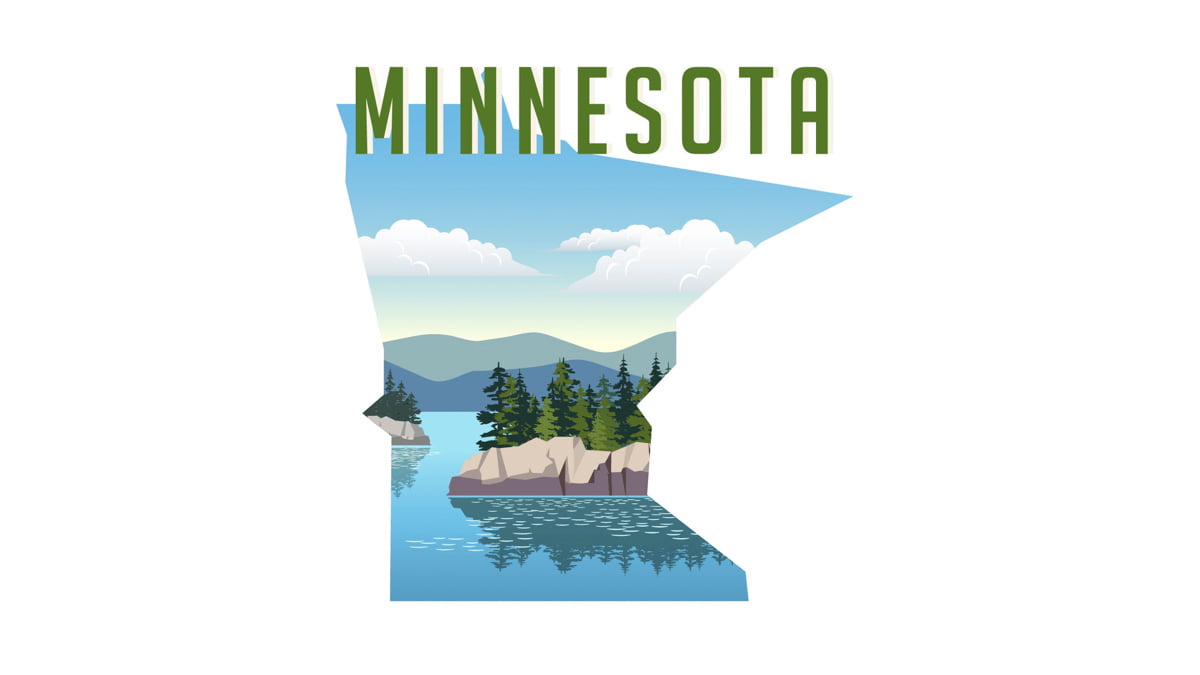 Cannabidiol is one of the most famous active compounds in the cannabis plant. As the cannabinoid is gaining more popularity lately, CBD retailers are popping up in the state of Minnesota, offering a range of cannabidiol-based products. Plus, with an abundance of health benefits offered by the cannabis plant, CBD oil is one of the industry's most popular health and wellness products. Although we all love cannabis and herb-based products, the legal status of CBD oil depends on its source. Now, cannabidiol can be derived either from marijuana, which contains over 0.3% of THC, or hemp with a smaller amount of this psychoactive cannabinoid. If you don't want to get in trouble when purchasing CBD-based products, learn more about the legality of hemp- and marijuana-derived CBD in Minnesota. Then, we'll introduce you to the list of the most recommended CBD retailers in the state.
Update: We no longer recommend purchasing CBD oil locally due to contaminated and untested CBD oils being sold in Minnesota stores.
If you are interested in learning more, read our guide on buying CBD near you.
We have compiled a list of the best pure CBD oils available for purchase legally in Minnesota below to save you time.
Is CBD Oil Legal in Minnesota?
Since the legality of CBD oil depends on its source, we distinguish two varieties of cannabis plants:
hemp, containing less than 0.3% of THC in general
marijuana, which has more than 0.3% of THC in general.
Now, hemp is legal in Minnesota, so is hemp-derived CBD oil. As for marijuana-based products, these are allowed under some restrictions only for medical marijuana patients. If you're thinking about buying CBD oil in Minnesota, here is all you need to know about the legal status of both hemp and marijuana in the state.
Related: List of States With Legal CBD
Marijuana CBD Oil in Minnesota
When it comes to the recreational use of marijuana, it's banned in the state. It's illegal to either possess or sell marijuana for recreational use. However, medical marijuana has been legal in Minnesota since May 2014, when the state enacted and fully implemented a restrictive medical marijuana program. To qualify for medical marijuana in Minnesota, you must be diagnosed with one of the following conditions:
Crohn's disease
Cancer
Cachexia
Amyotrophic Lateral Sclerosis
Glaucoma
AIDS/HIV
Seizures
Terminal illness
Intractable pain
Severe and persistent muscle spasms
Tourette's Syndrome.
If you're diagnosed with one of the conditions listed above, you can become a medical marijuana patient allowed to get marijuana-derived CBD oil.
Related: Is Marijuana Legal in Minnesota?
Hemp CBD Oil in Minnesota
Hemp-based products are fully legal in Minnesota. The 2014 Farm Bill legalized industrial hemp throughout the States. Since no legislation has been introduced to regulate hemp in Minnesota, buying hemp-derived CBD oil is legal. Fortunately, with the growing popularity of CBD-infused health products, you can easily find high-quality CBD oil in Minnesota.
Where to Buy CBD Oil in Minnesota?
Since hemp-based CBD products are legal in all 50 states, you can find them in many stores across Minnesota. As long as the CBD Oil contains less than 0.3% of THC, you can easily find it in many cities in the state, including the famous Minneapolis, with at least four recommended stores to check out. However, when buying CBD oil in Minnesota offline, many local shops may offer various standards of the products in terms of their quality. Thus, if you don't know where to buy CBD oil in Minnesota and don't feel confident enough to determine the quality of a particular product, you can buy it online. Buying CBD oil online is considered a more affordable and safe method of getting top-notch hemp-derived products. Here is everything you need to know before you start your online shopping:
Buying CBD Oil Online in Minnesota
Buying CBD oil online is not only convenient but also safe and fast. Since you can easily access the abundance of manufacturers and their products, it's a lot easier to do your research and determine whether or not the particular manufacturers are worth your trust. Once you check the reviews, you can easily order the finest CBD product. Now, under the 2014 Farm Bill, you can legally buy hemp-based products from literally anywhere in the country without having to leave your home. When buying CBD oil online, you can find the best products at the most affordable prices. Moreover, many retailers offer wholesale deals and attractive discounts, making online shopping even more fun! The fact that you don't have to leave your home to find your perfect health product and still get it delivered right to your door should be strong enough for you to decide to order CBD products online instead of wasting your time looking for a reliable source locally. How to find a top-notch product online? Ensure the particular manufacturer's policy is transparent and that the products come with 3rd party lab testing results to prove their quality.
PRODUCT
DETAILS

Best Overall CBD Oil

Royal CBD – Full Spectrum

Rated #1 for overall
Highest quality hemp oil on our list
100% organic, free of pesticides and artificial ingredients
Established brand with 24/7 customer support
30-day 100% money-back guarantee

Click for Best Price

Best Organic Formula

Gold Bee

Sourced from US-grown organic hemp
Contains full-spectrum CBD
Up to 33 mg CBD/mL
Great potency range for beginners
Third-party tested for potency and purity
Great honey flavor

Click for Best Price
Local CBD Oil Stores in Minnesota
If you still prefer buying CBD oil locally in Minnesota, you can find trustworthy retailers in the state. Although online stores offer a wider selection of CBD-based products, some of you may still prefer to enjoy the city tour when looking for a good CBD retailer. Here is a list of the best places to visit when shopping for CBD oil in the state:
CBD Oil Shops in Minneapolis
Although it should be easy to find many CBD retailers in a city like Minneapolis, there are only a few recommended stores offering hemp products. If you're in the city, make sure to stop by the following locations:
| | |
| --- | --- |
| Name | Address |
| The Wedge | 2105 Lyndale Ave S, Minneapolis, MN 55405 |
| The Seward Community Co-op | 2823 E Franklin Ave, Minneapolis, MN 55406 |
| The Green Machine | 2409 Nicollet Ave, Minneapolis, MN 55404 |
| Hampshire Labs | 4828 Park Glen Rd, Minneapolis, MN 55416 |
CBD Oil Shops in Duluth
Duluth is a place where buying CBD oil may be a challenge. However, many people recommend visiting Sadi's Smoke Shop located at London Road.
| | |
| --- | --- |
| Name | Address |
| Sadi's Smoke Shop Duluth Vapor | 1631 London Rd, Duluth, MN 55812 |
CBD Oil Shops in St. Cloud
We're still waiting for St. Cloud to bloom with CBD stores, but if you're eager to buy CBD locally, there are a couple of stores worth visiting. Don't forget to check out Mr. Nice Guys or CBD of St. Cloud whenever you're in the city.
| | |
| --- | --- |
| Name | Address |
| CBD of St.Cloud | 3417 W Division St, St Cloud, MN 56301 |
| Mr. Nice Guys | 616 2nd St S, St Cloud, MN 56301 |
CBD Oil Shops in Farmington
Farmington is not the best city for buying CBD oil in Minnesota, but you can ask for your favorite hemp-based product at CBD Oil Products, as they might have what you're looking for.
| | |
| --- | --- |
| Name | Address |
| CBD Oil Products CTFO Associate John Seidl | 22427 Carina Ct, Farmington, MN 55024 |
Other CBD Oil Shops in Minnesota
As you can see, the most popular cities in Minnesota are not rich with CBD retailers. However, there are some more places you can visit when looking for CBD oil in the state. If you're up for a trip, make sure you give the following stores a shot:
| | |
| --- | --- |
| Name | Address |
| eCig Firehouse | 4438 U S 61, White Bear Lake, MN 55110 |
| SmokeDale Tobacco Shop | 7141 10th St N, Bergen Plaza, Oakdale, MN 55128 |
| The Earthbound Trading Store | 8251 Flying Cloud Dr, Eden Prairie, MN 55344 |
| MN Hemp Farms | 14530 90th St S, Hastings, MN 55033 |
| CBDStore.US | 3500 Vicksburg Ln N #400, Plymouth, MN 55447 |
| Vaping Studio | 811 Mainstreet, Hopkins, MN 55343 |
| Hideaway Outlet | 4135 Coon Rapids Blvd NW, Coon Rapids, MN 55433 |
| LeafLine Labs Hibbing | 302 E Howard St, Hibbing, MN 55746 |
| Smokedale Tobacco | 203 Jackson St, Anoka, MN 55303 |
| SMOKEDALE TOBACCO BIG LAKE | 726 Martin Ave, Big Lake, MN 55309 |
Final Thoughts on Buying CBD Oil in Minnesota
Although Minnesota is still hard on the recreational use of marijuana, medical use is legal under certain restrictions. Thus, if you're a medical marijuana patient, you can access marijuana-based products, including CBD oil. However, if you're not allowed to get marijuana-derived CBD oil, you can always try hemp-based products, which offer a range of health benefits, but don't contain psychoactive THC. Whether you prefer walking around the city looking for a trusted retailer or surfing the Internet and hunting the best wholesale deals, both of these options are available in Minnesota!