Is CBD Legal in Oregon? OR Hemp Laws (2023)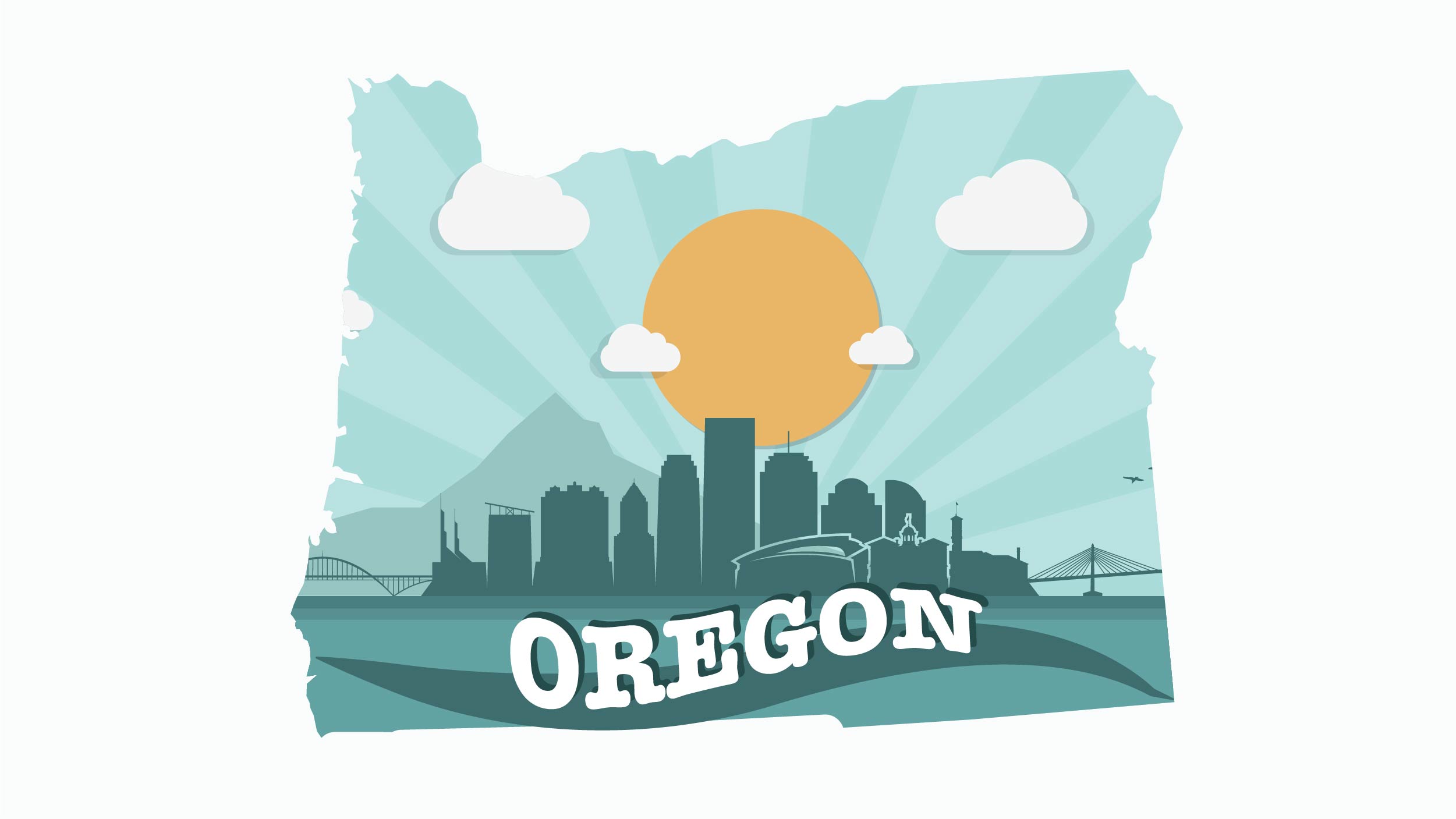 Is CBD legal in Oregon? Yes, it is! Oregon is among the first states to legalize CBD for both hemp and marijuana. But of course, just like the other states, restrictions are attached to it.
Oregon residents can buy CBD products from local dispensaries and online sellers. To ensure that you are buying potent and legit CBD products, you should only buy them from licensed sources. It is important to do research about the seller and their products to avoid sub-par quality and illegal sellers locally and online.
If this is your first time looking for CBD products in Oregon, this article will explain the local laws regarding cannabis and point you in the right direction to finding the best deals on CBD in Oregon.
Is CBD Oil Legal in Oregon?
CBD is legally and lawfully accepted in Oregon. This state is relaxed when it comes to its CBD laws and regulations. This allows their residents to buy and use CBD regardless of its source, whether hemp or marijuana. Oregon is the pioneer in the CBD market and continues to progress in its CBD industry.
You can enjoy CBD in Oregon without any age limits, and no prescription is required. The only restriction the state-imposed is on CBD smokables and vape products, where you have to be 21 years old and above to purchase them.
Let's focus on the quality criteria and important considerations before buying.
Related: List of States Where CBD is Legal
Marijuana CBD Oil vs. Hemp CBD Oil
Despite sharing the same parent plant — Cannabis sativa L. — hemp and marijuana have different chemical profiles, mainly regarding their CBD/THC ratios.
Marijuana plants usually contain a significant amount of THC, so CBD products made from this type of cannabis can produce the psychoactive buzz associated with using weed. You can't just go to any store and ask for CBD oil from marijuana because these products can only be purchased through a state-licensed adult-use dispensary.
Hemp, on the other hand, contains nearly nonexistent levels of THC (up to 0.3%), but it comes with higher concentrations of CBD. Hemp-derived CBD oil can't get the user high, unlike products made from marijuana. You can legally purchase them over the counter at health retail outlets, pharmacies, vape shops, and specialty stores. There are also hundreds of companies selling CBD online.
The next section briefly covers the legal status of hemp-derived CBD oil in Oregon.
Hemp CBD Oil in Oregon
Hemp-derived products are federally legal under the 2018 Farm Bill.
The new law removed hemp from the Controlled Substances Act, changing its status to an agricultural commodity.
Hemp can be grown and sold for any use, including food, paper, clothing, building materials, fuel, and health supplements such as CBD oil.
You don't need a prescription to purchase hemp-derived CBD oil in Oregon. You can find it over the counter in local head shops, vape stores, and wellness centers.
Marijuana CBD Oil in Oregon
Oregon has legalized marijuana for both medical and recreational use. Adults aged 21 or older can legally buy marijuana from dispensaries. If you meet the legal age, you can legally possess:
Up to 1 oz of dried marijuana flower
Up to 1 oz of marijuana extracts or concentrates
Up to 16 oz of marijuana edibles
Up to 73 ounces of marijuana-infused liquid (CBD oil)
Up to 10 marijuana seeds
Up to 4 immature cannabis plants
The state of Oregon has higher possession limits for private properties. Oregonians can legally have up to 8 ounces of marijuana in their house. If you want to purchase marijuana-derived CBD oil in Oregon, you can possess up to 72 ounces of the product.
Individual counties and cities in Oregon can decide whether or not they allow recreational marijuana sales according to Oregon's policy.
Related: Is Marijuana Legal in Oregon?
Can Doctors Prescribe CBD Oil in Oregon?
Oregon has a robust medical marijuana program. Eligible patients may legally possess up to 24 ounces of dried marijuana, 6 marijuana plants, and 50 seeds.
If you apply for a medical marijuana recommendation, you'll need to be diagnosed with a qualifying condition. You must also prove that the doctor who has written this recommendation is the primary healthcare provider that maintains an ongoing relationship with you.
Qualifying conditions for Oregon's medical marijuana program include:
Cancer
Cachexia
Degenerative neurological conditions
Glaucoma
HIV/AIDS
Persistent muscle spasms
Post-Traumatic Stress Disorder (PTSD)
Severe pain
Severe nausea
Seizures
Where to Buy CBD Oil in Oregon?
Oregon is home to many great stores where you can buy CBD oil. You can look for hemp-derived CBD in cannabis dispensaries or a head shop near you, or choose a more convenient option and order online.
Here's why buying CBD online pays off.
Reasons to Buy CBD Online
The Internet is full of great CBD products if you know where to look for them. It all boils down to finding a reliable store that can provide a variety of CBD formats that meet the generally agreed quality requirements and can prove them with a Certificate of Analysis from an outside laboratory.
When shopping for CBD online, you can access a broader range of products, including oils, capsules, edibles, creams, vape juice, and even pet products. Finding all these types of CBD in one local store is close to impossible since they have limited shelf space.
It's also easier to research any brand online. You can ask for lab reports, check user reviews, or read the company's website to see how it sources hemp or what extraction method it uses to make CBD oil.
Finally, products found online are usually more affordable than those found in-store. That's because online stores can cut out the costs associated with running a physical storefront, offering regular discounts, reward programs, and customer coupon codes.
Buying CBD online is both time- and money-saving.
PRODUCT
DETAILS

Best Overall CBD Oil

Royal CBD – Full Spectrum

Made from locally grown organic hemp
Extracted with supercritical CO2
Infused with full-spectrum CBD
Available in 4 strengths and flavors
Up to 2500 mg of CBD per bottle
3rd-party tested for potency and purity
Great Berry flavor

Click for Best Price

Best Organic Formula

Gold Bee

Sourced from US-grown organic hemp
Contains full-spectrum CBD
Up to 80 mg CBD/mL
Great potency range for beginners
Third-party tested for potency and purity
Great kiwi-honey flavor

Click for Best Price
Local CBD Retailers in Oregon
As mentioned, Oregon has many professional stores that sell CBD products, so if you need to talk with the staff about your goals with CBD and touch the products yourself, here's a shortlist of the best local vendors in the state.
CBD Stores in Portland
Serra
CannaSource
Oregon Weedery
CBD Stores in Salem
Ancient Remedies
Cherry City Compassion Marijuana Dispensary
Diem Cannabis Dispensary & Marijuana Delivery
CBD Stores in Eugene
Nectar – Eugene River Road
TJ's Provisions
The Greener Side
CBD Stores in Bend
HempWorx
Cannabend
Substance Cannabis Market
How to Find Quality CBD Oil in Oregon?
The CBD industry is relatively new and largely unregulated. There are a lot of mislabeled products being sold in local stores, some of which can be dangerous for your health. Of course, there's an equal number of brands making premium stuff that can improve your quality of life by miles.
Below we share our tips for weeding out shady suppliers.
What You Need to Know About Buying CBD Oil in Oregon
Only purchase from brands that test their products in laboratories. Third-party testing is the only way to ensure that your product contains the advertised amount of CBD and is free of contaminants. If you want to make sure that you're getting high-quality CBD oil, always look for third-party lab reports on the company's website.
Choose full-spectrum CBD. Full-spectrum means that the CBD oil was extracted from the whole plant. This process captures other valuable compounds, such as trace cannabinoids, terpenes, and flavonoids — all of which can enhance the therapeutic qualities of CBD.
Opt for CO2-extracted CBD. CO2 extraction doesn't require additional heat or solvents, so it's the safest and most efficient method to produce CBD oils. This technology allows the producer to achieve consistent potency in each batch without contaminating them with toxic solvent residue or causing an explosion. The equipment needed to run CO2 extraction is also very expensive, so it's a sign that the company is committed to quality.
Look for organic, non-GMO hemp. As bioaccumulators, hemp plants absorb every substance from the soil they grow in. The best CBD oils in Oregon are made from hemp grown on local farms. When planted in fertile soil and cultivated without dangerous chemicals, hemp will yield clean, CBD-rich flowers.
Steer clear of companies claiming CBD is a miracle drug. CBD is a wonderful health supplement that can improve your daily life from many angles, but it will not cure cancer or mend broken bones. If you see a company making such claims — run, Forest, run!
Summary: What is the Best Way to Buy CBD Oil in Oregon?
Oregon is perhaps one the best states to enjoy cannabis in all forms. CBD is widely available in the state and you can buy them online and locally. There are lots of online stores that cater to Oregon. Local shops and dispensaries are also available to sell CBD products to residents. The best thing in this state is that marijuana is legal for both medical and recreational use. This opens more doors for new retailers in the market that could also sell CBD products in the state.
No matter how you decide to buy CBD oil in Oregon, always remember to do your research on any brand before making the final decision. Education is paramount when it comes to protecting yourself from shady companies and snake oils.