Is CBD Legal in Tennessee? TN Hemp Laws (2023)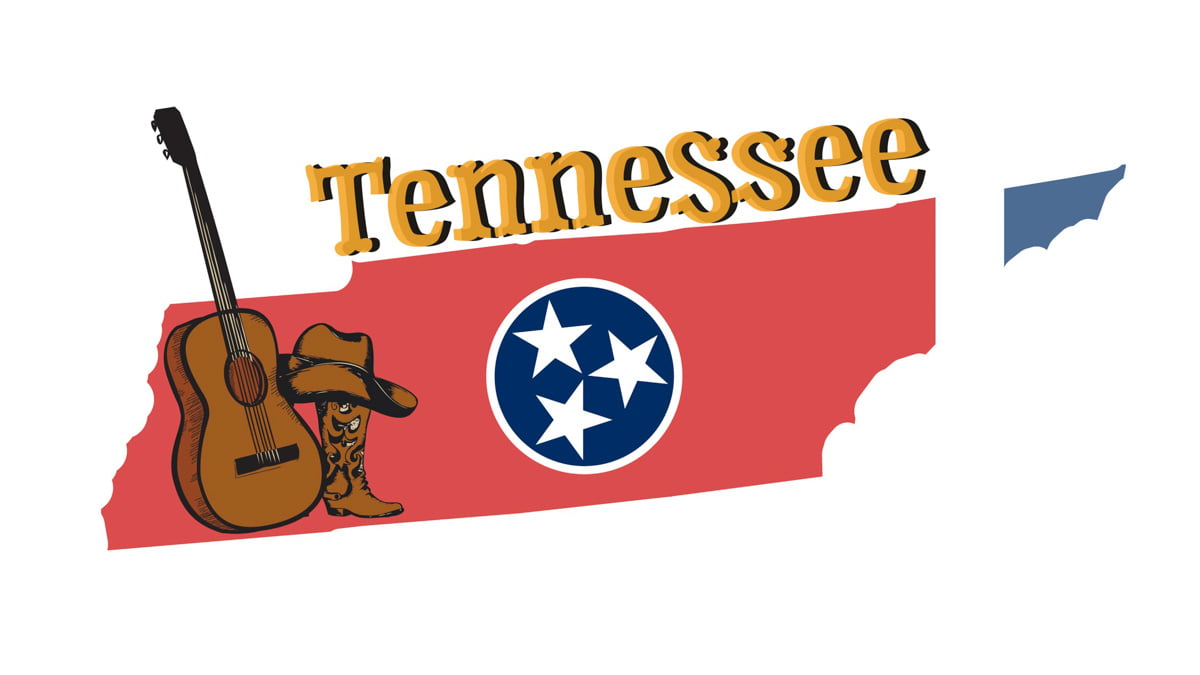 Tennessee is currently one of the best CBD oil markets in the Southeast. CBD buyers who need high-quality CBD goods can find decent suppliers from Memphis to Nashville to Pigeon Forge. Wherever you live in the state, you're a stone's throw away from your neighborhood store. But don't worry, if buying CBD oil in Tennessee locally is not your cup of tea, you can always order Cannabidiol online and have it delivered right to your door.
Before you discover the best CBD oil retailers in Tennessee, we would like to shed light on the in-state legal intricacies around cannabis and hemp.
Is CBD Oil Legal in Tennessee?
It depends on the source of your CBD oil. CBD can be derived from both marijuana and hemp, and this is where things get complicated.
Related: Guide to CBD Legalization by State
Marijuana CBD Oil in Tennessee
Generally speaking, the South has always had problems catching up with the Northern states in terms of cannabis legalization. Tennessee has no medical marijuana program, and despite many efforts in 2016, the attempt to legalize medical cannabis ultimately failed.
Possession of CBD oil derived from marijuana in Tennessee is illegal and considered a misdemeanor, which is punishable with a fine between $250 and $2,500 with possible imprisonment for up to a year.
Related: Is Marijuana Legal in Tennessee?
Hemp CBD Oil in Tennessee
Following the 2018 Farm Bill, U.S. farmers and academic organizations can cultivate hemp for industrial or research purposes. Tennessee removed industrial hemp from the criminal code's definition of marijuana shortly after the bill went into effect. Hemp-derived CBD oil is legal in 50 states and is classified as a "food supplement."
Where to Buy CBD Oil in Tennessee?
When buying CBD oil in Tennessee, you have two options: you can either purchase it in a local store or do it online in the comfort of your home.
Here's what you need to know about buying CBD oil in Tennessee.
Buying CBD Oil Online in Tennessee
Buying CBD oil online is easy, fast, and convenient. Usually, it takes anywhere from 5 to 10 minutes until you proceed to checkout. But more importantly, you can order CBD oil online from any state in the U.S.
The most difficult part about buying CBD oil online is finding a trusted manufacturer. Amidst the sea of fly-by-night companies offering inferior CBD products, it can be challenging to find a good retailer.
If you want to make sure that your source of CBD oil can be trusted, check if they meet the following criteria:
Hemp is organic, GMO-free, and pesticide-free;
CBD is extracted with CO2;
CBD products contain a broad spectrum of cannabinoids and terpenes;
The company shows third-party lab results to prove the quality of their goods;
Shipping & return policies are clear.
If you can tick off all of them, the company deserves a green light.
PRODUCT
DETAILS

Best Overall CBD Oil

Royal CBD – Full Spectrum

Rated #1 for overall
Highest quality hemp oil on our list
100% organic, free of pesticides and artificial ingredients
Established brand with 24/7 customer support
30-day 100% money-back guarantee

Click for Best Price

Best Organic Formula

Gold Bee

Sourced from US-grown organic hemp
Contains full-spectrum CBD
Up to 80 mg CBD/mL
Great potency range for beginners
Third-party tested for potency and purity
Great kiwi-honey flavor

Click for Best Price
Local CBD Oil Stores in Tennessee
Despite the Southern cannabis-negative attitude, Tennessee is one of the best places to buy hemp-derived CBD oil in this region. New stores are popping up each month, so we have put together a list of top-rated CBD oil shops in Tennessee to save you the effort.
CBD Oil Shops in Nashville
Nashville is home to some 5-star rated CBD oil shops, vape shops, and brick-and-mortar stores. If you want to buy high-quality CBD oil in the city, make sure to visit the following locations:
| | |
| --- | --- |
| NAME | ADDRESS |
| Music City Hemp Store – East Nashville Company | 307 N 16th St, Nashville, TN 37206 |
| CBD Nashville American Shaman | 925 Gallatin Ave #103, Nashville, TN 37206 |
| Nashville CBD Solutions | 4004 Hillsboro Pike #150r, Nashville, TN 37215 |
| CBD Solutions | 2418 Lebanon Pike, Nashville, TN 37214 |
| Nashville Vapor | 5908 Charlotte Pike A, Nashville, TN 37209 |
| Marleys Smoke Shop | 6410 Charlotte Pike #116, Nashville, TN 37209 |
| Float Nashville | 2701 Greystone Rd, Nashville, TN 37204 |
| Saffire Vapor Retail Store | 15540 Old Hickory Blvd, Nashville, TN 37211 |
| Saffire Vapor Retail Store | 3042, 2613 Franklin Pike #105, Nashville, TN 37204 |
Memphis has several decent CBD shops, but Create A Cig Memphis is the creme de la creme of all vape stores in the city. Friendly customer service, a wide selection of CBD goods, and vaping accessories – it's all here.
| | |
| --- | --- |
| NAME | ADDRESS |
| Create A Cig Memphis | 2889 Poplar Ave, Memphis, TN 38111 |
CBD Oil Shops in Knoxville
Staying in Knoxville for a day or two? It may be a good time to take a trip around the city in search of the best CBD oil shops. Below, you will find all 4 to 5-star rated retailers that carry CBD goods.
| | |
| --- | --- |
| NAME | ADDRESS |
| CBD American Shaman | 150 Lovell Rd #102, Knoxville, TN 37934 |
| Eddie's Health Shoppe | 8025 Kingston Pike, Knoxville, TN 37919 |
| Saffire Vapor Retail Store | 6631 Clinton Hwy #112, Knoxville, TN 37912 |
| AVAIL Vapor – Knoxville | 4889 N Broadway St, Knoxville, TN 37918 |
| Knoxville Vapor | 5201 Kingston Pike #4, Knoxville, TN 37919 |
| Saffire Vapor Retail Store | 11521 Parkside Dr, Knoxville, TN 37934 |
| D20 Vape | 6931 Maynardville Pike, Knoxville, TN 37918 |
CBD Oil Shops in Chattanooga
Chattanooga houses several locations for those looking for premium CBD products. Whenever you're in town, remember to pay a visit to one of the following shops:
| | |
| --- | --- |
| NAME | ADDRESS |
| Hemp House | 512 Tremont St, Chattanooga, TN 37405 |
| Nutrition World | 6201 Lee Hwy, Chattanooga, TN 37421 |
| Hemp ReLeaf CBD Dispensary Inc | 4827 A1, TN-58, Chattanooga, TN 37416 |
| Chattanooga Vapor Co | 440 Cherokee Blvd, Chattanooga, TN 37405 |
Other CBD Oil Shops in Tennessee
As we said, Tennessee has one of the best CBD markets in the Southern states. Check the addresses below, and don't hesitate to give them a shot when you're nearby.
| | |
| --- | --- |
| NAME | ADDRESS |
| IX Nubes Vape Lounge | 738 Parkway #4, Gatlinburg, TN 37738 |
| The Juice Bar Vape & CBD Shop | 1415 Hillsboro Blvd Suite 01, Manchester, TN 37355 |
| Gen 1:29 CBD Hemp Oil | Back Building in the Center left, 820 N Thompson Ln site 1c, Murfreesboro, TN 37129 |
| Green Hemp Solutions | 1010 Stanbery Cir, Greeneville, TN 37745 |
| Mellow Vape | 2124 Gallatin Pike N, Madison, TN 37115 |
| The Juice Bar | 2115 Decherd Blvd, Decherd, TN 37324 |
| Green Valley CBD | 513 Wears Valley Rd #3, Pigeon Forge, TN 37863 |
| A1 CBD 4 You | 1503 E Court St, Dyersburg, TN 38024 |
| The Juice Bar Vape & Smoke Shop | 109 Cedar Ln, Tullahoma, TN 37388 |
Final Thoughts on Buying CBD Oil in Tennessee
The cannabis legalization process has been moving very slowly in Tennessee. Still, hopefully, the amount of public support for decriminalization and legalization will push lawmakers into moving towards the progressive trends coming from the North.
Still, if you want to experience the benefits of cannabis without getting high, you can do it firsthand by buying CBD oil derived from hemp. Hemp extracts and their derivatives are legal in Tennessee, and even if you don't live near any of the aforementioned CBD shops, you can still order high-quality cannabidiol online and have it delivered right to your doorstep.