Is CBD Oil Legal in West Virginia? WV Hemp Oil Laws (2023)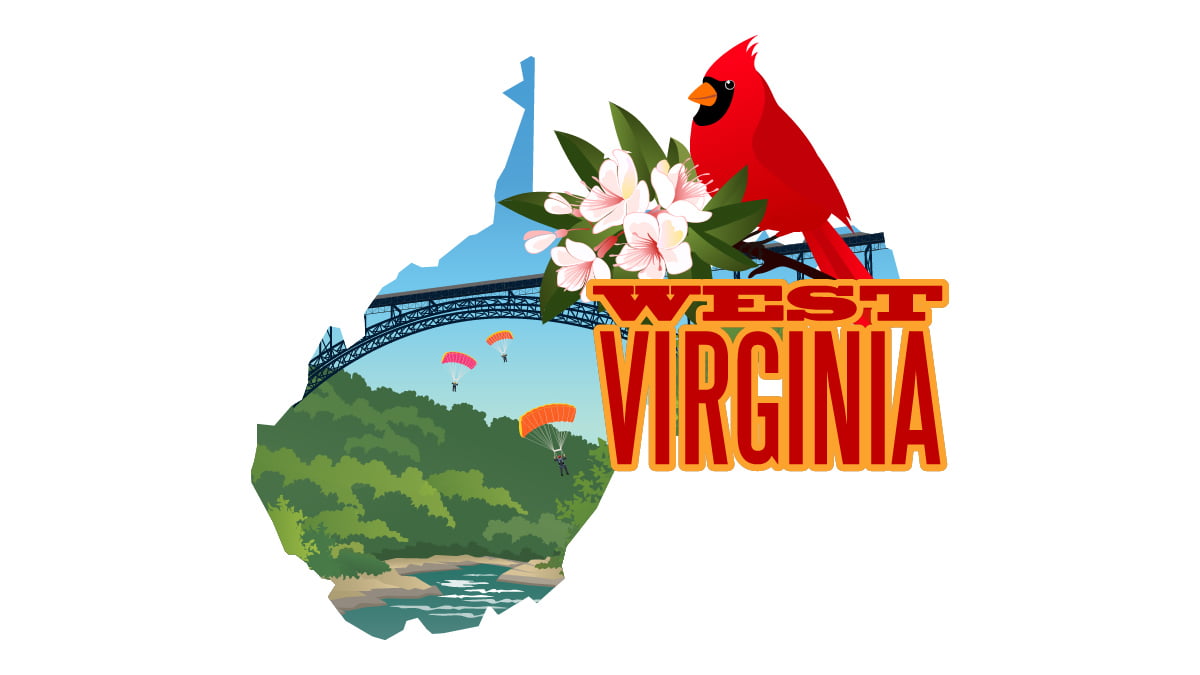 CBD has stormed the wellness industry with its astonishing range of health benefits. CBD retailers are popping up in all 50 states, and online shops are full of premium CBD goods wholesale. Buying CBD oil in West Virginia is easy, as the state is home to plenty of brick-and-mortar stores that carry this versatile food supplement.
Let's make something clear, not every form of CBD oil is legal in West Virginia. That being said, in order not to get into trouble with the state's law, we suggest that you make yourself familiar with the difference between marijuana- and hemp-derived CBD oil.
Is CBD Oil Legal in West Virginia?
Technically speaking, yes, CBD oil is legal in West Virginia as long as it contains less than 0.3% THC. This brings us to the aforementioned division between CBD oil derived from hemp and marijuana.
Related: Map of US States With Legalized CBD Use
Let's take a closer look at what West Virginia's law has to say about both plants.
Marijuana CBD Oil in West Virginia
Marijuana contains significant amounts of THC; as such, it falls under different regulations than hemp.
Medical marijuana has been legal in West Virginia since 2017, but dispensaries won't open until 2019. Once the licensed dispensaries begin their operation, they will be allowed to sell marijuana-infused edibles, pills, topicals, patches, oils, and extracts – but no flowers.
As for the recreational use of marijuana, this is still considered a misdemeanor that is punishable by up to six months in prison and a maximum $1,000 fine. This relates to the possession of any amount of marijuana.
All that said, West Virginia, is certainly in major need of cannabis policy reform. But hey, if you want to experience the benefits of cannabidiol – and do it legally – you might want to try buying hemp-derived CBD oil.
Hemp CBD Oil in West Virginia
Following the 2018 Farm Bill, all CBD goods sourced from hemp are legal on the federal level. They have also been ruled to fall under the same categorization as other hemp products.
At the time of writing, no West Virginia state legislation has been introduced to regulate hemp-derived CBD. This, in turn, brings up another question, namely:
Where to Buy CBD Oil in West Virginia?
Like we said, buying CBD oil in West Virginia is fairly easy. The state houses numerous vape shops, wellness centers, and brick-and-mortar stores where you can find a wide range of CBD-infused goods.
Once you enter one of them, feel free to ask the staff about the products you seek. Best CBD oil shops in West Virginia employ well-informed people who are passionate about hemp, so even if you're new to the market, they will be happy to assist you.
However, if you prefer to buy stuff without leaving your house, consider ordering CBD oil online.
Here's why.
Buying CBD Oil Online in West Virginia
Buying high-quality CBD oil online boils down to finding a trusted manufacturer. The CBD market is growing like crazy, so it comes as no surprise that CBD companies grow in abundance these days.
But how to find the pristine pearl among the sea of kelp?
First of all, make sure that a company gets its CBD from high-quality, organic hemp. It may come from domestic or European farms, but the approach to cultivation is of paramount importance.
Further, mind the extraction method. The majority of top-notch CBD suppliers make their extracts using CO2 extraction, which is the safest and most effective method of drawing cannabinoids from hemp.
And last but not least – always ask for third-party lab testing reports. Companies often show these reports in a separate section on their websites, but sometimes, you will have to ask for them via e-mail. If your potential CBD supplier doesn't show such results online, but you still think it can be trusted, give them a call or write a message – if they can be trusted, you will get what you're asking for.
PRODUCT
DETAILS

Best Overall CBD Oil

Royal CBD – Full Spectrum

Rated #1 for overall
Highest quality hemp oil on our list
100% organic, free of pesticides and artificial ingredients
Established brand with 24/7 customer support
30-day 100% money-back guarantee

Click for Best Price

Best Organic Formula

Gold Bee

Sourced from US-grown organic hemp
Contains full-spectrum CBD
Up to 80 mg CBD/mL
Great potency range for beginners
Third-party tested for potency and purity
Great kiwi-honey flavor

Click for Best Price
Local CBD Stores in West Virginia
Trying to find CBD oil in West Virginia somewhere near you? We've got that covered as well. There are plenty of 5-star rated stores that carry CBD oil in different forms in the state, with the largest concentrations found in the most populated areas.
Below, we list the best places to buy CBD oil in West Virginia.
Best CBD Oil Stores in Charles Town
Charles Town is a good place for vapers. Charlies Too, one of the best vape shops in Charles Town, sells top-quality CBD liquids in 20 flavors. On top of that, Charlies Too offers vape accessories and has an oxygen bar – all of this at affordable prices.
| | |
| --- | --- |
| NAME | ADDRESS |
| Charlies Too | 835 E Washington St, Charles Town, WV 25438 |
Best CBD Oil Stores in Martinsburg
Martinsburg has several CBD spots with a long tradition, but Eclipse has grown to iconic since its opening in 1992. With over 25 years of experience and a 3,000 square foot space, Eclipse proudly displays its wall-to-wall selection of vaping and smoking accessories, hemp-derived CBD products, and Kratom.
| | |
| --- | --- |
| NAME | ADDRESS |
| Eclipse | 4922 Williamsport Pike, Martinsburg, WV 25404 |
Best CBD Oil Stores in Morgantown
Morgantown is home to plenty of vape shops that might carry CBD goods in stock. Whenever you're in Morgantown for a trip, and you run out of CBD oil, pay a visit to the following places:
| | |
| --- | --- |
| NAME | ADDRESS |
| Smokes Emporium | 4151 University Town Ctr Dr, Morgantown WV 26501 |
| The Vapor Room | 732 Beechurst Ave, Morgantown, WV 26505 |
| AVAIL Vapor | 412 Suncrest Town Ctr, Morgantown, WV 26505 |
Best CBD Oil Stores in Charleston
Charleston residents looking to buy CBD oil in West Virginia should definitely visit Charleston. The city is known for the abundance of A-class vape shops, including Capitol City Vapors, Full Steam Vapor, and more.
| | |
| --- | --- |
| NAME | ADDRESS |
| Vapor Mall | 502 W Washington St, Charleston, WV 25302 |
| Capitol City Vapors | 4002 Maccorkle Ave E Charleston, Kanawha City, WV 25304 |
| Full Steam Vapor | 3999 Teays Valley Rd, Hurricane, WV 2552; 5252 US Route 60 E, Huntington, WV 25705 |
Best CBD Oil Stores in Huntington
There are about a half-dozen vape shops in the area of Huntington, but two of them can help you out when you need CBD oil in West Virginia. Select A Vapor and Madvapes are the two "must-go" locations. Alternatively, you can check for several shops across the border in Ohio and Kentucky if you're passing by.
| | |
| --- | --- |
| NAME | ADDRESS |
| Select A Vapor | 3476 U S 60 Barboursville, WV 25504 |
| Madvapes | 3476 Route 60 East, Barboursville, WV 25504 |
Final Thoughts on Buying CBD Oil in West Virginia
West Virginia has a long way to go for cannabis policies, but the good thing is that the state's hemp CBD market is developing without the state's interference. Hemp-derived CBD is widely available in West Virginia, with more and more CBD stores and vape shops showing up within its borders. If, however, buying CBD locally is not your cup of tea, you might want to consider buying CBD oil online. It's fast, easy, and convenient, allowing you to get the bottle of your CBD oil without leaving your home.