Charlotte's Web CBD Review & Coupon Code (2023 Update)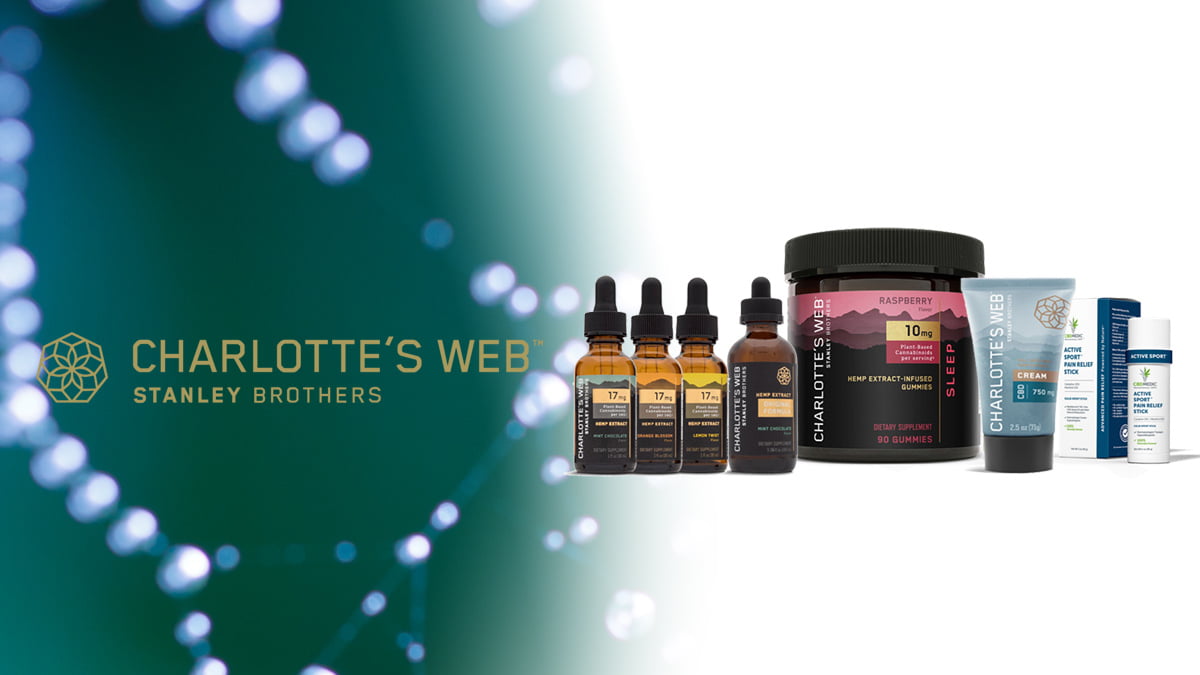 Charlotte's Web is one of the more well-known CBD brands in the United States.
The company claims that its products offer many health benefits including:
Helps you manage your everyday stress
Recover from inflammation caused by exercise
Boost your ability to focus by supporting a sense of calm
Aid in maintaining healthy sleep cycles as well as overall wellbeing
Charlotte's Web has been around longer than most CBD companies and offers a wide variety of CBD products. However, like other Cannabis companies, Charlotte's Web also has a history of legal troubles.
In my Charlotte's Web review, you'll discover everything you need to know about the brand, from its most popular products to customer reviews and the history of lawsuits and warning letters.
We'll also examine some alternatives to Charlotte's Web so that you can use a bigger picture to make the final decision.
Charlotte's Web Review: Pros & Cons
Pros
Cons

An established brand with a long history
A wide selection of products
A good level of transparency
Offers veterans discount
Offers batch-specific COAs

Hemp is not yet certified organic
Batch-specific COAs are only available with batch numbers
Two class-action lawsuits have been filed against the company
Received a warning letter from FDA
About Charlotte's Web
In 2011, the Stanley Brothers developed proprietary hemp genetics with low tetrahydrocannabinol (THC) that would later become the basis for Charlotte's Web products.
Charlotte Figi, a 5-year-old girl suffering from rare epilepsy, needed a natural alternative to cure her condition ever since she was 3 months old. Charlotte's parents turned to CBD when the hospital could no longer help their daughter.
Her mother contacted the Stanley Brothers. Charlotte has since experienced a dramatic reduction in seizures as a result of taking CBD continuously.
The Stanley Brothers named its hemp strain (CW1AS1) after Charlotte. Currently, the company sells CBD tinctures, oils, gummy bears, capsules, and pet products using its proprietary hemp strain.
Quality & Transparency
Charlotte's Web products come with batch-specific certificates of analysis (COAs), which show how much CBD, THC, and other compounds are present in a particular batch. The COA also contains the results of pesticide, metal, and solvent safety tests.
The company provides detailed information about the production process, including planting, harvesting, and extraction.
Charlotte's Web uses an FDA-registered manufacturing facility. In addition, the company follows the American Herbal Products Association's contaminant guidelines and California's Proposition 65 regulations. Proposition 65 protects drinking water sources from contamination with harmful chemicals.
Charlotte's Web also received the Good Manufacturing Practice certificate from the National Sanitation Foundation International for dietary supplements.
Lawsuits & Warning Letters
Charlotte's Web is a well-known CBD brand with a good selection of products. Unfortunately, the business is currently facing two lawsuits and does not have accreditation from Better Business Bureau (BBB).
In October 2017, the Food and Drug Administration (FDA) issued a warning to Stanley Brothers Social Enterprises for labeling some of its products as "dietary supplements" [1].
The class-action lawsuit filed against Charlotte's Web states that the company mislabeled its CBD products and overstated hemp extract amounts in their CBD creams.
Customer Feedback
Poor ratings on third-party rating sites like Trustpilot harm the brand's reputation.
"There is NO customer service at Charlotte's Web. Zero for emails. Zero for phone contact. Their 30% guarantee is a fraud as there is NO feedback or interaction with the company. It becomes irrelevant whether the products are good or not when management is only in it for the money you spend," reviewed one Trustpilot user.
On its official website, Charlotte's Web displays numerous positive reviews. That being said, the number of negatives on third-party websites can make you feel concerned if you've already had some bad experiences with CBD brands.
Pricing
Charlotte's Web products are reasonably priced compared to other companies and when considering their potency. Following its recent pricing structure update, the company has a more affordable CBD product range now.
Prices typically range from $15 to 120. For bulk and bundled purchases, the span is between $60 and $300.
Veterans can also receive a discount, and the company has a rewards program.
You may need to pay a considerable amount of money for shipping, depending on where you live.
Certifications
Charlotte's Web is certified by the U.S. Hemp Authority and received the Good Manufacturing Practice certificate from the National Sanitation Foundation International [2].
The company also has B Corp certification, claiming that it places as much importance on values as on profits — and that it's building the business with a harmonious relationship with the environment.
Being a B Corp-certified organization means its social and environmental performance, legal responsibility, and public transparency meet the highest standards.
Charlotte's Web Product Range
Charlotte's Web offers a wide range of products. You can visit the company's official website if you're interested in getting access to a wide range of CBD products.
Below are some of Charlotte's Web's most popular CBD products.
Charlotte's Web Original Formula CBD Oil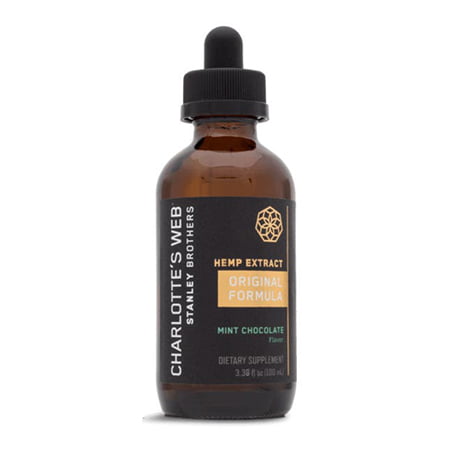 | | |
| --- | --- |
| Type of CBD  | Full-spectrum |
| Potency Range | 50 mg – 5000 mg |
| Flavor | Mint Chocolate, Olive Oil |
Charlotte's Web's Original Formula CBD oil uses only CW1AS1 plants. The company claims that this flagship formula is what started all of the CBD industry. Produced in small batches in an alcohol-extraction process, the product is made with the highest purity.
The process is labor-intensive and results in a mixture of hemp's beneficial components, including cannabinoids and so much more. At the end of the process, the formula is tested for quality assurance to ensure that there are no alcohol residues.
Charlotte's Web CBD Oil
| | |
| --- | --- |
| Type of CBD  | Full-spectrum |
| Potency Range | 60 mg – 6000 mg |
| Flavor | Mint Chocolate, Lemon Twist, and Orange Blossom |
This is Charlotte's Web's product with the highest content of CBD per serving.
This extract is a good choice for those who want to boost their CBD supplement regime. It features certified organic hemp extract and a variety of phytocannabinoids. Charlotte's Web CBD oil is designed for those who already have prior experience with CBD.
You can choose from three flavors: Mint Chocolate, Lemon Twist, and Orange Blossom.
Charlotte's Web CBD Gummies for Sleep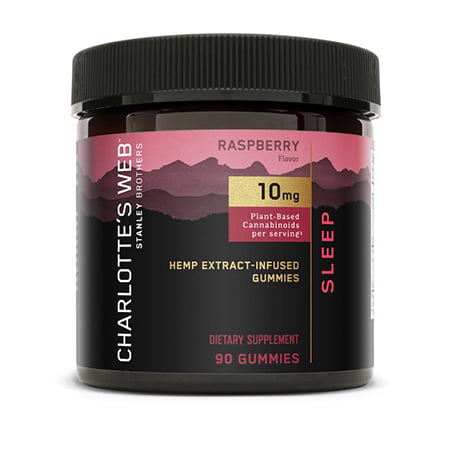 | | |
| --- | --- |
| Available Formulations | CBD + Melatonin |
| Type of CBD  | Full-spectrum hemp extract |
| Potency | 10 mg – 25 mg |
| Flavor | Raspberry |
These sleep gummies are infused with Charlotte Web's proprietary CBD, melatonin (3mg per serving), and hemp oil. All of these CBD gummies promote good sleep and regular sleeping patterns.
The effects of melatonin include a decrease in sleep onset latency, an increase in sleep duration, and better overall sleep quality.
Charlotte's Web CBD Gummies for Recovery
| | |
| --- | --- |
| Available Formulation | CBD + Turmeric + Ginger |
| Type of CBD  | Full-spectrum hemp extract |
| Potency | 10 mg – 25 mg |
| Flavor | Ginger |
Charlotte's Web's Recovery Gummies aid in dealing with exercise-induced inflammation. The CBD gummies contain a full-spectrum hemp extract with CBD and a blend of ginger and turmeric.
An ancient remedy, turmeric has been known for supporting healthy joints for thousands of years. Ginger is another potent natural product known for supporting healthy recovery from exercise-induced inflammation.
These CBD gummies are naturally flavored with fruit juices and vegetables. You can choose from three sizes: 30/60/90 gummies per container.
Charlotte's Web CBD Liquid Capsules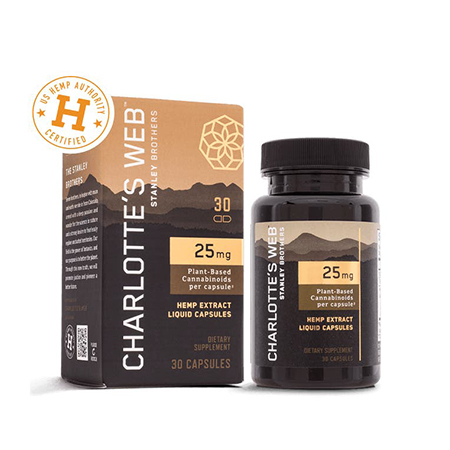 | | |
| --- | --- |
| Type of CBD  | Full-spectrum hemp extract |
| Potency | 15 mg |
| Flavor | Unflavored |
Taking CBD in the form of capsules might be a good option for those who prefer CBD oil but aren't keen on measuring or tasting it. All capsules contain the same amount of CBD, which eliminates the need to calculate dosages.
Charlotte's Web CBD Liquid Capsules are Kosher, gluten-free, 100% vegan, and allergen-free.
Charlotte's Web Hemp-Infused Cream with CBD
| | |
| --- | --- |
| Available Formulation | for dry, itchy, and sensitive skin |
| Type of CBD  | Full-spectrum hemp extract |
| Potency Range | 300 mg – 750 mg |
Charlotte's Web Hemp-Infused Cream is gluten-free, 100% vegan, and allergen-free.
In addition to its full-spectrum hemp extract, it also contains aloe vera, coconut oil, oat extract, and sea buckthorn oil.
This formula rejuvenates your skin and moisturizes it at the same time. It's refreshing to see Charlotte's Web offer symptom-specific formulas, as many CBD topical creams are made for general use.
There was no animal testing involved in the making of this product.
Other Products by Charlotte's Web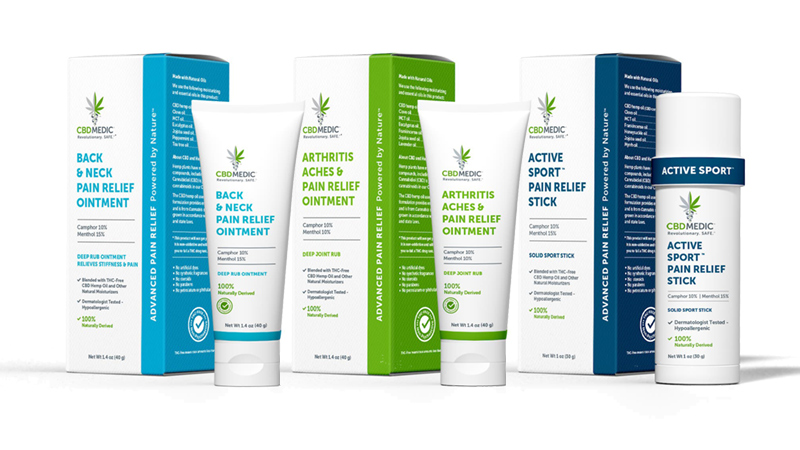 Charlotte's Web continuously develops new products in order to cater to different needs.
The company also acquired Canadian CBD startup Abacus Health Products, developer of the popular CBDMedic pain relief cream and sports ointment.
The products from CBDMEDIC are touted as leaders in over-the-counter topicals. Their hemp extract and active pharmaceutical ingredients are primarily intended for endurance athletes and hardcore fitness enthusiasts, but can also be used for general pain relief.
Here are a few of the most popular CBDMedic products that are now a part of Charlotte's Web ever-expanding product line:
CBDMEDIC Arthritis Aches And Pain Relief Ointment
CBDMEDIC Active Sport Pain Relief Ointment
CBDMEDIC Massage Therapy Pain Relief Oil
CBDMEDIC Active Sport Pain Relief Stick
CBDMEDIC Cooling And Moisturizing Hydrogel Patches
Charlotte's Web Review: Pros & Cons
The Pros
An Established Brand with a Long History
The long history of Charlotte's Web sets it apart from other brands. It's been around longer than many of the other brands out there, contributing significantly to the growth of the CBD economy.
A Wide Selection of Products
There's an ever-growing selection of CBD products on the market, and it can be hard to know which one to buy. Charlotte's Web has a variety of products with plenty of information about each one, allowing customers to make an informed decision about which type is best for them.
Offers Batch-Specific COAs
People need to know that CBD products are safe and reliable, and they need to know they are getting what they paid for. COAs and lab report specific to each batch are an excellent way to make sure that your CBD products contain what they say and are guaranteed safe to use.
The Cons
Hemp is Not Yet Certified Organic
This is a major concern for people with an aversion to pesticides, herbicides, and fertilizers. Just because CBD oil is made from hemp doesn't mean it's not without its problems. All plants, including hemp, are susceptible to bacteria, fungus, or other organisms. If you are concerned about this, make sure you are looking for CBD products that are certified organic.
Batch-Specific COAs Are Only Available with Batch Numbers
One disadvantage of using a COA with a batch number is that it can only be used for batches of a specific type of product. If someone sends the COA to a new manufacturer, who then manufactures a totally different product, the COA is no longer relevant.
Two Class-Action Lawsuits Have Been Filed Against the Company
The company allegedly made false and misleading claims about how much CBD was in their products. The lawsuits argue that the company is hurting consumers by using deceptive marketing tactics and deliberately trying to confuse them about the limited efficacy of its products.
Received a Warning Letter from the FDA
The FDA warned Charlotte's Web for labeling some of their products as "dietary supplements" and making unsubstantiated health claims. This can be dangerous for consumers who may not know that they could be taking hormones, drugs, stimulants, or hazardous chemicals. Since then, the company has revised its seemingly untruthful marketing claims.
Best Alternative Options for Charlotte's Web
We prepared the following three alternative picks if you're looking for a brand with a higher trust rating than Charlotte's Web — without any lawsuits or FDA warning letters. Each of these companies offers a solid product lineup of premium-grade CBD extracts.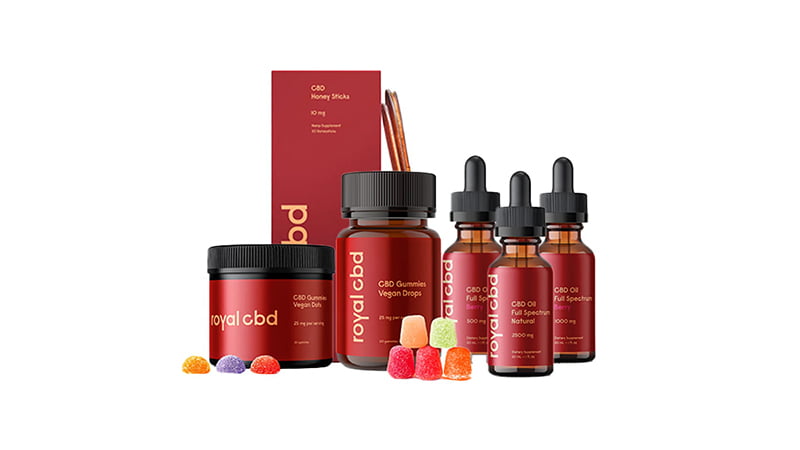 Get 15% off all Royal CBD products. Use code "CFAH" at checkout.
Pros
Cons

Organic, US-grown hemp
Supercritical CO2 extraction
Broad product range
High-strength options are available
Well-designed formulas
Flavored with natural ingredients
Complete third-party testing profile
30-days Money Back Guarantee

A little bit more expensive than the market's average (but still worth the price)
Not available locally
The Royal CBD brand stands out as an industry leader in both quality and effectiveness. This is because it only uses high-quality ingredients and the safest extraction method to achieve this goal.
The CBD products they offer aren't the cheapest on the market, but their quality is still well worth the money you pay. Third-party laboratories have tested the products to make sure they are safe.
You can choose from the following forms of CBD:
CBD oils
CBD capsules
CBD gummies
CBD honey sticks
CBD topicals
CBD for pets
Unlike Charlotte's Web, Royal CBD is not under investigation by the FDA and is not facing any lawsuits over false health claims or misrepresentations. It has even been mentioned in several prestigious publications, including Forbes, The Observer, LA Weekly, and SF Weekly.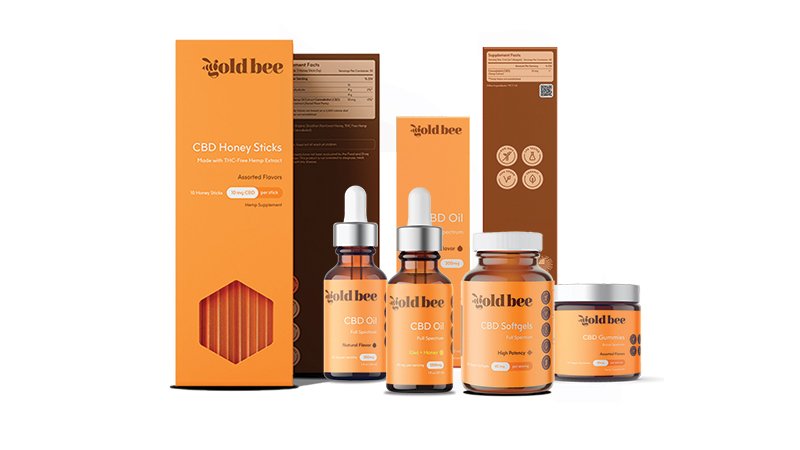 Pros
Cons

Organic hemp from California
CO2 extraction
Infused with superfoods
Full-spectrum and broad-spectrum CBD
Up to 2500 mg of total CBD
Flavored with natural ingredients
Pet products
30-day Money Back Guarantee

Limited potency options
No isolate-based products
Gold Bee is a smaller company, but its growth continues to accelerate. These CBD oils are among the finest we've seen, yet their prices remain highly competitive within the industry.
The difference between Gold Bee and the competition lies in its exceptional attention to detail. A lot of small details add up to make a big difference in the quality of the oil — such as the hemp farming and terpene content in the final product. The company's style may have been influenced by the fact that its founders began making superfoods before moving into the CBD space and incorporating their expertise into hemp products.
CBD products are available from Gold Bee in both traditional and uncommon varieties, such as:
CBD oils
CBD gummies
CBD softgel capsules
CBD honey sticks
CBD topicals
CBD pet products
Gold Bee's entire CBD collection is tested in an ISO-certified facility to ensure its potency and purity.
CBDPure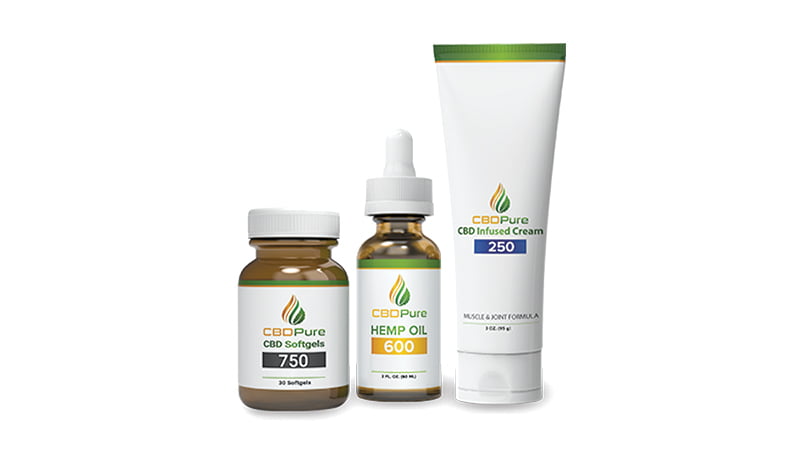 Pros
Cons

Organic hemp from Colorado
Full-spectrum products
Well-thought-out formulations
90-day Money Back Guarantee
One of the pioneer brands in the USA

Narrow product range
Lack of flavored products
Premium pricing
CBDPure provides certified organic, full-spectrum cannabidiol products made from non-GMO industrial hemp cultivated on Colorado farms.
The company uses CO2 extraction to pull cannabidiol and other beneficial compounds after the hemp is dried and cut. The extraction process preserves all of the natural compounds in hemp extract, including the cannabinoids and terpenes, as well as the oils and phytonutrients.
With a 90-day Money-Back Guarantee, which is an industry-leading promise, the company refunds your money if you aren't happy with the results or don't get the benefits you want.
CBDPure provides a straightforward product selection:
CBD oils
CBD capsules
CBD cream
CBD for pets
CBDPure products will likely appeal to you whether you're just starting out or you're looking for high-quality CBD products that are offered in the most popular forms.
Final Verdict:
Charlotte's Web has a wide range of CBD products that are relatively affordable, which may be its best feature. Its legal troubles, however, make consumers wary.
If you don't mind the concerns mentioned in this review, you might still want to try one of their most popular formulas at least once.
Suppose you're looking for an even more transparent company, which carries comparable products, one that hasn't been involved in any legal issues. In that case, we recommend checking out Royal CBD and Gold Bee.
Similarly, CBDPure is an excellent option for those looking for simplicity and who are only interested in using basic CBD products as long as they're safe and provide the same benefits.
Have you tried any CBD products from Charlotte's Web? Which products are you most satisfied with? Share your thoughts in the comments!