Is Delta 8 Legal in California? CA State Laws 2023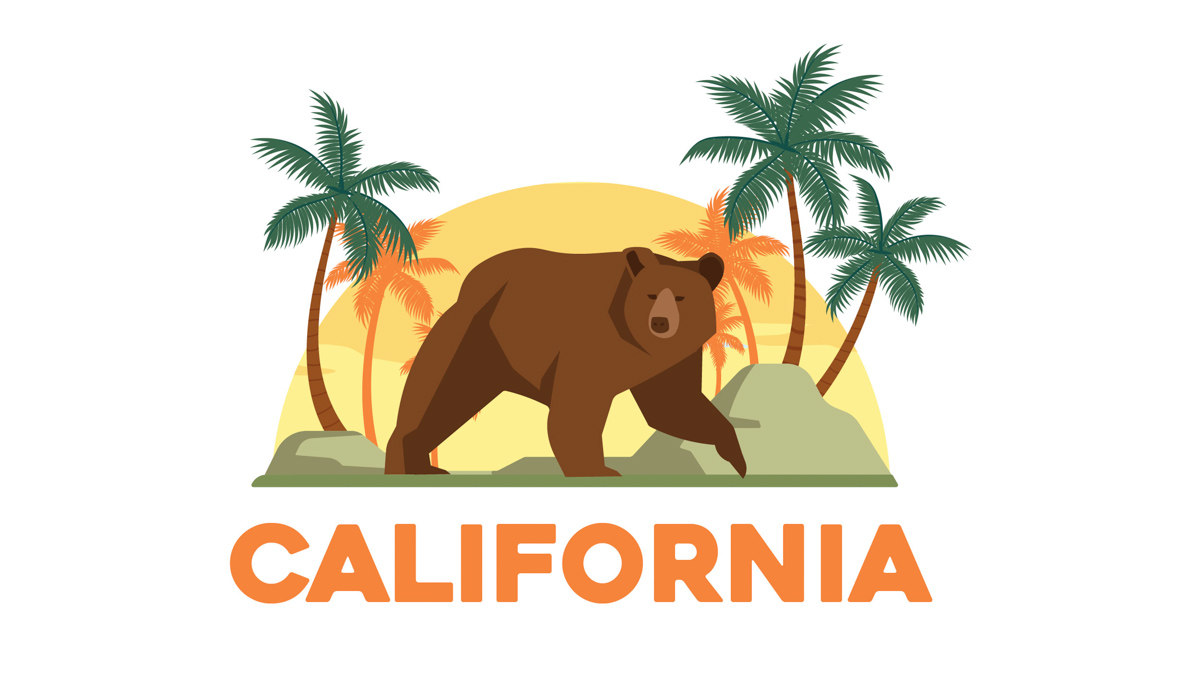 This article contains an all-around guide to the legality of delta-8 THC in California. We summarize the federal and state regulations, explore the best stores in the state, and highlight the benefits of buying delta-8 THC online. You'll also learn about other cannabis laws in California regarding marijuana, other isomers of THC, and CBD.
California allows delta-8 THC products, but they're regulated in the same way as high-THC marijuana.
Marijuana-derived delta-8 THC is available only from licensed dispensaries because it contains more than 0.3% delta-9 THC by dry weight.
However, hemp-derived delta-8 THC products are fully legal due to their negligible THC content. Hemp extracts can also be used in food, cosmetics, and health supplements.
Is Delta-8 THC Legal in California?
Yes, although California has different regulations for hemp-derived and marijuana-derived delta-8 THC.
Related: States That Have Legalized Delta 8 THC
Hemp vs. Marijuana Delta-8 THC
Marijuana-derived delta-8 THC is legal only for adults 21 and older. You can purchase such products from recreational cannabis dispensaries.
Hemp-derived delta-8 is federally legal, but California has a different approach to regulating this cannabinoid.
In recent legislation (Assembly Bill 45), lawmakers established a framework for the California Department of Public Health to regulate specific hemp products.
The new law redefined "THC" to include other isomers, such as delta-8, delta-10, and delta-7 THC. It also includes cannabinoids the California Department of Health considers intoxicating.
This definition requires hemp-derived products to contain no more than 0.3% THC. That means no legal product can contain more than 0.3% delta-7, delta-8, delta-9, or delta-10 THC.
Do You Need a Medical Marijuana Card to Buy Delta-8 THC in California?
No. Delta-8 THC is available without a prescription. However, you can only buy it from licensed stores, so you'll need to visit a recreational dispensary.
Where to Buy Delta-8 THC in California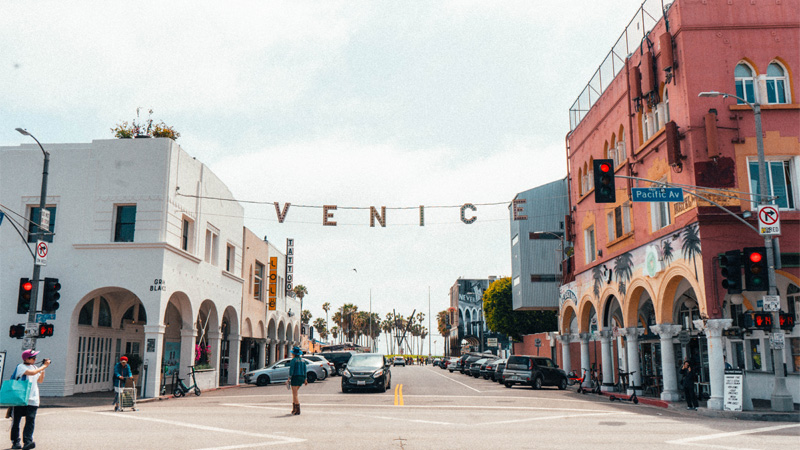 Again, you must be 21 or older to buy delta-8 THC in California — and you can do it from state-licensed dispensaries.
There are plenty of online and local stores offering delta-8 THC products from hemp in the Golden State. However, remember that you're on the brink of crossing the law when you buy them this way.
Benefits of Buying Delta-8 THC Online
While California is home to many great cannabis stores, you're only safe when you're buying from licensed dispensaries — but what if you'd like to expand your search beyond local retailers?
Buying delta-8 THC online is by far the best option if you want to enjoy high-quality products without breaking the bank.
Shopping for delta-8 THC online is a different experience because you can:
Take advantage of lower baseline prices
Use seasonal coupon codes or join subscription orders and reward programs
Compare hundreds of products without leaving your house
Verify the credibility of your vendor by looking at third-party lab test results and customer reviews on independent websites
Benefit from fresher products (online shops don't stock them on the shelves in advance)
Best Online Delta-8 THC Stores in California
The hemp market has matured over the years in the USA, but the delta-8 THC space still has a lot to catch up with.
The local market resembles what the CBD scene looked like a few years ago; there are no regulations regarding the manufacturing, testing, and labeling of such products.
Finding a trustworthy supplier takes a lot of time if you're just dipping your toes in the delta-8 market. Here are my personal recommendations of the two leading brands that I've picked out from the 20 most popular delta-8 brands in the country.
1. Area 52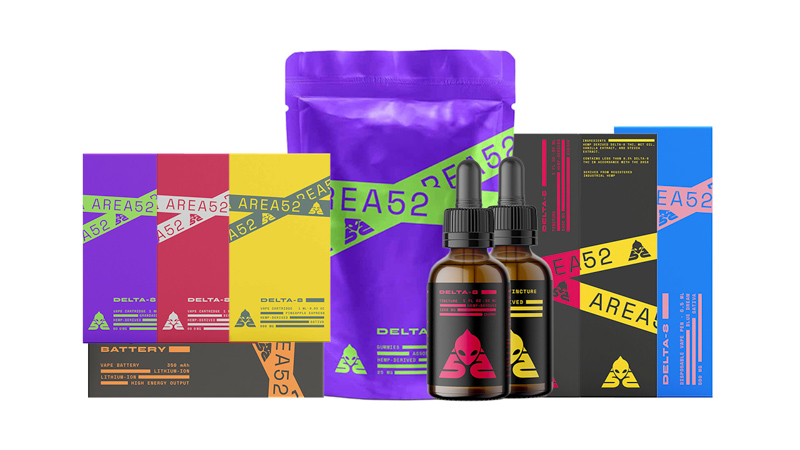 Get 15% off all Area 52 products. Use code "CFAH" at checkout.
Area 52 specializes in unique cannabinoid extracts, such as delta-8 THC, HHC, CBG, and CBN. The company's mission is to help users "alienize their mind" by blending hemp-derived delta-8 with other cannabinoids and terpenes. Its delta-8 THC collection includes tinctures, edibles, pre-rolls, and vape carts.
Not only are these products potent — with up to 40 mg of delta-8 per serving — but they're also rich in terpenes, enhancing the cognitive buzz and health benefits of delta-8 THC, as well as the product's overall efficacy.
Area 52 has recently released a new line of "true full-spectrum" products, featuring classic formats like energy gummies, sleep gummies, immunity gummies, and CBD oil, as well as some novel products like HHC gummies and delta-8 THC honey.
All Area 52 products are rigorously tested for potency and purity in an ISO-certified laboratory to ensure maximum safety.
2. Finest Labs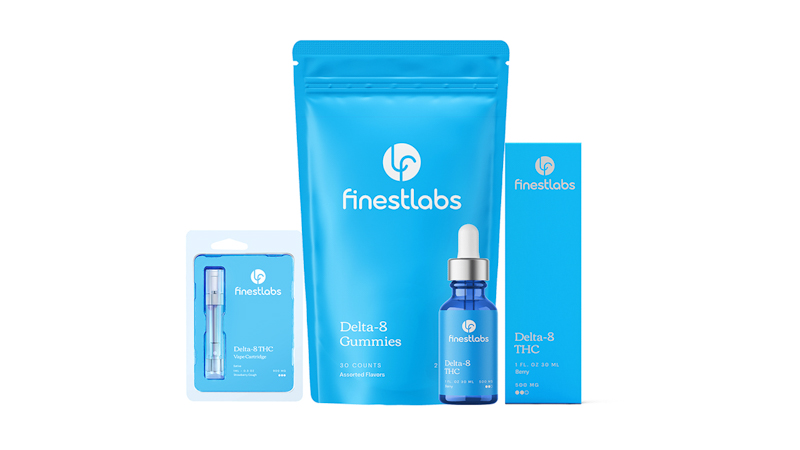 Finest Labs is a company launched by scientists and cannabis researchers with a mission to help cannabis users leverage the entourage effect in the plant by blending various cannabinoids with each other.
The guys at Finest Labs offer only two products: delta-8 THC tinctures and gummies. The tincture is better suited for first-time users, packing 15 mg of delta-8 THC per dose, while gummies are dedicated to more experienced consumers, with 25 mg of delta-8 in each serving.
The Finest Labs products are a bit more expensive than the competition, but that's totally justifiable considering the quality of these extracts and the carefully crafted ratios between delta-8, minor cannabinoids, and terpenes.
Speaking of which, Finest Labs also has an impressive collection of botanical terpenes in 30 different blends. The aroma and flavor profiles have been created to resemble various cannabis strains — indica, sativa, and hybrids.
How to Shop for Delta-8 THC in California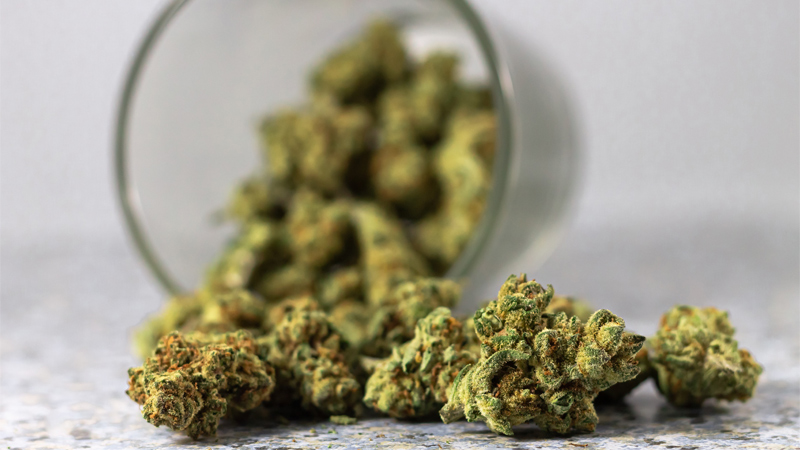 As mentioned earlier, the delta-8 THC market is dealing with the same issues as the CBD space a few years ago. There are no regulations in place, so consumers must shoulder the responsibility for quality control.
No two delta-8 THC products are made the same, but there are a few stupid-easy steps you can follow to weed out the poor-quality products and always get the best stuff when buying delta-8 locally or online:
Choose organic: organic ingredients are important nowadays because they have far fewer pesticides and heavy metals than their conventional counterparts. Hemp plants are dynamic bioaccumulators, meaning they absorb both good and bad substances from their environment. The goal is to maximize the nutrients and minimize toxins, which is why you should look for delta-8 extracted from non-GMO, pesticide-free plants.
Opt for CO2 extraction: CO2 is the best way to achieve pure and potent extracts without using high temperatures or aggressive solvents. It's also the most costly technology out there; companies who invest in CO2 technology prioritize the safety of their customers.
Steer away from bleaches: some delta-8 THC companies use bleaches when making distillates to make them look "cleaner." However, natural delta-8 THC distillate can be anywhere from pinkish to slightly amber. Adding bleaches to "fix" natural parameters may compromise the quality and safety of the final product.
Look into Certificates of Analysis (CoAs). A third-party laboratory can analyze the sample of your delta-8 product and spot any inconsistencies in the potency and purity. Third-party labs look for common contaminants, such as pesticides, heavy metals, bleaches, mold, and solvents; if there's anything wrong with the ingredients, the lab analysis will spit it out. Always choose companies that deliver batch-specific CoAs for their products.
Choose reputable brands: A brand with a long list of returning customers is more likely to deliver the desired quality than a no-name company. Many popular CBD companies are now branching out their assortment with delta-8 extracts, so it's wise to choose them over brands that have no publicity online.
Is Delta-8 THC Safe?
Delta-8 THC is about 50% as potent as delta-8 THC. You need to double the delta-8 THC dose to get the same psychotropic effects as with delta-8 — which gives it a better safety profile.
In addition, delta-8 THC comes with a lower risk of anxiety and paranoia, making it a safer alternative to marijuana.
How to Use Delta-8 THC
Delta-8 THC products are super easy to use, and you should be able to find something for yourself — both when it comes to health goals and lifestyle.
Here are a few examples of the most popular delta-8 formats:
Delta-8 THC tinctures – similar to CBD tinctures, you can ingest them by placing a few drops under the tongue, adding them to food or drinks, or swallowing directly. The effects should be noticeable within 40 minutes and should last for 4-6 hours.
Delta-8 THC distillates – distillate is the purest and most concentrated form of delta-8 THC. You can eat it, vaporize it in a vape pen, or smoke it with a dab rig. The effects should come after 10 minutes and last for up to 3-4 hours.
Delta-8 THC edibles – this form of delta-8 THC takes more time to kick in because it needs to be metabolized by the liver first. You should be able to notice the buzz after 40–90 minutes from your last dose — depending on whether or not you had eaten something before. The effects should last for 8-10 hours.
Delta-8 THC vape carts – these are small "bullets" infused with 1-mL delta-8 THC distillate. You can screw them into a refillable vape pen battery. To use the pen, you take a deep breath and hold the vapor in for as long as you want. The high kicks in within minutes and lasts as long as distillates.
Can You Fly into California with Delta-8 THC?
No, you can't legally fly with delta-8 THC into California unless your product has 0.3% delta-8 or less. That's because California has recently changed its definition of THC, expanding it with all its isomers. Delta-8 THC products can be purchased only from licensed dispensaries.
Is CBD Legal in California?
Yes. California follows the language of the 2018 Farm Bill when it comes to CBD products. Federal law now allows hemp-derived supplements as long as they contain no more than 0.3% THC.
CBD products in California are extremely popular; you can find them over the counter in local pharmacies, dispensaries, hemp stores, fitness centers, vape shops, and online.
Related: Is CBD Legal in California?
Is Marijuana Legal in California?
Yes! California legalized recreational weed in 2016, ten years after legalizing marijuana for medical use. Adults 21 and older can purchase marijuana from recreational dispensaries and grow their own plants at home.
Related: Is Marijuana Legal in California?
What About Delta-10 THC?
Delta-10 THC is regulated by the same bill as delta-8 THC and other isomers. Delta-10 products with more than 0.3% THC must be sold in recreational dispensaries. Legal hemp-derived products shouldn't contain more than 0.3% delta-10 by dry weight.
What's the Future of Delta-8 THC in California?
California's decision to limit the availability of delta-8 THC products has come as a shock. Nobody would expect such harsh moves from a state with such liberal policies surrounding cannabis.
After all, since marijuana is legal — and it's twice as strong as delta-8 THC — it would be within reason to assume the Golden State will fully adopt the provisions laid out by the 2018 Farm Bill.
The state's move was probably dictated by the lack of lab testing standards on the purity of hemp-derived delta-8 products.
However, as legalization is progressing throughout the country, and local cannabis markets are maturing, we may soon expect California to lift that semi-ban on hemp delta-8 products.
Until then, people will still be buying them online — just not legally.