Is Delta-8 THC Legal in Kansas? KS State Laws 2023
This article focuses on the legality of delta-8 THC in Kansas. We distinguish between hemp and marijuana plants, share buying tips for beginners, and discuss the legal status of other hemp-derived cannabinoids. 
Wondering if delta-8 THC is legal in Kansas? This article holds the answer.
Kansas hemp laws align with the 2018 Farm Bill, which legalized hemp and its derivatives at the federal level.
However, its attorney general has recently issued a statement where he claimed products like delta-8 vapes, flowers, and edibles are illegal.
Is he right, though?
Here we summarize everything there's to know about the legal status of delta-8 THC in Kansas.
Is Delta-8 THC Legal in Kansas?
Yes. Delta-8 THC is currently legal in Kansas under state law. You can possess, consume, distribute, sell, and produce delta-8 THC products with no fear of legal consequences.
However, on December 2nd, 2021, Kansas State Attorney General released a statement that ignited the cannabis community. He claimed that delta-8 THC is illegal when sold in teas, vapes, and cigarettes.
What bugs me the most about that statement is that — in the same statement — he claims hemp-derived products with less than 0.3% delta-9 THC legal.
Bottom line? You can't tell whether the attorney meant a group of selected products or delta-8 THC as a whole.
Related: Is Delta 8 Legal Federally?
Hemp vs. Marijuana Delta-8 THC in Kansas
Delta-8 THC can be legal or illegal in Kansas, depending on the source.
As mentioned, hemp-derived delta-8 is legal as long as the end product doesn't contain more than 0.3% delta-9 THC on a dry-weight basis.
However, marijuana-derived delta-8 products are illegal both under the federal and state law in Kansas.
Marijuana is considered any Cannabis sativa L. plan with more than 0.3% delta-9 THC by dry weight.
Do You Need a Medical Marijuana Card to Buy Delta-8 THC in Kansas?
No, you can buy delta-8 THC in Kansas without a medical marijuana card.
Because you actually can't get a medical marijuana card in Kansas in the first place.
Kansas is one of the three states that don't even have a medical marijuana program for patients.
Where to Buy Delta-8 THC in Kansas
You must be 21 or older to purchase delta-8 THC in Kansas. These products are available in specialized CBD stores, wellness centers, vape shops, convenience stores, and even at gas stations.
However, if you're looking for the best deals on high-quality delta-8 THC products, I recommend finding a reputable online store.
Here's why.
Benefits of Buying Delta-8 THC Online
Buying delta-8 THC online comes with a few perks, such as:
Lower prices: with no middleman involved, online stores can lower the prices of their products without cutting corners on quality.
Discounts: such as coupon codes, reward programs, subscription orders, and bulk pricing.
Convenience: you can browse through hundreds of cannabis products without leaving your house.
Fresher products: because online stores don't keep them on the shelves for months.
Better transparency: you can read third-party lab reports and customer reviews to get a bigger picture of your potential vendor.
Best Online Delta-8 THC Stores in Kansas
The delta-8 THC space has a lot to catch up with when it comes to regulatory issues.
The local market looks like the CBD scene a few years ago, with no regulations in terms of the manufacturing, labeling, and testing of such products.
Finding a reputable supplier takes plenty of time if you're shopping for delta-8 in Kansas for the first time.
I can recommend two leading brands that I've picked out from the 20 most popular delta-8 manufacturers in the country.
1. Area 52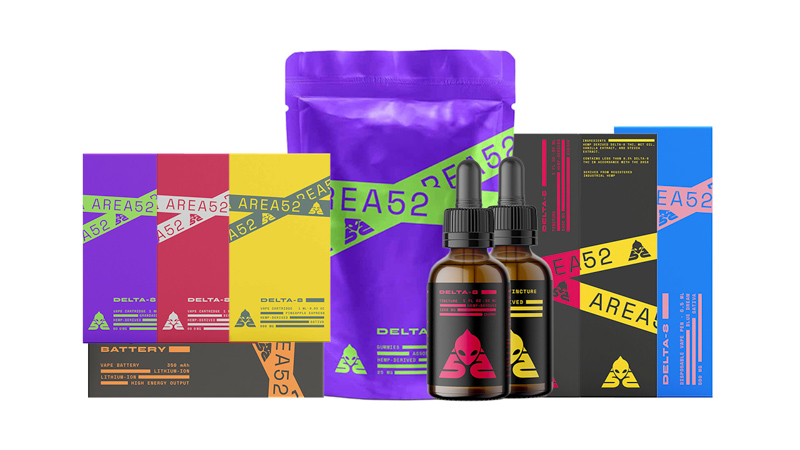 Get 15% off all Area 52 products. Use code "CFAH" at checkout.
Area 52 specializes in cannabinoid extracts, such as delta-8 THC, CBG, CBN, and HHC. The company has one goal, which is to help you "alienize your mind" by blending hemp-derived delta-8 THC with other cannabinoids and terpenes.
The company's line-up includes tinctures, gummies, honey sticks, pre-rolls, and vape carts.
These products can pack a punch — with up to 40 mg of delta-8 per seving — but they also boast a high terpene content, enhancing the buzz and health benefits of delta-8 THC.
You can also choose from Area 52's collection of "true full-spectrum products," featuring classic formats like different gummies for various health needs, as well as some novel products like HHC gummies.
All Area 52 products are triple-tested in an ISO-certified laboratory for potency and purity.
2. Finest Labs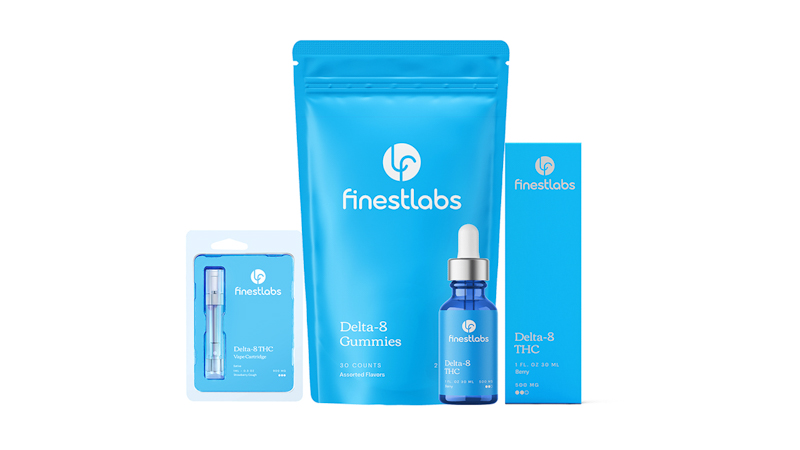 Finest Labs was established by scientists and cannabis advocates with a mission to destigmatize cannabis and help users leverage the entourage effect by delivering specialized ratios of cannabinoids and terpenes.
When it comes to its delta-8 THC line-up, Finest Labs has two products: delta-8 THC tinctures and gummies. The tincture is better for beginners because it contains a gentle dose of 15 mg delta-8 per serving. The gummies, on the other hand, are a decent option for savvy users, packing 25 mg delta-8 per gummy.
The Finest Labs products are a bit more expensive than competitor brands but that's totally understandable considering the quality of these extracts and the carefully selected ratios between cannabinoids and terpenes.
Speaking of which, Finest Labs offers an impressive selection of terpenes. You can choose from 30 different blends that recreate the flavor and aroma profiles of various cannabis strains (Indica, Sativa, and Hybrids).
How to Shop for Delta-8 THC in Kansas
As I mentioned earlier, the delta-8 THC market is the younger brother of CBD when it comes to regulations.
Or, should I say, a lack thereof.
With no testing standards and labeling regulations, consumers must shoulder responsibility for quality control — or they may end up with a dangerous product.
Here are a few stupid-simple steps you can follow to always separate the wheat from the chaff:
Go organic: organic ingredients are essential these days because they contain far fewer heavy metals and pesticides than their conventional counterparts. Hemp plants easily absorb every substance from their environment, including the bad substances. Organic farming helps maximize the amount of nutrients and avoid toxins.
Opt for CO2-extracted products: CO2 extraction is the best method to produce pure and consistently potent extracts without relying on high temperatures or hazardous solvents. It's also the most expensive technology out there; companies investing in CO2 extraction prioritize the safety of their customers.
Avoid bleaches: some manufacturers bleach their products to make them more appealing for the eye. Unfortunately, this does nothing good to the product; in fact, adding bleach may compromise the quality and purity of the end product. Natural distillate can be anywhere from lightly pink to amber, and there's nothing wrong about that.
Read Certificates of Analysis (CoAs): third-party laboratories analyze samples of delta-8 products and look for inconsistencies in the potency and purity. A lab analysis can identify pesticides, heavy metals, mold, solvents, and other dangerous contaminants. Always choose companies that provide batch-specific CoAs.
Choose reputable companies: experienced brands are more likely to deliver the expected quality than newcomers. That's not to say newcomers can't do that, but you'll have plenty of time to experiment later.
Is Delta-8 THC Safe?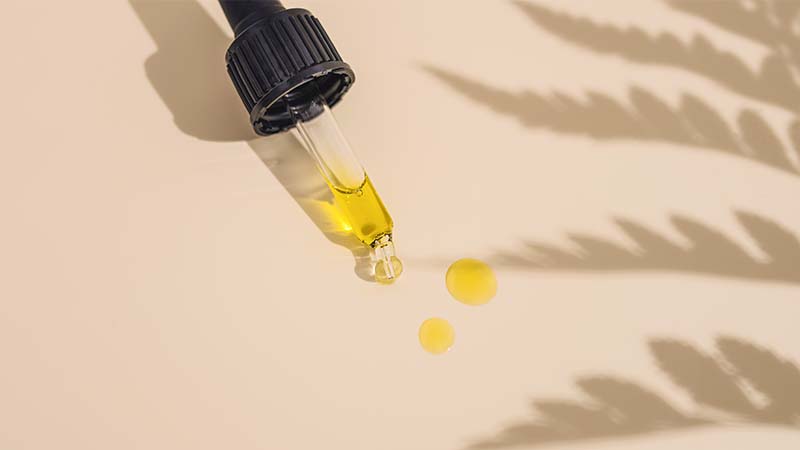 Delta-8 THC is about 50% as strong as delta-8 THC. You'd need to double your dose of delta-8 THC to get the same psychotropic effect as with delta-9 — which makes it safer.
In addition, delta-8 THC creates a lower risk of anxiety and paranoia, making it a better alternative to marijuana for sensitive users.
How to Use Delta-8 THC
Delta-8 THC products are easy to use. If you've already tried CBD, you'll quickly get a good grasp of how to use them.
Here are a few examples of the most common ways to take delta-8 formats:
Delta-8 THC tinctures: similar to CBD tinctures, you can take them by placing a few drops under the tongue, adding them to food or drinks, or swallowing directly. The effects act after 30-40 minutes, lasting for up to 6 hours.
Delta-8 THC distillate: that's the purest and most potent form of delta-8 THC. You can vape it in a vape pen, eat it, or smoke in a dab rig.
Delta-8 THC edibles: oral products like delta-8 gummies and honey take longer to kick in. The effects usually take hold within 45-90 minutes, lasting for up to 10 hours. Edibles come with a premeasured dose of delta-8 per serving.
Delta-8 THC vape carts: these tiny bullets are infused with delta-8 THC distillate. You can attach them into a reusable vape pen battery. To use the pen, take a deep breath and hold the vapor for 2-3 seconds in the lungs. The high should kick in within minutes and last for up to 3-4 hours.
Can You Fly Into Kansas with Delta-8 THC?
Yes. You can fly into Kansas with delta-8 THC as long as your product contains 0.3% delta-9 THC or less. It's wise to have your product's CoA for the sake of security control.
Is CBD Legal in Kansas?
Yes. Kansas has fully accepted the provisions of the 2018 Farm Bill, legalizing all hemp-derived products, including CBD extracts.
CBD oils and other supplements are available in local stores in Kansas as well as online.
Is Marijuana Legal in Kansas?
No. Kansas is one of the few bastions of cannabis prohibition. Marijuana remains illegal for any use, although legislation is pending to legalize medical marijuana in the next election.
What About Delta-10 THC?
Similar to delta-8, delta-10 THC is legal in Kansas, although it's not as popular. The highest chance of finding a legitimate delta-10 company is by searching the web.
What's the Future of Delta-8 THC in Kansas?
Delta-8 THC remains legal in Kansas despite its attorney general's concerns. Until Kansas issues a separate bill or amendment banning delta-8, you can freely buy such products without legal repercussions.
Long story short, all hemp-derived extracts are legal in Kansas as long as they contain 0.3% or less delta-9 THC by dry weight.
Unfortunately, marijuana remains off limits for Kansas residents — even for medical use.
Let's hope this will change soon.
Meanwhile, enjoy shopping for delta-8 THC in Kansas!