Is Delta 8 Legal in Texas? TX State Laws 2023
Is delta 8 THC legal in Texas? Surprisingly, yes.
Despite the ongoing prohibition of recreational cannabis, Texas has quite relaxed laws when it comes to delta 8 products.
As long as they come from hemp, you can legally buy them.
But where to buy delta 8 THC in this booming and unregulated market?
Follow this article for answers.
Is Delta 8 THC Legal in Texas?
Yes, but it must be sourced from the right type of cannabis.
Delta8 THC is theoretically legal in all 50 states, so you shouldn't have problems buying it in Texas.
But since the cannabinoid can be extracted from both hemp and marijuana, different regulations apply to these sources.
Related: Where Is Delta 8 THC Legal?
Marijuana-Derived Delta 8 THC
Marijuana is illegal in Texas. In fact, the state has some of the harshest cannabis laws in the entire nation.
Possession of up to 2 ounces of marijuana is a Class B misdemeanor, punishable with a $2,000 fine and up to 180 days in jail.
If you're caught with more than 2 ounces, it becomes a Class A misdemeanor that can get you a $4,000 fine on top of a year in county prison.
Long story short, you can't legally buy marijuana-derived delta 8 THC in Texas.
Can Doctors Prescribe Marijuana in Texas?
Yes, but only under limited circumstances.
And you can't be prescribed delta 8 THC, even if you qualify for the state medical marijuana program.
Texas allows low-THC medical marijuana oil for patients with severe forms of epilepsy that don't respond to conventional treatments.
Unfortunately, this is where your options end as a medical marijuana patient.
You'll need to wait until Texas follows more progressive states until medical marijuana is legalized in the full spectrum.
Hemp-Derived Delta 8 THC
Delta 8 THC is an isomer of delta 9 – the primary psychoactive ingredient in marijuana.
It delivers similar effects, but they don't get you as anxious as high doses of delta 9.
That's because delta 8 is about half as potent as the original THC.
This made delta 8 products prevalent in the USA over the past two years.
Delta 8 THC is a minor cannabinoid; cannabis plants contain 1% or less, making direct extraction counterproductive.
But hemp companies have invented a workaround for that problem.
It turns out delta 8 THC can be extracted from hemp by converting CBD in a multi-facet process, using acids and heavy metal reagents.
Since delta 8 THC products come from hemp, they contain 0.3% delta 9 (or less) – making them legal at the federal level.
Individual states can extend the federal regulations on cannabis, imposing their own restrictions on different cannabinoids. So far, delta 8 products have been banned in 14 states.
Fortunately, not in Texas.
You can legally buy delta 8 THC products as long as they come from hemp and don't contain more than 0.3% THC.
Related: Is CBD Legal in Texas?
Where to Buy Delta 8 THC in Texas
You can easily find delta 8 THC in local stores in Texas.
But not only there – it's in wellness centers, dispensaries, vape stores, and even at gas stations.
However, we no longer recommend buying delta 8 THC products from local retailers because most people who sell them don't have a clue what a high-quality delta 8 THC extract should look like.
You need to do your homework on any local store before trusting them with your money.
If you still want to buy delta 8 THC in your neighborhood, we've put together a list of the most reputable delta 8 brands at the end of this guide.
Buying Delta 8 THC Online in Texas
Online stores are your best bet if you're looking for high-quality delta 8 THC products in Texas.
Buying delta 8 THC online makes it safer, more accessible, and more convenient than shopping somewhere near you.
You can explore hundreds of different formulas, strengths, flavors, and strains, without having to leave your house.
Online vendors also have better price deals than traditional stores because they cut out the middleman. With no extra operational costs to cover, online stores can offer regular discounts, reward programs, subscription payments, bulk pricing, and other ways to save money on high-quality products.
Wondering if delta 8 THC is legal in Texas?
Below we break down the state cannabis laws.
Local Delta 8 Stores in Texas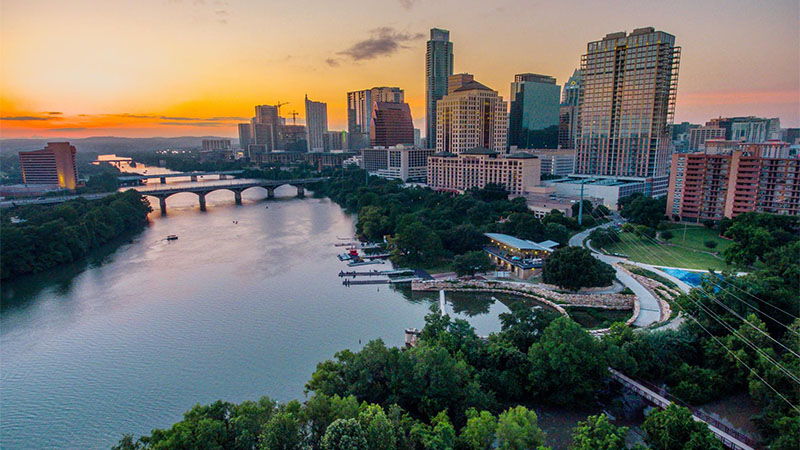 You shouldn't have problems finding a local delta 8 retailers in Texas. A quick Google search should provide a list of hemp stores from cities near you — San Antonio, Houston, Dallas, Austin, Fort Worth, and more.
However, not all of these stores meet the generally agreed standards, so you need to do your own diligence when researching your potential suppliers.
Here are the most reputable delta 8 THC stores in Texas, according to customer reviews from Google Maps.
Delta 8 THC Stores in Texas
| | |
| --- | --- |
| Name | Address |
| Artisan Vapor & CBD Firewheel | 305 River Fern Ave #1128, Garland, TX 75040, United States |
| Green Box CBD & Delta 8 THC Kiosk Machine 24/7 | 2321 E Cesar Chavez St, Austin, TX 78702, United States |
| Bullys Vape CBD Escobar | 1776 Teasley Ln #112, Denton, TX 76205, United States |
| Green Herbal Care CBD & Delta-8 THC | 6301 W Parmer Ln #602, Austin, TX 78729, United States |
| Juicer Heros | 2100 Dallas Pkwy Ste 150, Plano, TX 75093, United States |
| CBD Plus USA | 1517 W Hebron Pkwy #108, Carrollton, TX 75010, United States |
| Nature's Purpose | 6401 Eldorado Pkwy Suite #236, McKinney, TX 75072, United States |
How to Buy Delta 8 THC in Texas
As mentioned at the beginning of this guide, the legality of individual cannabinoids is a dynamic subject, and the market lacks regulation in terms of quality and labeling standards.
Not all delta 8 THC products are created equal. There are a few steps you can take to distinguish between poor-quality extracts and the real deal:
Buy Organic. Hemp plants absorb and accumulate all substances from their environment, including nutrients and toxins. The goal is to get as many nutrients as possible while avoiding toxins. That's why organic farming produces the best delta 8 products.
Opt for CO2-extracted products. The CO2 method is the gold standard in the industry because it uses a pressurized natural element instead of relying on hazardous solvents and high temperatures. It's also the most expensive method, meaning that manufacturers investing in this technology prioritize quality and safety.
Watch out for bleaches. Pure delta 8 THC distillate doesn't have a transparent color. It can be slightly amber or pink-ish, but when you see a transparent extract, your manufacturer probably used bleaches to make the distillate appear "cleaner." What they really do is add dangerous chemicals that compromise the quality and purity of the end product. Never buy from companies that bleach their delta 8 THC distillate.
Look into lab reports. Third-party lab reports help you determine the potency and purity of your products. Independent laboratories analyze the contents of the tested sample, so if there are any inconsistencies in potency or the product is contaminated, the lab analysis will spit it out. Every delta 8 product for sale should come with a relevant certificate of analysis (CoA). If the company doesn't publish them on their website and refuses to send them upon request, it's a no-go.
Choose reputable brands. A trustworthy vendor will have plenty of positive reviews not only on its website but also on third-party websites like TrustPilot or Better Business Bureau (BBB). If a company doesn't have any presence online, or its reviews are mostly negative, there's a chance you've come across a scammer, make sure to avoid these brands.
Key Takeaways on Buying Delta 8 THC in Texas
Delta 8 THC has quickly become one of the most sought-after cannabinoids in the cannabis community.
With half of the strength of delta 9 THC and a lower risk of anxiety and paranoia, delta 8 is now the go-to pick for sensitive cannabis users and beginners.
However, due to the lack of regulations on the market, there are a lot of mediocre manufacturers who only aim to get their fair share of the cake.
Delta 8 THC products are legal at the federal level, so you shouldn't have problems finding a local store near you. However, if you want the best deals on high-quality products, we recommend finding a trustworthy online store.
Online vendors offer more products to choose from, lower prices, and a better toolset for researching your prospects.
If you still prefer to shop for delta 8 the traditional way, check out the top-rated stores we listed in this article. And if you don't know where to start shopping for delta 8 THC products online, Area 52 and Finest Labs are both decent picks for beginners.
Enjoy buying delta 8 THC in Texas!