Five CBD Review & Coupon Code (2023 Update)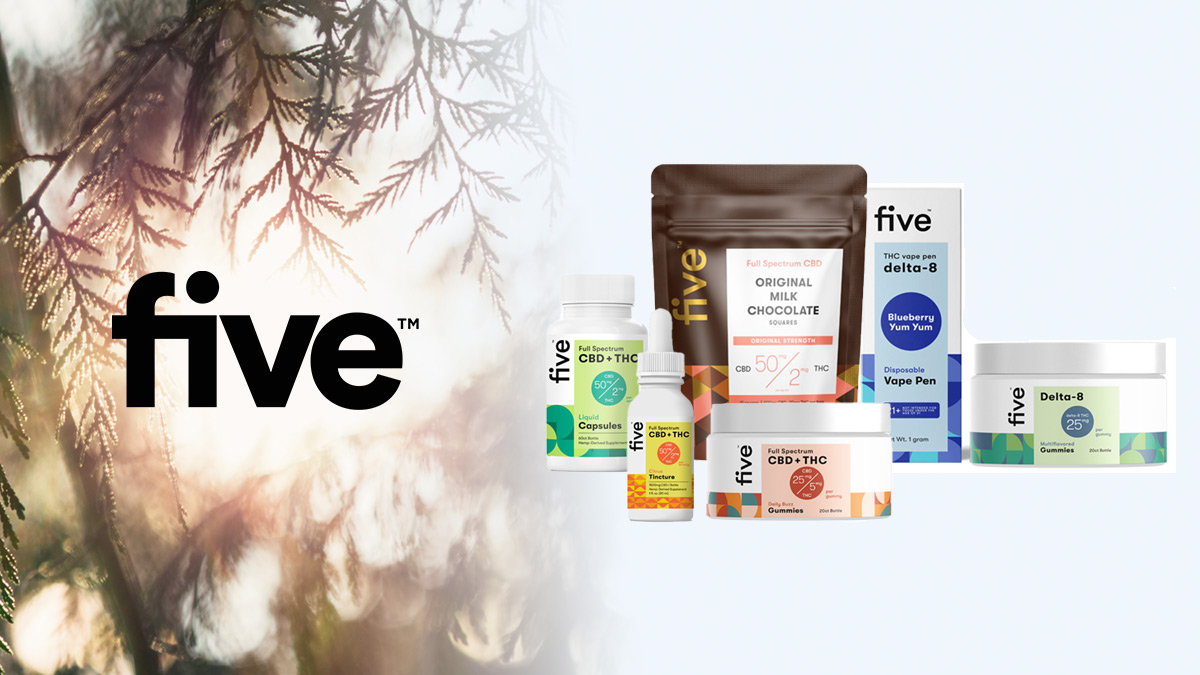 Five CBD is a freshman in the industry. The brand was started in 2020, and since then, it has managed to rise to the top of the ladder, giving its competition a spur of motivation.
The Five CBD company believes that hemp can offer a lot more when it comes to therapeutic benefits when you add a little more THC to the formula.
Hence the name "Five" CBD.
The "Five" name refers to the ratio 5:1 of CBD to other cannabinoids and terpenes because Five CBD uses the whole hemp plant.
Five CBD: Highlights
Pros
Cons

Real entourage effect

High-potency products

CBD quiz for new users

Return policy

Limited product selection

No natural-flavored CBD oils
About Five CBD
Truth be told, Five CBD doesn't offer the most impressive product selection out there. However, if you're looking for carefully crafted formulas that leverage the entourage effect to its full potential — then you're in for a treat.
For the brand, full-spectrum CBD is the name of the game. These products are full of minor cannabinoids and terpenes in a carefully measured 5:1 ratio. The goal of these formulations is to garner the most benefits cannabis has to offer from the therapeutic perspective.
Quality & Transparency
Five CBD claims to use US-grown hemp from "the best farms in the country," which is very vague and doesn't tell anything about the quality of these plants. Although the company provides CGMP certification and accurate lab reports, it would be nice to know the exact states of the hemp's origin. This little slip undermines the company's transparency a little bit.
The good thing is that the certificates of analysis with the results for potency and purity of each product are clearly listed on the Five CBD website.
Warning Letters & Lawsuits
The Food and Drug Administration (FDA) has been issuing warning letters to companies that aren't compliant with its regulations surrounding the marketing and labeling of hemp-derived CBD products. 
To date, Five CBD hasn't received any warning letters from the FDA, which is a good indicator of its business practices. 
The company also doesn't have a history of lawsuits, so it's an honest manufacturer that cares about what it puts inside its products.
Certifications
Five CBD doesn't have the USDA organic badge, although its hemp is non-GMO and free of pesticides and herbicides. The brand does, however, have a GMP certification, meaning its products are made according to Good Manufacturing Practices. GMP-certified companies are generally more trustworthy than those without it.
Customer Service
Five CBD has a decent customer service team — they're knowledgeable and responsive. You can reach out to the company between Monday and Friday by phone or email. You can also use a special contact form.
The company generally has good reviews all over the internet. Customers are mostly satisfied with the products, delivery times, and customer assistance. Of course, they have a few negative reviews here and there, but these can happen even among the best.
Pricing
Finding a premium CBD product at an affordable price is possible. It will be difficult, but it's totally doable. The products from Five CBD are very affordable for their quality. The company also has a very generous discount program for veterans, active military, paramedics, police officers, firefighters, and all health care workers. If you belong to any of these categories, you can get 35% off your order — which is a generous offer.
Five CBD Product Range
As mentioned earlier, Five CBD has a limited product selection, but I'm good with that. I actually prefer brands that offer a few things which they can be proud of than companies that sell everything but the kitchen sink — in mediocre quality.
Here's my review of the Five CBD product line-up.
Five CBD Oil (+THC)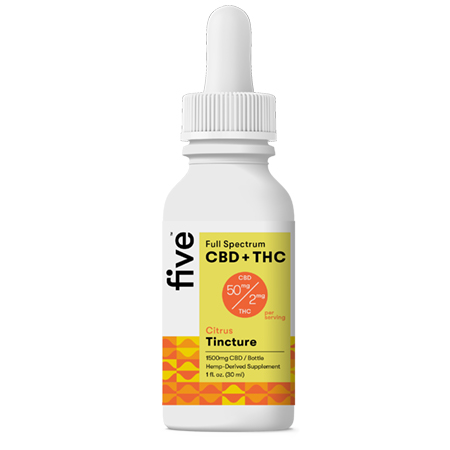 | | |
| --- | --- |
| Type of CBD | Full Spectrum |
| CBD Potency | 1500 mg – 6000 mg |
| Flavors | Citrus, Mint Chocolate |
Five CBD full-spectrum CBD oils come with the whole range of hemp-derived phytonutrients suspended in MCT oil for higher bioavailability. They contain terpenes, flavonoids, and other cannabinoids, including 2 mg of THC to enhance the entourage effect.
The company offers an impressive potency range, starting at 1500 mg up to 6000 mg of CBD per bottle. The oil is available in two flavors: Citrus and Mint Chocolate. Unfortunately, the flavorings are artificial, compromising the whole experience. There's also no unflavored variant for those who prefer unprocessed full-spectrum CBD.
Five CBD Capsules (+THC)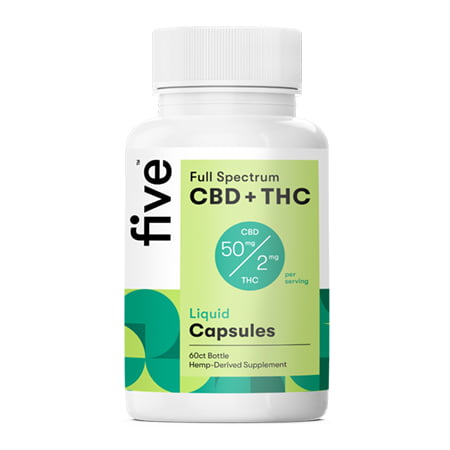 | | |
| --- | --- |
| Type of CBD | Full Spectrum |
| CBD Potency | 50 mg per capsule |
| Size | 30 ct. |
Five CBD Edibles
Five CBD has two types of edibles in its store: gummies and chocolate, both infused with 2 mg of THC per serving. 
Five CBD Gummies (+THC)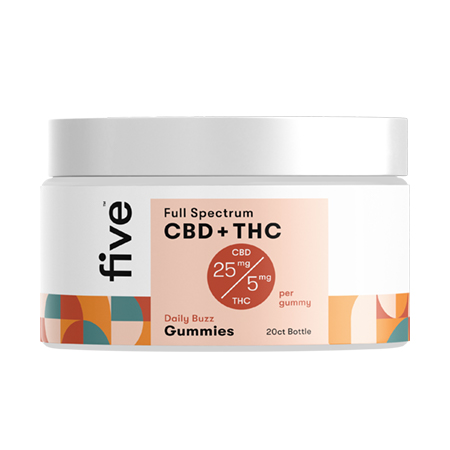 | | |
| --- | --- |
| Type of CBD | Full Spectrum |
| CBD Potency | 25 mg |
| Formulas | Daily Buzz, Sleep, Sour |
| Flavors | Assortment of: Orange, Blue Razz, Citrus, Lime, Mixed Berry, Red Raspberry |
| Sizes | 20 ct., 40 ct., 60 ct. |
CBD gummies are made by combining a CBD extract with gelatin. Most of the time, you'll find either broad-spectrum or isolate-based gummies. The full-spectrum ones are a rarity. Good-quality CBD gummies are a great way to consume CBD due to their appealing form.
Similar to the other products by Five CBD, these gummies come with the 5:1 ratio, meaning that on top of CBD, they contain CBC, CBN, and THC, as well as other minor cannabinoids and terpenes.
They're a little bit bitter due to the full-spectrum extract, but the flavors are spot-on and do a good job at masking the hempy aftertaste. 
You can order them in 25 and 50 mg bottles. I recommend the combination of CBD plus melatonin if you have troubles sleeping, just make sure you pop them before 40 minutes to 1 hour before going to bed.
Five CBD Chocolates (+THC)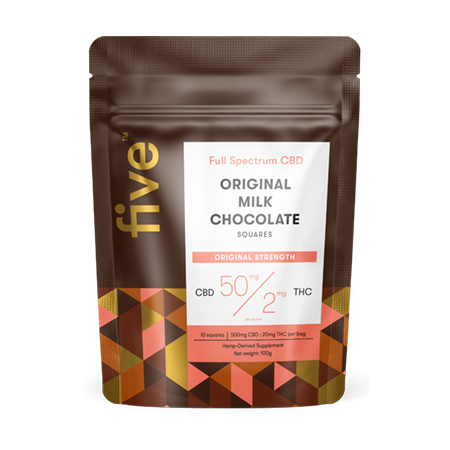 | | |
| --- | --- |
| Type of CBD | Full Spectrum |
| CBD Potency | 50 mg |
| Type of Chocolate | Milk, Sea Salt Dark |
| Sizes | 10 ct., 20 ct. |
CBD chocolate is far less common among CBD brands than gummies. That's actually odd because chocolate is one of the best forms of cannabis edibles. You can easily break it down into equal pieces to get the same dose with every serving; besides, who on Earth doesn't like chocolate? (such people can't be trusted)
Made using the same ratio of 5:1 between CBD and other cannabinoids, each pack comes with 10 squares of premium-quality chocolate infused with full-spectrum CBD. Depending on your dosage, a square or two should make it for a relaxing day.
Other Products by Five CBD
Five CBD offers a few more products besides CBD. Similar to other premium brands, the guys at Five CBD have hopped on the Delta 8 bandwagon, offering two types of such products:
Delta 8 THC Gummies:

each gummy contains 25 mg of hemp-derived delta 8 THC. You can buy them in bags of 20, 40, or 60, with up to 1500 mg of delta 8 per jar.
Delta 8 THC Vape Pen: vaporization is the fastest and most effective way to deliver cannabinoids to your system. Five CBD offers quality d8 disposable vape pens in 5 different strains, including Blueberry Yum Yum, Blue Dream, Grape Ape, Pineapple Express, and Strawberry Lemonade. Each strain is infused with specific terpenes that recreate the experience that people get with the flower. Each vape pen contains 1000 mg of delta 8 distillate and terpenes — without fillers like VG, PG, or Vitamin E.
Five CBD Review: The Pros & Cons
Five CBD is a strong pick if you're looking for specific product formats, such as oils, gummies, and capsules. However, no company is without flaws — and so is the truth for Five CBD.
Here's an overview of the brand's strengths and weaknesses after using its services for several weeks.
The Pros
Real Entourage Effect
With Five CBD, you're getting real full-spectrum products. They're crafted into the 5:1 ratio between CBD and other supportive ingredients, making the entourage effect more pronounced. The cannabinoid and terpene profile is detailed in the products' certificates of analysis.
High-Potency Products
The most potent CBD oils in the market today start at 33.3 mg of CBD per serving. Most CBD brands top their selection of CBD oils with potencies like 2500 mg or 3000 mg of total CBD. Anything upwards of that isn't common on the market, especially when it comes to full-spectrum extracts. Five CBD offers even up to 6000 mg of total CBD, catering to those with high dosage requirements.
CBD Quiz
This feature is great for new customers who aren't sure which Five CBD product is right for them. The company offers a questionnaire on its website. By filling out this "CBD Quiz," Five CBD will profile your needs and help you determine which product is the best match.
The Cons
Limited Product Selection
I get it that a limited product range may result from a relatively short presence on the market, but this is where Five CBD could step up its game. Although it's good that the company underlines the 5:1 ratio and focuses on mastering its classic formulas, but as the market matures, CBD users become pickier and can get boring with just a few formats to choose from. Five CBD doesn't offer any CBD vapes and topicals, nor there are any specific formulas in its line of oils and capsules.
No Natural-flavored CBD Oil
This is yet another downside of the Five CBD oils. Each flavored option contains artificial flavorings, which is a shame because these oils come in flavors like Lemon and Mint Choco. You can easily achieve them with natural flavors or by adding a specific terpene blend. That would make the product more expensive, but it would add more value for the money.
Return Policy
A customer-friendly return policy is a sign that a company is confident about the quality of its products. Many CBD brands offer full refunds if you're unsatisfied with their products; however, Five CBD falls out of the bracket. Although it has a 30-day return policy, it says that you can only return the product if it is unopened and unused.
Alternative Options to Five CBD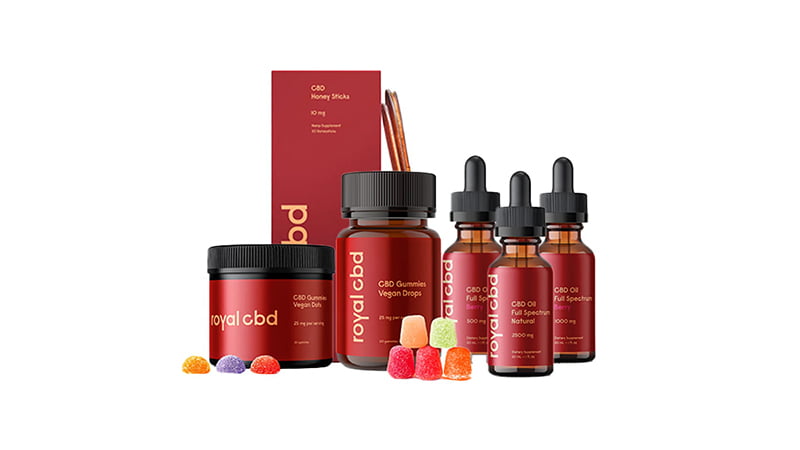 Get 15% off all Royal CBD products. Use code "CFAH" at checkout.
Pros
Cons

Organic, US-grown hemp

Supercritical CO2 extraction

Broad product range

High-strength options are available

Well-designed formulas

Flavored with natural ingredients

Complete third-party testing profile

30-days Money Back Guarantee

A little bit more expensive than the market's average (but still worth the price)

Not available locally
Royal CBD is one of my favorite CBD brands. I first used these products shortly after the company's launch in 2018 and I'm impressed with how it has grown over the years while upholding its quality and reputation.
The company uses organically grown hemp from Colorado and makes its products using CO2 extraction technology. The entire collection is triple-tested in an independent laboratory — from seeds to packaging — for potency and purity, including results for pesticides, heavy metals, solvents, and other contaminants.
Royal CBD offers the following formats:
CBD oils

CBD capsules

CBD gummies

CBD honey sticks

CBD topicals

CBD for pets
Royal CBD has a high trust score among industry magazines. It has been featured in reputable cannabis media outlets, such as High Times, LA Weekly, SF Weekly, Observer, and We Be High.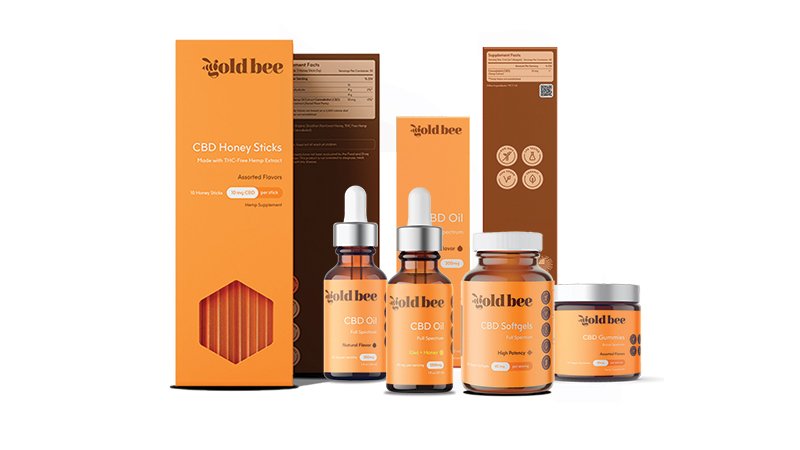 Pros
Cons

Organic hemp from California

CO2 extraction

Infused with superfoods

Full-spectrum and broad-spectrum CBD

Up to 2500 mg of total CBD

Flavored with natural ingredients

Pet products

30-day Money Back Guarantee

Limited potency options

No isolate-based products
Some CBD brands make you want their products to become part of your lifestyle. Gold Bee does that like no other company — mostly thanks to its unique formulas.
The company first specialized in making superfoods, such as organic coconut oil or raw honey from Brazillian rainforests. Despite its rebranding in 2019, these ingredients are present all across the Gold Bee CBD line.
These products are full-spectrum and all-organic, making Gold Bee one of the strongest picks for health-conscious users.
You can choose from the following products:
CBD oils

CBD capsules

CBD gummies

CBD honey sticks

CBD roll-on

CBD for pets
My personal favorite is the CBD roll-on which offers 2000 mg of CBD infused with menthol. This CBD topical product for pain is great to ease localized discomfort, especially the burning sensation from injuries.
Gold Bee takes all its hemp from California and is highly transparent about its growing and lab-testing practices. You can access the lab reports directly from the Gold Bee website.
3. CBDPure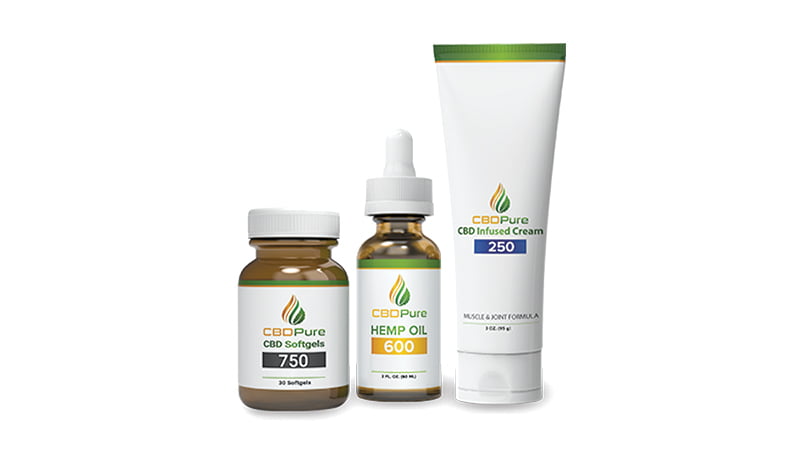 Pros
Cons

Organic hemp from Colorado

Full-spectrum products

Well-thought-out formulations

90-day Money Back Guarantee

One of the pioneer brands in the USA

Narrow product range

No edibles

Lack of flavored products

Premium pricing
CBDPure is an industry veteran and the company that sparked my interest in CBD in 2016. It's funny because the brand offers even fewer products than Five CBD, but thanks to the quality of its formulas, CBDPure has managed to uphold its reputation as one of the most reliable CBD vendors on the market.
CBDPure's products are sourced from organic hemp grown in Colorado and Washington. The company has total control over the manufacturing process, detailing every step on its website — including the complete lab reports of its extracts.
As of now, CBDPure offers a basic product range, including:
CBD oils

CBD capsules

CBD cream

CBD for pets
The brand is very confident about the quality of these products, offering a generous 90-day money-back guarantee. If you're not satisfied with your purchase, you can return the products within 90 days for a full refund.
Final Verdict: Five CBD Offers High-Quality Products, But the Line-Up is Limited
Five CBD has a few very decent products in its collection. The whole philosophy of the brand revolves around the 5:1 idea, which describes the ratio between CBD and other phytochemicals from hemp to leverage the entourage effect. Five CBD offers potent products, with up to 6000 mg of total CBD.
That being said, the product choice is a bit limited, and the oils are flavored with artificial ingredients. The company also doesn't provide much information about its origin, farming and extraction practices, mission, and contribution to the community.
Make sure to compare Five CBD with other alternative options to pick a brand and product that will bring you the most value for the money.60-g