Full-Spectrum vs. Broad-Spectrum CBD: What's the Difference?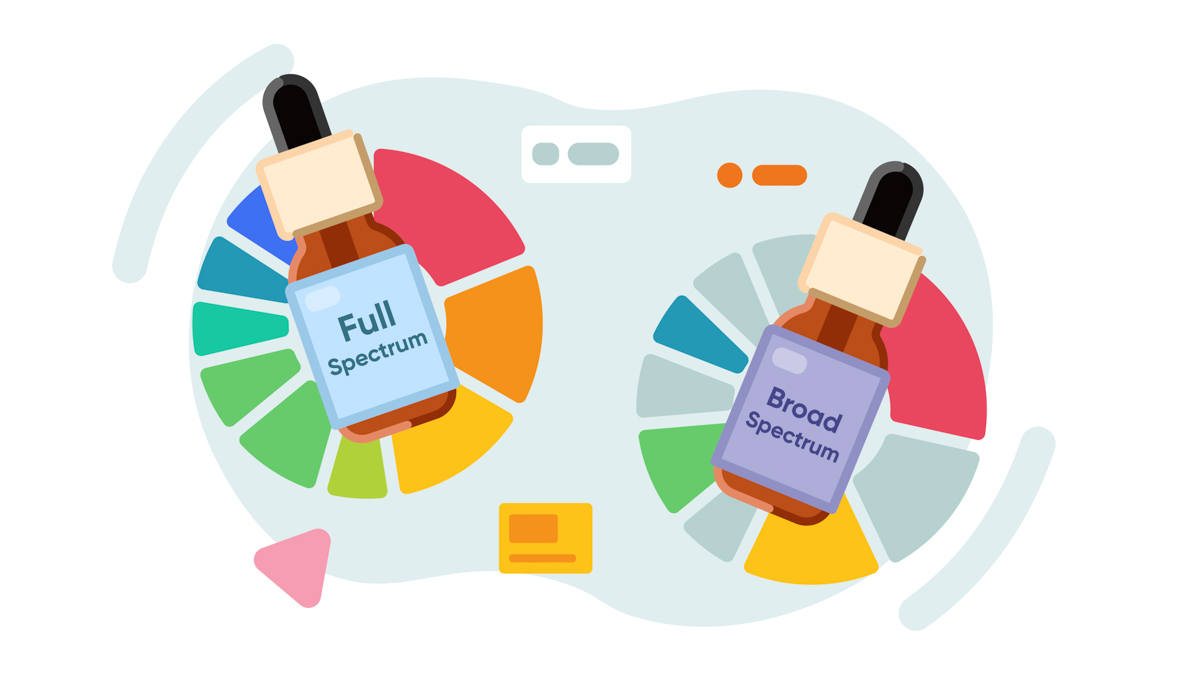 This article compares full-spectrum vs. broad-spectrum CBD. We highlight the chemical differences between these two types of CBD, elaborate on their effects, and evaluate their efficacy to rule out which is better if you want to get the most bang for your buck. After reading this article, you'll be able to choose the right type of CBD for your health needs and learn how to find decent products in the sea of mediocrity.
Full-spectrum and broad-spectrum CBD are the most common types of CBD products.
Compared to CBD isolate, both extracts evoke the entourage effect – a unique synergy that amplifies the therapeutic potential of CBD thanks to the presence of other cannabis compounds like minor cannabinoids and terpenes.
But which one is better — full-spectrum or broad-spectrum CBD?
We'll answer this question in today's article, leaving no stone unturned.
Full-Spectrum vs. Broad-Spectrum CBD: An Unbiased, Evidence-Based Comparison
There are three main types of CBD extracts:
Full-spectrum CBD
Broad-spectrum CBD
CBD isolate
Although the main ingredient doesn't change regardless of the type, its supportive compounds — minor cannabinoids and terpenes — come in varying ratios.
Here's what you need to know about the differences between full-spectrum vs. broad-spectrum CBD.
What Is Full-Spectrum CBD?
Full-spectrum kind of CBD extract is also referred to as "whole-plant CBD." It contains a whole package of botanical compounds, such as terpenes, cannabinoids, flavonoids, alkaloids, and other active molecules naturally occurring in the plant. This includes THC, the primary psychoactive cannabinoid that also has plenty of therapeutic properties.
Although THC can make you feel high, full-spectrum CBD oils contain only a trace amount of it. That's not enough to induce intoxication.
What Is Broad-Spectrum CBD?
Broad-spectrum CBD type comes with all the aforementioned compounds — but it doesn't contain THC. The THC content gets removed during the extraction process.
Manufacturers either thin down the extract to get rid of THC or break it down into fractions to remove THC and combine the other cannabinoids and terpenes in various ratios.
Does CBD Isolate Produce the Same Effects as Full-Spectrum and Broad-Spectrum CBD?
Isolate carries the highest concentration of CBD per serving. It's odorless and flavorless, making it a preferable option for people who dislike the botanical taste of full-spectrum and broad-spectrum CBD products.
However, it lacks the synergy achieved by the two above types, known as the entourage effect. Together, cannabinoids, terpenes, and flavonoids enhance the therapeutic efficacy of CBD and lend their unique beneficial effects (1).
They also mitigate the side effects of CBD, such as headaches, fatigue, diarrhea, and appetite fluctuation (2).
CBD isolate is the least desired type because of that.
How Are Full-Spectrum and Broad-Spectrum CBD Extracted?
Full-spectrum CBD oil is made by extracting a crude CBD liquid from the hemp flowers using CO2, solvent extraction, or lipid extraction. The resulting product comes with high levels of CBD, with minor cannabinoids, terpenes, and traces of THC.
Broad-spectrum CBD uses the same process at the core, but then it undergoes a process known as chromatography. This process separates THC from the other compounds.
Once extracted, manufacturers suspend full-spectrum and broad-spectrum CBD in a carrier oil to improve absorption and increase bioavailability.
Full-Spectrum CBD vs. Broad-Spectrum CBD: Which Is Better?
Whether full-spectrum or broad-spectrum CBD is better for you depends on your health goals.
Here we explain the main differences between the effects of both CBD types. We also present their pros and cons so that you can make a well-informed decision.
Pros and Cons of Full-Spectrum CBD
One of the major benefits of full-spectrum CBD is that it offers the entourage effect. According to this concept, multiple components of cannabis work with each other to help you reap more benefits from your supplementation.
There are three groups of compounds that contribute to the entourage effect:
Phytocannabinoids (CBD, THC, CBG, CBC, CBN, etc.)
Terpenes (molecules that give cannabis its unique scents and flavors
Flavonoids
If you want to reap the most benefits from your supplementation, full-spectrum CBD is the best pick.
A 2011 review of studies concluded that phytocannabinoids, terpenes, and flavonoids may produce beneficial effects for pain, inflammation, and anxiety. The authors found that CBD showed the most promise for skin conditions and certain brain-related diseases (3).
In a 2018 meta-analysis of the efficacy of pure CBD vs. full-spectrum CBD, the research team noted that whole-plant CBD extracts containing THC are more effective in reducing the severity and frequency of seizures than CBD isolate (4).
One potential downside of full-spectrum CBD is that the trace amounts of THC can make you feel euphoric if you take a large enough dose or a high-potency product. However, you won't feel intoxicated.
Another risk of taking full-spectrum CBD involves failing a drug test.
And that's where broad-spectrum CBD comes into the picture.
Pros and Cons of Broad-Spectrum CBD
Since broad-spectrum CBD doesn't contain any THC, it won't make you fail a drug test if you use a lab-certified product.
Broad-spectrum CBD extracts are popular among parents and pet owners who want to avoid even traces of THC in supplementation.
Unfortunately, they don't unlock the full potential of the entourage effect. While you'll definitely feel the synergy between CBD and minor cannabinoids and terpenes, the lack of THC may compromise its therapeutic efficacy.
Best Full-Spectrum and Broad-Spectrum CBD Products
The CBD market — although matured over the years — still lacks regulations in essential aspects, such as purity and potency standards.
Lab testing isn't obligatory, and many manufacturers take advantage of that, churning out uncertified products that often contain less CBD than the bottle states, not to mention contamination with pesticides, heavy metals, mold, solvents, and other toxins.
Here are my recommendations of the three leading brands that offer the best value for money with their full-spectrum and broad-spectrum CBD. All of their products are tested by anI SO-certified laboratory for the parameters mentioned above.
1. Royal CBD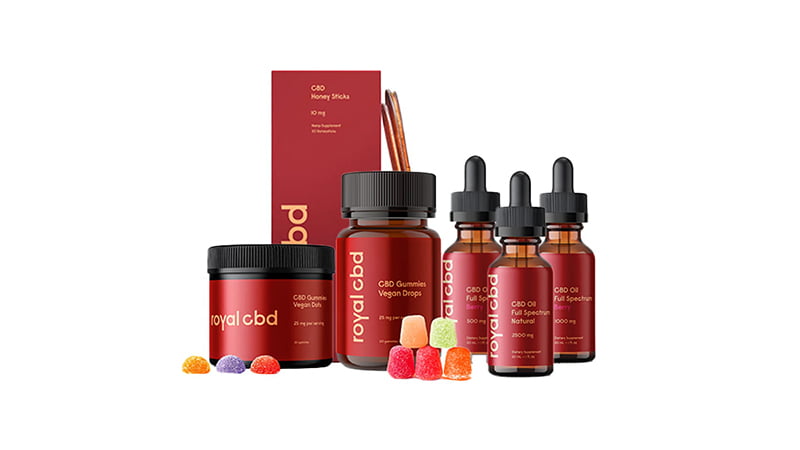 Get 15% off all Royal CBD products. Use code "CFAH" at checkout.
Royal CBD is one of the most respected manufacturers of premium CBD extracts.
The company has both full-spectrum and broad-spectrum CBD products in its line-up.
The full-spectrum range includes:
CBD oil (500 mg, 1000 mg, and 2500 mg)
CBD gummies
CBD capsules
CBD oil for pets
Royal CBD uses organic hemp and CO2 extraction, ensuring top-shelf quality and consistent potency of its products. These aren't just blends of isolated cannabinoids; you're getting a crude full-spectrum CBD suspended in MCT oil and combined with powerful supportive ingredients that maximize CBD's potential.
The broad-spectrum line has the following formats:
CBD gummies
CBD topicals
CBD honey
These products come with no traces of THC, making them an appealing option for people who want to avoid this psychoactive compound in their routine.
2. Gold Bee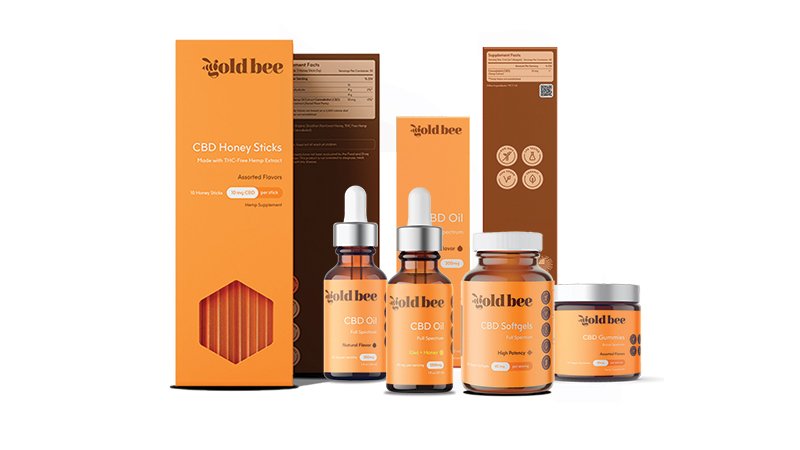 Gold Bee derives from the superfoods industry. The company has preserved its health-conscious philosophy after making the transition to CBD extracts, infusing them with raw honey and organic MCT oil.
Gold Bee offers three full-spectrum CBD products, such as:
CBD oil
CBD capsules
CBD gummies
Its line of broad-spectrum CBD includes:
Gold Bee uses its proprietary hemp strains that contain remarkable concentrations of terpenes. Their presence potentiates the entourage effect, increasing the efficacy of lower dosages.
3. Area 52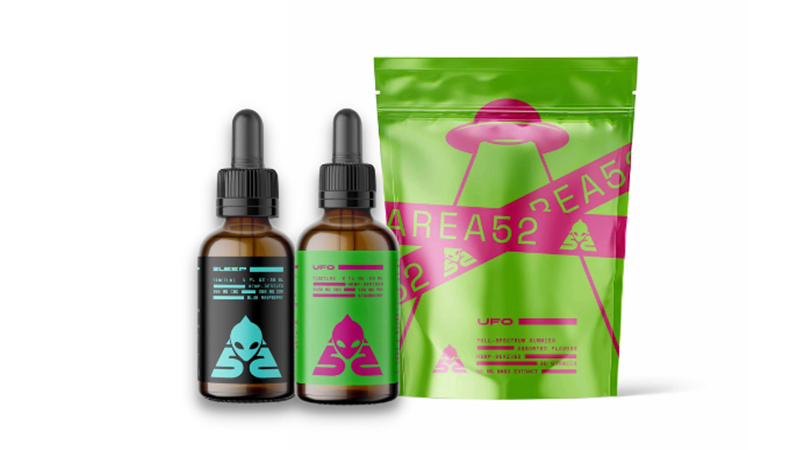 Get 15% off all Area 52 products. Use code "CFAH" at checkout.
Area 52 started out making delta-8 THC products from pure distillate. Earlier this year, the brand also released a new line of "true full-spectrum products."
This collection features CBD gummies for different health goals (immunity, energy, and sleep), as well as two types of CBD oil.
The first version is a classic full-spectrum CBD extract without extra modifications. The latter is dedicated to people who are looking for potent therapeutic effects; it comes with 40 mg CBD, 10 mg CBG, and 2.5 mg THC per serving (half a dropper).
This unique blend of cannabinoids creates deeply relaxing effects on the brink of euphoria and improved focus and productivity thanks to the adrenergic effects of CBG.
How to Use CBD Products
You're spoiled for choice when it comes to how you can use CBD products. Your final decision will depend on your health goals and lifestyle.
Some of the most common formats include:
Oils
Capsules
Gummies
Vapes
Topicals
Capsules and gummies are easy to take. With oils, you need to place them under your tongue or mix them with foods or drinks.
Vapes offer the fastest and most effective way of delivering CBD to your system thanks to their high bioavailability (up to 60%).
Topicals work better for localized problems, such as inflammation flare-ups, post-workout soreness, and bruises from injuries.
The optimal dosage varies between individuals. Experts recommend starting with 2-6 mg of CBD for every 10 pounds of your weight. From there, you can test the dosage for a few days, and if you see no improvements, increase it gradually to the point you experience relief without any side effects.
Related Post: How to Take CBD Oil
Read Labels for Precise Information About CBD Spectrum and Dosage
Product labels on CBD supplements provide necessary details about the ingredients, potency, and dosage of the product. Above all, make sure it comes with a batch-specific certificate of analysis (CoA).
CBD Ingredients
Depending on the type of CBD, your product will contain either a full-spectrum or broad-spectrum of cannabinoids and terpenes, including THC.
Isolate is just pure CBD, separated from the other compounds.
Different cannabinoids and terpenes come with unique health benefits and can help with certain conditions, such as epilepsy, anxiety, depression, insomnia, chronic pain, and multiple sclerosis.
Potency
The potency of your product should be the most visible parameter on the bottle. Companies usually display them in large letters on the packaging and in the product description.
They also provide the amount of CBD per serving on the label. For CBD oils, the potency is expressed in milligrams per milliliter. With gummies, you can divide the total potency by the number of gummies to calculate the potency per dose.
Lab-Testing
High-quality CBD products have updated CoAs. A CoA means that the product has been tested by a third-party laboratory to ensure it meets all safety requirements and ensures accurate information on the label.
Full-Spectrum vs. Broad-Spectrum CBD FAQ
Looking for more answers? Here we highlight the most frequently asked questions about the differences between full-spectrum and broad-spectrum CBD.
Is full-spectrum or broad-spectrum better for pain?
Some studies point to full-spectrum CBD as more effective for pain. A 2019 study that analyzed the effects of whole-plant CBD in people with chronic pain found that it provided relief from their symptoms. Over 50% of the participants reduced their opioid intake (or ceased it completely) for pain management after an 8-week CBD treatment (5).
In a 2020 study, the authors concluded that full-spectrum CBD has remarkable anti-inflammatory and pain-relieving properties (6).
However, we need more clinical studies to draw definitive conclusions about the efficacy of full-spectrum and broad-spectrum CBD for pain relief.
Is full-spectrum or broad-spectrum better for sleep?
That depends on the specific formula of your CBD product.
When you compare crude full-spectrum and broad-spectrum CBD extracts, the former may be more effective for sleep.
However, if a broad-spectrum CBD formula comes with other ingredients for sleep support, such as melatonin, linalool, or 5-HTP, it can produce better results than most full-spectrum CBD oils.
Is full-spectrum or broad-spectrum better for anxiety?
Studies suggest that CBD alone can ease anxiety, but other papers lean toward full-spectrum and broad-spectrum CBD products (7).
In a 2021 animal study, the authors found that broad-spectrum CBD oil may help curb anxiety and depression symptoms induced by trauma (8). The National Institute on Drug Abuse (NIDA) reports that CBD has effectively reduced stress and anxiety in rats (9).
Again, full-spectrum products might be even better with trace amounts of THC, but the overall efficacy of your product depends on the formula and the ratios between cannabinoids, terpenes, and supportive ingredients.
Which type of CBD shows up on a drug test?
None of them should cause you to fail a drug test if you take normal doses and use a lab-tested product.
However, if you consume exceptionally high doses of full-spectrum CBD oil daily, you may end up with a false positive score for THC. Should that happen, ask your employer for another test.
Broad-spectrum CBD products shouldn't contain THC, but the manufacturer needs to prove that with a legitimate CoA from a third-party laboratory.
Can full-spectrum CBD make me feel high?
CBD alone won't make you high, unlike THC. The 0.3% THC in full-spectrum CBD oils isn't enough to induce intoxication, so you can sleep safe as long as you're using a tested product.
That being said, the effects of full-spectrum CBD may be more euphoric in large doses than broad-spectrum CBD.
Full-Spectrum vs. Broad-Spectrum CBD: Final Verdict
Studies suggest that full-spectrum and broad-spectrum CBD products are more effective than CBD isolate.
Although more research is necessary to prove it conclusively, the biochemistry of cannabis leaves no doubt that the entourage effect can enhance the therapeutic effects of CBD when it occurs among other cannabinoids, terpenes, and flavonoids.
The difference between full-spectrum vs. broad-spectrum CBD is minor, and their efficacy depends on the other ingredients in the formula.
Experiment with different types of CBD; try different dosages and ingredients to see which formula works best for your health needs.
Above all, research manufacturers test their products in third-party laboratories for potency and contaminants.
If you're taking any medications, speak with your doctor before you try CBD, as these products may interact with pharmaceutical drugs and cause a range of unwanted side effects.
Related Posts:
Sources:
Russo E. B. (2011). Taming THC: potential cannabis synergy and phytocannabinoid-terpenoid entourage effects. British journal of pharmacology, 163(7), 1344–1364 [1].
Iffland, K., & Grotenhermen, F. (2017). An Update on Safety and Side Effects of Cannabidiol: A Review of Clinical Data and Relevant Animal Studies. Cannabis and cannabinoid research, 2(1), 139–154. https://doi.org/10.1089/can.2016.0034
Pamplona, F. A., da Silva, L. R., & Coan, A. C. (2018). Potential Clinical Benefits of CBD-Rich CannabisExtracts Over Purified CBD in Treatment-Resistant Epilepsy: Observational Data Meta-analysis. Frontiers in neurology, 9, 759 (3). https://doi.org/10.3389/fneur.2018.00759
Alex Capano, Richard Weaver & Elisa Burkman(2020)Evaluation of the effects of CBD hemp extract on opioid use and quality of life indicators in chronic pain patients: a prospective cohort study, Postgraduate Medicine,132:1,56-61, DOI: 10.1080/00325481.2019.1685298 [4].
Maayah, Z. H., Takahara, S., Ferdaoussi, M., & Dyck, J. R. B. (2020). The molecular mechanisms that underpin the biological benefits of full-spectrum cannabis extract in the treatment of neuropathic pain and inflammation. Biochimica et biophysica acta. Molecular basis of disease, 1866(7), 165771 [5].
Shannon, S., Lewis, N., Lee, H., & Hughes, S. (2019). Cannabidiol in Anxiety and Sleep: A Large Case Series. The Permanente journal, 23, 18–041 [6].
Assis, Pollyana & Ferrarini, Eduarda & Baldasso, Gabriela & Paes, Rodrigo & Gouvêa, Murilo & Segundo, Carlos & Borrelli, Francesca & Brandao, Marcos & Capasso, Raffaelle & Dutra, Rafael & Raposo, Nádia. (2021). Broad-Spectrum Cannabis Oil Alleviates Behavioral Symptoms Associated with Stress-Related Anxiety and Depression in Mice. Pharmaceutical Sciences [7]. 28. 10.34172/PS.2021.59.
Volkow, N.D. (2015). The Biology and Potential Therapeutic Effects of Cannabidiol. NIDA Archives. Retrieved from: https://archives.drugabuse.gov/testimonies/2015/biology-potential-therapeutic-effects-cannabidiol