Gold Bee Review & Coupon Code (2022 Update)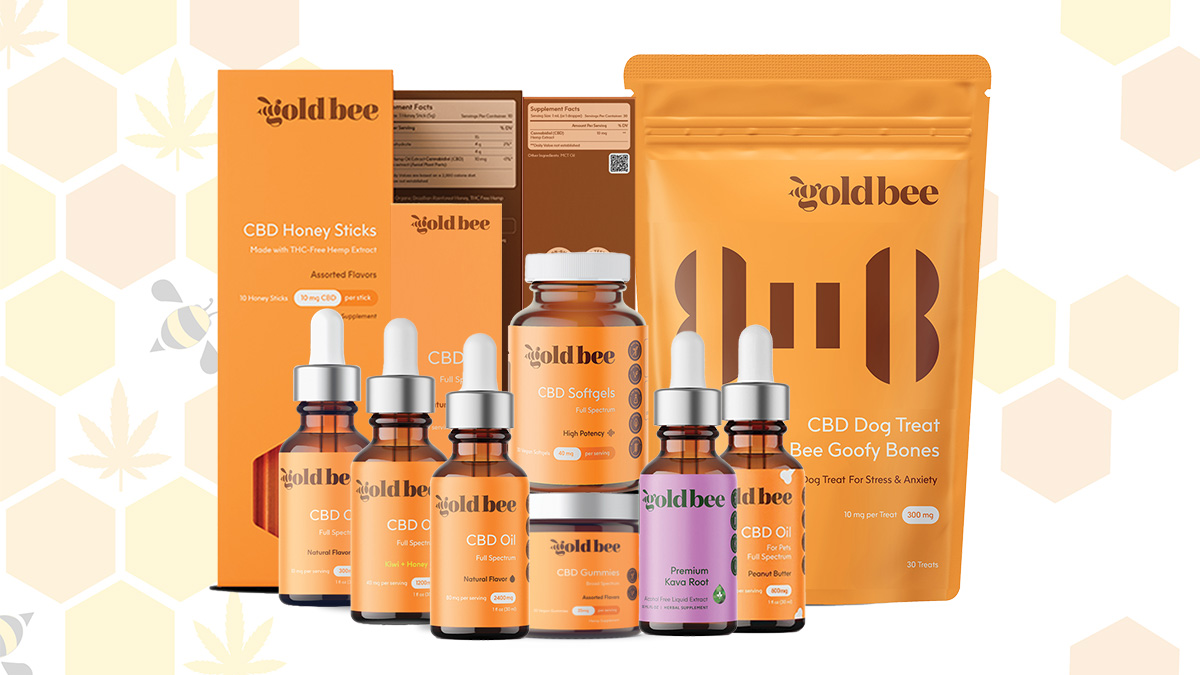 Gold Bee CBD has been generating a lot of buzz in the media lately despite its relatively short appearance on the CBD scene. This crafting company from Nevada is known for making all-organic CBD products, including locally-grown hemp, honey extract, and carrier oil.
What makes Gold Bee special is the exceptional terpene profile in its full-spectrum products. Their terpene content is confirmed by the Certificate of Analysis from an independent laboratory, indicating much higher levels than average.
If you're looking for an excellent brand to purchase CBD products from, you've come to the right place. The oils, gummies, capsules, and pet products are all made from organic ingredients and provide superior value for the money.
Gold Bee also specializes in unique product formats, such as its full-spectrum CBD honey sticks made from honey harvested in the Brazillian rainforest.
I've been testing the brand's products for three months, so I'll share all my remarks on their efficacy in this review.
Here's what you need to know about Gold Bee and its mission.
A Brief Overview of Gold Bee
Before producing CBD oils, Gold Bee had been making organic superfoods infused with wildflower honey. The company only transitioned to selling CBD products in 2019 after the founders came up with a unique formula for high-grade hemp extracts combined with the superfoods they've been using until then.
Gold Bee first offered limited batches of CBD oils to local Nevada dispensaries to assess customer feedback and decide whether or not they should jump deeper into the CBD space.
After receiving many positive reviews for its CBD oils, the brand has stepped up its game and began making CBD gummies and capsules.
Gold Bee also launched its online portal at the start of 2020, introducing a new product line — CBD honey sticks.
Now anybody from the United States can enjoy the premium quality offered by Gold Bee through its website.
What Makes Gold Bee A Trustworthy Brand?
Gold Bee is a true maverick in the CBD space. Not only does it sell 100% organic products, but it also formulates CBD extracts with various superfoods, such as the aforementioned raw honey or various herbs in their CBD line for pets.
Here's what makes the company stand out from the crowd of average CBD brands.
1. 100% Organic Products
All Gold Bee hemp is sourced from local California farms. Everything is cultivated using organic farming methods, which involve frequent soil and air quality testing, organic fertilizers, and natural pest control.
Hemp source is paramount for the quality of the end product because hemp plants are bioaccumulators; in other words, they absorb every substance from their environment, hence our emphasis on organic farming. Organic hemp delivers the best-quality flowers that are high in CBD and free of toxic compounds.
2. Supercritical CO2 Extraction
CO2 extraction is the golden standard in the hemp industry because it uses pressurized carbon dioxide to pull the beneficial compound from hemp instead of running it through aggressive solvents that are often difficult to purge. Residual solvents in the end product compromise its quality and pose a threat to your health.
When CO2 is in its supercritical state, it has both gas and liquid properties, effectively extracting CBD, other cannabinoids, and terpenes without adding extra heat or using hazardous solvents.
CO2 extraction ensures both the highest purity and consistent concentrations of CBD throughout the batches.
3. Infusion with Superfoods
As mentioned at the beginning of this review, Gold Bee's founders have spent several years in the superfoods industry before enrolling in CBD extracts. They have used that experience to create unique products that feature organic honey from the Brazillian rainforest or herbal extracts such as chamomile, l-theanine, and turmeric to enhance or complement the health benefits of CBD.
4. Diverse Product Selection
Gold Bee started with a humble product selection like many premium brands, including full-spectrum CBD oils and capsules. Since its launch, the brand has expanded its lineup with vegan CBD gummies, full-spectrum honey sticks, and pet products (CBD pet oil and dog treats). Today, the company also has a kava root tincture extract in its collection for people who are into biohacking and want to combine different herbal supplements to maximize their brain performance through optimal stress management throughout the day.
I'm still waiting for CBD vapes and topicals — judging by the quality of other products, I bet dollars to donuts will offer the same remarkable quality of ingredients and well-designed formulas.
5. Third-party Testing
If a company doesn't test its products in an independent laboratory, they're not worth my trust — that's how I separate trustworthy manufacturers from sketchy businesses.
Fortunately, Gold Bee tests its products at different stages of production (from seed to bottle). The company provides certificates of analysis that include reports for their potency, the entire cannabinoid and terpene profile, and results for common contaminants, such as pesticides, heavy metals, solvents, and microbial impurities.
You can access the lab reports through Gold Bee's online store.
What Products Does Gold Bee Sell?
Gold Bee offers a selection of common CBD formats and some unique products that are a great way to diversify your experience with hemp extracts. From CBD oils to capsules, gummies, and honey sticks — there's a whole world of premium-quality products to try out.
Let's start with the company's award-winning full-spectrum CBD oil.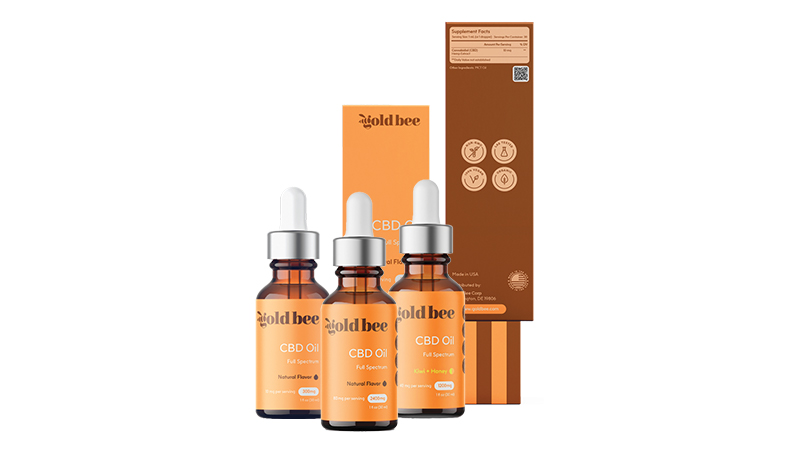 CBD oil is the bread and butter of the CBD space. Since CBD and other cannabinoids dissolve in fats, they offer an effective way to deliver the beneficial compounds to your system.
Gold Bee CBD oils are available in two different strengths and flavors:
1200 mg CBD Oil – mid-strength CBD oil, the most popular option that features the standard dosage of 40 mg/mL
Both versions are available as unflavored CBD oil or in two 0-calorie flavors sweetened with honey: kiwi and lychee.
The biggest selling point for Gold Bee compared to the competition is the oil's high terpene profile. Terpenes are the aromatic compounds that contribute to the therapeutic potential of CBD oil. They can modulate the specific effects of cannabinoids on top of adding their health benefits. Terpenes are known for their anti-inflammatory, analgesic, or stress-relieving properties; some can even improve the absorption or slow down the metabolism of CBD, making it more available for the body.
CBD oils with higher levels of terpenes tend to be more potent and versatile in terms of their therapeutic profile.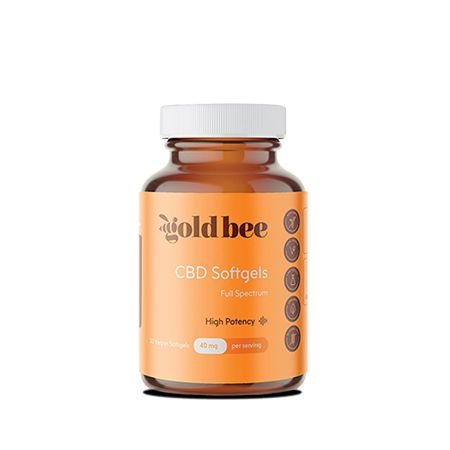 CBD capsules are made by infusing high-grade CBD oil into a soft gel capsule. Gold Bee uses the same premium CBD extract for its capsules for oils and other products.
The company offers full-spectrum CBD capsules that are made from organic, terpene-rich hemp oil. Each capsule comes with a decent dose of 40 mg of CBD, making them some of the most potent CBD capsules on the market — the average concentration of CBD in capsules ranges between 10 and 20 mg.
This product is suitable for people with high CBD dose requirements, such as those suffering from chronic pain, severe anxiety, or inflammatory gastrointestinal disorders.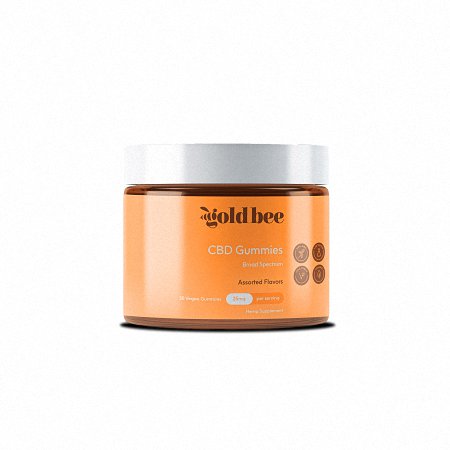 CBD gummies are a good fit for people who dislike the taste of unflavored CBD oil. Similar to capsules, they also contain a precise dose of CBD per serving, which takes away a lot of hassle during dosing.
CBD gummies are also popular with children because most of these products are formulated with a broad-spectrum extract. This means they're THC-free and thus safe for kids.
Gold Bee uses the same organic hemp plants as CBD oils and capsules, save for the cannabinoid spectrum.
The Gold Bee CBD gummies feature broad-spectrum CBD for two reasons.
First, some of the terpenes produced in hemp will compromise the gummies' texture by interfering with their base; they may lose their shape or become sticky.
Secondly, and more importantly, removing some terpenes also results in removing trace amounts of THC — the primary psychoactive compound in cannabis. Since the gummies are completely THC-free, they are safe for children.
They also don't contain any wheat or animal derivatives, so that you can eat them even with certain dietary restrictions.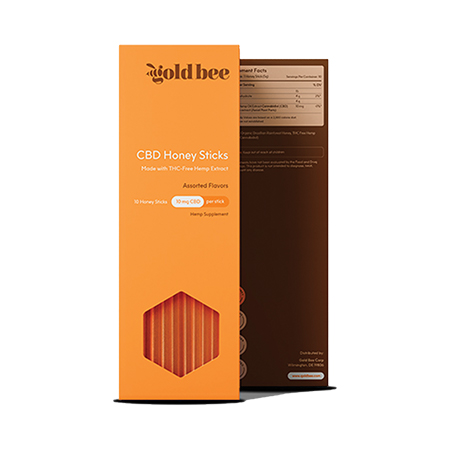 CBD-infused honey products have become popular since Gold Bee released its line of honey sticks. Today, more companies are adding CBD honey products and other edibles to their collections every month.
The Gold Bee brand was rooted in bee farms, so the introduction of honey sticks was a no-brainer when I first read about the product's release. While Gold Bee no longer makes its own honey, the company certainly knows what makes the best golden nectar.
For this product, Gold Bee has imported wild honey from the Amazon rainforests. This part of the world boasts the greatest biological diversity on earth. Honey sourced from this region features the nectar of tens of thousands of different plants, giving it a complex flavor and adding subtle therapeutic value.
You can buy these delicious honey sticks in packs of 10 or 60, each infused with 10 mg of full-spectrum CBD from organic hemp.
They're a textbook definition of a guilt-free treat.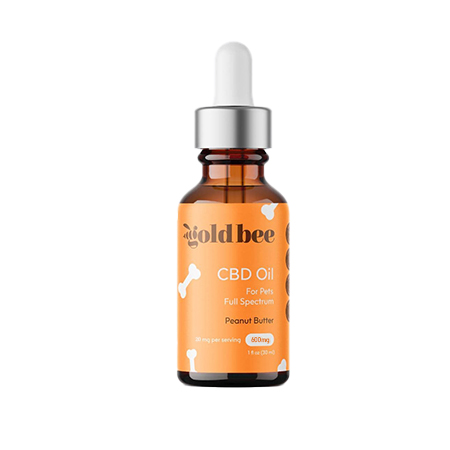 Gold Bee followed through with its collection of CBD pet products after succeeding with the human line of hemp extracts. Today, the company offers two product types for our canine friends: CBD pet oil and dog treats.
The Gold Bee CBD pet oil comes in one potency option, containing 600 mg of full-spectrum CBD. This potent extract reflects the original profile of the hemp plant, delivering all cannabinoids, terpenes, and flavonoids that leverage the entourage effect and boost the efficacy of the product.
The oil is also available in a delicious Peanut Butter flavor so that even the fussiest dogs won't turn their noses away from it.
I'd say that the Gold Bee CBD pet oil is better suited for medium-sized and large dogs due to its potency. 600 mg of CBD can be difficult to dose with small and extra-small breeds such as yorks or chihuahuas. But, for larger breeds, it can prove very cost-effective in the long run.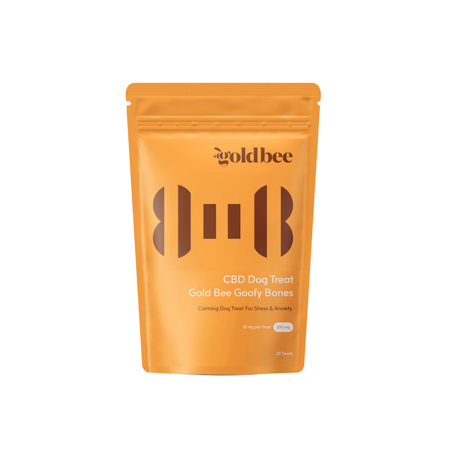 Just like humans have gummies, dogs have CBD treats that they can chew on if they're not into licking CBD oil from the dropper. Dog treats offer a fixed amount of CBD in each serving, taking a lot of the guesswork when it comes to dosing.
Gold Bee only offers one type of CBD Goofy Bones formulated with calming herbal ingredients such as chamomile and l-theanine on top of 10 mg of CBD from the whole-plant extract.
These treats are a healthy addition to your dog's diet because they contain zero wheats, unnecessary carbs, and synthetic ingredients. Just make sure not to use them as the cornerstone of your dog's supplementation.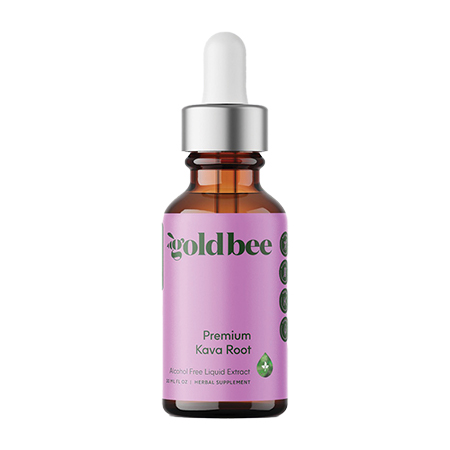 While not a CBD product, this herbal supplement deserves a separate paragraph because it's a great way to enhance the cognitive benefits of CBD. Kava kava is an ancient plant native to Oceania used for centuries to relieve anxiety, enhance focus, and provide a calm state of mind. Kava is a safe product that can be paired with CBD to promote mental clarity, ease physical tension and stave off stress.
The product contains Vanuatu Kava Root (herb strength ratio 1:2), vegetable glycerin, and deionized water. You can use it similarly to how you take CBD tinctures and support homeostasis in the different systems of your body that are negatively affected by stress.
Each serving contains 40 mg of kavalactones, which is 2 times the potency of standard Kava extracts.
Final Verdict: Gold Bee Is a True Maverick In the CBD Space
Despite its relatively short presence on the CBD market, Gold Bee has already come to the position of one of the top-tier CBD brands in this space. The team at Gold Bee offers remarkable integrity of hemp farming and laboratory testing, using top-shelf ingredients from organic sources.
The products are extracted in small batches and rigorously tested for potency and purity in an independent laboratory.
If you're new to using CBD, we recommend the Gold Bee 1200 mg CBD oil or its gummies.
If you want a novel format that offers an enjoyable way to supplement CBD and other cannabinoids with the addition of organic superfoods, make sure you try out the full-spectrum CBD honey sticks.