Green Earth CBD Gummies Review & Coupon Code (2023 Update)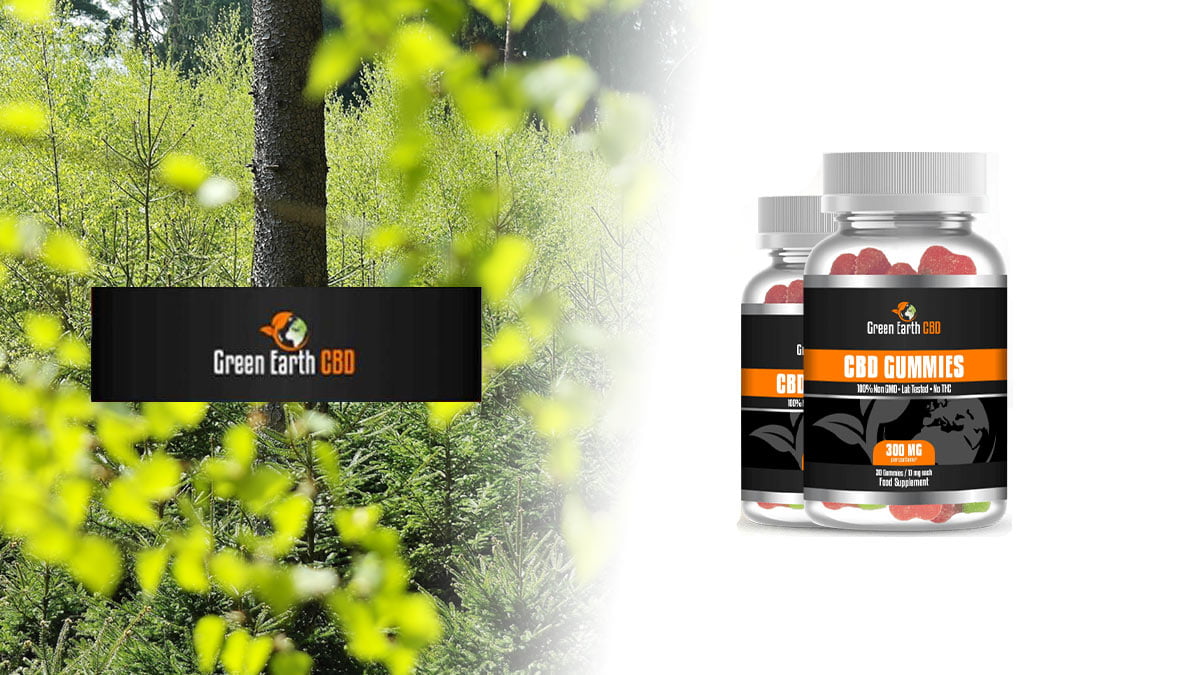 Advertised as THC-free, Green Earth CBD Gummies promise to remedy nausea, pain, and sorrow. Praised as an excellent vaping substitute, these products are supposed to pack a punch with a recommended daily allowance (RDA) of just one gummy per day.
In this review, we provide a comprehensive look at Green Earth CBD Gummies. We'll assess the authenticity of the product by reviewing the credibility of its website and fact-checking its claims.
In addition, we'll highlight other reputable CBD brands to consider, provide insightful tips on how to spot a scam CBD company, and what to do if you've fallen victim to online theft.
About Green Earth CBD Gummies
Green Earth CBD Gummies are naturally cultivated and commonly used to alleviate pain. Retailing at $4.95 per bottle and made from "high-quality Colorado-based hemp," these THC-free edibles are specially formulated to promote fitness and health. As a "certified product," Green Earth Gummies are "tested and verified by many labs," supposedly making it a safe choice for CBD users.
Are Green CBD Earth Gummies a Scam or Legit Company?
According to Interpol, online purchase scams work because "criminals promise highly sought-after goods, collect payments, then never deliver" [1]. In this case, Green Earth CBD Gummies offers 100% customer satisfaction guaranteed, despite several tell-tale signs this product doesn't exist and is merely a money-making scam.
The two biggest red flags are: firstly, the payment form has a call-to-action button with the copy, "rush my order," and secondly, when clicking to purchase these edibles, customers are redirected to another payment form for Full Spectrum Hemp Extract. This CBD oil is an entirely different product.
How This Scam Works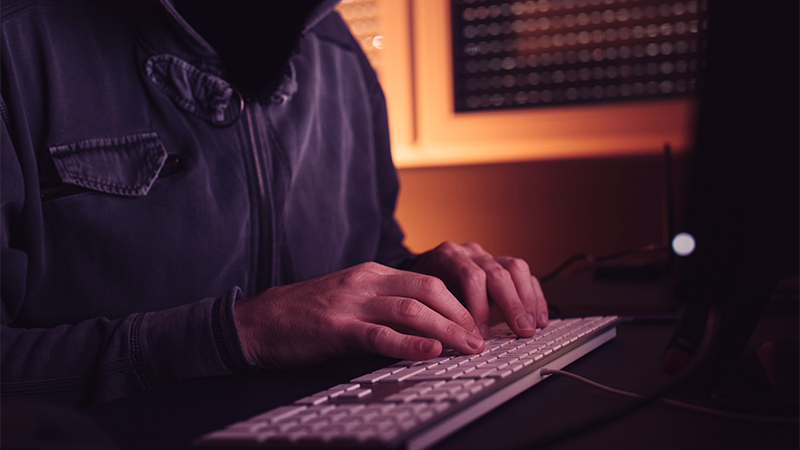 Online purchases or shopping scams involve the purchase of CBD products, where the transaction occurs via a website or other online means. Scammers frequently offer lucrative deals, like unbelievable discount specials or free trials, but no product or service is delivered once the payment goes through.
Some even offer fake membership programs via monthly debit orders. For example, one of Green Earth CBD Gummies' landing pages offers "40% off future purchases from Essential Extracts" if you become a premium member at the cost of $22.95 per month. Once they have credit card details, the company will continue to debit that amount, without delivering any products.
How to Spot this Scam
Scammers use the anonymity of the internet to set up fake CBD retailer sites that look like genuine online stores. Sophisticated designs, seemingly authentic reviews, stolen logos, and well-put-together terms and conditions can hoodwink even the most discerning consumers.
Fake or No Contact Details
As a rule of thumb, almost all businesses have their contact details like their e-mail and physical address, as well as a phone number on their website's "contact page." A website with no contact details should immediately raise suspicions. And any physical addresses that seem shady can be authenticated with verification software.
Poor Grammar
Gullible consumers, who interact with a website when the grammar is poor, have already been half-won over. Scammers deliberately isolate the most vulnerable targets by publishing copy with poor turns of phrase and weak grammar. If a website's copy alone seems illegitimate, then it probably is.
Shoddy Website Design
Too many elements cluttering a webpage is often a deliberate tactic to confuse and distract. Besides a clear message, a website should have a clean layout and navigation structure. Most scam websites seldom have more than one product page and far too much text.
What to Do When You Fall for This Scam
Criminals defraud millions of consumers each year. If you believe you're the victim of an online shopping scam, you may be able to arrange a charge-back through your financial institution if you paid by credit card. You should report the website to the Internet Crime Complaint Centre [2]. It will forward your complaint to federal, state, local, or international law enforcement, which should deal with it accordingly.
Why We Don't Recommend Green CBD Earth Gummies
Redirecting consumers to a landing page with a different product, discounts that are too good to be true, and poor copy point towards an online shopping scam. Not to mention that the website design alone raises serious questions regarding authenticity.
Marketing Style
According to law, all CBD products have to showcase their ingredients in order of importance. Not only does Green CBD Earth Gummies not have a list of ingredients, but it also has the following copy where such a list should be: "The lone fixing is simply the thing, yet there are factors that can influence the nature of the oil. We explore the interaction to ensure it's made accurately and with morals."
This sentence, like so many others on Green CBD Earth Gummies' website, is littered with errors and poorly expressed sentences. Because there is a fair number of skeptics when it comes to CBD product consumption, real companies do their best to craft compelling copy that's enticing and comprehensible. This is not the case with this company's error-ridden copy.
Transparency
The Food and Drug Administration (FDA) requires a full and legible declaration of CBD product ingredients. The pink nutrition facts label on the company's website is a weak substitute. Firstly, it's a nutrition recommendation label and not an ingredients list, and secondly, there are no percentage values next to any tabulated vitamins and minerals.
Green Earth CBD Gummies claims that its hemp-derived products are naturally cultivated, but it makes no mention of where its ingredients are sourced from. Another landing page proclaims its hemp comes from Colorado. However, It's odd that this vital information is hidden away on a landing page and not the company's "main website."
Online Presence
After clicking the "buy now" button on the main website, users are directed to multiple landing pages adverting various products. At the time of writing this review, one such site was an offer to buy NoisebudsX, essentially glorified earplugs, at a 50% discount.
Furthermore, numerous other landing pages claim to have verified Amazon reviews and protection from antivirus software like Norton, McAfee, and TrustE-verification. Green Earth CBD Gummies also states, "Safe 256-Bit SSL encryption." While these security measures are seemingly reassuring, genuine eCommerce stores usually don't have to prove their legitimacy.
Alternative Options to Green Earth CBD Gummies
Despite the array of online shopping scams, there are credible CBD companies producing cutting-edge products from premium-quality ingredients. Thanks to reward programs and special discounts, their products are actually reasonably priced. Below are some of the most respected and good value-for-money brands on the market.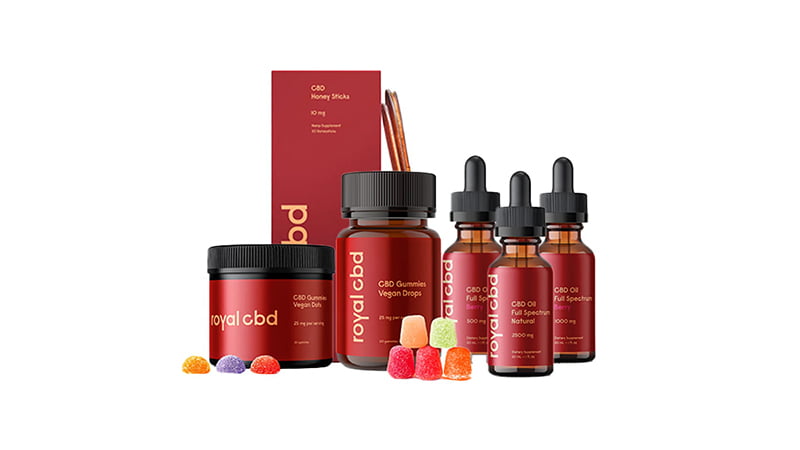 Get 15% off all Royal CBD products. Use code "CFAH" at checkout.
Pros
Cons

Organic, US-grown hemp
Supercritical CO2 extraction
Broad product range
High-strength options are available
Well-formulated products
Flavored with natural ingredients
Complete third-party testing profile
30-days Money-Back Guarantee

A little bit more expensive than the market's average (but still worth it).
Founded in 2018, Royal CBD is a brand that strives to produce the highest-caliber CBD products, like their high-quality CBD edible gummies. With a website that states "no room for mediocrity," consumers can expect the very best, organic, third-party lab-tested CBD products. All-American, award-winning, and with over 2700 credible reviews, this company is the real deal.
You can choose from the following products:
CBD oils
CBD capsules
CBD edibles

CBD gummies
CBD honey sticks

CBD topicals
CBD for pets

CBD pet oil
CBD dog treats
Royal CBD sources its hemp from local US farmers who grow their hemp without pesticides, herbicides, and fertilizers — ensuring clean and CBD-rich material. The plants are then run with CO2 in order to provide pure and potent full-spectrum CBD oil extracts.
The company's product line is tested in a third-party laboratory for potency and purity. You can ask for the lab reports by sending an email to its customer service.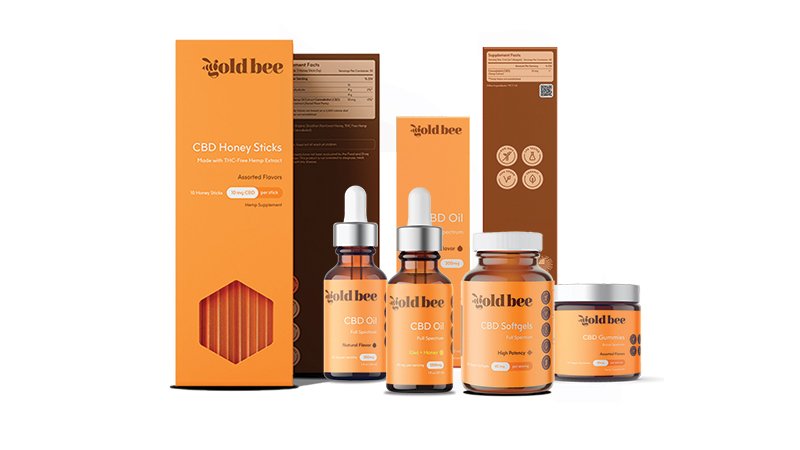 Pros
Cons

Flavored with natural ingredients
Pet products
Organic hemp
Infused with superfoods
Full-spectrum and broad-spectrum CBD
Safer CO2 extraction
Up to 2500 mg of total CBD
30-day Money-Back Guarantee

Limited potency options
No isolate-based products
Gold Bee CBD products are high-quality yet extremely affordable. Its CBD oil is extracted using supercritical CO2. This process ensures oil purity and reduces the presence of harmful solvents, making it safer and better for consumption. These products are infused with superfoods, such as organic honey and coconut oil — including Gold Bee's honey-filled sticks infused with CBD, and their staple products before its rebranding.
The Gold Bee product range includes:
CBD oils
CBD capsules
CBD edibles

CBD gummies
CBD honey sticks

CBD roll-on
CBD for pets
Product analysis certificates are available on the Gold Bee website.
3. CBDPure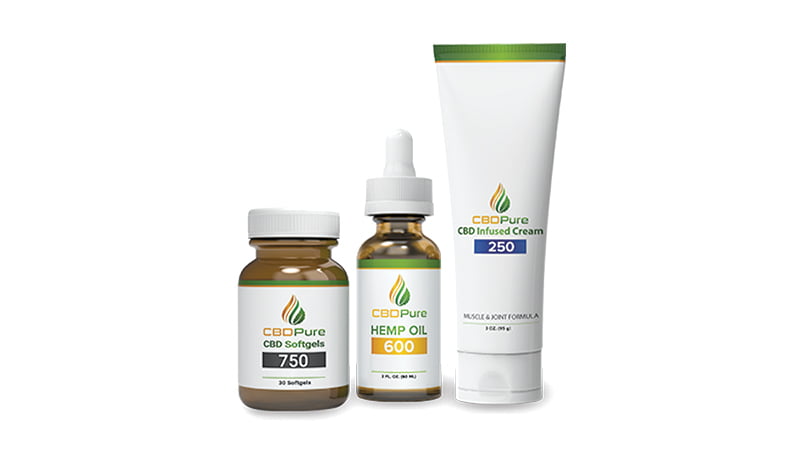 Pros 
Cons

All products go through third-party lab testing
Available online and in retail stores
International shipping.
90-day money-back guarantee.
Access to lab test results
A reliable track record

Limited product range
Confusing website layout
CBDPure is a reputable brand that intentionally manufactures a limited product range, which allows it to perfect product formulates and effects. Extracted from organic hemp grown in Colorado and Washington, CBDPure guarantees the highest quality as all of its products are third-party lab tested.
CBDPure offers the following selection of full-spectrum extracts:
CBD oils
CBD capsules
CBD for pets
While this isn't as impressive as the product range of Gold Bee or Royal CBD, these are some of the best products for new consumers who prefer simplicity and the classic choice of products.
Final Verdict: Green Earth Doesn't Sell Anything But False Promises
If a company sells "premium-quality" CBD gummies for $4.95, it's either a charity or a scam. Green Earth is definitely the latter.
It seems that Green Earth doesn't even offer any CBD gummies. Instead, the company's website serves as a harbor for different suspicious redirects that take you to various other CBD products.
Not to mention that this brand has absolutely no online presence when it comes to reviews and customer feedback.
If you want to avoid being scammed by fly-by-night companies, make sure to research every potential CBD vendor out there. And if you're in a rush, check out the recommended alternatives from my Green Earth review.