GrownMD CBD Review & Coupon Code (2023 Update)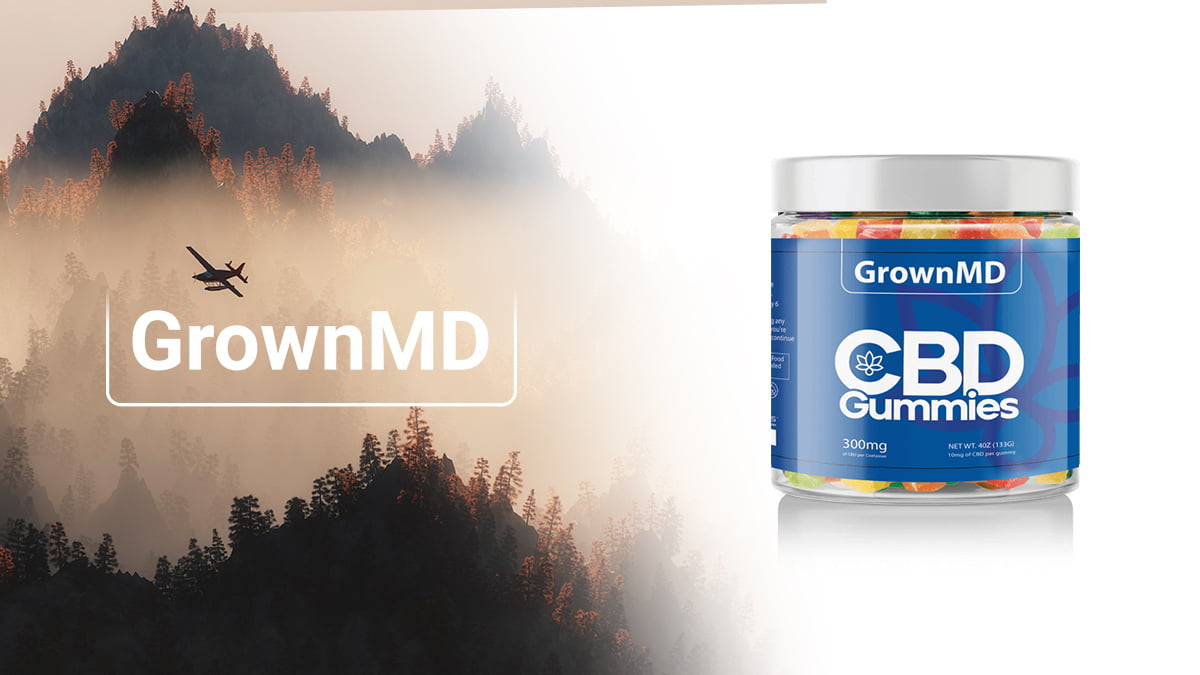 GrownMD is a copycat CBD brand that leverages the reputation of a popular company, cbdMD, to make profits off the booming market.
This company has been created to rank high for keyphrases referring to the original brand so that unaware customers may land on its page and order from them instead of buying from cbdMD.
You can smell the fake from the moment you enter the GrownMD website.
In this GrownMD review, I expose one of the most common scams in the CBD space — copycat companies.
Learn how to spot this scam, how to protect yourself against dishonest vendors, and where to look for reputable CBD brands, and high-quality CBD products online.
Who Is GrownMD?
GrownMD is an unknown company that leverages the fame of another popular brand — cbdMD.
Much as I'd like to tell you more about the brand, it's impossible because the website doesn't contain any information on that subject.
When you enter the website, all you can see is a very "raw" landing page with a long product description of the CBD gummies GrownMD offers.
There's no "About Us" section, zero product pages — just several hyperlinks and banners pointing you right to the checkout page, where you can close the deal and buy the gummies "right away while they're still available."
Is GrownMD Legit Or A Scam?
GrownMD doesn't look like a legitimate company. It has a very bad web design, low-quality content, and lacks substantial information about the brand and its products.
In fact, the website is super-focused on making you purchase the gummies with just one click — once you fall for the scam, you'll be taken to a strangely-looking checkout page with a weir "rush your order" button.
GrownMD also has no online presence; I couldn't find a single review of its gummies, which indicates that the company might not make any CBD products at all — using the website as a way to rip off unaware customers who've just jumped on the CBD bandwagon.
Here's how this scam works.
Type of Scam: Fake (Copycat) Company
When it comes to GrownMD, the company uses the copycat scam, leveraging the name of a reputable brand to gain customers and rip them off their money with fake products or orders that never make it to them.
When you look at the GrownMD website, it doesn't even display the company's logo. From the top, you're bombarded with fake images of stock CBD gummies that come with a description of broad-spectrum CBD extracts.
Then GrownMD uses far-reaching health claims about CBD's efficacy, including relief from pain, arthritis, hypertension, insomnia, addiction, and neurological disorders.
The company has a fake website and a very suspiciously-looking checkout page that urges you to "rush your order."
How This Scam Works
The truth is, GrownMD may not sell any CBD products at all. After all, the brand doesn't even provide real-life photos of its gummies; these are photoshopped stock images with a brand-specific label.
When you order the gummies from the GrownMD website, the company will charge you extra for products you didn't purchase, reasoning it with a monthly subscription fee, for which — of course — you didn't sign up.
You can contact GrownMD using its contact info, but my email was left unanswered when I tried to reach out to the company, so I suspect this may be a fake address. Therefore, applying for a refund may also be time- and nerve-consuming.
How to Spot This Scam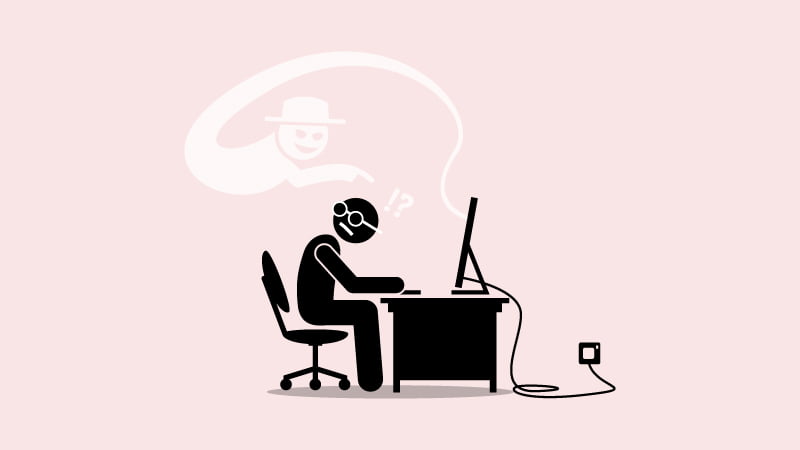 Some copycat CBD companies make a lot of effort to confuse you into thinking that you're buying from a reputable vendor. Others, however, don't even try to make appearances. Rip-offs like GrownMD are usually easy to pick out.
Using the company's example, I'm going to get down the rabbit hole of red flags.
Confusingly Similar Name to the Original Brand
Fake CBD companies use "host brands" to make an impression of another popular brand that already has an established name. This way, when potential customers search for the host brand, they might end up on the fake company's website.
That's exactly what GrownMD does. When you search for "cbdMD products," its website will pop up later in the result pages, so if you're not a regular consumer, you may confuse these two names and choose a scam instead of a legit brand.
Weird Address
Reputable companies use simple URLs that reflect their brand names. The address ends with the standard ".com" ending most of the time. Any exceptions from that standard or weird phrases containing strangely-looking symptoms indicate a potential scam.
If GrownMD was a legitimate brand, its URL would look like this:
Grownmd.com
But instead, the URL says:
Grownmd-cbd-gummies-shop-jimdosite.com
That's the address of the website builder GrownMD has used for its project. The company doesn't even have its own registered domain.
Poorly Designed Website
Your first impression of the website can tell you a lot about the company. Trustworthy brands invest in professional web design and informative content to convince people to buy from them.
When it comes to GrownMD, the whole website is one big ad. There's no "Shop" or "About Us" pages — just a product description whose quality also leaves a lot to be desired.
The company urges you throughout the text to click on one of its links or banners to purchase CBD gummies. When you look at the headers, they're very robotic, as if somebody tried very hard to rank high for certain keywords without paying attention to aesthetics.
The whole page is "decorated" with fake certificates and badges that are meant to look like professional certifications.
The website also doesn't contain any information about shipping and return policies.
The Website Copy Doesn't Make Sense
The copy is actually very difficult to digest. Not only does it use weird words and clunky sentences, but the language sounds like the content was written by a cheap copywriter hired from overseas — and worse, one who doesn't know a thing about CBD.
Being an American company and having a non-English-sounding website copy is a shot in the knee as far as credibility is concerned.
No Information About the Company
GrownMD doesn't share any details about its products. There's no information about the products it sells, the source of hemp, extraction methods, or lab testing practices. The website is also missing details about the company's founders, shipping and return policies, and other substantial information. That doesn't speak well about GrownMD's transparency.
No Product Display
Normally, when you enter a CBD store, there's usually a product display broken down into categories so that you can easily browse through different products. GrownMD doesn't have such a page; if you want to order its gummies, you must click on one of the URLs on the landing page.
Fishy Checkout Page
The majority of checkout pages look and feel the same online. This is by design because processing credit card data requires a lot of high-tech security to prevent third parties from intercepting sensitive information. Most eCommerce companies use the same providers to manage the checkout process.
Scam CBD brands use a workaround, employing obscure overseas credit card companies in order to charge you for the transaction. The checkout page looks different than what you're used to most of the time.
When you click to order the GrownMD CBD gummies, the hyperlink will take you to a strangely-looking checkout page with a weird URL — indicating that the company uses a different website address for the payment gateway.
This is a serious red flag.
Far-Reaching Health Claims
Due to its relationship with the endocannabinoid system (ECS), CBD is a versatile health supplement that can improve your quality of life on many levels. However, the lack of regulation on the market makes many brands stretch the reality with far-reaching health claims.
For example, GrownMD claims that its gummies can relieve chronic pain, prevent stroke, lower blood pressure, ease insomnia, cure skin diseases, and help with anxiety and depression.
While there are studies suggesting CBD's efficacy in these areas, we still need more clinical human trials to prove it conclusively.
Moreover, using health claims like the above is prohibited by the FDA because it violates its regulations surrounding the marketing and labeling of hemp-derived CBD products. New users can get confused that CBD oil or gummies can cure their disease singlehandedly.
Low-Quality Images
As mentioned earlier, GrownMD doesn't even display its logo on the website. The company also uses low-quality images whose aim is to pitch the product to you. There are no real-life images of these gummies — the actual picture looks as if it was downloaded from a stock website.
No Lab Reports
Strangely-Looking Contact Email
Although GrownMD does provide an email address, it looks far from legit.
Normally, a contact email would look like this:
Or:
However, the contact mail for GrownMD says:
The address suggests that GrownMD is part of a bigger company Healthmart. I checked it in official company registries — and there's no connection between these two companies.
Links from Suspicious Websites
When you try to Google GrownMD to get at least some bits of information about the company and its products, all you get is a lot of poorly written articles from the websites of popular media outlets.
These are, in fact, paid backup articles so that the company can rank higher in search engines for specific phrases.
Every article looks almost the same, with minor tweaks here and there between each piece. There are literally ZERO legitimate articles about GrownMD on third-party websites.
No Real Customer Reviews
Last but not least, GrownMD doesn't have a single user review of its gummies.
Not even a small mention.
In contrast, reputable companies have hundreds of user reviews all over the web.
Does it mean GrownMD doesn't sell anything and its website is just a sheer scam?
It probably does.
Alternative Options to GrownMD
Yes, there are a lot of CBD scams in this space. But on the other hand, even more, trustworthy brands strive to elevate the industry standards with premium-grade products from organic hemp that come at reasonable prices.
Here are my top 3 CBD companies for 2023: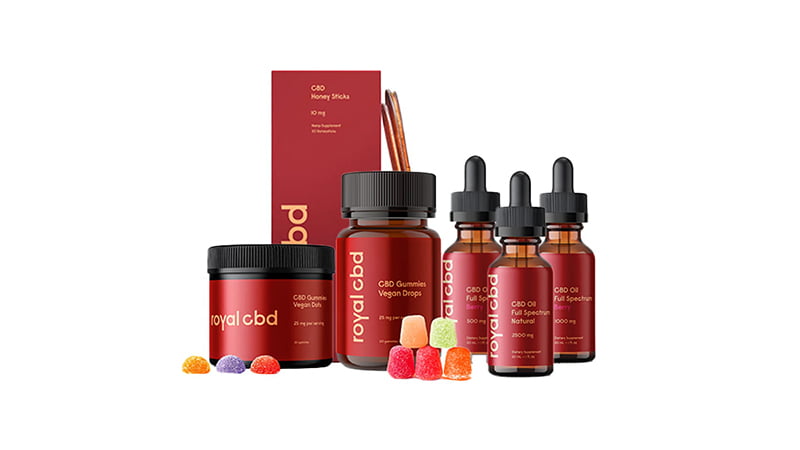 Pros
Cons

Organic, US-grown hemp
Supercritical CO2 extraction
Broad product range
High-strength options are available
Well-designed formulas
Flavored with natural ingredients
Complete third-party testing profile
30-days Money Back Guarantee

A little bit more expensive than the market's average (but still worth the price)
Not available locally
Royal CBD stands out for both its quality and transparency. The company offers a broad range of CBD products (from high-quality CBD gummies to pet-friendly CBD products) in different cannabinoid spectra and formulations. These extracts are made with locally-grown hemp, extracted with CO2, and triple-tested in a third-party laboratory for potency and purity.
Whether you're starting your journey with CBD or looking for a solid vendor after a few failed attempts, Royal CBD is a good place to stop by.
You can choose between the following product types:
CBD oils
CBD capsules
CBD edibles

CBD gummies
CBD honey sticks

CBD topicals
CBD for pets
Royal CBD has been featured for its high-quality products in several prestigious magazines, including High Times, LA Weekly, Observer, and We Be High.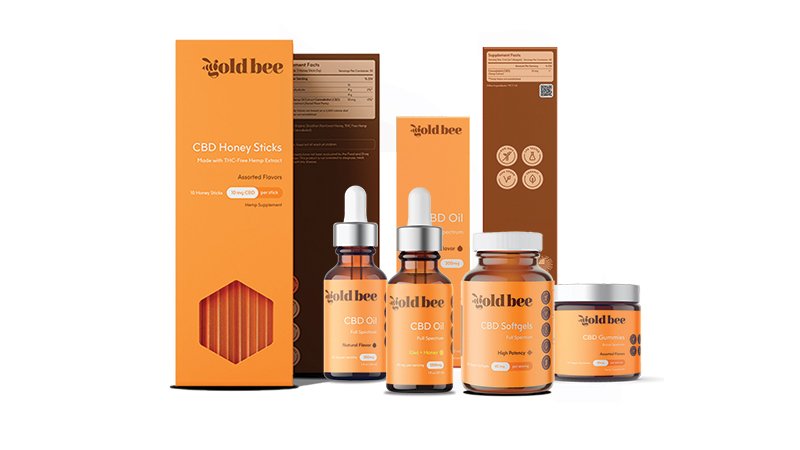 Pros
Cons

Organic hemp from California
CO2 extraction
Infused with superfoods
Full-spectrum and broad-spectrum CBD
Up to 2500 mg of total CBD
Flavored with natural ingredients
Pet products
30-day Money Back Guarantee

Limited potency options
No isolate-based products
Gold Bee is a smaller company than Royal CBD, but it's also one of the best picks if you're looking for all-organic products infused with superfood ingredients. Gold Bee had previously specialized in making organic honey and coconut oil — both ingredients are now present in its CBD-infused honey straws, and their whole CBD line.
Gold Bee offers a decent selection of different CBD formats, such as:
CBD oil
CBD capsules
CBD edibles

CBD gummies
CBD honey sticks

CBD roll-on
CBD for pets

CBD pet oil
CBD dog treats
Gold Bee has partnered with local farmers from California to create its proprietary blend of high-CBD strains. These flowers boast exceptional terpene profiles, allowing Gold Bee products to draw even more benefits from the entourage effect.
The entire Gold Bee collection is tested in an ISO-certified laboratory for quality and safety. You can view the lab reports directly on the Gold Bee website.
3. CBDPure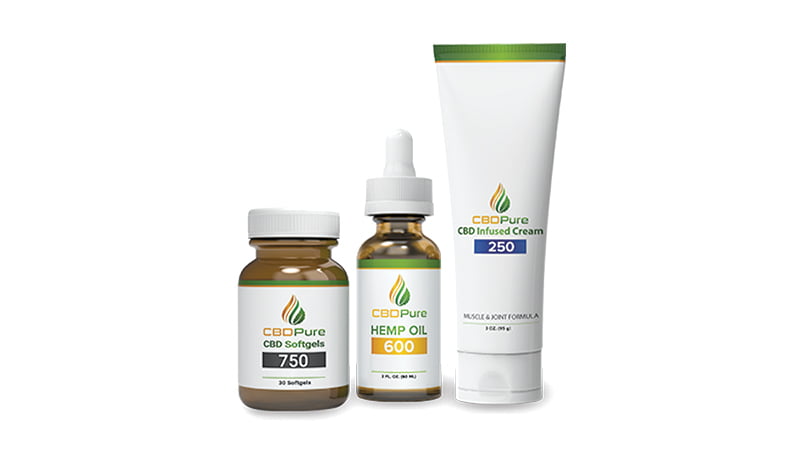 Pros
Cons

Organic hemp from Colorado
Full-spectrum products
Well-thought-out formulations
90-day Money Back Guarantee
One of the pioneer brands in the USA

Narrow product range
Lack of flavored products
Premium pricing
CBDPure is the best CBD brand for beginners who want to try the classic forms of CBD before experimenting with novel products.
The company was started in 2016 and had since then maintained a humble selection of CBD extracts in the following forms:
CBD oils
CBD capsules
CBD cream
CBD for pets
CBDPure specializes in organic, full-spectrum extracts from non-GMO hemp. Every ingredient in its formulations comes from organic sources, including the cream's carrier oil and supportive ingredients.
The company is very confident about the quality of its products. If you're not satisfied with your purchase, you can send the package back within 90 days for a full refund — this applies to opened and used products as well.
Final Verdict: GrownMD Doesn't Make Any CBD Products; it's a Rip-Of in Disguise
GrownMD is one of the many fake companies that leverage the trust and reputation of popular brands to gain new customers and fool them into buying a subscription model for overpriced products that they will never receive.
The brand ticks off every mark on my black list of companies, including poorly designed websites, fake products, the lack of product display and informative descriptions, a fishy checkout page, and zero transparency.
The internet is full of such websites; they all follow the same pattern before quickly disappearing once they collect enough money from unaware customers.
Remember, always do your research before buying CBD from any company. For more guidance, check my alternative recommendations and other company reviews on CFAH.