Hemp Gummies vs CBD Gummies: What's the Difference?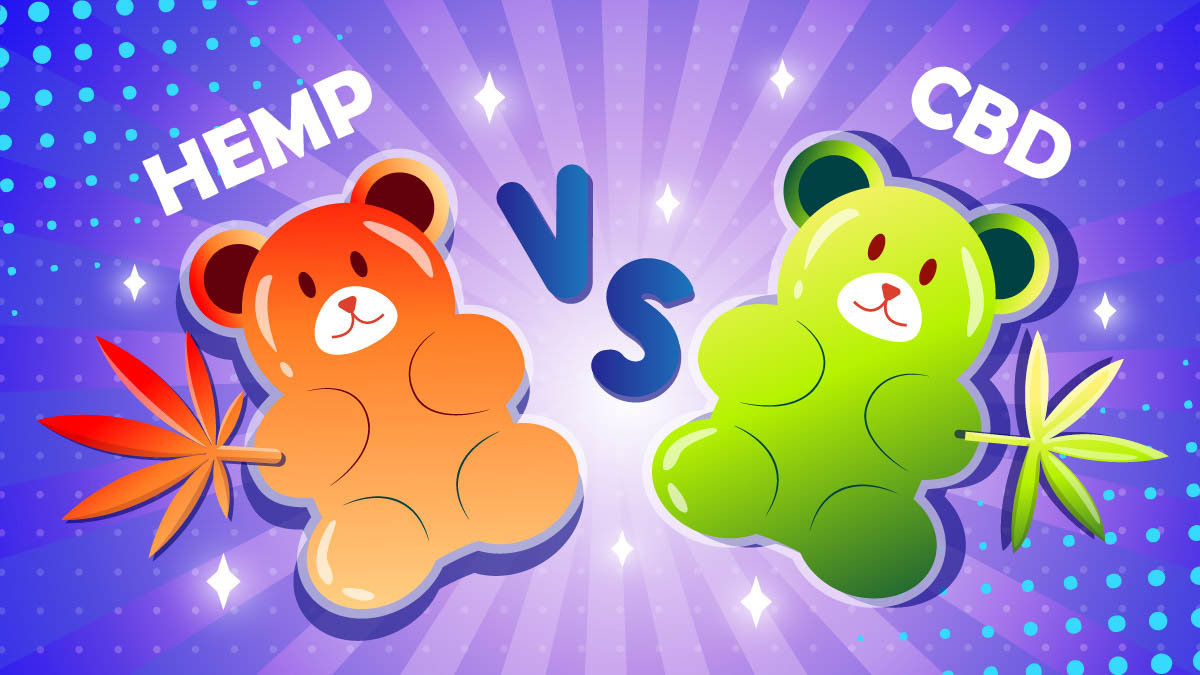 Hemp truly is the next billion-dollar crop. It has taken the world by the storm since researchers discovered the health benefits of hemp-derived CBD.
However, the use of hemp in the food industry reaches far beyond contemporary times. In fact, hemp has been widely used for its nutritional content for thousands of years.
That being said, our ancient ancestors didn't have access to some of the fancier products you can buy these days in hemp stores, such as hemp gummies and CBD gummies.
While you can see these names used interchangeably, they aren't the same products. Of course, both come from the same plant — hemp —but they have a different phytochemical profile and thus provide different effects.
Today we clear the confusion surrounding hemp gummies and CBD gummies — covering their ingredients, uses, potential health benefits, and where to buy them.
What's the Difference Between Hemp Gummies and CBD Gummies?
The main difference between hemp gummies and CBD gummies is their active ingredient.
CBD gummies contain CBD or cannabidiol. This is the main active compound in the flowers of mature hemp plants. You can find them on the flower's surface, which is coated with crystalline resin glands known as trichomes. These trichomes are broken up during extraction and transformed into thick, cannabinoid-rich oily liquid.
The manufacturer infuses the CBD oil into a gummy base that consists of either gelatin or a plant-based solidifier, such as agar or fruit pectin. CBD gummies come in different shapes and flavors; they're usually sweetened and flavored with fruit juices, concentrates, and organic cane sugar.
Depending on the type of your extract, the CBD gummies can be full-spectrum, broad-spectrum, or pure (isolate-based). Full-spectrum CBD gummies contain 0.3% of THC or less to remain compliant with the 2018 Farm Bill.
Hemp gummies contain a different extract — hemp seed oil. As the name suggests, this oil is made from the seeds of hemp plants. Unlike flowers, seeds contain ZERO cannabinoids, meaning you won't find any CBD or THC in them. The extraction method is also different; CBD oil is usually extracted with CO2 or ethanol, while hemp seed oil is made using cold-press mechanical extraction.
Hemp gummies won't give you the benefits of CBD, but the addition of hemp seed oil makes them a viable option for those who are looking for an enjoyable way to supplement essential fatty acids, vitamins, and trace minerals from hemp.
To wrap it up, CBD gummies are typically used for therapeutic purposes and general health supplementation, whereas hemp gummies are a better fit if you want to level nutritional deficiencies in your diet.
PRODUCT
DETAILS

Best CBD Gummies Overall

Royal CBD

Rated #1 for overall
Made with locally grown, organic hemp
100% organic, free of pesticides, and artificial ingredients
Delicious fruity flavor
0% THC
Established brand with 24/7 customer support
30-day 100% money-back guarantee

Click for Best Price

Best Organic Vegan Gummies

Gold Bee

Sourced from US-grown organic hemp
Contains broad-spectrum CBD
Up to 33 mg CBD/mL
Organic sweeteners
Third-party tested for potency and purity

Click for Best Price
What Are CBD Gummies Good for?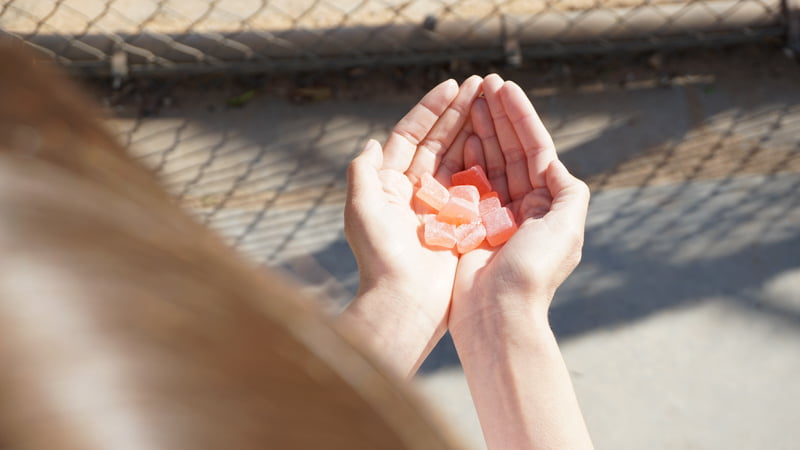 As mentioned above, CBD gummies offer an enjoyable way to reap the health benefits of CBD without having to swallow earthy-tasting CBD oil.
The most common areas of human health where CBD gummies may come in handy include pain, sleep problems, and anxiety.
Here's what science says about the therapeutic targets of cannabidiol.
CBD Gummies for Pain
Pain is the number one reason why people take CBD gummies. CBD is known to interact with the human endocannabinoid system (ECS). The ECS is a vast network of receptors, enzymes, and neurotransmitters, which work together to maintain homeostasis (balance) throughout the body. This system controls such functions as sleep, memory, mood, pain perception, stress response, immune function, body temperature, appetite, and more (1).
One way CBD gummies may help with pain is by reducing inflammation. CBD's interaction with the ECS results in blocking the release of pro-inflammatory compounds called cytokines. This, in turn, may reduce the redness, swelling, and pain caused by inflammation (2).
CBD also acts on certain receptors in the brain, such as the TRPV1 vanilloid receptor, which plays a key role in transmitting pain signals to the brain. CBD binds to these receptors and thus dampens painful sensations (3).
Finally, by modulating the ECS, CBD is able to indirectly increase the concentrations of the body's endocannabinoids, such as anandamide. Higher anandamide levels are associated with a higher pain threshold, making a person more resistant to physical discomfort (4).
CBD Gummies for Sleep
Although the mechanism of action isn't yet clear to researchers, CBD can influence our circadian rhythm through many different pathways.
For example, high doses of CBD taken at night can temporarily lower blood pressure, which translates into slower breathing. This, in turn, may help you fall asleep faster (5).
Interestingly, lower doses taken in the morning make CBD a potential wake-inducing agent according to one study. When your brain is productive throughout the day, it can ensure the proper release of melatonin in the evening. Melatonin is a sleep-inducing hormone, which is why you can find many CBD gummies infused with it (6).
CBD gummies can also affect different sleep stages. Not only has it been found to increase the time people spend in the deep sleep stage, but it can also reduce the REM stage disorders in patients with Parkinson's Disease, which are manifested by abrupt body movements, vocalizations, and tremors (7).
CBD Gummies for Anxiety
Neuroscientists have identified over 65 molecular targets for CBD aside from its interaction with the ECS. Some of these pathways are responsible for CBD gummies' versatility in managing stress and easing anxiety disorders.
CBD acts on the 5-HT1A receptor, which is responsible for the reuptake of serotonin. Serotonin is a neurotransmitter responsible for emotional control and feelings of pleasure, happiness, fear, and anxiety. By inhibiting this reuptake, CBD makes serotonin more available for the body, which can help stabilize mood and improve stress response (8).
CBD is also the modulator of the GABA receptor. It slows down its excitatory mechanisms while increasing the inhibitory actions, which prevents the neurons in the brain from firing uncontrollably and staves off anxiety (9).
Coming back to CBD's interaction with the ECS, higher levels of anandamide are also known to elevate mood. Anandamide is a Sanskrit word for "bliss" (ananda) — apparently for a good reason.
What Are Hemp Gummies Used for?
Hemp gummies are definitely less versatile than CBD gummies. As a matter of fact, they usually serve only one purpose — to provide valuable nutrients from hemp in a funny form.
The hemp seed oil has a nutty taste, so it may not appeal to everyone. Gummies can mask that flavor to the point where you won't even notice they contain the oil.
Hemp seed oil is chock-full of essential fatty acids, vitamins, and trace minerals.
The high content of omega-3 fatty acids makes hemp seed oil helpful for the improvement of cardiovascular health. Omega-3s are also known for their anti-inflammatory and antioxidant properties, making hemp gummies a viable source of supplementation.
The major health benefits of hemp gummies include:
Easier digestion
Better skin health
Reduced inflammation
Pain relief
Is Hemp Better Than CBD?
Again, it depends on what you're using them for.
Hemp has three parts that can be used for making food and supplements: leaves, flowers, and seeds.
The leaves and flowers are used for CBD extraction, so they're better for making supplements.
Hemp seeds, on the other hand, are a superfood that can be processed into a wide range of products, from protein powder to flour to hemp seed oil. You may also just as well eat them on their own and still benefit from their excellent nutritional profile.
Hemp Gummies vs. CBD Gummies: Which Is Better?
Still not sure whether you should choose hemp gummies or CBD gummies?
It's best to map out your priorities first.
What you're going to use the gummies for?
Are you looking for the health benefits of omega-3 fatty acids and vitamins from hemp seed oil?
Or do you want to support your endocannabinoid system with CBD?
If you're interested in easing pain, anxiety, and sleep deprivation, then you should go with CBD gummies.
If you're looking for a dietary supplement, hemp gummies are a better fit.
This isn't to say that hemp gummies won't help you reduce anxiety and inflammation in the body. They can, but they use different ingredients to achieve it — not to mention that they may need more time to work than CBD gummies.
Where to Buy Hemp Gummies and CBD Gummies
Hemp gummies are widely available in virtually any food chain store; you can also buy them in wellness centers, organic health stores, and on Amazon.
CBD gummies are mostly found in cannabis dispensaries, vape stores, head shops, pharmacies, and online stores.
That being said, you won't find CBD gummies on Amazon because the online giant doesn't allow CBD products for sale. Many companies use this fact to their advantage, selling gummies with hemp seed oil disguised as CBD gummies.
You can easily spot such companies by looking at the product's label. If it says "hemp gummies" or "hemp extract" instead of "CBD gummies," you're probably looking at the wrong product. Another indicator of a sketchy product is a ridiculous number of milligrams on the jar, such as 10 000 mg or 15 000 mg.
This number refers to the total milligrams of phytochemicals in the product, including the omega fatty acids, vitamins, and trace minerals.
If you're looking for CBD gummies, we recommend buying right from the manufacturer. Most reputable brands have their own websites where you can take advantage of discounts, bulk pricing, and reward programs to save money on high-quality products.
Hemp Gummies vs CBD Gummies: Bottom Line
Both hemp gummies and CBD gummies are valuable products worth incorporating into your daily routine regardless of your age. They're also a good choice if you dislike the bitter taste of hemp oil or CBD oil.
It's best to do your research before you trust any company with your money. Reading user reviews, third-party lab reports, and checking labels will save you from making poorly-informed decisions.
Remember to watch out for companies selling hemp gummies disguised as CBD gummies. If you see gummies that are suspiciously cheap for a CBD product, the manufacturer could have used hemp seed oil instead of CBD oil and is trying to take advantage of the lack of regulations in the hemp industry.
Although both products can significantly improve your daily life with consistent use, they won't relieve pain or cure any disease overnight. Think of them as versatile tools rather than a quick fix to your health problems.
We'd love to know your thoughts on hemp gummies vs CBD gummies — share them in the comments below!
Reference Links:
Khan, M. I., Sobocińska, A. A., Czarnecka, A. M., Król, M., Botta, B., & Szczylik, C. (2016). The Therapeutic Aspects of the Endocannabinoid System (ECS) for Cancer and their Development: From Nature to Laboratory. Current pharmaceutical design, 22(12), 1756–1766. https://doi.org/10.2174/1381612822666151211094901
Atalay, S., Jarocka-Karpowicz, I., & Skrzydlewska, E. (2019). Antioxidative and Anti-Inflammatory Properties of Cannabidiol. Antioxidants (Basel, Switzerland), 9(1), 21. https://doi.org/10.3390/antiox9010021
Muller, C., Morales, P., & Reggio, P. H. (2019). Cannabinoid Ligands Targeting TRP Channels. Frontiers in molecular neuroscience, 11, 487. https://doi.org/10.3389/fnmol.2018.00487
Leweke, F. M., Piomelli, D., Pahlisch, F., Muhl, D., Gerth, C. W., Hoyer, C., Klosterkötter, J., Hellmich, M., & Koethe, D. (2012). Cannabidiol enhances anandamide signaling and alleviates psychotic symptoms of schizophrenia. Translational psychiatry, 2(3), e94. https://doi.org/10.1038/tp.2012.15
Jadoon, K. A., Tan, G. D., & O'Sullivan, S. E. (2017). A single dose of cannabidiol reduces blood pressure in healthy volunteers in a randomized crossover study. JCI insight, 2(12), e93760. https://doi.org/10.1172/jci.insight.93760
Murillo-Rodríguez, E., Millán-Aldaco, D., Palomero-Rivero, M., Mechoulam, R., & Drucker-Colín, R. (2008). The nonpsychoactive Cannabis constituent cannabidiol is a wake-inducing agent. Behavioral neuroscience, 122(6), 1378–1382. https://doi.org/10.1037/a0013278
Chagas, M. H., Eckeli, A. L., Zuardi, A. W., Pena-Pereira, M. A., Sobreira-Neto, M. A., Sobreira, E. T., Camilo, M. R., Bergamaschi, M. M., Schenck, C. H., Hallak, J. E., Tumas, V., & Crippa, J. A. (2014). Cannabidiol can improve complex sleep-related behaviours associated with rapid eye movement sleep behaviour disorder in Parkinson's disease patients: a case series. Journal of clinical pharmacy and therapeutics, 39(5), 564–566. https://doi.org/10.1111/jcpt.12179
De Gregorio, D., McLaughlin, R. J., Posa, L., Ochoa-Sanchez, R., Enns, J., Lopez-Canul, M., Aboud, M., Maione, S., Comai, S., & Gobbi, G. (2019). Cannabidiol modulates serotonergic transmission and reverses both allodynia and anxiety-like behavior in a model of neuropathic pain. Pain, 160(1), 136–150. https://doi.org/10.1097/j.pain.0000000000001386
Pretzsch, C. M., Freyberg, J., Voinescu, B., Lythgoe, D., Horder, J., Mendez, M. A., Wichers, R., Ajram, L., Ivin, G., Heasman, M., Edden, R., Williams, S., Murphy, D., Daly, E., & McAlonan, G. M. (2019). Effects of cannabidiol on brain excitation and inhibition systems; a randomised placebo-controlled single dose trial during magnetic resonance spectroscopy in adults with and without autism spectrum disorder. Neuropsychopharmacology : official publication of the American College of Neuropsychopharmacology, 44(8), 1398–1405. https://doi.org/10.1038/s41386-019-0333-8