76 Incredible Real-Life Products Made from Hemp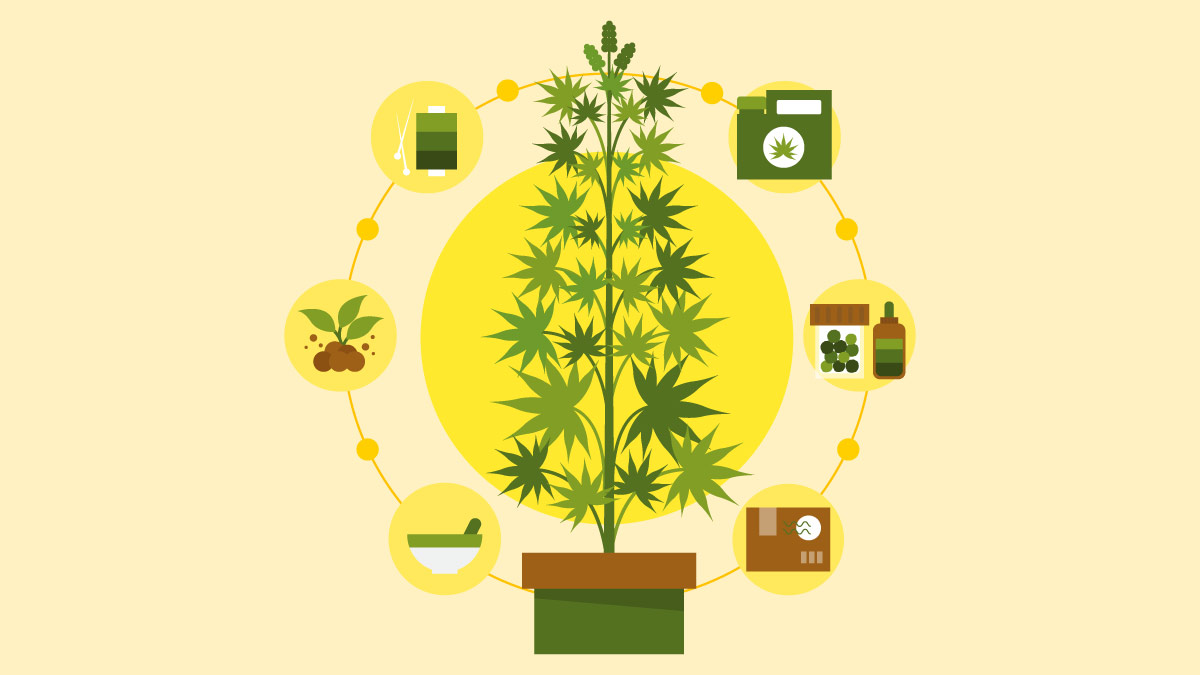 Hemp is the oldest agricultural crop on our planet, one that has long been used by a number of great civilizations. Although forsaken at some point, hemp is now going through a renaissance, showing us once again that it can help people in a myriad of ways.
Let's take a look at the quote from an article published in Popular Mechanics in 1938:
"American farmers are promised a new cash crop […] and it will provide thousands of jobs for American workers throughout the land."
Yes, dear friends, hemp was once claimed the New Billion-Dollar Crop. With such an extremely wide range of potential applications, it's no wonder that hemp gained such a reputation among U.S. citizens. It seemed that the opportunities for using hemp in our lives were endless.
Still, it took the government not even a year after this publication to pass harsh restrictions on cannabis and hemp that essentially buried the entire industry down in the ground. For almost a century, hemp has been forgotten and stigmatized due to the sea of misconceptions spread by the Reefer Madness propaganda.
Today, the vast majority of people assume that hemp is the same thing as marijuana. While these two are, indeed, connected, they are distinct cousins. Sadly, modern society has never got the chance to experience the incredible benefits that come with using hemp.
Fortunately, as times are changing, more and more people become aware of how hemp can improve the quality of our lives. In this article, we will show you 76 amazing real-life hemp products – we hope you'll try some of them once you learn how awesome they are.
Hemp Products List by Category:
Clothing & Accessories
Foods & Drinks
Health & Wellness
Beauty
Pets
Home & Office
Farming & Gardening
Automobiles
Clothing & Accessories
We bet you've heard about things like hemp ropes and industrial fabric, but did you know that hemp is actually a decent clothing material, superior to its counterparts in almost every aspect?
Here's why you should consider adding some hemp clothes to your wardrobe:
Hemp is more porous and breathable. Even materials like cotton won't let your skin breathe as easily as hemp.
Hemp excels at durability. Hemp fiber is the most durable of all plants. Hemp-made clothes tend to last much longer than their counterparts.
Hemp is eco-friendly and sustainable. As much as we prefer cotton over other mainstream clothing materials, we cannot be indifferent towards its water insensitivity. It requires 50% more water to grow than hemp, not to mention that it uses 25% of the world's pesticides. Hemp, on the other hand, requires no use of pesticides.
1. Shirts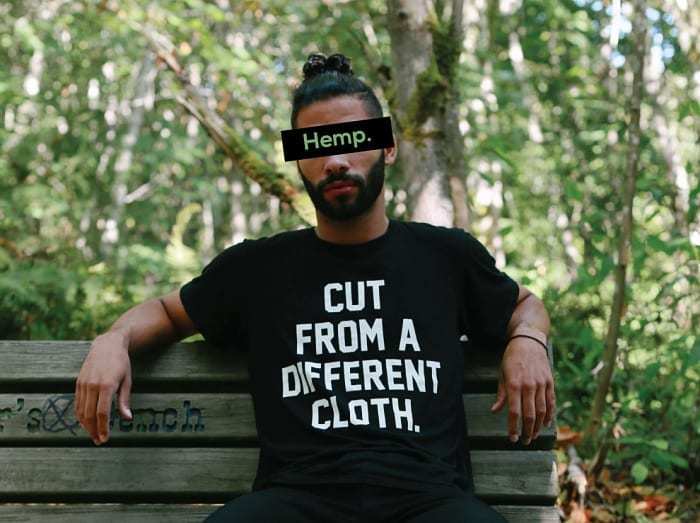 Photo Credit: Creative Anchor
It's not like hemp shirts are made of 100% hemp, but a decent hemp shirt should contain a mix of hemp and organic cotton. Typically, producers hold a 60% hemp / 40% cotton ratio. Their shirts are some of the most durable clothes you'll ever try.
For the best-quality hemp shirts, check the following companies:
2. Jeans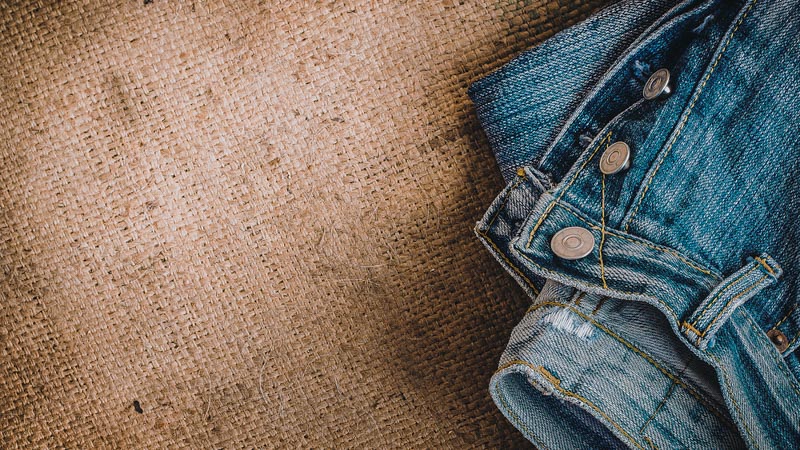 Jeans are another example of how hemp fiber can improve the quality of clothes. So, imagine a durable, breathable, and absorbent pair of jeans that happens to have amazing anti-microbial properties – it sounds like a wise shopping decision, doesn't it?
3. Hemp Shoes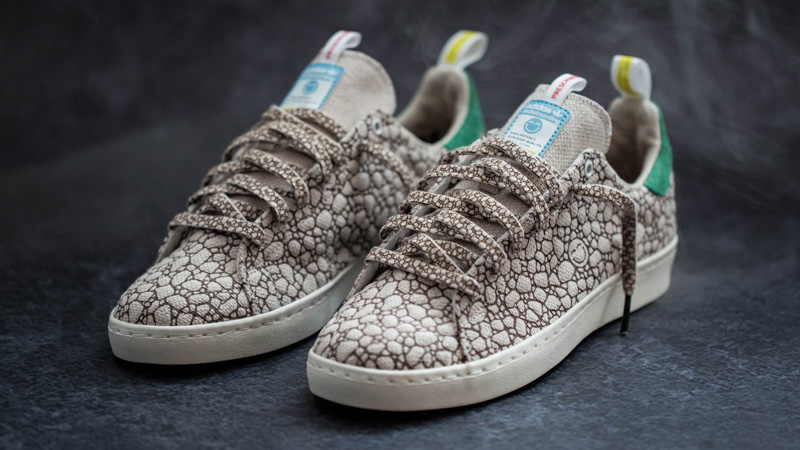 Cannabis is growing its roots into the mass culture and leading national brands cannot resist but to contribute to this rapidly-developing community. Every year, on April 20th (4/20), some of the most recognizable clothing companies (e.g. Adidas and Converse) come out with limited hemp shoes, ranging from classic models to modern sneakers.
4. Hemp Coat/Jacket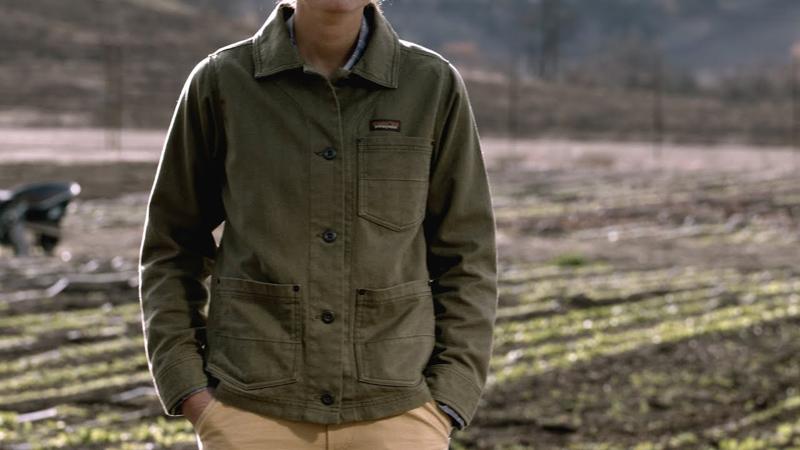 Just like hemp t-shirts, hemp jackets are not made with 100% hemp fiber, but using hemp allows companies to make a more durable product that is also more sustainable than what you can buy in the majority of the stores. If you're looking for a wide array of coats and jackets made of hemp, check out Hoodlamb's collection – we're sure you will not leave them with empty hands.
5. Backpacks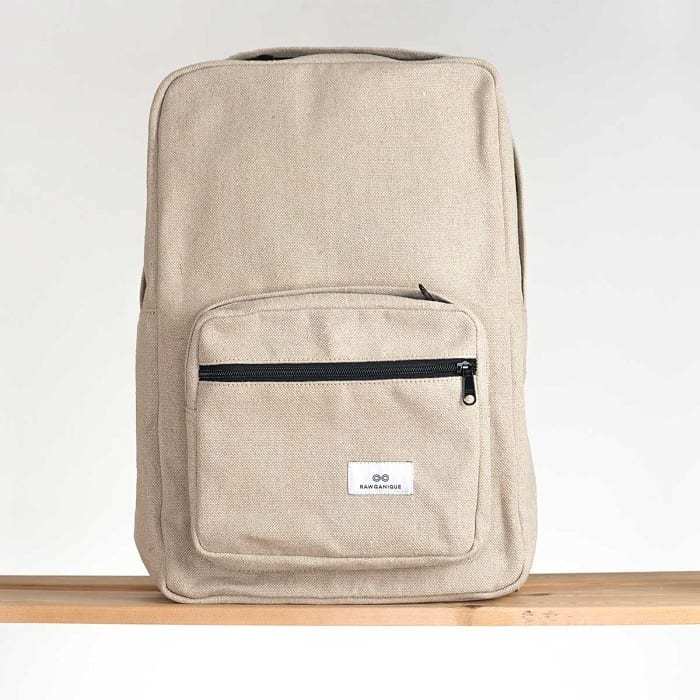 Photo Credit: Rawganique
Have you ever bought a backpack that just tore or broke after a couple of years, if not months? We've all been there at some point, but it looks like hemp backpacks may cause you to forget about the previous ordeal. A hemp backpack can last you 10+ years, being a resilient and sustainable product you can carry around anywhere.
6. Yoga Pants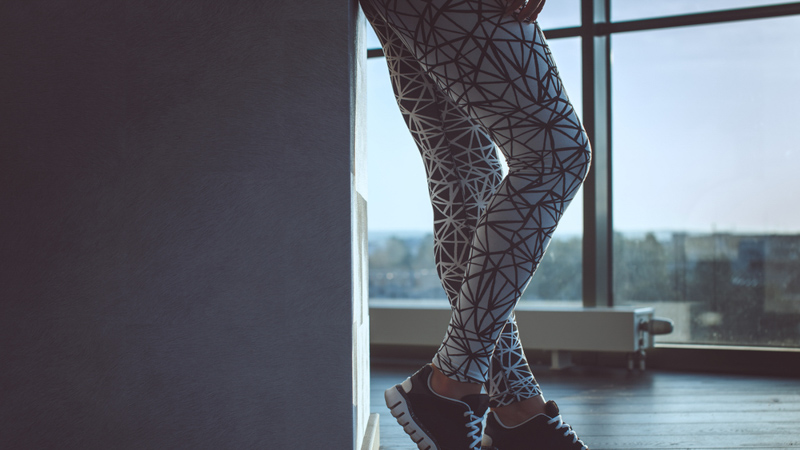 When it comes to doing yoga, elasticity is of the essence, and mixing hemp fabric with some organic cotton offers completely another level of elasticity. Hemp yoga pants will make stretching and meditation easier than ever. Fun fact: they will also serve as perfect pajama wear.
7. Sunglasses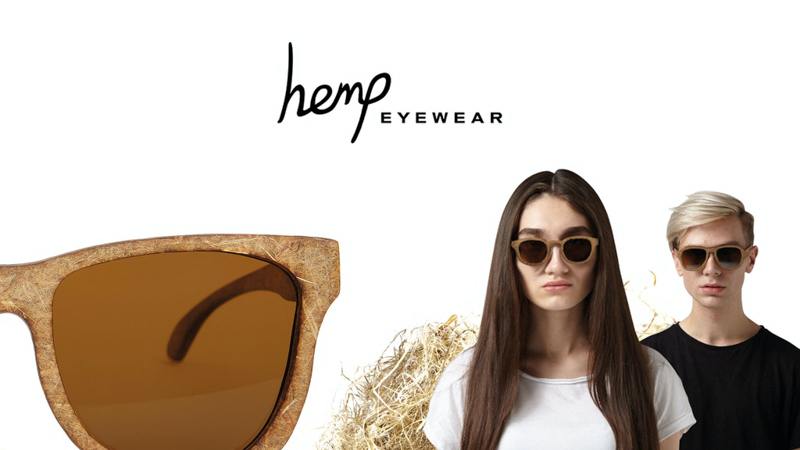 This is by far the most creative and the coolest application developed with this plant. Hemp Eyewear, a Scottish designer company, uses 100% sustainable ingredients to manufacture its products. Not only are hemp glasses an evergreen addition to your outfit, but they also get shipped in hemp-made cases – consistency at its best.
8. Hats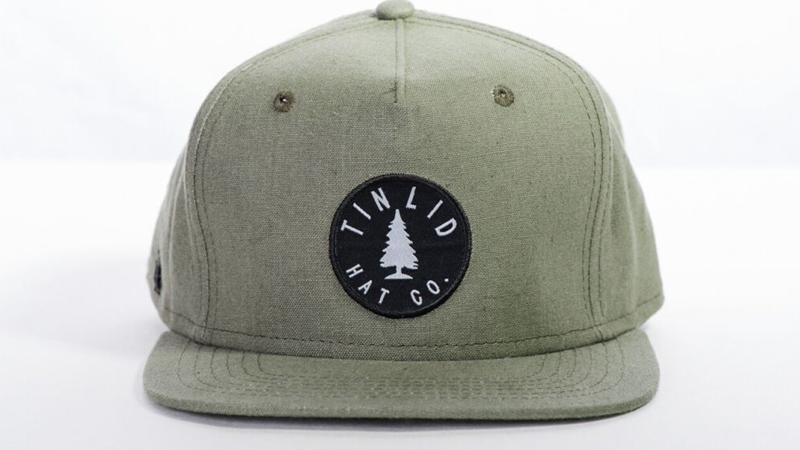 Photo Credit: Tinlid Hats
Whether it's your sports cap or a white brim hat, they can all be made from hemp. Such hats are sturdy and look outstandingly well in comparison with hats that are made from artificial materials. You will find hemp hats in boutique brands like Tinlid Hats.
9. Hemp Beanie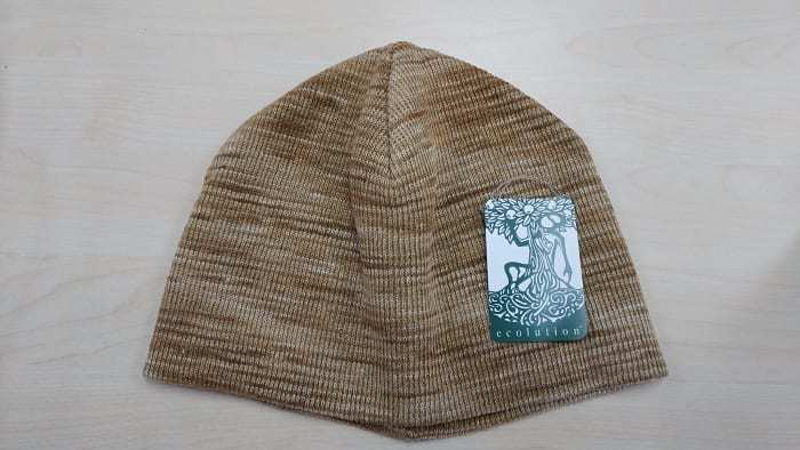 Photo Credit: All Things Being Eco
No need to worry about keeping your head warm over the winter months! Hemp beanies are now a real thing and the nightmare of throwing your winter camp at the end of each season will be gone once and for all.
10. Wallets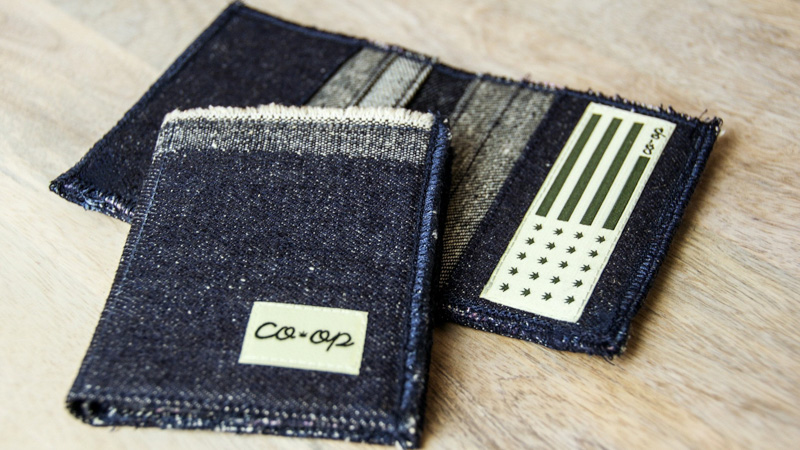 Photo Credit: The Hemp Cooperative
While we don't have hemp banknotes yet, you can keep your money in a sturdy and stylish wallet that is made of hemp fiber. Considering the durability of this material, we're sure that hemp wallets will serve you for a while. For premium-quality Hemp Denim wallets, visit Hemp Co-Op and keep your money safe and sound.
11. Socks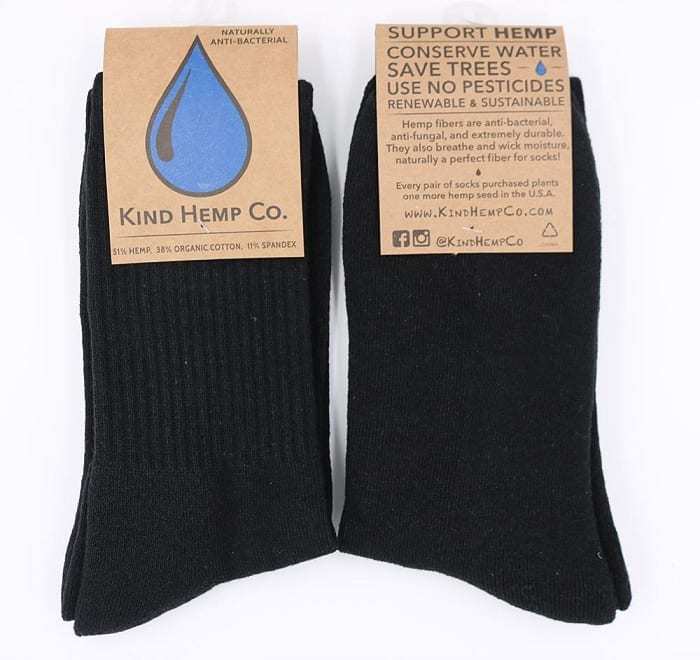 Say "goodbye" to holes in your socks. Hemp is much more durable than cotton, so it goes without saying that such socks won't get wasted so quickly.
12. Totes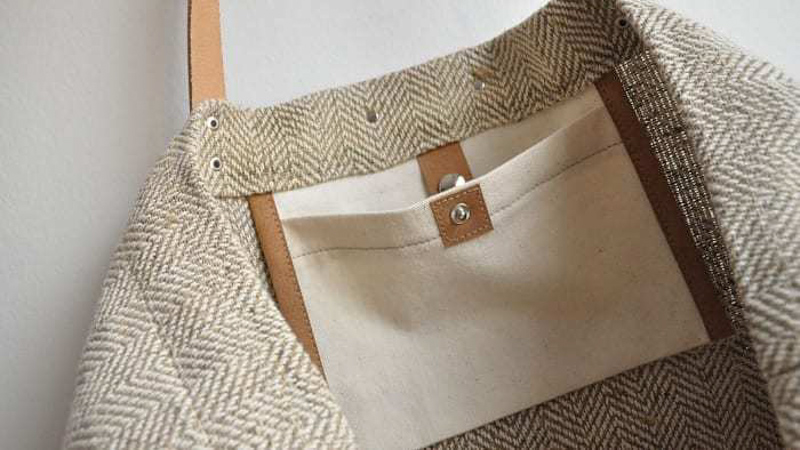 With all that hype on totes and other reusable bags, we should ask ourselves one important question: Why not go grocery shopping with a bag that is sustainable itself? Hemp totes are 100% hemp-made, and as you already know, hemp is one of the most sustainable plants on the planet.
13. Flip Flops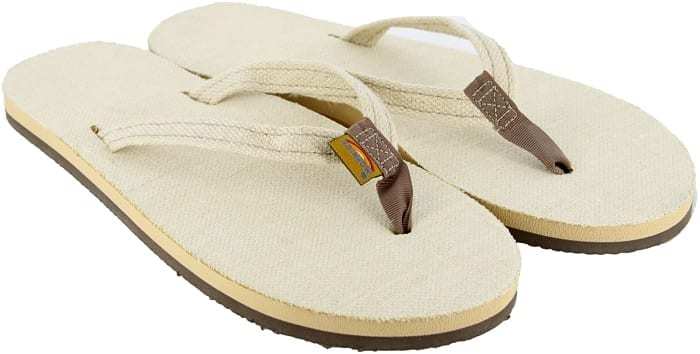 Photo credit: Vaibhab Jewellers
The definite majority of top soles and straps in sandals are made of plastic, gum, or other artificial materials. Not only are they less durable than hemp, but they are also dangerous for the environment. Hemp sandals, on the other hand, turn out to be naturally durable shoes that you can wear with a clear conscience.
14. Belts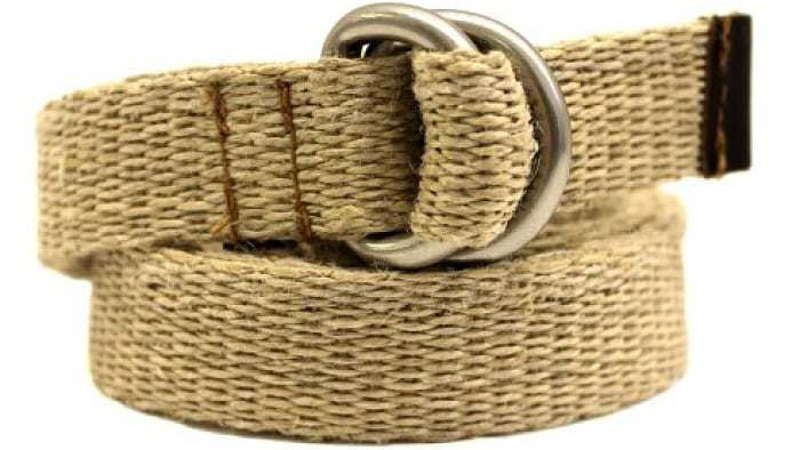 Photo Credit: Sandi Pointe – Virtual Library of Collections
If hemp can be used for making ropes, why couldn't we use it to produce belts? As a matter of fact, hemp belts go great for casual wear, not to mention that they are less prone to damage than, say, leather. It might not be the best option for a business dinner, but other than that, it can make a fine addition to your outfit.
15. Scarf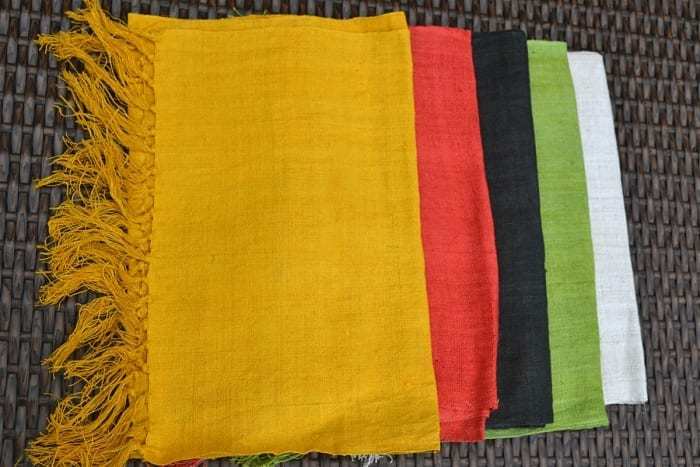 Photo Credit: RedGreen Rivers
Of course, it's quite easy to find a warm and solid scarf, but sometimes, it can be really heavy, making colder seasons overwhelming with all these clothes you need to put on every day. Feeling sick and tired of regular scarfs? A hemp scarf will come in handy; it's lightweight, yet still warm and cozy. It's a win-win situation if you ask us.
16. Ties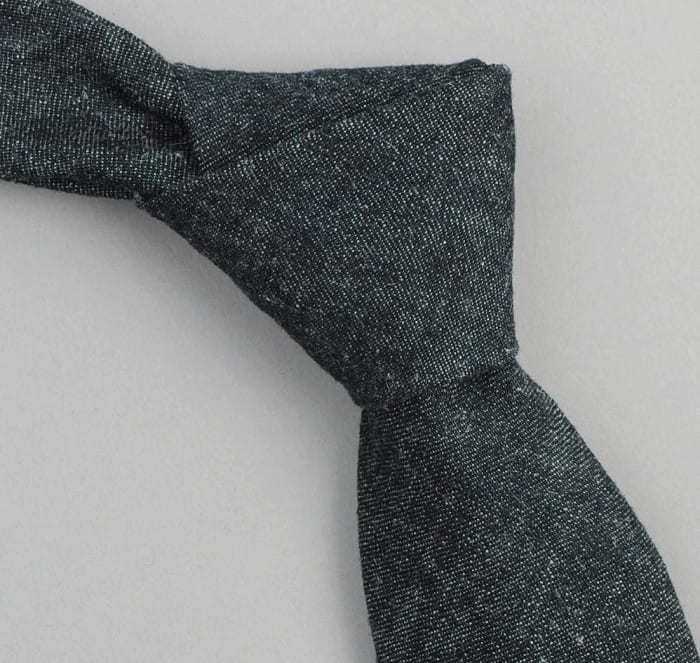 Photo Credit: The Hill-Side
As mentioned, hemp can be used to make almost anything. Guess what? Ties and bow ties fall into that bracket, too.
17. Handkerchief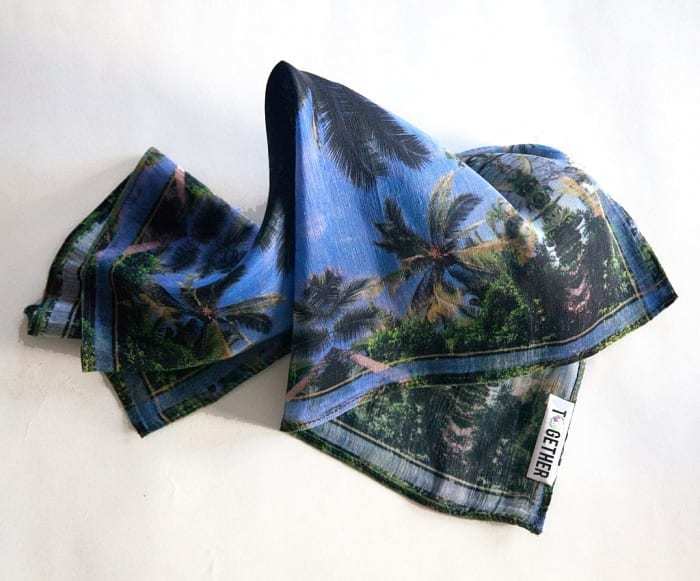 Gone are the times when people were using handkerchiefs, but they still look cool as pocket squares for your suit. While hemp doesn't make you high, a hemp handkerchief can make for a high-fashion item. Check out Haute Hemp Co for 100% organic hemp pocket squares.
18. Bracelets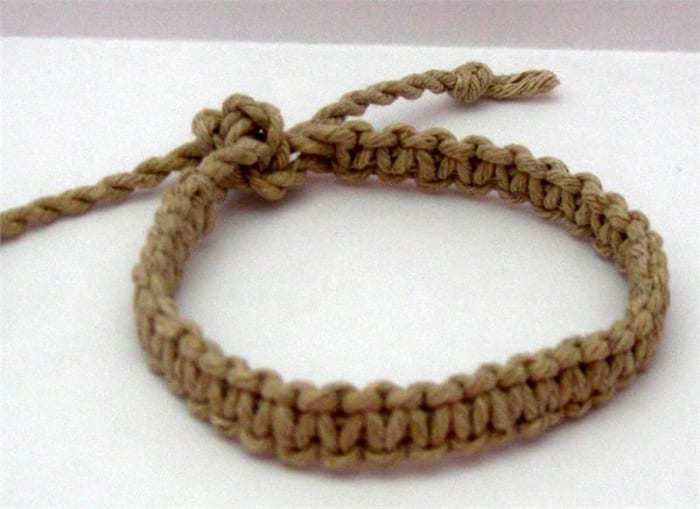 When it comes to materials like ropes and bracelets, hemp is essentially indestructible, which is why making hemp bracelets used to be remarkably popular for kids in the past. If you mention hemp to those people who remember anything about the plant, you will find many of them evoking hemp bracelets that they made in their teens.
19. Robes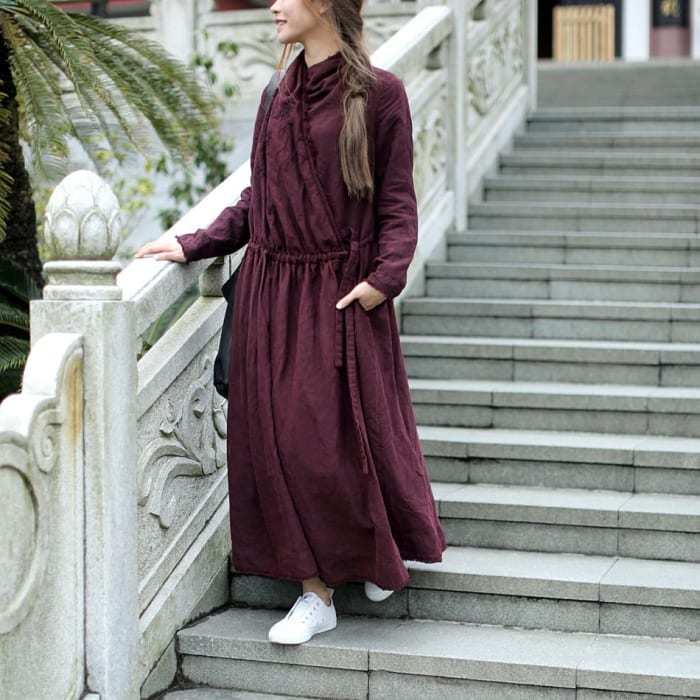 Hemp was an essential clothing material for official events in many ancient civilizations, some of which – like Japan – cultivate this tradition today. In Japan, the incoming emperor wears a hemp robe when undergoing the Shinto coronation ceremony. This ritual doesn't have any political implications, but it's rather performed to highlight the plant's values of health, wellness, and abundance.
20. Diapers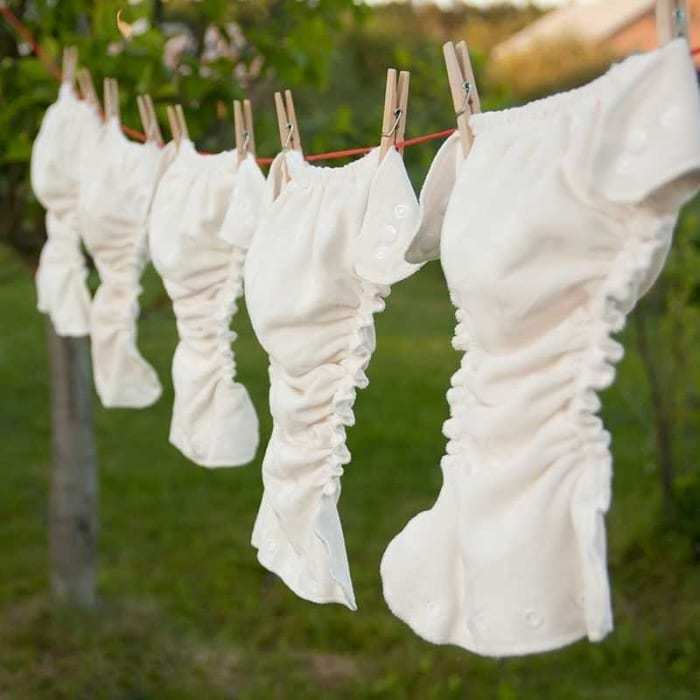 Photo Credit: Responsible Mother
It's estimated that Americans throw out over 18 billion disposable diapers a year, which isn't the best indicator of their quality. Hemp, in turn, is durable without being that bulky, which makes it a better alternative. Just like hemp t-shirts, hemp diapers are more breathable and have better absorbent and anti-microbial qualities. It's both a comfortable fit and an eco-friendly solution.
Foods & Drinks
Hemp is considered a superfood for a good reason. The abundance of nutrients and the number of ways in which you can incorporate hemp into your diet is jaw-dropping. Being a complex source of protein and having the optimal 3:1 ratio of Omega 3 to Omega 6 fatty acids, hemp has gained the respect of athletes, dieticians, chefs, and regular folks who are focused on living a healthy lifestyle.
Here's a quick rundown of hemp-based foods and drinks:
21. Hemp Seeds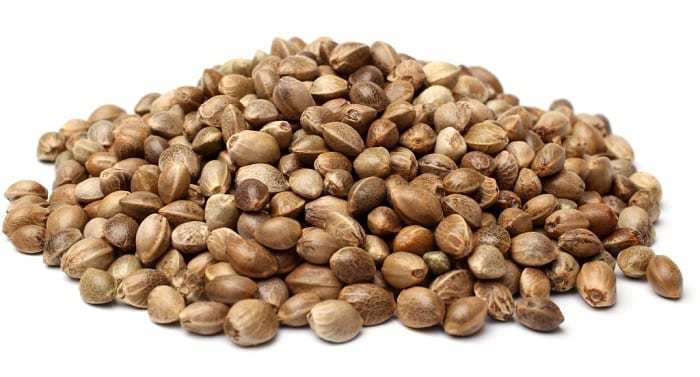 The popularity of hemp seeds has been well deserved by their nutritional value. Commonly used by vegetarians and athletes, hemp seeds are often mentioned among chia and flax as superfoods. Eating hemp seeds comes with the following health benefits:
Hemp is one of the most nutritious foods available in nature.
Easily digested.
Hemp can meet our dietary needs, even without consuming any other superfoods.
It contains the perfect proportion of essential fatty acids (Omega-3 and Omega-6) and thus boosts the immune system and controls cholesterol levels.
Helps with immune deficiency diseases.
An ideal source of protein for vegetarians.
22. Hemp Seed Oil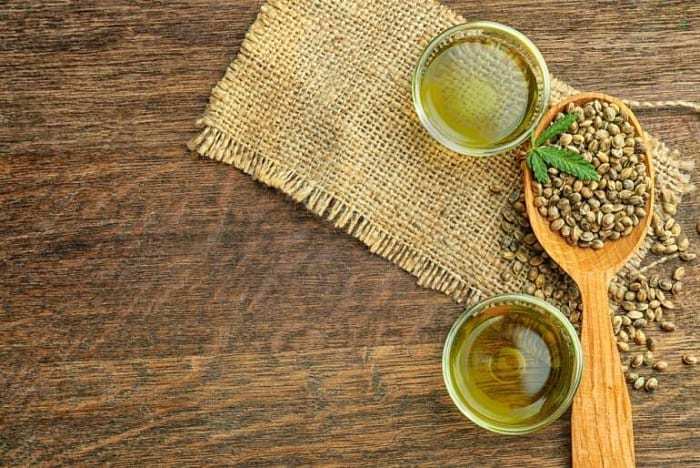 Hemp offers different types of oil, but hemp seed oil appears to be the most common nutritional application on the market. Hemp seed oil is made by cold-pressing the seeds of the plant itself. In its unrefined form, it's commonly referred to as "Nature's most perfectly balanced oil."
Here's why:
It supports hair and nail health.
Reduces inflammation.
Contains a 3:1 ratio of Omega-3 and Omega-6 essential fatty acids.
A great source of minerals such as magnesium, potassium, calcium, sulfur, phosphorus, zinc, and iron.
Rich in Vitamin A & E.
An invaluable skincare ingredient.
23. Protein Powder
Of all vegetable-based proteins, hemp protein is the most popular protein powder among active athletes. It's sourced from hemp seeds and contains an average of 15 grams of protein per saving, which gives it the highest protein content of all-vegan sources.
Even if you're not a vegan or vegetarian, but you won't handle that additional steak, adding hemp protein powder to your nutrition plant is a great way to increase your daily protein intake. Hemp protein is also lactose-free, which makes it easily digestible by those who are lactose intolerant or have difficulties processing whey protein.
24. Hemp Tea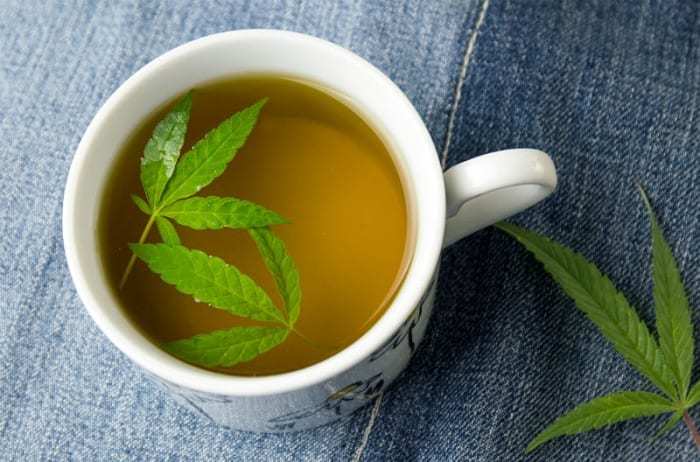 Both hemp and tea are known for their antioxidant properties and the fact that they can improve one's cardiovascular health, detox the body, and speed up metabolism. Blending your teas with hemp seeds allows you to get the best of both worlds, not to mention that you can incorporate hemp seeds into any tea flavor. Brands like Hemp Kettle Tea sell a variety of hemp-infused teas, including combinations such as Cardamon, Holy Basil, or Jasmine.
25. Energy Bars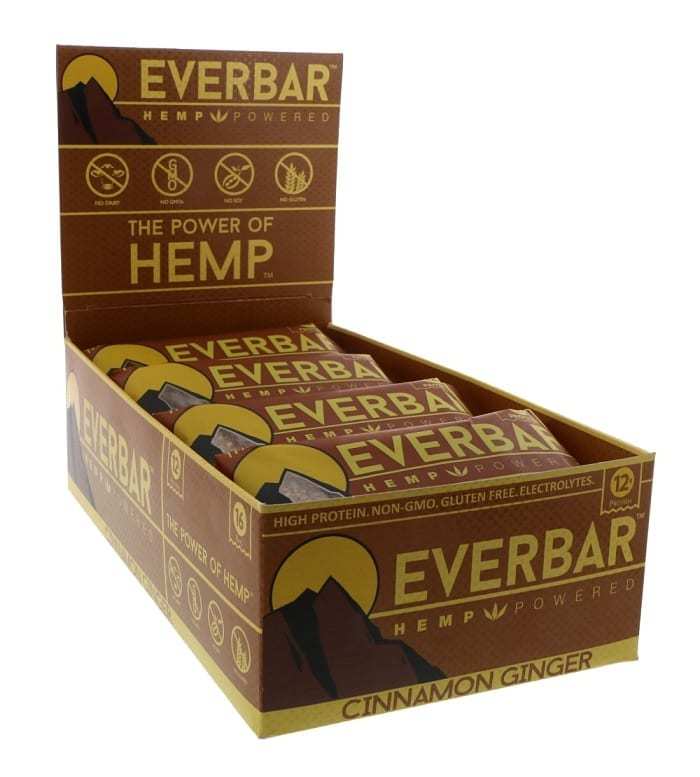 As you can see, hemp can be a decent source of both protein and energy. Hemp energy bars will make your stomach satisfied until your next meal so that you don't have to worry about carb cravings that many people experience while changing their eating habits. Most energy bars on the market are filled with glucose syrup, maltodextrin, and artificial flavor additives, but their hemp equivalents are made of organic ingredients like hemp protein powder, hemp seeds, and different fruits. Such a snack will keep you going for hours! If you're looking for a trustworthy hemp energy bar supplier, check out Ever Bar for their selection of differently flavored treats.
26. Coffee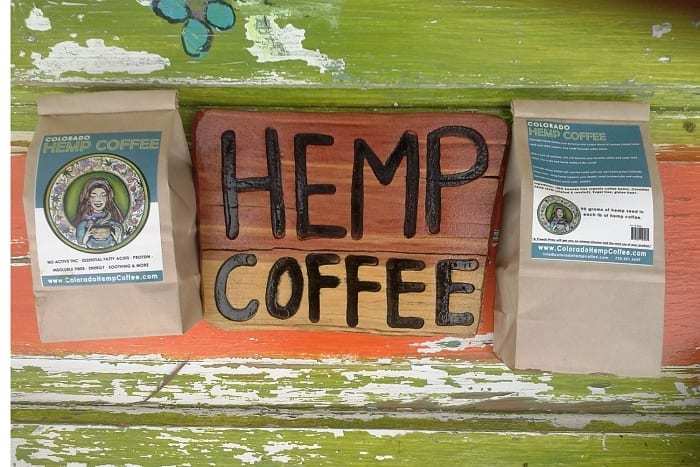 Photo Credit: The Cannabist
Brewing hemp coffee is not rocket science. It is made from ground coffee beans with added hemp seed that are roasted prior to mixing them with the coffee. The blend of toasted hemp seeds with roasted coffee beans results in a nutty flavor and a nutritional profile unachievable by other worldwide coffees, with less caffeine and incomparably more vitamins and minerals.
27. Burgers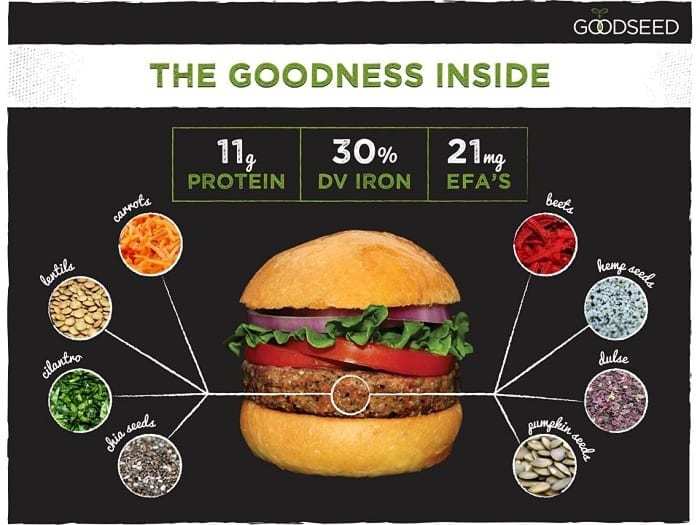 Photo Credit: EquityNet
There are two reasons why people go vegan: they are driven either by their health concerns or they want to be morally okay with animals, living a 100% cruelty-free lifestyle. However, regardless of the reason, all vegans miss a legitimate burger from time to time. And since necessity is the mother of invention, Good Seed Burger came up with protein-packed hemp-based veggie burgers. Aside from hemp seeds, these goodies contain other superfoods like wild-crafted seaweeds, sprouted beans, grains, and chia seeds. It's a perfect substitute for people who avoid meat but are looking for savory, nutty flavors and the earthy complexity accompanied by mild spices.
28. Healthy Flavored Water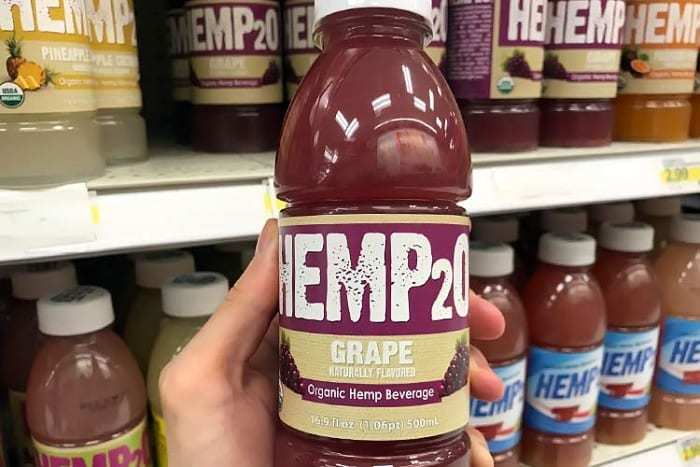 Photo Credit: Superfoodly
Recently, CBD water has become a hot topic industry, but have you heard about hemp's version of Vitamin Water – Hemp2O? This hemp-infused water is loaded with vitamins B3, B5, B6, B12, vitamin C, and Omega-3 fatty acids. On top of that, this water contains all of the essential amino acids that are responsible for supporting muscle growth. But the best part about hemp-infused water is that it's low in saturated fats and has strong antioxidant properties.
29. Hemp Seed Butter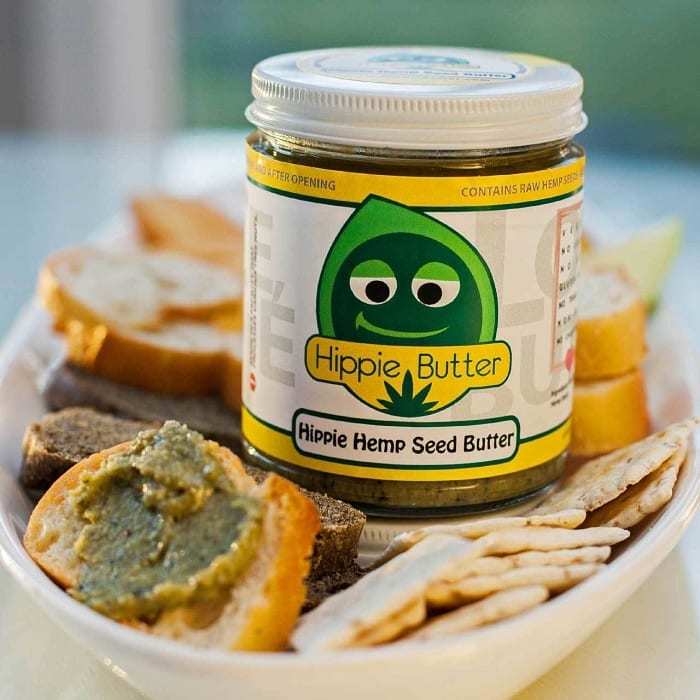 If you think that making hemp butter or paste is close to impossible, we are happy to prove you wrong. In fact, hemp seed butter is as easy to make as tahini paste or peanut butter. It's made from finely ground and pressed seeds to extract its outstanding nutritional benefits.
30. Hemp Milk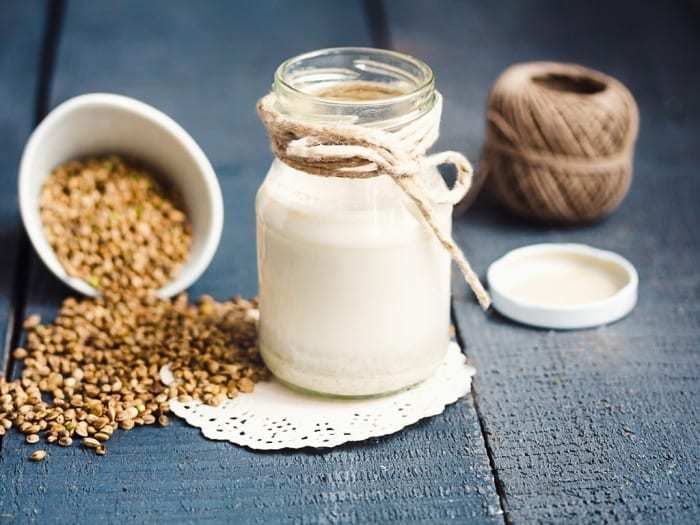 Similar to soy, almond, or hazelnut milk, hemp milk is made from grinding hemp seeds with water. It carries a distinct nutty taste, so chances are that you won't like it. Nonetheless, hemp milk is a healthy alternative for those who can't tolerate lactose.
31. Hemp Vodka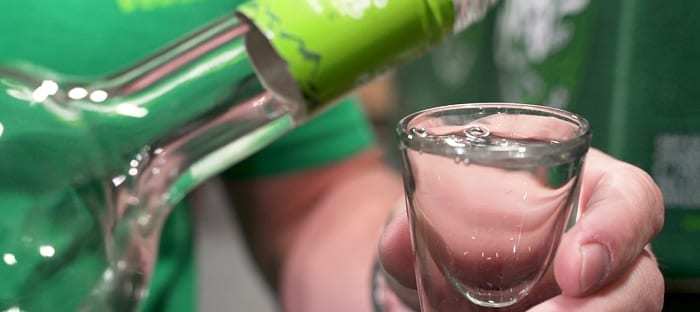 Photo Credit: Circa
Okay, this product is a far cry from being healthy, but yes, it is fermented and distilled with hemp, so we can count it as a hemp product. Hemp vodka contains a 40% alcohol content and is praised by critics for its smooth and mellow character accompanied by appealing fruitiness.
32. Hemp Beer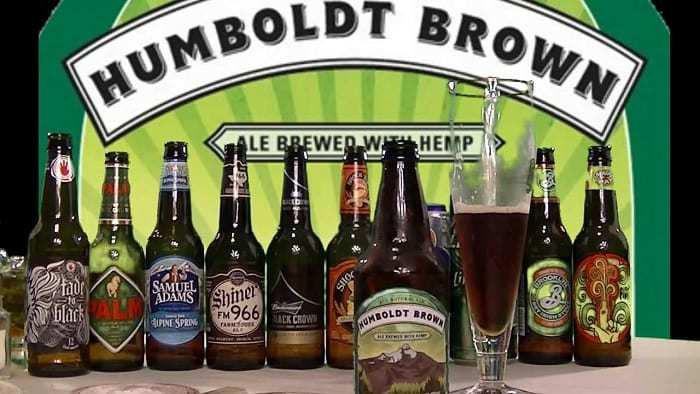 Hemp and hops are relatively close cousins, so this pairing is actually something natural. Fans of craft beers can indulge in a whole new palette of scents and flavors. These beverages are brewed with toasted hemp seeds that bring in unique richness. Still not sure if this is a good combo? In the Great International Beer & Cider Competition in 2014, the Humboldt Hemp Ale won Silver in the American Brown Ale category.
33. Hemp Hot Dogs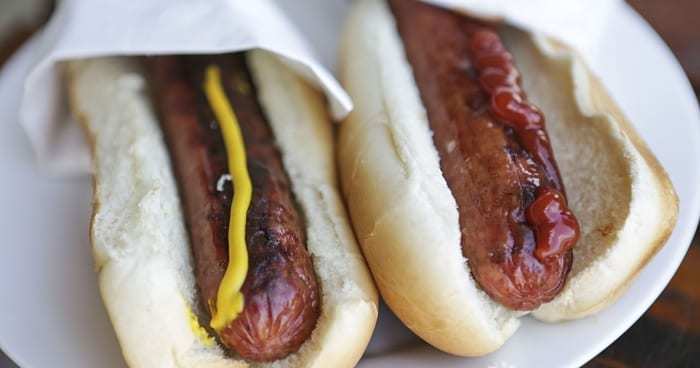 Photo Credit: Courier-Journal
This is yet another invention created by vegans who can't get enough of the American classic. Have you ever heard of Hemp Dawgs? The child of Victory Hemp Foods and David Neville, a cattle farmer who worked on this project, conquered the hearts of vegans and vegetarians across the U.S. when the concept was launched in 2016.
Here's how Hemp Dawgs incorporates hemp into their hot dogs:
Hemp protein powder is an adhesive of keeping all the parts together.
Ground-up hemp seeds for improved texture
Hemp oil for added flavor and smoothness
And, of course, the health benefits in the form of Omega-3 and Omega-6 healthy fats.
34. Hemp Flour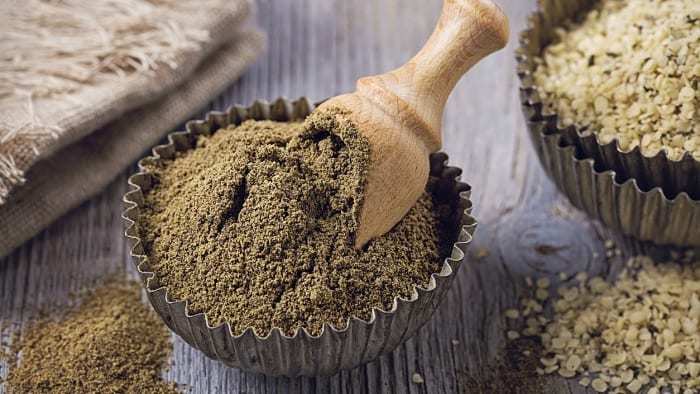 Hemp seed flour is gluten-free, packed with nutrients, and serves as a superior source of energy. The flour contains 33% protein and is second to soy in terms of protein content. Moreover, the protein that comes from hemp seed flower is more easily digested by the body, making it perfect for those with dairy, gluten, wheat, or nut allergies.
35. Hemp Granola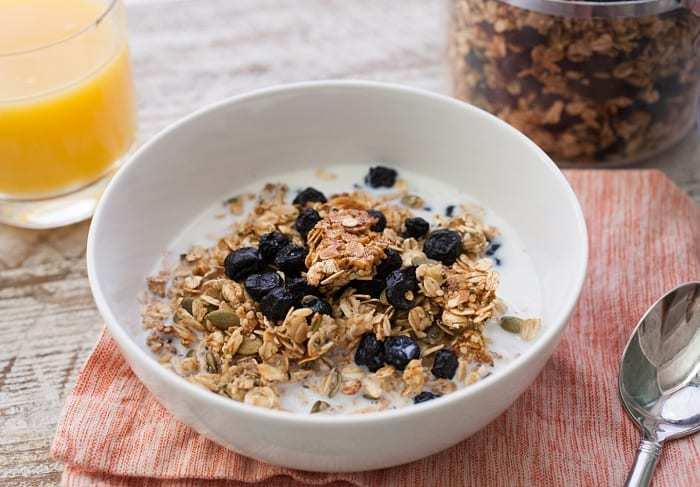 Photo Credit: Macheesmo
The popularity of granola skyrocketed a couple of years ago and it doesn't seem to decrease any time soon. There's a reason why hemp granola is one of the healthiest treats; you can easily make them at home, buy them at your grocery store or purchase some online. It's probably the most nutritious granola you'll ever try.
36. Tofu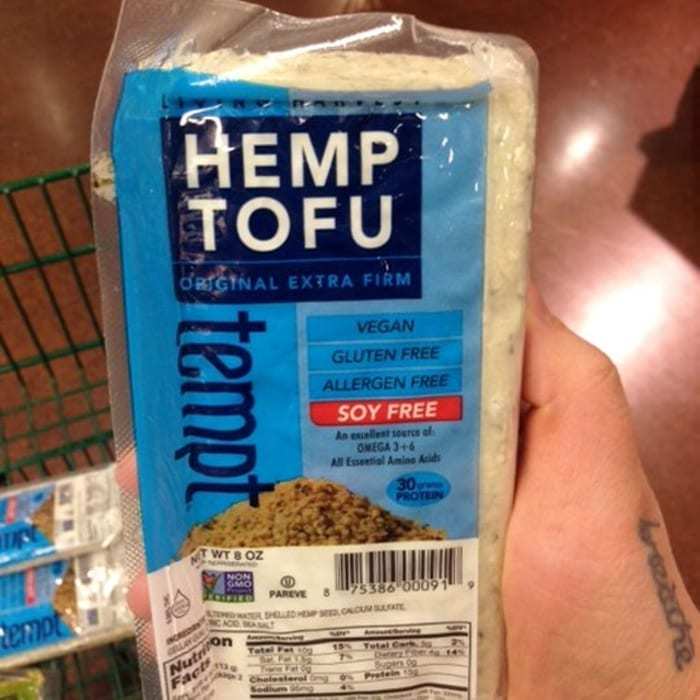 Photo Credit: Kitchn
Love tofu but avoiding soybeans due to an allergy or other reasons? If that's your story, then hemp tofu may solve the problem. Hemp tofu is made with the same processing techniques as regular tofu, with one simple exception: soybeans get substituted with hemp seeds. It might not carry the same texture as the "authentic" version, but it offers a much better nutritional profile.
Health & Wellness
The first record of hemp being used as "medicine" dates back to about 2300 B.C.E. in China, when the emperor Shen Nung prescribed hemp for the treatment of gout, constipation, and menstrual cramps.
Hemp has long been used by different civilizations, from India and Egypt, to Persia, Europe, and even in the United States during their early days.
Here's how you can incorporate hemp into your supplementation regimen to improve the quality of your life and combat a wide range of physical and physiological ailments:
37. Hemp-derived CBD
Hemp extracts consist of cannabinoids found in the leaves of hemp. CBD, short for Cannabidiol, is one of the better-researched compounds, with a plethora of documented health benefits.
The patent held by the US Health and Human Services says:
"Cannabinoids have been found to have antioxidant properties, unrelated to NMDA receptor antagonism. This newfound property makes cannabinoids useful in the treatment and prophylaxis of a wide variety of oxidation-associated diseases, such as ischemic, age-related, inflammatory, and autoimmune diseases. Cannabinoids are found to have particular application as neuroprotectants, for example in limiting neurological damage following ischemic insults, such as stroke and trauma, or in the treatment of neurodegenerative diseases, such as Alzheimer's disease, Parkinson's disease, and HIV dementia."
CBD comes in different forms, including tinctures, capsules, vape juices, topical creams, edibles, extracts, and more. Contrary to marijuana-derived CBD, Cannabidiol sourced from hemp is now legal to be sold in all 50 states in the US.
If you want to learn more about CBD and cannabinoids in general, check out Dr. Raphael Mechoulam from Israel who is the leading scientist in the cannabinoid field. You can learn more about his findings through his documentary: The Scientist.
38. Hemp Essential Oil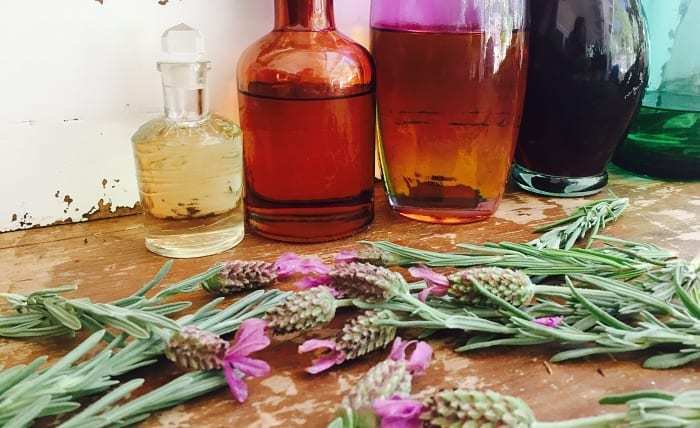 Although even less popular than hemp extracts, hemp essential oil comes with an impressive number of health benefits. It is made by steam distillation through the upper leaves and flowers of the hemp plant. This results in capturing the pure hemp essence. It can be light green to pale yellow in color, with a distinct concentrated aroma and therapeutic qualities. It takes more than fifty pounds of the plant matter to produce 1 ounce of hemp essential oil.
Unlike CBD extracts, hemp essential oil contains no THC or CBD. It is, however, well known for its essential aroma and therapeutic effects on the central nervous system. The most common uses of this hemp product include anxiety, sleep-deprivation disorders, pain, and inflammation. It's a decent natural remedy for those caught up in the busy modern-day lifestyle.
39. Soothing Aromatherapy Candles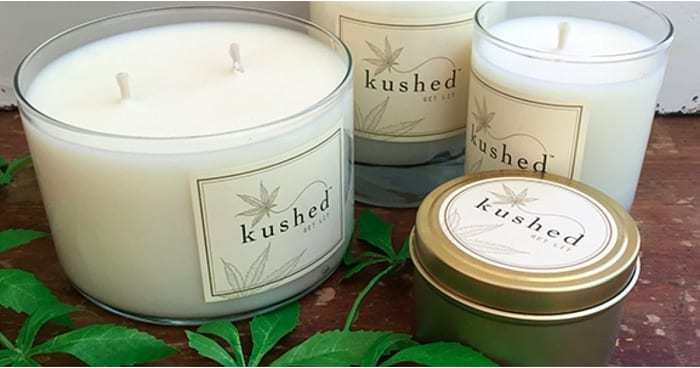 Photo Credit: Popsugar
Looking for a trustworthy provider of hemp essential oil and soothing aromatherapy candles? Kush, a boutique brand operating in California, has developed a selection of candles and oils that are perfect to use in the evenings to soothe your body.
40. Massage Oil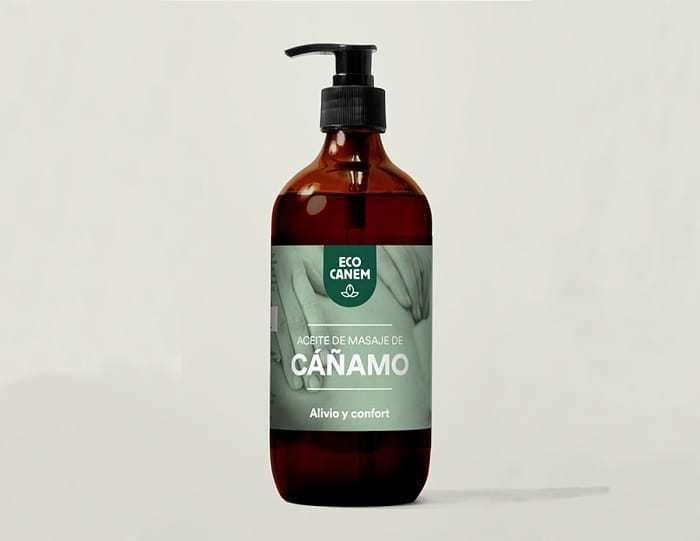 Photo Credit: Ecocanem
When it comes to health and wellness, hemp is one of the most versatile ingredients known to humans. It can serve as a body wash or even as lotion, but the true wonder of the modern wellness industry is hemp-based massage oil. Its properties help make your skin smoother to the touch and more moisturized, which can elevate the massage experience even higher.
41. Hemp Heat Muscle Rub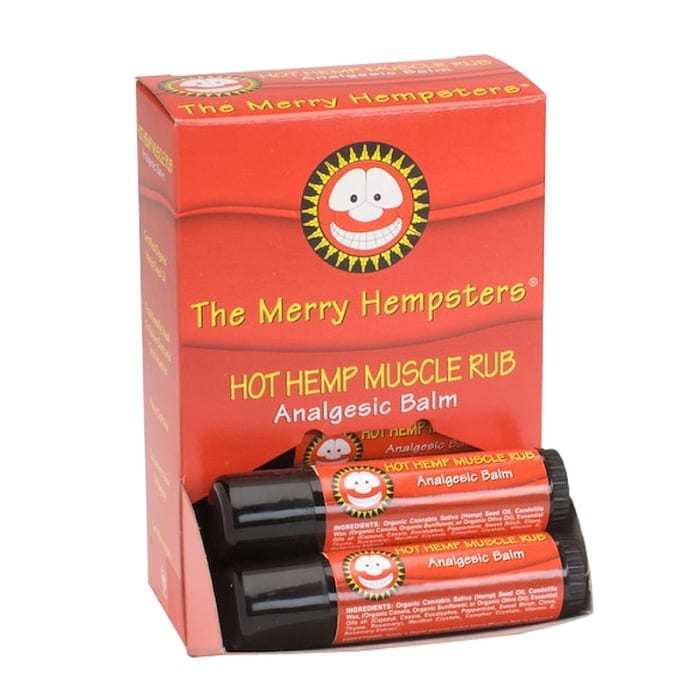 Photo Credit: Merry Hempsters
According to early human research and testimonials from patients, Cannabidiol can help ease joint pains and arthritis thanks to its anti-inflammatory properties. Cannabis and hemp-based topicals have recently gained much support from athletes who use hemp muscle rubs to relieve joint pain and muscle soreness in a safe and natural way.
42. Vape Juice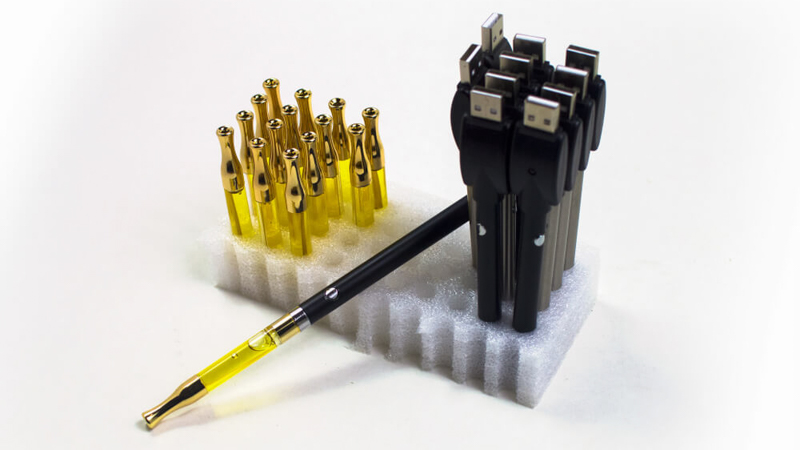 Vaping has now become incredibly hot among everyone, from A-list celebrities to medical cannabis patients and recreational folks. It's no wonder that people give up smoking in favor of vaping, as this method offers the highest bioavailability of CBD. In other words, more Cannabidiol reaches your bloodstream through vaporization than through other ingestion methods. It's currently the most effective and budget-friendly option to consume CBD.
Beauty
What makes hemp skin and body care products superior to their conventional counterparts? Plenty of reasons, to be honest, but the most important include:
Hemp oil is rich in vitamins – Vitamin B, C, E to name just a few.
Hemp oil-based skin and beauty products offer the perfect ratio of Omega-3 to Omega-6 fatty acids compared to other oils. Omega-3 is particularly important when it comes to soothing our skin and making it look firm.
Key amino acids contained in hemp oil prevent wrinkles and keep the skin more moisturized. This quality may prove invaluable for fighting conditions like dry skin, psoriasis, or eczema.
Here's a complete list of hemp beauty products:
43. Body Lotion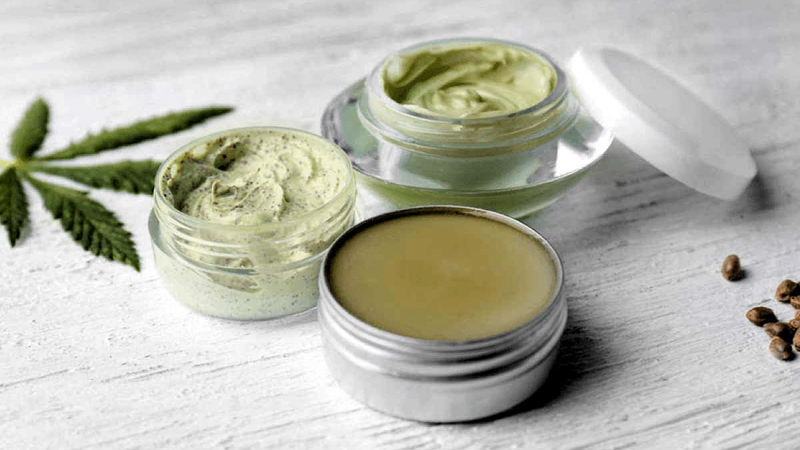 When choosing hemp body lotion, make sure you pick a trustworthy brand that uses organic ingredients in their products and sources their lotion from the finest-quality hemp plants. Our favorite product comes from Fay Farms, whose healing body lotion brings a gentle feeling to the skin and gets absorbed quickly. The texture of the lotion feels like mousse, which adds to the wellness experience.
Hemp lotions are particularly useful for conditions such as:
Bug bites, burns, ringworm, athlete's foot, and dry, damaged skin.
Eczema, contact dermatitis, psoriasis, and other autoimmune skin illnesses
44. Balms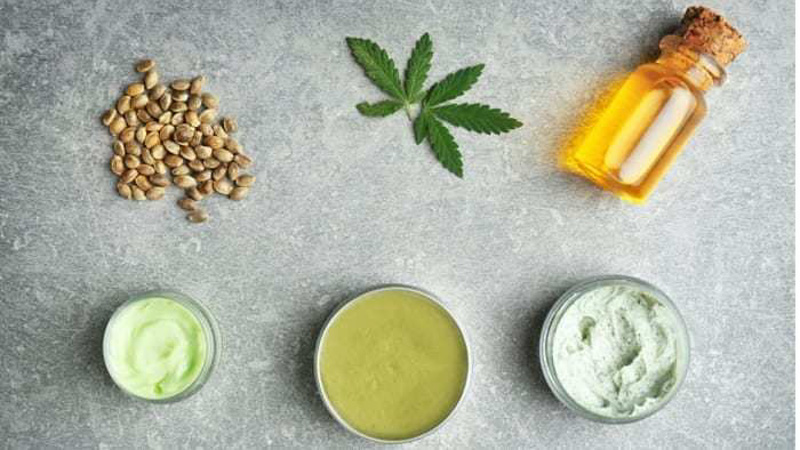 Hemp balms are a more potent option than lotions. It can easily penetrate the top skin layers for the improved absorption of nutrients. Check out Get Hemp Butter's hemp balms for their selection of hemp-based skin products.
45. Shampoo & Conditioner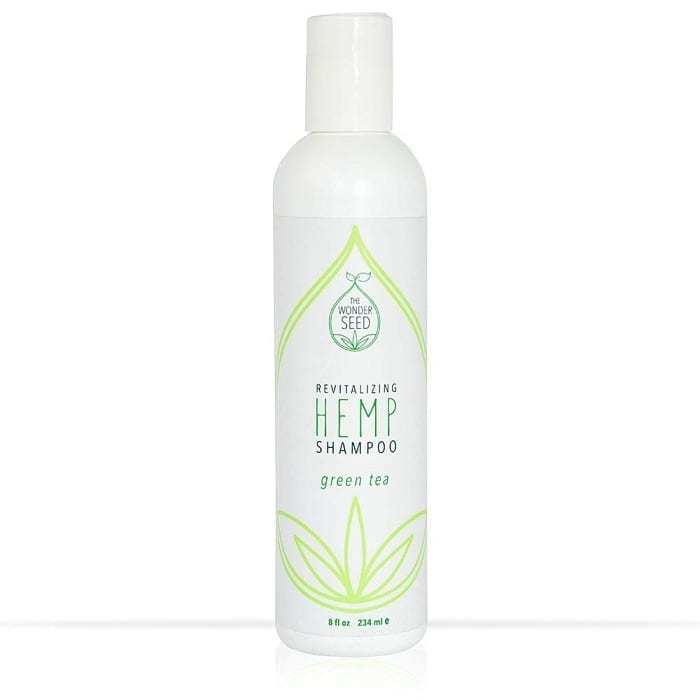 Have you ever cringed at the view of the ingredients list on your shampoo bottles? You probably found it hard to recognize more than half of the ingredients on that list! Hemp shampoos and conditioners are made using only natural formula to offer your hair the treatment they deserve. Hemp shampoos and conditioners are available in hemp boutique brands like the Wonder Seed.
46. Body Wash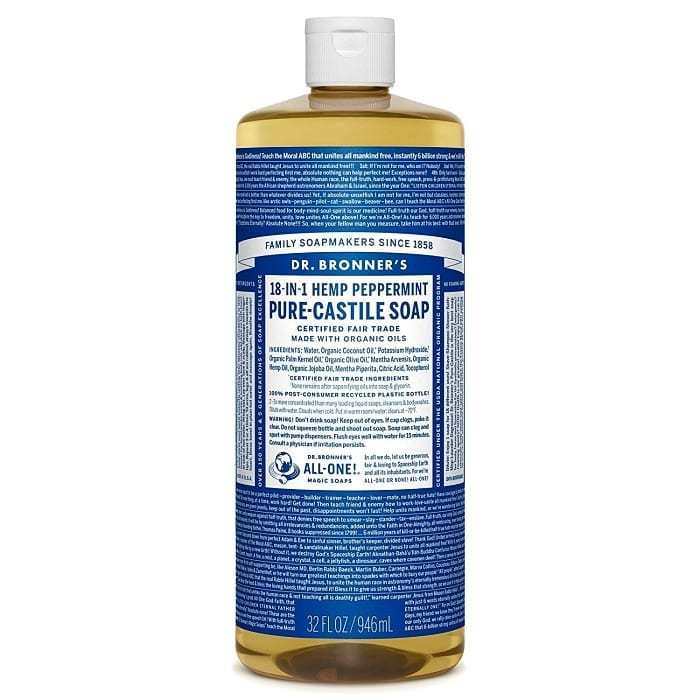 One of the reasons why hemp is used in soaps is the unbeatable essential fatty acid (EFA) content, which also makes such soaps smoother and less harsh on the skin. Dr. Bronner's is the leading soap brand that incorporates hemp into its products. They have been making soap for over 100 years, so their experience seems like a fair testament to the quality of their products. It contains less than 10 ingredients, all of which are organic and sustainable.
47. Facial Cream & Cleanser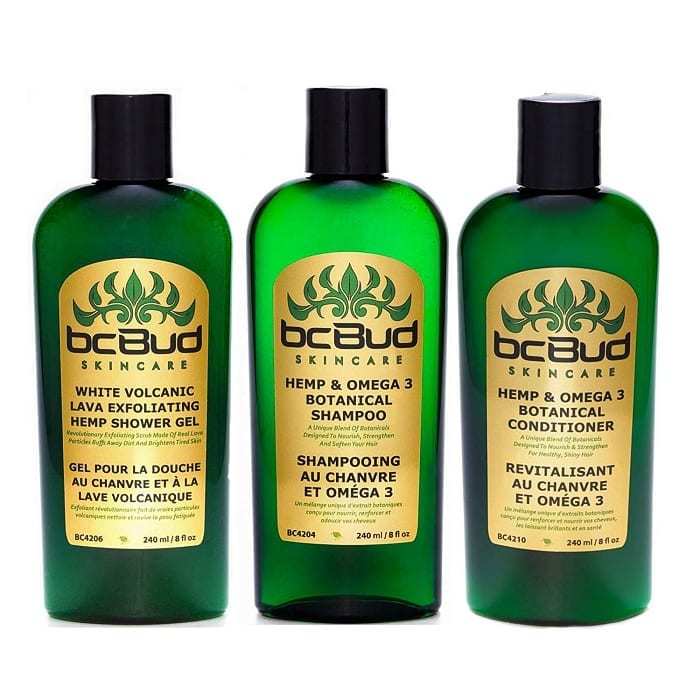 Here's a natural solution to those of you whose skin is sensitive and prone to acne – just use hemp oil. Some people apply hemp seed oil on their faces on a daily basis, but this is not the most pleasant experience. Thus, you can check out some top hemp body care brands to find a dedicated hemp cleanser that will fight all little imperfections on your face:
Hemp 360
BC Bud
The Wonder Seed
48. Hemp Sunscreen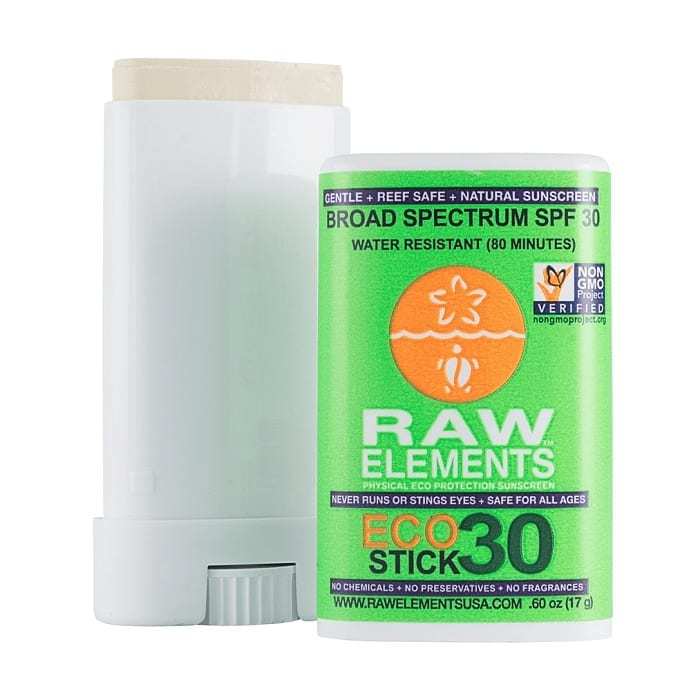 Photo Credit: Rebel Kate
As with any other skin product, a conscious consumer will always examine the list of ingredients before moving to check out. If you're looking for a sunscreen that uses only natural ingredients and GMO-free hemp oil, Raw Elements should meet your standards.
49. Hemp Serum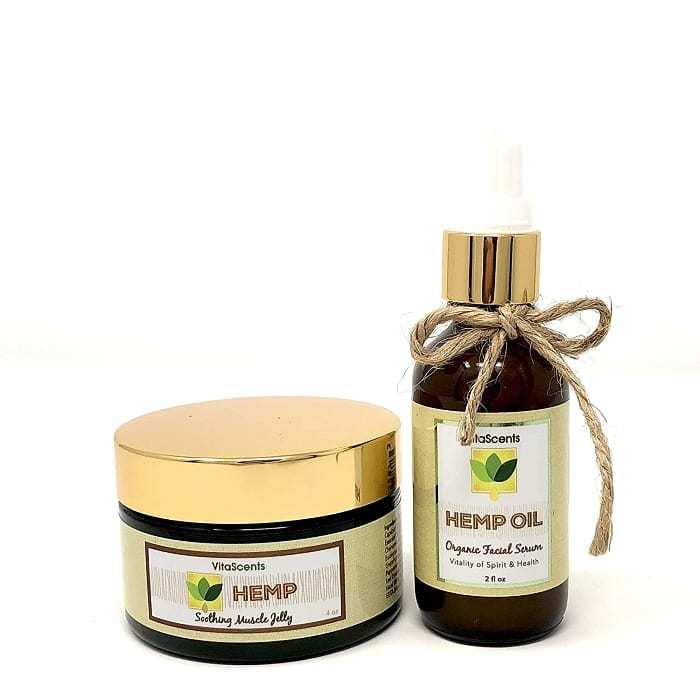 Hemp serums can prove useful in fighting more serious skin conditions, such as eczema, psoriasis, or seborrheic dermatitis. The serum contains CBD and other cannabinoids contained in hemp oil that are added to the serum for easy application. Not only do hemp serums allow you to experience almost 100% absorption, but it also protects your skin from getting too greasy.
Pets
Did you know that dogs and cats have the endocannabinoid system, too? CBD can serve as a natural remedy for your pet's physical and psychological ailments related to aging or other issues. But hey, hemp is about way more than just medication for dogs and pets. It can make a fine dog toy, collar, leash, and other products that are usually produced from inferior materials.
Let's shed some light on some of the most popular hemp products for pets:
50. CBD Oil for Pets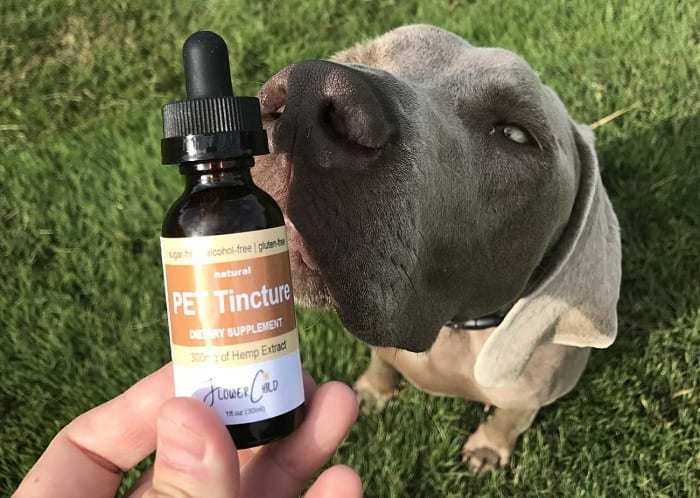 Photo Credit: Substance Cannabis Market
CBD oil for pets can be a safe alternative to prescription drugs, even for dogs and cats. Early studies have shown that CBD can alleviate such conditions as anxiety, depression, chronic pain, arthritis, seizures, and inflammatory issues in humans. Due to the similar anatomy of mammals, dogs, and cats, too, have the endocannabinoid system. Therefore, CBD can also help our four-legged friends. Testimonials and animal research show that CBD has helped animals in many different ways, including, seizures, arthritis, lethargy, anxiety, pain, cancer, lack of appetite, and a variety of phobias.
51. CBD Pet Treats
Photo Credit: Feed Pet Purveyor
It may happen that your dog won't like the distinct taste of CBD oil. If that's the case, consider adding some CBD pet treats to his food. CBD pet treats come in different flavors, including chicken, bacon, and beef, but they also offer a fixed dosage of Cannabidiol. This, in turn, makes it easy for dog owners to measure the CBD dosage for their puppies.
52. Pet Toys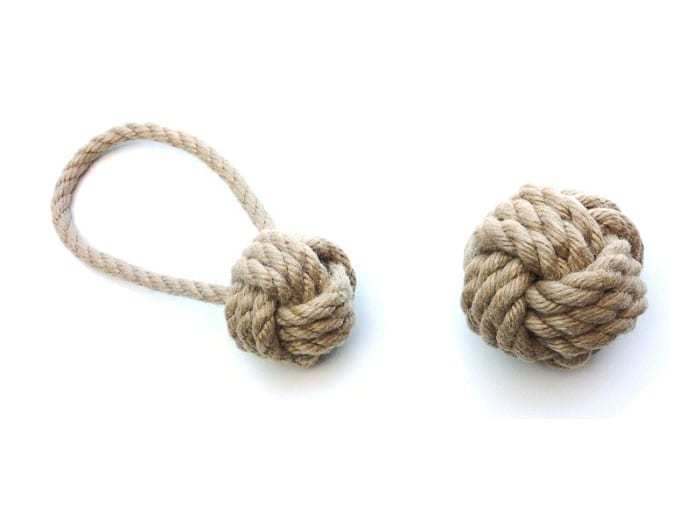 Photo Credit: The Green Dog
If it takes your dog a couple of days to chew up and destroy his toy, then it's time for some serious changes. The same applies to cats who can't help but bite through their mouse hanging on a thin rope. Hemp ropes are one of the most durable materials out there, so we would be surprised if any cat or dog could destroy it.
53. Collar & Leash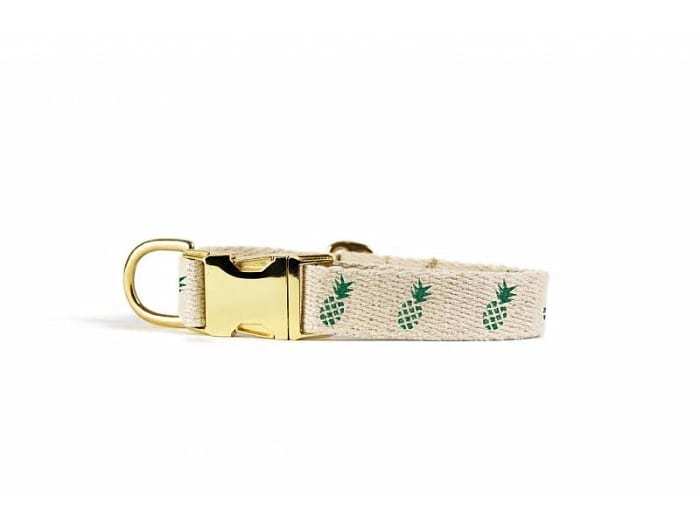 Photo Credit: Feed Pet Purveyor
Let's be honest, puppies (especially big puppies) are not big fans of collars and leashes. They will chew on them and pull them like crazy. Over time, your leash will start getting torn, so you need to buy another one, and the vicious circle continues to spin. Hemp collars and leashes may be the answer to your problem; keep in mind that hemp ropes are so durable that the US government was buying as much as they could during World War II.
54. Bedding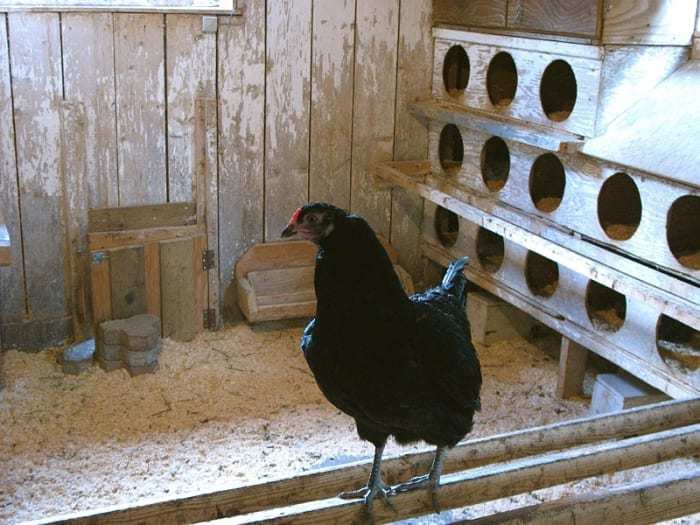 Photo Credit: Chicken Heaven On Earth
Using hemp hurds for animal bedding can prove beneficial in many aspects. First of all, hemp is extremely absorbent and it can hold 4 times its own weight, not to mention that it can last much longer than straw or pine bedding.
Moreover, hemp bedding doesn't tend to catch dust, which is great for horses with heart issues. It also prevents the odor better than wood or straw shavings. All animal owners who care about their wellness should consider switching from the aforementioned materials to hemp.
Home & Office
Hemp can make a fine addition to your home & office arsenal. From pens to laundry detergents, you will be surprised how many products you can substitute with hemp to make your life even more eco-friendly.
55. Pens

Photo Credit: The Green Spring Technologies
It's a pen lover's dream come true. Green Spring Technologies sells customized hemp-made pens that are all-natural and sturdy. On top of that, you can engrave anything on it – it's one of our top hemp products on this list.
56. Hemp Sheets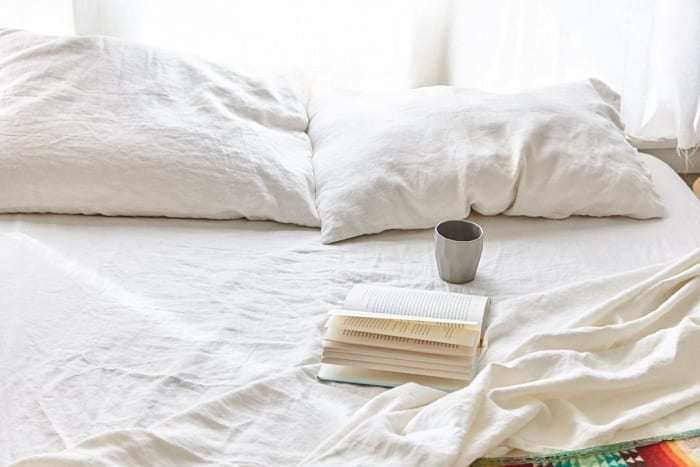 As mentioned, hemp fiber is more porous and breathable than other materials; even cotton can't match the quality of hemp. That being said, hemp sheets might serve as the perfect ingredient for summer sheets. While not as smooth as cotton, they will last you much longer than cotton sheets – to that we swear!
57. Hemp Towel
Photo Credit: MetaEfficient
The worst thing about regular towels is that they get sharper with age. At some point, you have no other choice than to throw them into the void and forget that you've ever had such towels. A hemp towel, on the other hand, softens with age and is also mildew resistant.
58. Paper
Hemp paper is better than tree paper for a couple of good reasons:
Hemp stalks grow in as long as 4 months, whereas trees usually take 20-80 years to fully grow.
Hemp can have up to 85% cellulose content, which is almost 3 times as much as trees.
1 acre of hemp can produce between 4-10 acres of trees over a 20-year period.
Hemp paper is more durable than tree paper. It does not yellow, crack, or lose quality over time.
Increasing the number of hemp plants grown worldwide can support the sustainability efforts to stop deforestation.
59. Hemp Curtains
Photo Credit: Verdant Design
Cat owners are going to love this! Yes, you can make hemp curtains. After all, if hemp towels and sheets are real things, why wouldn't curtains be, too? They are extremely durable and can withstand even the most intensive scratching from a young cat's devilish hunting when you're doing something important at that time.
60. Laundry Detergent/Soap
Have you heard about Dr. Bronner's 18-in-1 Hemp Pure-Castille Soap? If not, it's time to make up for it. This laundry detergent is as effective in cleaning your clothes as other mainstream brands. Plus, the unequivocal advantage of Dr. Bronner's over its competitors is that it is non-toxic and hypoallergenic.
61. Hemp Crafts
Hemp cords, twines, spools, braided ropes – they all fall into the Hemp Crafts bracket. They are a friend of every homeowner who values durability and is aware of the benefits of using hemp in everyday life.
62. Hemp Chair
We're not sure if there is a company that actually produces and sells hemp chairs today, but a hemp chair, made of natural hemp fiber, was developed for a design exhibition in 2012. If it can be done, it will sooner or later land in stores!
63. Tablecloths
Photo Credit: Roxie Daisy
Looking for high-quality, durable, and mildew-resistant material? Hemp fiber will be a perfect choice for your next set of tablecloths.
64. Hemp Blankets
Photo Credit: Earthdog
There are many beautiful hemp blankets on the market, and it's actually no surprise that this particular hemp product has grabbed people by the throat. A hemp blanket can reduce the intensity of night sweating (also known as "hot flashes") and help with skin conditions like eczema/rashes.
Farming & Gardening
Outdoor is where hemp can really spread its leaves, to be metaphorical. Hemp products for farming and gardening can serve you as a solid and sustainable material, one that is far safer for the environment than plastic and other artificial resources.
65. Hemp Growing Mats
Photo Credit: BioComposites Group
Typical growing mats are produced using hemp or treated materials. Hemp is a bio-accumulator, meaning that it will absorb whatever it is grown in. That being said, choosing plastic for growing a plant that is genuinely organic and meant to provide a number of health benefits can prove counterproductive.
Thankfully, brands like Grass Roots Grow Mats offer hemp mats that are plastic-, petroleum-, and chemical-free. No need to worry about harmful substances getting into your roots anymore!
66. Soil Cleanup
Photo Credit: Rolling Stone
When you clean up your soil with conventional crops, such as soy, corn, or wheat, you need to come to terms with the fact that they will deplete the nutrition of your soil, causing it to dry out and eventually erode.
Hemp is much different than its more commonly used counterparts. Its deep roots help stabilize the soil structure, not to mention that they also naturally shade out weeds. Growing 6-16 ft tall in 110 days, hemp can be a natural solution for farmers who don't want to use costly and toxic herbicides. As the plant absorbs heavy-metal pollutants from soil, it is, slowly but surely, purifying the earth.
Industrial
Wondering how industrial hemp got its name? Here's a quick "why:"
67. Ropes
Photo Credit: Ropes Direct
During World War II, the US government was in great need of more raw material to make solid, durable ropes. This material had been severely limited during their battle with Japan. This is when the government came up with a campaign named "Hemp For Victory", encouraging US farmers to start cultivating hemp to support the United States in the war. The United States Department of Agriculture (USDA) even promoted a public commercial to underline the benefits of hemp as an industrial material.
68. Plastics
Photo Credit: Hemptastic
Okay, this one might be a bit weird, but hemp plastic can actually do anything that traditional plastic can do. However, the biggest issue with using hemp plastic on a broad scale is that it's not cost-effective. Farming hemp is still strictly regulated, so domestic cultivators are still in short of this supply.
Still, hemp plastic is much more durable and environment-friendly. On top of that, it can be used to make cars, sunglasses, pens, and more.
69. Hemp Concrete
Photo Credit: Dezeen
There is a huge promise in using hemp for building homes in the future. Hemp concrete, or hempcrete, offers plenty of benefits, including amazing thermodynamic insulation, being hypoallergenic, and absorbing CO2 as it ages. As a result, hempcrete becomes stronger over time, unlike mainstream materials, let alone the reduction of your carbon footprint.
When it comes to durability and construction, hempcrete homes produce zero construction waste. It turns out even more huge when you consider that 55% of the world's energy consumption is associated with construction waste.
70. Oil Spill Cleanup
Photo Credit: The Virginian-Pilot
Did you know that hemp's core has been found to carry microorganisms that are responsible for bioremediation? Simply put, bioremediation refers to the microorganisms living in hemp and breaking down the oil by actually consuming it, metabolizing it, and then, pushing it back into the water and soil without the carrying the toxins.
71. Hemp Flags
Photo Credit: Greener Country
The first American flag made by Betsy Ross used industrial hemp fiber. That's because hemp fiber can be used to produce durable, rustic flags. Patagonia even developed a short documentary that features a war veteran making a US flag from hemp.
72. Hemp Batteries
Photo Credit: Aether Force
Even graphene is less conductive than hemp fibers. This fact makes hemp a superior source for batteries and supercapacitors. Here's what Dr. David Mitlin, a hemp researcher, says about hemp batteries:
"Hemp works just as well [as graphene]. And it costs a fraction of the price [at] $500 to $1,000 a tonne." 
73. Fiberboard
Compressed hemp hurds and bast fibers are a sustainable alternative to traditional insulation materials. It's also lighter, stronger, and water-resistant than mainstream materials.
Automobiles
1941 was the year when the first car was made out of hemp. Henry Ford, one of the automobile pioneers, built the car out of hemp plastic. Better yet, it also ran on hemp fuel. Surprising to what people thought back then, hemp plastic turned out to be much stronger than still. Even a hammer couldn't even budge the car's surface.
74. Sports Cars
Photo Credits: The Drive
Hemp sports cars are an exciting invention. Also known as the Renew Sports Cars, the hemp car built by an entrepreneur in Florida is 4.7 times more eco-friendly than an electric car. Just like Henry's Ford's car, this vehicle's exterior is 100% hemp made and runs on hemp biofuel.
Speaking of which…
75. Biofuel
Unlike other cars, you don't need to buy a new vehicle to start using hemp biofuel, because it can be used in cars that used to run on regular oil. Thomas B. Reed, a chemical engineer at Colorado School of Mines, has stated that an acre of hemp can produce as much as a thousand gallons of gasoline. It's no wonder that the industry experts estimate that this sustainable fuel will sooner or later put regular oil out of business.
76. Thermoset Compression Molding
Photo Credit: AutoEvolution
The process of making thermoset compression molding involves using a sheet of hemp fiber matting, infusing it with a thermoset resin, exposing it to a mold, heating it to high temperatures for a fixed amount of time, and popping the panel out of the mold for final cutting. Thermoset Compression molding is currently used for producing car panels and other compartments for a couple of global auto manufacturers, such as Mercedes, Audi, and BMW.
A Final Hit on Hemp-Based Products
Hemp is one of the oldest crops cultivated by humans. It was once praised for having thousands of different applications. Considering that, it seems beyond reason that it didn't even take 100 years for hemp and marijuana opponents to completely destroy the agricultural heritage of the United States. Fortunately, with the passing of the Industrial Hemp Act in 2014 (also known as the Farm Bill), U.S. farmers have been granted the right to cultivate hemp again in the country after 77 years of harsh prohibition. As the awareness and U.S. hemp supplies continue to grow, the plant will, sooner or later, cause the snowball effect, and innovation will only go further.
We look forward to seeing the world focused on sustainability and reducing our carbon footprint thanks to the versatility of hemp.