How Much Does CBD Oil Cost? (CBD Prices Breakdown)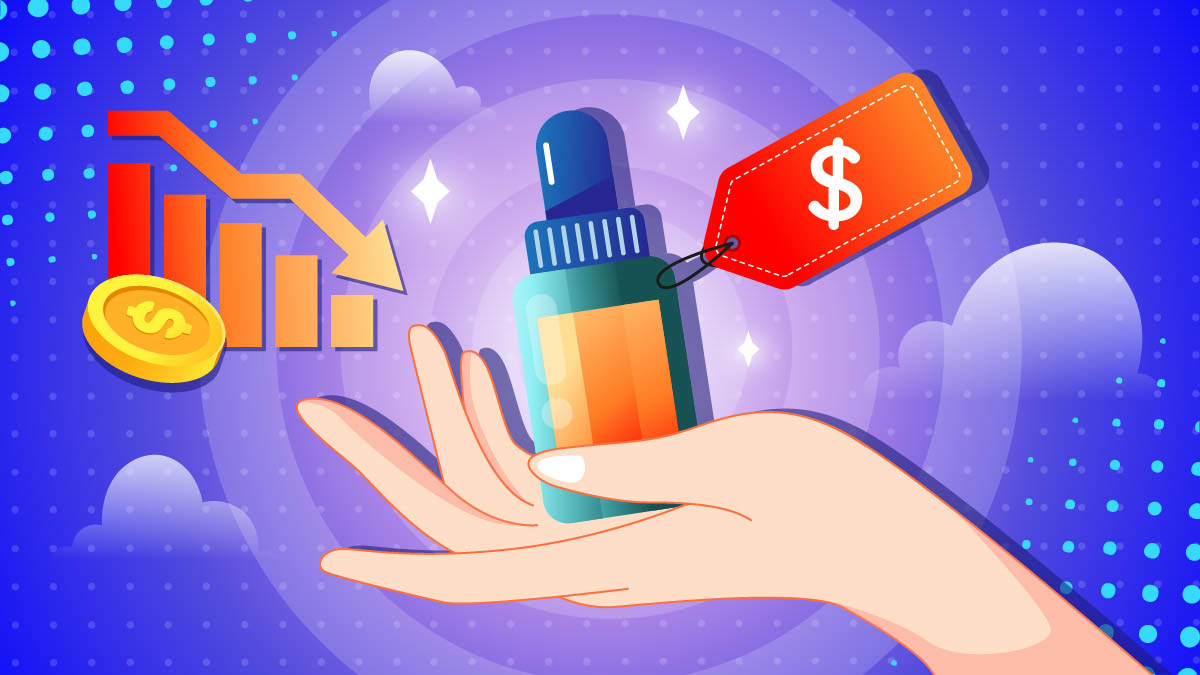 After hearing about all the potential health benefits of CBD oil, one of the first questions that come to your mind is probably "How much does CBD oil cost?"
CBD products can be expensive, but there are at least a few reasons for that.
Before we get into details, know one thing: cheap CBD oil is a bad oxymoron. If anyone ever promises to bring relief from every health concern for a bargain price, you're on the right way to throwing your hard-earned money down the drain.
The pricing of CBD oil isn't as obvious as some people think. It's the manufacturer's liability to take care of the product's quality because no federal agency has ever regulated the production standards and labeling requirements of hemp-derived CBD.
Although the market is booming and more professionals are entering the scene, the CBD industry is still wild, wild west.
How much your CBD oil will cost relies on several factors, such as the farming practices, extraction method, potency, and the brand's reputation to name a few.
The price of CBD products can range anywhere between $9.88 and $400. There are different concentrations, formulas, and sizes to consider.
CBD is the latest trend in the health supplement industry, which also impacts the prices.
In this article, we break down the specific costs of CBD oil and show you how to save money on premium products.
CBD Oil Quality: Why Is It So Important?
CBD is a relatively new market that lacks regulation when it comes to production standards and the labeling of CBD products. So far, only one CBD-based drug was approved by the FDA (Epidiolex), refusing to acknowledge hemp-derived CBD as a medicine.
As a result, hemp CBD oil has been thrown in the same bucket as other health supplements. This means that CBD companies can get very liberal in making claims about their products, selling CBD oils that contain little to no CBD. Sometimes, these products may also contain potentially dangerous chemicals such as solvents, pesticides, or mycotoxins.
In 2018, for example, the Center for Disease Control reported 52 cases of poisoning in Utah, which were caused by incorrectly labeled products.
These were products known as "cheap CBD oil."
As we said, there is no such thing as "cheap CBD oil.
Curious why?
Below we explain the costs involved in making CBD extracts.
Why Are Some CBD Oils More Expensive Than Others?
The process of making CBD oil is very expensive. All production stages, from farming to extraction and third-party testing, require specialist knowledge and expensive equipment, which translates to a higher price tag than you see on the majority of supplements sold over-the-counter.
A high-quality CBD product can have amazing effects on your daily life, but if the company is using low-quality ingredients and cheap extraction methods, you may be putting yourself at risk.
The manufacturer needs to ensure the top quality of hemp for its extracts, use safe extraction technology, and hire qualified professionals that will be able to work on the equipment — not to mention investing in third-party lab tests to confirm the potency and purity of the products.
There's a lot of resources involved in the process, both time- and money-wise.
But how do you calculate the price of CBD oil to tell if it offers the right value for the money?
On one hand, there are companies claiming to sell premium CBD on the cheap, which is unreal. But on the other hand, lots of companies overprice the value of their product trying to sell "cutting-edge" CBD.
There must be a way to figure out where the honest guys are in the middle of this.
Let's take a look at how to assess the affordability of CBD oils.
How Much Does CBD Oil Cost?
There's a simple calculation you can make to determine the cost of CBD oil, and compare it with products from other brands to decide whether the price is too low, too high, or competitive.
What you need to calculate is the cost per milligram of CBD. This figure plays the most important role when it comes to deciding whether or not the product is affordable. You can forget about the formula, size, extra ingredients, and different forms of consumption.
All it matters is how much CBD you're getting for the money.
CBD can cost between $0.04 and $3.00 per mg. You can narrow down that range when comparing different brands and products by using that metric.
Below we discuss the factors that influence the price of CBD products.
Read on to understand why some CBD oils are more expensive than others.
Factors that Determine the Cost of CBD Oil
The overall cost of CBD oil is influenced by the quality of the ingredients.
Here's what makes a quality CBD product;
The hemp source
Extraction method
Potency
Third-party testing
The product's formula
Premium CBD oils are usually priced higher than regular market value because there are rigorous quality procedures involved in the production. But on the other hand, when you purchase from premium brands, you can count on bulk pricing, reward programs, discounts, and coupon codes to save money on their products.
In the end, you'll pay the same amount of money, or even less, than for seemingly less expensive brands.
Let's briefly cover the factors that affect the cost of CBD oil.
Hemp Farming
The source of hemp used for making CBD oil is one of the major factors affecting the quality of the final product. The best CBD oils are sourced from organic, non-GMO, and pesticide-free plants. Using organic farming practices and growing hemp without pesticides or growth boosters is more expensive than mass production, and the prices usually reflect that.
If the company adds other organic ingredients to its formula, the price will likely go even higher.
Fortunately, hemp is now more popular than ever in the U.S., so using American crops becomes less expensive than importing hemp from Europe as most brands would do just a few years ago. As the hemp market continues to grow, the average market price of high-quality CBD products will get lower — it's inevitable.
Extraction Technology
CBD can be extracted using a variety of methods, from natural solvent extraction to hydrocarbons, steam distillation, and CO2 extraction.
CO2 extraction is by far the best method to achieve consistently high levels of CBD without using additional heat or toxic solvents. This makes CO2-extracted products more expensive than those made with alcohol, olive oil, or butane. The equipment required to perform CO2 extraction can cost between $135,000 and $150,000, so if a company uses this method, it's a sign they are committed to quality.
The cheapest extraction method calls for using hydrocarbon solvents. However, these can cause explosions when handled improperly or leave behind a toxic solvent residue in the end product. This is the type of extraction you should steer clear of.
Potency
The potency of CBD refers to the total amount of CBD inside the bottle, measured in milligrams. The more potent your CBD oil, the more effective it may be in tackling your symptoms. High-potency oils are also good for people who weigh more or those who know their effective dosage and would like to stock themselves with CBD for several months.
Stronger CBD oils are usually more expensive, but brands often cut down on the price per mg of CBD. This means that buying a product with more milligrams of CBD can be more affordable in the long run, especially if lower-potency oils require you to renew your supplies every few weeks.
Third-Party Testing
Any trustworthy CBD company should send its products to independent laboratories for content analysis. These labs will verify the potency of CBD and look for potentially dangerous chemicals in the oil. The cost of testing oils in third-party labs typically increases the price, but it's the only way to tell how much CBD is in your oil and whether or not it contains any unwanted substances.
Brands should make Certificates of Analysis for their products public, or at least make them available on request.
Other Costs of CBD Oil: What Else Can Raise the Price Tag?
The brand's reputation is also a common factor impacting the cost of CBD oil. When you choose to purchase from a premium company with a pristine reputation, you may need to pay a bit more for its products. However, top-of-the-line brands provide organic ingredients, reward programs, special subscription deals, and more. They also use sustainable extraction technologies, employ rigorous quality testing, and offer customer service that can help you select the right products and answer your questions about CBD.
Last but not least, how much your CBD oil cost will vary depending on where you buy it from. Some people prefer to look for CBD oil somewhere near them. If you live in a place where cannabis is legal, you can head to the nearest dispensary, which is no doubt a convenient way to get quality CBD products. But since hemp-derived CBD oil is federally legal, you can find it in vape stores, pharmacies, or head shops, too.
However, products sold locally are usually more expensive than those you can order online due to the costs associated with running a physical storefront. When you purchase online directly from a brand, you significantly less than you would for the same-quality product in-store.
How Much Does CBD Oil Cost?
High-quality sublingual drops cost between $0.09 and $0.17 on average. The low end is $0.05, whereas some oils can cost upwards of $0.20 per mg. Usually, stronger oils will be less expensive per mg than low-strength products.
How Much Do CBD Capsules Cost?
CBD pills and capsules can contain anywhere from 10 mg to 50 mg CBD. The higher the potency, and the more capsules in the bottle, the lower the price per mg, even though the overall cost is higher. The average price per mg of CBD when it comes to CBD capsules is $0.09 – $0.13 per mg. The product can cost as low as $0.04 per mg and as high as $0.20.
How Much Do CBD Topicals Cost?
CBD topicals can take many forms, including salves, gels, creams, and lotions. These products are typically designed to help with localized discomfort. The cost of CBD topicals ranges between $0.07 and $0.10 per mg on the low end and upwards of $0.30 on the high end. On average, CBD topicals cost around $0.12 – $0.19 per mg. CBD topicals are available in various sizes, from 1 oz to 4 oz containers, and can contain up to 1000 mg of CBD per container.
How Much Do CBD Gummies Cost?
CBD gummies are similar to capsules in terms of pricing. They also cover a similar potency range, from 10 mg to 50 mg of CBD per gummy, with prices varying between $0.09 and $0.020 per mg of CBD. Gummies usually come in 30-count bottles, although some companies sell their gummy bears in 60-count or 120-count containers. You can also find brands that offer sample-size packs, with 5 gummies per pack.
Tips for Saving Money on Quality CBD Oil
Order CBD oil online
Purchase in bulk
Subscribe to newsletter
Join reward programs
Use coupon codes and seasonal discounts
Costs of CBD Oil: Let's Wrap Them Up
The process of making CBD oil isn't cheap, so it would be naive to expect companies to sell high-quality products at a loss. If you see a company that claims to sell premium CBD oils on the cheap, it's an instant red flag. There are many companies churning out low-quality mislabeled products just to prey on uneducated customers and the lack of regulation.
But does that mean you always have to go big-spender? Are there no affordable CBD products online or near you?
Of course, they are — you just need to know where to look for them.
Make sure that the company you're going to purchase from uses organically-grown, non-GMO hemp. If the brand uses CO2 extraction to produce CBD oils, it's all the better because this method doesn't require additional heat or solvents. Finally, always ask for third-party lab reports. This is the only way to ensure that your product contains the advertised amount of CBD and is free from potentially dangerous additives.
Of course, premium brands price their products a little bit higher than the market standard, but there's a lot of options to save money on their oils, such as the aforementioned reward programs, discounts, and bulk pricing.
If you want a risk-free way to try different products, look for companies that offer some form of a money-back guarantee. It's also a sign that the company is confident about its products.
Do you think CBD oil is too expensive? Let us know what you think about the future trend in its pricing?