How to Use CBD Oil for Pain Relief?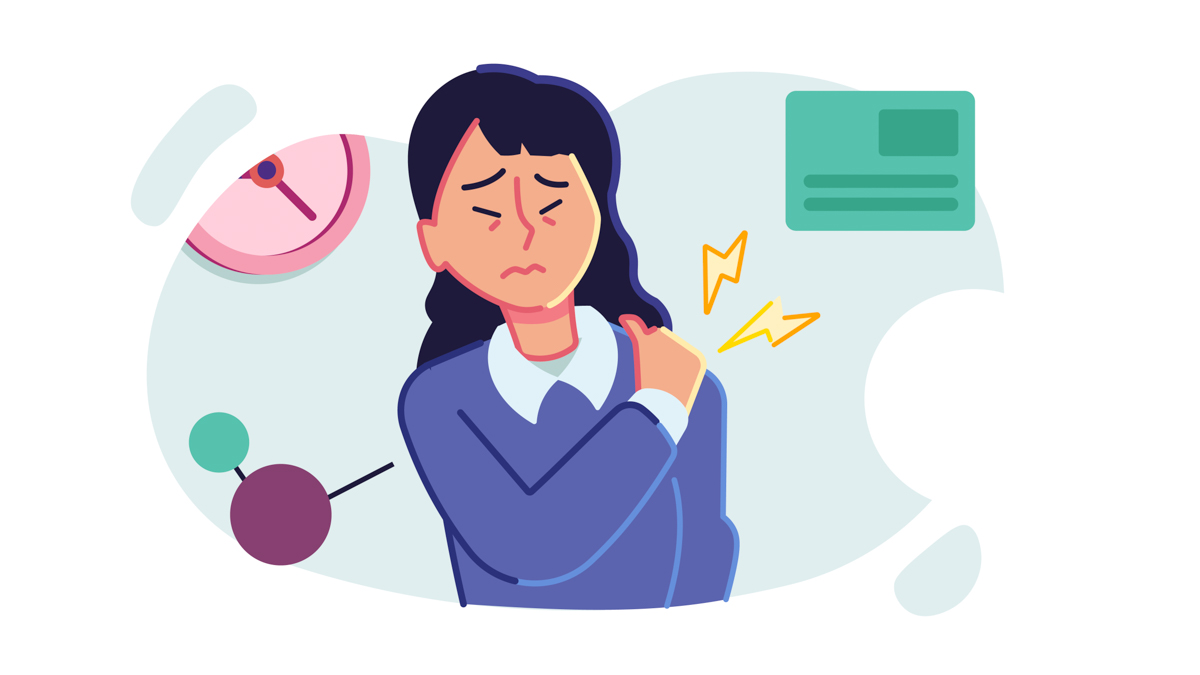 This article presents a complete guide to using CBD oil for pain. We elaborate on how CBD can help with different types of pain; you'll learn about the anti-inflammatory, neuroprotective, and antioxidant properties of CBD; we'll explore different kinds of CBD products and their efficacy; you'll also learn how to use CBD oil for pain and where to find the best products in 2023.
Without the high associated with delta-9-tetrahydrocannabinol (THC), cannabidiol (CBD) can deliver a myriad of health benefits, such as relief from stress, anxiety, depression, insomnia, and pain.
Cannabinoids like CBD modulate the endocannabinoid system (ECS), which regulates essential bodily processes, from energy balance to immune function, emotional responses, and more.
CBD has been tested for its efficacy as a painkiller with promising results. Many clinical trials and literature reviews have yielded positive results on its impact on pain signals and its causes.
After reading this article, you'll get ahead of 99% of people who use CBD for pain.
How to Use CBD Oil for Pain
The best way to use CBD oil for pain is to take it under the tongue. Sublingual use maximizes the absorption of CBD and ensures faster-acting effects.
Measure out your dose of CBD oil, transfer it under the tongue, and hold it there for about 60 seconds — then swallow.
The strength of CBD's effects, their onset, and duration depend on the following factors:
The bioavailability of CBD: CBD oils suspended in carrier oils have higher bioavailability than crude extracts.
Your weight and metabolism: they determine the speed at which your body processes CBD. It also affects the size of your dose.
Your habits: whether you take CBD on a full or empty stomach. Taking CBD with a meal will improve its bioavailability but slow down its absorption. On the other hand, when you take CBD on an empty stomach, the effects will kick in faster, but less CBD may enter your bloodstream.
Tolerance to CBD: depending on your individual body chemistry, your tolerance to CBD may be lower or higher. The good news is that tolerance to CBD doesn't usually increase over time, so if you're a lightweight user, you don't need to worry about the increasing costs of supplementation.
If you live with chronic pain, you may need to use CBD oil throughout the day in smaller increments. However, for pain flare-ups, you should take your dose as needed to reduce the symptoms.
Related: How to Take CBD Oil
CBD Oil for Pain: Does It Work?
Currently, there are no FDA-approved CBD medications for pain. You can only get one medication called Epidiolex — but it's prescribed for rare forms of epilepsy (1).
Meanwhile, CBD has been approved as a pain treatment for conditions like Multiple Sclerosis, e.g., in the U.K. and Canada (2). These countries also accept the use of CBD oil for cancer pain.
Ongoing studies suggest CBD oil can be effective for pain and related medical conditions, including fibromyalgia and arthritis, at different doses.
Some types of pain can be resistant to CBD alone. This is where trace amounts of THC or some Western medications may help.
Since about 60% of U.S. adults who use CBD do so for its potential to relieve pain, let's explore its analgesic properties in detail (3).
Related: Best CBD Oil for Pain Relief
CBD Oil for Chronic Pain
Chronic pain is defined as any pain that doesn't dissipate after several months. Studies have found that CBD, often combined with THC, can be an effective pain reliever for chronic medical conditions.
Clinical trials have tested the efficacy of a 1:1 CBD:THC spray, Sativex, on people with cancer-related pain. As mentioned above, this spray is also used for multiple sclerosis in the U.K. and Canada.
According to a 2019 study, Sativex is an "effective and well-tolerated add-on treatment" for patients with severe chronic pain that stems from various diseases (4).
The study focused on three types of pain:
Neuropathic (affecting nerves)
Nociceptive (affecting body tissue)
Mixed
Sativex helped relieve all three types but excelled at treating neuropathic pain.
Earlier studies have found CBD to be effective in relieving chronic pain in conditions like spinal cord injury, multiple sclerosis, arthritis, and migraines.
In a 2009 review of studies, CBD and other cannabinoids were cited as "novel anti-inflammatory drugs" (5).
Speaking of pain and inflammation…
CBD Oil for Arthritis Pain Relief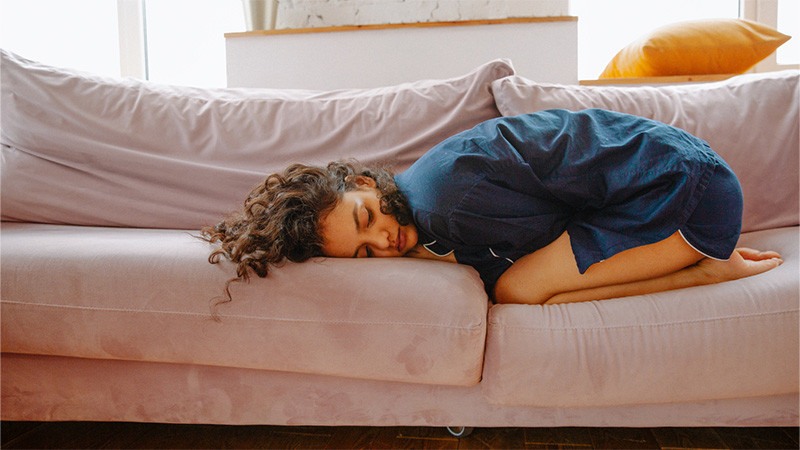 Arthritis is an umbrella term used to describe a broad range of joint-related conditions. Common symptoms include pain, stiffness, and swelling in the joints. The discomfort progresses over time if left neglected.
Studies on CBD Oil and Arthritis
As a novel approach to treating pain-related conditions, CBD shows decent painkilling potential due to its aforementioned anti-inflammatory properties. It's been tested in animal studies and preclinical trials, both of which have found it to be an effective arthritis remedy (6).
However, clinical research on CBD's benefits for arthritis is still in the early stages.
CBD, Arthritis Pain, and Clinical Trials
The first controlled trial regarding the use of CBD oil for pain came from 2006. The research team focused on patients with rheumatoid arthritis, an autoimmune condition involving inflammation in the joints and surrounding areas (7).
They found that Sativex significantly improved subjects' pain during movement and rest; it also reduced their sleep problems. Any reported side effects were mild or moderate, and the patients didn't experience withdrawals.
In 2018, researchers examined the efficacy of a topical CBD gel on subjects with osteoarthritis-related knee pain over a period of 12 weeks. Participants applied either 250 mg or 500 mg of CBD to the affected area, divided into two sessions (8).
Overall, CBD didn't result in significant improvements in pain compared to placebo. However, when the authors reassessed the average weekly worst pain scores, participants who took a dose of 250 milligrams of CBD daily had significantly better results than the placebo group.
Recently, a small 2019 trial found a combination of CBD and THC may be beneficial for people with fibromyalgia, a condition that causes pain all over the body and drains you of energy. The study found that a single inhalation of CBD and THC extract yielded better results than a placebo and either substance alone (9).
CBD Oil for Cancer Treatment Pain
CBD shows promise for people suffering from cancer pain. Most studies in humans have examined the role of CBD in managing pain related to cancer and chemotherapy.
According to the National Cancer Institute (NCI), CBD is a potential solution for reducing chemotherapy side effects, such as (10):
Nausea
Vomiting
Pain
Loss of appetite
Fatigue
A 2010 study on cancer-related pain demonstrated that an oral CBD-THC spray used in conjunction with opioids provided effective pain relief — stronger than the opioids alone (11).
However, more large-scale clinical trials are needed to determine the efficacy of CBD oil for cancer pain.
Can I Use CBD for Neuropathic Pain?
Various accidents and medical conditions can cause nerve damage, resulting in neuropathic pain. This kind of pain is characterized by numbness, muscle weakness, tingling, and sharp, stabbing, or burning pain.
Multiple sclerosis (MS) is cited as one of the most common causes of neuropathic pain. The disease depletes myelin, a combination of proteins and phospholipids that creates a protective layer over nerve cells.
Sativex, an already proven MS medication, was found to be effective at treating neuropathic pain in patients in doses that provided about 20 mg of CBD and 21.6 mg of THC.
A 2020 study also supported the efficacy of CBD oil on patients with peripheral neuropathy. This time, scientists tested a CBD topical solution; compared to a placebo, the topical CBD significantly reduces patients' pain, as well as itchy and tingling sensations all over the body (12).
Related: Best CBD Oil for Nerve Pain
Does CBD Oil Help With Migraines?
Studies on CBD and migraine pain are in their infancy, but the current evidence shows promising results, especially when CBD is paired with THC.
A 2017 study found that CBD and THC resulted in less acute and intense pain for people with migraines (13).
The study had two groups: in the first group, participants took a combination of 9% CBD extract with almost no THC; the other product contained 19 percent THC.
In phase 1, the subjects didn't report any relief with doses under 100 mg. However, when they increased the dose to 200 mg, acute pain dropped by 55 percent.
In phase 2, the research team tested the efficacy of both CBD and THC, noting positive results after giving 200 mg of the extract to each patient. The frequency of migraine attacks was reduced by 40.4 percent.
The solution proved to be more effective than 25 mg of amitriptyline, a tricyclic antidepressant.
Patients with cluster headaches also found the combination of CBD and THC to have the best result on their pain, but only if they'd been genetically burdened with migraines.
Related: Best CBD Oil for Migraines & Headaches
How Does CBD Impact Pain?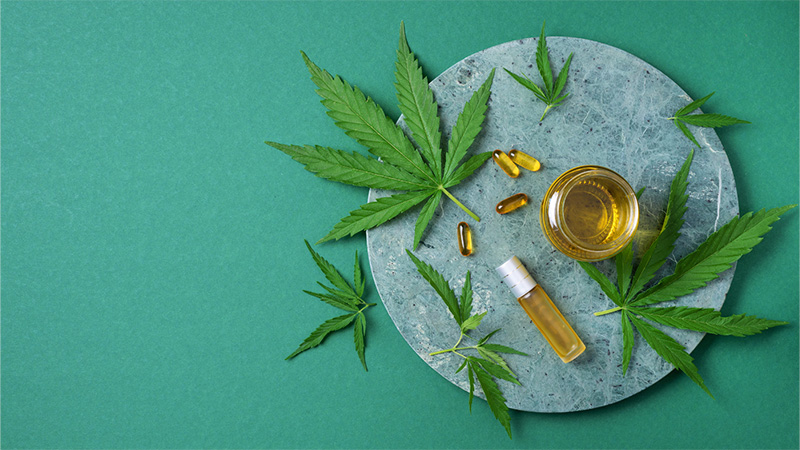 Every human has a cell-signaling network called the endocannabinoid system (ECS). When you take CBD oil for pain, it interacts with the main components of this system, including the receptors and enzymes located in the nervous system, brain, and immune system (14).
CBD reduces inflammation by acting on the CB2 receptors in the immune system. By reducing inflammation, CBD can reach the root cause of pain (15). It also dampens pain signals that are sent from the pre-synaptic nerve end to the post-synaptic nerve end, resulting in reduced discomfort (16).
Last but not least, CBD helps optimize the endocannabinoid system. When the ECS functions properly, the communication between neurotransmitters is balanced, ensuring a normal pain threshold (17).
Tips for Using CBD for Pain Relief
Now that we've established CBD may be useful for different kinds of pain, you may be interested in finding the best way to maximize the benefits of your treatment.
Here's how to do it.
Choose Lab-Tested Products
The CBD market is saturated with products whose quality varies greatly depending on the brand. There are hundreds of different formulas, from oils to capsules, edibles, vapes, topicals, bath bombs, drinks, and even suppositories.
Some of them are definitely more suitable for treating pain than others, but the fact is that quality is paramount for your final experience.
Hemp should always be organic because hemp plants are dynamic bioaccumulators. In plain English, they absorb every substance from their environment, including nutrients and toxins. Organic hemp yields clean, CBD-rich flowers that are the best source of CBD oil.
Make sure that your CBD oil has been third-party tested for potency and purity. The lab test results should clearly show the levels of pesticides, heavy metals, mold, solvents, and other contaminants. Only purchase from brands that provide batch-specific certificates of analysis (CoAs).
Opt for Full-Spectrum CBD Oils
Full-spectrum CBD oil contains the essence of the whole plant — including cannabinoids, terpenes, and flavonoids.
Together, these compounds work synergistically to enhance the therapeutic effects of CBD. Without them, CBD would be more difficult to dose, and the effects wouldn't be as pronounced as with the supportive molecules.
Full-spectrum CBD oils also contain trace amounts of THC — at or below 0.3%. Don't worry, they won't get you high, but they'll boost the relaxing and painkilling effects of CBD.
Full-spectrum CBD is superior to isolate, which doesn't evoke the said synergy.
Purchase From Reputable Brands
Finally, when using CBD to treat pain, it's important to source your products from a brand you can trust. Reputable companies with a long record of returning customers are more likely to deliver the expected quality and safety than no-name brands or those who have ambiguous reviews among users.
Best CBD Products for Pain Relief
Looking for effective CBD oil for pain relief? Here are three brands that offer the best value for money in 2023.
1. Royal CBD Full Spectrum 2500 mg CBD Oil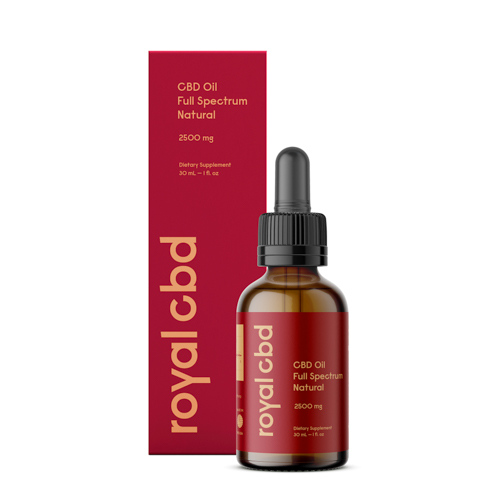 Get 15% off all Royal CBD products. Use code "CFAH" at checkout.
Royal CBD is a premium brand that specializes in full-spectrum CBD products from organic hemp. Its selection of CBD oils includes different potencies and flavors, with up to 2500 mg of CBD per bottle.
The 2500 mg full-spectrum CBD oil packs 83 mg of CBD, minor cannabinoids, and terpenes in every serving. At such a high dose, it produces strong anti-inflammatory effects and relieves tension in the muscles. I use it for post-workout recovery to ease soreness and improve regeneration.
It's also the most cost-effective formula in the whole Royal CBD range. If you're a lightweight user or want to manage mild to moderate pain, this bottle may last you for up to 3 months.
2. Gold Bee CBD Full-Spectrum 2400 mg CBD Oil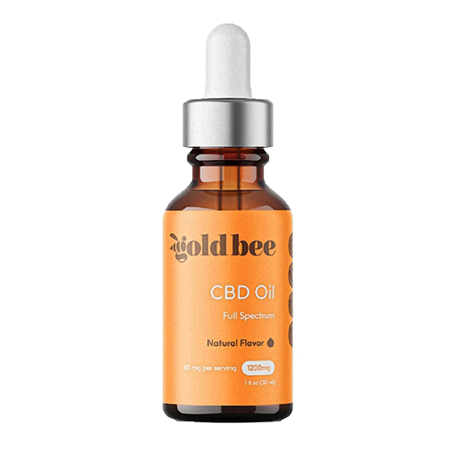 Gold Bee offers the best organic CBD oils for pain relief infused with superfoods. The Gold Bee CBD oil combines the full-spectrum hemp extract with nutrient-dense ingredients like raw honey and MCT oil to improve absorption and create a stronger soothing effect.
This is another high-potency pick for people with severe pain. If you struggle with joint pain and limited mobility, this product provides enough CBD to curb inflammation and reduce pain signals.
Unfortunately, it only comes in an unflavored variant because flavorings would compromise its original chemical profile and potency.
3. Area 52 UFO Full 1200 mg Full-Spectrum CBD Oil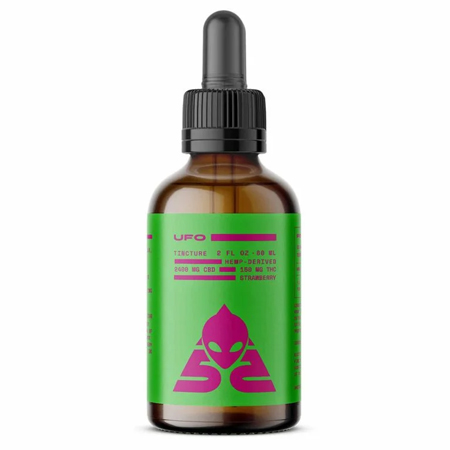 Get 15% off all Area 52 products. Use code "CFAH" at checkout.
Area 52 specializes in delta-8 THC products, but it has recently released a new line o "true full-spectrum extracts," including its CBD oil for pain.
The formula contains a whole-plant extract with higher levels of THC that still remain within federal limits. The addition of THC potentiates the entourage effect, making lower doses of CBD more effective.
However, this product may be cost-prohibitive if your symptoms require particularly high daily doses of CBD.
Are CBD Topicals Effective for Pain?
Yes! But they use a different mechanism to relieve pain. Topical products won't help with systemic inflammation and overall pain because they don't interact with the ECS in the same way CBD oil does.
When you use a CBD cream or roll-on gel, the CBD gets absorbed into the deeper layers of the skin, where the CB2 receptors are located.
By interacting with these receptors, CBD can reduce inflammation and weaken pain signals in the affected area. Using CBD topically is a great way to reduce localized discomfort with the help of supportive ingredients like menthol, cayenne pepper extract, or manuka honey.
Related: Best CBD Creams for Pain Relief
CBD Oil Dosage for Pain Relief: How Much Should I Take?
Knowing the exact dose of CBD oil for pain can be tricky because reactions vary significantly between individuals. A lot of personal factors are at play, such as your weight, metabolism, the severity of pain, tolerance to CBD, and whether or not you're taking other medications for pain.
As a general rule of thumb, it's best to start low and go slow. Choose a small dose, such as 10 mg, and take it for a few days. If you don't notice any signs of relief, add the extra 10 mg to your routine for another week — and continue until you find the dose that brings you the desired effects.
Here is what CBD dosage for pain looks like based on different conditions:
Central nervous system and cancer-related pain: 30 mg of CBD a day
Opioid Addiction: 400 or 800 mg a day
Chronic Pain: 2.5 – 40 mg daily
That's just a general guideline that you can treat as a starting point. From there, adjust the dosage as needed to reach the amount that effectively eases your symptoms.
Is CBD Safe to Use for Pain?
Yes. CBD has an excellent safety profile, with just a few mild side effects. According to a 2017 review of animal and human studies, CBD is well tolerated even at doses as high as 1,500 mg daily (18).
The most common side effects of using CBD oil for pain include the following:
Dry mouth
Appetite fluctuation
Dizziness
Fatigue
Diarrhea
CBD can also interact with pharmaceutical painkillers because it inhibits the CYP450 enzyme system that metabolizes drugs. CBD oil may increase or decrease the concentration of the drug in your bloodstream, leading to either subtherapeutic effects or drug toxicity.
Always consult your doctor before trying CBD oil for pain. Doing so will help you establish the right dosage and timing for both substances and avoid interactions.
Are CBD Products Legal?
Yes, CBD is federally legal in the United States. You can buy it in all 50 states without a prescription.
The 2018 Farm Bill removed hemp from the list of controlled substances, reclassifying it as an agricultural commodity. Farmers can grow and sell hemp for any use, from clothes, paper, and ropes, to biofuel, construction materials, food, and health supplements like CBD oil.
The only requirement is that hemp-derived CBD oil products must not contain more than 0.3% delta-9 THC on a dry-weight basis.
Using CBD Oil for Pain: Key Takeaways
While there are not enough clinical data to support the use of CBD-based medications as the first-line pain treatment, researchers agree that hemp supplements have a lot of potential.
CBD oil can help with pain management by reducing inflammation, mitigating pain signals, and improving regeneration. It's also a potent antioxidant and neuroprotectant, so consistent supplementation with CBD can improve the functioning of your nervous system, bolster your pain threshold, and protect the body against free radicals.
If you're interested in using CBD oil for pain, talk to your doctor. They will help you choose the best form of CBD, adjust the dosage, and space out the timing between CBD and other medications that you might be taking for pain.
Sources:
Abu-Sawwa, R., Scutt, B., & Park, Y. (2020). Emerging Use of Epidiolex (Cannabidiol) in Epilepsy. The journal of pediatric pharmacology and therapeutics: JPPT : the official journal of PPAG, 25(6), 485–499 [1].
Furgiuele, A., Cosentino, M., Ferrari, M., & Marino, F. (2021). Immunomodulatory Potential of Cannabidiol in Multiple Sclerosis: a Systematic Review. Journal of neuroimmune pharmacology: the official journal of the Society on NeuroImmune Pharmacology, 16(2), 251–269 [2].
Statista (2022). Leading Reasons Why U.S. Adults Use Cannabidiol As of 2022. Statista.com [3].
Urits, I., Borchart, M., Hasegawa, M. et al. An Update of Current Cannabis-Based Pharmaceuticals in Pain Medicine. Pain Ther8, 41–51 (2019). https://doi.org/10.1007/s40122-019-0114-4
Nagarkatti, P., Pandey, R., Rieder, S. A., Hegde, V. L., & Nagarkatti, M. (2009). Cannabinoids as novel anti-inflammatory drugs. Future medicinal chemistry, 1(7), 1333–1349. https://doi.org/10.4155/fmc.09.93
Frane, N., Stapleton, E., Iturriaga, C. et al. Cannabidiol as a treatment for arthritis and joint pain: an exploratory cross-sectional study. J Cannabis Res 4, 47 (2022) [6].
Blake, D. R., Robson, P., Ho, M., Jubb, R. W., & McCabe, C. S. (2006). Preliminary assessment of the efficacy, tolerability and safety of a cannabis-based medicine (Sativex) in the treatment of pain caused by rheumatoid arthritis. Rheumatology (Oxford, England), 45(1), 50–52. https://doi.org/10.1093/rheumatology/kei183
Boehnke, K.F., Häuser, W. & Fitzcharles, MA. Cannabidiol (CBD) in Rheumatic Diseases (Musculoskeletal Pain). Curr Rheumatol Rep 24, 238–246 (2022) [8].
Sagy, I., Bar-Lev Schleider, L., Abu-Shakra, M., & Novack, V. (2019). Safety and Efficacy of Medical Cannabis in Fibromyalgia. Journal of clinical medicine, 8(6), 807. https://doi.org/10.3390/jcm8060807
National Cancer Institute (2022). Cannabis and Cannabinoids – Patient Version. Cancer.gov. Retrieved from: https://www.cancer.gov/about-cancer/treatment/cam/patient/cannabis-pdq
Johnson, J. R., Burnell-Nugent, M., Lossignol, D., Ganae-Motan, E. D., Potts, R., & Fallon, M. T. (2010). Multicenter, double-blind, randomized, placebo-controlled, parallel-group study of the efficacy, safety, and tolerability of THC:CBD extract and THC extract in patients with intractable cancer-related pain. Journal of pain and symptom management, 39(2), 167–179. https://doi.org/10.1016/j.jpainsymman.2009.06.008
Xu, D. H., Cullen, B. D., Tang, M., & Fang, Y. (2020). The Effectiveness of Topical Cannabidiol Oil in Symptomatic Relief of Peripheral Neuropathy of the Lower Extremities. Current pharmaceutical biotechnology, 21(5), 390–402. https://doi.org/10.2174/1389201020666191202111534
Neurology (2017). Review of the 3rd European Academy of Neurology Congress 2017. European Medical Journal. Retrieved from: https://www.emjreviews.com/neurology/congress-review/review-of-the-3rd-european-academy-of-neurology-congress-2017/
Kaur, R., Ambwani, S. R., & Singh, S. (2016). Endocannabinoid System: A Multi-Facet Therapeutic Target. Current clinical pharmacology, 11(2), 110–117. https://doi.org/10.2174/1574884711666160418105339
Ashton, J. C., & Glass, M. (2007). The cannabinoid CB2 receptor as a target for inflammation-dependent neurodegeneration. Current neuropharmacology, 5(2), 73–80. https://doi.org/10.2174/157015907780866884
De Vita, M. J., Maisto, S. A., Gilmour, C. E., McGuire, L., Tarvin, E., & Moskal, D. (2022). The effects of cannabidiol and analgesic expectancies on experimental pain reactivity in healthy adults: A balanced placebo design trial. Experimental and clinical psychopharmacology, 30(5), 536–546. https://doi.org/10.1037/pha0000465
Peres, F. F., Lima, A. C., Hallak, J. E. C., Crippa, J. A., Silva, R. H., & Abílio, V. C. (2018). Cannabidiol as a Promising Strategy to Treat and Prevent Movement Disorders? Frontiers in pharmacology, 9, 482. https://doi.org/10.3389/fphar.2018.00482
Iffland, K., & Grotenhermen, F. (2017). An Update on Safety and Side Effects of Cannabidiol: A Review of Clinical Data and Relevant Animal Studies. Cannabis and cannabinoid research, 2(1), 139–154. https://doi.org/10.1089/can.2016.0034