Infinuity CBD Review & Coupon Code (2023 Update)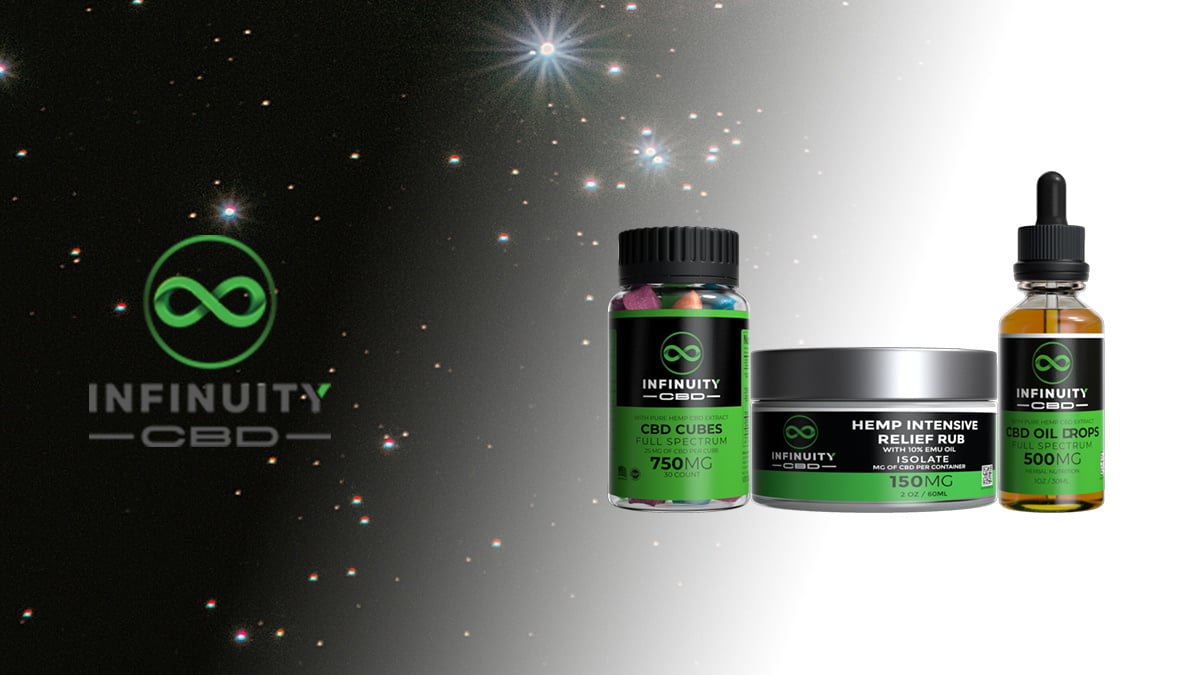 CBD is already widely used by many people. This is why companies offering CBD products are popping up like mushrooms in the market. However, it is important to check the reputation of the company before making a purchase. This way, you can get your money's worth and enjoy the beneficial effects of CBD.
Among the many companies out there offering CBD products is Infinuity CBD. This company has been in the spotlight lately, as many are doubtful of its ability to provide potent and effective CBD products.
Let this review help you weigh your options on this company. It will also help you spot scams and give you alternatives to choose from so you don't have to deal with fly-by-night companies around.
About Infinuity CBD
Infinuity CBD is a company that claims to make products for people who need high-quality CBD. It only has three products in stock. Aside from its staple product, the CBD gummies, this company also offers CBD oil drops and hemp intensive relief rub. The products are made in the US for better quality. Also, the company claims the entire line is non-GMO and pesticide-free.
Looks legit on paper, right?
Let's do a quick reality check.
Is Infinuity CBD Legit Or Scam?
When you do a search on the net for reviews on Infinuity CBD, all you get are almost the same content which is most likely made by the same writers to promote the brand. You cannot find a third-party review that would actually provide an honest presentation of Infinuity.
These reviews don't talk much about the company's background and history, which is the first red flag. Some customers are interested in knowing more about the company first and their reputation in the industry before getting into the details of the products.
And last, the brand only has very few reviews that doubt its legitimacy and effectiveness. It seems Infinuity makes no effort to prove its worth in the industry.
Type of Scam: Fake CBD Company
Infinuity CBD is a fake company that leverages the position and reputation of a well-known UK brand, Infinity CBD. The company is trying to rank high for phrases associated with the host brand — luring unaware customers into buying its snake oil and other products.
How This Scam Works
Fake CBD companies are often owned by the same mother company that tries to spread its tentacles all over the internet to get customers from many segments of the market.
They usually try to attract people with great deals on CBD products that give you no side effects but are the answer to all your health problems.
Chances are, these companies will also try to convince you to fall for a shady subscription model that charges you hundreds of dollars for products you don't even want.
Needless to say, a fake company will do everything in its power to get you to subscribe and pay for as long as possible.
How to Spot this Scam
Fortunately, fake CBD companies don't put much effort into making appearances; therefore, you can easily spot them with a naked eye.
Here are some potential red flags, using the Infinuity CBD example.
Almost No Real Reviews
The company claims to have many years of experience in producing and selling CBD products. But when you check on their website, no reviews on the products are posted.
Never trust a company or product with no reviews or feedback available. Even new companies and products have at least one or two posted online. If you have encountered this, do not hesitate to find another brand to check out.
Subscribe and Save promo
The company offers a 20% discount; however, you need to subscribe to become eligible for it. The scary part of it is that subscriptions are difficult to cancel most of the time, not to mention that the next monthly fees are much higher than the initial fee.
If you have clicked the subscribe button, all you have to do is to follow the steps provided on the company's website on how to cancel the subscription. If there are no instructions on how to unsubscribe, contact its customer service right away and ask for assistance.
No Information About the Brand
Would you trust a company that you know nothing about? The Infinuity CBD website doesn't contain any information about the brand. It only focuses on explaining how awesome the products are. But if you want to gain the trust of customers, you should be open about your company and its background. Infinuity keeps that information undisclosed, which is a very bad thing in terms of transparency.
Why We Don't Recommend Infinuity CBD
There are a lot of reasons why Infinuity CBD doesn't get my recommendation. Aside from the red flags mentioned above, here are some observations about the company and its products.
The Website Isn't Informative Enough
The company website is attractive as it has photos of their products with a little bit of information. If you want to sell something, especially CBD products, you need to provide your customers with vital information that will help you gain their trust. With this company, the website lacks substantial information, including the background, hemp source, extraction methods, and lab testing.
Aggressive Marketing
When you check on the company website, you will see "shop now" and "First-time buyer 20% off" buttons all around. Some customers need to know more about the company and products first before deciding whether to buy or not. Using flashy buttons and capitalized buzzwords doesn't get you returning customers.
The FAQ Section Merely Answers Two Questions
FAQs should help customers learn more about the company, its products, how they're made, how to use them, and other important aspects. When it comes to Infinuity CBD, the FAQ only answers two questions: one about CBD intake — and the other one about the cancellation of the subscription.
Alternative Options to Infinuity CBD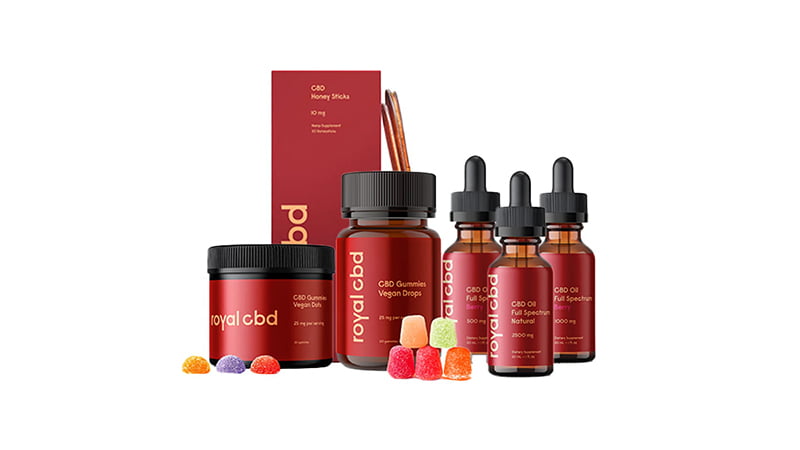 Pros
Cons

Organic, non-GMO products
Supercritical CO2 extraction
Sustainable farming
High-potency products available
Natural flavorings
Free shipping
User-friendly website

Limited product range (but convenient for new users)
Not available locally
Royal CBD is one of the most established names on the market. Launched in 2018, this brand focuses on premium-grade extracts from organic hemp. It has coined a reputation as a trustworthy manufacturer thanks to its meticulous lab-testing practices and unmatched transparency.
Royal CBD offers the following products:
CBD oil
CBD capsules
CBD edibles

CBD gummies
CBD honey sticks

CBD topicals
CBD for pets

CBD pet oil
CBD dog treats
These products are available in various cannabinoid spectra, formulations, potencies, flavors, and sizes. Whether you're an experienced user or a beginner, Royal CBD is a great place to stop by for some quality hemp shopping.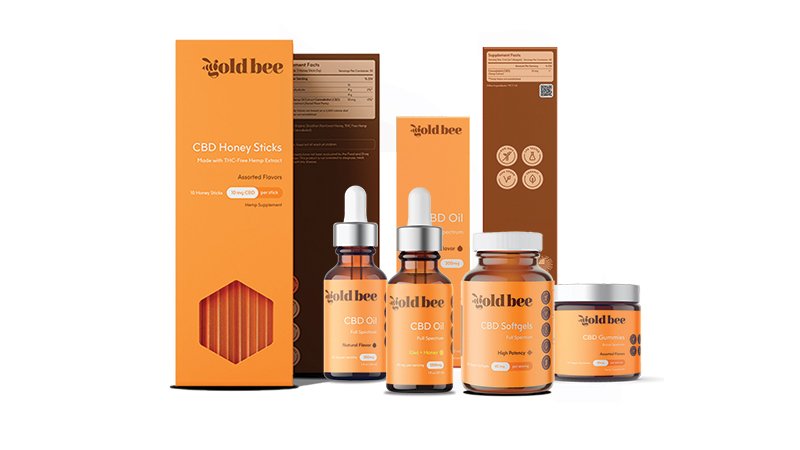 Pros
Cons

Organic hemp from California
CO2 extraction
Infused with superfoods
Full-spectrum and broad-spectrum CBD
Up to 2500 mg of total CBD
Flavored with natural ingredients
Pet products
30-day Money Back Guarantee

Limited potency options
No isolate-based products
Gold Bee is a true maverick in the CBD space. This company makes full-spectrum CBD edible gummies, oils, capsules, and creams infused with superfoods such as organic honey and coconut oil.
You can find products for both humans and pets, including:
CBD oils
CBD capsules
CBD edibles

CBD gummies
CBD honey sticks

CBD roll-on
CBD for pets
Gold Bee sources its hemp from California; it has partnered with local farmers to create its proprietary blend of high-CBD strains. These plants also boast high terpene content, leveraging the full potential of the entourage effect.
You can view the complete lab analysis of Gold Bee's products on its website.
CBDPure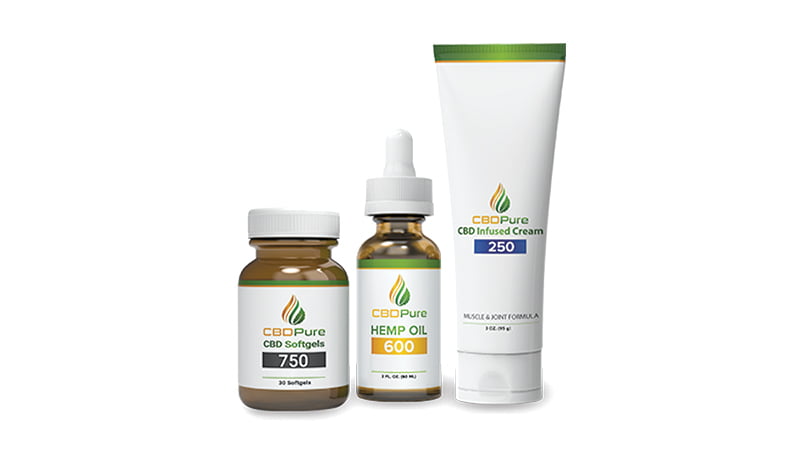 Pros
Cons

Organic hemp from Colorado
Full-spectrum products
Well-thought-out formulations
90-day Money Back Guarantee
One of the pioneer brands in the USA

Narrow product range
Lack of flavored products
Premium pricing
CBDPure is a family-owned business that focuses on mastering classic formulas of CBD made from organic hemp grown in Washington and Colorado. The company was started in 2016 but it hasn't added any new formats since the launch.
You can choose from the following products:
CBD oil
CBD cream
CBD for pets
The CBD pet oil is actually the weakest version of the CBD oil that was previously made by humans.
CBDPure is also one of the most transparent brands on the market. Everything from hemp farming to extraction and lab testing is covered on its website, along with batch-specific lab reports.
Final Verdict on the Infinuity CBD
Scams are all around, especially with products that are in high demand like CBD. Before you spend your hard-earned money on a scam with no real presence on the web — such as Infinuity CBD — you may want to double-check your vendor and look for potential red flags.
From poor-quality design to misspelled copy, suspicious URLs, and aggressive marketing, everything seems fishy about this company. There's even no information about the brand, not to mention the lab reports, which Infinuity CBD doesn't provide too.
Always do your homework when shopping for CBD online; and if you're in a rush, feel free to use my recommendations for the alternative options to Infinuity.