Koi CBD Review & Coupon Code (2023 Update)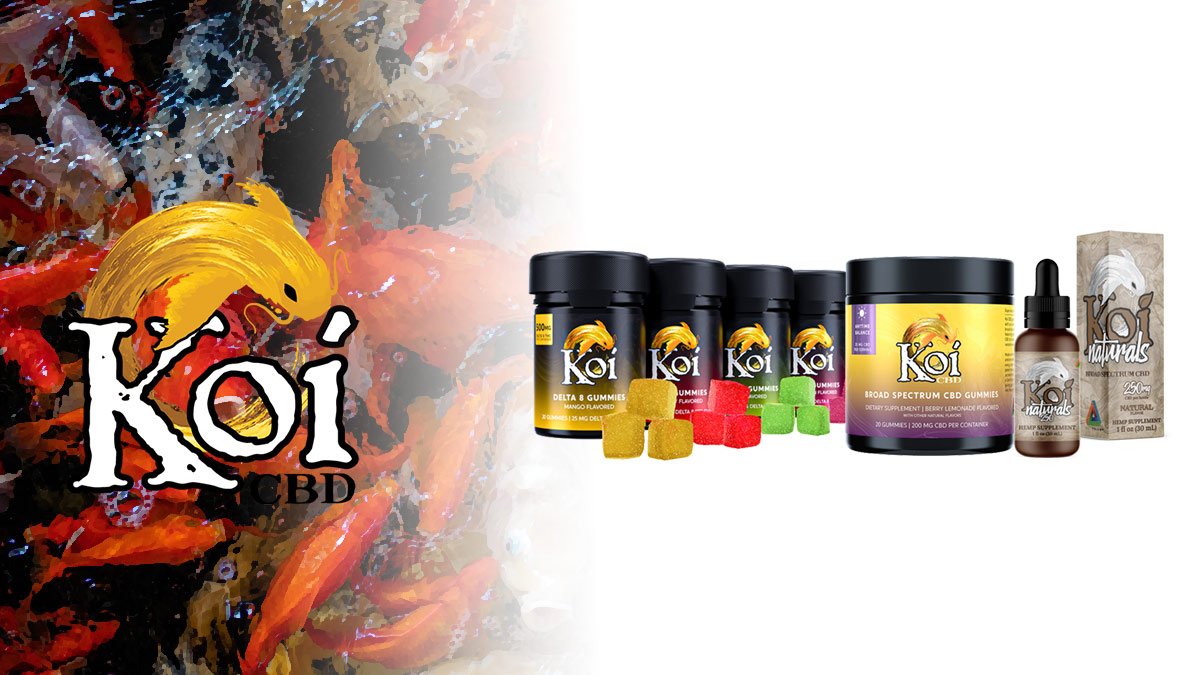 Koi CBD has been around since 2015 and has experienced many ups and downs in recent years (including an upcoming class-action lawsuit filed by the state of California).
Today, Koi's manufacturing methods are (allegedly) based on transparency and quality. The company is mainly known for its innovative pet spray, delta 8 extracts, and extensive flavor options.
In this review, you'll learn all about Koi CBD, its products, methods of testing, and where the company can improve. We'll also offer a list of the best alternative brands to consider.
About Koi CBD
Founded in 2015 by Brent Bruner and Brad Ridenour, Koi CBD is all about creating the standard of quality for CBD users everywhere. The company is located in Norwalk, California.
This company's products are manufactured in an ISO Certified Lab from clean hemp grown in Colorado, Kentucky, and Oklahoma.
Koi CBD is a member of several hemp associations, like the U.S. Hemp Roundtable and the Hemp Industries Association.
Koi CBD's reputation has been stained by a federal warning and a few lawsuits. In 2019, the brand received an FDA warning letter regarding the federally prohibited action of marketing products as dietary supplements and making medical claims. [1]
The brand has also been involved in two lawsuits related to the labeling and advertising of its products. Koi specialized in broad-spectrum CBD, but a customer was let go from her job after she failed a drug test using their products. Despite public backlash and controversy, the company is still standing.
Koi CBD Product Range:
Koi's products can be classified into two main categories: broad-spectrum/full-spectrum CBD products and delta 8 THC products. The most popular ones? Koi Delta 8 THC Gummies, Koi CBD Gummies, and Koi Naturals Hemp Extract CBD Oil Tincture.
1. Featured Product: Koi Delta 8 THC Gummies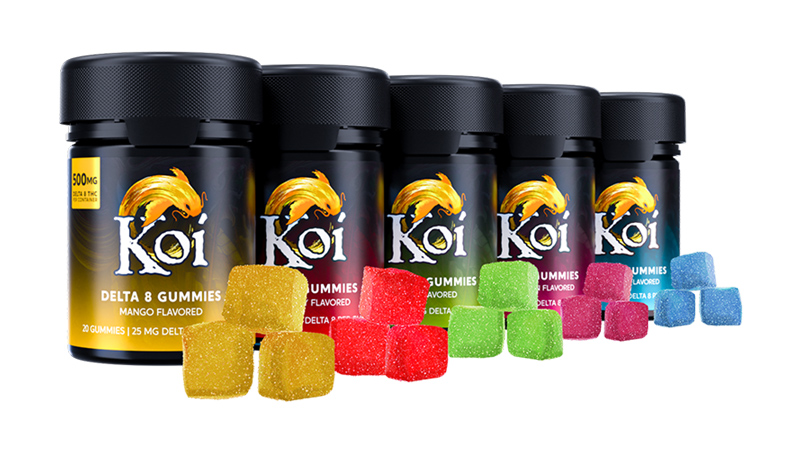 The Koi Delta 8 THC-infused edible gummies stand out due to the wide variety of flavors, including watermelon, lime, mango, strawberry, and blue-razz. Unlike brands that spray delta 8 onto their gummies, Koi CBD carefully blends the gummies to ensure consistency throughout.
These gummies are derived from hemp and do not exceed 0.3% delta 9, as per federal requirements. Adults can take one every six hours or as needed because they are reasonably potent (25 mg per gummy). These gummies are also available in a 6 piece resealable bag.
Product Specs:
| | |
| --- | --- |
| Total Delta 8 THC | 150–500 mg |
| Extract Type | Delta 8 Distillate |
| Delta 8 Potency | 25 mg per gummy |
| Flavors | Watermelon, Lime, Mango, Strawberry, and Blue-Razz |
2. Koi CBD Gummies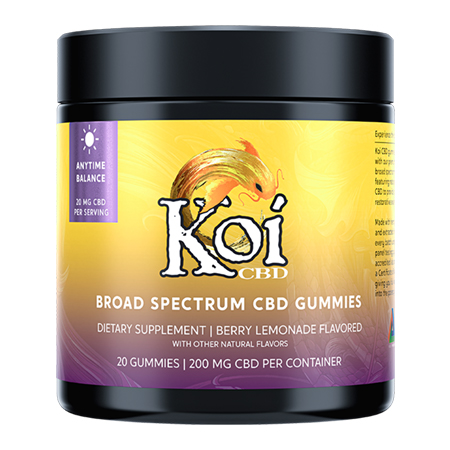 This brand offers premium CBD-infused gummies online and in-stores. They offer three vegan-friendly, allergen-free CBD gummy options, but the Anytime Balance CBD Gummies take the lead. These broad-spectrum gummies are infused with the 20 mg of Koi PRIZM™ Broad-Spectrum CBD per serving (2 gummies). They provide a tasty wellness experience without causing drowsiness or interfering with your day.
Crafted using high-quality hemp extract, these gummies are legal in all 50 states under the Farm Bill. Each gummy contains 10 mg CBD and an undetectable amount of THC (0.001%). The brand's full-spectrum CBD Gummies provide a stronger entourage effect due to the presence of delta 9 THC (5 mg).
Product Specs:
| | |
| --- | --- |
| Total CBD | 60–600 mg |
| Extract Type | Broad-Spectrum |
| CBD Potency | 25 mg per gummy |
| Flavors | Berry lemonade & cherry limeade |
3. Koi Naturals Hemp Extract CBD Oil Tincture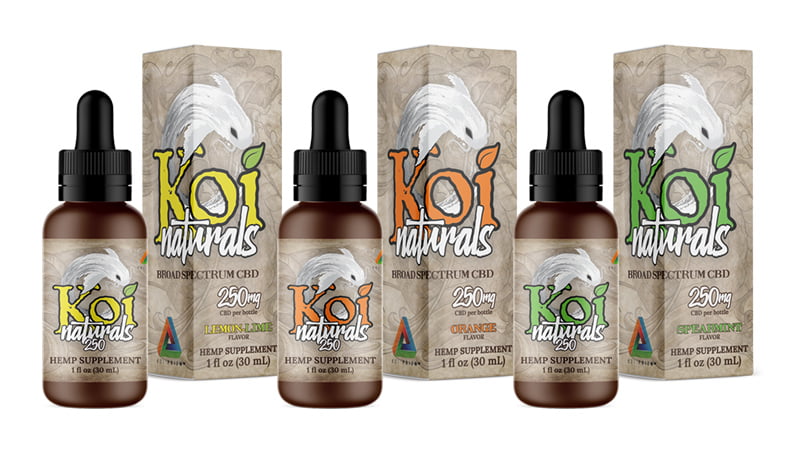 The Koi Naturals CBD Tinctures are a unique blend of natural flavored oil (and ingredients) and the premium Koi PRIZM broad-spectrum hemp extract. It features naturally occurring CBD and other cannabinoids and offers an entirely refreshing experience.
The 60 mL broad-spectrum tinctures come in two strengths: 1500 mg and 3000 mg and several flavor options. The 30 mL comes in several strengths, from 250 mg to 2000 mg. The Koi Natural CBD Tinctures are non-psychotropic because of their undetectable THC levels (less than 0.001%).
Product Specs:
| | |
| --- | --- |
| Total CBD | 250–3000 mg |
| Extract Type | Broad-Spectrum CBD |
| CBD Potency | 8–50 mL |
| Flavors | Peppermint, Spearmint, Strawberry, Orange, and Lemon-Lime, Natural (unflavored) |
The brand offers a comprehensive product range that includes CBD gummies, tinctures, blams, inhalers, skincare, and bath & body items. It's primarily known for its CBD Vape Oils and Juice and CBD Spray for Pets. The delta 8 category is also broad and includes delta 8 gummies, tinctures, edibles, and flowers.
What Koi CBD Does Well:
The company is generally known for its customer service, which is handled by competent professionals. They offer support for the buying process and quick and thorough answers to questions from first-time delta 8 users.
Koi CBD also offers a range of products in distinct (and unique) flavors with an excellent taste. They present an extensive line of broad-spectrum CBD products and are working on more delta 8 THC. As the company continues to grow, it may introduce other cannabinoids.
Where Koi CBD Falls Short
While Koi CBD is a good option for the average user, the company falls short in a few key areas:
The first area is the value of these products. Some of Koi's products are quite expensive, which may not directly correspond to the value they provide. The company has good quality products made from clean hemp and through CO2 processes, but that doesn't differentiate it too much from other brands with similar backgrounds.
Koi's CBD Gummies taste great, but the delicious Berry Lemonade flavor may not be enough to compensate for their high price. The 6-count container has six 10 mg gummies (recommended serving size is two gummies) and at $0.16 per mg CBD (nearly double the industry average).
The brand also offers hemp extract CBD shots. This innovative product blends 25 mg of CBD with 2.5 mg of melatonin but at an extremely high price.
Alternative Brands To Check Out Instead
Koi CBD is just one of many companies operating in the CBD and delta 8 space right now. Here are three brands frequently listed at the top of their class that are worth considering instead.
1. Area 52 — Best Delta 8 THC Alternative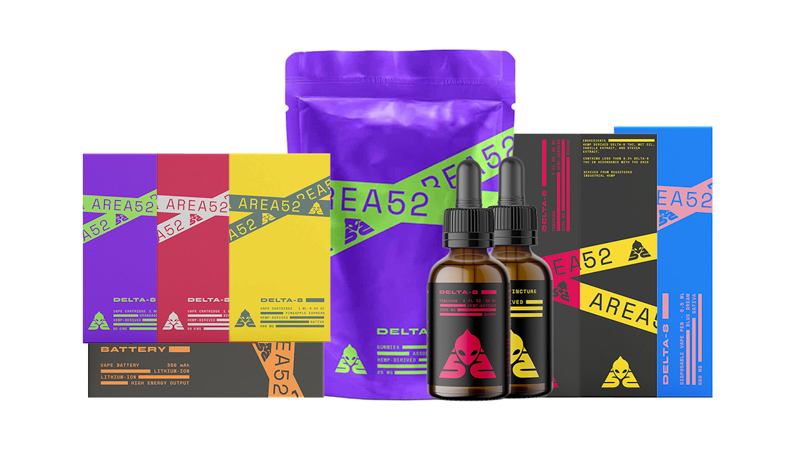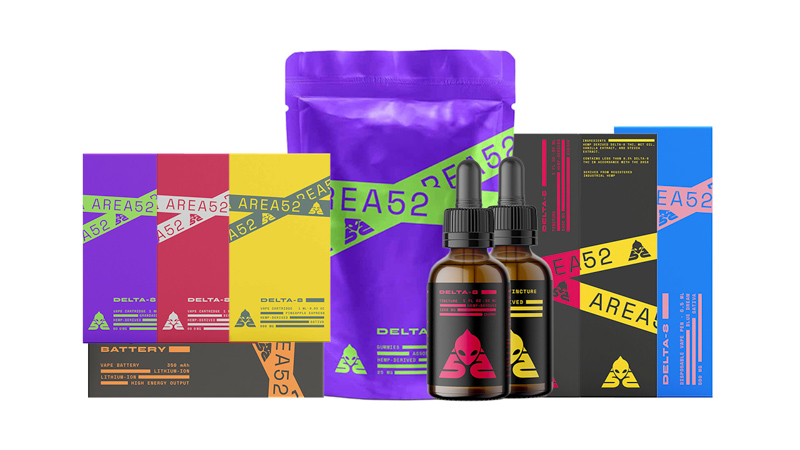 Get 15% off all Area 52 products.  Use code "CFAH" at checkout.
This Nevada-based company is a force to be reckoned with. The continual offering of high-quality D8 products in the market proves that Area 52 doesn't cut corners, and they practice what they preach. Their motto is: "if we don't use it, you can't buy it."
Area 52 uses a unique, slow diffusion extraction method of manufacturing, which involves CO2 and creates a cleaner and more enjoyable experience. The brand uses certified organic hemp grown in California, Washington, and Oregon, which is rare to have on paper.
They don't publicly display every test result because of how frequently they're conducted. However, they keep a database of these tests internally and can send you the specific results for the batch you purchased using a serial number on every bottle of the product sold.
Products offered by Area 52:
Delta 8 Gummies
Full-Spectrum Gummies
Tinctures
Concentrates
Vape pens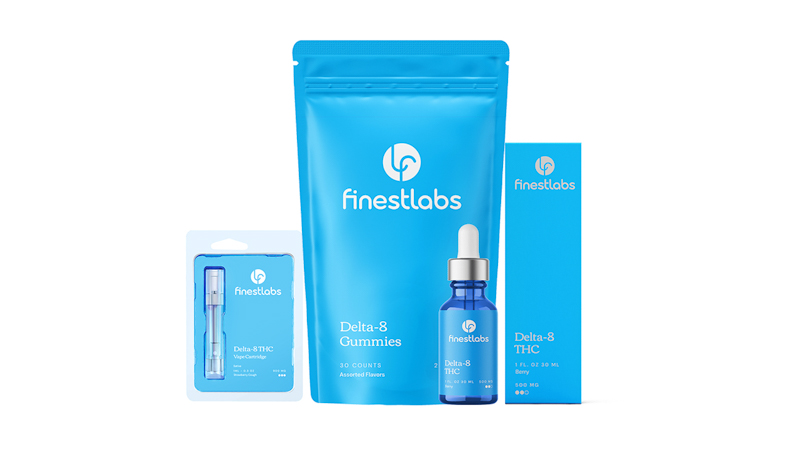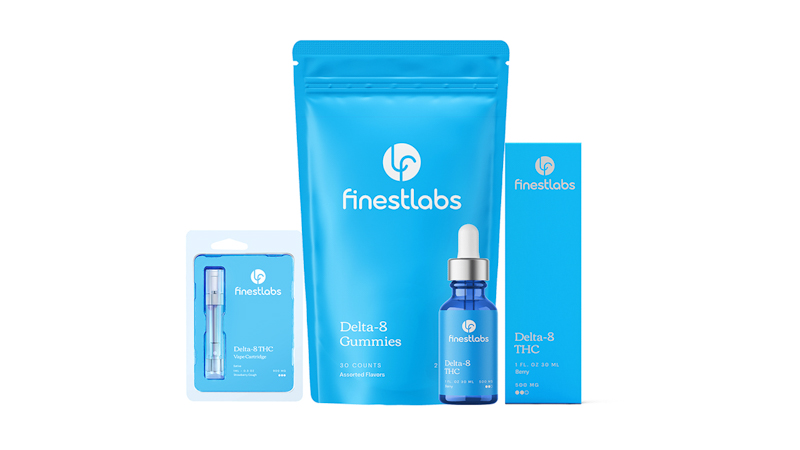 This company's power lies in its unique, all-natural terpene-based flavors and rare cannabinoid extracts. Finest Labs' meticulous production processes create extracts with nearly 100% purity.
The Finest Labs team is small but consists of several highly experienced chemists dedicated to the art of cannabis extraction. The company first started selling cannabis-derived terpenes but has been branching out into other active ingredients, including delta 8 THC.
The brand is highly environmentally focused and works closely with organic US farms passionate about preserving the natural landscape.
Products offered by Finest Labs:
Delta 8 Gummies
Delta 8 Tinctures
Delta 8 Vape Cartridges
Terpenes
3. Royal CBD — Best CBD Alternative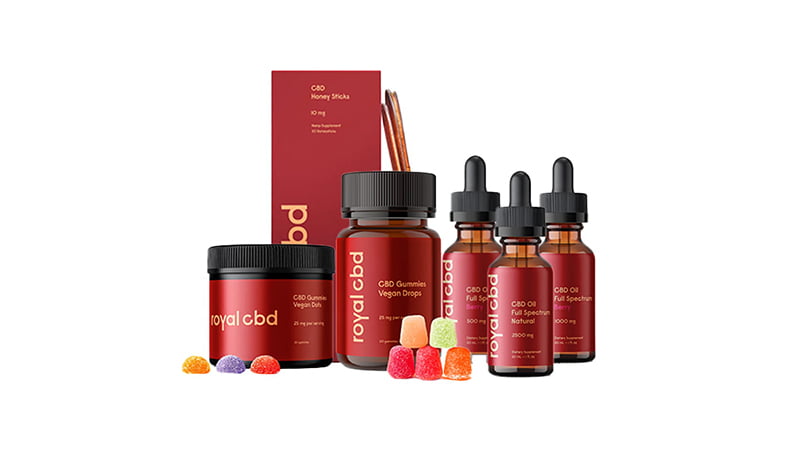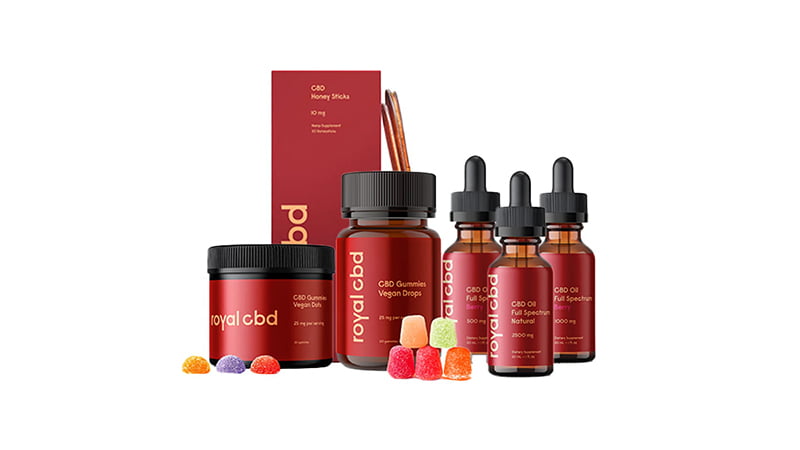 Get 15% off all Royal CBD products.  Use code "CFAH" at checkout.
Royal CBD deliberately stands against the mediocrity of the CBD industry. The company "spends the time and effort to make products worth buying." The brand specializes in low, medium, and high potency CBD oils and other CBD products.
You can also find a super-potent 2500 mg full-spectrum from this company — one of the strongest, most potent CBD oil products we've tried yet.
Specializing in one cannabinoid is a sign of the company's narrowed focus on quality and dedication to excellence. 
Royal CBD uses organic hemp sourced locally and from local farmers, but there's more to it. The brand's CO2 extraction methods and genetically stable strains ensure the consistency of the full-spectrum extracts without further intervention. This is extremely beneficial because it removes the need for the faux modification of cannabinoid ratios, which is the norm in the industry.
Products offered by Royal CBD:
CBD Oil
CBD Gummies
CBD Softgel Capsules
CBD Cream
CBD Roll-on Gel
Final Verdict: A Decent Brand, But Tread With Caution
Koi CBD has a great mission statement and plenty of products to choose from. But there may be some sketchiness that's been going on behind the scenes that have recently led to a class-action lawsuit.
While we don't believe there's anything wrong with these products, it's important to know what you're getting into. Many of Koi's products lack sufficient testing, and the company has gotten in trouble in the past for using misleading marketing tactics and hiding failed THC tests.
If you're looking for a quick alternative, we suggest Area 52 for delta 8 products or Royal CBD for CBD products.