Is Weed Legal in New Hampshire? NH Cannabis Laws (June 2023)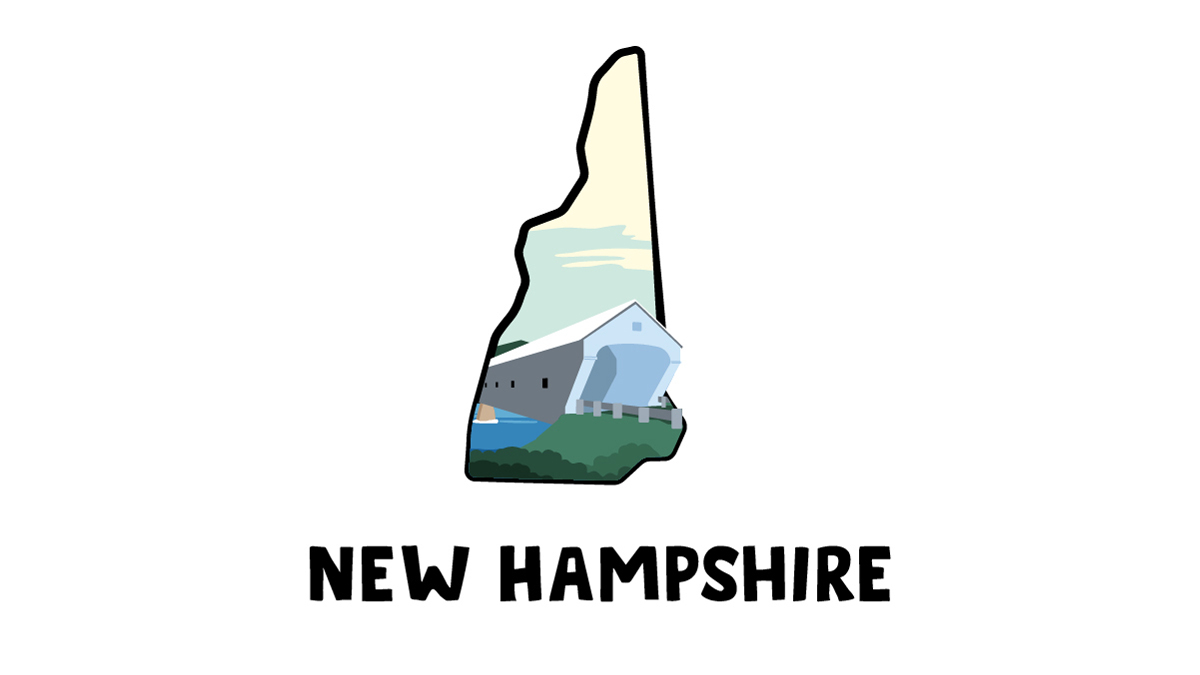 This article examines the legal status of marijuana in the state of New Hampshire, whether for medical or recreational use, and future legislation of both aspects. It also considers the availability and use of hemp-based products as an alternative.
Is Weed Legal in New Hampshire?
In general, the use, possession, and sale of marijuana and its derivatives are illegal in New Hampshire, and it is the only state in New England where this applies.
All other New England states, including Maine, Massachusetts, Rhode Island, Connecticut, and Vermont have passed laws legalizing recreational marijuana.
Marijuana is legally available to people with certain medical conditions, and there are limits to the amount that qualified patients may obtain.
Related: Cannabis Laws by State
Is Recreational Marijuana Legal in New Hampshire?
Recreational marijuana is still illegal in New Hampshire, although it was decriminalized in 2017.
Governor Sununu signed Bill HB640 into law, reducing the penalty for possession of three-quarters of an ounce or less. It was changed from being a criminal misdemeanor to being a civil violation punishable by a fine, although the penalties for larger amounts are still under the criminal code and are subject to escalating punishments.
The laws also apply to cannabis-related products such as edibles, tinctures, and topical ointments, and to the sale or possession of drug-related paraphernalia.
Is Medical Marijuana Legal in New Hampshire?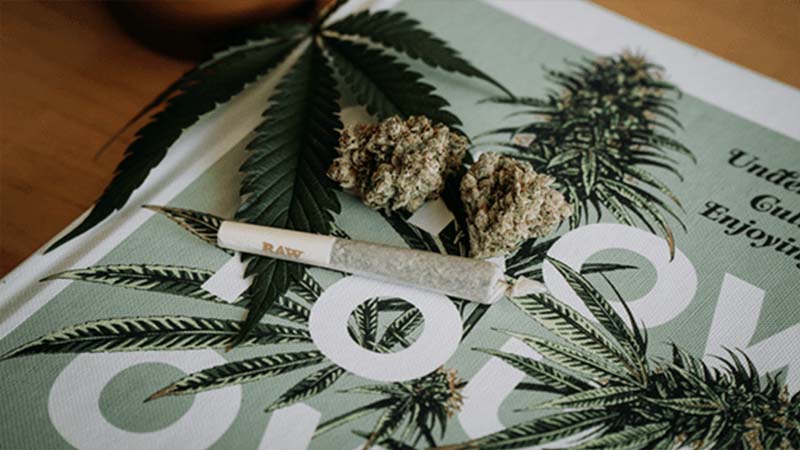 A law allowing patients with specified medical conditions to buy, possess and use cannabis was enacted in 2013, coming into effect in 2016. Called the Therapeutic Cannabis Program (TCP), it set up cannabis dispensaries called Alternative Treatment Centers (ATCs) where registered patients and caregivers can obtain cannabis and related products to treat their medical conditions and symptoms.
The ATCs are set up as independent, non-profit dispensaries, and they also grow cannabis plants under controlled conditions. The TCP checks and controls the ATCs to ensure public health and safety and make sure that they comply with all state and federal regulations.
Registered patients are allowed to obtain a maximum of two ounces of marijuana within any ten-day period and are not allowed to grow their own plants, although this has been proposed since 2017. So far, House Bill 350, allowing home cultivation of medical marijuana, has not been passed by the Senate.
Penalties for Marijuana Possession in New Hampshire
Possession of small amounts of marijuana in New Hampshire is treated like a traffic violation rather than a criminal offense.
However, getting caught with larger amounts is treated more seriously, including heavy fines and terms of imprisonment.
Possession of up to three-quarters of an ounce for personal use (first or second offense): a fine up to $100
Possession of more than three-quarters of an ounce for personal use: a misdemeanor, up to one year in prison, fines up to $350
Possession with intent to sell is still treated as a felony, with escalating penalties:
Less than one ounce (first offense): maximum jail term of three years, fines up to $25,000
Between one ounce and five pounds: jail terms from seven to 20 years, fines from $100,000 up to $300,000
Possession of drug paraphernalia is a misdemeanor, with up to one year in prison and fines to a maximum of $2,000
Penalties for the cultivation of cannabis for either personal use or for sale are based on the total weight of the plants and are prosecuted under the same laws as for possession or sale as above.
Is Weed Decriminalized in New Hampshire?
Yes, but only partially. If that's your first offense, you'll just receive a ticket. However, subsequent violations may lead to fines and imprisonment.
What's the Future of Cannabis Legislation in New Hampshire? 
The state governor, Chris Sununu, vetoed a Bill in 2019 that would have allowed people to grow a limited amount of marijuana for personal use. But recently in 2022, Governor Sununu has been quoted as saying that change in New Hampshire is inevitable, and that although no bills on the subject have reached his desk, he would view them favorably if it happened.
There is also a push from groups such as the New Hampshire Cannabis Association focusing on the business aspects of cannabis, and suggesting that there will be substantial opportunities for the business community in the cultivation, distribution, and retailing of the drug.
However, two House Bills and Constitutional Amendments were rejected in 2022: HB 629 would have legalized the possession and cultivation of marijuana by adults aged 21 or older. HB 1598 would have established a state monopoly on the sale of marijuana, which could be cultivated by licensed businesses but only sold in state-run stores.
Both these bills died in the Senate in 2022 after the latter unanimously rejected the House-passed legalization bills.
Democratic and Republican House leaders also introduced HB 639 in 2023, and the House passed it in a 272 vs 109 votes on April 6. The bill would have also allowed adults (21 years and older) to buy, possess, use, and transport a certain amount of marijuana legally within the state. It would have also established and regulated retail marijuana sales by licensed and state-taxed cannabis businesses. With 71% of the votes, the bill was then sent to the Senate.
Unfortunately, the Senate rejected the bill yet again on May 11, 2023, in a 14 vs 10 vote.
74% of New Hampshire voters support legalization. House-passed legalization bills reach the Senate, which the latter rejects year after year. With the governor expressing his support for legalization, we might see the Granite State joining the growing list of fully legal states soon.
Delta-8 THC: A Better and Legal Alternative to Marijuana in New Hampshire?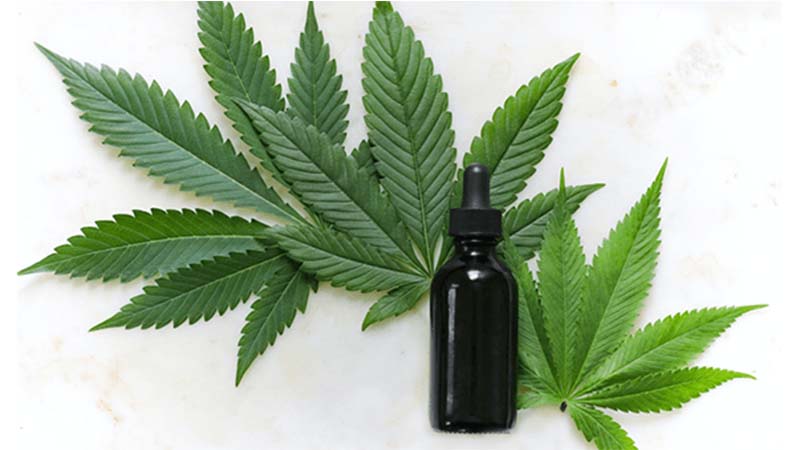 As New Hampshire residents are waiting for legalization, a legal alternative has popped up on the horizon.
It's delta-8 THC.
It produces a milder psychoactive buzz and carries a lower risk of anxiety and paranoia. Better yet, it's fully legal in New Hampshire.
But before we show you where to buy delta-8 products in the state, let's elaborate on delta-8 THC itself.
Delta-8 THC vs. Delta-9 THC
Delta-8 and delta-9 are two different variants of the THC molecule. Both compounds have a similar chemical formula, but you can't say the same about their structure.
Delta-8 THC has a double bond at the eighth carbon chain, while delta-9 THC has this bond at the ninth chain.
This small difference causes delta-8 THC to lose some potency. Namely, delta-8 is about 50% as strong as delta-9 THC.
It's also not as cerebrally stimulating — the main reason why sensitive users are turning to it from regular weed.
Cons of Delta-9 THC from Marijuana
Delta-9 THC is mildly psychoactive with relaxing properties. It has a biphasic nature, which means that different strength doses can give opposite effects.
A low to moderate dose of Delta 9 THC may elevate your mood, ease stress, and boost your focus and creativity.
Larger doses will affect your thinking patterns, your perception of time and cause euphoria, increased appetite, and either increased energy or sedation, depending on the strain of THC.
In most people, it produces an enjoyable high without any unpleasant reactions.
However, some people are sensitive to Delta-9 THC and find that larger doses produce unpleasant and uncomfortable side effects, including:
Anxiety
Paranoia
Cold sweats
Dizziness
Confusion
Increased heart rate
Short-term memory problems
Effects and Benefits of Delta-8 THC
Delta-8 produces similar effects to Delta 9, but since it's only half as strong, it gives a smooth "buzz" that doesn't get users as anxious or paranoid. Of course, that can still happen if you take more than enough, but it's much rarer in regular doses. For this reason, many users call it "cannabis lite" or "diet weed".
A caveat is that very little research has been carried out on Delta-8 and its long term effects, and the FDA has already issued a warning that it has not been evaluated or approved, so any potential health risk is unknown.
Where to Buy Delta-8 in New Hampshire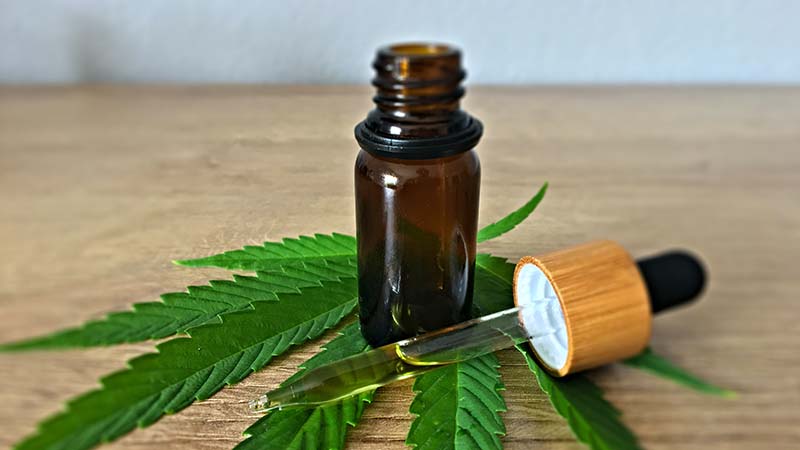 Delta-8 THC is trending in New Hampshire, so it's no wonder that entrepreneurs want to capitalize on the booming market.
You can find dela-8 products in specialized CBD stores, vape shops, convenience stores, and even gas stations.
However, if you're looking for the best deals on safe and lab-tested products, check out reputable online retailers.
Benefits of Buying Delta-8 THC Online
Buying delta-8 THC online comes with a few perks compared to local stores, such as:
Lower prices: no middleman means lower baseline price tags. You can further save more money by taking advantage of reward programs, subscription orders, and coupon codes.
Convenience: you can browse through hundreds of formulas in the comfort of your home; there's no need to bounce between one store to another.
Fresher products: online vendors don't store their products on the shelves for months before they sell.
More transparency: you can read third-party lab reports or user reviews on independent websites to get a bigger picture of your potential supplier.
Best Online Delta-8 THC Vendors in New Hampshire
Finding a decent delta-8 product in this unregulated market can be a challenge, especially if you have no experience in buying cannabinoid extracts.
However, if you're short on time, feel free to use our recommendations of the two leading brands that provide the best value for the money in 2023.
1. Area 52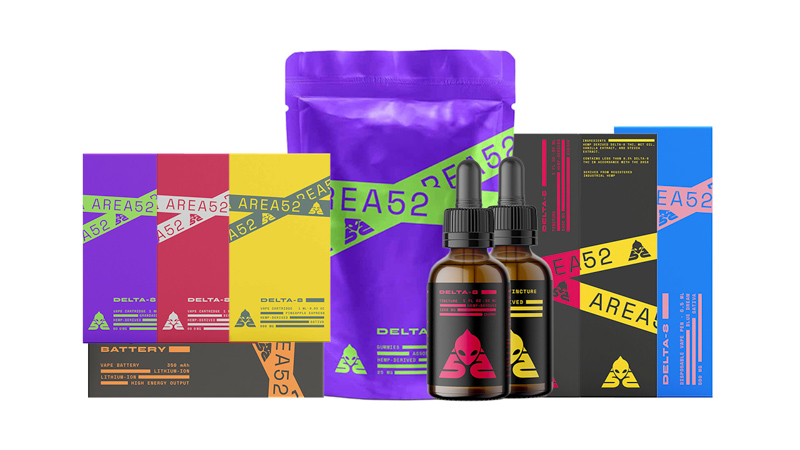 Get 15% off all Area 52 products. Use code "CFAH" at checkout.
This company is a real cannabinoid powerhouse. It started out selling delta-8 products from distillate, including tinctures, gummies, vape pens, and pre-rolled joints.
Not only are these products potent, but they're also rich in terpenes, enhancing the buzz and health benefits of delta-8.
You can also choose from the company's line of "true full-spectrum products" that feature classic forms like CBD oil and different versions of gummies, as well as delta-8 THC honey and HHC gummies.
2. Finest Labs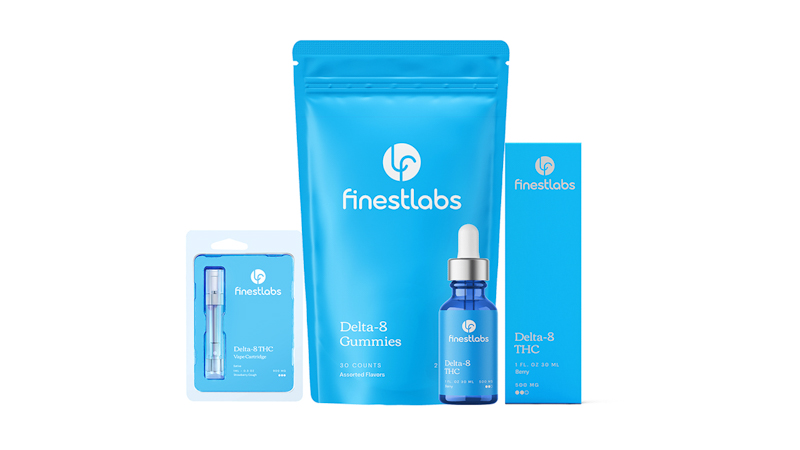 Finest Labs doesn't offer as many products as Area 52, but its formulas are well-thought-out and crafted with high-quality ingredients. The company tests each batch in an independent laboratory for potency and purity, providing current certificates of analysis (CoAs).
You can choose from delta-8 THC tinctures and gummies; the former product is better suited for beginners because it contains a light dose of 15 mg per mL. The latter, on the other hand, comes with 25 mg per gummy, making it a more appealing pick for seasoned consumers.
Finest Labs also offers over 30 blends of botanical terpenes that recreate the flavors and aromas of various cannabis strains, including Indica, Sativa, and Hybrid cultivars.
FAQs
Who can buy medical marijuana in New Hampshire?
The New Hampshire law RSA 126-X:1 established a list of qualifying medical conditions, and patients must be diagnosed either with one of these or a combination of a qualifying diagnosis and a qualifying symptom.
The full list is available on the Health Department website here, and the list includes:
Acquired immune deficiency syndrome
Alzheimer's disease
Cancer of all types
Crohn's disease
Epilepsy
Glaucoma
Hepatitis C
Lupus
Multiple sclerosis
Muscular dystrophy
Parkinson's disease
Positive status for human immunodeficiency virus
Spinal cord injury or disease
Traumatic brain injury
Qualifying Symptoms:
Agitation of Alzheimer's disease
Chemotherapy-induced anorexia
Constant or severe nausea
Moderate to severe insomnia
Moderate to severe vomiting
Seizures
Severe, persistent muscle spasms
Wasting syndrome
Can you grow weed in New Hampshire?
Unfortunately, growing weed for personal use is illegal in New Hampshire – even if you're a medical marijuana patient. The only way to get marijuana in New Hampshire is through a medical dispensary.
Can you smoke marijuana in public?
No, public consumption of marijuana is prohibited in New Hampshire. Medical marijuana patients must limit their consumption to private sites.
Can you travel with marijuana in New Hampshire?
Yes, but only if you have a valid medical marijuana card. Your weed must be kept in a closed container and away from the driver's reach — preferably in the trunk.
Is CBD oil from hemp legal in New Hampshire?
Yes. New Hampshire allows hemp-derived CBD products under the 2018 Farm Bill. As long as your CBD oil doesn't contain more than 0.3% delta-9 THC, you won't have any problems with the law.
Weed in New Hampshire: the Bottom Line
The bees are buzzing that New Hampshire will soon follow the other New England states in legalizing cannabis for recreational use.
The current state governor, Chris Sununu, seems open to the idea and is waiting for the appropriate legislation to land on his desk before he makes a final decision to sign off on it.
Polls show that this would be a popular move, with around 75% of the state's residents in favor of legalization. Thus it is in the hands of the lawmakers of the House and Senate to draft the bills and amendments that satisfy each party, although the history of this process over the last ten years shows that it is unlikely to happen overnight. Perhaps the successful business opportunities experienced in neighboring states will inspire the politicians to move a little faster.