Premium Owl CBD Review & Coupon Code (2022 Update)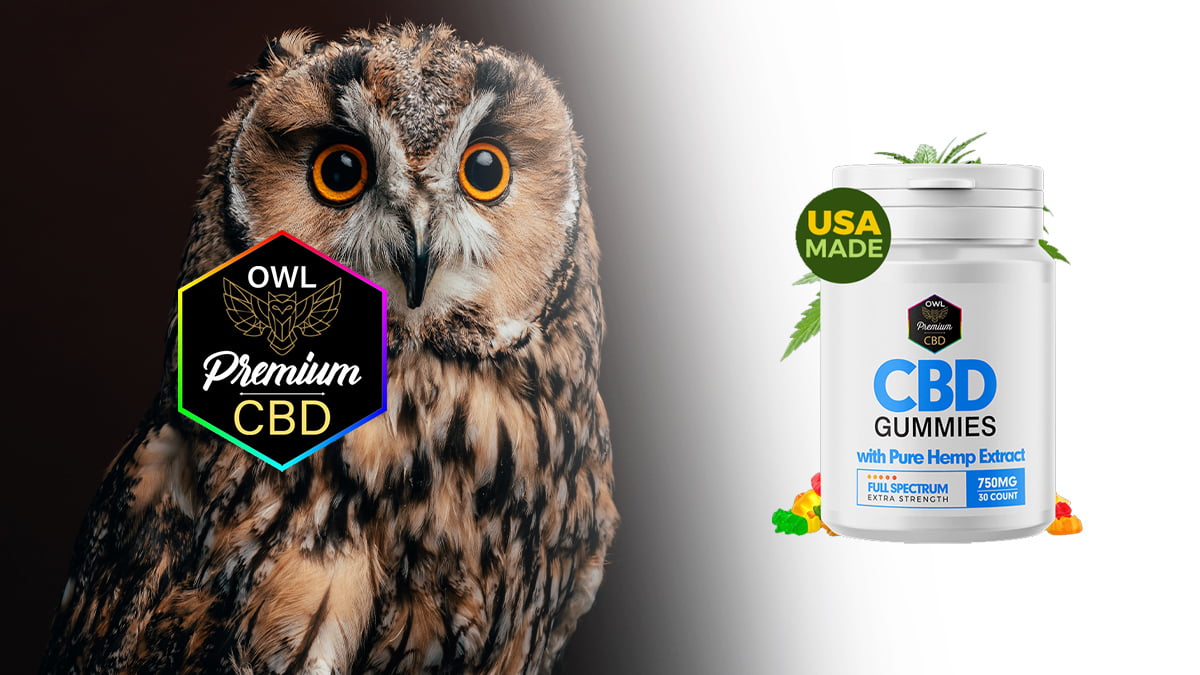 Even though the CBD market has matured over the years — with plenty of established names and the growing consciousness of customers — CBD scams don't seem to go away any time soon.
In fact, scam CBD companies are popping up like mushrooms after heavy rain — trying to cash in on a booming industry.
Premium Owl is one of such companies that is trying to make appearances as a premium brand specializing in pure CBD gummies.
But, when you compare the website and other aspects with the top of the market's ladder, you'll notice that this company is far from legit.
In this Premium Owl review, you'll learn everything about this company, from the products it sells to the tools it uses to deceive uninformed customers.
Who Is Premium Owl?
It's actually difficult to say something about premium oil because the company doesn't provide any information on its website.
Most of the time, CBD companies want their customers to get familiar with different aspects of their activity, such as hemp farming, extraction methods, testing, and formulations. There's also a story behind the company's launch and some details about its founders.
Here, however, we're left with nothing. When you enter the Premium Owl website, all you can read is some long marketing fluff touting the health benefits of CBD and the quality of the Premium Owl gummies.
Is Premium Owl Legit Or A Scam?
Premium Owl is definitely a scam that you should avoid if you don't want to throw your hard-earned money down the drain.
While some fake brands try to copycat premium companies with their product lineup and website design, Premium Owl doesn't even try to appear as one.
Everything from website design and copy to a weird checkout page and suspicious-looking URLs is shady about this brand.
Not only doesn't Premium Owl disclose any details about its brand, but it also doesn't have a "Shop" page where you could browse through its products.
The company claims to offer premium CBD gummies, but instead of providing a clear product description, it's trying to make you click on one of its sales links that instantly takes you to a checkout page where you need to give your personal and financial information.
Type of Scam: Fake CBD Company
Shady entrepreneurs can be pretty creative when it comes to deceiving their customers. There are different CBD scams out there, from MLM companies to free trial scams, Shark Tank products, and fake brands.
Premium Owl is a fake company that doesn't even sell any CBD products. Instead, it uses fake images of random CBD gummies labeled as "pure CBD," while the company claims to offer full-spectrum products on its website.
The website is also fake — and so is the checkout page. The whole business uses a CBD scam to intercept your personal and financial data.
How This Scam Works
Most likely, you won't receive any package, and even if you do, it won't be the product you've ordered.
Moreover, Premium Owl will charge you extra for other products, such as their ebooks and courses, which also don't exist.
They will explain that you've paid for several days of a free trial period and that the extra products are included in a monthly membership plan — although you didn't sign up for it.
Since there's no contact info, it's extremely difficult to reach out to Premium Owl for a refund. You'll need to check the official company data on one of the government websites to receive contact details.
How to Spot This Scam
Once you fall for the fake CBD company scam, it might be challenging to delete your subscription, not to mention getting your money back from the scammer.
Fortunately, these rip-offs are usually quite easy to spot.
I'll use the Premium Owl example to highlight all the indicators.
Poorly Designed Website
Sometimes, you can feel something's wrong with the company right off the bat. Usually, it's the website that gives you the first doubts.
Reputable companies invest in professional web design and informative content to feel safe buying from them.
Scam CBD brands like Premium Owl have poorly designed websites that don't even have the company's logo. When you enter the Premium Owl website, all you can see are screenshots of the checkout page and some suspiciously-looking ads.
The company uses fake magazine covers with banners like "now available without a prescription" to fool you into thinking that buying CBD from anyone else is a burdensome process.
No Information About the Brand
Premium Owl keeps the information about the brand undisclosed. You won't learn a thing about its founders, the mission, farming practices, extraction methods, and other important details.
In fact, Premium Owl doesn't even mention where it comes from — and when it was founded.
It's just an anonymous vendor of "premium CBD gummies."
Suspicious URLs
Trustworthy brands use simple URLs that reflect their brand names and use the standard ".com" ending. Any deviation from that domain name — or strangely-looking symbols — indicates a potential scam.
For example, the URL of Premium Owl should look like this:
Premiumowl.com
But instead, the address says:
Owl-premium-cbd-gummies.jimdosite.com
The company uses a random website builder, and it doesn't even have its own domain.
The checkout URL is also different from the industry standard. That's even more alarming because most brands use the same credit card processing companies with a uniform design and simple URLs.
No Lab Reports
The purity and potency of CBD products aren't regulated in the USA — these areas still remain in legal limbo — so it's the manufacturer's responsibility to ensure that the product contains as much CBD as stated on the bottle and is free of contaminants like pesticides, herbicides, heavy metals, and mycotoxins.
Unfortunately, Premium Oil doesn't include the lab reports on its website, meaning that it might not test its gummies at all. The product may be contaminated or contain hemp seed oil instead of CBD oil, which doesn't contain any cannabinoids and terpenes.
Fishy Checkout Page
As I said earlier, most checkout pages look and feel the same online — that's by design.
Processing credit card data calls for a lot of high-tech security to prevent third-party entities from intercepting and stealing sensitive information. Most eCommerce companies use the same providers to handle the checkout process.
As a workaround, scammers use obscure overseas credit card companies in order to charge you for the purchase. The checkout process involved with these companies usually feels strange compared to what you use most of the time.
It's easy to spot this scam with Premium Owl. Once you click to pay for your order, the URL changes to something completely different. That's the moment you should close the tab and forget about the company — legit vendors won't need a separate website address for the payment gateway.
Exaggerated Health Claims
Using health claims regarding specific health conditions in relation to CBD is forbidden by the FDA. That's because human clinical trials are still ongoing for full-spectrum CBD oils. So, while preliminary studies are optimistic when it comes to the health benefits of cannabidiol, claiming it can cure cancer or fix autoimmune disorders is an immoral overstatement.
Premium Owl claims that its gummies will help you reduce arthritis, chronic pain, anxiety and depression, and insomnia.
It's only a matter of time that the FDA issues a warning letter for these health claims — unless Premium Owl suddenly disappears after getting their share of the CBD cake.
Fake CBD Bottles
Another problem with Premium Owl is that it uses fake bottles to advertise its CBD gummies. I've seen the same bottles across other fake brands, which means that Premium Oil probably doesn't make any CBD products at all.
Poor Website Copy
Nobody is a natural-born writer, but if you claim to be an American company and your website doesn't look like it was written in English, then something is clearly wrong about the copy.
Fake CBD brands like Premium Owl hire cheap copywriters from overseas who sometimes don't know how to write grammatically correct content — and their copy hurts to read. There's a lot of errors, ungrammatical sentences, and weird wording.
Links from Strangely Looking Websites
When a company makes good products, you'll know it when you search for them on Google. Reputable vendors have a lot of positive reviews and mentions on third-party websites.
In contrast, scam CBD companies like Premium Owl have little to no online presence. When it comes to Premium Owl, the vast majority of websites linking to its products come from backup articles that were created for the sake of ranking high for popular keywords and luring potential customers.
No Reviews from Real Customers
Apart from generic reviews and fake product descriptions on backup websites, Premium Owl has literally ZERO reviews from real customers — suggesting that such products don't even exist.
Alternative Options to Premium Owl
Looking for a safe bet for your first-time purchase? Here's an overview of my top 3 favorite brands that are known for providing high-quality, lab-tested products from locally grown hemp.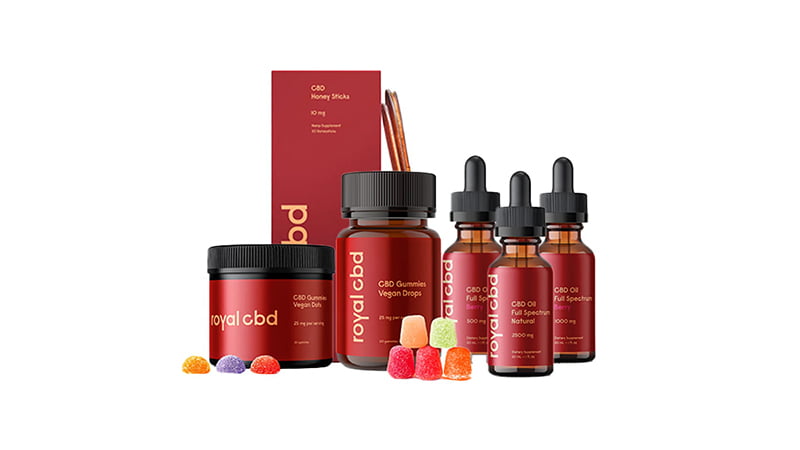 Pros
Cons

Organic, US-grown hemp
Supercritical CO2 extraction
Broad product range
High-strength options are available
Well-designed formulas
Flavored with natural ingredients
Complete third-party testing profile
30-days Money Back Guarantee

A little bit more expensive than the market's average (but still worth the price)
Not available locally
Royal CBD is one of the most popular names on the CBD scene. Established in 2018 by a team of biohackers and hemp enthusiasts, the brand has quickly made it to the top of the ladder. Royal CBD has been featured in popular media outlets such as High Times, LA Weekly, Observer, and We Be High.
The company uses organically grown hemp from Colorado farms to ensure a clean and concentrated sourcing material which is then extracted with supercritical CO2 in a GMP-compliant facility. The entire Royal CBD collection is triple-tested in an independent laboratory for potency and purity — you can reach out for a complete analysis via email.
Royal CBD offers a broad range of CBD products that are good for both beginners and seasoned users, including:
CBD oils
CBD capsules
CBD edibles

CBD gummies
CBD honey sticks

CBD topicals
CBD for pets

CBD pet oil

CBD oil for dogs
CBD oil for cats

CBD dog treats
All these products come in different formulas, sizes, concentrations, and flavors so that you can match them with your health needs and lifestyle.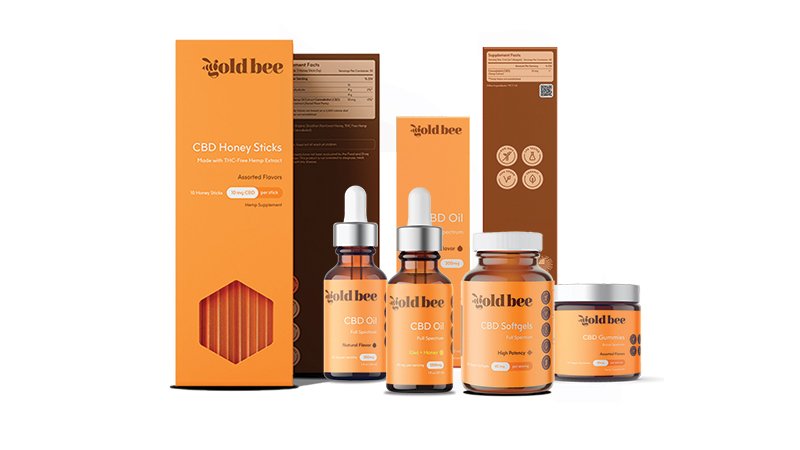 Pros
Cons

Organic hemp from California
CO2 extraction
Infused with superfoods
Full-spectrum and broad-spectrum CBD
Up to 2500 mg of total CBD
Flavored with natural ingredients
Pet products
30-day Money Back Guarantee

Limited potency options
No isolate-based products
Gold Bee is one of the best companies if you're looking for all-organic CBD extracts infused with superfood ingredients. Before enrolling in the CBD space, the company's founders had been making raw honey and coconut oil — both of which are now found in its line of CBD products, such as oils, capsules, creams, and gummies infused with CBD.
Gold Bee has partnered with local farmers in California to create its proprietary blend of high-CBD strains that also boast exceptional terpene profiles. This way, Gold Bee products leverage the full potential of the entourage effect.
You can choose from the following forms of CBD:
CBD oil
CBD capsules
CBD edibles
CBD roll-on
CBD for pets

CBD pet oil
CBD dog treats
These products are non-GMO, gluten-free, and vegan. Gold Bee provides complete certificates of analysis (COA) for its CBD range; you can access them directly on the Gold Bee website.
3. CBDPure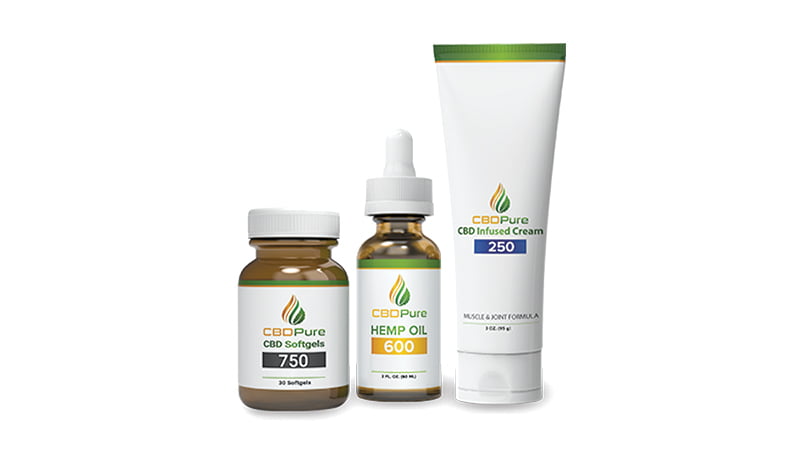 Pros
Cons

Organic hemp from Colorado
Full-spectrum products
Well-thought-out formulations
90-day Money Back Guarantee
One of the pioneer brands in the USA

Narrow product range
Lack of flavored products
Premium pricing
CBDPure was the first company that I bought CBD oil from. It's one of the pioneering brands that started out in 2016. However, unlike other trailblazers, CBDPure's team has abandoned the idea of expanding its product selection and instead focused on mastering its classic formulas.
CBDPure offers a limited product range, including:
CBD oil
CBD cream
CBD for pets
Although you won't find any sophisticated formulas or novel formats in the store, CBDPure is one of the best companies to buy from if you're looking for premium unadulterated CBD oils from organic hemp.
CBDPure also has a generous money-back guarantee. If you're not satisfied with your products, you can send them back within 90 days for a full refund. This means CBDPure is confident about its products' quality and prioritizes customer satisfaction over profits.
Final Verdict: Don't Buy from Premium Owl, You'll Lose Money On Products that Don't Exist
Premium Owl is a classic example of a fake CBD company that leverages the boom on cannabidiol to steal money and sensitive information from unaware customers.
The scam is visible from the moment you enter the Premium Owl website. There's no way this company is legitimate, from fake reviews to poor-quality copy, fishy checkout pages, generic product containers, and the lack of product pages.
Premium Owl will probably charge you extra for products you've never bought, explaining it as the cost of a subscription — that you've never signed up for. Sounds crazy, right?
If you don't want to fall victim to such CBD scams, always make sure to run a solid background check on your potential vendor. Feel free to use my alternative recommendations if you want to kickstart your journey with CBD having the best experience, and knowing the products are safe.