Pure Balance CBD Review & Coupon Code (2023 Update)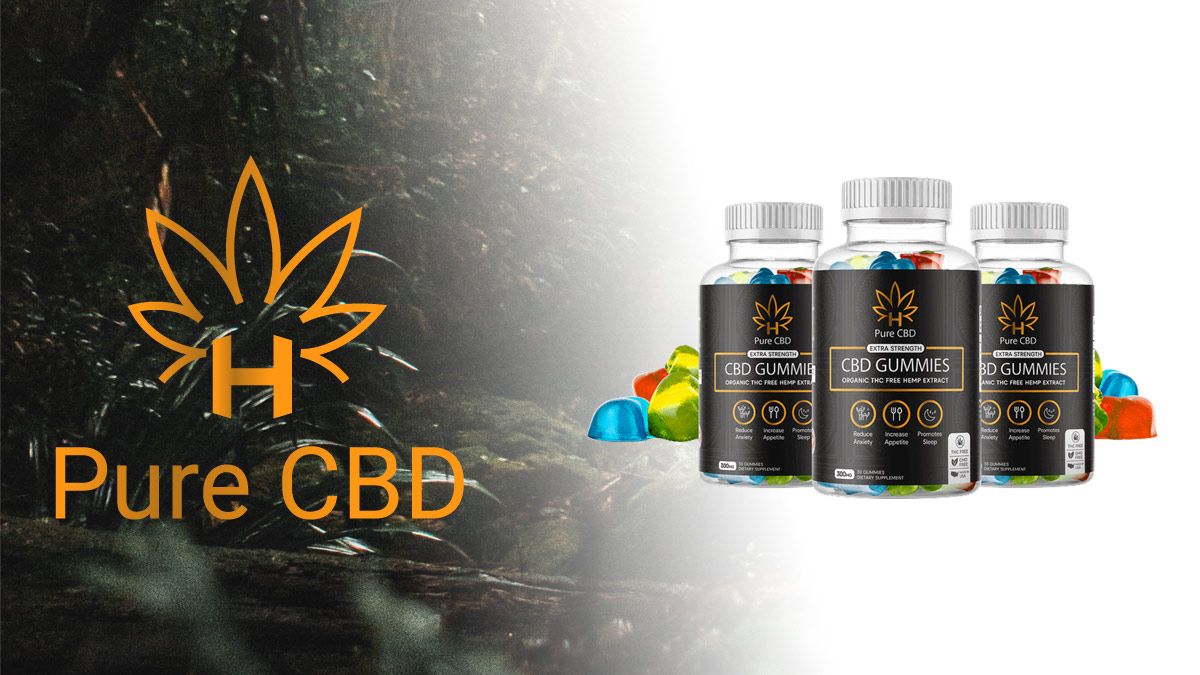 Some CBD scams are difficult to spot with the naked eye.
However, other companies don't even try to pretend they're legit.
Pure Balance CBD is a good example of the latter.
Everything about this brand is shady, from transparency to the web design to website copy and checkout page.
In this review, we'll highlight everything you need to know about Pure Balance — including reasons to never buy from this vendor.
What Is Pure Balance CBD?
Truth be told, there's not much to read about Pure Balance CBD on its website, not to mention that the website itself is very difficult to find when you type the company's name.
Instead, you can see plenty of results with strangely-looking reviews on the backup pages of some media outlets.
I've managed to dig through these reviews and reach the direct URL that took me to a landing page describing Pure Balance CBD gummies — one of the brand's "best-selling products."
And this is where the cascade of fishy things begins.
Is Pure Balance CBD Legit Or A Scam?
You can call Pure Balance CBD anything but legitimate. The company is a 100% scam that will either steal your money or your sensitive personal data if you decide to purchase from it.
As I said at the beginning of this Pure Balance review, some brands don't even bother to pretend they're real — and this one is a perfect example.
Everything from the website to product descriptions — or the lack thereof — and the checkout page indicate that you've just come across a straight CBD scam.
Here's what you need to know about Pure Balance and its shady practices.
Type of Scam: A Fake CBD Company / Shark Tank Scam
Pure Balance CBD is a fake CBD company that combines two well-known names – Balance and Pure CBD — to make an impression of a trustworthy vendor.
Moreover, it claims to have been featured on Shark Tank as "one of the best CBD gummies in the market."
Before we discuss the nature of the main scam here, let's make one thing clear: no CBD company has ever been featured on the famous TV program. There are many photoshopped images with "screens" from certain episodes suggesting otherwise, but it doesn't take a diploma in photo editing to figure out they're also fake.
Now to the fake CBD company scam.
How This Scam Works
Fake CBD companies leverage the boom on CBD products and often lure their potential customers with unrealistic claims, extremely low prices, and shallow marketing buzzwords like "100% natural," "no side effects," etc.
Pure Balance CBD also tries to leverage the trust built by Balance CBD and CBDPure to fool people — if you're new to CBD but have heard these names, you may fall for this cheap trick.
It's also likely that you'll find Pure Balance CBD when searching for the two aforementioned brands.
When you first enter the website, you can order the products, but doing so will take you to a strangely-looking checkout page that indicates something is wrong with the brand.
Using the example of Pure Balance CBD, I'm going to help you protect yourself against such scams.
How to Spot This Scam
While it's not always easy to spot a fake CBD brand, Pure Balance CBD is kind of an in-your-face scam.
Here's the list of all the red flags:
Suspicious URLs
Some fake CBD companies will try and mimic original brand domains, using a variation of the target company's name, or adding extra letters to confuse customers into thinking they're buying from the real brand.
Other brands use extra dashes, or separate root domains from the industry-standard.com.
If Pure Balance CBD was a real company, its address would look like this:
purebalancecbd.com
Instead, the URL says:
pure-balance-cbd-1.jimdosite.com
The name "jimdo" refers to the building engine the website runs on; Pure Balance CBD doesn't even have its own domain — using its host's direct URL.
Clunky Website
Reputable companies have very informative websites, with clear product descriptions, dosage instructions, and other valuable information about CBD. Most such brands also run educational blogs to share knowledge about cannabis and help destigmatize the plant and its community.
When you take a look at Pure Balance CBD, the website seems to have been designed and then left alone in the middle of the work.
There's no information about the company, no menu, no lab reports, no contact details, nothing about return policies and other important aspects; all you can find is a messy description of the brand's gummies, which are allegedly its bestseller.
Speaking of which…
Poor-Quality Copy
High-quality content should be the cornerstone of one's activity in the hemp industry. The cannabis space has been struggling with misinformation and myths for decades, so proper education and legit product descriptions are always welcome. Unfortunately, Pure Balance CBD has hired terrible copywriters for the job and it seems nobody has cared to proofread the copy.
The only content on the Pure Balance CBD website — the "description" of its gummies — is chock-full of awkward-sounding sentences, grammatical errors, and terms that don't fit in the context; let alone punctuation, which is almost non-existent.
No Product Display
It would seem obvious that when you visit an online store, there will be a "Shop" page that should take you to the company's product line-up.
For Pure Balance CBD, this isn't that obvious. There is no product display on the website; if you want to order its products, you must click the "Read More" button that takes you right to the checkout page.
The Checkout Page Looks Fishy
Most checkout pages in online stores look strikingly similar — this is by design.
Since processing card information requires a lot of high-tech security to prevent the interception of sensitive data, so many e-commerce companies use the same companies to manage the process.
To get around this, scam CBD brands need to use obscure overseas credit card companies in order to charge you for the purchase. The process will look unfamiliar to what you're used to.
When you compare the website's URL with the address of the checkout page and they're different, this means you're about to be robbed from your hard-earned money.
You can feel the scam right off the bat:
Checkout URL doesn't match the company name

Fake "rush" button

Unusual checkout form

Scammy sales copy on the checkout page

Fake reviews
No Information About the Company
Transparency is the most desired feature in the CBD space. Companies that make high-quality products like to share the details about the production process with their audience; they also make third-party lab reports publicly available — with complete analysis for potency and purity.
I'll say it once again: there is literally ZERO information about Pure Balance CBD on the website. Worse yet, there are no mentions of the company when you search the web, apart from the aforementioned fake backup articles.
Lab Reports Are Unavailable
CBD isn't regulated by the FDA, both when it comes to production standards and lab-testing practices. Testing isn't obligatory, hence the abundance of mislabeled products on the market.
How can you know what's in your product if the manufacturer keeps that information undisclosed?
CBD products nowadays can be contaminated with pesticides, heavy metals, herbicides, or microbial impurities that result from bad farming conditions and cheap extraction methods. 
They may also contain illegal levels of THC (more than 0.3%), although the brand will always claim otherwise (a liar will never tell you they're lying).
I've been searching for the lab reports on the Pure Balance CBD website; I've also sent them an email requesting the certificates of analysis — but to no avail.
For me, the trust score has just hit rock bottom.
The "Shark Tank" Scam
Shark Tanks is a popular TV program where entrepreneurs would pitch their brands to a group of celebrity investors to receive funding for their projects. The whole event is shown on television; the contestants barter with the investors (sharks) about the value of the company.
Many companies and products that have been featured on Shark Tank are now large, household brands, such as Tipsy Elves, Lollacup, and Scrub Daddy.
That being said, no CBD company has ever been included in the show. As mentioned, there are many photoshopped images suggesting otherwise, but you can't fight the facts.
When you enter the Pure Balance CBD website, the first heading says it right away (original spelling):
"PURE BALANCE CBD – Best Shark Tank CBD Gummies Read Here Benefits, Pros and Cons Official Customers Report"
Zero Reviews
If a company makes high-quality products, the Internet will spit it out. Reputable brands have a lot of positive reviews on third-party websites like TrustPilot, Better Business Bureau (BBB), Reddit, industry blogs, and Google.
Pure Balance CBD products have no reviews anywhere. It looks as if the company doesn't exist on the market.
Alternative Options to Pure Balance CBD
There are many CBD scams on the market these days. Fortunately, they're getting outnumbered by honest companies who are passionate about hemp and CBD — and strive to elevate the industry standards with their activity in the CBD space.
Here are my top 3 brands that make premium CBD products at reasonable prices: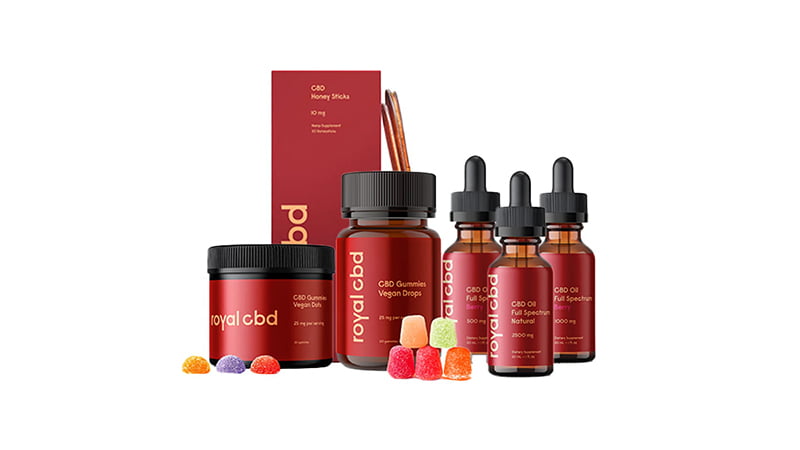 Get 15% off all Royal CBD products. Use code "CFAH" at checkout.
Pros
Cons

Organic, US-grown hemp

Supercritical CO2 extraction

Broad product range

High-strength options are available

Well-designed formulas

Flavored with natural ingredients

Complete third-party testing profile

30-days Money Back Guarantee

A little bit more expensive than the market's average (but still worth the price)

Not available locally
If you prefer to buy your CBD products online than from your local dispensary, Royal CBD is one of the best places to go. The company offers a broad product range suitable for beginners and seasoned users alike. 
Royal CBD gets its hemp from Colorado farms, where the plants are grown organically in clean soil to maintain purity and high CBD levels. The hemp is then extracted with supercritical CO2, so there's no extra heat or aggressive solvents involved in the process. 
The entire collection is tested in a third-party laboratory for its CBD content, cannabinoids, terpenes, and contaminants such as pesticides, heavy metals, and mycotoxins. You can reach out to Royal CBD for the lab reports; the customer team will send you a complete analysis via email.
Products offered by Royal CBD:
CBD oil

CBD capsules

CBD edibles

CBD gummies

CBD honey sticks

CBD topicals

CBD for pets

CBD pet oil

CBD oil for dogs
CBD oil for cats

CBD dog treats
All these formats are available in various potencies, sizes, flavors, and formulas to cater to different types of consumers.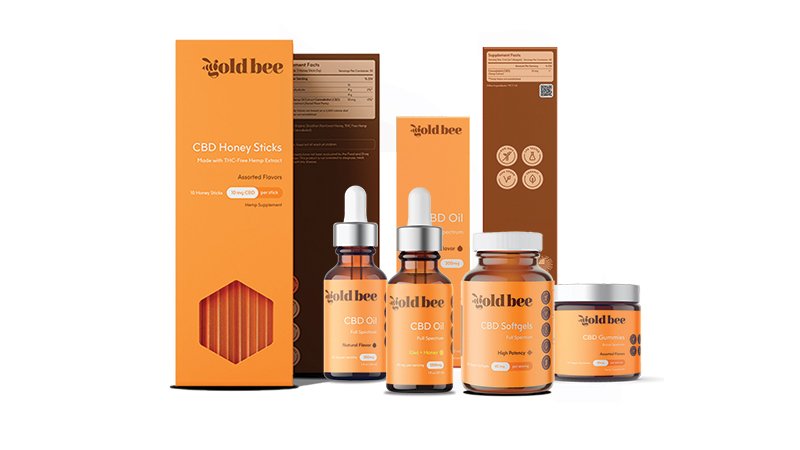 Pros
Cons

Organic hemp from California

CO2 extraction

Infused with superfoods

Full-spectrum and broad-spectrum CBD

Up to 2500 mg of total CBD

Flavored with natural ingredients

Pet products

30-day Money Back Guarantee

Limited potency options

No isolate-based products
Gold Bee is a California-based brand that formerly specialized in making superfoods, such as organic raw honey and coconut oil. In 2019, the company went through a rebranding, turning to CBD extracts. 
Gold Bee translated its superfood philosophy into its current line-up, so you'll find both ingredients in the new products such as CBD honey straws, creams, and more.
You can choose from the following forms of CBD:
CBD oil

CBD capsules

CBD edibles

CBD gummies

CBD honey sticks

CBD roll-on

CBD for pets
All ingredients in the above formulations come from organic sources; Gold Bee has also partnered with local farmers in California to create a proprietary blend of CBD-rich hemp strains — resulting in products with exceptional terpene profiles that leverage the potential of the entourage effect.
Similar to Royal CBD, Gold Bee tests every product batch in an ISO-certified laboratory. You can view the lab reports on the brand's website.
3. CBDPure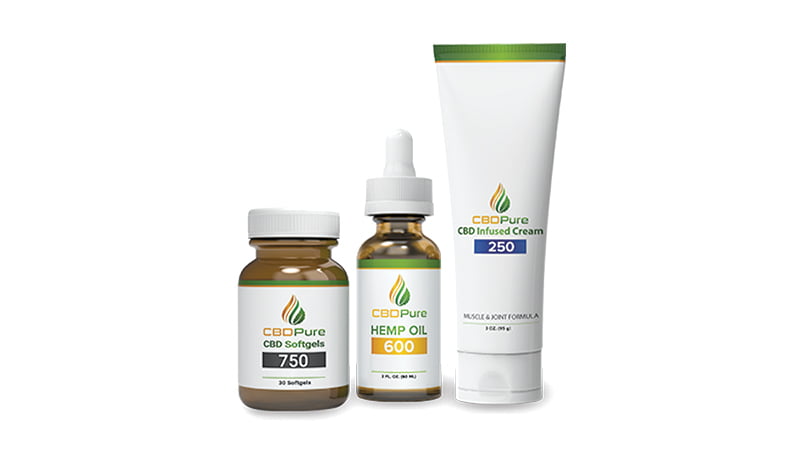 Pros
Cons

Organic hemp from Colorado

Full-spectrum products

Well-thought-out formulations

90-day Money Back Guarantee

One of the pioneer brands in the USA

Narrow product range

No edibles

Lack of flavored products

Premium pricing
CBDPure is one of the most established names on the market. The company started in 2016 as a small craft brand, and despite its growth, it has never expanded its product selection with new forms of CBD. Instead, CBDPure is focused on improving its current formulas.
CBDPure offers a limited product range, including:
CBD oil

CBD capsules

CBD cream

CBD for pets
If you're looking for greater product diversity, Royal CBD and Gold Bee are better picks, but I still recommend CBDPure for beginners who want to experience the real premium-quality CBD oil for pain in its least processed form.
CBDPure is also one of the most transparent brands in the CBD space. Everything from farming to extraction to third-party testing and packaging is broadly described on the company's website. 
And if you're not satisfied with your product, CBDPure has a generous 90-day return policy. You can get a full refund for your order if you send the package back within that time.
Final Verdict: Watch Out for Pure Balance CBD, It's a Fake Brand That Will Steal Your Money
Pure Balance CBD doesn't even try to make appearances — the company is a 100% scam that uses a fake website, fishy checkout page, and lies about being seen on Shark Tank. 
The website copy and product descriptions are full of fluff and ungrammatical sentences. You won't find any lab reports of its products, and if you needed to contact customer service for a refund — have fun searching for contact info. 
Nothing about this brand seems legit.
Bottom line?
Never put your trust (and money) in Pure Balance CBD.