Is Weed Legal in Rhode Island? RI Cannabis Laws (June 2023)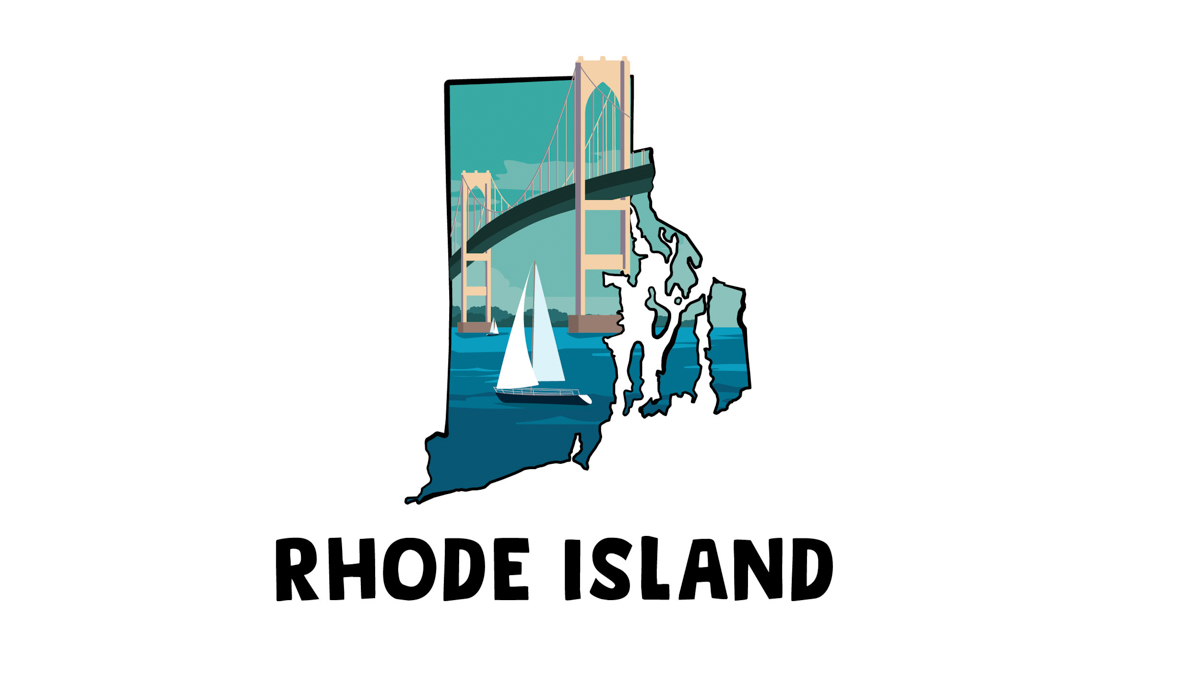 This article answers the question "Is marijuana legal in Rhode Island?" We discuss recreational and medical marijuana laws, possession limits, public consumption, cultivation, traveling, and regulations surrounding hemp-derived cannabinoids.
Rhode Island legalized cannabis in May 2022 when democratic governor Dan McKee signed the Rhode Island Cannabis Act.
Retail sales are set to launch on December 1, 2022. Adults 21 and older will be able to purchase and possess up to one ounce of cannabis flower.
Growing weed at home is also legal in Rhode Island provided that you don't grow more than 3 cannabis plants.
Rhode Island also has a medical marijuana program for patients with qualifying medical conditions. The state allows out-of-state medical marijuana cards.
Wondering what's your alternative while dispensaries are preparing to open?
Read on to find out.
Is Weed Legal in Rhode Island?
Yes. Weed is legal in Rhode Island for both recreational and medical users. However, both groups are subject to different regulations and possession limits.
Related: State-by-State Cannabis Laws
Is Recreational Marijuana Legal in Rhode Island?
Yes. Rhode Island is one of the latest states that have legalized marijuana for recreational use. If you're 21 or older, you'll be able to purchase cannabis from state-licensed dispensaries.
You can legally buy and possess up to an ounce of cannabis flower. Adults are also allowed to grow up to 3 plants at home.
There's a retail cannabis excise tax of 10% besides the regular retail sales tax.
The new law will also remove all convictions for the possession of cannabis by July 2024.
Rhode Island takes its social equity policy seriously, offering assistance funds to provide social services, grants, and job training programs to people and communities affected by the War on Drugs.
Is Medical Marijuana Legal in Rhode Island?
Yes. Medical marijuana patients can legally buy cannabis from compassion centers. There are currently only three such entities, though the government accepted six more licenses in 2019.
If you're a medical marijuana patient, you can purchase and possess more cannabis than recreational users. The limits reach 2.5 ounces of marijuana for a 15-day period.
You can also grow up to 12 mature (flowering) plants and 12 immature (vegetative) plants.
Even with medical marijuana legal, patients have limited access to their medicine in Rhode Island. Applying for a medical marijuana license involves a lot of bureaucracy and is costly.
You also need to go through a second registration process if you want to grow cannabis at home.
Penalties for Marijuana Possession
If you have more than 1 ounce of marijuana in public, and more than 10 ounces at home, you may be convicted for a misdemeanor and sentenced to prison for 1 year on top of paying a maximum fine of $500.
Possession with intent to distribute is a state felony punishable by 10–50 years in jail and $500,000 in fines for less than 5 kg.
Selling more than 5 kg will land you anywhere from 25 years in jail to a life sentence. You'll also have to pay a $100,000 fine. Doing so within 300 yards of the school doubles the penalty.
Is Weed Decriminalized in Rhode Island?
Yes. You can legally possess up to 1 ounce of weed in public and 10 ounces at home. You won't even receive a ticket for such quantities.
What's the Future of Cannabis Legalization in Rhode Island?
Rhode Island has just legalized cannabis for recreational use. However, dispensaries are yet to open, with a possible start on in-store sales in December 1, 2023.
The demand for weed is large in the state, so it's a matter of infrastructure and how the now-established framework will work out in the long run.
If everything goes smoothly, Rhode Island has a chance to become a robust market for cannabis
Some burning questions include:
"Will Rhode Island allow cannabis consumption lounges?"
"What about marijuana delivery? Will it happen in Rhode Island?"
"Will Rhode Island join the network of interstate cannabis commerce?"
Let's hope the state will use its potential and learn from the successes and failures of other states.
Delta-8 THC: A Better and Legal Alternative to Marijuana in Rhode Island?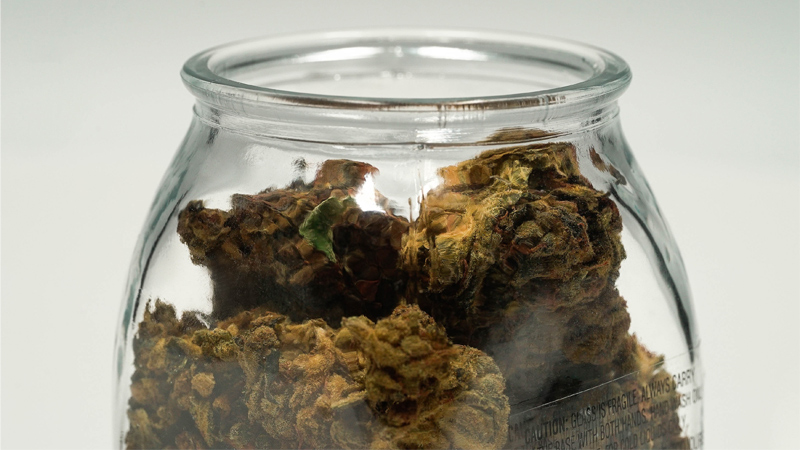 It may take a while for Rhode Island dispensaries to start opening, so for now, you need to grow your own weed or have a friend who grows and follows the creed "sharing is caring."
Since delta-8 THC from hemp is making big waves in the cannabis community due to being federally legal, you may be wondering if it's also legal in Rhode Island.
We'll get to that in a bit — but first, let's look at delta-8 through a hand lens.
Delta-8 THC vs. Delta-9 THC
Delta-8 and delta-9 are two different variants of the THC molecule. Delta-9 THC is the primary psychoactive compound of marijuana, the one that gets you high.
Delta-8 THC is the isomer of delta-9, meaning it has a strikingly similar chemical formula. However, its atomic bonds are arranged differently. Delta-8 THC has a double bond at the ninth carbon chain; meanwhile, delta-9 THC has this bond at the ninth chain.
That's why delta-8 THC is about 50% as potent as delta-9. You'd need to double your normal dose of delta-8 THC to experience the similar intensity of effects as with marijuana.
So why exactly has delta-8 THC become so popular if it's some kind of a "diet weed?"
Cons of Delta-9 THC from Marijuana
Delta-9 THC has mildly psychedelic properties; its effects are dose-dependent.
Low and moderate doses of delta-9 THC can elevate your mood, improve your focus, ease pain, and relieve stress thanks to its neuroprotective and antioxidant properties.
Larger doses will make you feel high as a result of stimulating the CB1 receptors in your brain. At this stage, weed can cause euphoria, giggles, and increased appetite. Your thinking patterns and perception of surroundings also change, which may influence imagination, creativity, and introspection.
However, some individuals are too sensitive to the psychedelic nature of delta-9 THC. For them, the cannabinoid reveals its biphasic nature, causing feelings of unease and a few physiological symptoms.
The side effects of taking too much THC include:
Anxiety
Paranoia
Feelings of discomfort
Cold sweats
Dizziness
Confusion
Increased heart rate
Short-term memory problems
Effects and Benefits of Delta-8 THC
Delta-8 THC has a similar effect profile to delta-9 THC. However, since it's not as powerful, the cognitive buzz is smoother and less stimulating for the brain.
You're less likely to experience anxiety and paranoia after delta-8 THC. Of course, that can still happen when you take more than enough, but the odds are lower.
When it comes to the health benefits of delta-8 THC, they're not as well researched as delta-9, but most people report similar therapeutic effects, including:
Anti-nausea
Anti-inflammatory
Pain relief
Increased appetite
Feelings of calmness and relaxation
Neuroprotection
Is Delta-8 THC Legal in Rhode Island?
Unfortunately, no. Delta-8 THC is illegal in Rhode Island under Title 21 in the Rhode Island Code of Federal Regulations. The compound is listed as "tetrahydrocannabinol" among other delta THC isomers.
This makes delta-8 THC a Schedule I substance, implying it has no medicinal value and that it will be prohibited across the state.
Delta-9 THC, on the other hand, is legal in Rhode Island. It's the 19th state that legalized marijuana for adults.
Benefits of Buying Delta-8 THC Online
If you're in a state where delta-8 THC products are legal, the best way to buy them is from reputable online stores.
When you buy online, you can:
Benefit from lower baseline prices because online stores can cut out the middleman
Save more money with reward programs, subscription orders, and coupon codes
Read third-party lab test results and customer reviews on independent websites
Compare hundreds of products in the comfort of your home, unrestricted by location and working hours
Best Online Delta-8 THC Vendors
Finding a reputable online store may take some time because the delta-8 THC space is largely unregulated — there are no manufacturing, labeling, and lab-testing standards in place.
We've come across many great brands, but we've also stumbled upon scammers who sell fake delta-8 products, and from a beginner's perspective, it can be difficult to separate the wheat from the chaff.
Here's our recommendation if you're in a rush and don't have the time to read through the certificates of analysis and customer reviews. Both brands offer exceptional quality of products, unparalleled transparency, and caring customer service.
1. Area 52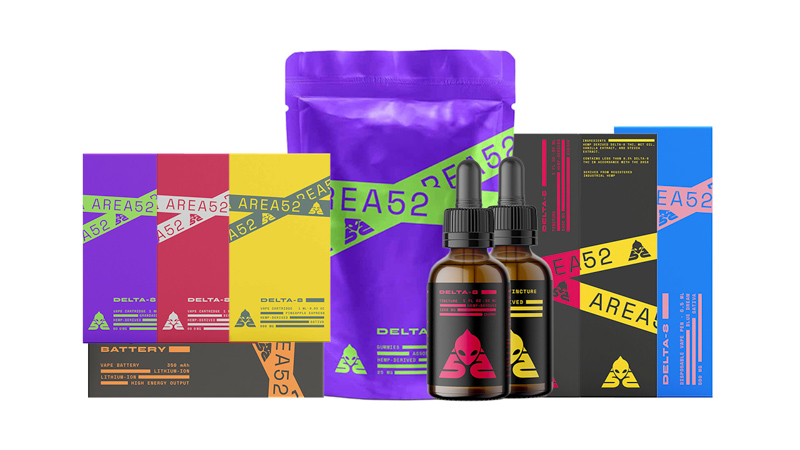 Get 15% off all Area 52 products. Use code "CFAH" at checkout.
Area 52 derives from Nevada, and its mission in the cannabis community is to help alienate people's minds. That's exactly what delta-8 THC helps you achieve — a different viewpoint on things and a smooth cognitive buzz you can enjoy for its entire duration.
The company specializes in delta-8 THC products in various forms, including tinctures, edibles, vape carts, and pre-rolls. These products can pack a punch, with 25–40 mg of delta-8 THC per serving. They're also exceptionally rich in terpenes, leveraging the whole-plant synergy and enhancing the psychoactive effects of delta-8.
Area 52 also has a separate line of "true full-spectrum" products, featuring novel formats like delta-8 honey and HHC gummies, as well as some classic products, such as energy gummies, sleep gummies, immunity gummies, and CBD oil.
The company triple-tests its products in an ISO-certified laboratory for potency and purity to ensure maximum safety.
2. Finest Labs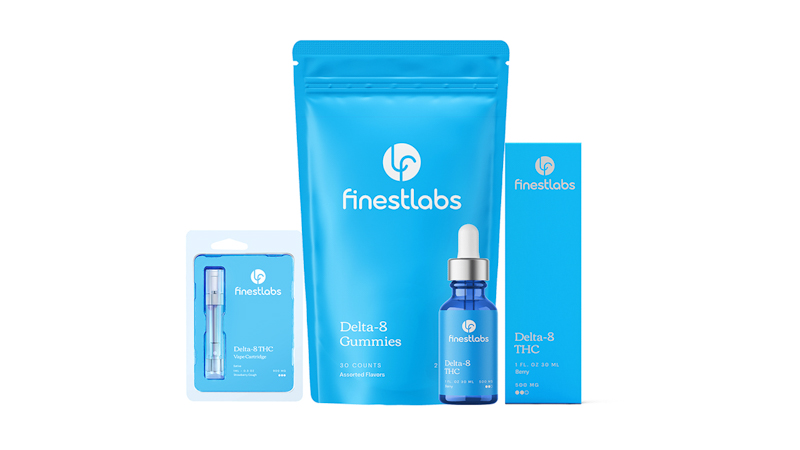 Finest Labs is a great pick if you're just dipping your toes in the delta-8 THC market and are puzzled by the abundance of different products.
The company offers a humble selection of delta-8 extracts, including two forms: tinctures and gummies. These products are a bit less potent than most of the competition, packing 15–25 mg delta-8 in a single serving.
Don't be discouraged by the limited product choice. These formulas are crafted with great attention to detail, using specialized ratios between delta-8 THC, minor cannabinoids, and terpenes.
Speaking of which, Finest Labs boasts a broad range of botanical terpenes. You can choose from 31 unique blends that recreate the aromas and flavors of various cannabis strains — indica, sativa, and hybrids.
FAQs
Who can use medical marijuana in Rhode Island?
Rhode Island issues medical marijuana licenses to people with debilitating medical conditions. A doctor must write a certification, recommending marijuana for easing symptoms. The doctor should admit that the benefits would likely outweigh the health risks.
The list of approved conditions to become a medical marijuana patient in Rhode Island includes:
Cancer
Glaucoma
HIV/AIDS
Hepatitis C
Post-traumatic stress disorder (PTSD)
Cachexia
Chronic pain
Severe nausea
Seizures
Severe muscle spasms, such as those caused by Multiple Sclerosis or Crohn's disease
Agitation related to Alzheimer's Disease
Any other medical condition approved by the department of health, as outlined in Rhode Island's Medical Marijuana Act
Can you grow weed in Rhode Island?
Yes, it's legal to grow marijuana in Rhode Island. However, different limits apply to recreational and medical users.
If you're a recreational user, you're allowed to grow up to 3 mature plants at home.
Medical marijuana patients can cultivate up to 12 mature and 12 immature plants.
Can you smoke marijuana in public?
Recreational marijuana is legal, but consumption has been restricted. You can't legally smoke in public, operate a vehicle under the influence, or perform tasks that would pose threat to others when intoxicated.
Can you travel with marijuana in Rhode Island?
Yes. You can travel with marijuana in Rhode Island as long as you keep it in a closed container and out of the driver's reach.
Traveling with weed outside of Rhode Island is illegal. Doing so would be classified as a federal felony (marijuana trafficking) punishable by up to 5 years in jail and $250,000 in fines for less than 50 kg and fewer than 50 plants.
Is buying weed online an option in Rhode Island?
No — at least not for now. Retail sales haven't started yet, so it's unclear when (if at all) Rhode Island will allow online marijuana sales for delivery.
Is CBD oil from hemp legal in Rhode Island?
Yes. All non-psychoactive hemp products are legal in Rhode Island. The state law follows the language of the 2018 Farm Bill, which legalized hemp at the federal level.
Hemp plants are now an agricultural commodity that can be grown and sold for any use, from paper, clothing, and ropes to biofuel, construction materials, food, and health supplements like CBD oil.
Buying Weed in Rhode Island: Bottom Line
Rhode Island has just legalized weed for recreational use. With retail sales underway, residents must grow their own plants if they want to enjoy some puff right now. However, sooner than later, the dispensaries will open their doors to adults.
If you use cannabis as a medicine, you can still register for a medical marijuana license. You'll be able to purchase and possess more weed and grow up to 12 mature plants once you've been approved by the medical marijuana program.
Delta-8 THC from hemp remains illegal unless Rhode Island lawmakers come up with a standardized method of lab testing for the purity of such products.