Royal Blend CBD Review & Coupon Code (2022 Update)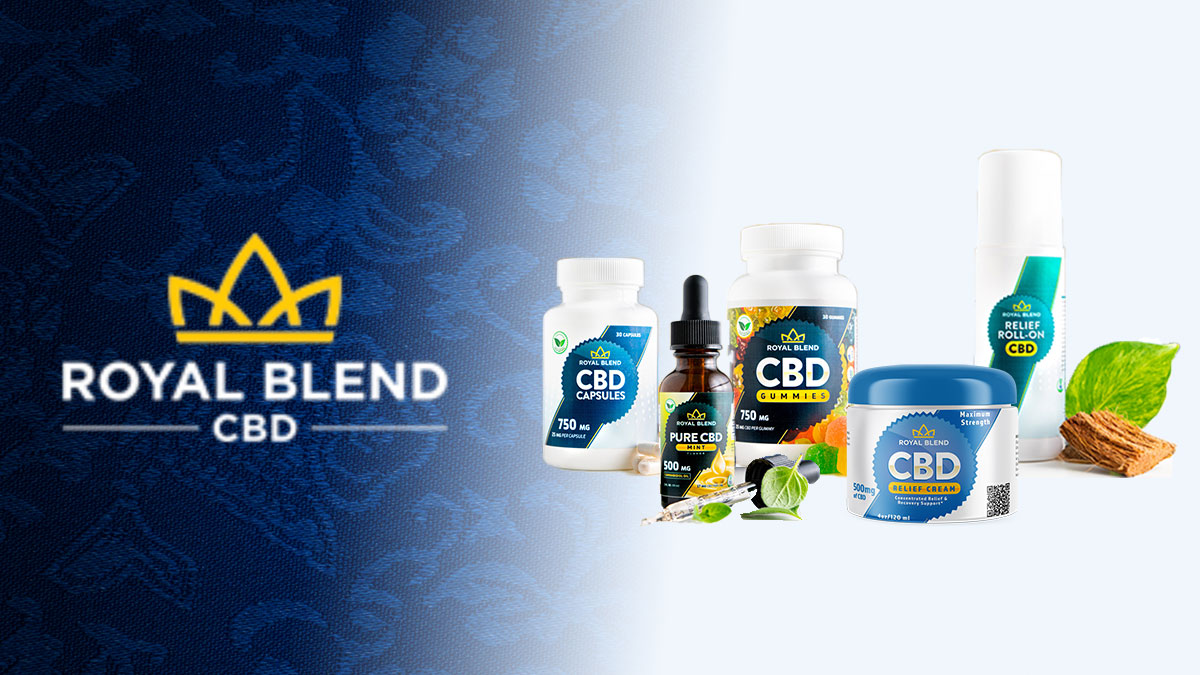 Transparency is one of the most desired features in the CBD industry. I wholeheartedly support this notion because there are way too many companies that promise a lot but deliver sub-par products that aren't even tested for purity or THC content.
Consumers want to know as much as possible about their vendors; where they source their hemp from, how that hemp is extracted, and whether or not the products come with accurate certificates of analysis.
For me, you either have solid proof of your claims or at least a transparent website that introduces your customers to your philosophy behind making CBD.
Royal Blend CBD is a company that doesn't share much information about its activity, but it has been highlighted several times in my favorite industry magazines, so I decided to give it a try.
How does the brand turn out compared to competitors?
Let's find out.
Royal Blend CBD: Highlights
Pros
Cons

3rd-party lab-tested

Flavored CBD oils

24/7 customer support

No information about the brand

Incomplete lab reports

Limited product range

No full-spectrum products
About Royal Blend CBD
Much as I'd love to tell you something about the Royal Blend CBD company, there's very little information on its website.
All you can read is that "Royal Blend CBD is an award-winning company dedicated to improving your mental and physical well-being," which is what all CBD companies should do — shouldn't they?
The company was established in 2018, steadily expanding its product line up to bring you four different formats made from US-grown hemp.
Quality & Transparency
Again, Royal Blend CBD doesn't elaborate on its source of hemp. The brand mentions that the plants are grown in the U.S., but the website lacks information about the state (or states) of origin.
Royal Blend CBD provides batch-specific certificates of analysis from a third-party laboratory. The company also does in-house testing before sending the products to the outside facility. However, the lab reports don't contain information about contaminants, so it's difficult to tell if the hemp is actually organic.
Warning Letters & Lawsuits
Companies that make health claims about CBD products or market them as health supplements can receive warning letters from the Food and Drug Administration (FDA) for violating its rules surrounding these aspects. 
To date, Royal Blend CBD hasn't received a warning letter from the FDA, which is a good sign, because it means the brand is honest with its customers and compliant with the labeling and marketing regulations.
The company also doesn't have a history of lawsuits for mislabeling or selling contaminated products.
Certifications
Royal Blend CBD's hemp isn't certified organic by the USDA, but the company makes its products in a GMP-certified facility, meaning the products adhere to the Good Manufacturing Practices standards.
Customer Service
After contacting the company's customer staff and trying a few products from them, I'm impressed by the quality of customer service. The team is available 24/7; you can call them anytime, whether you have questions about CBD or are concerned about your order. The Royal Blend CBD's customer staff is available on the phone.
On top of that, the brand offers a 60-days money-back guarantee, so you can return your products within 60 days for a full refund if you're not satisfied with them.
Pricing
Royal Blend CBD products are fairly priced. The prices don't go beyond average, and the brand regularly provides discounts like 20% or 33% on its best-sellers to make them more affordable for lower budgets.
Royal Blend CBD Product Range
At first, Royal Blend CBD has been selling CBD oils and gummies. Since 2018, the brand has added two other product categories: capsules and topicals.
Here I include a short review of each product — including the formula, pros & cons, and my own experience.
Royal Blend CBD Oil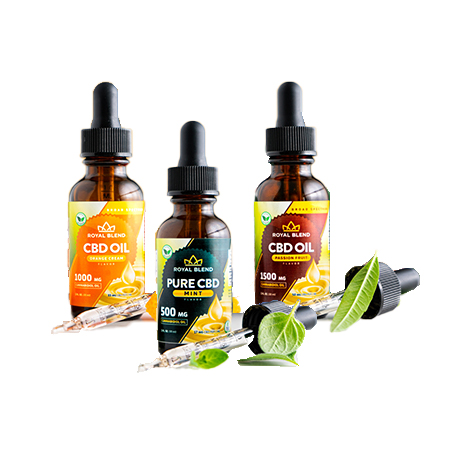 | | |
| --- | --- |
| Type of CBD | Isolate, Broad Spectrum |
| CBD Potency | 500 mg – 1500 mg  |
| Flavors | Mint, Orange Cream, Passion Fruit |
One of the biggest cons of Royal Blend CBD is that the brand doesn't have any full-spectrum products in its line-up. You can only choose from isolate-based or broad-spectrum CBD oils.
Nevertheless, I  decided to give them a try.
I ordered all three flavors and was quite disappointed experience-wise because I could feel the flavorings are artificial. That's not good because you can easily achieve an appealing flavor profile in broad-spectrum CBD oils simply by using the right blend of terpenes.
The oils are available in three potency variants: 500 mg, 1000 mg, and 1500 mg. Since these aren't full-spectrum oil, the 1500 mg option makes the most sense. It does a good job at calming the mind and reducing discomfort, but no fireworks compared to competitors' CBD oil products for stress and pain relief.
Royal Blend CBD Capsules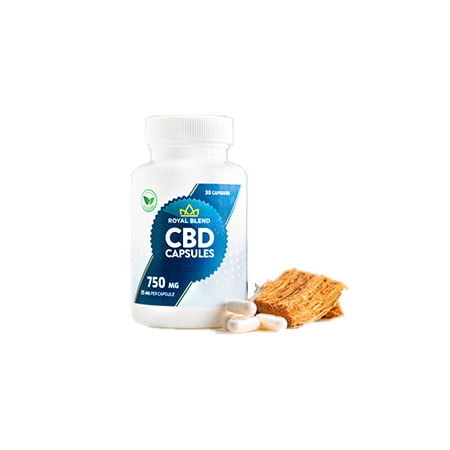 | | |
| --- | --- |
| Type of CBD | Isolate |
| CBD Potency | 25 mg per capsule |
| Size | 30 ct. |
This product could be great if it was available as full-spectrum CBD. Unless you're scared to score a false-positive result on a drug test — which shouldn't be a problem with lab-tested products — premium CBD-infused capsules are tasteless and odorless, so they could be infused with full-spectrum CBD without compromising the experience.
Yet, Royal Blend CBD decided to put CBD isolate in its capsules. Nothing particularly interesting about this product, the capsules just made me feel mellow in the evening after taking two. 
Royal Blend CBD Gummies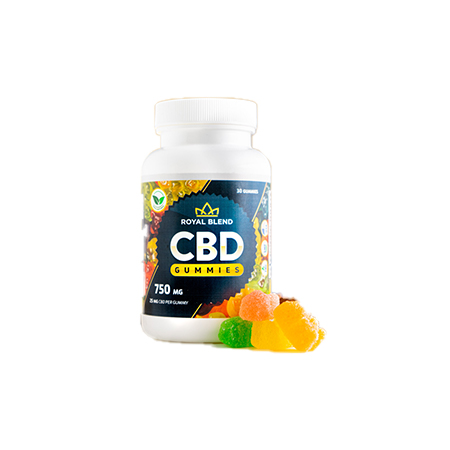 | | |
| --- | --- |
| Type of CBD | Isolate |
| CBD Potency | 25 mg per gummy |
| Formulas | Classic, Sleep |
| Flavors | Mixed Fruit |
Royal Blend CBD offers two types of gummies: Classic and Sleep. I went with the Sleep formula to see if they're any better than the other gummies with melatonin that I've tried in the past as I am looking for top-quality CBD-infused gummies for sleep to effectively regulate my sleep cycles.
Surprisingly, they put me to sleep like a baby. I think that was caused by the 5 mg of melatonin, which has a direct effect on the sleep-wake cycle. Most companies use 1–3 mg of melatonin per gummy. 
The only downside I noticed is that it was harder for me to wake up without rolling in the bed for almost half an hour — which, again, could be used by high amounts of melatonin.
Royal Blend CBD Topicals
Royal Blend CBD stocks two types of topicals: cream and roll-on — both products are designed to fight localized discomfort and improve the condition of the skin.
Royal Blend CBD Cream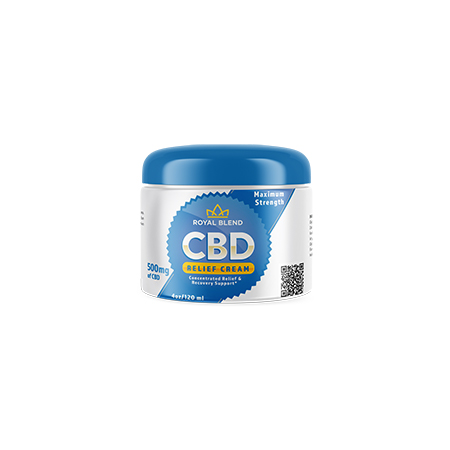 | | |
| --- | --- |
| Type of CBD | Isolate |
| CBD Potency | 500 mg |
| Size | 120 mL |
This cream comes in a 120 mL jar infused with 500 mg of pure CBD. The cannabidiol is supported by other regenerating and healing ingredients, such as menthol, aloe vera, vitamin E, Emu oil, and a proprietary blend of herbal extracts.
It has a nice cooling effect and eases the pain on the wrists, knees, ankles, neck, shoulders, and feet. With its menthol effect, you can apply CBD cream on your feet to relieve localized pain but it could be better in terms of the quality of ingredients. For example, it contains preservatives and PEG-100 stearate. 
Royal Blend CBD Roll-On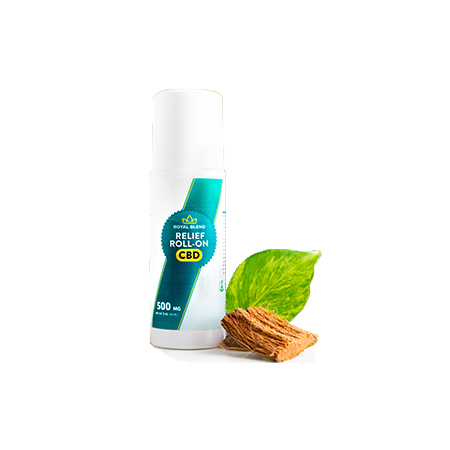 | | |
| --- | --- |
| Type of CBD | Isolate |
| CBD Potency | 500 mg |
| Size | 90 mL |
The roll-on is a more traveler-friendly format because it features the same ingredients as the cream — in an easy-to-apply form that doesn't leave a greasy layer on the skin. It contains the same amount of CBD, but in a slightly smaller container (a 90 mL tube). 
Royal Blend CBD Review: Pros & Cons
Overall, Royal Blend CBD is a company with the decent potential to become a renowned supplier, but I think its sloppiness in several aspects prevents them from reaching the top of the ladder.
Here's an honest overview of the brand's strengths and weaknesses. 
The Pros
3rd-Party Lab-Tested
All Royal Blend CBD products come with batch-specific certificates of analysis, listing the CBD potency, THC content, and the profile of supportive cannabinoids and terpenes. This ensures that you're getting exactly what you paid for.
Flavored CBD Oils
Providing flavored CBD oils is a nice nod towards customers who are sensitive to the flavor of natural CBD oil, which leaves a grassy aftertaste when you take it. You can choose between Lemon, Orange, and Passion Fruit flavors.
24/7 Customer Support
A 24/7 customer service team is a sign that the company is dedicated to helping its customers anytime and in every situation. You can call them on the phone whenever you have questions about CBD, concerns about your order, or want to place a new one.
The Cons
Incomplete Lab Reports
Although Royal Blend CBD provides batch-specific certificates of analysis, they only include the results for potency, cannabinoid profile, and terpenes. There are no results for contaminants such as pesticides, herbicides, or solvents — so there's no way to tell if the hemp is grown organically.
Limited Product Selection
For a 3-years-old company, Royal Blend CBD doesn't offer much beyond the traditional range of CBD products. You can choose from oils, capsules, gummies, and topicals. The company doesn't offer any vapes or innovative formats, such as CBD-infused honey straws or water-soluble CBD.
No Full-Spectrum Products
That's my biggest caveat with Royal Blend CBD. The company's products don't leverage the entourage effect because they aren't full-spectrum. You can only choose between broad-spectrum CBD and isolates.
No Information About the Brand
As I said at the beginning of my Royal Blend CBD review, transparency is paramount in this industry; the more you can read about the company, the merrier. The information provided on the Royal Blend CBD website is vague and doesn't tell much about the source of its hemp, extraction methods, or the brand's origin. We live in times where businesses are built around strong communities — and you can't establish one when you don't show yourself from behind the rock.
Alternative Options to Royal Blend CBD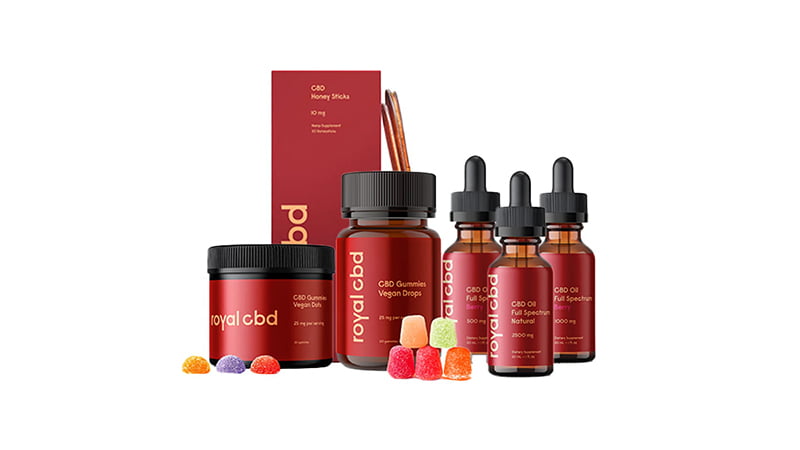 Pros
Cons

Organic, US-grown hemp

Supercritical CO2 extraction

Broad product range

High-strength options are available

Well-designed formulas

Flavored with natural ingredients

Complete third-party testing profile

30-days Money Back Guarantee

A little bit more expensive than the market's average (but still worth the price)

Not available locally
Royal CBD is a premium brand from Nevada that specializes in full-spectrum CBD products from organic hemp. The company uses Colorado-grown plants and employs supercritical CO2 extraction to ensure purity and consistent potency throughout the batches.
You can also choose from broad-spectrum options depending on the selected format. The Royal CBD collection includes:
CBD oils

CBD capsules

CBD gummies

CBD honey sticks

CBD topicals

CBD for pets
These products are triple-tested in a third-party laboratory — from seed to packaging — and Royal CBD provides them on request when you send them an email.
Royal CBD has been mentioned several times as one of the best CBD vendors in industry magazines such as High Times, LA Weekly, SF Weekly, Observer, and We Be High.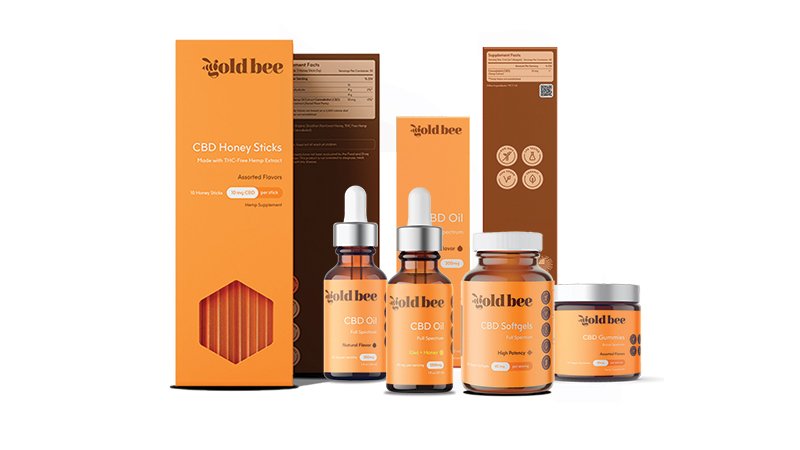 Pros
Cons

Organic hemp from California

CO2 extraction

Infused with superfoods

Full-spectrum and broad-spectrum CBD

Up to 2500 mg of total CBD

Flavored with natural ingredients

Pet products

30-day Money Back Guarantee

Limited potency options

No isolate-based products
Gold Bee is one of the most intriguing brands in the CBD space. Its products are sweetened with organic honey from Brazilian rainforests and suspended in MCT oil for better absorption. Every ingredient in the brand's line-up is sourced organically, including hemp. Gold Bee has partnered with local farmers to create its proprietary blend of high-CBD strains.
You can find both full-spectrum and broad-spectrum options in the brand's online store, including:
CBD oils

CBD capsules

CBD gummies

CBD honey sticks

CBD roll-on
Gold Bee tests its product line in an ISO-certified laboratory for potency and purity. You can access the lab reports on its website.
3. CBDPure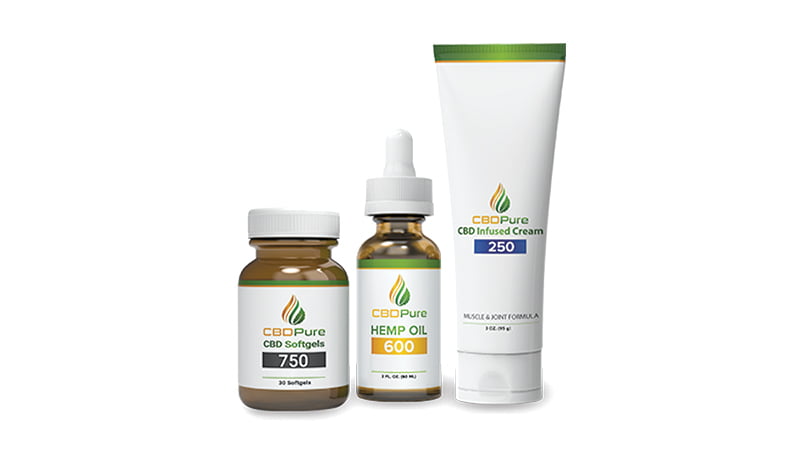 Pros
Cons

Organic hemp from Colorado

Full-spectrum products

Well-thought-out formulations

90-day Money Back Guarantee

One of the pioneer brands in the USA

Narrow product range

No edibles

Lack of flavored products

Premium pricing
CBDPure was my first brand of choice when I was starting my journey with CBD back in 2016. It's one of the best companies for beginners who are looking for clean full-spectrum extracts from organic hemp. The company sources its plants from Washington and Colorado — using the supercritical CO2 method to ensure maximum purity and preserve potency.
Unlike many trailblazers on the CBD scene, CBDPure didn't become an expansive manufacturer. Instead, the guys at CBDPure focus on mastering their classic formulas, offering the same products as they did at the beginning.
You can find the following CBD formats there:
CBD oils

CBD capsules

CBD cream

CBD for pets
CBDPure is also one of the most transparent brands on the market. On top of providing batch-specific certificates of analysis, it details every step of the manufacturing process, from farming to packaging.
Final Verdict: Royal Blend CBD Is a Legitimate Brand, but It Needs to Step Up Its Transparency
Royal Blend CBD offers a basic product range, such as oils, capsules, gummies, and topicals. There's nothing special about the formulas, not to mention that the brand doesn't have any full-spectrum products.
Everything in the store is based on CBD isolate or broad-spectrum CBD.
In my opinion, the quality is there, but not everyone will want to simply trust the company's words. Royal Blend CBD needs to work on its transparency and provide a more detailed About Us section on top of adding a contaminant analysis to its lab-testing practices.
If you're not sure about your final decision, compare Royal Blend CBD with competitor brands using the same formats to determine which product carries the most value for the money.