Is Weed Legal in South Dakota? SD Cannabis Laws (June 2023)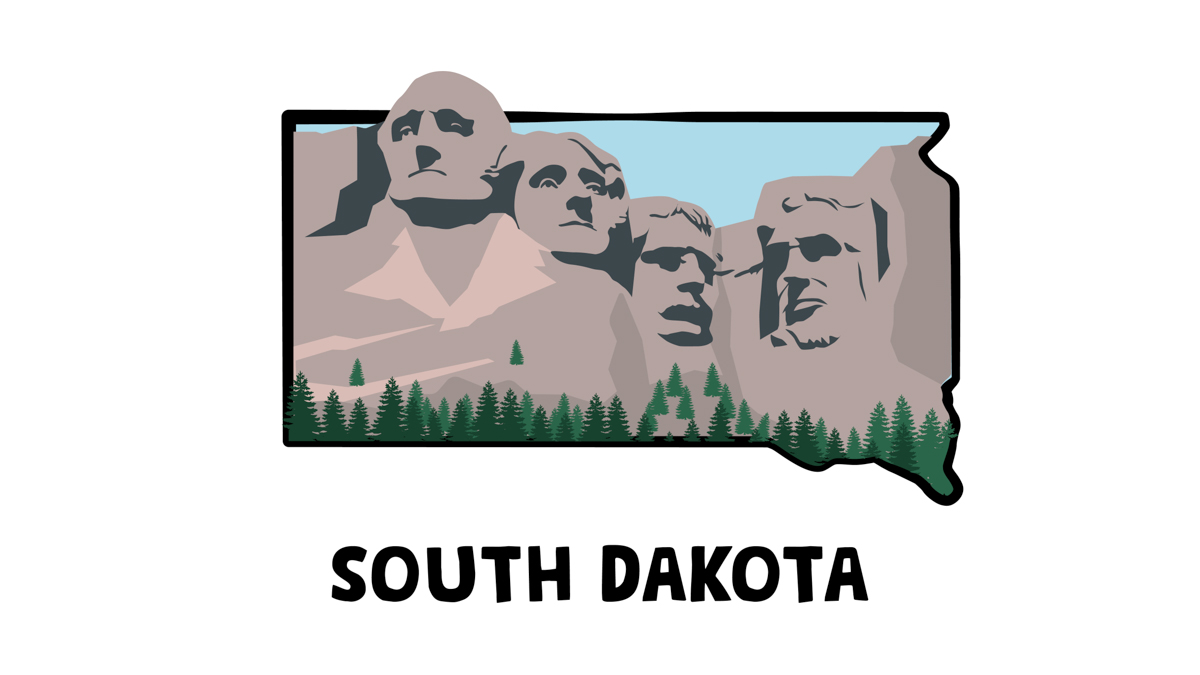 This article answers the question "is weed legal in South Dakota?" and is part of our complete guide to the legal status of cannabis in the United States. We break down the state medical and recreational marijuana laws, discuss decriminalization, possession for penalties, and future perspectives on legalization. You'll also learn about a federally legal alternative to marijuana in South Dakota.
South Dakota legalized medical marijuana in 2020, allowing the state's first licensed dispensary in 2022.
However, marijuana remains illegal for recreational users.
If you want to buy weed in South Dakota, you'll need to look for a federally legal alternative, such as delta-8 THC.
In this article, we explain the ins and outs of South Dakota weed laws.
Here's what you need to know.
Is Weed Legal in South Dakota?
Weed is legal in South Dakota only for medical use.
Recreational use remains illegal, with hefty fines for possession and other weed-related activities (more on that later).
Related: State-By-State Cannabis Laws
Let's look at how South Dakota treats medical and recreational marijuana.
Is Medical Marijuana Legal in South Dakota?
Voters in South Dakota made a historical move in November 2020 when they legalized marijuana for adult use in a slight swoop. The cannabis measure (Constitutional Amendment A) passed with 52% of the votes, and the medical bill (Initiative 26) was approved by 69% of voters.
Is Recreational Marijuana Legal in South Dakota?
Unfortunately, Governor Kristi Noem overthrew the adult-use act on bogus grounds together with the state Supreme Court.
People in South Dakota voted again to legalize cannabis for recreational use at the end of 2022, but the measure failed to pass.
High-THC cannabis remains illegal in South Dakota.
Penalties for Marijuana Possession
South Dakota has one of the strictest marijuana laws in the USA. In 2019, it had 8,997 drug arrests, and based on previous year's data, around 40% of those arrests came from cannabis possession charges.
Here are the fines and jail sentences you can receive for marijuana possession:
Up to 2 ounces (first offense): $2,000 fine, up to one year in prison
More than two ounces: $4,000 fine, one year in prison
Up to one pound: $10,000 fine, 5 years in jail
Up to 10 pounds: $20,000 fine, 10 years in jail
More than 10 pounds: $30,000 fine, 15 years in jail.
If you're caught with hashish, you may be sent to prison for 10 years and have to pay $20,000 in fines. You don't want to dabble with cannabis concentrates in South Dakota.
South Dakotans aren't also allowed to carry cannabis paraphernalia, such as pipes and pongs. It's considered a misdemeanor and carries a $500 fine and up to 30 days in prison.
Is Weed Decriminalized in South Dakota?
No. Possession of any amount of marijuana in South Dakota is criminalized, including both a fine and a possible prison sentence.
What's the Future of Cannabis Legalization in South Dakota?
South Dakota has had a hard time trying to legalize cannabis.
First, the governor overthrew the recreational bill, ignoring the will of the people.
Then, two years later, voters didn't manage to pass the measure again.
In 2020, lawmakers tried to pass two expungement initiatives, but neither was signed into law. The legislature would be able to expunge the criminal records of people convicted for simple marijuana possession.
Delta-8 THC: A Better and Legal Alternative to Marijuana in South Dakota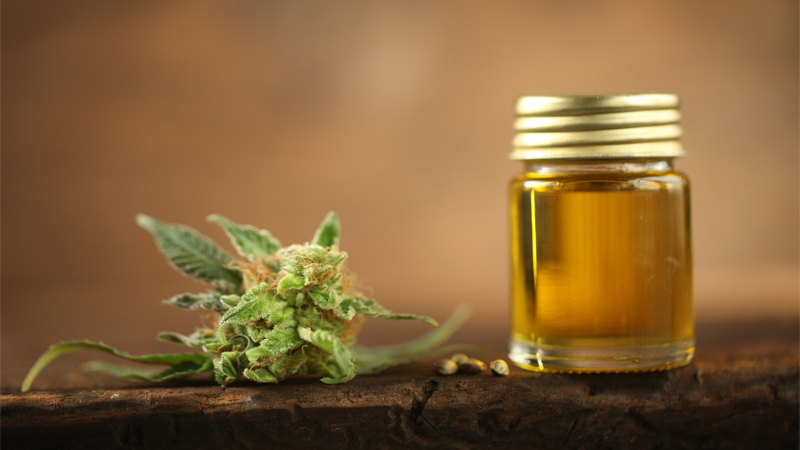 If you want to enjoy the cannabis buzz, you may not want to risk your freedom in South Dakota. Fortunately, the latest breakthroughs in extraction technologies have allowed hemp manufacturers to extract THC isomers from hemp — which is federally legal.
How is that possible?
The 2018 Farm Bill legalized hemp across the country, removing it from the list of controlled substances. The new law approves all hemp-derived cannabinoids as long as the end product doesn't contain more than 0.3% delta-9 THC.
Hemp-derived products containing isomers like delta-8 THC are federally legal because they meet the above criteria.
But is delta-8 THC legal in South Dakota?
We'll answer that in a bit. But first, let's look closer at delta-8 THC and its benefits.
Delta-8 THC vs. Delta-9 THC
Delta-8 THC is an isomer of delta-9 THC. Both compounds have a similar chemical formula, but their atomic structure is slightly different.
Delta-8 THC has a double bond at the eighth carbon chain; meanwhile, delta-9 THC has this bond at the ninth chain. This small difference causes delta-8 THC to lose some potency; the cannabinoid is about 50% less potent than delta-9 THC.
You'd need to consume twice as much delta-8 THC to experience similar psychoactive effects as with marijuana.
A surprisingly large number of cannabis users have been turning to delta-8 THC recently. There are other reasons for that, aside from legality.
Cons of Delta-9 THC from Marijuana
Most people can enjoy the effects of weed. Marijuana is a mild psychedelic with deeply relaxing and euphoric properties.
However, it also has a biphasic nature.
In simple terms, low and high doses of delta-9 THC produce opposite effects.
In low and moderate doses, delta-9 THC relieves stress and pain, eases anxiety, elevates mood, boosts appetite, and improves your cognitive performance.
However, when you take a high dose, you may get high. Delta-9 THC will induce euphoria and heighten your senses, altering your perception of surroundings and time, and making you feel intoxicated.
If you're sensitive to THC, its biphasic nature may backfire on you, creating a range of unpleasant mental and physical side effects, such as:
Anxiety
Paranoia
Feelings of discomfort
Cold sweats
Dizziness
Confusion
Increased heart rate
Short-term memory problems
Effects and Benefits of Delta-8 THC
Delta-8 THC has a similar effect profile to delta-9 THC. However, lower strength also translates to a lower risk of side effects, such as anxiety and paranoia.
Of course, you can still get anxious if you take more than enough, but you need to take a much higher dose to achieve that state.
The buzz is much smoother and clear-headed. Depending on the terpene profile of your product, the effects may lean more toward energizing or sedating.
People generally use delta-8 THC for the following health benefits:
Anti-nausea
Anti-inflammatory
Pain relief
Increased appetite
Feelings of calmness and relaxation
Euphoria
Neuroprotection
Is Delta-8 THC Legal in South Dakota?
Yes. Delta-8 THC is legal in South Dakota, but it must meet the conditions outlined by the Farm Bill.
Only hemp-derived delta-8 THC products with less than 0.3% delta-9 THC by dry weight are legal in the state.
If you're caught with an uncertified delta-8 product that contains more delta-9 THC, you'll be charged for marijuana possession.
Benefits of Buying Delta-8 THC Online
While you may feel tempted to visit your local hemp store, you'll find better deals on high-quality delta-8 products when you shop online.
Buying delta-8 THC online gives you:
Lower prices: online retailers can cut out the middleman, offering lower baseline prices for the same quality products. You can further save more money with seasonal discounts, coupon codes, reward programs, or subscription orders.
Convenience: you can browse through hundreds of products and compare their prices in the comfort of your home, unrestricted by working hours and location.
Transparency: reputable online stores provide current Certificates of Analysis (CoAs) from third-party laboratories to prove their quality and safety. You can also read user reviews on independent websites to get a bigger picture of your supplier's services.
Best Online Delta-8 THC Vendors in South Dakota
Making well-thought-out purchases requires time and effort to research all your options, read the lab reports and user reviews, and comb through the company's website to get as much information as possible.
Don't have time for that? No worries, we've already done the digging, having tested over 30 popular delta-8 brands.
Narrowing down our choices to 10 picks, we selected the top two leading brands that offer unparalleled transparency, product quality, and customer service.
1. Area 52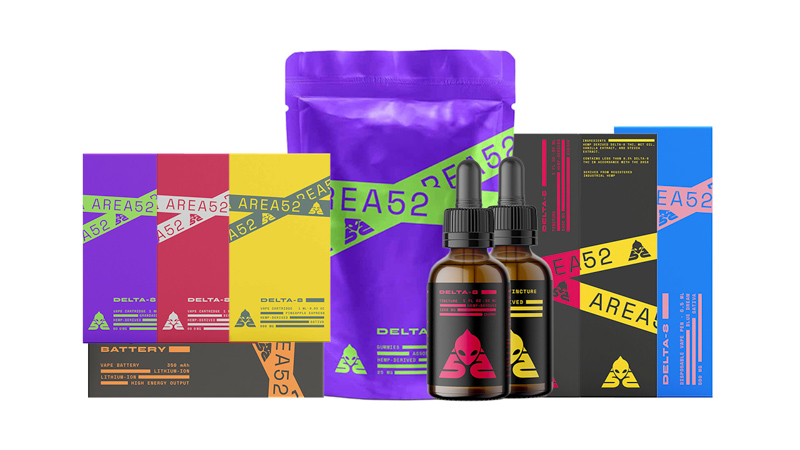 Get 15% off all Area 52 products. Use code "CFAH" at checkout.
Area 52 is one of the most reputable names in the delta-8 THC space. The brand specializes in hemp-derived delta-8 products in various forms, such as tinctures, edibles, vape carts, and pre-rolls.
The tinctures and edibles are based on pure distillate, carrying 25-40 mg of delta-8 THC per serving. Both products are infused with botanical terpenes that enhance the psychoactive buzz and the health benefits of delta-8 THC.
The best products from Area 52 for a personalized experience include its vape carts and pre-rolls. The carts are infused with distillate and a blend of strain-specific terpenes, similar to the hemp flowers that come in similar varieties (Indica, Sativa, and Hybrids).
All Area 52 products are triple-tested in an ISO-certified laboratory for potency and purity.
2. Finest Labs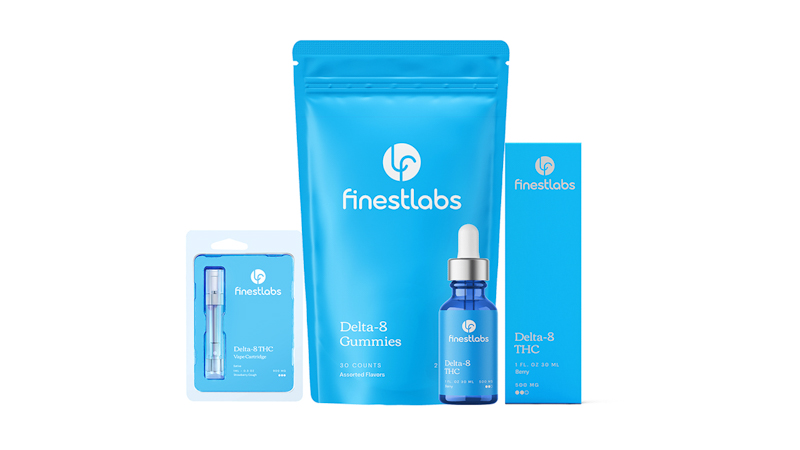 Finest Labs is our go-to recommendation for first-time users. You won't be overwhelmed by the abundance of products because this brand offers only three forms of delta-8: tinctures, gummies, and vapes.
The tincture is the best pick for beginners because it contains just 15 mg of delta-8 THC in a single serving, allowing you to adjust the dosage slowly without negative side effects.
Finest Labs also offers a broad selection of terpenes, including 31 different options based on the flavor and aroma profiles of various strains.
FAQs
Who can use medical marijuana in South Dakota?
Only qualified patients with valid medical marijuana cards can purchase medical marijuana in South Dakota. You must be diagnosed with a "chronic debilitating disease or medical condition" that produces one or more of the following symptoms:
Nausea
Seizures
Muscle spasms
Chronic pain
Cachexia (wasting syndrome)
Can you grow weed in South Dakota?
Only medical marijuana patients are allowed to grow weed in South Dakota. The limit is three mature plants and six plants in total per household. You can get a $250 fine if your plants are visible to the public.
Can you smoke marijuana in public?
No, smoking marijuana is illegal in public. The law in South Dakota makes it clear that even medical marijuana patients must consume their medicine in private spaces.
Can you travel with marijuana in South Dakota?
You must be a registered medical marijuana patient if you want to travel with weed in South Dakota. Traveling with cannabis without a medical marijuana card is treated as marijuana possession and punished accordingly.
You also can't drive under the influence of cannabis or any other intoxicating substance.
Is buying weed online an option in South Dakota?
No. You can't buy weed online in South Dakota — this also applies to medical marijuana patients.
Is CBD oil from hemp legal in South Dakota?
Yes. You can legally buy hemp-derived CBD oil in South Dakota if it contains less than 0.3% delta-9 THC. CBD products from hemp are available without a prescription. However, since the market remains unregulated, we recommend buying CBD oil online if you want the best prices for certified products.
Buying Weed in South Dakota: Bottom Line
South Dakota is full of contrasts when it comes to cannabis legalization.
Recreational weed is illegal, but medical marijuana was legalized in 2020.
We finally have medical dispensaries in South Dakota!
But if you don't have a medical marijuana card, getting caught with weed may get you into serious trouble with the law.
You can pay hefty fines and be sentenced to prison, even for small amounts.
At the same time, hemp-derived delta-8 THC remains legal in South Dakota. You can find delta-8 products all over the state, from specialized hemp stores to gas stations and online retailers.
If you want to try delta-8 THC in South Dakota, we recommend finding a reputable online store. Use our recommendation if you want to make a beeline, and if you're ready, explore the world of delta-8 on your own; it's a fun place!