Spruce CBD Review & Coupon Code (2023 Update)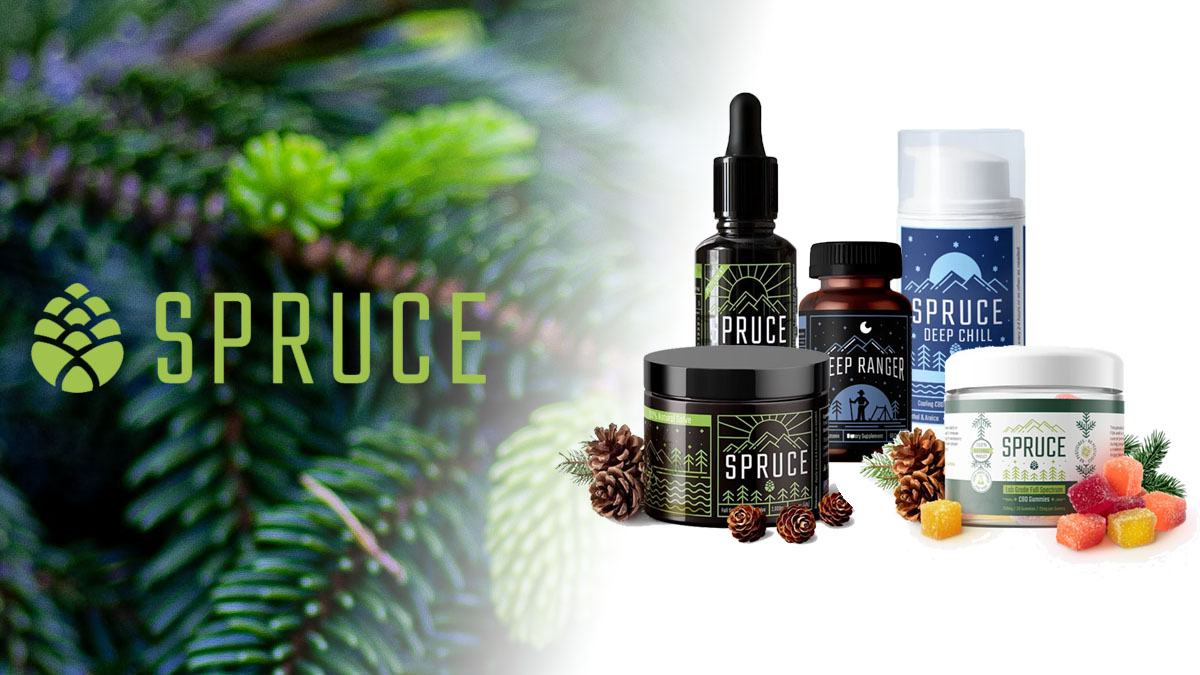 Spruce CBD is a relatively new name in the hemp industry when it comes to the manufacturing and sales of CBD products. The company was launched in 2018 and it's been doing well so far for a new brand.
This Spruce CBD review will give you a bigger picture of the company, its product line-up, strengths, and weaknesses.
Further on, I'll show you my two choices if you're looking for other reputable CBD brands that offer similar quality but with a broader product range.
Spruce CBD: Highlights
Pros
Cons

Full-spectrum CBD
Great product descriptions
Lab-grade extracts

The high-strength tincture has a bitter taste
Limited product selection
No worldwide shipping
Only a few targeted formulas
Spruce CBD Review: Brand Overview
As I mentioned earlier, Spruce CBD isn't an industry veteran, but the company has managed to make a big noise in the market press with its modest yet well-crafted selection of CBD oils, edibles, creams, and sleep supplements.
In this section, you'll learn the basic information about the company, including its hemp sourcing, extraction method, lab-testing practices, overall transparency, and customer service.
Let's dive into it without further ado.
Quality & Transparency
Spruce uses Colorado- and Kentucky-grown hemp; these two regions are known for their sustainable and safe farming practices and high-potency CBD hemp strains. The plants are non-GMO and pesticide-free, which only adds more value to their quality.
The company uses CO2 extraction technology to produce its hemp extracts. CO2 is currently the best solvent for making full-spectrum CBD oils because it uses low temperatures and avoids toxic solvents in the process.
All Spruce's CBD products are tested for potency and purity in independent, ISO-certified labs before they make it to the warehouse. You can access the certificates of analysis (CoA) directly on the Spruce website.
Warning Letters & Lawsuits
The exact categorization of CBD — whether it's a health supplement or novel drug — remains in a gray area, so the FDA doesn't allow companies to make unsupported health claims about their products.
If a company violates these rules, the FDA sends a warning letter with a request to implement proper modifications in the product descriptions on its website. When a company fails to follow the request, it may be subject to a heavy financial fine — one that may force it to cease operations.
Fortunately, Spruce hasn't received any warning letter from the FDA, meaning its products align with the agency's regulations regarding the labeling and marketing of hemp-derived CBD.
The company isn't also facing any lawsuits at the moment, which is another positive sign of its quality and transparency.
Customer Service
Spruce has caring customer service that you can reach out to using a few different ways.
You can contact the company traditionally by phone (1-608-422-4565) or send them an email. Spruce has very quick response rates, so you shouldn't have any problems finding a solution to your problem.
But, if you want your issue to be resolved faster, Spruce has a dedicated app with a chat option where you can talk to customer service directly from your phone or laptop.
Unfortunately, Spruce's return policy leaves a bit to be desired. You can return your products within 30 days for a full refund, but this policy only applies to unopened products, so if you're not satisfied with your results but have already opened the product, you won't be refunded.
Pricing
When it comes to prices, Spruce is on the expensive side. The cost of CBD oil per bottle ranges from $39 for a 750mg bottle to $269 mg for the max potency option which contains 2,400 mg of CBD.
Unfortunately, the company doesn't offer any discounts on its own. You'll need to look at third-party websites such as affiliate pages or blogs to get a discount on the Spruce collection. Discounts range between 15–50%.
Spruce CBD Product Range
Spruce offers a humble selection of products, which can be both good and bad depending on your perspective. If you're a seasoned user who's bored with traditional forms of CBD and looking for some innovative formats, then you'll be disappointed because Spruce is all about tradition.
However, if that's your first time with CBD extracts, this company is a great place to start due to its simple product selection and attention to detail.
Below you'll find my mini-reviews of all products from Spruce.
Spruce CBD Oils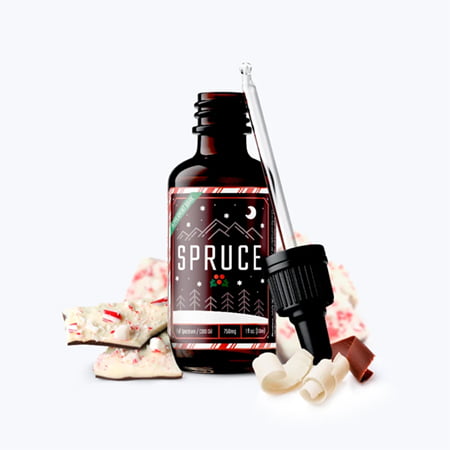 | | |
| --- | --- |
| Type of CBD | Full-spectrum |
| CBD Potency | 750 mg – 2,400 mg |
| Flavors | Unflavored, Peppermint Bark |
| Sizes | 30 mL |
Spruce CBD oils are made with full-spectrum CBD, so you're getting the entire range of beneficial phytochemicals, such as cannabinoids, terpenes, flavonoids, and trace amounts of THC.
That's good because the said chemicals leverage the entourage effect — a phenomenon where they act synergistically with each other, enhancing the therapeutic effects of the whole extract.
You can choose between the moderate potency (750 mg, 24 mg/mL) and 2,400 mg (83 mg/mL). The stronger option is better if your dosage is above average and you're looking for a cost-effective supplement. That being said, it has a very distinct, botanical taste redolent of earth and pine trees, so you may not like it.
But then again, you may want to choose a limited edition of the Spruce CBD oil that comes in a peppermint bark flavor. It's the same strength as the Moderate version, bringing 750 mg of full-spectrum CBD.
You can also try the Spruce CBD + CBN oil that contains 1200 mg CBD and 50 mg CBN in the whole bottle. This one is flavored with vanilla extract, making the experience more palatable.
Spruce Capsules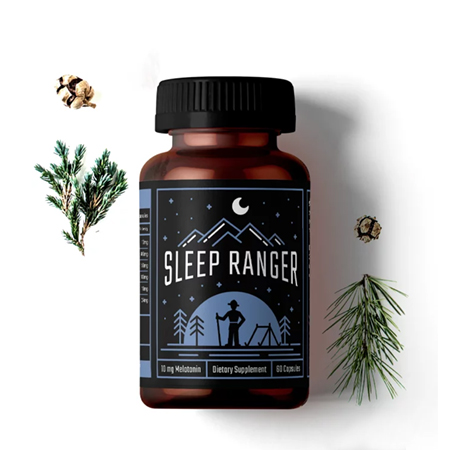 | | |
| --- | --- |
| Type of CBD | N/A |
| CBD Potency | N/A |
| Other Ingredients | Melatonin, Valerian Root, Magnesium, 5-HTP, Lemon Balm Extract |
These capsules are unique because they don't have any CBD. Instead, they come with a blend of sleep-inducing supplements, such as melatonin, valerian, magnesium, lemon balm, and 5-HTP.
The capsules are vegan and gluten-free with no artificial flavors, sweeteners, and preservatives. They're also available in a convenient softgel form, which makes swallowing much easier than a traditional pill.
Nothing to see here for you if you're shopping Spruce for CBD, but they may be a decent addition to your sleep routine when you combine them with CBD oil.
Spruce CBD Gummies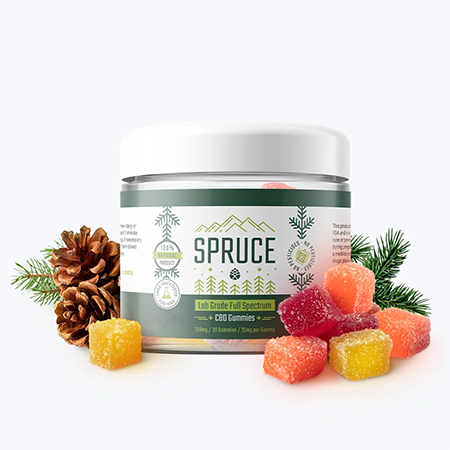 | | |
| --- | --- |
| Type of CBD | full-spectrum |
| CBD Potency | 750 mg (25 mg per gummy) |
| Flavors | Assortment of: Mixed Berry, Orange & Strawberry |
| Size | 30 gummies |
This is arguably the best product from the Spruce collection. Although it only comes in one potency and one flavor option, both parameters are spot-on.
First of all, this is a full-spectrum product, which is unique because most companies make broad-spectrum CBD gummies to avoid the hempy aftertaste. However, the good taste comes at the expense of some other features; for example, these gummies are high in sugars, so they might not be a good fit if you have insulin resistance or diabetes.
On the other hand, they're sweetened, flavored, and colored with all-natural ingredients, so you're in for a real treat, even though it's a big guilty one.
Spruce CBD Topicals
Topicals are the broadest category in Spruce's line-up. The company offers a CBD topical cream, balm, and lotion that help you tackle different skin problems on top of providing localized relief from pain.
Spruce CBD Cream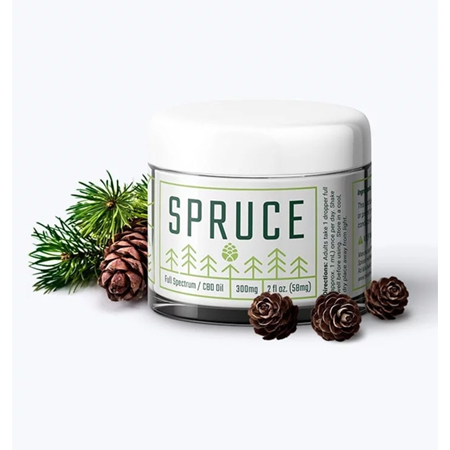 | | |
| --- | --- |
| Type of CBD | full-spectrum |
| CBD Potency | 300 mg |
| Size | 2 fl. oz (60 g) |
The Spruce CBD cream is a basic topical formula that contains 300 mg of full-spectrum CBD and essential oils from citrus fruits. The addition of the fruit oil is a good move for increasing the absorption of CBD because limonene — the dominant terpene in citruses — improves the topical absorption of cannabinoids and other terpenes.
At 300 mg of CBD, this isn't the strongest product out there, so you'll need to apply it quite liberally to feel the promised "targeted relief."
Spruce CBD Salve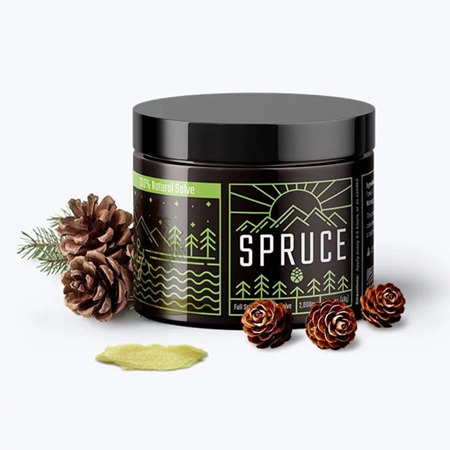 | | |
| --- | --- |
| Type of CBD | Full Spectrum |
| CBD Potency | 1000 mg – 2000 mg |
| Other Ingredients | Olive Oil, Shea Butter, Beeswax, Coconut MCT Oil |
While the Spruce CBD cream is dedicated for general use, this salve may come in handy if you're struggling with more serious skin problems, such as eczema and psoriasis, as well as for other inflammation-related conditions, including burns, itching, swelling, and wounds.
The product contains between 1000 mg and 2000 mg of full-spectrum CBD, although both versions deliver the same amount of CBD per mL. That's because the 2000 mg bottle is twice as big as the 1000 mg counterpart.
Spruce CBD Deep Chill Lotion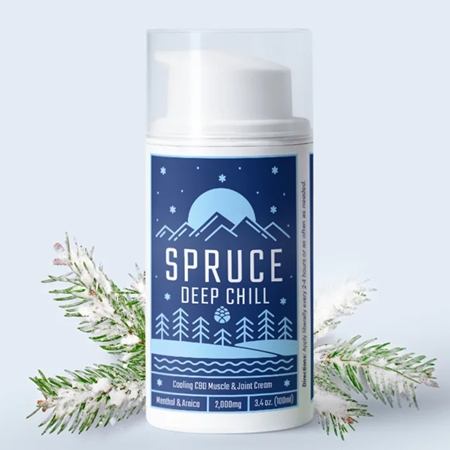 | | |
| --- | --- |
| Type of CBD | Full Spectrum |
| CBD Potency | 2000 mg |
| Additional Ingredients | Menthol & Arnica |
| Size | 3.4 oz. (100 ml) |
Another high-potency topical product from Spruce, this CBD Deep Chill lotion packs a whopping 2000 mg of CBD infused with menthol and arnica for an extra analgesic effect and improved regeneration.
Not only is this lotion a decent pick for sore muscles and joints, but it can also help replenish your natural skin barrier by acting on the CB2 receptors in the skin's endocannabinoid system. As a result, your skin can be less prone to drying, gaining elasticity and a fresh look.
Spruce CBD Review: Pros & Cons
Spruce CBD is without a doubt one of the most interesting brands that have appeared on the hemp market recently. What I like about this company is that it's focused on quality over quantity — slowly adding new formats to its product line-up. No rush, no fake promises — just good products.
But, like all brands out there, this one also has its
The Pros
Full-spectrum CBD
Spruce embraces the whole-plant philosophy, so you'll find only full-spectrum products in its store. That's great because full-spectrum CBD products leverage the entourage effect and are more effective than broad-spectrum and isolate-based extracts.
If you're not worried about taking trace amounts of THC alongside other cannabinoids — be it due to drug testing or other reasons — Spruce has got you covered with its premium, lab-grade products.
Great Product Descriptions
More often than not, CBD brands like to brag about their products; how they're made with the highest standards in mind, what they can do to your body, how easy it is to apply them, and whatnot.
While it's good to talk to your potential customers using the language of benefits, there's a fine line between showcasing the pros of your products and acting like a person with logorrhea.
Fortunately, Spruce has excellent product descriptions that lay out all necessary details while gently advertising the products. This way, the customers know what they're buying but aren't flooded with inch-deep marketing fluff.
Special Product Line for Sleep
Statistical reports indicate that around 50 million Americans suffer from sleep deprivation. However, most of the time, they're prescribed sleeping pills that can do more harm than good when used long-term.
Spruce aims at changing this unfortunate trend by offering a special line of products for sleep, such as melatonin capsules and CBD+CBN sleep oil. Both products are formulated with additional sleep-inducing ingredients that enhance the benefits of CBD for our circadian rhythm.
The Cons
The Strongest CBD Oil Has a Bitter Taste
This can be a significant roadblock for those with sensitive taste buds. Like all full-spectrum CBD oils, the high-strength option from Spruce leaves an earthy and spicy aftertaste in the mouth that can linger for several minutes after consumption.
The only flavored version of this CBD oil comes in a 750 mg bottle, which may be insufficient for people whose dosage needs exceed 25 mg of CBD daily.
Limited Product Selection
As I said, a humble product selection can be a good and bad thing. If you've already tried a few CBD products in your life, Spruce's line-up won't give you fireworks. The company doesn't even have such basic formats as CBD capsules and vapes, so unless you're looking for some tasty CBD-infused gummies or decent topicals, you may end up unsatisfied with the brand's products.
Only A Few Targeted Formulations
Spruce CBD products are mostly designed for general supplementation, except for the two high-strength oil and topical options. If you're looking for formulations that could address specific health needs, Spruce's line-up leaves a bit to be desired. The only targeted formulas are the Spruce Sleep Ranger capsules and the Sleep CBN+CBD oil.
No Worldwide Shipping
Spruce CBD is a US-based brand — and that's where it ships its products. If you live outside of the United States, the company won't send them. I hope this changes soon because the world deserves more high-quality brands like this.
Alternative Options to Spruce CBD
Of course, Spruce isn't the only producer of CBD products out there. The CBD has many "pearls," two of which make for a great alternative to Spruce — both in terms of quality and transparency, but with a wider product range.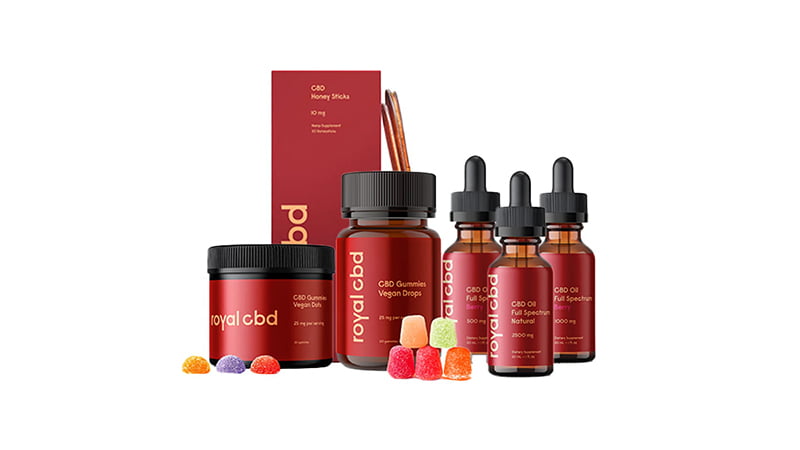 Get 15% off all Royal CBD products.  Use code "CFAH" at checkout.
Pros
Cons

Organic, US-grown hemp
Supercritical CO2 extraction
Broad product range
High-strength options are available
Well-designed formulas
Flavored with natural ingredients
Complete third-party testing profile
30-days Money Back Guarantee

A little bit more expensive than the market's average (but still worth the price)
Not available locally
Royal CBD is one of the most recognized companies on the CBD market these days. It was established in 2018 by a team of biohackers and cannabis aficionados to elevate the industry standards after witnessing too much mediocrity from other companies.
Royal CBD uses non-GMO, pesticide-free hemp from Colorado and, just like Spruce, employs CO2 extraction to make its CBD products.
You can choose from the following forms of CBD:
CBD oils
CBD capsules
CBD edibles

CBD gummies

CBD honey sticks

CBD topicals
CBD for pets
The whole Royal CBD line-up is tested in an ISO-compliant laboratory for cannabinoid and terpene profiles, as well as for potential contaminants like solvents, heavy metals, pesticides, and microbial impurities.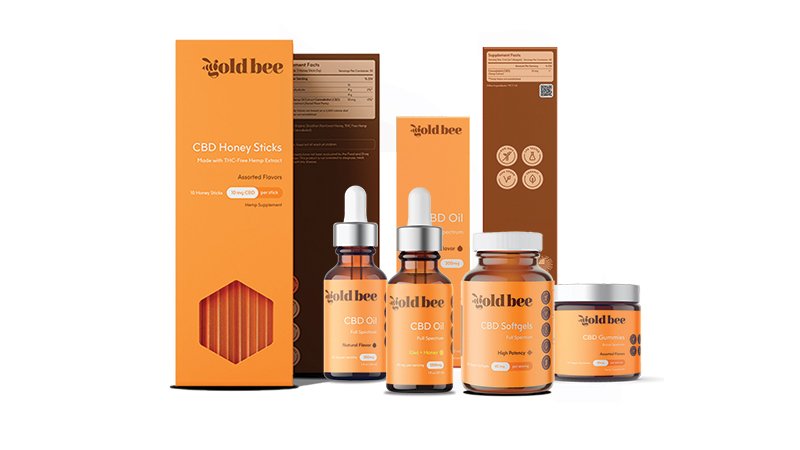 Pros
Cons

Organic hemp
CO2 extraction
Infused with superfoods
Full-spectrum and broad-spectrum CBD
Up to 2500 mg of total CBD
Flavored with natural ingredients
Pet products
30-day Money Back Guarantee

Limited potency options
No isolate-based products
Gold Bee is another premium brand that combines high-quality CBD extracts with innovative formulas containing superfoods such as raw honey and organic coconut oil.
Aside from its CBD product range, the brand also has Kava Kava extracts and CBN sleep products in its collection.
You can order both traditional and novel formats, including:
CBD oils
CBD softgel capsules
CBD gummies
CBD honey sticks
CBD roll-on
CBD for pets
Similar to Royal CBD, Gold Bee sends every product batch to a third-party laboratory for extensive testing. The lab reports are available on the Gold Bee website.
Final Verdict After Review: Who Is Spruce CBD for?
Spruce is a great company for beginner users who are overwhelmed with the abundance of different brands and products in this booming market.
The company provides high-quality full-spectrum CBD extracts infused into traditional forms, such as oils, capsules, gummies, and topicals.
However, if you already have some experience with CBD and are looking for a greater choice, I recommend trying out Royal CBD and Gold Bee — and comparing them with spruce to get the best value for your money.