Area 52 Review & Coupon Code (2022 Update)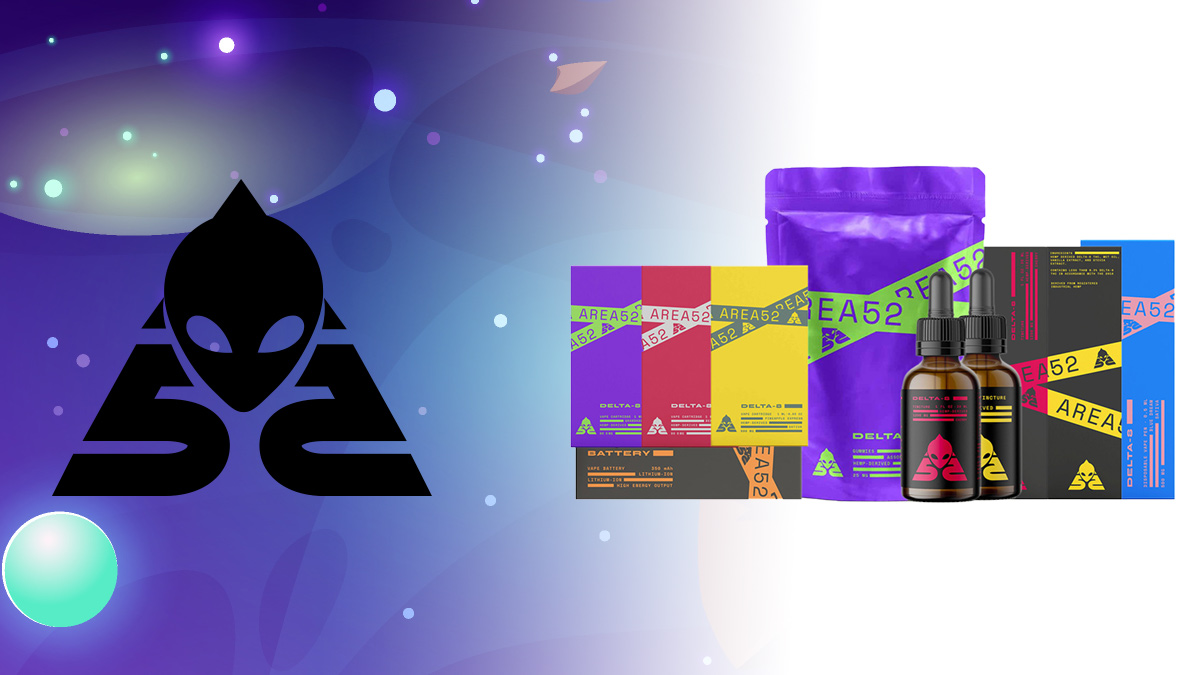 Area 52 is a well-respected and established brand in the hemp industry. It has an inspiring mission statement and a powerful brand image, both of which will be explored in detail below. 
This company offers a variety of delta 8 THC products and has recently added a line of products containing other cannabinoids like CBG and CBN. 
In this guide, we'll take a look at the specific products offered by Area 52, the company's commitment to safety and consistency, and why these products are worth the premium price tag. 
You'll also learn why there's so much demand for premium brands like Area 52 in an otherwise contaminated delta 8 markets.
About Area 52
Area 52 was founded in 2020 by founder and CEO Adam Wathen. Adam is a biochemist who lives and breathes cannabis extraction and chemistry. While Area 51 is the reported site of government testing, Area 52 is a company that focuses on exploring and testing lesser-known cannabinoids like delta 8 THC, CBN, and THCV.
Despite the company's relatively small amount of time in the hemp industry, it's already established a name for itself with its strong brand image, successful marketing, and high-quality products.
None of this comes easy. Area 52 sets itself apart through meticulous attention to detail and unwavering quality control standards. 
The company's philosophy is one that supports psychoactive compounds for creative use, self-exploration, and mind-opening experiences. They promote "higher-dimensional thinking" through the use of cannabinoids, which are meant to expand one's mind and horizons. 
Area 52 is an online vendor, but it is headquartered in Huntington Beach, California.
Area 52 Product Range
Area 52 focuses its efforts primarily on delta 8 THC products, including gummies, tinctures, honey sticks, vape cartridges, and disposable vapes. 
The company also carries CBD tinctures and full-spectrum hemp gummies that contain delta 8 THC, CBD, CBN, terpenes, and other minor cannabinoids and phytochemicals.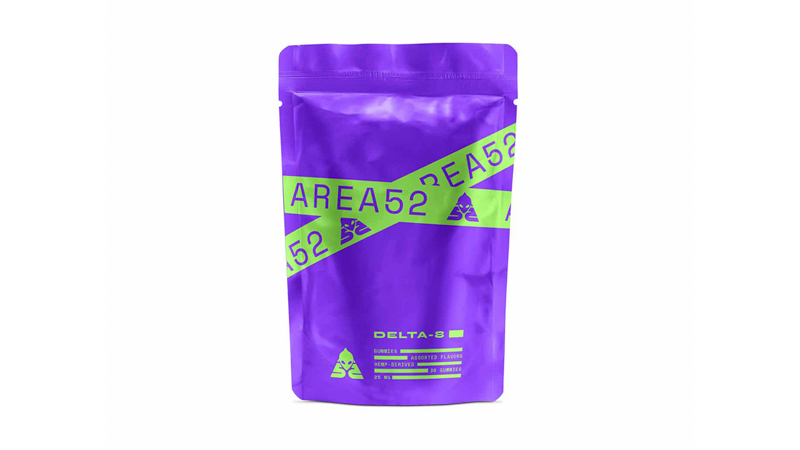 One of Area 52's most popular products is its delta 8 THC gummies. They come in mixed packs of three flavors, including pineapple, green apple, and strawberry. These gummies taste great, which may come as a bit of a surprise if you've tasted other delta 8 gummies in the past. Most delta 8 gummies have a nasty chemical aftertaste.
Area 52's gummies are hands down some of the highest-quality D8 gummies we've tried. They're vegan-friendly, use real terpenes for flavoring, and deliver a dose of 25 mg of hemp-derived delta 8 THC each. 
These gummies are very strong. We highly recommend following the company's suggested ½ gummy serving — especially for your first time. 
As we've come to expect from a premium cannabis brand, all third-party lab results are available for the gummies on the company website, and the results are updated with each new batch.
Area 52 sells these gummies at reasonable prices, especially given the quality. You can get a single bag of 30 gummies (750 mg per bag), or you can save by buying two or three bags at once.
Product Specs:
| | |
| --- | --- |
| Total Delta 8 THC | 750 mg |
| Extract Type | Delta 8 distillate |
| Delta 8 Potency | 25 mg per gummy |
| Flavors | Pineapple, Green Apple, and Strawberry |
Area 52 is a go-to vendor for many delta 8 users who prefer to vape their cannabinoids. The company offers a premium disposable delta 8 vape pen made with a ceramic heating element for performance and a rubber mouthpiece for comfort.
The vape only comes in one flavor at the moment — Blue Dream — but the company claims to be in the process of adding additional flavors in the near future. 
Each vape pen comes with 0.5 mL of premium delta 8 distillate, which delivers approximately 5 mg of delta 8 THC per puff. 
The pen is small, discreet, and easy to transport, and it's very convenient to use. It's draw-activated, so all you need to do is start inhaling, and the pen takes care of the rest. 
These vape pens are backed by comprehensive third-party lab reports that confirm the potency and purity of the distillate. The reports are updated with each new batch and are always up to date. The ingredients are simple and natural: pure hemp extract and terpenes.
These vape pens are a bit on the expensive side at $65 each. However, the quality is unmatched, and Area 52 lets you save by subscribing to regular shipments or by ordering two or three devices at once.
Product Specs:
| | |
| --- | --- |
| Total Delta 8 THC | 500 mg |
| Extract Type | Delta 8 distillate |
| Delta 8 Potency | 5 mg per puff |
| Flavors | Blue Dream (Sativa) |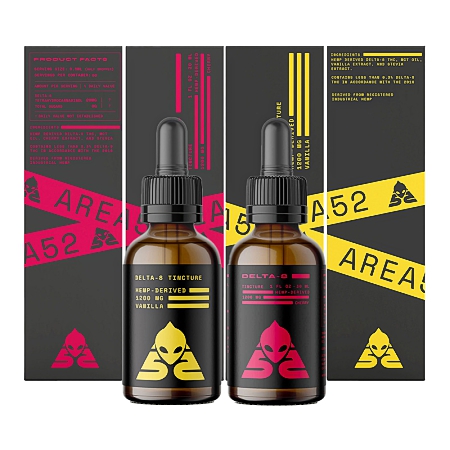 Area 52's delta 8 tinctures are another sought-after product in their line-up. They are one of the most potent delta 8 tinctures we have reviewed so far. Unfortunately, they're rather popular and are sold out from time to time.
The delta 8 tincture comes in a 40 mL dropper bottle for easy dosing and convenient storing. Each bottle contains 1,200 mg of delta 8 THC extract suspended in high-quality MCT oil. The delta 8 is extracted using CO2 instead of harmful chemicals like hexane, once again confirming Area 52's commitment to user safety.
The tincture comes in two flavor options: cherry and vanilla. Many product reviews celebrate the delicious flavors, which is a rarity among delta 8 tinctures.
Like Area 52's other products, the tinctures come with updated third-party lab test results to verify that each is pure and safe for consumption. 
The price is slightly higher than other companies at $109 per bottle, but you can save nearly 40% by ordering multiple bottles at once.
Product Specs:
| | |
| --- | --- |
| Total Delta 8 THC | 1200 mg |
| Extract Type | Delta 8 distillate |
| Delta 8 Potency | 40 mg per mL |
| Flavors | Cherry and Vanilla |
Area 52 sets itself apart from other delta 8 companies with its infused honey sticks. These come in just one variety, but the taste of manuka honey — which comes exclusively from Australia and New Zealand — is sure to please most users.
Each pack comes with five honey sticks, each of which contains 15 mg of pure delta 8 THC distillate. Experienced users might need to take two for the desired effects. At just 4 g of sugar per stick and with a delicious taste, most users won't complain about taking multiple sticks.
The honey sticks include a Guaranteed Analysis from a third-party lab, which confirms precisely how much delta 8 (and other cannabinoids) is in the honey, as well as other identified ingredients.
Product Specs:
| | |
| --- | --- |
| Total Delta 8 THC | 75 mg |
| Extract Type | Delta 8 distillate |
| Delta 8 Potency | 15 mg per honey stick |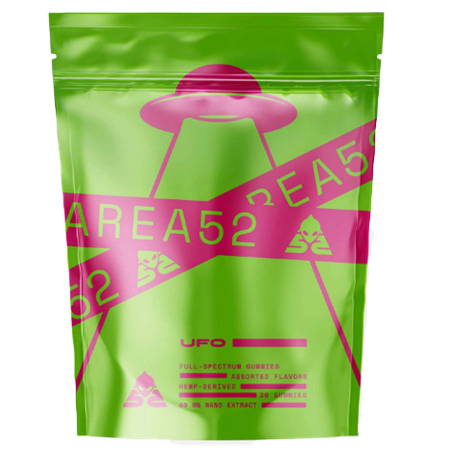 These Full-Spectrum UFO Gummies from Area 52 include a full-spectrum nano hemp extract. Each gummy delivers 60 mg of cannabinoids, including CBD, CBG, CBC, THC, and terpenes.
What makes these gummies so unique is that they're completely legal in all 50 US states (as per the 2018 Farm Bill) yet contain enough THC for a psychoactive dose. Each gummy is packed so full of cannabinoids; the THC content is around 5 mg each while remaining below the legal threshold of 0.3% of the total volume. 
If you're living in a state that bans marijuana, these gummies are the best alternative you can get. 
Product Specs:
| | |
| --- | --- |
| Total Cannabinoids | 1,800 mg |
| Extract Type | Full-spectrum extract |
| Flavors | Assorted |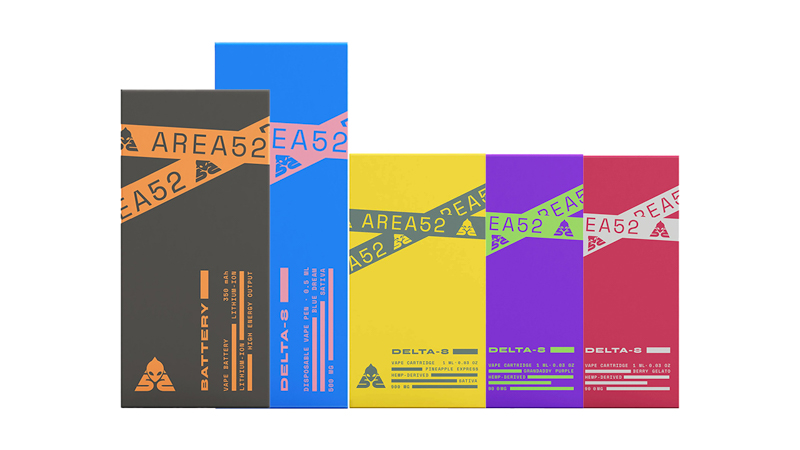 If disposable delta 8 THC vapes don't appeal to you, Area 52's vape cartridges probably will. 
These carts contain 1 mL of pure delta 8 THC hemp extract, which is blended with terpenes for a delicious taste. Each vape cart contains approximately 900 mg of delta 8 THC, so the price of $65 is more than reasonable.
These vape carts have a standard 510 threading on them, so they'll fit most vape batteries. The distillate is suspended in a glass CCELL cartridge with a ceramic heating element for even, clean heating and no off-flavors during use.
The best part is that these carts are flavored with real terpenes. Not only do the terpene improve the flavor of the cart — they also give the active ingredients a boost through a concept called the "entourage effect." No wonder, their vape carts are considered one of the top delta 8 carts offered in the market today.
Product Specs:
| | |
| --- | --- |
| Total Delta 8 THC | 900 mg |
| Extract Type | Delta 8 distillate |
| Delta 8 Potency | Approximately 5 mg per puff |
| Flavors | Pineapple Express, Berry Gelato & Grandaddy Purple |
What Area 52 Does Well
Area 52 excels at producing premium delta 8 products with safety and potency as top priorities. All products come backed by up-to-date third-party lab results to confirm ingredients, cannabinoid concentration, and safety. The product ingredient lists are short, and no harmful chemicals or additives ever make their way into the final product.
Area 52 also maintains such high quality by using state-of-the-art extraction and isolation techniques and employing some of the most qualified cannabinoids biochemists in the country.
Despite the high quality, they maintain reasonable prices that are well worth the investment for most users because of the safety and amount of delta 8 THC in each product. 
The company also offers discounts and free shipping when buying in bulk. 
Negatives of Area 52
Area 52 has quickly gained popularity in the hemp industry, and its production sometimes falls behind demand. We often see products that are out of stock, and they sometimes take days or weeks to be replenished.
Additionally, the product selection is nicely varied, but the flavor options for most offerings aren't as plentiful as you might see from other companies. Their vape pens come in just one flavor, their vape carts in three, and the gummies only come in mixed packs.
Key Takeaways: A Prime Example of What Premium Delta 8 Looks Like
Area 52 uses the expertise of top biochemists in the country, cutting-edge extraction techniques, and extensive third-party testing to verify potency and purity for all customers.
Area 52's product line includes delta 8 THC gummies, vape carts, disposable vapes, honey sticks, and tinctures. It also carries CBD tinctures and full-spectrum gummies that contain a variety of cannabinoids.
The brand image and marketing centered around alien-themed products and promoting a "higher state of mind" is both fun and engaging. Most of the people who use these products aren't using them for therapeutic purposes anyway, so it's refreshing to see a company that's authentic in its brand messaging. 
The powerful mission statement supporting cannabinoids and phytochemicals for self-exploration and creativity combined with exceptional product quality makes them one of the industry's best delta 8 THC vendors. Period.