Does CBD Help With Heart Arrhythmia?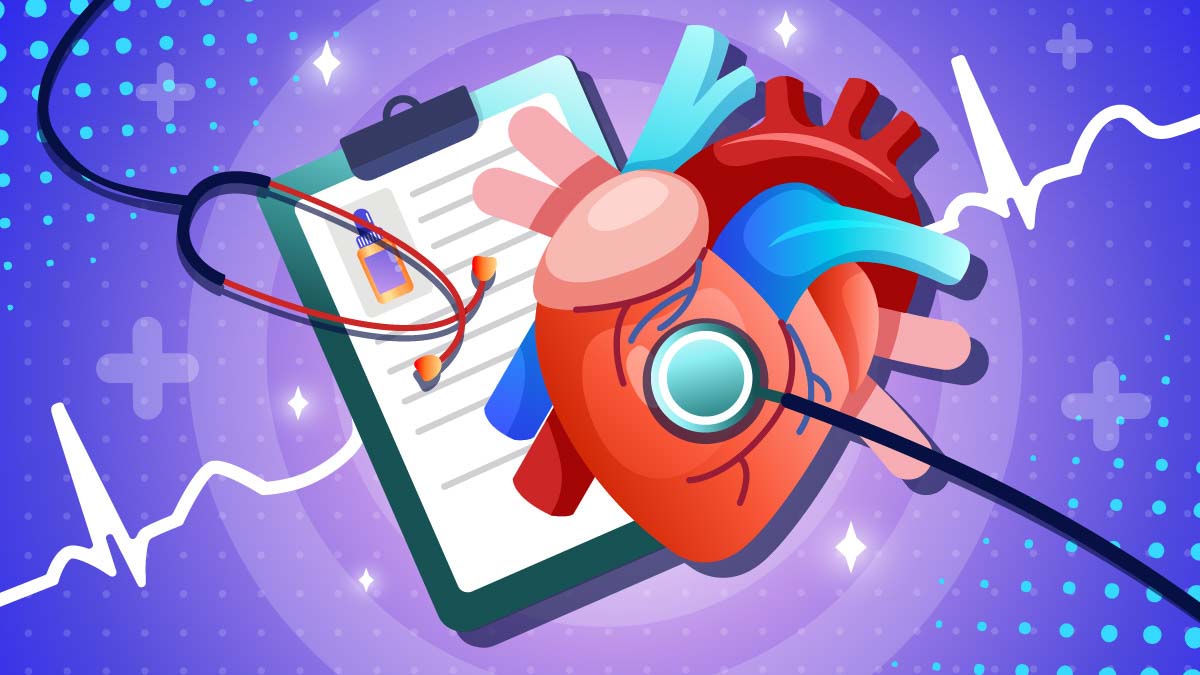 A heart arrhythmia occurs when there's an improper beating of the heart. This could manifest in various forms, such as irregular heartbeat, slow heartbeat, or fast heartbeat. There are different types of treatments for heart arrhythmia, varying between individuals. They may include surgery and prescription medication.
However, if you prefer the use of natural remedies, such as CBD, we'll discuss its effects on the cardiovascular system in this article.
CBD & Heart Arrhythmias: An Overview
Research has proven CBD to be effective in helping with a wide range of health conditions. Inflammation and pain are one of the best-researched areas regarding the use of CBD oil (1).
Myocarditis is a form of heart arrhythmia that occurs when there is inflammation in the heart, causing the heart to be unable to pump blood. Inflammation leads to various medical conditions like high blood pressure, stroke, insulin resistance, and coronary heart disease.
CBD has protective and beneficial effects on the heart. This theory has been proven on rat models. However, these effects haven't yet been replicated in human subjects. The potential is there, and it's only a matter of time before it's proven successful or otherwise.
CBD comes in various forms, most of which don't involve smoking. You can find CBD in oils, capsules, and gummies. This makes it an appealing option for patients suffering from heart disease.
According to Sarah K Walsh et al 2010's study, CBD has proven to be effective against myocardial infarction in rats. At the end of the study, the authors found that rats who were administered CBD before the shortage of their blood supply experienced milder cases of arrhythmia than those who didn't receive a CBD treatment (2).
Can CBD Cause Arrhythmia?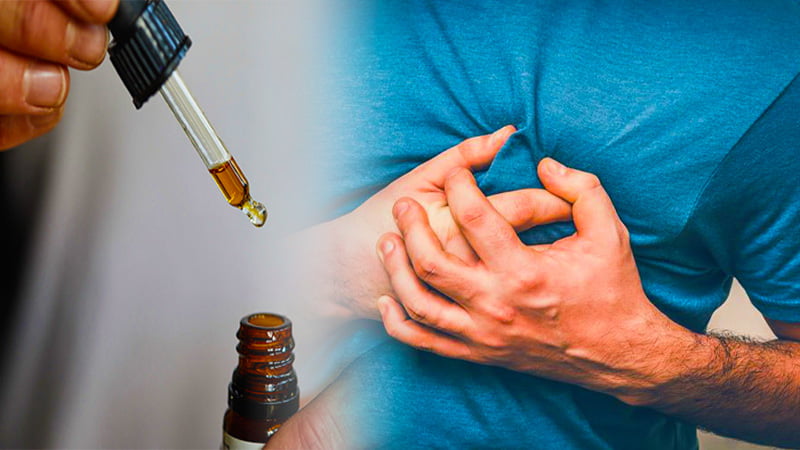 In 2017, a study revealed that cannabis consumption may contribute to the increase of arrhythmia cases, as well as ventricular tachycardia (3). Similarly, another research also indicates that the rate of arrhythmia cases in Cannabis users is high. The most common type of arrhythmia found in this research was AFIB (4). CBD has been shown to provide some help with atrial fibrillation as well.
As mentioned above, both studies were conducted mainly for the whole-plant cannabis and not CBD itself; therefore, it will be hard to determine that CBD is the primary cause that triggers arrhythmia in users.
That's because cannabis contains other compounds such as Tetrahydrocannabinol (THC). THC is the main compound in cannabis responsible for intoxication. CBD products usually contain only trace amounts of THC (0.3% or less), so the said effects on heart health triggered by cannabis may not apply to CBD.
Benefits of CBD For Arrhythmic Patients
Although not proven to help in the outright healing of arrhythmia yet, CBD may be beneficial in other aspects that may allow an arrhythmic patient to manage the disorder.
These benefits include:
Lowering Blood Pressure
In 2017, a research paper found that a single dose of CBD helped to lower blood pressure. High blood pressure (HBP) is a significant factor that leads to congestive heart failure (5). HBP gets triggered by various reasons, such as stress, depression, and anxiety. CBD's primary effect in cannabis is to induce the therapeutic feeling that comes with using the plant. This therapeutic feeling will come to play by reducing stress or anxiety that is causing nervousness in the patient, therefore lowering the blood pressure.
Curtailing Inflammation
According to a 2019 study, inflammation is a significant contributor to many chronic illnesses and mortality in humans (6). These include cancer, diabetes, kidney dysfunction, and heart disease. Heart disease gets triggered by inflammation due to inflamed blood vessels blocking the heart from pumping blood efficiently. Research has shown that CBD may directly affect the arteries and blood vessels by reducing the strain on the heart, helping it curb inflammation which automatically aids blood flow (7).
Preventing Obesity
Obesity is considered a top risk factor for cardiovascular disease. That's why it is essential to maintain a healthy weight. Researchers suggest that CBD may assist in reducing weight and keeping healthy well-being by promoting the browning of white cells (8). This process helps convert white fat cells into brown fat cells that your body is able to burn more efficiently — therefore eliminating white fat cells, which contain fat that may eventually accumulate around the body and lead to obesity.
Reducing Cholesterol
High cholesterol levels such as Low-density lipoprotein (LDL), as well as excess levels of triglycerides, can cause high blood pressure, as it's building up in the lining of blood vessels — leading to a blockage that can trigger a heart attack or stroke. CBD may help prevent this because, according to research, it contains properties that can aid in relaxing arterial walls, which may help reduce excess cholesterol and blood pressure (9).
Choosing the Right CBD for Heart Arrhythmia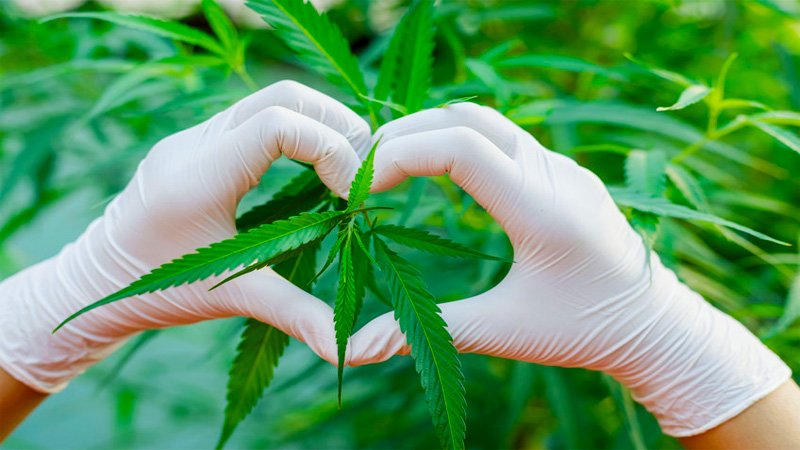 Before using CBD products as an alternative treatment for arrhythmia, there are some things you need to know about the types of CBD products, their components, and their efficiency. Here are the most common types of CBD:
Full-Spectrum CBD
Full-spectrum CBD tops the list and maybe the most commonly known type of CBD product. It is a typical hemp extract that contains all the components of the cannabis plant, such as adjunct cannabinoids, terpenes, flavonoids, and THC. It creates the entourage effect, which refers to synergistic effects achieved by the aforementioned compounds. Their sum is therapeutically more effective than each of these compounds in isolation.
Broad-Spectrum CBD
Broad-spectrum CBD shares a lot of similarities with full-spectrum CBD. They both contain natural compounds found in the cannabis plant, except for THC. Broad-spectrum CBD may be the perfect option for users who would like to avoid THC yet enjoy the other compounds contained in a cannabis plant.
Isolate
Isolate is the purest form of CBD as it doesn't contain any other compounds. As a result, it is odorless and tasteless. This product comes in a crystalline or powdered form, which is then infused into a wide range of products, such as oils, edibles, capsules, topicals, vapes, etc. If all you require from w CBD product is just the full effect of cannabidiol and nothing else, then isolate may be the best option for you.
Tips on How to Buy CBD Products
If you're new to CBD, making a well-informed decision will require proper guidance — as with every other necessary purchase.
We have carefully selected some crucial tips that may be helpful in your decision-making process when you want to buy a CBD product.
Certificate Of Analysis (COA): This certificate helps to reveal the exact amount of compounds that the particular CBD product contains. It should also contain results for common contaminants such as pesticides, heavy metals, solvents, and mycotoxins. If the company or manufacturer doesn't provide these lab reports, it's a major red flag, meaning you should look for another supplier.
Source of CBD: If you're looking for a federally legal product, choose hemp-derived CBD oil. The best CBD oils are made from organic hemp because such plants are grown under natural sunlight and in clean soil. Steer clear of mass-produced hemp that may contain pesticides, heavy metals, and other pollutants.
Extraction Method: high-quality CBD oils are extracted with CO2 or alcohol. Cheap extraction methods, such as hydrocarbon extraction, may compromise the quality of the end product by leaving toxic solvent residue at the bottom of the bottle
Summary
CBD shows promise as an alternative treatment for arrhythmia, although clinical research is still in its early stages. These limitations are often affected by the legality of some CBD products.
As much as it is yet to be proven that CBD can help treat arrhythmia, there's no evidence that CBD causes arrhythmia. In fact, studies have shown that CBD helps in reducing inflammation in the body. Due to its cardiovascular effect, CBD might be beneficial in managing arrhythmia as it helps to lower high blood pressure. On top of that, CBD could help with generalized anxiety and stress disorder — not to mention its ability to control cholesterol and protect the body against oxidative damage.
If you take any medications for heart arrhythmia, consult your doctor before adding CBD to your supplementation plan. A consultation with a professional who understands cannabis will help you avoid CBD-drug interactions.
Sources:
Sinemyiz, A., Jarocka-Karpowicz, I., & Elzbieta, S. Antioxidative and Anti Inflammatory Properties Of Cannabidiol. (2019). [1]
Sarah, K, W., Claire, Y. H, Kathleen, A, K., Cherry, L, W. Acute administration of cannabidiol in vivosuppresses ischemia-induced cardiac arrhythmias and reduces infarct size when given at reperfusion. (2010). [2]
Hemant, G., Hamza, H, A., & Jalal, K, G. Role of cannabis in cardiovascular disorder. (2017). [3]
Thyangaturu, H., S, Thangjui., Shrestha, B., Shah, K., Naik, R., & Bondi, G. Burden of arrhythmia in hospitalized patients with cannabis use-related disorders: analysis of 2016-2018 national inpatient sample. (2021). [4]
Khalid, A, J., Garry, D, T., & Saoirse, E, O. A single dose of cannabidiol blood pressure in healthy volunteers in a randomized crossover study. (2017).
Furman, D., Campisi, J., Verdin, E., et al. Chronic inflammation in the etiology of disease across the life span. Nat Med25, 1822–1832 (2019). https://doi.org/10.1038/s41591-019-0675-0
Stanley, C. P., Hind, W. H., & O'Sullivan, S. E. (2013). Is the cardiovascular system a therapeutic target for cannabidiol?. British journal of clinical pharmacology, 75(2), 313–322. [5]
Parray, H.A., Yun, J.W. Cannabidiol promotes browning in 3T3-L1 adipocytes. Mol Cell Biochem416, 131–139 (2016).
Baranowska-Kuczko, Martaa,b; Kozłowska, Hannaa; Kloza, Monikaa; Sadowska, Olgaa; Kozłowski, Mirosławc; Kusaczuk, Magdalenad; Kasacka, Irenae; Malinowska, Barbaraa Vasodilatory effects of cannabidiol in human pulmonary and rat small mesenteric arteries: modification by hypertension and the potential pharmacological opportunities, Journal of Hypertension: May 2020 – Volume 38 – Issue 5 – p 896-911 doi: 10.1097/HJH.0000000000002333