Should You Take CBD While Taking Metformin?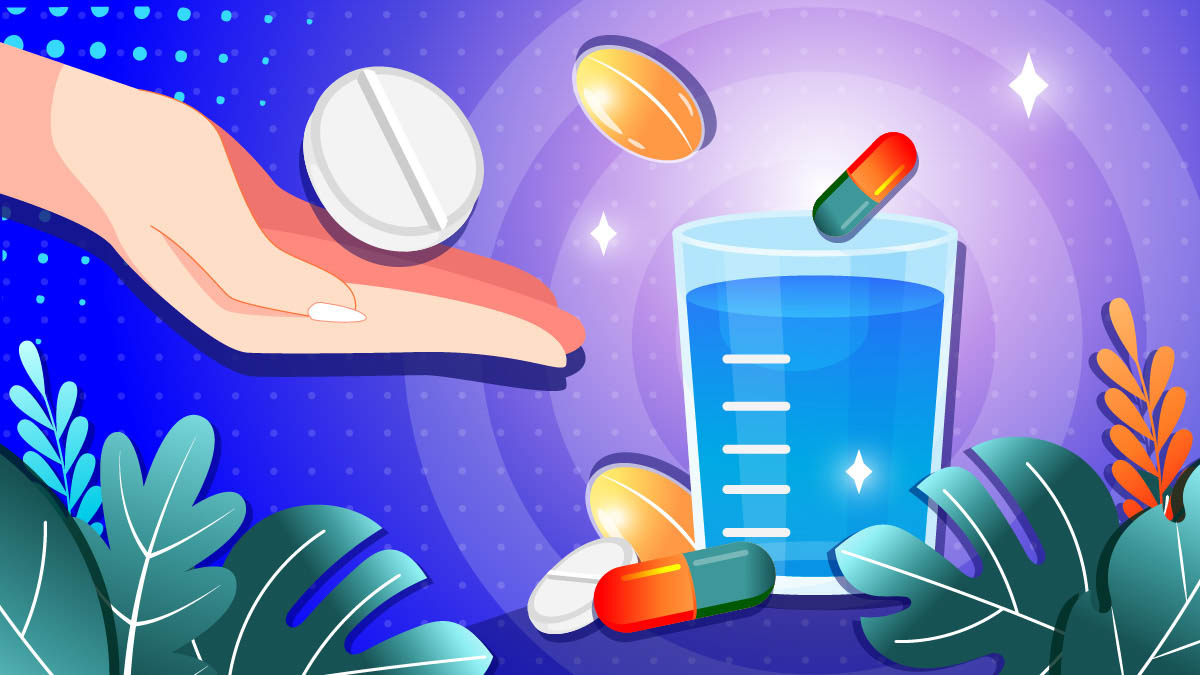 People are increasingly using cannabinoids to help them manage serious health conditions.
Cannabidiol (CBD) is a particularly popular choice since CBD alone does not contain any psychoactive compounds, meaning it doesn't make you feel "high".
In addition to its anti-inflammatory benefits, CBD may also help better regulate our blood sugar and improve our metabolism.
Nearly 10% of the population has diabetes. One of the most common forms of treatment is an anti-diabetes medication called metformin. Many people are now asking, "can CBD help with diabetes?" and "can I take CBD and metformin together?"
Read this article to learn everything you need to know about taking CBD and metformin.
What is Metformin?
Metformin is a prescription medication commonly used in type 2 diabetes to help control blood sugar levels. It's often prescribed on its own or in combination with other drugs and lifestyle changes to reduce complications due to diabetes. It may also be prescribed to prevent diabetes in high-risk groups.
Metformin is an effective medication with benefits that tend to outweigh the risks. The most common side-effects are gas, nausea, bloating, reduced appetite, and diarrhea.
Unlike many other drugs, metformin is not metabolized by the liver. However, due to its action on a liver enzyme called CYP3A4, it may interfere with how your body metabolizes substances like CBD.
Can CBD Oil Help With Diabetes?
CBD has gained a lot of popularity for its ability to alleviate symptoms associated with depression, anxiety, chronic pain, and epilepsy. More recently, scientists have found that it may also be helpful for people with diabetes.
CBD works by influencing our endocannabinoid system. This system plays an integral part in the regulation of energy metabolism by affecting how our fat cells respond to insulin.
There hasn't been much work investigating CBD for diabetes, but what we do have is promising. Recent research has shown that CBD can curb cravings for high-calorie food, helping people manage compulsive eating. This can make it easier for people with diabetes to stick with healthier diet plans.
CBD has also been shown to promote fat-browning. Brown fat is a good kind of fat that takes up less space, burns energy, and keeps us warm. Increased levels of brown fat are associated with improved metabolic profiles.
A study on mice found that a daily dose of 5 mg/kg of CBD for ten weeks lowered the chances of diabetes. Other work examining the effects of phytocannabinoids on obesity and diabetes found that CBD may aid in the treatment of insulin resistance.
Diabetics may also have other benefits from CBD such as improved sleep and reduced inflammation, which can significantly help them manage their diabetes.
Limitations of Using CBD for Diabetes
The most significant limitation to using CBD for diabetes is individual differences in our endocannabinoid systems. Since people can respond differently to the effects of CBD, one person may have a drastic lowering of blood sugar levels after CBD (which can be dangerous), and another might have no effect. Therefore, make sure you monitor your blood glucose levels if you choose to use CBD for diabetes in order to see how your body reacts.
Another limitation is that multiple cannabinoids can impact the endocannabinoid system. CBD is just one of the hundreds of cannabinoids that may be present in full-spectrum oil. More work is needed to determine the effects of compounds like THC and CBN compared to CBD on people with diabetes.
Not all CBD oils are created equally. Always buy your product from a reputable company that offers organic CBD. Look for companies that provide third-party testing to make sure that the product is accurately labeled and dosed.
Can I Take CBD Oil With Metformin?
Both of these compounds seem to have a lot of benefits for people living with diabetes so it seems natural to put them together, right? Not so fast.
CBD and metformin are both inhibitors of a liver enzyme called CYP3A4. This may interfere with how each of the drugs is metabolized.
No study has been conducted to examine the effect of the two drugs taken together. It's possible that combining metformin and CBD may increase or decrease levels of the medication in your bloodstream. This can increase side-effects or reduce the efficacy of the compounds. If you decide to take both, you can reduce the side effects by spacing out your doses of the two drugs.
Some people who combine CBD and metformin also find they become hypoglycemic due to the medications' combined effects. If you're planning on using CBD to help manage your diabetes, you should always do so under the guidance of a physician.
Can I Replace Metformin With CBD?
CBD has many potential qualities that can benefit a diabetic population. In addition to its potential impact on glucose metabolism, it also has many benefits specific to people with diabetes. CBD is neuroprotective, protects the eyes against diabetic retinopathy, and reduces pancreatic inflammation.
Anecdotally, there are many reports of people who have been able to control their diabetes by switching from metformin to CBD.
Whether or not CBD can stand alone as a treatment for diabetes remains to be seen. Many cannabis experts claim that CBD oil can be used to target symptoms of type 1 and type 2 diabetes. Since there is still limited data on CBD for the treatment of diabetes, you should always seek advice or monitoring from a medical professional before replacing metformin with CBD oil.
Drugs That Interact With Metformin
Metformin does not have any severe drug interactions but does interact with certain compounds to have mild to moderate side-effects.
Metformin may increase lactic acid production, which can put people at an increased risk of lactic acidosis in the presence of certain medications or disorders that increase lactic acid. Lactic acidosis is characterized by symptoms such as stomach pain, diarrhea, fast, shallow breathing, and weakness.
An over-the-counter heartburn medication called cimetidine was linked to a case of metformin-associated lactic acidosis.
Other medications that can interact with metformin to increase the risk of lactic acidosis include:
Dolutegravir
Ranolazine
Vandetanib
Additional medications may interact with metformin to cause hypoglycemia:
Calcium channel blockers (i.e., Norvasc)
Corticosteroids
Diuretics
Estrogen and oral contraceptives
Phenytoin
Thyroid medications
Metformin may also increase the risk of anemia and vitamin B-12 deficiency. You can combat this by supplementing with iron and vitamin B-12 if using metformin long-term.
Talk to your physician or pharmacist for a full list of drug interactions.
CBD & Metformin: Final Thoughts
Metformin is a prescription drug that is effective for the treatment of diabetes. Although it may cause some side effects, most users say the benefits outweigh the risks.
CBD has shown the potential to help regulate insulin levels through its action on the endocannabinoid system.
Due to CBD's array of health benefits, many people with diabetes are interested in combining it with metformin or replacing metformin entirely. Users should practice caution when combining the drugs as they may interact to have unwanted side-effects.
More work is needed to determine whether CBD is an effective stand-alone treatment for diabetes, but it appears to have great potential.
References
Motaghedi, R., & McGraw, T. E. (2008). The CB1 endocannabinoid system modulates adipocyte insulin sensitivity. Obesity (Silver Spring, Md.), 16(8), 1727–1734.
Hurd, Y. L., Spriggs, S., Alishayev, J., Winkel, G., Gurgov, K., Kudrich, C., Oprescu, A. M., & Salsitz, E. (2019). Cannabidiol for the Reduction of Cue-Induced Craving and Anxiety in Drug-Abstinent Individuals With Heroin Use Disorder: A Double-Blind Randomized Placebo-Controlled Trial. The American journal of psychiatry, 176(11), 911–922.
Parray, H. A., & Yun, J. W. (2016). Cannabidiol promotes browning in 3T3-L1 adipocytes. Molecular and cellular biochemistry, 416(1-2), 131–139.
Lehmann, C., Fisher, N. B., Tugwell, B., Szczesniak, A., Kelly, M., & Zhou, J. (2016). Experimental cannabidiol treatment reduces early pancreatic inflammation in type 1 diabetes. Clinical hemorheology and microcirculation, 64(4), 655–662.
Clark, T. M., Jones, J. M., Hall, A. G., Tabner, S. A., & Kmiec, R. L. (2018). Theoretical Explanation for Reduced Body Mass Index and Obesity Rates in Cannabis Users. Cannabis and cannabinoid research, 3(1), 259–271.
Santiago, A. N., Mori, M. A., Guimarães, F. S., Milani, H., & Weffort de Oliveira, R. M. (2019). Effects of Cannabidiol on Diabetes Outcomes and Chronic Cerebral Hypoperfusion Comorbidities in Middle-Aged Rats. Neurotoxicity Research, 35(2), 463–474
Lehmann C, Fisher NB, Tugwell B, Szczesniak A, Kelly M, Zhou J. Experimental cannabidiol treatment reduces early pancreatic inflammation in type 1 diabetes. Clin Hemorheol Microcirc. 2016;64(4):655-662
Gruden G, Barutta F, Kunos G, Pacher P. Role of the endocannabinoid system in diabetes and diabetic complications. Br J Pharmacol. 2016 Apr;173(7):1116-27.