CBD and Viagra (Sildenafil) Interactions: Do They Mix?
Doctors prescribe Sildenafil (Viagra) for the treatment of erectile dysfunction (ED)
CBD (or cannabidiol) is primarily used for anxiety, depression, chronic pain, and sleep — but it also offers a wide range of other therapeutic effects.
Some people report increased effectiveness of sildenafil (Viagra) after taking CBD oil — helping improve erection and reduce worries linked to performance anxiety.
But can you safely take CBD oil with Viagra?
That's the question we'll answer in this article.
Does CBD Interact with Sildenafil?
Yes, and you should exercise caution when taking CBD oil with sildenafil (Viagra).
The main danger of combining CBD with Viagra is associated with an increased risk of side effects. Although uncommon, Viagra can trigger indigestion, dizziness, headaches, and priapism — a condition involving painful and long-lasting erections.
CBD may also extend the effects of Viagra by slowing down its metabolism.
Types of Interactions Between CBD and Viagra (Sildenafil)
CBD's ability to inhibit the activity of liver enzymes creates a risk of negative interactions because it alters drug metabolism.
You can experience two types of interactions between CBD and Viagra depending on the dosage.
A) Agonistic Interaction (Increased Effect)
An agonistic interaction occurs when two compounds have the same effects on the body. When it comes to taking CBD and sildenafil together, they share the ability to relax blood vessels. Combined doses of both substances may lead to excessive relaxation, including headaches, dizziness, fatigue, and the aforementioned priapism.
B) Slowed Elimination (Metabolic Inhibition)
Drugs are metabolized in the body through special enzymes known as the Cytochrome P450 (CYP450) family.
Metabolic inhibition is triggered when two drugs target the same enzymes — leading to competitive interactions. In other words, taking CBD with Viagra could result in slowing down the metabolism of one of the drugs.
Sildenafil uses CYP450 enzymes, specifically CYP3A4 (major route) and CYP2C9 (minor route). CBD is a potent inhibitor of these enzymes.
If you take CBD with sildenafil, the plasma levels of the drug can increase in the body. When you use viagra on a daily basis, the continuous buildups of the substance could become dangerous.
You can avoid it by spacing out the time between your doses so that your body can flush them.
Other Names for Viagra (Sildenafil)
Sildenafil is an umbrella term for a pharmaceutical compound that is used to treat erectile dysfunction.
It has many different brand names, such as:
Alsigra
Aryagra
Caverta
Edegra
Giagra
Medigra
Penegra
Revatio
Silagra
Vega
Vizarsin
Xcite
Zenegra
Does CBD Oil Interact with Other Erectile Dysfunction Medications?
In general, always look out for unintended interactions between CBD and other medications. Since CBD and erectile dysfunction medications (PDE5 inhibitors) are metabolized by the same enzymes, they share a similar risk for interaction.
The following medications can negatively interact with CBD:
Avanafil (Stendra)
Mirodenafil (Mvix)
Tadalafil (Cialis)
Udenafil (Zydena)
Vardenafil (Levitra, Staxyn, and Vivanza)
Is It Safe to Take CBD Oil Together With Viagra?
There are no clinical reports of dangerous side effects caused by interactions between CBD oil and Viagra.
However, it's wise to maintain caution with one side effect (priapism). Since both substances can relax blood vessels, you're theoretically at a higher risk of developing this condition.
If you notice any distressing reactions after taking CBD oil with sildenafil, discontinue the use and contact your doctor immediately.
Is CBD a Good Alternative to Viagra (Sildenafil?)
CBD isn't considered a viable alternative to Viagra because it's not an acknowledged ED treatment.
CBD and other cannabinoids have demonstrated benefits for ED in some individuals, but this effect is more related to CBD's impact on anxiety disorders, such as performance anxiety.
VIagra, on the other hand, directly relaxes blood vessels, pumping more blood to the penis. This effect hasn't been observed in studies investigating the effects of CBD.
If you experience mild ED caused by anxiety, CBD could be a safer alternative to viagra. However, ED triggered by mechanical injuries is unlikely to benefit from CBD.
What is Viagra?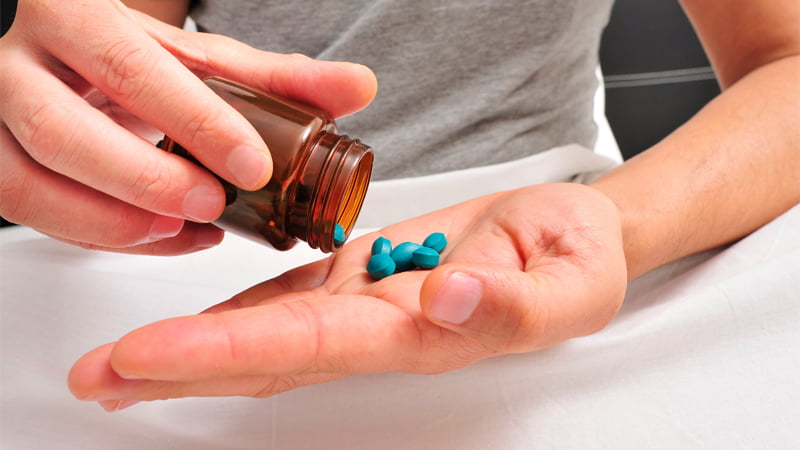 Viagra is one of the brand names for sildenafil — a phosphodiesterase type 5 (PDE5) inhibitor. Doctors prescribe it to treat erectile dysfunction and pulmonary hypertension.
It's an FDA-approved treatment for ED and is available only for a prescription in most countries.
Viagra (Sildenafil) Details:
| | |
| --- | --- |
| Pharmaceutical Name | Sildenafil |
| Brand Names | Viagra, Silagra, Alsigra, Aryagra, Edegra, Revatio, Penegra, Xcite, Vega, Giagra, Vizarsin, Zenegra, Caverta |
| Class of Drug | Phosphodiesterase 5 Inhibitor |
| Metabolic Enzymes | Cyp 450 enzymes (CYP3A4 and CYP2C9) |
| Interaction with CBD | Agonistic, metabolic inhibitor |
| Strength of Interaction | Low |
How Does Viagra Work for Erectile Dysfunction (ED)?
Sildenafil (Viagra) is the inhibitor of phosphodiesterase 5 (PDE5). Its main mechanism causes an increase in the blood flow to a flaccid penis. This feature enables erection.
PDE5 is an enzyme commonly found in vascular smooth muscles, visceral smooth muscles, platelets, and cavernosa.
Was Viagra Always Used to Treat ED?
Viagra was originally meant to serve a different purpose. It was invented as a potential blood pressure medication. Its side effect, however, made it a preferred drug for ED.
The Mechanism Behind Erection
When you have sex with your partner, an adequate amount of foreplay should lead to a release of nitric oxide (NO) from the nerves and endothelial cells. This event triggers the release of cyclic guanosine monophosphate (cGMP).
The cGMP's release relaxes the muscles of corpora cavernosa in the penis, dilating the blood vessels. As the blood flows rapidly into those vessels, the penis becomes enlarged and gets erect. This state lasts until the end of the sexual intercourse or after ejaculation.
What Happens When You Take Viagra
The enzyme PDE5 blocks the additional blood flow to the vessels in the penis. It does so by causing the cGMP levels to degrade. In the majority of ED patients, the dysfunction also affects the blood vessels in the penis.
Since Viagra inhibits PDE5 and increases the level of cGMP, it lets more blood flow into the penis, allowing for a successful erection.
With a positive mindset and sufficient sexual stimulation, this drug may be even more effective.
Viagra isn't recommended for use alongside alcohol. Patients with severe heart disease, priapism, several renal and liver disease, blood disorders, retinitis pigmentosa, and hypersensitivity to sildenafil should steer away from viagra, too.
Although Viagra doesn't cause dependence and addiction, it can interact with several medications, including antacids, guanylate cyclase stimulators, CYP3A4 inducers, and CYP3A4 inhibitors.
Side Effects of Viagra
Abdominal pain
Abnormal vision
Back pain
Diarrhea
Dyspepsia
Hot flushes
Headaches
Loss of vision
Nausea
Skin Rash
Muscle pain
Bluish tinted vision
TIngling sensation in the limbs
What is CBD Oil?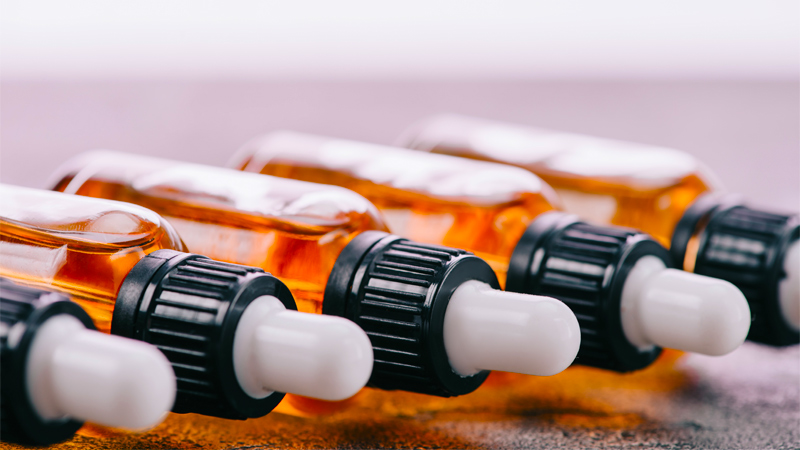 CBD oil is an oily extract derived from cannabis. It can be extracted from hemp and marijuana, but most CBD oils on the market come from hemp. That's because hemp is legal in all 50 states.
CBD doesn't get you high, but it comes with a myriad of health benefits. This feature makes CBD an appealing alternative to marijuana. Since THC can make users anxious in higher doses, some of them are afraid of starting the treatment. CBD comes in handy here.
Since CBD is fat-soluble, manufacturers suspend it in a carrier oil. Usually, it's MCT oil because it contains the highest percentage of saturated fatty acids.
People commonly use CBD oil for pain relief or to reduce anxiety, depression, and sleep problems. However, CBD also has the potential to manage the symptoms of autoimmune diseases and neurological conditions.
In a 2009 article published in the journal Annals of the New York Academy of Sciences, the authors concluded that the endocannabinoid receptors occur in the sexual reproductive organs, such as testicles. They also found them in the brain.
Other studies found that cannabinoids such as CBD and THC may increase libido and improve sex life in general, while others warn that regular cannabis use may lower sex drive in males. However, these studies also involved high-THC cannabis (marijuana).
One of the best-researched areas of the therapeutic use of CBD is anxiety. CBD may improve libido by reducing anxiety disorders, such as performance anxiety — increasing one's desire for sex.
Final Verdict: Can You Take CBD Oil with Viagra?
CBD can inhibit the metabolism of Viagra in the body — potentially increasing the duration and concentration of the drug in the body.
In addition, CBD may strengthen some of the effects of Viagra, increasing the risk of lightheadedness and painful erection.
Always talk to your doctor before taking CBD oil with Viagra. Doing so will help you find the right dosage and timing for both products and avoid potential interactions.
Sources:
Carvalho, R. K., Andersen, M. L., & Mazaro‐Costa, R. (2020). The effects of cannabidiol on male reproductive system: A literature review. Journal of Applied Toxicology, 40(1), 132-150.
Pizzol, D., Demurtas, J., Stubbs, B., Soysal, P., Mason, C., Isik, A. T., … & Veronese, N. (2019). Relationship between cannabis use and erectile dysfunction: a systematic review and meta-analysis. American journal of men's health, 13(6), 1557988319892464.
Blessing, E. M., Steenkamp, M. M., Manzanares, J., & Marmar, C. R. (2015). Cannabidiol as a potential treatment for anxiety disorders. Neurotherapeutics, 12(4), 825-836