CBD Dosage for Dogs: How Much Should I Give My Dog?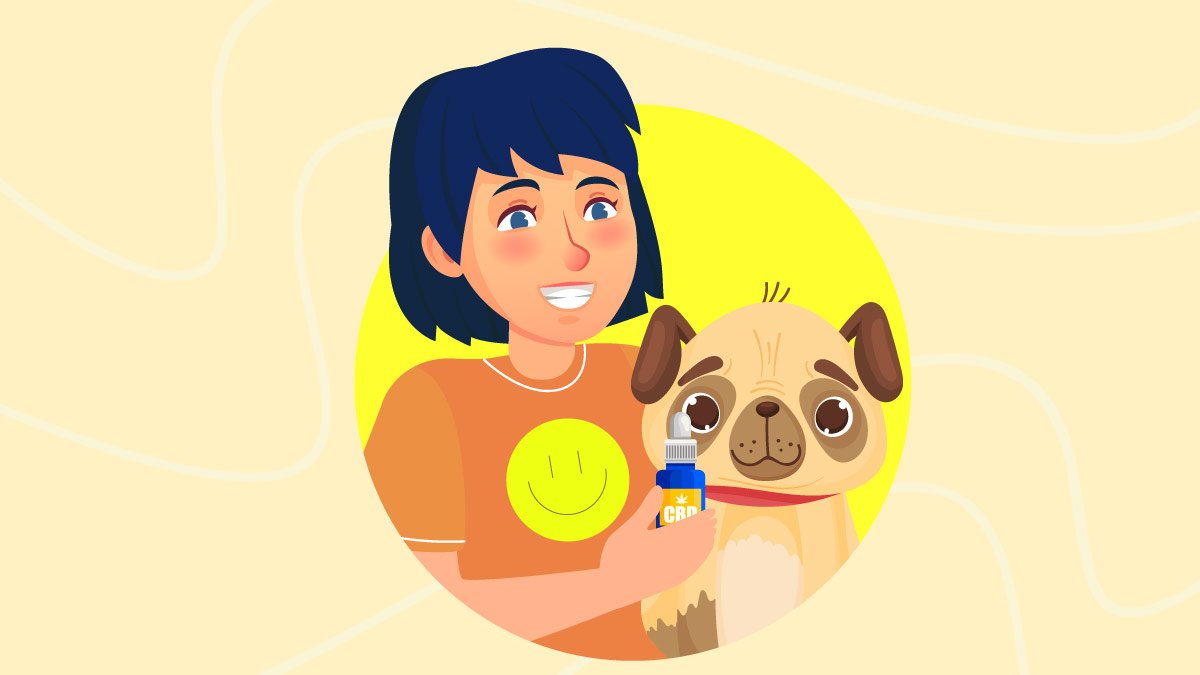 Still not sure how to figure out how much CBD you should give your dog?
Worry no more!
As a team of CBD aficionados and pet lovers obsessed with their puppies, we'll be more than happy to help you find the right dose of cannabidiol (CBD) for your furry friend.
And if you're here for the first time wondering why on earth we would even consider giving CBD to a dog, here's a quick reminder:
Dogs and cats have an endocannabinoid system, too – just like humans.
That being said, CBD, a powerful compound found in the cannabis plant, shows great potential as an alternative form of treatment for dogs, cats, and other pets that are struggling with a range of health conditions.
Finding the right dose of CBD can be tricky, as there are plenty of factors that can determine the effects it will have on your dog or cat.
We'll cover all you need to know about dosing CBD for pets and walk you through the best dosage guidelines for different forms of CBD consumption.
Off we go!
Things to Consider Before Giving CBD to Your Dog
Figuring out the right CBD oil dosage for your dog can be a hard nut to crack, especially for pet owners who are just getting started with CBD for pets.
We'll use dogs as an example because that's where we have the most experience; however, the same guidelines apply to cats and other (mammalian) pets.
There are three essential factors to take into consideration prior to buying CBD for your pet:
1. Consumption Method
One of the factors that determine how much CBD you will give your dog is the type of product you use, along with the brand you're using.
CBD products for dogs come in 4 main forms:
CBD and Hemp oil
Capsules
Topical rubs
Treats (edibles)
CBD and hemp oils are by far the best option for dogs as they offer the highest bioavailability. This means that less CBD is needed to produce the effects you want.
However, not every dog will like the distinct taste of CBD oil, so if that's the case, CBD dog treats would do the trick.
Not only will they taste better – imagine flavors like Chicken & Bacon or Roasted Duck – but they also come with a fixed CBD dose.
This way, you know exactly how much CBD you're giving your dog.
However, there's one downside to using CBD dog treats:
They're much slower.
Let me explain.
The cannabinoids in the treats need to pass through your dog's digestive system to make it into the bloodstream. This means the effects will have a slower onset time than oils and your dog may receive less CBD overall.
The same applies to CBD capsules for dogs, but capsules just aren't as enjoyable for the dogs as the treats.
The benefits of capsules, however, are that they have a higher fixed dose, and are more reliable in the level of effects they'll produce.
2. Your Pet's Size
It's no surprise that the CBD dosage for vary depending on your dog's size. But how do I determine what dose is correct?
Let me explain.
The general rule is that larger dogs need more CBD to experience the effects than smaller puppies. Some brands provide their own dosage charts based on the weight of your dog. This makes dosing easier from the start.
Keep reading to learn specific dosage guidelines depending on the size of your dog.
3. The Severity of Your Dog's Condition
Finally, keep in mind that your dog's condition can also affect how much CBD should you give him/her.
The more severe the condition, the higher the dose they'll likely need to alleviate the discomfort.
If you want to supplement your dog with CBD oil, low doses will usually suffice, but for anxiety or joint pain, you'll need to increase the dosage and observe the effects until you hit the sweet spot.
General CBD Dosage Guidelines For Dogs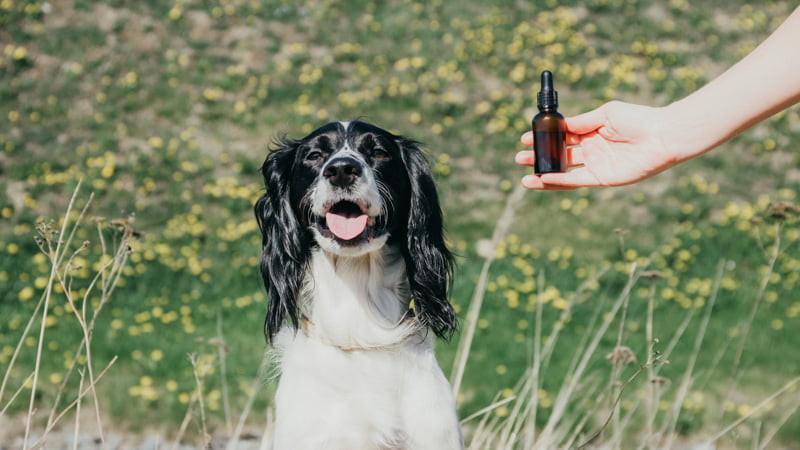 For general supplementation or mild conditions, the exact amount of drops in a CBD oil to meet the estimated dosage will vary between products.
In general, 2-4 drops taken two to four times a day are recommended.
You can also adjust the dosage, based on the size of your pet and his/her condition we've just talked about.
A CBD capsule, in turn, will contain between 5-20 mg of CBD each. The dose of encapsulated CBD is around 1 tablet taken once or twice per day.
As for pet treats, they will vary in concentrations of CBD.
Always check if your CBD company provides dosing instructions at the back of the package. If it does, it's best to follow the instructions.
Actually, regardless of the product you use, we always recommend following the dosage instructions that came with it to avoid overdosing and based on this, adjust the dose as needed.
We recommend starting at the low end of the dose, and increasing gradually once you know how your dog will respond.
How to Figure Out How Much CBD You Should Give to Your Dog By Size
To make it easy for you, we'll break down exactly how to choose the right dose for your dog based on their size (measured in weight).
Some people prefer to use a very small dose, no matter what size their dog is and working up from there.
A rough starting dose to do this is 1 mg.
This allows you to gradually work your way up the optimal dose without wasting too much CBD oil in the process.
Even large dogs are about ⅓ the size of average humans, so considering that in humans, the jumping-off point is around 1-3 mg, the above figure makes sense.
To begin with, let's discuss how much CBD you should give to your dog, based on relative weight.
1. Small (2-15 lbs)
Extra small dogs will need the least amount of CBD, which may sound relieving at first.
But there's a catch.
Tiny dogs have a super-fast metabolism!
You will need to increase the frequency of CBD administration to 3-4 doses per day, instead of 1 or 2 with larger dogs.
If your dog is suffering from pain, the starting CBD dose of 1 mg may be enough for the beginning.
For behavioral conditions like dogs with anxiety, we recommend measuring out ½ mg worth of oil and adding a couple of drops if you don't see any improvement for the next 3-5 days of use.
As for a routine, it's best to start by administering CBD twice daily.
Each time you want to increase the dosage, you can do it in 2 mg increments until your dog finds some relief.
Nevertheless, try not to exceed 15 mg CBD doses in extra small dogs.
Remember that these are all relative figures, and should not be taken as medical advice or as a veterinary recommendation.
2. Medium-Small (15 – 30 lbs)
Having done in-depth research on different CBD dosages for medium dogs, we've noticed that many people achieve success with a 2 mg dose, and increasing by 3 mg until they get some results
This data refers to dogs suffering from pain and arthritis.
For psychological conditions and poor appetite, try using half the dose above (1 mg of CBD).
For most medium sized dogs this should do the trick.
Dog owners who want to help their friends with anxiety are recommended to increase doses by no more than 2 mg, keeping mind that they shouldn't exceed 2 doses per day.
The maximum dose of CBD for a dog of this size is about 20 mg per day.
3. Medium-Large
Like we said before, larger dogs require more CBD to experience the desired effects.
What's an appropriate initial dose of CBD for dogs with general pain?
It's generally believed that a 1-3 mg dose of CBD is a good starting point, depending on the level of the pain.
If you're not seeing the results you want to try increasing by 3 mg.
For behavioral conditions (lack of focus), psychological disorders (panic, anxiety), and poor appetite, the recommended initial dose is 1 mg twice a day.
Make sure to keep a watchful eye on your dog's behavior to notice if the effects of CBD are kicking in.
If not, increase the dose by no more than 2 mg.
The maximum dose for CBD for a dog of this size is about 30 mg per day.
4. Large (60 – 150 lbs)
Owners of large dogs should follow the same general recommendations as for medium-large dogs.
With very large dogs, you can expect to have a much higher dose, however, it's best to work your way up slowly by 3 mg per dose until you find signs of relief.
Related: How Much CBD Should You Give Your Cat?
Getting The Dose Right With Different CBD Products
So now that you know the mg of CBD you should use on your dog or cat, you may be wondering how this applies to different CBD products.
After all, not all CBD products contain the same concentration of CBD.
Calculating the right dose of Cannabidiol may look like a cutscene from the "Beautiful Mind" movie, so we'll help you out a bit.
Below, we share specific details about CBD dosing for dogs using common strengths and volumes.
1. CBD or Hemp Oil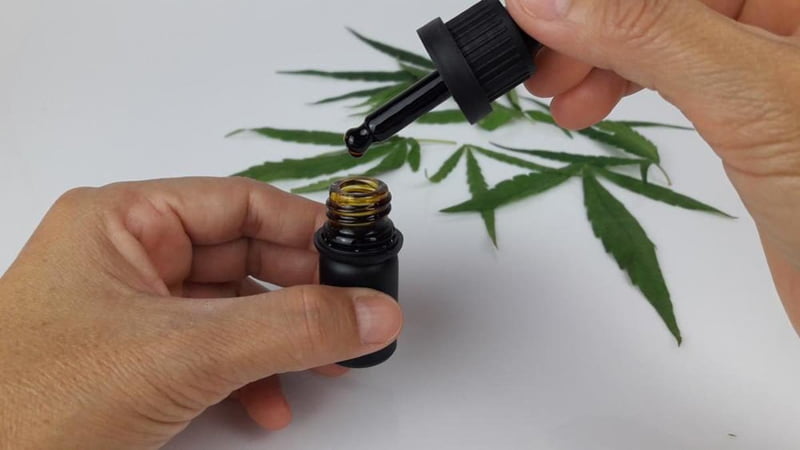 CBD oil for dogs typically comes in 150, 300, and 600 mg bottles. Here are the basic dosage tips for this kind of CBD.
Here's a quick reference to how the different CBD concentrations work out in drops.
| | | |
| --- | --- | --- |
| | Per Drop | Per 1 mL |
| 150 mg CBD Oil | 0.25 mg | 10 mg |
| 300 mg CBD Oil | 0.50 mg | 20 mg |
| 600 mg CBD Oil | 1.00 mg | 40 mg |
Recommended Doses Based On Size & CBD Oil Concentrations
Small Dogs

(2 – 15 lbs)

Medium-Small Dogs

(15 – 30 lbs)

Medium-Large Dogs

(30 – 60 Lbs)

Large Dogs

(60 – 150 lbs)

CBD Dose In mg
0.5 – 3.75 mg
5 – 7.5 mg
7.5 – 15 mg
15 – 38 mg
150 mg CBD
0.05 – 0.4 mL

(2 – 16 drops)

0.5 – 0.75 mL

(20 – 30)

0.75 – 1.5 mL

(30 – 60 drops)

1.5 – 4 mL

(60 – 150 drops)

300 mg CBD
0.03 – 0.2 mL

(1 – 8 drops)

0.25 – 0.4 mL

(10 – 16 drops)

0.4 – 0.75 mL

(15 – 30 drops)

0.75 – 2 mL

(30 – 80 drops)

600 mg CBD
Not Recommended
0.1 – 0.2 mL

(4 – 8 drops)

0.2 – 0.4 mL

(8 – 16 drops)

0.4 – 1 mL

(16 – 40 drops)
How To Calculate The Dose Yourself
At this point, you have probably noticed that there's a pattern with the dosage calculations. This can be broken down into a simple formula.
You see, figuring out how much CBD you should give your dog is pretty straightforward regardless of what we said before in the article.
Here's the dosage formula:
0.25 mg x 1lb of body mass = Regular Dose
This is particularly useful for the owners of small dogs that are way under 15 lbs.
So, if you have a pet that weighs 8 pounds, here's the formula:
0.25 mg x 8 lbs = 2 mg of CBD
Now we need to figure out the dose for the dog based on the concentration of the CBD oil we're using. In order to do this, we need to know the amount of CBD per mL.
If you've forgotten, here's the answer based on common CBD oils:
150 mg = 10 mg per mL
300 mg = 20 mg per mL
600 mg = 40 mg per mL
The formula for the next step is:
[regular dose in mg of CBD] / [mg CBD per mL] = Dose in mL
Let's say you bought some CBD oil with 150 mg CBD.
Let's say you bought some 150 mg CBD oil, the calculation would be:
2 mg CBD / 10 mg/mL = 0.20 mL of a 150 mg CBD Oil
The next step is to calculate this in drops to make dosing easier.
Since most droppers will have about 40 drops for every mL, the formula will be:
[Dose in mL] x 40 = Dose In Drops
So for our example, the calculation would be:
0.20 x 40 = 8 drops
Double Checking Your Dose Calculations
The best way to verify whether you're right or wrong is to compare your dosage with the instructions on the bottle.
If they are a match, you can be proud of your math skills! Great work.
How Do I Give CBD Oil To My Dog?
In a perfect world, CBD oil should be applied directly into your dog's mouth, and if it goes under their tongue, it's even better.
Some pet owners swear that their buddies love licking CBD oil up and eventually got used to the routine of taking their medicine.
But that's not always realistic with all dogs.
A lot of dogs aren't keen on ingesting CBD oil, and may not like the taste.
If the direct method fails, try adding CBD tinctures to your dog's food.
If this still doesn't work, you may need to switch to capsules or treats.
Speaking of which…
2. CBD Capsules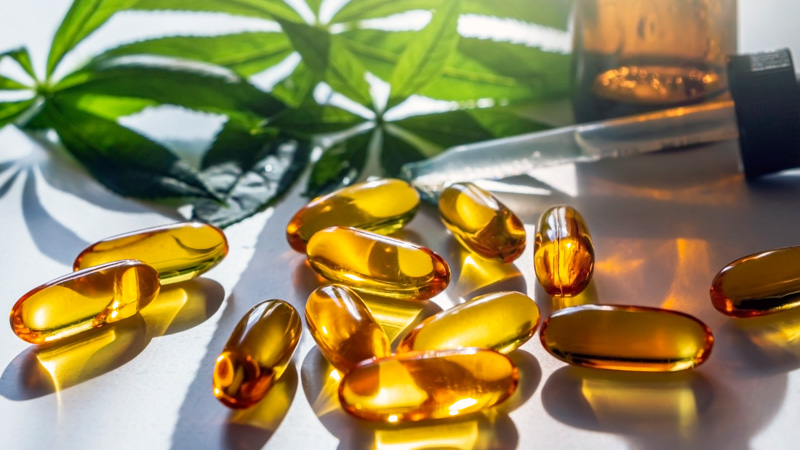 CBD capsules are a good alternative to dogs with the so-called French palate. When trying to figure out the right dosage for your pet, you need to take a closer look at different strengths available on the market.
Know Your Potency
Similar to CBD oil, capsules for dogs and cats are typically available in 150, 300, and 600 mg bottles.
If you're wondering how much CBD is in 1 capsule, this depends on the strength of your bottle.
Here's a quick rundown:
150 mg: 1 capsule contains 5 mg of CBD
300 mg: 1 capsule contains 10 mg of CBD
600 mg: 1 capsule contains 20 mg of CBD
For capsules, it's best to always follow the dosage instructions on the bottle. The dose can vary a lot depending on how the capsules are manufactured, and what else is in them.
How to Administer CBD Capsules for Dogs
Your goal is to make sure that your pet receives all the contents of the capsule.
This is actually easier to do with capsules than it is with oils.
A CBD capsule can be administered in three ways:
The Mix Method: Open the capsule and mix the content with your dog's food
The Sneak Method: Wrap the capsule in a treat or some bacon.
The Vet Method: Pop it into your dog's mouth and hold it shut for a few seconds. This is how vets do it because it works!
Simple as that!
3. CBD Topical Rubs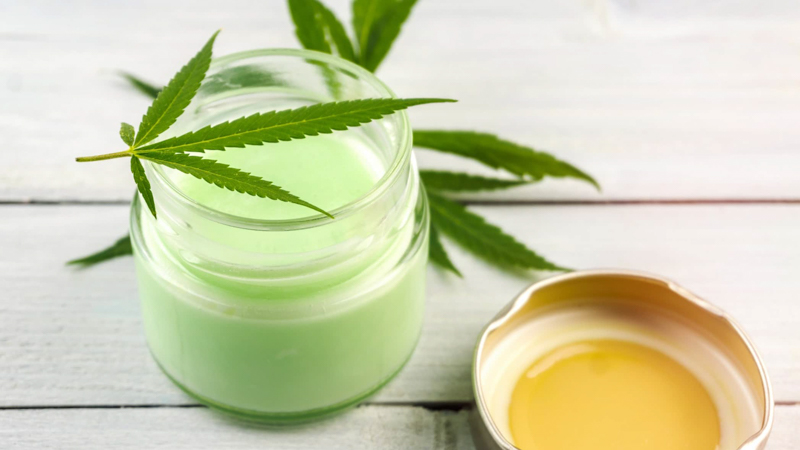 A CBD topical rub is useful for targeting localized pain or increase joint mobility in dogs.
Here's what you need to know about using CBD topicals for your pet.
General Guidelines
Before applying a CBD topical rub to the affected spots on your dog's body, it's best to consult a veterinarian.
Topical CBD products are the least researched consumption method of Cannabidiol in dogs and there are no definite dosage guidelines.
However, an experienced CBD-friendly veterinarian should be able to give you a few tips on where to start and how to increase the dose if needed.
How to Administer CBD Topical Rubs for Dogs
It's as easy as a walk in the park.
All you have to do is apply the rub/cream to the affected area and let it soak into the skin.
CBD topicals need more time to take effect, so observe how your dog's behavior within an hour after the administration.
4. CBD Treats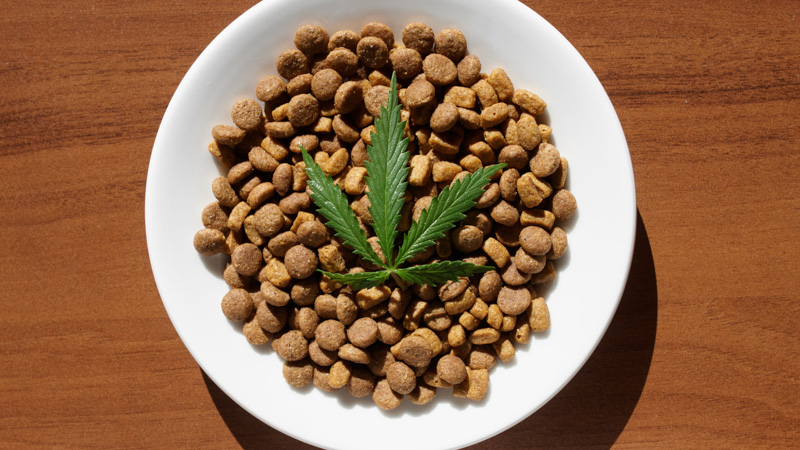 This is by far the most enjoyable method of CBD for dogs.
What dog doesn't like treats?
A standard bag of CBD treats contains about 30 pieces, but this can vary a lot depending on what products you buy.
Treats are a great way of getting CBD into your dog, but figuring out the dose can be very difficult.
Different manufacturers will make all different strengths, and there are no standardized dosages yet for this.
Many manufacturers choose to make their treats with 5mg of CBD each, but this can't be relied upon.
It's always best to check the manufacturer's dosage recommendations whenever giving your dog CBD-infused treats.
Risks And Considerations Of Using CBD With your Dog
Cannabidiol has been acknowledged by WHO as a safe, non-toxic substance that carries many health benefits.
As long as you avoid heroic doses of CBD, your furry friend shouldn't experience any side effects at all.
But in case you went overboard, here's what to expect:
Low blood pressure
Drowsiness
Dry mouth
Diarrhea
Other than that, there's nothing you should be particularly worried about.
CBD can be taken regularly without the risk of building tolerance or experiencing severe side effects, especially compared to pharmaceutical alternatives.
In Summary
Remember, the above guidelines are only general recommendations and thus should not be taken as medical advice.
CBD leaves plenty of room to experiment with different dosages, so as long as you do it responsibly, and remain within the range listed in the dosage tables above, your dog is going to be all good.
After all, Cannabidiol is not toxic and there are no serious side effects to using it with your dog.
Should you have any doubts about how much CBD oil you should give to your dog, consult a veterinarian who is experienced in this field.
Feel free to contact the manufacturer for their recommendations whenever using products you're not familiar or perfectly comfortable with.