How Much CBD Should I Give My Cat?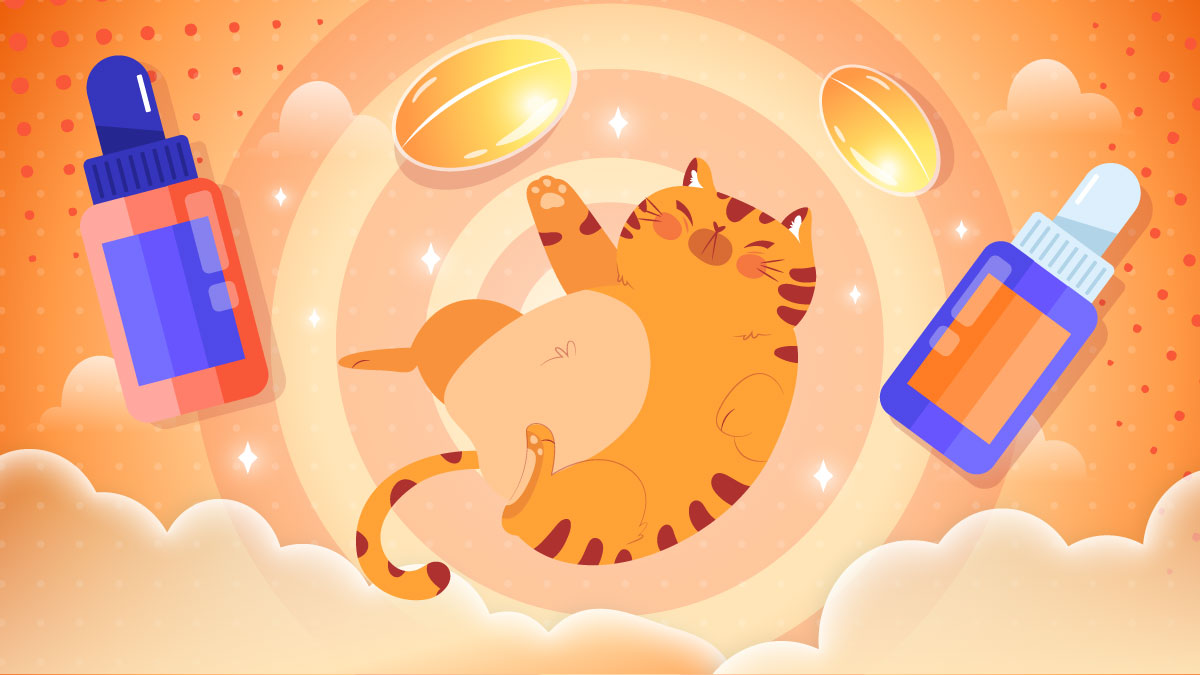 Calculating the optimal CBD dosage for cats is more challenging than for dogs. Cats are smaller than dogs, so if you want to gauge the right amount without making your pet drowsy and confused, careful measurements are required.
Knowing the right CBD dosage for your cat can help you optimize its endocannabinoid system (ECS) and thus prevent the development of potential disorders and diseases.
Of course, CBD is just one of the many natural compounds that can aid our felines in living a happy and healthy life, but it's absolutely one of the most versatile supplements we've known to date.
In this guide, we'll answer the most common questions about dosing CBD in cats, including the driving factors, potential risks, and the best CBD products for cats.
CBD Dosage for Cats: Highlights
The most therapeutic CBD dose for cats depends on several factors, such as your animal's age, body weight, diet, and overall health.
Due to the lack of official regulations, there are no established dosage guidelines for cats when it comes to CBD; this is true for both general use and specific conditions.
Some manufacturers provide their own dosage instructions for pets based on certain weight groups, which is a good starting point. However, keep in mind that the best CBD dosage for your cat will depend on its individual needs besides the aforementioned determinants.
Pure CBD has a bell-shaped response curve as shown by the Brazilian Journal of Psychiatry in 2019. However, full-spectrum CBD extracts seem to overcome this phenomenon, meaning that — unlike pure CBD — their efficacy increases gradually as the dosage goes up. Isolates, on the other hand, have a specific dose range beyond which it loses efficacy.
CBD Dosage for Cats: The Basics
When cat parents try to find CBD dosage guides for their pets, they usually stumble upon many sites that provide various calculations and different instructions.
No wonder people are getting confused.
The above disparity stems from the lack of regulations from the Food and Drug Administration (FDA) and other veterinarian bodies.
With no official dosage charts regarding how much CBD oil should be taken by cats, finding the optimal range requires a little trial and error.
In general, CBD manufacturers recommend giving cats 1 mg to 5 mg for every pound of their body weight. This range applies to cats of all breeds and sizes.
You can start with just 1 mg and steadily increase the cat's CBD dosage until you notice positive results.
Dosing Rules for Cats
As I mentioned earlier, several factors determine the optimal CBD dosage range for cats. Doses depend on the animal's breed, age, diet, body weight, underlying health conditions, and overall well-being.
To begin with, check out the dosing guidelines of reputable CBD manufacturers who offer products for cats.
For example. Royal CBD recommends administering a half or full dropper every day, divided into portions so that your cat can take smaller doses of CBD throughout the day and maintain constant support of its endocannabinoid system.
As mentioned earlier, general dosage guidelines based on the recommendations of pet parents and CBD manufacturers range from 1 to 5 mg of CBD for every 10 pounds.
That's about 0.1 mg to 0.5 mg for every pound.
Start with lower doses and gradually increase the amount of CBD oil until your cat shows signs of improvement. Keep in mind that CBD might not work right away; the average time needed by CBD to start bringing balance to the endocannabinoid system is about 2 weeks.
Higher doses are recommended for severe health problems, such as your cat experiencing epilepsy, cancer-related symptoms, severe nausea, vomiting, anxiety, or tumors.
Best CBD Potency for Cats
Similar to CBD dosage for cats, the potency of CBD is influenced by many variables, such as the way the hemp was grown, the hemp strain, and the extraction method.
The amount of CBD in each product is typically reflected in milligrams and indicates differences in potency.
However, there are no standardized labeling methods in the CBD market. The potency of CBD products varies greatly, from 100 mg to up to 5,000 mg in a 30 ml bottle.
Some brands label their products as containing "2400 mg of CBD," while others may say "2400 mg of hemp extract." Although they sound similar, they're not the same.
CBD refers to pure cannabidiol, so if the product contains 2400 mg, it refers to the pure compound. Full-spectrum extract contains other cannabinoids and terpenes from hemp, so a 2400 mg full-spectrum oil may contain only 50 mg of CBD.
If you want to confirm the potency of CBD in your product, make sure to check its certificate of analysis (COA).
Dosing Frequency
Recommendations regarding dosing frequency for cats vary between different brands, but most of them recommend the following:
Every eight hours or as needed to manage pain and inflammation
At least 30 minutes before a stressful event (going to crowded places, leaving home, fireworks) to control your cat's anxiety
Once to twice daily for regular supplementation
Other companies suggest that pet owners may even give CBD to cats before they experience any problems.
For instance, if the cat gets anxious during storms or fireworks, it should receive its serving of CBD at the first sign. This way, CBD can work its way to calm their mind and body.
Still, just like establishing CBD dosage for cats, dosing frequency should be consulted with a veterinarian.
How to Find the Best CBD Dosage for Your Cat
Knowing the optimum CBD dosage for your cat should be a priority if you want to maximize the benefits and reduce the risk of unwanted effects. That's why I stress the importance of testing your cat's reactions with lower doses.
Once you've managed to find the best dose with no adverse reactions, you can increase the amount until the preferred result is achieved.
Since cats are smaller than dogs, supplementation with CBD is more cost-effective in their case. What is considered low- or medium-potency for dogs is often labeled as strong when it comes to cats.
Cat parents should be careful with high-potency CBD oils because they also increase the risk of side effects, such as dry mouth, dizziness, changes in appetite, and diarrhea.
Related: How Much CBD Should You Give Your Dog?
Why Cat Owners Are Looking for CBD Oils for Cats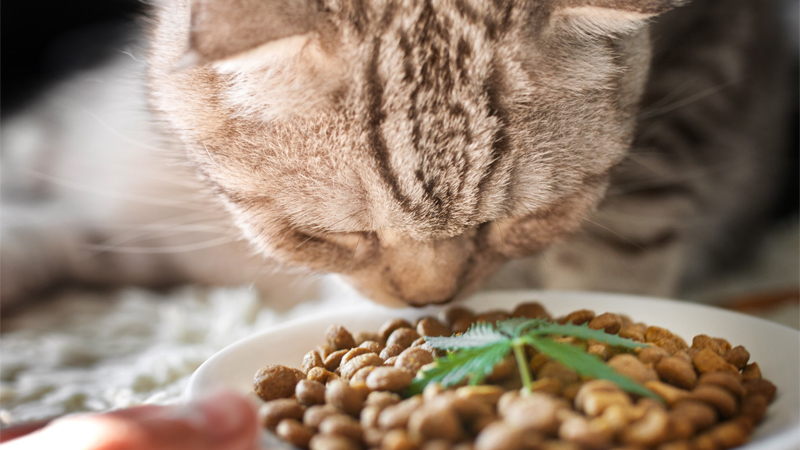 Humans and cats may share similar benefits from using CBD oil because both species have endocannabinoid systems. These benefits are backed by scientific evidence and are quite well explained in the literature.
Doctors, such as Dr. Gary RIchter, MS, DVM, a certified veterinary acupuncturist and veterinary chiropractic, believe that CBD for cats is safe, even in high doses.
Richter even recommends incorporating medical cannabis treatment into a pet routine in his book, The Ultimate Pet Health Guide–Breakthrough Nutrition and Integrative Care for Dogs and Cats, published in 2017.
Unfortunately, clinical research on CBD and animals is still in the early stages. Moreover, results from studies conducted specifically on cats didn't bring any conclusive results.
In a 2019 study that tested the efficacy of CBD-rich hemp nutraceuticals in eight cats and eight dogs, the cats experienced side effects such as chewing, pacing, head-shaking and licking.
However, this might've been caused by too high a dose and the fact that the cats didn't have enough time to adjust their ECS to the new compound.
How CBD Works
The ECS is composed of two types of receptors: CB1 and CB2.
These receptors interact with our endocannabinoids and the phytocannabinoids from cannabis.
CB1 receptors control a wide range of processes in the brain and central nervous system. They also affect motor regulation, emotions, pain sensation, appetite, mood, and sleep.
Meanwhile, CB2 receptors are more prevalent in the immune system and peripheral nervous system. Upon activation, they trigger an anti-inflammatory response, reducing the root of the pain and mitigating painful signals in the brain.
By stimulating and modulating the ECS, CBD naturally promotes a sense of balance.
On top of that, it acts on over 60 molecular pathways, which explains its therapeutic potential and versatility.
The Pros & Cons of Using CBD Oil in Cats
Pros:
Cats can reap the same benefits from CBD oil as other mammals, such as dogs, horses, and humans.
According to Nora Volkow, director of the National Institute of Drug Abuse (NIDA), CBD isn't addictive, so hemp-derived CBD products are safe for cats when applied in optimal dosages.
Hemp-derived CBD oil is legal in many countries around the world.
As of March 2020, the FDA said it hasn't received reports of adverse effects of cannabis products given to animals. However, there were reports of bad reactions due to the accidental ingestion of high-THC cannabis edibles by pets.
Cons:
There are no longitudinal studies on CBD for specific use in cats.
The FDA doesn't approve the use of cannabis in animals. The agency strongly recommends consulting a veterinarian to determine appropriate dosages for cats.
California is the only state in the USA that allows veterinarians to use cannabis with their clients. Therefore, not many vets in the country are experienced in using CBD on pets.
CBD may interact with other medications if they're taken simultaneously by the cat, including those prescribed by your vet. Again, if you plan to add CBD to your cat's supplementation, consult it with the vet to establish a good routine for both products so that interactions don't occur.
CBD vs Other Supplements to Balance Health in Cats
The majority of veterinarians advise cat parents to introduce lifestyle and diet modifications to improve their health conditions.
Although a diet change is only one factor of treatment, dense nutrition is always beneficial for felines. Getting a well-balanced diet high in animal protein and fats is excellent for satisfying its needs.
Occasionally, you may add other supplements to their diet.
For example, if your cat has feline inflammatory bowel disease (IBD), its gastrointestinal tract becomes chronically inflamed and irritated.
A GI bacteria may trigger IBD, which is why novel treatments include prebiotics for specific bacteria cultures and GI health probiotics.
You may also add soluble fiber, such as psyllium, if your cat has other gastrointestinal issues, such as colitis. Supplementation with B vitamins and folate is also important if your cat has nutritional deficiencies.
At the same time, hemp-derived CBD may be an excellent choice to balance your cat's endocannabinoid system, which is actually its first line of defense against environmental stressors.
But did you know that CBD isn't the only hemp-derived compound that can improve your cat's quality of life?
For example, the USDA National Nutrient Database reports that a serving of hemp seeds equivalent to 30 grams offers 1.2 g of dietary fiber among healthy omega-3 acids, vitamins, and trace minerals.
Full-spectrum CBD extracts are usually suspended in a carrier oil, which not only increases its bioavailability but also adds its own benefits to the blend. Most manufacturers dilute their extracts in hemp seed oil or MCT oil, both of which are great carriers and good sources of nutrients.
How to Choose the Best CBD Product for Your Cat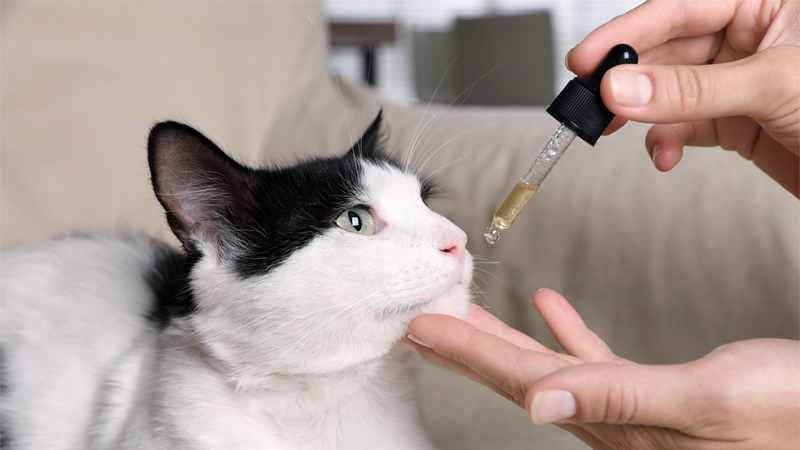 CBD oil is a hemp-derived extract that can be full-spectrum, broad-spectrum, or pure.
Full-spectrum CBD oil contains an array of other cannabinoids and terpenes, including trace amounts of THC (0.3% or less). It leverages the entourage effect, which is a biological phenomenon where the said compounds work synergistically to achieve better results than isolated CBD.
Broad-spectrum CBD is almost the same, except for the lack of THC. This cannabinoid is removed during filtration to create a product that will appeal to pet owners who are afraid of giving any amount of CBD to their cats.
Finally, pure CBD doesn't contain any other hemp compounds and may be a good alternative if your cat is allergic to them. That being said, isolate-based products don't evoke the entourage effect and demonstrate a bell-shaped dose-response curve.
Things to Look for in High-Quality CBD Oils for Cats
Only buy CBD oils from organic, GMO-free hemp. Most reputable CBD brands grow their own hemp or import it from states like Colorado, Kentucky, California, and Oregon.
Look for CO2-extracted CBD products for cats. CO2 extraction doesn't require toxic solvents or high temperatures, and it yields pure and consistently potent products — preserving the original phytochemical profile of the plant.
Ask for certificates of analysis (COA) for each product. These documents contain reports about the product's potency, cannabinoid and terpene profiles, and purity. The lab reports should involve a complete analysis of contaminants, including pesticides, heavy metals, solvents, and mycotoxins.
Follow the manufacturer's instructions to find the best CBD dosage for your cat. Start low and slowly increase the amount of CBD until you see the best results with no adverse reactions.
Best CBD Products for Cats
1. Royal CBD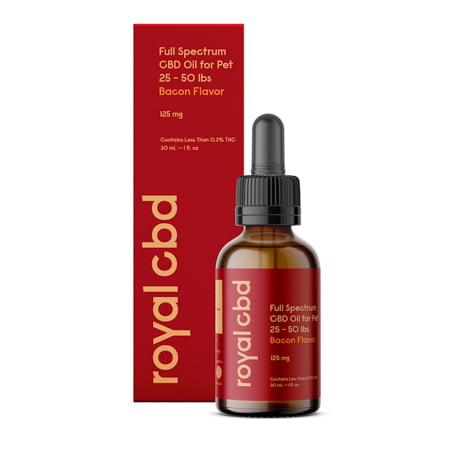 Get 15% off all Royal CBD products. Use code "CFAH" at checkout.
Pros
Cons

Organic hemp
CO2 extraction
Full-spectrum CBD
Up to 500 mg of CBD
Third-party tested for potency and purity

Rather expensive compared to similar products
Royal CBD is known for its remarkable quality of products, both for humans and pets. After succeeding with its human selection of CBD extracts, the brand has stepped up its game with a special line for dogs and cats.
You can choose from two types of products: CBD oil and CBD pet treats.
The CBD pet oil is appropriate for both cats and dogs, carrying between 250 mg and 500 mg of full-spectrum CBD depending on the selected potency. Both versions come in a beloved flavor of all carnivores — bacon.
The pet treats come in three different formulas, each infused with different superfoods to support and enhance the health benefits of CBD for pets.
You can choose from the following variants:
Active: Turmeric, Boswellia, Hemp Seed, CBD
Calming: L-theanine, Chamomile, Hemp Seed, CBD
Hearty: Blueberries, Flaxseed, Hemp Seed, CBD
The entire Royal CBD pet collection is triple-tested in an ISO-certified laboratory for quality and safety.
2. Gold Bee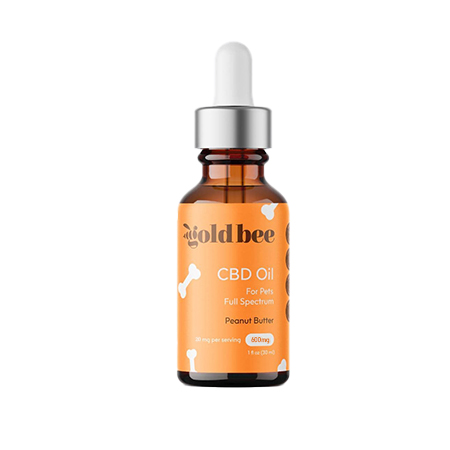 Pros
Cons

Non-GMO hemp
Supercritical CO2 extraction
Full-spectrum
600 mg of CBD
MCT carrier oil

Only one potency
Limited production runs mean mean limited supply available
Like its competitor, Gold Bee uses the same grade of CBD extracts for dogs as it does for humans, ensuring top-shelf quality and well-thought-out formulas. The brand sources its CBD from a proprietary blend of hemp strains that are also a rich source of terpenes — leveraging the whole-plant synergy.
CBD Dosage for Cats: The Bottom Line
Finding the best CBD dosage for cats is easier said than done.
First, the market is currently being formed more around dogs, so cats don't have such a great choice of products and potencies.
Second, cats are even smaller than dogs, so calculating their dosage with some CBD pet oils out there may also pose a challenge.
Lastly, the quality of most CBD pet products leaves a lot to be desired.
I hope that this guide has helped you wrap your head around different CBD doses for cats and how to gauge the optimal dosage for your feline buddy.
For a quick product recommendation, try out the pet oils and treats offered by Royal CBD and Gold Bee. I also encourage you to do your own research in the market — there are plenty of great brands out there.