CBD for Bipolar Disorder: Potential Treatment and Benefits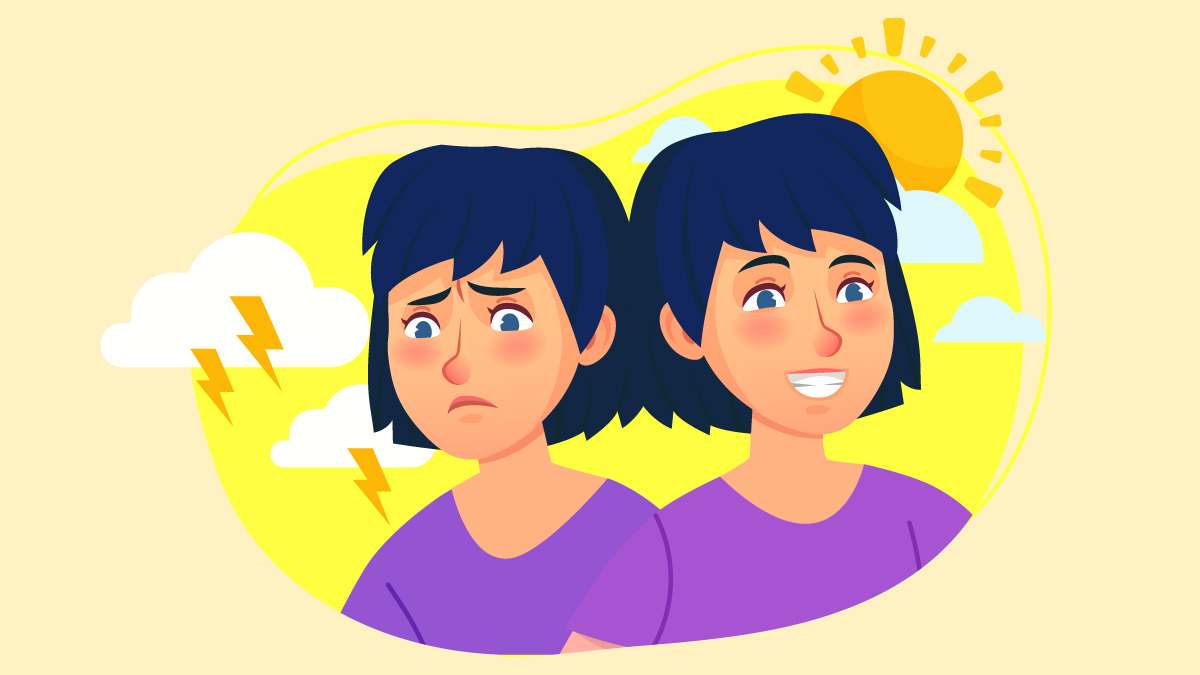 Communication between the neurotransmitters in your brain is a key player in mood stabilization. These chemical messengers help regulate your thoughts, feelings, mood, and behavior. But in order to function properly, they need to be balanced; otherwise, our brain will become either hyperactive or hypoactive. The frequent fluctuation between the activity of neurotransmitters may lead to a range of mood disorders, including bipolar disorder.
The driving force behind the functioning of neurotransmitters and their matching receptors is called the endocannabinoid system (ECS). The discovery of the ECS has given researchers new insight into the interaction between different chemicals in your body; what happens when the communication system fails; and how to potentially restore the neurochemical homeostasis.
Today we'll cover the role of the endocannabinoid system in the development of the bipolar disorder, a pesky condition whose symptoms can negatively impact your daily life as well as people around you.
We'll also explain how cannabidiol – CBD may contribute to healthy communication between neurotransmitters, thus reducing the severity of bipolar disorder.
Let's jump right into this without further ado.
Bipolar Disorder and CBD
A 2010 study published in the journal Psychological Medicine suggested that cannabis can improve cognitive functioning in people with mental disorders. Interestingly, the study tested low doses of high-THC cannabis strains (marijuana) (1). And while people with bipolar disorders may benefit from small amounts of THC, using intoxicants — even in moderate amounts — is a controversial approach among the sufferers and medical professionals.
However, THC is only one of the 115 identified cannabinoids in the cannabis plant. The second major compound, CBD, is non-intoxicating and can actually counteract the psychoactive effects of THC. According to a 2015 study published in the Journal of Psychopharmacology, using CBD has the same antipsychotic and anticonvulsant properties as conventional bipolar disorder medications (2). Considering the lack of intoxicating effects, hemp-derived CBD oil will be a decent pick for bipolar sufferers.
CBD products sourced from hemp are more accessible due to the recent legal changes in hemp cultivation and sales. The US federal government legalized hemp under the 2018 Farm Bill, which was de-scheduled from the Controlled Substances Act. Hemp is now an agricultural commodity that can be grown for a variety of purposes. Hemp-derived CBD is widely available without a prescription; you can find it in local organic stores, dispensaries, vape shops, and online.
Here's how CBD can help manage the symptoms of bipolar disorder.
CBD as a Mood Stabilizer
CBD is touted for its ability to reduce stress and anxiety. Numerous studies have mentioned the anxiolytic and antidepressant-like properties of CBD oil. People use CBD to manage different types of mental disorders, including panic disorder, general anxiety disorder, social anxiety, post-traumatic stress disorder (PTSD), schizophrenia, and more.
Below we share an explanation of the mechanisms behind CBD's therapeutic effects.
CBD May Alleviate Manic Episode
People with bipolar disorder often show intense symptoms of mania, during which they feel highly motivated and filled with energy. In a 1998 study published in the Journal of Psychoactive Drugs, the authors concluded that cannabis users responded better to their herbal treatment than those given conventional medications. The study mentioned CBD as a promising treatment for bipolar disorder, although the results came from only one type of the condition — hypomania (3).
CBD Acts as a Natural Antidepressant
A 2007 study from the Journal of Neural Transmission correlated the depressive period of bipolar disorder with a low density of CB1 cannabinoid receptors in the brain. CBD may help restore these receptors through the endocannabinoid system signaling, which would explain its positive effects on bipolar disorder (4).
CBD also interacts with the serotonin receptors that regulate mood and emotional processing. CBD oil can enhance mood by helping the body use serotonin more effectively. With sufficient levels of serotonin in the circulatory system, and with CBD oil helping prevent anxiety and regulate sleep, bipolar patients may prevent depressive disorders.
CBD Improves Stress Response
Most anxiety-related disorders derive from stress, and CBD oil appears to be one of the most effective natural stress relievers known to mankind. Stressed people with a history of mental disorders in their families will only increase their risk of bipolar disorder if proper stress management is ignored.
Taking CBD oil daily for bipolar disorder can effectively support the endocannabinoid system, which is responsible for regulating stress responses among many other physiological functions.
People Don't Get Addicted to CBD
Traditional bipolar medications, such as Symbiax, lithoid, and benzodiazepines like Xanax, Valium, and Klonopin are typically prescribed for bipolar disorder. However, they have a long list of possible adverse reactions, not to mention the negative consequences of their long-term use. In this clash, cannabis compounds have a much better safety profile.
Some of the common side effects of pharmaceutical medications include their addictive potential, difficulty sleeping, manic depression, weight gain, and suicidal ideation.
The only side effects of CBD oil you might experience are dry mouth, changes in appetite, drowsiness, fatigue, and diarrhea. However, in normal doses, these effects are almost non-existent. Studies on the side effects of CBD oil have concluded that the compound is safe in regular use. Unlike traditional medications, CBD is not addictive and can't lead to a fatal overdose. In fact, CBD has been shown by recent research to relieve withdrawal symptoms and prevent relapse in those who have gone cold turkey (5).
The Role of Cannabinoid Neurotransmitters in Mood Stability
Your body produces the neurotransmitters called endocannabinoids — anandamide and 2-AG. These molecules interact with the endocannabinoid system, and their concentrations increase whenever the communication between the chemical messengers in your body gets disturbed. Your body also interacts with exogenous cannabinoids found in cannabis plants, such as hemp and marijuana. Both plants have their unique benefits, but marijuana has high levels of THC, which is an intoxicating compound. Hemp, on the other hand, comes with only 0.3% THC per dry mass, so using hemp-derived products like CBD oil won't get you high.
Cannabinoids & Our Health
Plant-based cannabinoids mimic the effects of your endogenous cannabinoids, communicating with receptors in the ECS. The ECS is responsible for managing nearly every process and function in your body, including:
Cardiovascular function
Metabolism and energy
Mood and emotional processing
Neuroprotection and muscle movement
Pain perception and inflammation
The endocannabinoids in your body are produced for a short duration and your body doesn't store them. The exogenous cannabinoids are more potent, longer-lasting, and they can also signal the production of the endocannabinoids — allowing them to circulate longer in the bloodstream.
Long story short, cannabinoids from the cannabis plant help keep our master regulatory network in good shape in order to maintain well-being.
When this network falls out of whack, it may give rise to a range of health concerns. There's even a medical term, the endocannabinoid deficiency, where the efficacy of ECS is compromised to the point it becomes deficient in its natural cannabinoids.
Research suggests that CBD has the potential to reduce pain, lower inflammation, bolster the immune system, improve sleep, and alleviate the symptoms of anxiety and depressive disorders, such as bipolar affective disorder. Studies of the endocannabinoid system are relatively new, but the results are promising.
Let's make sure you've got a good understanding of bipolar disorder before we continue with the benefits of CBD for mental health.
Bipolar Disorder 101: Causes, Symptoms & Treatment Options
Bipolar disorder affects around 1.6 million Americans. It causes changes in a person's mood, emotions, energy levels, behavior, and function. People with bipolar disorder experience extreme emotional states known as mood episodes. The complexity of the condition makes it easy to misdiagnose as depression.
The above episodes are broken down into manic, hypomanic, and depressive.
What Causes Bipolar Disorder?
Researchers have yet to find the underlying cause of the bipolar disorder, although the most likely explanation involves imbalances between specific neurotransmitters in the brain. As mentioned earlier, bipolar disorder is difficult to treat. People usually go through trial and error, most often trying one medication and waiting to see if it improves the symptoms. If not, another drug is prescribed until the symptoms become manageable.
Some of the causes of bipolar disorders include:
Chronic depression
Severe mental stress
Hereditary factors (family history of bipolar disorder)
Hormone imbalances
Neurodegeneration
Imbalances in neurotransmitters
Post-traumatic stress disorder (PTSD)
Types of Bipolar Disorder & Their Symptoms
Manic Episodes – a manic episode occurs when the receptors in the brain are overstimulated by the neurotransmitters. During a manic event, those with bipolar disorders experience a surge of energy, showing signs of being euphoric and highly motivated. The overexcitation may lead to a short attention span, recklessness, anxiety, and insomnia. Manic episodes may also cause paranoia, delusions, and psychosis.
Hypomanic Episodes –During a hypomanic episode, a person goes through a less severe version of the manic episode, often being put between mania and depression. Those under the influence of a hypomanic episode struggle with anxiety and distractor, although they're usually able to complete their daily tasks.
Major Depressive Episodes – a major depressive episode involves the opposite symptoms of mania. It results in low motivation, feelings of sluggishness, low energy levels, and depression. This type of bipolar disorder is also accompanied by social isolation and suicidal thoughts.
How Is Bipolar Disorder Typically Treated?
Treating bipolar disorder is difficult because it is a multifaceted problem. The best approach to the problem is a combination of counseling and psychiatric care. Psychotherapy helps patients determine behavioral problems, such as high mental stress or a history of substance abuse. Other contributors, such as hormonal imbalances, should also be analyzed and treated pharmacologically.
Doctors usually prescribe the following medications for bipolar disorder:
Mood stabilizers (carbamazepine, lithium, valproic acid)
Antipsychotics (Abilify, Latuda, Zyprexa)
Antidepressants (Sertraline)
Antidepressant-antipsychotics (Symbyax)
Anticonvulsants (Depakote, Tegretol)
However, these medications often have dangerous side effects. For this reason, people have started seeking help in complementary treatments, such as sensory deprivation, elimination of mental stresses, nutritional adjustments, support groups, herbal medicine, and CBD supplementation.
Below we share the current scientific findings regarding the use of CBD for bipolar disorder.
Pros & Cons of Using CBD Oil for Bipolar Disorder
The Pros:
In vitro studies show that CBD is a neuroprotectant, including reduction of oxidative stress and free radical damage. These factors are believed to contribute to the development of the bipolar disorder (6).
CBD promotes healthy stress responses. It can also alleviate both acute and chronic anxiety.
CBD is an anti-inflammatory. Chronic inflammation may damage neurons in the brain, leading to imbalances in neurotransmitters. The anti-inflammatory effects of CBD have been found in both animal and human studies.
CBD is non-intoxicating, so it won't get you high. This is a particularly valuable trait, as intoxicants are known for increasing the risk of aggravating the symptoms of bipolar disorder.
You can't get addicted to CBD.
CBD doesn't have the serious side effects associated with commonly prescribed antipsychotics.
The Cons
The CBD market is largely unregulated, so there's a risk of buying a mislabeled product that contains significant amounts of THC, even if the label states otherwise.
Much of the evidence supporting the benefits of CBD for bipolar disorder comes from animal studies and preclinical human trials. More clinical studies are needed to determine whether the effects of CBD are consistent on large groups of the population.
How to Use CBD for Bipolar Disorder?
CBD Oil – CBD oil is the most common form of cannabidiol due to its ease of use and dosage precision. CBD oil contains hemp extract and food-grade inert oil. The infusion in the carrier oil boosts the bioavailability of CBD, allowing lower doses to remain effective. Such a product is easier to apply and dose. CBD oil is taken under the tongue, where the user holds it for up to a minute before swallowing.
CBD Capsules – Capsules are a good choice if you dislike the natural taste of CBD oil. They also take away the guesswork associated with dosing CBD in the liquid form because each capsule contains a premeasured dose. All you need to do is take as many capsules as you need to match your dosage and swallow them down with water. Since capsules need to pass through the digestive system, they have a delayed onset, usually kicking in after 40–90 minutes.
CBD Edibles – Edibles like gummies and honey sticks provide a fun way to supplement CBD. The only concern when it comes to CBD edibles is the lower potency of the final dose. Similar to capsules, edibles need to be processed in your gut before they can be released into the bloodstream, so dosing is often inconsistent and unreliable.
CBD Vape Pens – if you're looking for the most efficient of all consumption methods in terms of dosing, then CBD vape pens will be your best bet. Vaporized CBD shows the highest bioavailability because it enters the bloodstream through the lungs. As a result, the CBD acts within minutes after inhalation. Vaping is a good choice for people with bipolar disorder because it provides consistent dosage and fast symptom relief.
How Often Should You Take CBD for Bipolar?
Consistency is an essential component of successful bipolar disorder treatment. Only by being consistent can you manage the symptoms of the condition and level the endocannabinoid deficiencies in your system, which is one of the probable causes of bipolar disorder.
For the best results, you should take CBD a few times a day depending on the route of administration. CBD oils provide relatively long-lasting effects, up to 6 hours, allowing the user to split the dosage into two servings. For products like CBD hemp flowers or CBD vapes, you'll probably need to use them more often, as vaporized CBD has a shorter duration, usually between 3–4 hours.
How Much CBD to Take for Bipolar Disorder?
Finding the optimal dosage range for your situation will require some experimenting. Everybody is different, so a dose that works for your friend may not necessarily be enough to relieve your symptoms. Self-testing is an inevitable part of that process, but the goal is to minimize the number of errors.
Most experts recommend starting with a low dose and gradually increasing it until you find the desired relief from your bipolar disorder. Many bipolar patients experience benefits upon reaching a medium- or high-strength dose. The amount of CBD oil you'll need to notice the positive change depends on the severity of your symptoms and your overall health. The only way to determine your effective dosage range is to try it out.
You can start by taking 10 mg twice a day — in the morning and in the evening — and observe the effects for one week. It's good to keep a dosage journal where you will keep notes of how you feel after each dose, and whether or not it alleviates your symptoms. If you find no change after that time, add another 10 mg to your routine and continue the trial. Once you've reached the sweet spot, you can lock in at that dosage.
Is CBD Safe?
Taking CBD for bipolar disorder doesn't carry a risk of life-threatening side effects. In fact, CBD has been mentioned by several studies as a safe and well tolerable compound. In humans, examined dosages ranged between 300–1,500 mg of CBD daily. However, there are a few mild reactions you should keep in mind when using CBD oil for bipolar disorder. Since most people with the condition benefit from medium- to high-strength doses, you may experience the following side effects:
Dry mouth
Changes in appetite
Fatigue
Sleepiness
Diarrhea
CBD-drug interactions are also possible, so we encourage you to visit a doctor knowledgeable about CBD and cannabis to avoid these interactions. A qualified professional will also help you establish the right dosage regime to maximize the benefits of your treatment.
CBD vs Lithium: Which is Better for Bipolar Treatment?
CBD is praised for its ability to stabilize mood and alleviate anxiety. Anecdotal reports, as well as clinical evidence, indicate that CBD produces the same effects as some other bipolar medication and antidepressants.
Like we said, CBD has remarkable antioxidant properties and neuroprotective effects which may help patients with bipolar disorder without causing dangerous adverse effects. There are also studies suggesting that CBD acts similarly to atypical and antipsychotic drugs, thereby producing mood-stabilizing and anticonvulsant effects.
Lithium is prescribed for treating certain types of depression, especially bipolar one. It's effective and has been used for decades by psychiatrists. Despite its mood-stabilizing properties, scientists aren't sure how these effects are exactly produced. Nevertheless, studies have proven that lithium-based medications can reduce the frequency of suicidal thoughts during manic episodes. These properties have been attributed to lithium's interaction with a certain nervous system, increasing the number of neurotransmitters that help balance mood. Lithium also strengthens nerve connections, translating into a better regulation of emotions.
However, lithium also has dangerous side effects. Approximately 70% of bipolar patients treated with lithium experience negative reactions. Although most of them are minor, common side effects of taking lithium include acne, diarrhea, poor memory, and weight gain. High doses of lithium are associated with ringing ears, poor muscle control, and blurry vision. Hypothyroidism is another potential side effect of long-term lithium treatment. It can also give rise to rare but severe kidney illnesses. None of these side effects were observed during the studies examining the safety and efficacy of CBD.
Summarizing the use of CBD for Bipolar Disorder
Bipolar disorder can negatively impact your daily life. The condition is not only challenging to diagnose but also difficult to treat, often involving a series of trial-and-error with different pharmaceutical medications. Some of these drugs are simply ineffective, while others pose a threat to one's health with long-term use.
People are now turning to natural remedies for bipolar disorder, one of them being CBD oil. Some studies suggest CBD can be a safe and effective alternative to conventional treatments. CBD indirectly affects different neurotransmitters and hormones, balancing their activity, and thus helping the body maintain its homeostasis, especially in the central nervous system. Researchers are wondering if CBD can address the probable underlying cause of bipolar disorder — the clinical endocannabinoid deficiency (CECD). Studies on animal models, as well as preclinical human trials, have shown promising results in this regard.
If you're considering adding CBD oil as a complementary treatment for bipolar disorder, make sure to consult the idea with your doctor. You should also do your research on your potential vendors, as no two CBD oils are the same. The CBD market lacks regulation when it comes to manufacturing and labeling standards, and some brands are very liberal when it comes to health claims and the cannabinoid content of their products.
Did you try CBD oil for bipolar disorders? Share your thoughts in the comments!
Literature:
Ringen, P A et al. "Opposite relationships between cannabis use and neurocognitive functioning in bipolar disorder and schizophrenia." Psychological medicine vol. 40,8 (2010): 1337-47. doi:10.1017/S0033291709991620
Blessing, Esther M et al. "Cannabidiol as a Potential Treatment for Anxiety Disorders." Neurotherapeutics: the journal of the American Society for Experimental NeuroTherapeutics vol. 12,4 (2015): 825-36. doi:10.1007/s13311-015-0387-1
Grinspoon, L, and J B Bakalar. "The use of cannabis as a mood stabilizer in bipolar disorder: anecdotal evidence and the need for clinical research." Journal of psychoactive drugs vol. 30,2 (1998): 171-7. doi:10.1080/02791072.1998.10399687
Koethe, D et al. "Expression of CB1 cannabinoid receptor in the anterior cingulate cortex in schizophrenia, bipolar disorder, and major depression." Journal of neural transmission (Vienna, Austria : 1996) vol. 114,8 (2007): 1055-63. doi:10.1007/s00702-007-0660-5
Prud'homme, Mélissa et al. "Cannabidiol as an Intervention for Addictive Behaviors: A Systematic Review of the Evidence." Substance abuse: research and treatment vol. 9 33-8. 21 May. 2015, doi:10.4137/SART.S25081
Machado-Vieira, Rodrigo et al. "Oxidative stress parameters in unmedicated and treated bipolar subjects during an initial manic episode: a possible role for lithium antioxidant effects." Neuroscience letters vol. 421,1 (2007): 33-6. doi:10.1016/j.neulet.2007.05.016