CBD Oil for Eczema: Does It Help?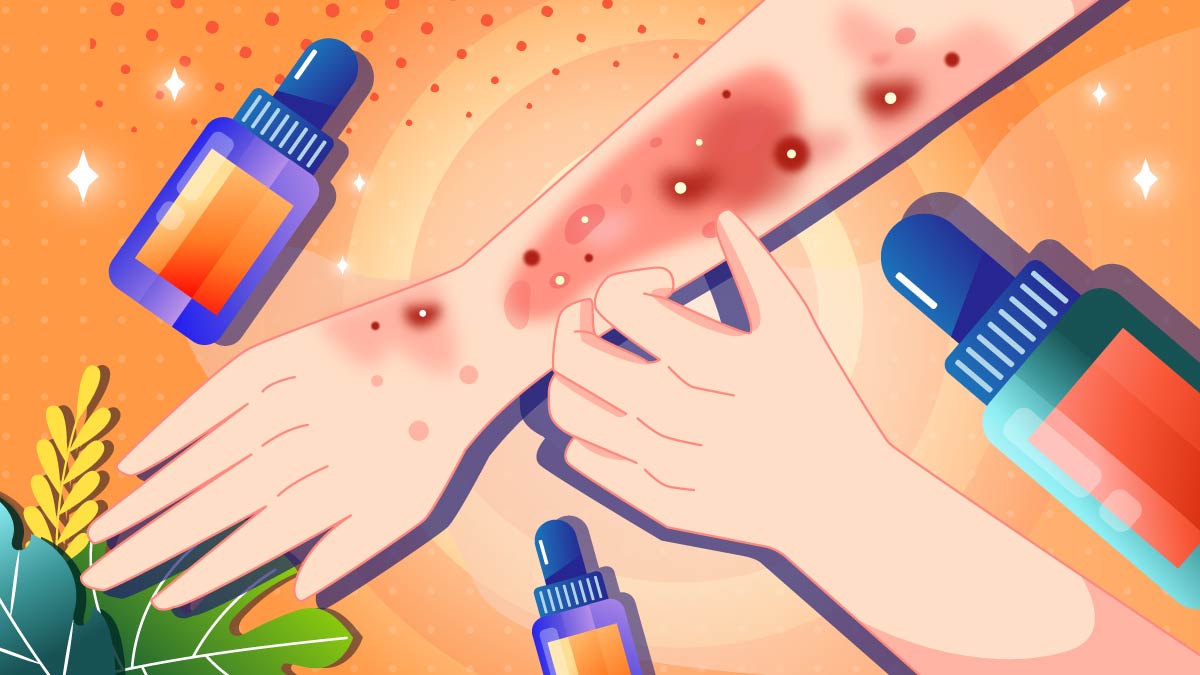 The nature of some ailments can be a pain in the neck. When you suffer from a condition like eczema, you're often left with nothing but begging for a miracle cure that could get you out of the trouble for good. Those with eczema usually don't respond to OTC supplements and medications, and lifestyle changes are usually effective in the short-term perspective.
Eczema can make your life miserable, so it's no wonder people are on the lookout for a remedy that will make the condition at least manageable — but without the dangerous side effects of pharmaceutical treatments.
There have been a lot of stories in the media about people using CBD cream for eczema with great success. Although CBD isn't a magical pill for any condition, research suggests there are enough reasons to believe in its effectiveness for skin health.
Today we dive deeper into the positive effects of CBD on eczema.
What Is Eczema?
Eczema is a broad term describing a range of skin conditions that can cause the skin to dry out, leading to irritation, pain, itching patches, and taking a serious toll on one's quality of life.
In its mild stadium, eczema has very little impact on a person's life — it typically comes and goes away. However, chronic cases of eczema may cause crippling pain and heavy mental stress, which sometimes requires hospitalization.
There are several subgroups of eczema, including discoid eczema which creates disk-like patches on the skin, or contact dermatitis where the skin shows a reaction to anything it comes into contact with, e.g. using a particular type of clothing or skincare products.
Causes
Researchers are yet to understand the underlying cause of eczema, but there's a consensus that the most common cause of the condition is an allergy. A person may be allergic to soaps and detergents or to a particular animal such as a dog or cat.
Eczema can also be caused by infections or reactions to extreme temperatures. Some scientists hypothesize that eczema stems from a weakened immune system, which can be further deteriorated by high stress.
When you go through a tough period in your life, such as the loss of a loved one, divorce, or serious stress at work, your symptoms may get worse during that time. According to some dermatologists, eczema and other skin conditions are triggered by psychological factors because the skin is interrelated with our emotions.
To help you understand the context when you feel embarrassed, your skin goes red. This is a result of a brief dilation of blood vessels in your skin as a response to a surge of stress. It's nothing wrong when it happens from time to time, but if a subtler version of that stress affects you on a regular basis, it can change the blood flow to the skin. This, in turn, may cause eczema. Worse yet, it often appears weeks or months after the stress has disappeared, so people typically don't associate it with stress.
Despite its appearance, eczema can't be passed between two people.
Symptoms
People with eczema experience some common symptoms regardless of their type. The signs of eczema include:
Dryness
Inflammation
Irritation
Itchy skin
Redness
Rough scaly patches
Swelling
Fluid-filled blisters
There are a few conventional treatments for eczema. Let's discuss their effectiveness, pitfalls, and how they compare to CBD oil.
Treatment Options
Treating eczema is easier said than done despite the recent advancements in the skincare market over the last decade. Eczema penetrates the barrier of the skin, making it unable to retain the moisture it needs to protect itself against outside factors, such as allergens, common skin irritants, and stressors.
For that reason, creams formulated to treat eczema are thicker and contain both moisturizing, humectant, and protective ingredients.
Humectants including glycerin and hyaluronic acid support the hydration of the skin. Other ingredients, such as ceramides, petrolatum, and colloidal oatmeal, support the skin's resistance to irritants, repairing its barrier and preventing breakouts.
You may also consider moisturizing products with higher oil content. Such creams have a greasy texture but typically work better for eczema due to creating a thicker barrier. This extra layer prevents the skin from losing moisture and keeps irritants at a safe distance.
That's why people often choose ointments as their go-to treatment for eczema. Other potentially viable solutions include petroleum jelly, aloe vera gel, and mineral oils, although the last two products may feel pretty miserable when you apply them.
Finally, there are some ingredients you want to avoid at all costs, some of which may even trigger eczema. If your skin is sensitive to irritants, you should steer clear of fragrances, retinol, and exfoliating acids, such as lactic, salicylic, and glycolic acids. They may worsen the irritation and cause the skin to dry out. Lotions are another big no-no, as they tend to evaporate quickly, taking away the moisture from your skin, resulting in more damage.
Does CBD Oil Help With Eczema?
Anti-eczema medications usually have a high-risk profile. People have often been prescribed steroid creams and a whole lot of anti-inflammatory and antihistamine pills, both of which can deteriorate your symptoms over time.
That's why so many eczema sufferers are desperately looking for an alternative treatment. Some of them get used to living with a higher vulnerability to allergens, bacteria, and irritants, as well as with a damaged skin barrier.
Introducing dietary changes, lifestyle modifications, and devoting more time to your skincare routine may help with the management of eczema to some extent. Supplementation with natural antioxidants and anti-inflammatories may not only improve the appearance of your skin but also reach some of the potential causes of eczema.
This is where CBD oil fits in.
There's a growing body of evidence supporting CBD's efficacy for an array of skin conditions, including eczema. Current findings are very promising — below we explain them in detail.
CBD Benefits for the Skin: Research Overview
People with eczema have to deal with several fundamental issues, all of which can lower their quality of life, from work to social interactions.
Dryness of the skin, inflammation, itching and vulnerability to bacterial infections are the common symptoms of eczema.
Here we explain how CBD may help:
Skin Inflammation – inflammation is inevitable in the body's attempt to heal itself from the damage in the tissues. It's a natural response of the immune system to the onset of an injury or infection. However, when the immune system starts to act out, inflammation becomes chronic — and that's the problem. CBD has been shown to effectively curb inflammation by interacting with white blood cells such as microglial cells and macrophages that trigger inflammation. CBD also stimulates glycine receptors, lowering chronic inflammatory pain (1–2).
Psoriasis – CBD helps the body maintain homeostasis in the skin, taking care of the balance between all processes within it. Poor skin health is linked to psoriasis, dermatitis, pigmentation disorders, and eczema. Besides its anti-inflammatory effects, CBD creams can help alleviate symptoms of psoriasis by reducing itching by activating CB2 receptors on the site of the nerve fibers. This, in turn, modulates itching signals and soothes the skin (3).
Acne – According to a 2014 study, CBD exerts sebostatic and antiinflammatory effects on human sebocytes, which are responsible for the production of oils inside the skin (4). For one, CBD can make the skin feel and look less greasy. When it comes to reducing inflammation, it may prevent acne breakouts and speed up their healing, contributing to faster regeneration.
How to Use CBD for Eczema
The best approach to a CBD treatment for eczema is to combine oral and topical forms of application.
Full-spectrum CBD oil is thought to produce the best results. Using a whole-plant extract allows you to effectively restore the body's homeostasis through the interaction with the endocannabinoid system and immune system. And since stress is a key player in many skin problems, taking care of yourself from within is one way to tackle the issue.
Rubbing a CBD cream to the irritated area causes the CBD to engage with the skin's cannabinoid receptors to help lower inflammation, reduce itching, irritation, and pain. Therefore, a combination of high-quality CBD oil and cream can provide relief for eczema patients.
Let's explore your CBD options for eczema.
CBD Oil for Eczema
CBD oil is taken sublingually, meaning you take it beneath your tongue. This product is made from a high-CBD hemp extract and inert oil such as MCT oil or hemp seed oil to boost the bioavailability of CBD. The oil is poured into glass bottles and locked with a dropper for easy and accurate dosing. To apply CBD oil, you need to place the desired dose under the tongue, waiting for around 60 seconds until it absorbs through the capillaries in your mouth.
CBD Pills for Eczema
CBD concentrated pills are another common form of CBD preferred by those who need their daily dose on the go and don't have the time to use a dropper and measure out their doses. Each capsule contains a fixed amount of CBD, taking the guesswork away. This product has a delayed onset because it needs to pass through the digestive system first. On the other hand, they are more convenient than oils and don't leave the earthy, botanical aftertaste in the mouth.
CBD Vape Pen for Eczema
CBD vape pens contain CBD oil thinned down with ingredients like vegetable glycerin or propylene glycol. They offer the fastest way to experience the calming and soothing effects of CBD. When inhaled, the CBD enters the bloodstream using the tissues in your lungs. Since there's no first-pass metabolism in the liver, the effects are often felt within minutes after inhalation. However, they last shorter than oils and capsules, so you'll need to reapply them for consistent results.
CBD Cream for Eczema
As mentioned, CBD creams for eczema are designed to target localized discomfort. They usually contain a full-spectrum or broad-spectrum CBD extract, a fat base such as coconut oil, olive oil, or shea butter, and supportive ingredients that the manufacturer used to enhance the benefits of CBD. To use a CBD cream, you need to apply it to the affected area and wait for several minutes until it penetrates the skin, reaching its epidermis layer. From there, it will engage with the cannabinoid receptors in it, relieving the symptoms of eczema. The effects and their duration may vary between individuals. They often require another use throughout the day to provide consistent results.
How to Choose the Right CBD Product for Eczema
If you're looking for the best CBD product for eczema, you need to be aware of the lack of regulations on the market. There are many great companies selling high-quality CBD oils and creams, but there's an equal number of brands that aren't afraid to churn out mediocre products that are often mislabeled.
Here are a few tips to help you out:
Purchase from reputable brands – trustworthy CBD companies list the CBD content in milligrams, add dosage instructions, and provide a clear description of the product that defines its purpose. There's no marketing fluff, just hard data supported with the language of benefits.
Look for Certificates of Analysis (COA) – every company has the option to send a batch of its product to a third-party laboratory for content analysis. The certificate of analysis will tell you how much CBD is in your product and whether or not it contains any potentially dangerous ingredients, such as pesticides, microbial impurities, or heavy metals. Companies that don't publish these lab reports should be avoided.
Read the label carefully – companies use many roundabout terms 'assure' the customer they're buying a CBD-infused product, while in fact, it contains no CBD at all. Don't buy products that state "hemp oil" or "hemp extracts", or "cannabis Sativa seed oil"; the only INCI-compliant name for CBD is cannabidiol.
Buy CBD creams in stable containers – avoid clear jars, transparent bottles, or any container that increases CBD's exposure to air and light. These two factors cause CBD to degrade and lose strength.
Choose full-spectrum CBD – products labeled as 'full-spectrum' contain an extract that was sourced from the whole plant. As such, they contain all of the naturally found compounds in hemp. To put it simply, the supportive compounds in CBD oil, such as other cannabinoids, terpenes, and flavonoids, boost the efficacy of CBD oil and strengthen its health benefits. If the traces of THC in full-spectrum CBD make you feel afraid of the product, you can look for a broad-spectrum extract or CBD isolate.
Other Natural Remedies for Eczema
Effective as it is, CBD is only part of a successful anti-eczema treatment. Adding exercise and stress-management techniques is a great way to improve blood flow to the skin and reduce stress. Controlling your stress hormones is essential to help your body cope with daily triggers.
Another important step is to cut down on processed foods, especially sugar, mass-produced snacks, wheat pasta, and bread. Consult a holistic doctor or clinical dietician and ask them about the paleo or keto diet, where nutrient-dense ingredients and healthy fats replace junk food that drains vitality from you. It's also a good idea to include some fermented food, such as yogurt, kimchi, or sauerkraut.
Fermented food helps stabilize the gut microbiome, which is of paramount importance when it comes to ridding your body out of toxins. Otherwise, the body will try to excrete them through the skin, contributing to eczema and general skin irritation.
As a matter of fact, the gut is the potential therapeutic target for many civilizational conditions, so make sure to treat it with the right type of food, fermented products, and high-quality probiotic supplements.
If you notice that eczema appears after you get in contact with any particular allergen, it's best to avoid exposure to it. Last but not least, using organic cosmetics, toothpaste, shampoos, and soaps that don't contain parabens, sulfates, and other skin irritants can help you avoid the deterioration of your symptoms. You can find such products in organic food stores.
Summarizing the use of CBD Oil for Eczema
CBD is a promising compound for many skin conditions, including eczema. It is also used to treat the appearance of scars due to this condition, particularly in spots that have been infected and then healed. The cannabinoid itself has potent antioxidant and anti-inflammatory effects, not to mention that it is supported by other compounds found in cannabis, such as the minor cannabinoids and terpenes. According to some anecdotal reports, it's possible to go into full remission after consistently supplementing CBD oil. Preclinical studies are also touting CBD's potential to balance the skin's homeostasis and soothe irritation.
The potential advantages of CBD for eczema include higher efficacy and a better safety profile than conventional treatments. However, keep in mind that CBD products are unregulated in the United States, so carefully research your prospects before spending your hard-earned money on a herbal supplement such as CBD oil. Always check online reviews and ask for third-party lab reports to make a well-informed decision.
If you're thinking about adding CBD oil or cream to your skincare routine, make sure to visit a knowledgeable dermatologist who will have some practice in treating skin conditions using natural resources. Doing so will help you figure out the right dosage range for your situation and avoid potential interactions with anti-eczema medications.
Literature:
Burstein, Sumner. "Cannabidiol (CBD) and its analogs: a review of their effects on inflammation." Bioorganic & medicinal chemistry vol. 23,7 (2015): 1377-85. doi:10.1016/j.bmc.2015.01.059
Nagarkatti, Prakash et al. "Cannabinoids as novel anti-inflammatory drugs." Future medicinal chemistry vol. 1,7 (2009): 1333-49. doi:10.4155/fmc.09.93
Mounessa, J.S. et al. "The role of cannabinoids in dermatology." Journal of the American Academy of Dermatology, vol 77,1 (2017): 188-190.
Oláh, Attila, et al. "Cannabidiol exerts sebostatic and antiinflammatory effects on human sebocytes." The Journal of clinical investigation vol. 124,9 (2014): 3713-24. doi:10.1172/JCI64628