Can I Use CBD Oil for Scars?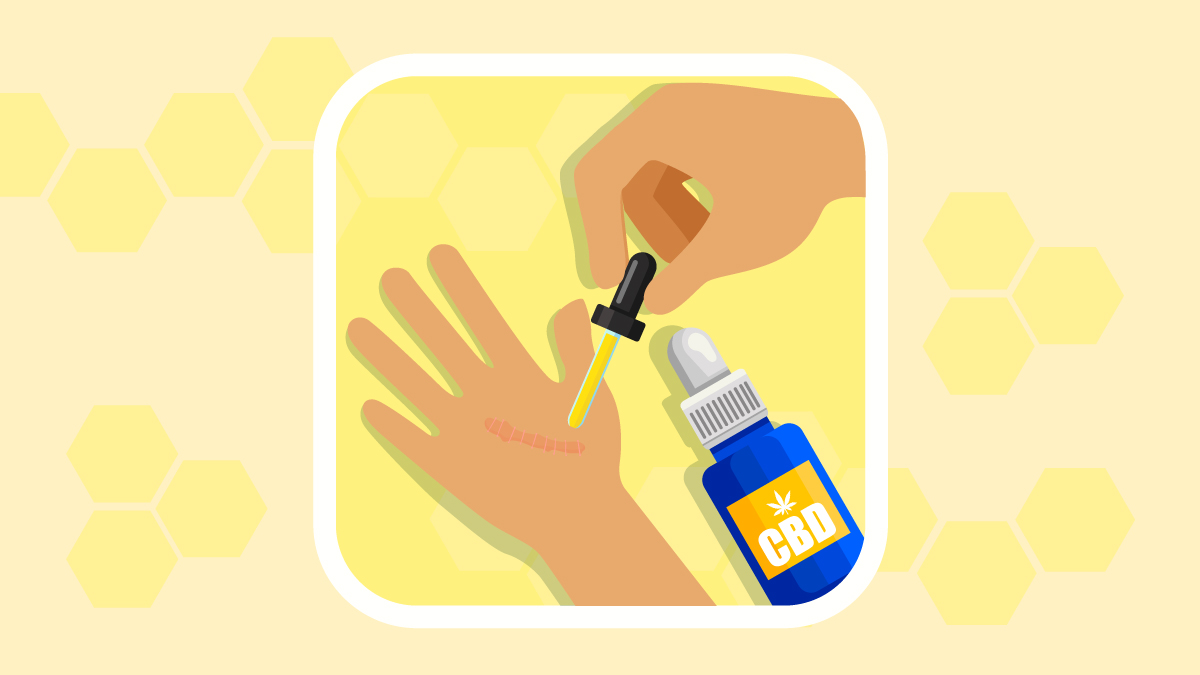 Scarring is an all too common occurrence for people across the world. Every year, 100 million patients in the developed world acquire scars. Approximately 55 million scars come from elective operations, with 25 million arising from trauma. 
The psychological effects of scarring are complex, and only a limited amount of research has been conducted into the impacts of scars. One study revealed that most patients were concerned about their social and mental well-being, with others concerned about their career prospects. 
In recent years, scientists have focused on how CBD (cannabidiol) can benefit the skin, including how CBD products could potentially be used to reduce the appearance of scarring.
Why Do Scars Form?
Before discussing how CBD may help with scars, it's important to understand and why they exist.
Scars respond to a skin injury, whether that injury arises through a cut, burn, or a skin condition. Every time a break in the skin occurs, the body's inflammatory response triggers.
The body will release white blood cells to prevent infection. Platelets will also help form a blood clot, which is what ultimately stops bleeding.
After a clot has formed, fibroblast cells generate the collagen protein to protect and secure the wound until it heals. It is the collagen that creates a raised, bumpy scar. In the first months, increased blood flow to the area will cause the scar to turn red.
Over time, the collagen breaks down, and blood flow decreases, which is why most scars tend to flatten and whiten.
In rare cases, scars may continue to worsen over time, but it largely depends on the type of scar.
Different Types of Scarring
There are several types of scars to take into account. Different scars arise from varying types of injury and will have different appearances after they heal.
Before examining how using CBD could help with scars, let's list their different types: 
Fine-Line Scars

– The most common type of scars. Appears smooth, flat, and white after healing.

Widespread Scars – These scars typically arise after surgery. Stretching and spreading during healing leads to widespread scars.
Pitted Scars

– Pitted scars originate from acne, chickenpox, and other skin conditions. These scars can appear pitted or sunken.

Scar Contracture

– Most common after burn injuries. Scar contracture tightens the surrounding skin and may make movement painful.

Hypertrophic Scars

– Build-up of excess collagen. These raised scars often thicken for months before flattening out after a few years.

Keloid Scars

– Collagen continues to grow after the wound has healed. Unlike hypertrophic scars, keloid scars may extend beyond the site of the original wound. Often appears raised, red, and purply. It can be tender and itchy.
Some scars can be worse than others, but all scars can cause psychological distress, particularly if scarring appears in obvious areas, such as the face.
How to Use CBD for Scars
CBD is just one of 80 to 100 cannabinoids found naturally in the Cannabis Sativa L plant. The lack of intoxicating effects has led to CBD legalization in many areas in the United States and other parts of the world.
CBD interacts with the body's endocannabinoid system, which is responsible for several biological functions. 
There are multiple roles CBD plays that have led to a growing interest in how CBD can boost skin health, such as:
Pain relief

Anti-inflammatory properties

Improved collagen production
One 2019 study claims that CBD influences the action of fibroblasts, which means CBD could improve healing and reduce the appearance of scars. The author even made the bold claim that CBD could one day result in scarless healing treatments.
Zurier and Burstein also published a study in 2016, concluding that CBD's anti-inflammatory properties could prevent skin conditions like acne and skin conditions like psoriasis. 
If confirmed, this would mean CBD could play a part in preventing pitted scarring.
Does CBD Heal Scar Tissues?
Research into using CBD for scars is limited. The studies that have been completed have been extremely positive about its potential, however.
In a study focusing on using the compounds in hemp oil for acne scar healing, scientists used mice and human cells to test out the impact of healing. 
Researchers found that CBD:
Reduced healing time

Boosted collagen levels

Stimulated cellular turnover

Enhanced cell regeneration
It should be noted that this study focused on acne scars, so there's no telling whether the effect is transferable to other types of scars.
CBD vs. Other Scar Treatments
There are already several treatment options for scars. Not all treatment options are designed for every type of scar.
Here's a roundup of some of the most common scar treatment options employed by doctors around the world:
Surgery

– The most invasive option. Skin is transplanted over the scar from another area of the body.

Laser Removal

– Laser removal is ideal for surgical scarring. This non-invasive option reduces the size, color, and shape of scars.

Chemical Peels

– Used for surface-level scars. Dermatologists place chemical peels over the skin and lift away the skin around the scarred area. Requires multiple rounds of treatment.

Dermabrasion

– Smooths away the top layer of skin—ideal for raised scar types, such as hypertrophic scars.

Steroid Injections

– Used for raised scars, steroid injections shrink scars by evening it alongside the skin. Dermal fillers may be used to fill in areas around pitted scars.

Creams/Ointments

– Ideal for minor scarring. Perfect for fine-line scars. It can be purchased over-the-counter (OTC).
So, how does CBD stack up against these traditional scar treatments?
Truthfully, CBD products will not heal older, existing scars. On the other hand, limited research has shown that it could aid in healing due to its impact on the endocannabinoid system.
Full clinical exploration is required to find out exactly how beneficial CBD oil could be for scars.
What CBD can help distract from the pain and boost overall skin health during the healing process.
Either way, CBD is a non-intoxicating product that offers few side effects. 
In the unlikely event of taking too much, side effects are generally limited to:
Dry mouth

Changes in appetite

Diarrhea

Anxiety

Drowsiness
Now, let's discuss the best way to use CBD to heal scars.
How to Use CBD to Heal Scars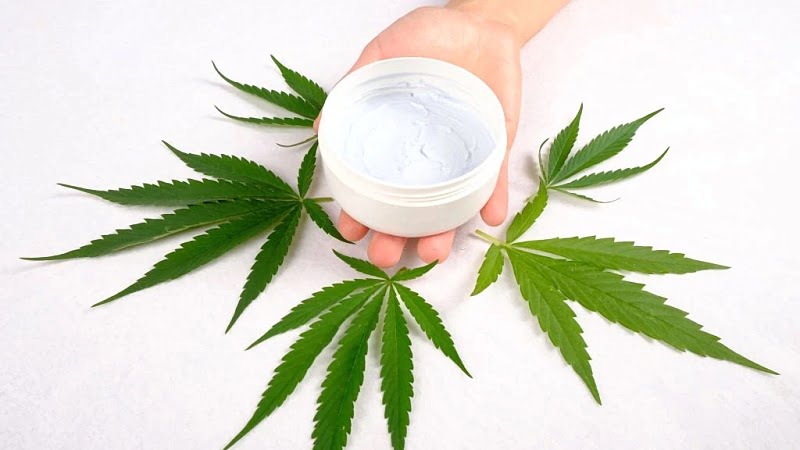 One study investigated the effects of CBD on dermatitis and psoriasis scars and was published in the La Clinica Terapeutica journal. 
In this study, 20 patients had CBD ointment applied to their scars twice daily for three months. After the three-month period elapsed, researchers found that the skin had improved significantly in appearance. Patients also reported improved skin hydration and general elasticity.
To heal scars, a topical CBD product must be applied directly to the skin. While most users will often consume CBD oil, gummies, and other oral/sublingual products, this is unlikely to impact scar healing.
Topical CBD products take a long time to enter the bloodstream; therefore, the CBD will have a chance to work its magic on scars.
Since it's practically impossible to overdose on CBD, especially when it comes to topical products, there's little need to worry about dosages. Slather a layer of cream or ointment over the affected area 2-3 times per day and allow it to soak into the skin.
Based on studies into CBD for scars, it's likely that it will take a few months to experience any significant changes in scarring.
Due to CBD producing a less immediate impact on scarring, you may choose to undergo other medical treatments simultaneously, such as dermabrasion, laser treatments, or even surgery.
Best CBD Products to Heal Scars
As already discussed, topical CBD products are the only viable option to aid in scar healing. Only when applied directly to the skin can CBD have a real impact on new and existing scars.
1. CBD Ointments
CBD ointments are the smoothest and oiliest of all the different topical CBD products. The oil-based nature of ointments means that they contain the highest concentrations of pure CBD.
2. CBD Creams
On the other hand, CBD creams are thick and remain on the skin for an extended period. These aid in scar healing because they take a much longer time to absorb the skin fully; therefore, scar tissue has more contact time.
3. CBD Patches
CBD patches can be helpful for certain types of painful scarring. They excel in helping people cope with localized pain, whether cramping, muscle pain, or joint pain.
However, CBD patches also work on the surface level to reduce discomfort, which makes them a favorite for sufferers of scar contracture.
Choose Your CBD Topicals For Scarring
The CBD craze has taken off in recent years but beware that these are not CDC or FDA-approved products. For that reason, consumers must choose their CBD topicals with care as there's little to no regulation in the industry.
Some unfortunate consumers have discovered that their CBD products contained much less CBD than advertised. This is why it's highly recommended that you take the time to buy from a company that has great reviews and uses independent laboratories to label and verify its products.
As a general rule of thumb, higher concentrations of CBD topicals are superior for dealing with scar healing.
Final Thoughts: Does CBD for Scars Work?
Research into using CBD to heal scars is limited, with most studies focusing on specific scars with a small number of participants. However, early results have been promising, and the more scientists understand CBD's role in influencing the human body's endocannabinoid system, the better.
It's logical to believe that if CBD can boost skin health and reduce inflammation, it could effectively heal certain scars.
If you suffer from significant scarring, we recommend contacting your physician before applying CBD, particularly if you're using other prescription medications.
Finally, if you want to use CBD to help with scars, choose a pure CBD topical to help. Avoid creams, ointments, and patches with inorganic additives and fragrances. These products may cause discomfort for those with sensitive skin.
If you notice any irritation or your scars begin to worsen, cease using CBD immediately and consult your physician.
References:
Bayat, A., McGrouther, D. A., & Ferguson, M. W. J. (2003). Skin scarring. BMJ, 326(7380), 88-92. [1]
Hsieh, J. C., Maisel-Campbell, A. L., Joshi, C. J., Zielinski, E., & Galiano, R. D. (2021). Daily Quality-of-life Impact of Scars: An Interview-based Foundational Study of Patient-reported Themes. Plastic and Reconstructive Surgery Global Open, 9(4). [2]

Dunn, S. L., Wilkinson, J. M., Crawford, A., Bunning, R. A., & Le Maitre, C. L. (2016). Expression of cannabinoid receptors in human osteoarthritic cartilage: implications for future therapies. Cannabis and cannabinoid research, 1(1), 3-15.

Tóth, K. F., Ádám, D., Bíró, T., & Oláh, A. (2019). Cannabinoid Signaling in the Skin: Therapeutic Potential of the "Cannabinoid" System. Molecules, 24(5), 918. [3]
Zurier, R. B., & Burstein, S. H. (2016). Cannabinoids, inflammation, and fibrosis. The FASEB Journal, 30(11), 3682-3689. [4]
Atalay, S., Jarocka-Karpowicz, I., & Skrzydlewska, E. (2020). Antioxidative and anti-inflammatory properties of cannabidiol. Antioxidants, 9(1), 21.[5]

Palmieri, B., Laurino, C., & Vadalà, M. (2019). A therapeutic effect of CBD-enriched ointment in inflammatory skin diseases and cutaneous scars. Clin Ter, 170(2), e93-e99.
Related: Can You Use CBD Oil for Burns?