Best CBD Oil for Sciatica: Top Hemp Products for Sciatic Pain (2023)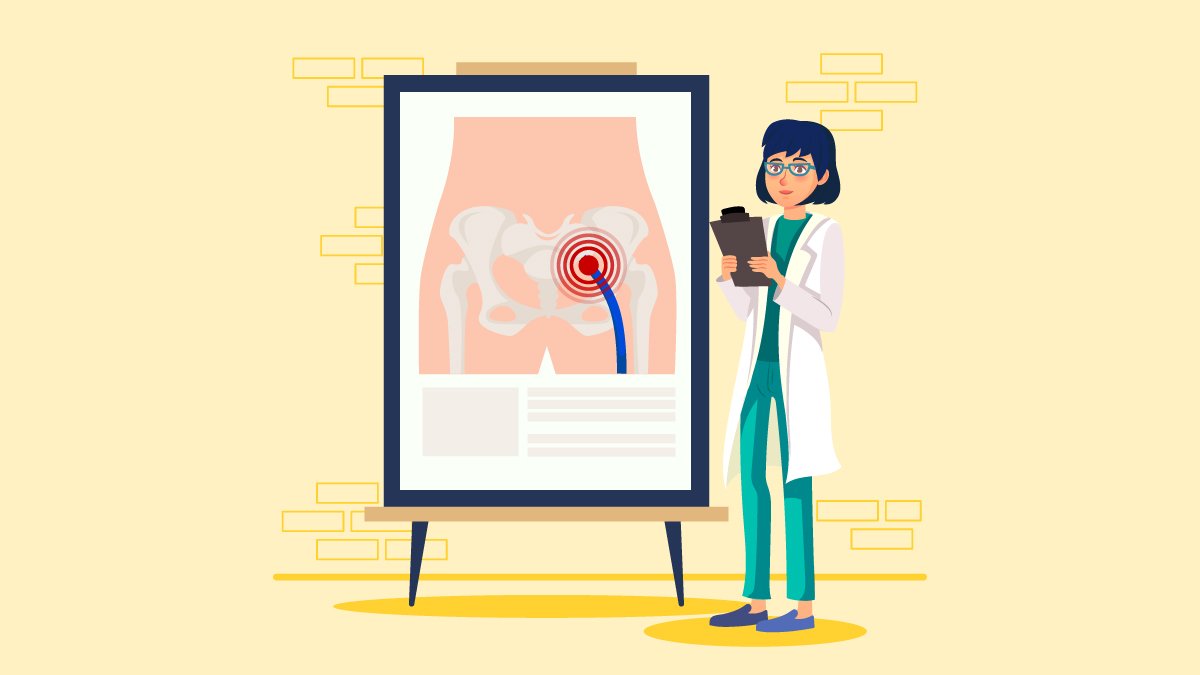 The sciatic nerve runs through the lower back to the legs, covering a vast and sensitive area that can release painful signals to the brain when pushed too hard.
Sciatic pain can have many causes, from herniated discs to bone spurs. Factors such as advanced age, lack of physical activity, obesity, and diabetes can increase the risk of sciatica and cause deterioration of symptoms.
Other than a few rare exceptions, sciatica typically occurs on one side of the body. People suffering from sciatic pain seek help in over-the-counter painkillers; some of them use prescription analgesics to mitigate the painful sensation; there are also folks seeking natural aid, such as CBD oils and topicals. These two types of hemp-derived supplements are often used as complementary treatments for different types of pain.
In this article, we'll answer whether or not CBD oil is a viable option for static pain — and how to use it to relieve the discomfort. We'll also share our list of the top 4 CBD brands whose products actually make a difference.
Let's take a look at the link between CBD and sciatica.
Does CBD Help with Sciatica Pain?
Mayo Clinic defines sciatica as a painful sensation that radiates from the sciatic nerve, which occurs in the lower back and the buttocks, and down each leg.
Since sciatica typically affects one side of the body, it can be confused with back pain, leg pain, or hip pain. While these are all symptoms of sciatica, having them doesn't mean you also have the condition.
That's because the pain doesn't stem from an injury in one of those areas. Sciatica results from a compressed sciatic nerve, caused by hard bumps forming on the spine (bone spur), herniated disk, or narrowing of the spine (spinal stenosis).
People who partake in heavy physical labor on a regular basis have a higher risk of developing sciatic pain. However, the condition may also affect those with a passive lifestyle, as a consequence of the lack of walking and stretching.
Sciatica can negatively affect one's daily life. A simple cough or sneeze can heighten the intensity of the sciatic pain. In severe cases, pain prevents individuals from normal functioning.
Although CBD doesn't cure sciatica — it doesn't get to the cause of sciatic pain — cannabinoids like CBD have been well documented in the scientific literature as potentially effective anti-inflammatory and painkilling agents.
A 2004 study defined sciatic pain as a combination of neuropathic and other kinds of pain (1). Another study conducted by the Massachusetts General Hospital (MGH), linked sciatica to an inflammation of the nervous system (2).
Neuropathic pain comes from injuries or illnesses of the somatosensory system, which plays an important role in our pain perception, pressure, touch, and mobility.
Inflammation is triggered when the immune system releases antibodies to tackle an infection or injury.
An inflammatory response causes the dilation of blood vessels in order to pump more blood into the injured area — causing that part of the body to become red and swollen.
One large animal study discovered that the topical application of CBD could reduce inflammation and fix behavioral problems associated with arthritis (3).
However, sciatica and arthritis are two different conditions, and no study has yet analyzed the efficacy of CBD specifically for sciatica.
Long story short, CBD oil may not cure sciatica, but it may help mitigate inflammation and pain experienced by sciatica sufferers — translating to the effective management of this condition.
How to Use CBD for Sciatica
CBD is one of the most trending health supplements today, so it's no wonder you can find it in several forms, including CBD oil, edibles, capsules, vapes, and topical products.
CBD oil is hands down the most popular choice both among beginners and experienced users alike. This form of CBD is applied sublingually (under the tongue); you need to squeeze the product's dropper and place a few drops in the area beneath the tongue. Once there, hold it for up to 60 seconds, then swallow. The oil will absorb through the tiny blood vessels in your mouth, ensuring relatively fast effects and long duration, up to 6 hours.
Oral products, such as CBD capsules and edibles, provide a fixed dose of CBD per serving. They are the preferred form of CBD among users looking for consistent dosages and low-profile consumption. However, oral products have a delayed onset due to first-pass metabolism in the digestive system. The effects of capsules and edibles usually kick in within 40–120 minutes after consumption, lasting up to 10 hours.
Vapes, such as CBD vape pens and concentrates, are the fastest way to deliver CBD into your body. Inhaled CBD will manifest its effects within around 5–10 minutes after inhalation, lasting up to 4 hours, with peak effects after 1.5–2 hours.
For localized problems like flare-ups from sciatica pain, topical products such as creams and gels may come in handy. They target affected areas, reaching cannabinoid receptors in the skin and bringing relief from pain and inflammation.
Should You Take CBD Oil or Use CBD Cream for Sciatica?
With so many CBD products available out there, it's natural to wonder which type of CBD will work best for sciatic pain.
Should you take CBD oil or use CBD cream for sciatica?
It largely depends on what you want to achieve with CBD.
For example, if you want to use CBD to reduce inflammation in the sciatic nerve or mitigate pain signals that the nerve sends to the brain, we recommend choosing products such as CBD oil, capsules, edibles, or vapes.
However, if you aim for easing localized discomfort, you can add a CBD cream to your routine, especially if you suffer from sciatica-related flare-ups.
Best CBD Oil for Sciatica
Overall Winner: Royal CBD
Best Organic Formula: Gold Bee
As new companies enter the market every day, offering different forms of CBD with various formulas and potencies, it may be challenging for new users to pick the right product. No two CBD oils are made the same, so it's important to be able to pick the nuances and effectively narrow down your options to a few trustworthy suppliers.
In this section, we've done the job for you.
Here's the list of the best CBD oils for sciatica according to our team at CFAH.org.
1. Royal CBD (Overall Winner)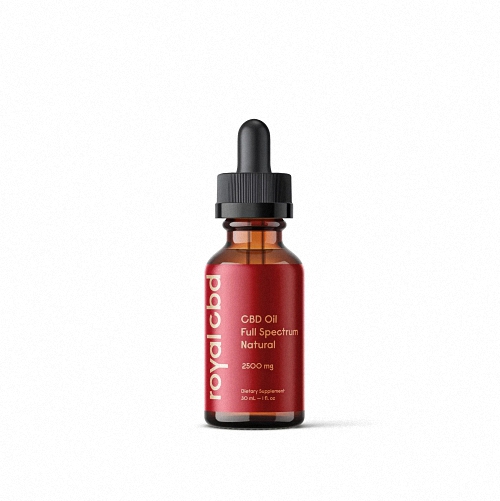 Get 15% off all Royal CBD products.  Use code "CFAH" at checkout.
Product Details
Pros
Cons

American-grown, non-GMO hemp
CO2-extracted
full-spectrum CBD
Available in 4 strengths and flavors
Up to 2500 mg of CBD per bottle
3rd-party tested for potency and purity
Neutral natural flavor

Not available in local CBD stores (this may soon change)
Slightly more expensive than competitor brands (but they have a great reward program)
Why Royal CBD Is the Best CBD Oil for Sciatica
Royal CBD is a Nevada-based manufacturer that offers a broad selection of CBD extracts in different spectra, including full-spectrum CBD oil, capsules, broad-spectrum vapes and topicals, and THC-free gummies.
The entire Royal CBD collection comes from organic hemp plants and is extracted with supercritical CO2, ensuring consistent potency and purity throughout every product batch. These products are rigorously tested in a third-party laboratory for potency and the presence of pesticides, heavy metals, and microbial impurities.
The Royal CBD oil is available in four concentrations: 250 mg, 500 mg, 1000 mg, and 2500 mg. This is a full-spectrum extract, so you're getting the entire range of cannabinoids, terpenes, and other phytonutrients naturally occurring in hemp. The company has infused this extract into premium-grade MCT oil for higher bioavailability and the added benefits of essential fatty acids for the brain.
If you don't like the earthy flavor of natural CBD oil, Royal CBD offers three flavored options: Mint, Berry, and Vanilla. The strongest bottle is only available in the natural flavor, as the addition of flavorings would compromise the potency of the final product.
You can try out Royal CBD's products in a risk-free way by using its 30-day money-back guarantee.
2. Gold Bee (Best Organic Formula)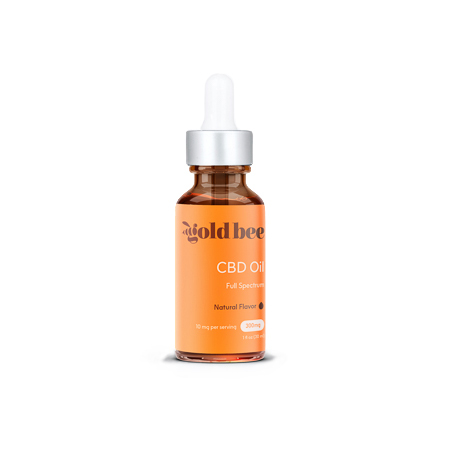 Product Details
Pros
Cons

Sourced from US-grown organic hemp
Contains full-spectrum CBD
Up to 33 mg CBD/mL
Great potency range for beginners
Third-party tested for potency and purity
Great honey flavor

No high-strength CBD oils
Why We Recommend Gold Bee CBD Oil for Sciatica:
Gold Bee makes the best-tasting full-spectrum CBD oil out there. The product is flavored with natural honey and available in a delicious kiwi flavor that is very pleasant for the taste buds. Although Gold Bee doesn't sell any high-potency oils (yet), the company produces its extracts under lower temperatures than the competition, which helps maintain the original biological profile of the hemp plant. It's a great company if you're a new user, or if you already have experience with CBD oil but your daily dosage locks in at 40 mg.
3. CBDistillery (Runner Up)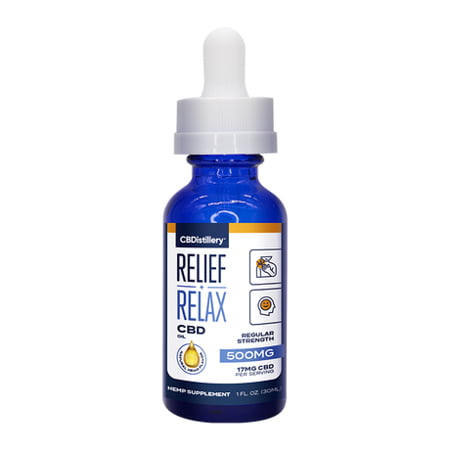 Product Details
Pros
Cons

Available as full-spectrum CBD or pure CBD oil
Extracted with CO2
5 potency options to choose from
Up to 166.6 mg of CBD per bottle
3rd-party tested for potency and purity
Very affordable

The hemp isn't organic
No flavored oils available
The website gets clunky sometimes
Why We Recommend CBDistillery CBD Oil for Sciatica
CBDistillery is one of the largest suppliers of CBD oil in North America and a daughter brand of Balanced Health Botanicals. The brand sells various forms of CBD, from CBD oil to capsules, powders, to vapes and topicals.
The CBD oil comes in two variants: you can choose between full-spectrum or broad-spectrum CBD. The broad-spectrum version contains all the non-psychoactive cannabinoids and terpenes, but without any THC. Unlike CBD isolates, broad-spectrum extracts evoke some of the entourage effects.
The CBD oil sold by CBDistillery is available as full-spectrum or broad-spectrum CBD; the latter is labeled as "pure oil" and contains all the non-psychoactive cannabinoids and terpenes, but with no traces of THC. The THC has been removed later during a series of extraction processes.
CBDistillery covers the entire range of potencies, from 250 mg to a whopping 5000 mg of CBD per bottle. The strongest version carries 166 mg CBD in each milliliter, which is a very potent dose, and the oil itself may last for months to come. These are hands down the best CBD oils for sciatica when it comes to shopping on a low budget.
4. CBDPure (Good Value)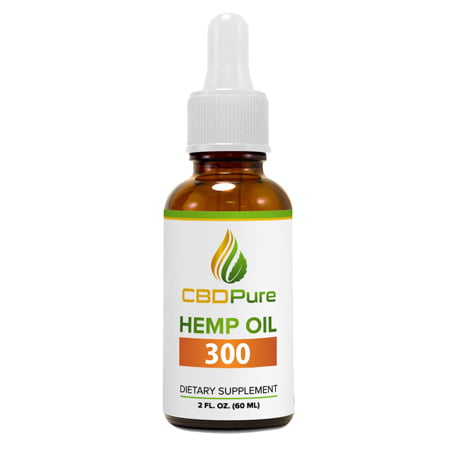 Product Details:
Pros
Cons

Sourced from organic Colorado-grown hemp
Extracted with supercritical CO2
Lab-tested for potency and purity
90-day return policy

Low potency
No topicals available
Why We Recommend CBDPure CBD Oil for Sciatica
CBDPure is another brand offering low-strength CBD oils, although the guys at CBDPure have recently added a 1000 mg concentration to their collection — catering to users with higher dosage needs. Despite the lack of high-potency extracts, the formula behind these products has been mastered to perfection. CBDPure uses locally grown hemp and supercritical CO2 for extraction, which is the current golden standard in the industry. On top of that, the company offers a 90-day Satisfaction Guarantee for people who aren't ready to commit to a brand upon the first purchase. If you decide the product isn't for you, you can send it back for a full refund within 90 days.
CBD Dosage for Sciatica
There are no standardized dosage charts or recommendations for CBD oil and sciatica. In fact, agencies such as the Food and Drug Administration (FDA) have yet to investigate its efficacy and safety in this subject.
Existing research doesn't suggest specific amounts of CBD to relieve pain and inflammation in humans.
Most studies on the analgesic and anti-inflammatory effects of CBD come from animal models.
When trying to determine the right dosage for sciatic pain, you can follow the dosage instruction on the product's label.
Different brands have unique product formulas, with different concentrations of CBD and other ingredients, so dosage recommendations may vary from one brand to another.
In general, CBD is safe and well-tolerated in humans, even in doses as high as 1,500 mg daily. However, it's recommended to start with the lowest dose (e.g. 5 mg) and gradually work your way up to the point where you experience the desired relief from sciatic pain. You can keep a journal or log to monitor the results, with 7-day trial periods for specific dosages.
Since CBD isn't the go-to sciatica treatment for patients, we encourage you to consult a doctor experienced in cannabis use before buying any CBD product. Doing so will help you avoid potential CBD-drug interactions on top of figuring out the right dosage for your individual situation.
Final Thoughts on Using CBD for Sciatica
CBD has been shown to have remarkable anti-inflammatory and painkilling qualities, both of which can effectively help sciatica patients manage their symptoms. Not only that, but CBD can also alleviate other painful conditions, including chronic pain and neuropathy.
However, no study has yet investigated the efficacy of CBD specifically for sciatica, so while it's difficult to deny the above effects, we need more quality research on this subject to draw definitive claims.
People with sciatic pain should consult their doctors before taking CBD oil for sciatica, especially when taking medications that could potentially interact with CBD.
If you're browsing the web for the best CBD products for sciatica, always do solid research on any company that sells CBD oil out there. The market is still unregulated, with plenty of mislabeled products sold in-store and online. You can use our product recommendations from above if you're in a hurry; all brands from our list sell organic, lab-tested products that contain the advertised amount of CBD and are safe to use.
Do you take CBD oil for sciatica? Do you use it alone or in combination with topicals? Share your stories in the comment section below!
References:
Baron, R., Binder, A. [How neuropathic is sciatica? The mixed pain concept. Der Orthopade, May 2004, vol 33(5), pp 568-75.
Massachusetts General Hospital. Neuroinflammation seen in spinal cord, nerve roots of patients with chronic sciatica. Press Release, May 9, 2018.
Hammell, D.C. et al. Transdermal cannabidiol reduces inflammation and pain-related behaviours in a rat model of arthritis. European Journal of Pain, Oct. 30, 2015, vol. 20(6).