Can CBD Help With Vertigo and Dizziness?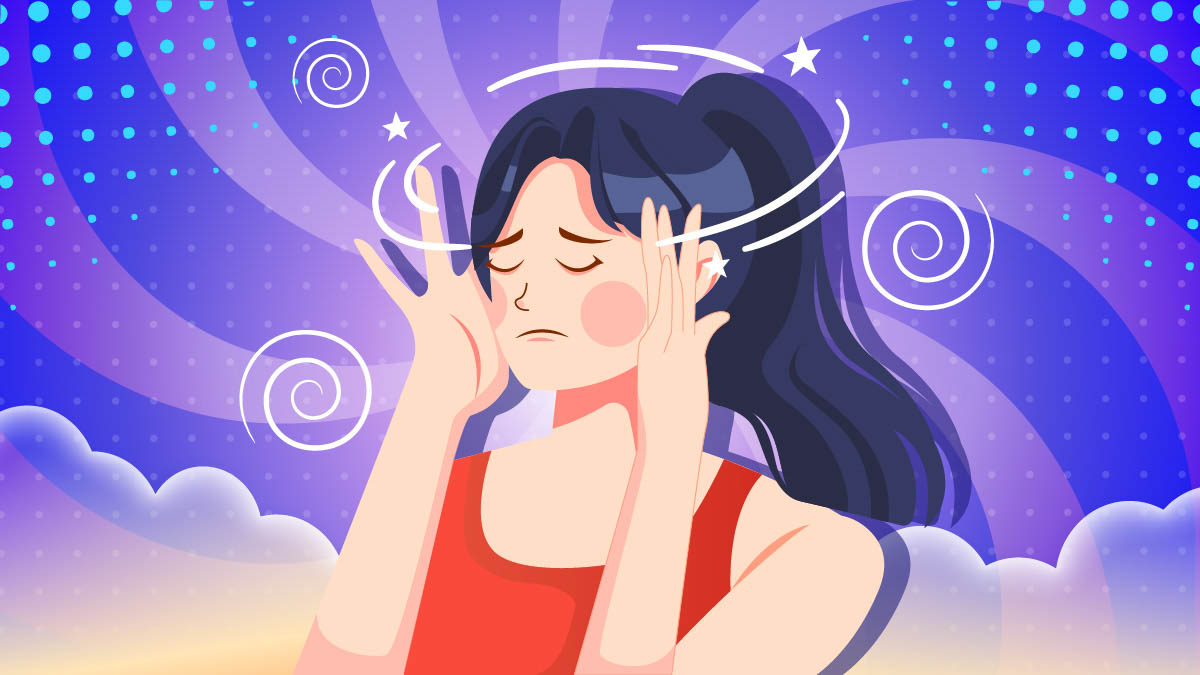 CBD has proven itself useful as a panacea of sorts, having been used for treating everything from migraines to chronic pain and anxiety.
Recent reviews show that CBD may also be useful for helping to treat vertigo, a condition that causes an unpleasant spinning sensation.
In this article, we're going to explore some of the ways that CBD may be useful for helping with vertigo.
Does CBD Help With Vertigo?
Vertigo itself is not so much a condition as a symptom.
There are many conditions that can cause vertigo. Illnesses, medications, and environmental stimuli can all lead to the symptoms of vertigo: an uncontrollable sensation of dizziness and loss of balance.
For some, vertigo is so intense it can cause vomiting and leave them feeling entirely disoriented. Whatever the case, vertigo is an uncomfortable condition that many people seek relief from.
CBD has proven to be useful for managing a number of the symptoms of vertigo — including nausea, vomiting, and fatigue.
Anecdotal reports also show that it's useful for treating headaches and dizziness.
Should I Use CBD or THC for Vertigo Treatment?
Both CBD and THC are useful for helping treat the symptoms of vertigo. Which one you decide to use is a matter of personal preference.
For most, the main difference is the way in which these compounds affect the brain.
Both substances are cannabinoids, which affect a system in the body called the endocannabinoid system. This is one of the widest networks in the human body, and this is also the reason that these two substances have such a huge number of different effects.
However, they both affect the body differently. THC works directly by stimulating the CB1 receptors in the system, but CBD works a bit more indirectly. In this way, it can provide most of the benefits of THC without getting you high.
This means you can enjoy the benefits of CBD without running the risk of getting intoxicated. This is ideal if you often struggle with vertigo at work or school, or while you're driving.
How to Use CBD for Vertigo?
There are a few different ways you can use CBD for vertigo.
1. Using CBD Tinctures for Vertigo
CBD tinctures are one of the most popular forms of CBD. Tinctures can be taken orally or sublingually.
When used sublingually (held under the tongue) they'll provide more benefit at a lower dose. Sublingual absorption allows for the substance to be absorbed into your bloodstream through the vessels in your mouth.
If you choose to swallow the tincture, a lot of it will still be absorbed. However, some of it is lost as it's processed by your liver and digestive tract. This means you'll need to take slightly more than you would otherwise.
In either case, CBD tinctures are very useful and convenient. You can take them anywhere, and they're easy to transport.
2. Using CBD Vapes for Vertigo
Some people prefer to use a vape for treating their vertigo with CBD. There are a couple of benefits to this as well as some obvious drawbacks.
One of the most promising benefits is the fact that vaped CBD hits you immediately. Within a matter of seconds, you'll be able to find relief.
Furthermore, you're able to use a much lower dose than you would if you were taking a tincture. Vaped CBD is administered directly into the bloodstream through the lungs, and very little is lost through this process.
One of the disadvantages is that you'll need to find a place where you can actually vape your CBD. If you're expecting to get hit by vertigo at work or school, you may want to keep some tinctures on hand as well.
CBD For Vertigo Symptoms
Vertigo is often caused by an underlying condition, a stimulating experience, or a drug. This means that CBD may not be useful for stopping the underlying condition causing your vertigo. However, it can be very useful for helping to manage some of the symptoms of vertigo.
Some of the most common symptoms include nausea, vomiting, and migraines. Here's how CBD can improve these issues.
1. CBD For Nausea
One of CBD's most popular uses is for managing nausea. It has been useful for helping people manage nausea of all types ranging from chemotherapy-induced nausea to nausea from hangovers.
CBD does this by interacting with the serotonin system [1]. Many of the serotonin receptors are located in the gut, where they regulate our digestive health and nausea.
By bringing balance to our serotonin system, CBD helps to mitigate nausea. This can make it a useful treatment for managing vertigo-induced nausea.
2. CBD For Vomiting
CBD is also a very useful treatment for nausea. Not only can it help to prevent nausea associated with vomiting, but it may also be able to prevent nausea. Research reveals that cannabinoids, including CBD, can help to prevent vomiting in people with cancer.
3. CBD For Headaches
Another one of the most common and popular uses of CBD is for helping to manage headaches and migraines.
Many vertigo attacks are accompanied by intense headaches and migraines. This is particularly true if you struggle with a condition known as benign paroxysmal positional vertigo.
People with this type of vertigo often experience migraines when they move quickly or suddenly. While most of the reports of using CBD for headaches are anecdotal, research has compiled a fair amount of evidence that supports this claim.
One of the reasons for this is because the endocannabinoid system is involved in pain regulation. By affecting the receptors in your ECS, CBD can help to reduce pain.
CBD also stimulates the release of another compound called anandamide. One of the functions of this substance is to help dilate your blood vessels. This can help reduce the intensity of headaches.
4. CBD For Dizziness
There have been anecdotal reports of people using cannabinoids to help fight dizziness. However, there are not any studies that specifically confirm this benefit.
A study published in 2006 suggests that there may be cannabinoid receptors in the central vestibular system. This system is often involved in acute attacks of dizziness [2].
While this doesn't prove that CBD may be reliable for fighting nausea, it's certainly a suggestion that more research in this area is necessary.
Nausea, vomiting, and dizziness are symptoms that commonly occur alongside one another. This may be one reason that people have reported relief when using CBD for dizziness.
Safety & Risks: Side Effects of Using CBD With Vertigo
CBD is generally considered a safe supplement. There aren't a lot of serious side effects associated with it.
The most commonly reported side effect is drowsiness caused by extreme relaxation. This means that you might want to avoid using CBD for vertigo if you're going to be driving or using heavy machinery.
The other main concern is the way that CBD interacts with other drugs and medications. CBD inhibits the production of the CYP450 enzymes, which are responsible for metabolizing the most commonly prescribed drugs [3].
If you're taking other medications, you may want to check with your doctor first before using CBD. This is especially important when you consider the fact that vertigo is sometimes a side effect of certain medications.
Another thing you'll want to confirm is the legal status of cannabinoids in your area. CBD is considered legal in most areas. However, cannabis in its whole form is not.
If you're planning to use cannabis or CBD to manage your vertigo, you should check in with your state or country to confirm whether or not it's legal.
Summary: Should You Use CBD Oil For Vertigo?
CBD is a very useful compound that provides many of the same benefits as THC without causing intoxication.
It has been used medically to help manage a wide variety of symptoms, including many of those associated with vertigo: nausea, vomiting, headaches, and dizziness.
If you struggle with vertigo and are looking for a useful substance to help fight the symptoms, you may want to use CBD. This can help to provide relief while you work to identify the underlying cause of your vertigo.
Remember to be careful when using CBD. While the substance itself is considered safe, it can interact with medications and other drugs. You will also have to double-check the legal status of CBD in your state and country.
Once you've confirmed with your doctor that CBD is safe to use with any medications you're taking, check out the products offered by Royal CBD or Gold Bee to help with vertigo symptoms.
References Used In This Article
Parker, L. A., Rock, E. M., & Limebeer, C. L. (2011). Regulation of nausea and vomiting by cannabinoids. British journal of pharmacology, 163(7), 1411-1422.
Smith, P. F., Ashton, J. C., & Darlington, C. L. (2006). The endocannabinoid system: A new player in the neurochemical control of vestibular function?. Audiology and Neurotology, 11(4), 207-212.
Zendulka, O., Dovrtelová, G., Nosková, K., Turjap, M., Sulcová, A., Hanus, L., & Jurica, J. (2016). Cannabinoids and cytochrome P450 interactions. Current drug metabolism, 17(3), 206-226.