CBD Oil and Antibiotics: Is It More Effective to Take Them Together?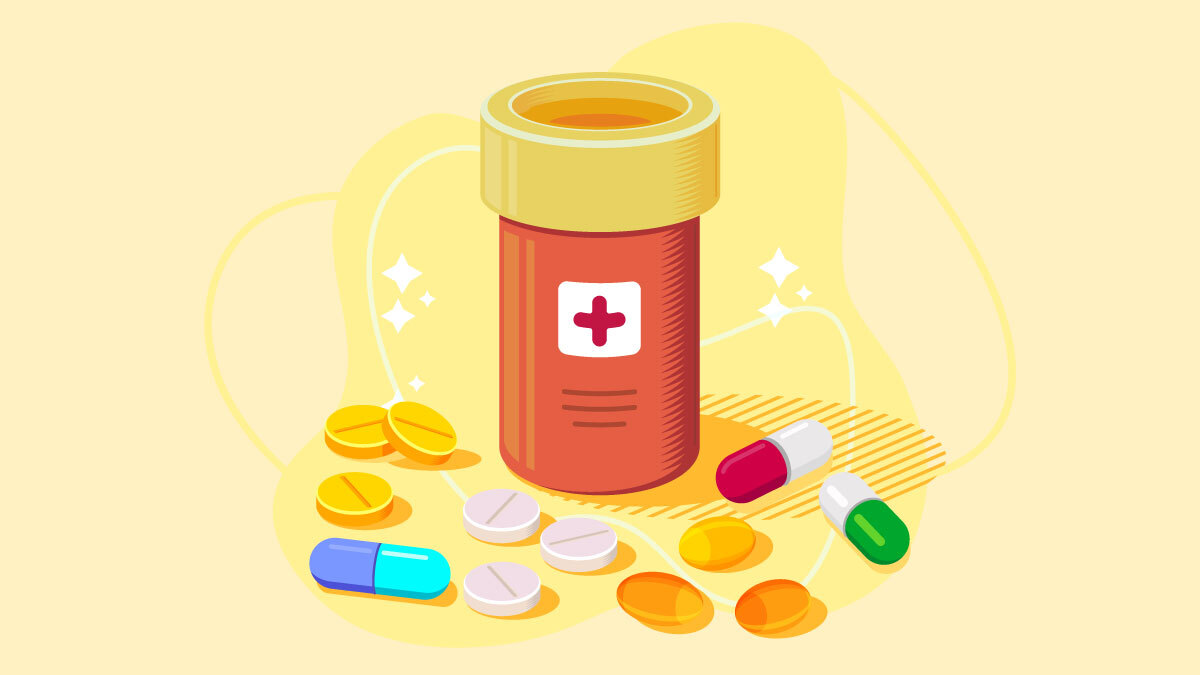 As medical researchers are constantly discovering new health benefits of CBD, the compound has become one of the most exciting therapeutic products of this century. However, 100 years before CBD came on everyone's tongues, antibiotics gave medicine a completely new face — becoming a staple of healthcare.
What happens when you take these two compounds together?
Are they a perfect match or a dreadful combo?
People supplement CBD for many reasons, whether it's to support their overall well-being or tackle specific health conditions, such as sleep disorders, mood swings, muscle pain, inflammation, and more.
So, when your doctor prescribes you antibiotics, it's understandable that you'll ask them if you can take them together with CBD oil.
Understanding the interactions between CBD and pharmaceutical substances will help you make a well-thought-out decision on how to best run your treatment.
Of course, consulting a doctor is always better if you want to get professional advice, so treat this article only as an educational piece.
What Are Antibiotics?
Antibiotics are antibacterial medications that are prescribed to millions of people across the world every year. They are recommended as a treatment for a wide range of bacterial infections. Doctors use them to either treat or prevent further bacterial infections from being triggered.
Even in the modern world, antibiotics are essential for saving us from often lethal bacteria that would otherwise cause the death of many people back before antibiotics were invented in 1928.
Studies on antibiotics and their mechanisms indicate that certain chemical compounds can interfere with their efficacy, and as such, you should always consult your doctor before taking antibiotics alongside any other medicines or supplements.
CBD As Antibiotic: What Studies Say
There's evidence that CBD possesses antimicrobial properties, which makes it a potentially useful tool for fighting infection.
Although the mechanism behind these effects isn't well understood yet, studies have confirmed that CBD provides similar protection to antibiotics — especially against treatment-resistant bacteria that have become resistant to conventional methods.
One study analyzed how different cannabinoids, including CBD and THC, interact with pathogenic bacteria.
The authors tested each cannabinoid against six strains of the antibiotic-resistant super bacteria, methicillin-resistant Staphylococcus aureus (MRSA). All cannabinoids showed increased activity against all strains of the MRSA bacteria.
The study concluded that CBD could be effective at fighting one of the most treatment-resistant bacteria in the field of medicine.
Another study from the researchers at the University of Queensland's Institute for Molecular Bioscience found that CBD could kill numerous strains of bacteria in test-tube experiments — including VRSA, VISA, MRSA, and other treatment-resistant strains.
Interestingly, these strains developed resistance to all FDA-approved antibiotics over the years, but not to CBD.
CBD was able to outmaneuver the whole process of superbug growth despite exposing the strains to it for 20 days.
The research team found that CBD effectively disrupted biofilms, a microscopic mass of bacteria, mucopolysaccharides, and waste products that act as a physical barrier preventing antibiotics from inhibiting the bacteria growth — resulting in difficult-to-treat infections.
It seems that CBD uses a unique mechanism that works against bacteria resistant to other antibiotics.
A 2019 study from the UK has provided a deeper insight into that mechanism.
The said study examined the antibacterial properties of CBD on Escherichia Coli bacteria (E. coli) — specifically on its membrane vesicles, which the bacteria use for growth and communication.
The authors learned that CBD might help increase antibiotic activity and reduce the resistance of bacteria when used in tailored co-application.
Can You Take CBD and Antibiotics Together?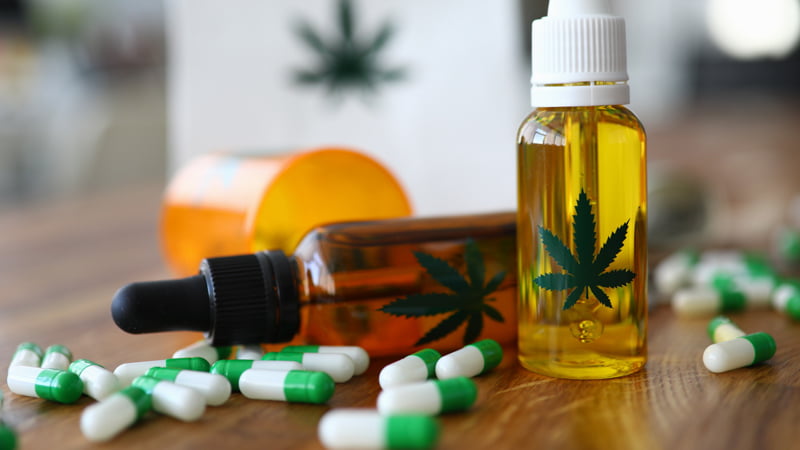 As mentioned above, CBD can enhance the activity of antibiotics, translating into higher efficacy against treatment-resistant bacteria. But, considering that CBD meddles with the system of enzymes that is responsible for metabolizing pharmaceuticals (including antibiotics), the answer requires more careful analysis.
How CBD Affects Drug Metabolism
Let's shed some light on how CBD interacts with antibiotics. This comes down to understanding how CBD affects our body's Cytochrome P-450 System, which processes potentially dangerous toxins.
Many of us aren't aware of this system, but it's a paramount component of the human body. If we lacked CYP450, we could be exposed to an array of toxic chemicals on a daily basis.
Over 60% of the drugs we consume are metabolized by CYP450, which is where things get pretty hazy.
This unique system is located in the liver and contains 50 enzymes that work to remove potentially dangerous compounds. Depending on the type of the drug and its dosage, CYP450 requires a different period of time to break down these substances. Certain drugs have a direct impact on the speed of the system's metabolism.
CBD & Cytochrome P450 System
CBD is actually a potent inhibitor of CYP450. In other words, it can change the way the system metabolizes certain drugs that it encounters — including antibiotics.
When it comes to taking CBD and antibiotics together, the interaction between these two substances could result in taking less or more antibiotics than required — carrying the risk of overdose.
Fortunately, such hardcore interactions aren't common. In fact, no study has yet found that regular doses of CBD compromise the liver's ability to metabolize antibiotics. If anything, as the above studies, indicates, CBD could strengthen the effects of antibiotics.
However, this can only happen when you apply the right dose of both compounds.
Here's where a consultation with a holistic doctor experienced in cannabis use may help.
When to Consult a Doctor
If you approach CBD and antibiotics irresponsibly, it could potentially lead to negative side effects. Since CBD affects CYP450's ability to metabolize medications — either speeding it up or slowing it down — you could end up with higher doses of the drug in your system than what is considered safe.
You can easily minimize that risk by consulting your doctor first. Your doctor should be able to analyze your current dose of CBD and antibiotics — and adjust them so that they can benefit from one another without causing negative interactions.
This should be the first thing that you do before taking CBD with any medication.
Benefits of Taking CBD Oil with Antibiotics
CBD oil and antibiotics both fight infection, but they use different mechanisms to achieve their goals.
While antibiotics vary in their method of targeting bacteria, they all have one general function — wiping out the elements of bacterial cells that don't occur in human cells. This is an incredibly complex way of tackling infection; it destroys all bacteria in the body, including the good bacteria that help your gut healthy. Certain bacteria can also become resistant to antibiotics over time.
CBD has demonstrated antimicrobial properties, showing itself as another useful tool for fighting infection. While we still need a better understanding of how CBD oil does it, studies have concluded that CBD is particularly effective against treatment-resistant bacteria.
At the same time, CBD can support the growth of healthy bacteria (probiotics), improving your digestive health, and thus can help with problems such as IBS.
In the aforementioned study on the antimicrobial effects of CBD and THC, each cannabinoid was highlighted as "showing potent activity" against the bacterium, with authors noting that "activity was exceptional against some of these strains, in particular, the multidrug-resistant (MDR) SA-1199B and also against EMRSA-15 and EMRSA-16, the major epidemic methicillin-resistant S. Aureus strains occurring in U.K. hospitals."
In simple words, CBD was proven to be effective at killing one of the most treatment-resistant strains of bacteria medicine has seen.
If you combine CBD oil and antibiotics in the right dosages, you can achieve a potent, two-pronged approach to tackling bacteria-driven diseases. Or, if your doctor deems it right, they can recommend a highly concentrated form of CBD as a monotherapy.
The Side Effects of Using CBD Oil with Antibiotics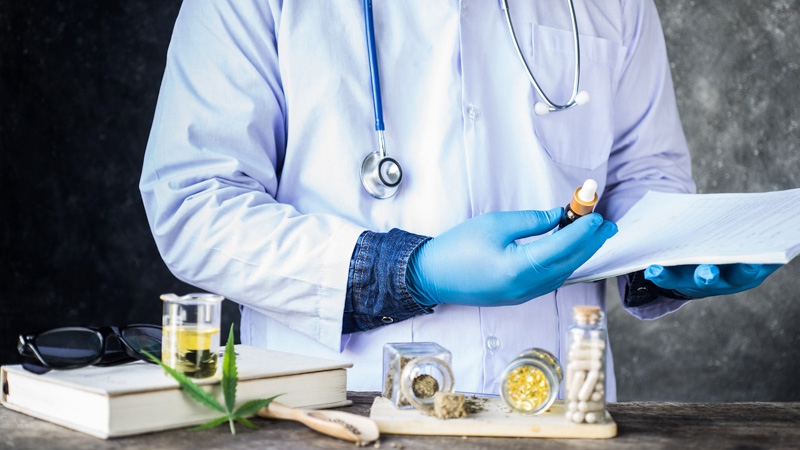 CBD oil may inhibit your liver's ability to metabolize certain antibiotics, especially clarithromycin (Biaxin) and erythromycin. It's important to keep in mind that these two antibiotics can be prescribed on their own or as a combination of antibiotics. That's why it's important to read product labels and talk to your doctor.
Since CBD may slow down the breakdown of these antibiotics, higher concentrations can circulate in the bloodstream — causing negative side effects.
The negative reactions to taking CBD oil and antibiotics as clarithromycin include:
Diarrhea
Headaches
Mood swings
Nausea
Stomach pain
Weakness
Does CBD Interact with All Antibiotics?
While any medication can interact with CBD, not every product within that category will — and the same goes for antibiotics. Not every antibiotic will be impacted by CBD, and sometimes, it can even enhance the antibiotic's effects.
There's one good way to find out if CBD can cause negative interactions with your medication.
How to Tell If CBD Will Interact With Your Medication
Most doctors will tell you not to eat grapefruit or drink grapefruit juice when taking certain medications.
That's because grapefruit juice interacts with CYP450 in a similar way to CBD.
Therefore, if your medication has a grapefruit warning on it — or your doctor suggests that you abstain from eating grapefruit for the time of your treatment — you probably should consult your purchase of CBD oil with a medical professional who is experienced in using cannabis.
Key Takeaways On CBD Oil and Antibiotics
Taking CBD oil and antibiotics together can have a positive effect on the efficacy of the latter — that's especially good news for people with infections.
However, it's essential to note that scientists still don't know what exactly is responsible for the mechanism behind CBD's high efficacy.
All the research was conducted in a lab, using test tubes and bacteria cultures. More clinical human trials are needed to confirm the preliminary findings.
To date, no study has recommended combining CBD with antibiotics — nor there has been a paper that would definitely discourage from doing so.
Before taking CBD oil to treat or prevent infection, do your research and consult your doctor to establish the right CBD dosage and routine so that you avoid the negative interactions with your antibiotic.
Did you take CBD and antibiotics together? Was it good or did you experience any side effects? Share your stories in the comments below!
References: