CBD Oil for Cats With Anxiety: How Can It Help?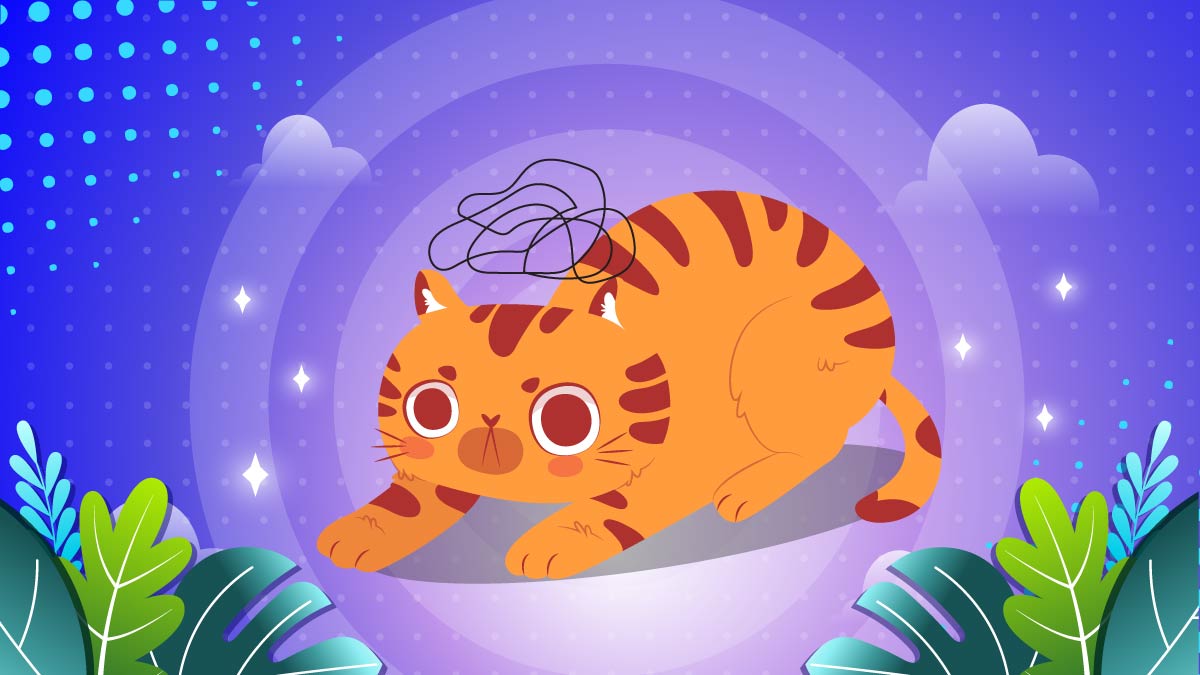 Cats also suffer from anxiety, and one of the most common causes of their stress is separation-related anxiety. Similar to dogs, cats also develop a deep attachment to their owners, which results in deep stress when the owner leaves the house or goes on vacation and leaves the cat with their parents.
Cat anxiety may also be caused by other factors such as illnesses and trauma.
While some anxiety is normal, it becomes problematic when your cat develops behavioral problems like persistent aggressive behavior and restlessness.
To address the problem, some cat owners use CBD oil to relieve their pet's anxiety. CBD oil has many beneficial effects that can help control anxiety symptoms in cats.
The question is, is CBD oil for cat's anxiety safe? How does it help relieve their stress? More importantly, how do you give CBD oil to a cat's anxiety for the best results?
Why Do Cats Get Anxiety?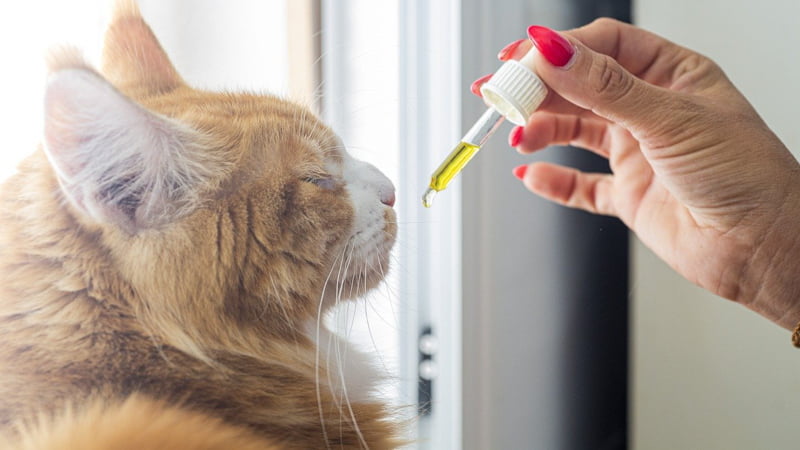 Cats are independent and relatively self-sufficient by nature, but when they bond with their owners, the bond can become pretty deep. Similar to pet dogs, domestic cats also grow anxious when you leave them behind.
Separation anxiety isn't just the source of their stress though. Their anxiety levels also grow when they're ill or sick. Stiff, arthritic joints, for example, make them more irritable and lethargic than usual.
Cats also become anxious when there are changes in their life. These could include moving into a new home, dealing with a new pet or a baby, loud noises like fireworks, or simply a lack of socialization.
Adopted cats are more prone to anxiety attacks. The feeling of abandonment, traumatic experiences, and history of neglect and abuse trigger their anxiety, resulting in more behavioral problems.
What are the Symptoms of Cat Anxiety?
Cat anxiety symptoms vary, but some of the common signs include:
Destructiveness like scratching and chewing on things
Hiding or always trying to escape
Trembling
Inappropriate defecation and urination
Vocalization
Attention seeking behaviors
Increased salivation
Excessive grooming
Appetite changes
Comforting or soothing your cat may help relieve some of their anxiety symptoms, but if they worsen, then you might need to bring your cat to the vet.
What are the Common Treatments for Cat's Anxiety?
If your cat's anxiety is caused by an illness or disease, then addressing the underlying cause helps reduce anxiety symptoms.
If a medical cause can't be found, then the vet might recommend medications such as anxiolytics and antidepressants. These drugs work to stabilize imbalanced chemicals or neurotransmitters in the cat's brain, resulting in a calmer mood.
However, long-term use of these drugs causes side effects such as disorientation, vomiting, irregular heartbeats, incoordination, and increased salivation. High doses, in particular, can worsen anxiety or cause kidney and/or liver disease.
Behavior modification also helps. This teaches your cat coping and stress handling skills through desensitization or counterconditioning.
Do Cats Have an Endocannabinoid System?
All mammals have an endocannabinoid system, and similar to humans, it's also found all over the animal's body, especially in the brain and the spinal cord. It also maintains chemical balance within the body.
Their endocannabinoid system also has three components — types 1 and 2 cannabinoid receptors, endogenous cannabinoids, and enzymes.
Type 1 cannabinoid receptor plays key roles in many physiological functions such as appetite, stress, fear, and anxiety, among others. It's also the receptor that produces THC's intoxicating effects. Type 2 cannabinoid receptor, on the other hand, plays an active role in regulating the immune response.
These cannabinoid receptors respond to endogenous cannabinoids, which are released by the cells when there's stress or other noxious stimuli. Their activation results in decreased pain and swelling, improvement in appetite, reduction in stress and anxiety, and control of fear.
Endogenous cannabinoids have a short lifespan though. Enzymes quickly degrade them for reabsorption.
What is CBD Oil?
Cannabidiol or CBD is just one of over 115 cannabinoids produced by cannabis plants. It doesn't bind well to the type 1 cannabinoid receptor, so it won't produce intoxicating effects. However, CBD stimulates other biological receptors that control physiological functions. It's through these receptors that CBD helps relieve many symptoms, including anxiety and stress.
When it comes to the type 2 cannabinoid receptor, CBD can directly activate it to control the abnormal immune response, resulting in decreased inflammation.
CBD oils for cats are usually derived from industrial hemp. Because it's THC-free or contains no more than 0.3% THC, using CBD oil for a cat's anxiety won't cause intoxication.
How Does CBD Oil Benefit Cats with Anxiety?
How exactly does CBD oil help relieve your cat's anxiety? What are the benefits of CBD?
CBD Calms Them Down
CBD has fear and anxiety-relieving effects in animals.
There's growing evidence that CBD use in animals eases learned fears which contribute to the development of post-traumatic stress disorder, anxiety, and phobia disorders. CBD helps relieve fear and anxiety by disrupting the retrieval of ingrained fear memories. It also helps receptors regulate their response to stress and anxiety.
CBD Eases Pain and Swelling
In addition to its anti-anxiety effects, CBD also helps address several symptoms that may worsen your cat's anxiety and stress.
Aging cats, for example, also develop osteoarthritis of the joints. Their joint pain, inflammation, and stiffness affect the quality of their life, including sleep, appetite, and mood.
Now, CBD not only decreases osteoarthritic pain but also reduces joint swelling. It stimulates receptors responsible for pain control, and it also works on the type 2 cannabinoid receptor for inflammation control.
Improving these symptoms also helps improve your cat's quality of life, especially when it comes to their mobility and agility.
CBD Relieves Cat Dementia, Which Worsens Anxiety
It's also natural for aging cats to develop dementia. The symptoms of cat dementia include:
Increased anxiety
Vocalization with increased meowing
Confusion and disorientation
Increased agitation, irritability, aggressiveness, or restlessness
Withdrawal and avoiding interaction with you and other pets
Forgetting learned behaviors, such as where to defecate and urinate
Changes in their sleep-wake pattern
Changes in behavior such as excessive licking
These symptoms are not limited to cat dementia though, but they can also be present in many cat health problems. These include diabetes, hyperthyroidism, deafness, or hypertension, etc.
CBD has many therapeutic effects that can reduce cat dementia symptoms. Its anti-inflammatory effects reduce low-grade inflammation in the brain, which worsens cat dementia. It also acts as a natural antioxidant that protects healthy brain cells.
Is CBD Oil Safe for Cats?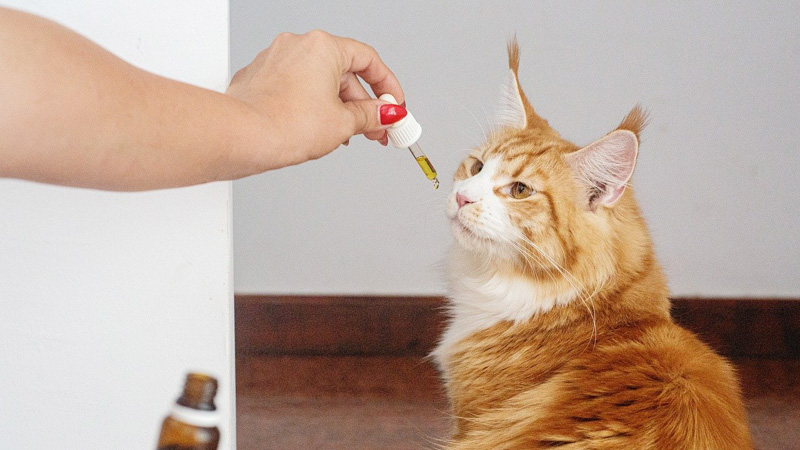 Hemp-derived CBD oil is generally safe for our feline friends. It's also well-tolerated by cats, and many pet owners have noted improvement in their cat's anxiety symptoms.
However, when choosing CBD oil for cats, make sure it's sourced from industrial hemp and contains zero to no more than 0.3% THC.
THC can be toxic to cats. It causes neurological symptoms in cats such as alternating states of apathy, agitation, and aggression. THC also caused excessive drooling and salivation.
Other factors to look for in choosing CBD oil for cats' anxiety include CBD source, the extraction process, and laboratory testing, which we'll discuss below.
Does CBD Have Any Side Effects??
CBD may cause an upset stomach in some cats. If you notice changes in your cat's bowel movements, you may want to decrease the CBD oil dose.
CBD may also cause lethargy, lower body temperature, and result in motor incoordination, but this usually occurs when you give cats CBD oil with high THC content.
Is CBD Oil for Cats Legal?
Hemp-derived CBD oil is federally legal. However, no regulations have been set yet on the recommended daily intake, quality, potency, and labeling of pet CBD oils, so there's the risk of buying contaminated or substandard products that may be harmful to your cat.
For the health and safety of your cat, you need to know the factors to consider when buying pet CBD oil.
What Do You Look for in the CBD Oil for Cat's Anxiety?
CBD is still an unregulated market, especially for cat use, so you have to rely on several key factors to know you're getting premium-quality CBD oil for cats.
CBD Source
THC can be toxic to cats, so when choosing CBD oil for cat's anxiety, make sure its CBD is sourced from organically grown industrial hemp. Check, too, that the product doesn't contain a THC level of more than 0.3%.
The extraction process also matters, and so far, the supercritical CO2 extraction process remains to be the best. It produces safe and clean CBD since it doesn't create toxic residues or harmful residual solvents.
Type of CBD Oil
There are three types of CBD oil:
Pure CBD oil, which only has CBD in it.
Broad-spectrum CBD oil, which has CBD plus other cannabinoids and terpenes.
Full-spectrum CBD oil, which has CBD, other cannabinoids, terpenes, and THC.
All formats may relieve your cat's anxiety, but of the three types, full-spectrum CBD oil offers more powerful therapeutic effects.
Yes, it has some THC in it, but the level is so minute that it won't trigger psychoactive effects. Instead, THC helps boost the therapeutic effects of the other cannabinoids and terpenes.
Laboratory Test Result or Certificate of Analysis
The CBD market offers many different brands of pet CBD oils. They vary not only in types of CBD oils but also in their potencies.
Choosing one may be confusing, but if you're after quality CBD oils, then look for laboratory test results or certificates of analysis.
Trustworthy pet CBD producers always have their product samples tested by certified laboratory testing facilities. These look for pathogenic microorganisms which compromise the product's quality. The tests also check for toxic residues such as harmful pesticides, heavy metals, and solvents.
Last but not least, these tests also make sure that the products contain their stated potency by checking their cannabinoid profile and concentration.
If a pet CBD producer can't show you their product's COA, then don't buy their products. They might be cutting corners somewhere and producing substandard pet CBD oils.
Product Reviews
Just because CBD oil has all the qualities you're looking for doesn't mean it's perfect for your cat.
Make sure you're getting the right one by reading product reviews. Customer feedback tells you how happy (or not!) pet owners are with the product.
If the pet CBD oil received many negative reviews, stay away from it.
What's the Best CBD Oil Dosage for Cat's Anxiety?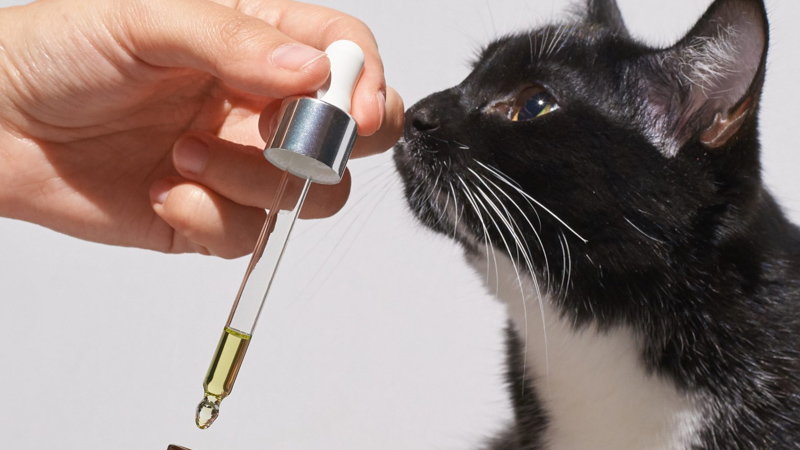 The general rule for getting the best CBD oil dosage for cats is to give:
Low dose for mild symptoms: 1 mg of CBD for every 10 pounds of their body weight
Medium dose for moderate symptoms: 3 mg of CBD for every 10 pounds of their body weight
High dose for severe symptoms: 5 mg of CBD for every 10 pounds of their body weight
Let's say you bought a 30 mL bottle containing a total of 150 mg CBD. To get how much CBD is in one full dropper (which has about 20 drops), simply divide 150 by 30. This gives you 5 mg of CBD per one full dropper or 0.25 mg of CBD per drop.
Now, let's say your cat weighs around 10 pounds, then your pet will need:
1 mg or 4 drops for mild symptoms
3 mg or 12 drops for moderate symptoms
5 mg or 20 drops (one full dropper) for severe symptoms.
How Do You Administer CBD Oil to Your Cat?
You can squeeze the CBD oil directly into your cat's mouth, or you can add it to your pet's favorite food.
You'll start noticing the CBD effects anywhere between 30 minutes to an hour.
Start Low, Go Slow
To avoid side effects, you may want to start your cat on a lower dose.
For example, instead of giving him four drops, you can give him two drops and have him stay on that dose for about three days. If there are no improvements, then increase the dosage. If your cat developed side effects, then decrease the dosage.
You can give CBD oil to your cat every eight hours or as needed, depending on the severity of your pet's symptoms or reactions to CBD.
It's going to be a trial-and-error approach, so be consistent and monitor your cat's responses to CBD.
Through this method, you can easily control the dose until you find the best dose that works for your cat's anxiety.
Final Thoughts — Can You Give CBD Oil for Cat's Anxiety?
CBD is a nonpsychoactive cannabinoid that can help relieve your cat's anxiety. It has therapeutic properties that help calm your pet down and relieve pain, swelling, stress, and other symptoms of extreme anxiety.
We may lack studies focusing on CBD and cats, but initial studies show very promising results.
Have you tried CBD oil for your cat's anxiety? How was the experience? Comment your story below. We'd love to share it with our readers!
References Used in the Article:
de Souza Machado, D., Oliveira, P., Machado, J. C., Ceballos, M. C., & Sant'Anna, A. C. (2020). Identification of separation-related problems in domestic cats: A questionnaire survey. PloS one, 15(4), e0230999.
Silver R. J. (2019). The Endocannabinoid System of Animals. Animals : an open access journal from MDPI, 9(9), 686. [2]
Lee, J., Bertoglio, L. J., Guimarães, F. S., & Stevenson, C. W. (2017). Cannabidiol regulation of emotion and emotional memory processing: relevance for treating anxiety-related and substance abuse disorders. British journal of pharmacology, 174(19), 3242–3256. [3]
Deabold, K. A., Schwark, W. S., Wolf, L., & Wakshlag, J. J. (2019). Single-Dose Pharmacokinetics and Preliminary Safety Assessment with Use of CBD-Rich Hemp Nutraceutical in Healthy Dogs and Cats. Animals : an open access journal from MDPI, 9(10), 832. [4]
Zadik-Weiss, L., Ritter, S., Hermush, V. et al. Feline cognitive dysfunction as a model for Alzheimer's disease in the research of CBD as a potential treatment—a narrative review. J Cannabis Res 2, 43 (2020).
Deabold, K. A., Schwark, W. S., Wolf, L., & Wakshlag, J. J. (2019). Single-Dose Pharmacokinetics and Preliminary Safety Assessment with Use of CBD-Rich Hemp Nutraceutical in Healthy Dogs and Cats. Animals : an open access journal from MDPI, 9(10), 832.
Janeczek, A., Zawadzki, M., Szpot, P., & Niedzwiedz, A. (2018). Marijuana intoxication in a cat. Acta veterinaria Scandinavica, 60(1), 44. [7]
Kulpa, J. E., Paulionis, L. J., Eglit, G. M., & Vaughn, D. M. (2021). Safety and tolerability of escalating cannabinoid doses in healthy cats. Journal of feline medicine and surgery, 1098612X211004215. Advance online publication. [8]