CBD Oil for Cats Aggression: Can It Help?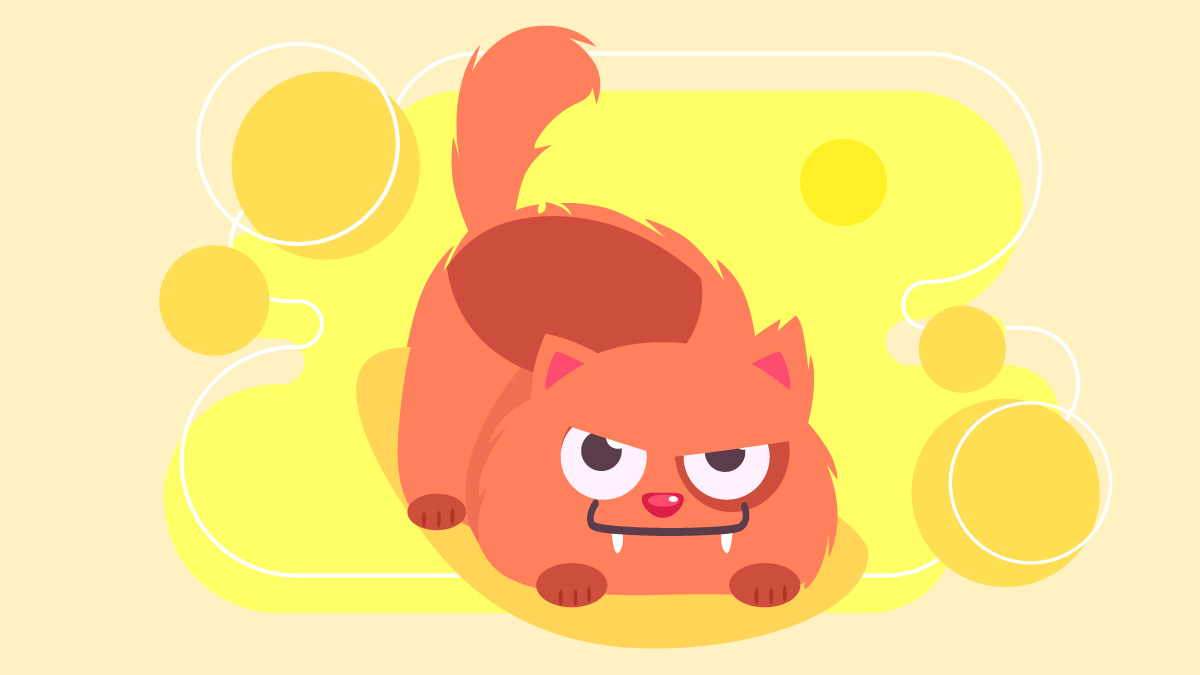 Cats are predators, it's true — but they're not aggressive without a reason.
Whenever you notice signs of aggression in your cat, this can be due to a behavioral or physical problem.
If the issue is behavioral, a consultation with a specialist could help figure out the potential trigger and establish the right strategy to solve it.
But, if your cat gets anxious due to physical reasons, it's time to take them to your vet because they may require medical attention.
Whenever your problem lies, CBD appears to target it from both angles. In this article, I'll explain the science behind the calming effects of CBD on your cat, how it can help curb aggression, and where you can find the best feline CBD oils to purchase for your friend.
CBD and Aggression in Cats: Highlights
Cats who are in pain may be aggressive toward other pets or people when being touched, having to move or be moved, or performing activities that worsen the pain.
Furthermore, cats with thyroid issues, orthopedic dysfunction, adrenal problems, and neurological conditions can show signs of annoyance and aggression. Most of the symptoms of these diseases are associated with inflammation. Reducing inflammation may mitigate and even prevent aggression in cats.
According to current preclinical studies on animal models, CBD is a remarkable anti-inflammatory compound that can also weaken pain transmission in the brain.
CBD's potential use as an anxiolytic and antidepressant was also highlighted by a study in CNS and Neurological Disorders – Drug Targets.
All mammals have the endocannabinoid system (ECS), which works in similar ways as in humans. Therefore, CBD's calming, painkilling, and anti-inflammatory properties may also translate into our feline friends.
Why Cat Parents Are Using CBD Oil to Calm Down Aggression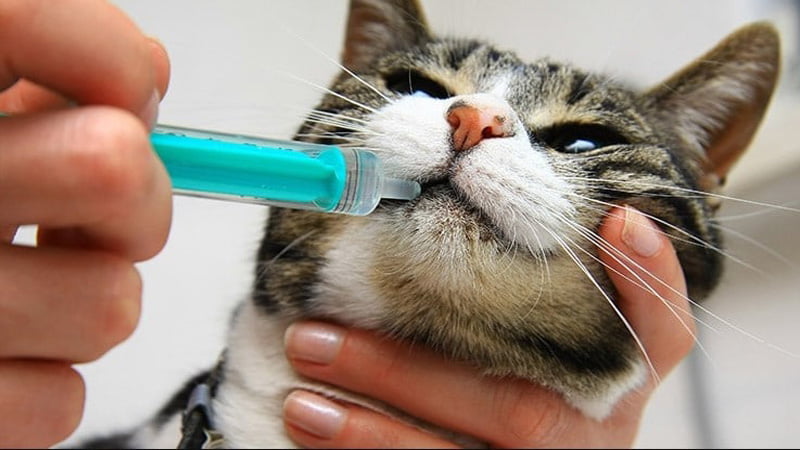 CBD is a highly versatile health supplement that has a whole list of benefits; its therapeutic potential makes many cat parents turn to it for their feline babies.
Some pet parents use CBD themselves and wonder whether it has similar benefits for their cat's well-being.
Aggression is a common behavioral issue in cats. It's a hostile or violent behavior to intimidate or take control over another cat, person, or other animal.
The American Society for the Prevention of Cruelty to Animals (ASPCA) reports that aggressive behavior can vary in pet cats.
It may demonstrate in hissing and avoiding the target of their aggression to cats attacking the animal or person that caused the aggression.
The ASPCA points to a medical diagnostic examination as the best first-resource help for all aggressive cats. Some cats may be aggressive because of an underlying medical condition.
Certain pharmaceutical medications can affect mood and increase a cat's likelihood of showing aggressive behavior. Even diet may be a potential trigger.
Once a cat receives a diagnosis, it's essential to work with a veterinarian and a pet psychologist to provide the cat with the best conditions to improve its mental health.
All mammals, including humans, dogs, and cats, have an endocannabinoid system (ECS), which performs similar functions in all species.
The ECS promotes and maintains homeostasis (balance) between other systems, organs, and their functions — ensuring that they work in harmony.
As more resources are being fueled into the research on the health benefits of CBD, scientists are also exploring the field of feline health.
Treating any underlying medical condition that could be causing aggression in your cat can improve its well-being and prevent future outbursts.
CBD may assist with the following symptoms that have been proven to trigger aggressive behavior in cats.
CBD and Pain-Induced Aggression in Cats
Cats who are in pain can be aggressive toward other pets or people to avoid being touched, moved, or performing actions that might worsen the discomfort.
Chronic pet conditions CBD might be able to help with include cats with kidney disease, lower urinary tract disease, arthritis, and dental disease.
Cats suffering from osteoarthritis could show an aggressive response when their joints are being touched. They may hiss, scratch, or bite to show their resistance.
In some cases, the problem may linger in their head even though the pain has healed.
When touched on the body part that was once painful, they would still act aggressively, probably to prevent a possible injury.
Make sure to be careful when touching your pet and avoid painful areas.
When it comes to using CBD for pain-induced aggression, the cannabinoid can help reduce inflammation and pain.
A study published in the European Journal of Pharmacology analyzed CBD's therapeutic effects on neuropathic (nerve-triggered) and inflammatory pain in rats. The results suggested a promising potential for the use of CBD for chronic pain.
Some patients actively use cannabis-based medicines, including CBD or THC, or a combination of both. However, when it comes to managing aggression in cats, THC may be counter-effective, as the ratio of a dose to your pet's weight may cause it to experience something known as marijuana toxicity and suffer from anxiety, paranoia, and racing heart.
CBD for Inflammation in Cats
Many diseases affecting cats are caused by an inflammation of a specific body area or organ. According to an article posted by Harvard Health, research indicates that chronic inflammation may be the most common cause of diseases.
Certain illnesses in cats, such as thyroid dysfunction, adrenal problems, orthopedic issues, and neurological disorders, can also trigger or worsen aggression.
The majority of these symptoms are caused by inflammation. Treating it may help reduce the root cause of aggression in cats.
Several human and animal studies have pointed to CBD as a potent anti-inflammatory compound and an effective remedy for neurological disorders like seizures and epilepsy in cats.
For example, a study from the European Journal of Neuroscience has found that CBD might help curb inflammation.
A 2016 study in Pain journal investigated the mechanisms behind CBD's potential to treat inflammation in a rat model of osteoarthritis. The authors found that CBD reduced inflammation and overall pain.
Given that the ECS works the same way among all animals, CBD's anti-inflammatory and pain-relieving effects may also apply to cats.
CBD for Stress and Anxiety in Cats
The authors of a review from the Journal of Feline Medicine and Surgery said that stress could increase the risk of developing certain types of aggression, including redirected aggression.
This is a common type of aggression in cats. It occurs when the cat attacks another person or object other than the one that triggered aggressive behavior.
This way, cats cope with stressful events.
Let's say your cat sees a stray cat in your backyard but can't reach it; the failure to attack the actual prey causes the cat to become offensive toward a family member or another animal that's on their territory.
A research paper published in PLoS ONE suggests separation-related problems as a potential cause of aggression in cats.
The authors outlined typical signs of separation anxiety:
Urinating in atypical locations
Defecating at inappropriate locations, besides the litter box
Offensive behavior
Uncontrolled meowing or vocalization.
The researchers also included three categories that describe cats' mental states when they're either alone or separated from their human parents.
These categories are agitation-anxiety, aggressiveness, and depression.
Among the cats sampled, about 13% of subjects met at least one of the behavioral criteria for separation anxiety.
Destructive behavior was observed in 66.67% of cats; aggressiveness was reported in 36.67 cats, whereas around 48% of cats demonstrated signs of depression.
On top of using strategies to prevent and reduce stress and anxiety in cats, such as avoiding stressors or "rewiring" the brain to stop associating the trigger with something stress-inducing, cat owners may supplement their pets with CBD oil to help with anxiety.
For example, a 2018 study published in Frontiers in Immunology showed that CBD may serve as a potential remedy for post-traumatic stress disorder and depression.
In the study, the research team analyzed the clinical and experimental treatment with CBD. They noted that CBD demonstrated antipsychotic, anxiolytic (anti-anxiety), and neuroprotectant effects on the brain.
CBD's therapeutic properties for anxiety and depression were also mentioned in a study from CNS Neurological Disorders – Drug Targets.
Although the studies were performed on rats and mice, the universal nature of the ECS among all mammals may provide comparable results in cats.
Cat parents aiming for successful management of their cat's aggression by curbing anxiety and depressive symptoms may want to add CBD as a safe and non-toxic alternative to prescription medications.
How Exactly Does CBD Help With Aggression in Cats?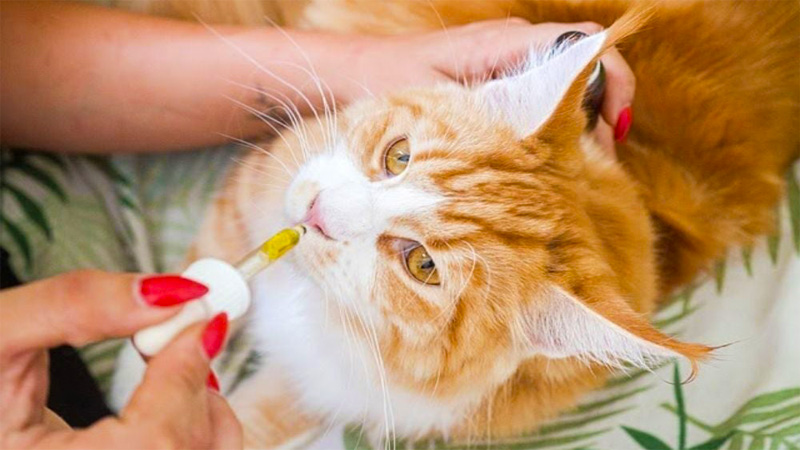 CBD and other cannabinoids affect the activity of the endocannabinoid system by acting on its receptors directly or indirectly. These cannabinoids work as neurotransmitters, helping establish proper communication between cells.
The two types of receptors present in the ECS are CB1 and CB2 receptors.
In cats, CB1 receptors appear mostly in the brain and central nervous system. CB2 receptors, on the other hand, are prevalent in the immune system and peripheral organs.
CB1 receptors regulate pain, motor regulation, mood, memory processing, and sleep cycles.
Meanwhile, the CB2 receptor is responsible for reducing inflammation and protecting tissues.
These anti-inflammatory responses may help improve a cat's well-being, preventing aggressive behavior.
Pros & Cons of Using CBD Oil with Aggressive Cats
The Pros
The endocannabinoid system (ECS) and cannabinoid receptors work the same across all mammals. Therefore, CBD's potential benefits, as proven in human and animal studies, may also translate to cats.
CBD doesn't have the potential for abuse or addiction, making it safe for cats when administered under veterinary supervision.
Hemp-derived CBD products for cats are widely available without prescription in many countries.
You can give high-quality CBD oil meant for humans to cats. Still, be careful when measuring your doses because cats are way smaller than humans. Gauge the dose as if you were microdosing CBD for yourself.
The Cons
Not many direct studies on cats have been conducted when it comes to using CBD for specific health conditions, such as those involving aggression.
Cannabis-based products haven't been approved by the FDA, so before trying CBD for feline aggression, the agency strongly recommends consulting a veterinarian.
Veterinarians aren't legally authorized to prescribe CBD as a medication for cats, except in California. Not many vets are even aware of the health benefits of CBD.
There's a risk of interactions between CBD and certain medications because CBD competes with metabolic enzymes in the liver.
CBD vs Alternative Treatments for Aggressive Behavior on Cats
All types of feline aggression can benefit from implementing several general principles. Diagnosis and intervention are the first steps you should take to solve the problem.
Other alternative options for dealing with aggression in cats involve:
Avoiding aggression triggers
Separating cats that are aggressive toward each other, and slowly introducing them to start tightening their bonds.
Not giving any form of physical punishment, which could only worsen the cat's fear and anxiety, increasing aggression.
Combining behavioral and environmental changes with dietary modifications and supplementation.
Giving your cat treats that enforce peaceful behavior.
A veterinary behaviorist can help if aggression still goes out of control despite using the techniques presented above.
Keep in mind that certain medications may affect your cat's mood and increase its sensitivity to stimuli; this, in turn, could compromise the efficacy of your treatment.
But even a wrong diet may contribute to feline aggression, so you need to approach the problem from different angles and look at your cat holistically.
If you decide to go for calming cat treats, CBD is a great pick because it naturally calms your cat, not to mention that such treats often come with other supplemental herbs that give them a well-rounded effect.
Different Types of CBD Oil for Aggressive Cats
CBD oil is a concentrated extract sourced from Cannabis sativa plants; it can be derived from hemp or marijuana.
In its least processed form, CBD oil contains the full spectrum of cannabinoids, terpenes, flavonoids, essential fatty acids, vitamins, and minerals. These compounds work synergistically to enhance the health benefits of the extract as a whole.
This phenomenon is known as the entourage effect and has been broadly described in several research papers.
Full-spectrum CBD oil also contains a trace amount of THC (0.3% or less), but the amount is insufficient to produce any intoxicating effects on your cat.
There are also broad-spectrum extracts, which are much like full-spectrum CBD oils, except for the THC content. The psychoactive compound is removed once the manufacturer has obtained a crude extract.
CBD isolate is another appealing form for cat parents because it contains only CBD. On the one hand, this is good if you're interested in the health benefits of CBD alone. But pon the other hand, such products don't leverage the entourage effect and are more difficult to dose due to the so-called bell-shaped dose-response curve.
How to Choose The Best CBD Oil for an Aggressive Cat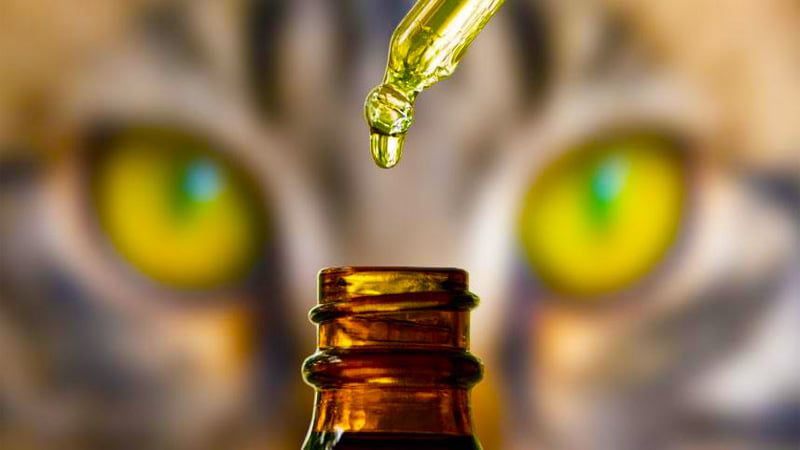 Here are a few tips that will help you choose the best product to curb aggression in your cat:
Check the hemp source: the hemp used in your CBD oil should come from organic, non-GMO crops that are grown on local US farms. Alternatively, look for brands that source their hemp from licensed producers.
Choose CO2 extraction: this method uses pressurized carbon dioxide to yield hemp extracts that carry all the therapeutic compounds from hemp effectively and safely.
Look for CBD oils with MCT oil: this oil contains medium-chain triglycerides and is derived from coconut oil due to its high content of saturated fats. While some companies may try to lure you with CBD oils suspended in hemp oil to 'keep everything within the cannabis family,' the truth is that the more saturated fats, the higher the bioavailability of CBD. Not to mention the MCT oil can neutralize the earthy taste of full-spectrum CBD to some extent.
Ask for the certificate of analysis (COA): each product batch should be tested in a third-party laboratory for potency and purity, including results for pesticides, heavy metals, solvents, and microbial impurities.
CBD Dosage for Feline Aggression
That's probably the most bugging aspect for pet owners when it comes to curbing aggression in their cats.
How much CBD is enough? What happens if you go too far with the dosage?
The good news is that a lethal overdose on CBD oil is impossible because CBD doesn't interact with the brain stem areas that control respiratory function.
The bad news is that there are no official dosage charts for giving CBD to cats because the cannabinoid isn't regulated by the FDA and veterinarians can't officially prescribe it to pets.
What you can do is follow the manufacturer's instructions or calculate the dosage using your cat's weight.
For example, Royal CBD recommends giving one full dropper of its 250 mg full-spectrum CBD oil twice daily — or as recommended by a veterinarian.
When it comes to dosing by weight, the best practice is to start at 0.25 or 0.5 mg of CBD for a low or strong dose for every pound of the cat's body weight.
If your cat becomes aggressive due to behavioral problems, try giving them CBD oil for about 30 minutes before stressful events.
How to Give Your Pet Cat CBD Oil
The most effective way of administering CBD oil to cats is through sublingual use. Ideally, your cat should be able to hold the oil under the tongue for around 60 seconds to maximize the absorption of CBD.
However, since some cats are picky when it comes to CBD oil, pet parents often add the extract to their regular food. This will delay CBD's onset and reduce bioavailability but may ensure longer-lasting effects.
For localized problems that may trigger aggression, such as arthritis flare-ups or injuries, topical CBD should provide the best results. When applied topically, CBD interacts with the cutaneous endocannabinoid system, acting on CB2 receptors and reducing physical discomfort.
Understanding your Cat's Aggressive Behavior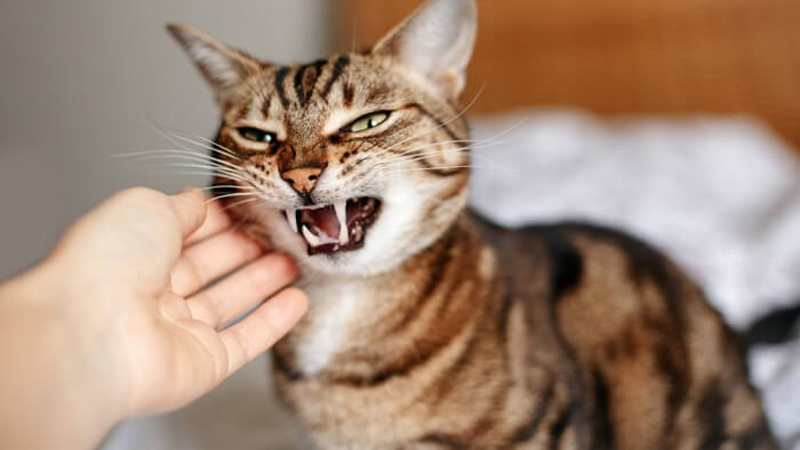 The first step to addressing aggression in cats is to make sure it doesn't have any underlying medical conditions that may be causing them to behave aggressively.
Diseases, such as central nervous system disorders, dental disease, osteoarthritis, and feline hyperthyroidism may be the "why" behind your cat's aggression.
Whenever you notice any alarming signs in your cat, take them to the vet first. Once you're sure it's not any physical condition, you can look for a behavioral specialist who will lay out a proper strategy to solve the problem.
Different Types of Aggression
Now to behavioral issues. Here's why your cat may become aggressive other than from being sick:
Playtime Aggression
Young cats and kittens that didn't have the opportunity to play with other cats commonly show play aggression
This applies to cats that were raised alone or may not have the chance to learn that scratching and biting too hard is inappropriate.
You can quite easily manage this issue by distracting the cat with active play or limiting the activities that encourage play aggression.
Another tip is to use a conditioning mechanism, something like a specific sound that will warn your cat against continuing the misdemeanor. Use it every time the cat shows signs of aggression so that they learn it's not good to act out during playtime.
Fear Aggression
Aggression is a defensive mechanism that cats can use to protect themselves from another predator or any other kind of danger.
You may notice fear-induced aggression by observing your cat's behavior. When they flatten their ears against their heads, show their bare teeth, and crouch low to the ground, they're not in a playful mood.
Cats also demonstrate aggression when put under situations that remind them of unpleasant events, such as a visit to the veterinarian or being carried to their transport box when you take them to your parents on holidays.
Territorial Aggression
Cats like to establish and protect their territories. They may become aggressive toward new cats, other animals, or people that breach the territory.
This type of aggression usually manifests in swatting, chasing, and attacking the trespassing object.
Petting Aggression
The reason for this kind of aggression is unclear, but some cats may suddenly turn aggressive when petted.
Possible explanations include overstimulation, which cats certainly don't like. Aggression may be a sign of your cat trying to take control over the situation when you're trying too hard.
Even normal activities, such as bathing, nail trimming, or grooming, can also trigger aggression in cats.
The symptoms of petting-induced aggression involve dilation of the cat's pupils, tail lashing, and moving their ears backward on the head before attacking.
Maternal Aggression
Cats that have just given birth to kittens and are currently nursing them are more likely to show maternal aggression to anyone who approaches them.
For these cats, owners should provide a quiet, low-stress environment where they could feel safe from visitors, especially strangers.
Maternal aggression usually goes away as the kittens get older and gain more independence.
Key Takeaways on Using CBD Oil for Cat Aggression
Studies have shown that CBD is safe for cats and may help reduce their aggression, whether it's driven by a physical or behavioral issue.
CBD is a versatile therapeutic compound that can improve your cat's quality of life by balancing its endocannabinoid system. However, CBD's efficacy in treating certain medical conditions is unclear due to the lack of clinical trials on cats.
But then again, all mammals have the same endocannabinoid system, so what works for other animals and humans may work for cats as well.
If you believe CBD could help curb your cat's aggression, talk to a veterinarian who will be knowledgeable about giving CBD oil to cats. Just make sure to do proper research because veterinarians aren't officially authorized to prescribe CBD to cats.
Sources:
The American Society for the Prevention of Cruelty to Animals. (2022). Aggression in Cats. ASPCA.ORG. Retrieved from: https://www.aspca.org/pet-care/cat-care/common-cat-behavior-issues/aggression-cats
Mouslech, Z., & Valla, V. (2009). Endocannabinoid system: An overview of its potential in current medical practice. Neuroendocrinology Letters, 30(2), 153–179.
Costa, B., Trovato, A. E., Comelli, F., Giagnoni, G., & Colleoni, M. (2007). The non-psychoactive cannabis constituent cannabidiol is an orally effective therapeutic agent in rat chronic inflammatory and neuropathic pain. European journal of pharmacology, 556(1-3), 75–83. https://doi.org/10.1016/j.ejphar.2006.11.006
La Porta, C., Bura, S. A., Negrete, R., & Maldonado, R. (2014). Involvement of the endocannabinoid system in osteoarthritis pain. The European journal of neuroscience, 39(3), 485–500. [1]
Hammell, D. C., Zhang, L. P., Ma, F., Abshire, S. M., McIlwrath, S. L., Stinchcomb, A. L., & Westlund, K. N. (2016). Transdermal cannabidiol reduces inflammation and pain-related behaviors in a rat model of arthritis. European journal of pain (London, England), 20(6), 936–948. [2]
Amat, M., Camps, T., & Manteca, X. (2016). Stress in owned cats: behavioral changes and welfare implications. Journal of feline medicine and surgery, 18(8), 577–586. [3]
de Souza Machado, D., Oliveira, P., Machado, J. C., Ceballos, M. C., & Sant'Anna, A. C. (2020). Identification of separation-related problems in domestic cats: A questionnaire survey. PloS one, 15(4), e0230999. [4]
Crippa, J. A., Guimarães, F. S., Campos, A. C., & Zuardi, A. W. (2018). Translational Investigation of the Therapeutic Potential of Cannabidiol (CBD): Toward a New Age. Frontiers in immunology, 9, 2009. [5]
de Mello Schier, A. R., de Oliveira Ribeiro, N. P., Coutinho, D. S., Machado, S., Arias-Carrión, O., Crippa, J. A., Zuardi, A. W., Nardi, A. E., & Silva, A. C. (2014). Antidepressant-like and anxiolytic-like effects of cannabidiol: a chemical compound of Cannabis sativa. CNS & neurological disorders drug targets, 13(6), 953–960. https://doi.org/10.2174/1871527313666140612114838