CBD Oil and Constipation: Causes & Does It Help?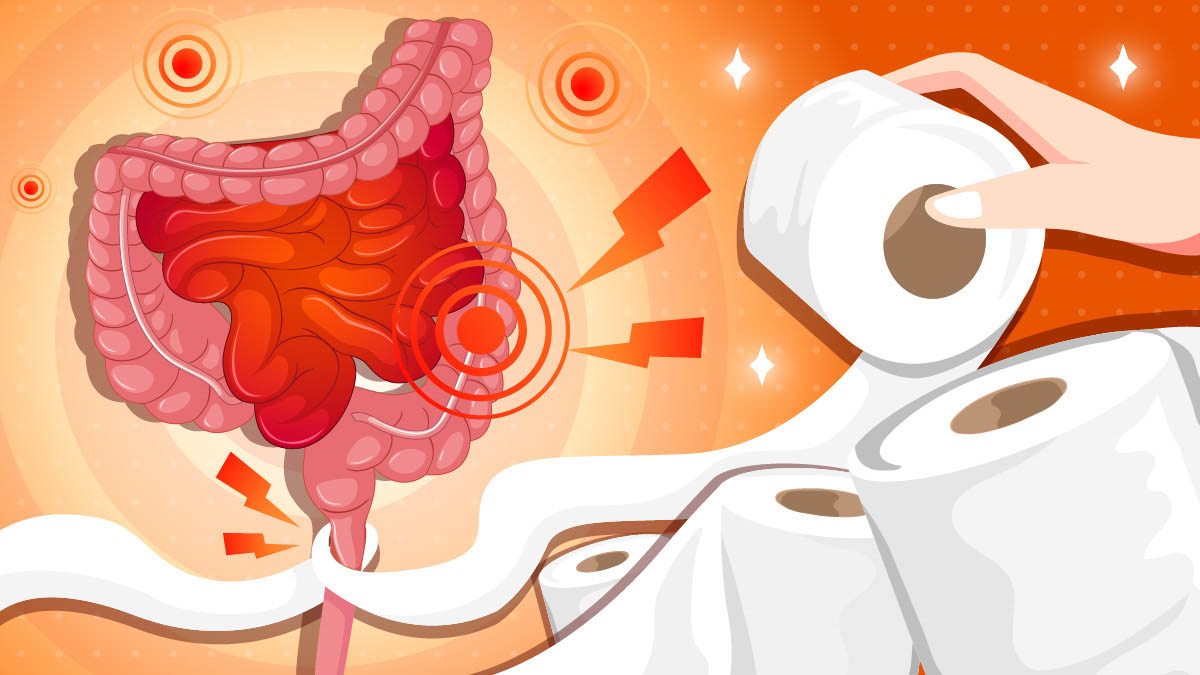 Chunky Dunky; bunged up; locked; no matter how discreetly you want to word it, being constipated will be as difficult to talk about as it is to experience.
The list of potential constipation triggers is vast, and actually, anyone can become a victim.
What's worse, there's no one treatment that would work for everyone. Trying to find the best solution for constipation may require some trial and error.
Whether you're chronically constipated or you're new to this touchy condition, I'd like to introduce you to a new approach to dealing with it: CBD oil.
In this article, I shed light on the current research regarding CBD and constipation. I also share my top 5 brand recommendations when it comes to buying CBD oil.
I'd ask you whether we should dive deeper into the subject, but given the nature of the topic, this could be a faux pas on my part.
Read on to learn more about CBD oil for constipation!
CBD For Constipation Relief: What Do We Know So Far?
Using CBD can help relieve symptoms and set your body back on track. At its core, CBD is known for its remarkably calming properties.
The ECS receptors are "designed" to work against the fight-or-flight response, prompting a sense of ease and slowing down an overstimulated nervous system. They can also combat inflammation, providing relief for those suffering from severe pain.
The connection between CBD and constipation lies exactly in these three areas of CB-receptor activity. Something as simple as a very stressful situation can cause trouble with the gut.
As CBD circulates in the body, it can quiet the mind and relieves the muscles from unnecessary tension [1]. Just like it protects the mind against fight-or-flight responses, it "tells" pain signals to be at ease.
CBD controls inflammation and the pain response by increasing your anandamide levels. Anandamide, one of the endocannabinoids produced by our bodies, moderates pain and inflammation in damaged tissue[2].
This benefit has proven helpful for patients with spastic constipation as a result of Irritated Bowel Syndrome (IBS).
By blocking an enzyme responsible for breaking anandamide down (FAAH), CBD helps us maintain the sufficient levels of anandamide and makes it more available for the body.
CBD can relieve certain forms of constipation by addressing the triggers, not just the symptoms.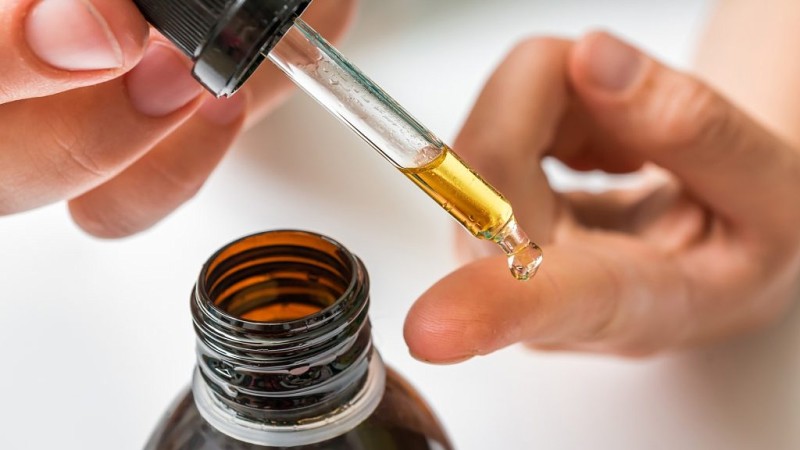 Finding the Right CBD Product For Your Type of Constipation
CBD comes in many forms. As far as the quality goes, I recommend doing thorough research on both the company of your choice and their product lineup. On top of checking the product label to ensure it has enough CBD to provide benefits, look for the lab testing results for each batch of the product. Only then will you be able to tell if the brand doesn't stretch reality too far.
The appropriate type of CBD product for your constipation will tackle the underlying causes. If you get constipated from painkillers or antidepressants, you want something that addresses the affected area.
Patches, edibles, pills, and oil drops circulate to pain sources inside your body; they travel to your gut to reduce inflammation caused by IBS and other conditions that affect your digestive system. On the other hand, topical treatments will relieve muscle pain because they affect the cannabinoid receptors under the skin.
Top CBD Oil Brands for Constipation (Editor's Choice)
There are lots of different CBD brands trying to conquer the market with their products. Some companies provide high-quality CBD oil and can back up their claims with the third-party lab testing, while others prefer to lure unaware customers with salesy language and far-fetched promises.
To maneuver in the emerging market and choose the right manufacturer, you must be able to tell the difference between the good- and bad-quality CBD oil.
If you don't have the time to do your own research, worry not — I did the job for you.
Below I show you my list of top 5 CBD brands I use to take care of my health, including constipation relief: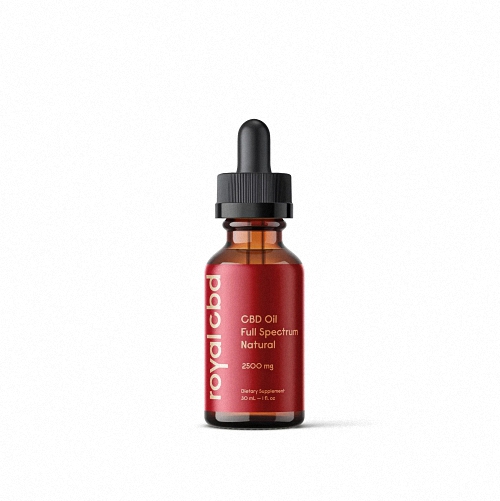 Get 15% off all Royal CBD products.  Use code "CFAH" at checkout.
Pros:
They offer both full-spectrum or "zero-THC" products
Extracted with CO2; the products are clean and safe for your gut
Their CBD oil comes in four different potencies: 250mg, 500mg, 1000mg, and 2500mg
Every batch of product has been tested by a third-party laboratory
Their hemp comes from American farms that prefer to use organic farming methods
Suspended in premium MCT oil
Cons:
The price is on the higher end, although well justified
What I Like About Royal CBD:
Royal CBD is a premium brand that uses only high-quality ingredients in their products. Their assortment is pretty simple, consisting only of CBD oil, gummies, and capsules.
What I love about Royal CBD products is that they're extracted with CO2; this ensures that no toxic solvents are left at the bottom of the bottle, which could worsen your constipation instead of relieving it.
One time my gut was upset to the point where I became nauseous. After using a few drops of the 1000mg oil, it numbed the pain and my gut stopped feeling so cramped, so yes — this is my personal favorite.
If you don't like the taste of their oil, you can get the capsules instead. These are soft gel caps, so you shouldn't have any problems swallowing them, and they can bring you long-lasting relief because the CBD is gradually released when ingested that way.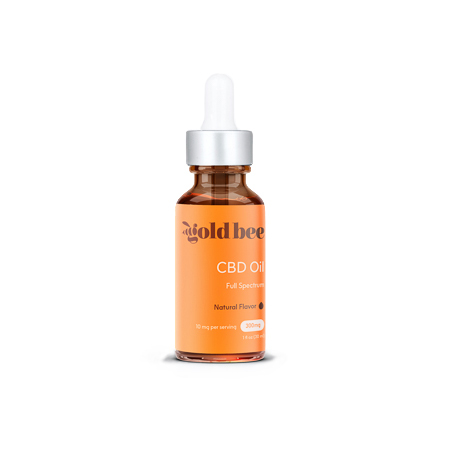 Pros:
Organic hemp grown in California
CO2 extraction
Broad selection of products
Full-spectrum CBD
Up to 2400 mg of CBD per bottle
Flavored and sweetened with natural ingredients
Third-party tested for quality and safety
Cons:
Not as potent as the strongest Royal CBD oil
No low-strength oils
What I Like About Gold Bee:
Gold Bee is a Nevada-based brand that has transitioned from making superfood-infused products to premium CBD extracts from organic hemp grown in the Golden State. The company offers a broad selection of products, including full-spectrum CBD oils and softgels, as well as THC-free gummies, honey sticks, vapes, and even products for pets.
What I love about the Gold Bee CBD oil is that they contain honey, which is perfect to mix with my morning water infused with lime juice. It's a great way to help with stomach pain and constipation, especially with the high-strength option, which delivers 80 mg of full-spectrum CBD in every milliliter
While not as potent as Royal CBD, these products deserve the hype they're getting thanks to their well-thought-out formulas.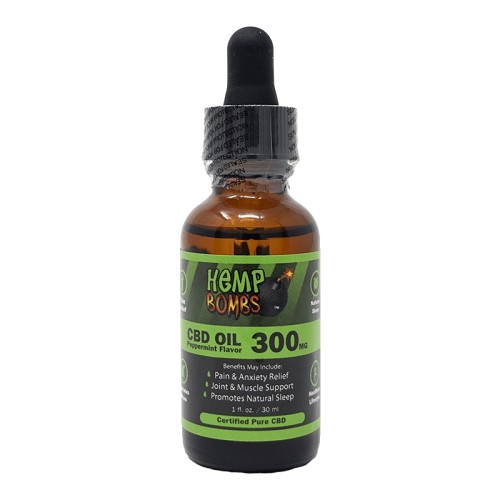 Pros:
This company offers a diverse product lineup based on CBD isolates
Each batch of product goes through extensive third-party lab testing
Their pure CBD oil is available in 5 different potencies.
High dose of CBD per serving and up to 4000mg of CBD per bottle
Cons:
The company's extracts aren't as high quality as Royal CBD
The isolate doesn't give you the synergy from other cannabinoids and terpenes
What I Like About Hemp Bombs:
While Hemp Bombs isn't as premium a manufacturer as Royal CBD, the diversity of their product range is out of this world. The company offers topicals, edibles, tinctures, vape oils, pet treats, CBD shots, and a line of beauty products.
Hemp Bombs specializes in making CBD isolates. Their extracts are purged from all the other cannabinoids, terpenes, and essential oils, leaving the user with 99% pure CBD.
On one hand, that's a good feature. I have a friend who's allergic to many foods and hemp is one of them. She's not allergic to CBD, though, so the only way to get her dose of cannabidiol is to use isolate or distillate. She's a huge fan of hemp bombs.
But on the other hand, isolates lack the entourage effect coming from full-spectrum products. For me, this is important because super-high doses of CBD makes me feel sleepy, and with full-spectrum oil, I need less CBD to get relieved.
4. CBDistillery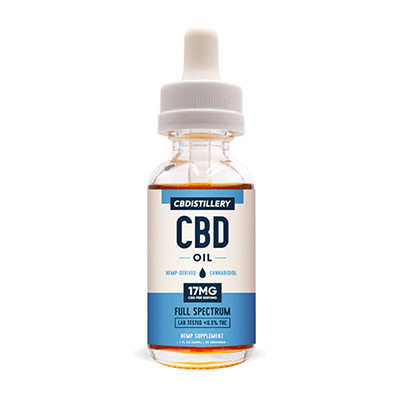 Pros:
Their products are sold as full-spectrum CBD or pure CBD oil (Zero THC)
Each batch of product is sent to a 3rd-party laboratory for testing
5 potency options to choose from
Cons:
Their products aren't made from organic hemp
No flavored options to choose from
What I Like About CBDistillery:
There are two reasons why CBDistillery has scored third place in my ranking of best CBD oils for constipation — the way the company sources its CBD (their hemp isn't organic) and how their website makes me want to use more CBD oil for relaxation.
On a positive note, I love the fact that they care about every type of CBD consumer out there. CBDistillery offers its extracts in two options: full-spectrum or pure oil. On top of that, they sell these products in a wide potency range, from 250mg to 5000mg of CBD per bottle.
This means that their CBD oils can suit different types and levels of constipation. I've had a very good experience with their 1000mg bottle when my gut was upset from the chronic stress I've been through with my second child. It did exactly what it had to do.
Constipation: A Brief Overview
Constipation is a common physical condition including irregular and infrequent bowel movements. Infrequent bowel movements can cause pain in the abdominal part of the body, as the waste from consumed food builds up and sits in the bowels, refusing to pass through.
Constipation can be caused by a number of factors, including:
Neglecting fiber intake in your diet (not eating enough fruit, vegetables, and whole-grain foods)
Ignoring the urge to pass stools
Side effects of certain medications
Not drinking enough water
Chronic stress
Anxiety or depression
Lack of exercise
Poor eating habits overall
Vitamin deficiencies
The fact that constipation isn't widely talked about doesn't derive from the rareness of this condition; in fact, everyone has experienced constipation at least once in their lifetime. It's just an embarrassing subject to talk about.
Remember that constipation is a symptom, not a disease — and because of that, there are many reasons why someone would experience it. Thus, the range of treatments can be equally vast.
Why Most OTC Supplements Are Counterproductive in Relieving Constipation
In today's world, there's an OTC supplement/medicine for nearly every type and severity of a condition.
This rule applies to constipation as well.
You can choose between different laxatives or stool-softeners that might help move things along. However, the problem with these products is that they sometimes can lead to moving on too quickly — resulting in diarrhea instead.
Moreover, laxatives can also end up worsening your constipation. At first glance, they're harmless and easily accessible as somewhat of a quick turn-off-the-symptoms solution. Some days they help, but another day they just make things worse instead.
People who notoriously reach for laxatives can experience dehydration in the body — hence the perpetuation of the problem.
Relieving one symptom shouldn't come at the expense of creating another. There are more natural and potentially effective ways to regulate bowel movements.
Below I explain how CBD can help with constipation.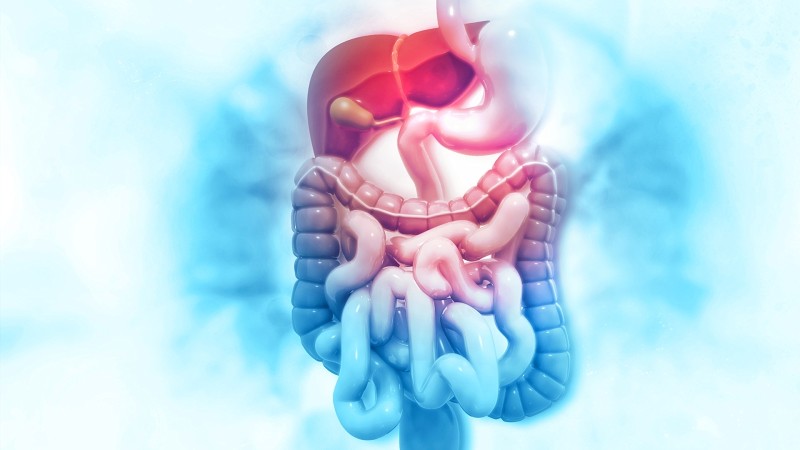 The Link Between the Endocannabinoid System and Digestive System
Quick relief from anything is hard to experience, but a good supplement can set the right gears in motion by "suggesting" your body what it needs to do.
CBD is known for its powerful range of health benefits because it's a chief modulator of the endocannabinoid system.
The endocannabinoid system (ECS) plays an important role in the majority of homeostatic functions in the body. It's believed to have an influence on our emotional state, feelings of hunger, pain, and fear, and is present predominantly in the brain, nervous, and immune systems.
The performance of the immune system relies heavily on the health of the gut.
This versatile, endocannabinoid system uses two types of receptors — the CB1 and CB2 receptors. These receptors are found in the brain and nervous system as well as most other organs in the human body — including digestive organs.
The gut is at our core, both metaphorically and literally. In order to stay alive and perform efficiently, we must consume food and drink water. The gut is where both food and water stop.
If the gut gets upset, the rest of your body suffers.
The unique relationship between our organs and the ECS helps keep everything in balance. When the balance is compromised, the endocannabinoid system sends its own messenger molecules that bind to cannabinoid receptors and restore that equilibrium.
As mentioned, CBD is a modulator of the endocannabinoid system, meaning it can regulate its functioning via both receptor-based and receptor-independent routes.
While the FDA doesn't officially recognize CBD as a treatment for anything save seizures, people are quietly turning to it to alleviate a wide range of symptoms, including constipation.
Can CBD Oil Cause Constipation?
Constipation is a very rare side effect of CBD oil, so it hasn't undergone extensive studies by researchers. Early studies and consumer experiences suggest that certain forms of CBD that pass through the digestive tract — like oils and edibles — can cause constipation. However, that's most likely because of their additional ingredients, not the CBD itself.
In fact, excessive use of CBD oil is linked to the opposite. Extremely high doses of CBD administered regularly can cause diarrhea, which is due to the increased intake of oil the CBD is suspended in.
Lifestyle Changes to Help With Constipation
You may be able to prevent constipation if you follow certain lifestyle patterns. These include:
1. Staying Hydrated
Our bodies are mostly comprised of water, so proper hydration is a must if you want your body to function well. Water boosts the metabolism of food and it can reduce the chances of any digestive issues.
Drinking plenty of water will help in rehydrating your body and ensuring proper bowel movements. On top of that, regular hydration with water can also prevent constipation to a large extent. Drinking less water makes your stools tight and thus more difficult to move through the gut.
2. Consuming Fiber
A diet rich in fiber can contribute to relief from constipation and protect you against developing it.
Foods full of fiber such as whole-grain products, fruits, and vegetables can keep constipation at bay. The reason why fiber is so effective at relieving constipation is that our bodies can't digest fibers, so they use them as a "broom" to clean our intestines by moving the bowels with them.
If you suffer from constipation on a regular basis, adding fiber to your diet can benefit your gut and help you put an end to this troublesome symptom.
3. Increasing Physical Activity
If your job requires you to sit in one place for eight to ten hours, you're at more risk of constipation. Staying inactive for the most part of the day is one of the major contributors to this condition.
It's important to keep exercising regularly. This way, you can help move food through the digestive system and spur the bowels to work. Any type of exercise — walking, playing catch, cycling, running, working out at the gym, jumping — will do the job as long as you remain consistent.
4. Not Holding Your Stools
As silly as it may sound, this is actually a serious problem. Many people hold their stools when they're in the middle of an important meeting, or they have a date and they don't want to cause awkward situations.
Whatever your reason is — don't resist your body's urge to go to the bathroom. Doing so can make the stool harder and more difficult to pass later. Always make sure that you take out enough time to answer the call of nature.
Is CBD Oil a Valid Solution for Constipation?
Although there aren't many studies relating directly to CBD and constipation, current evidence suggests that CBD can help with the causes of this troublesome symptom.
By reducing inflammation and regulating the activity of the endocannabinoid system, CBD can help you relieve swollen veins stomach pain, relieve inflammation, and maintain regular bowel movements. CBD oil may not only relieve constipation but can also work as a preventative supplement.
Have you tried CBD oil when you were constipated? Don't be shy about your problem, no one's going to judge you!
References:
DiPatrizio N. V. (2016). Endocannabinoids in the Gut. Cannabis and cannabinoid research, 1(1), 67–77. Blessing, E. M., Steenkamp, M. M., Manzanares, J., & Marmar, C. R. (2015). Cannabidiol as a Potential Treatment for Anxiety Disorders. Neurotherapeutics: the journal of the American Society for Experimental NeuroTherapeutics, 12(4), 825–836.
Russo E. B. (2008). Cannabinoids in the management of difficult to treat pain. Therapeutics and clinical risk management, 4(1), 245–259.
Nagarkatti, P., Pandey, R., Rieder, S. A., Hegde, V. L., & Nagarkatti, M. (2009). Cannabinoids as novel anti-inflammatory drugs. Future medicinal chemistry, 1(7), 1333–1349.
Ahmed, W., & Katz, S. (2016). Therapeutic Use of Cannabis in Inflammatory Bowel Disease. Gastroenterology & hepatology, 12(11), 668–679.