Can CBD Oil Help Dogs with Lymphoma?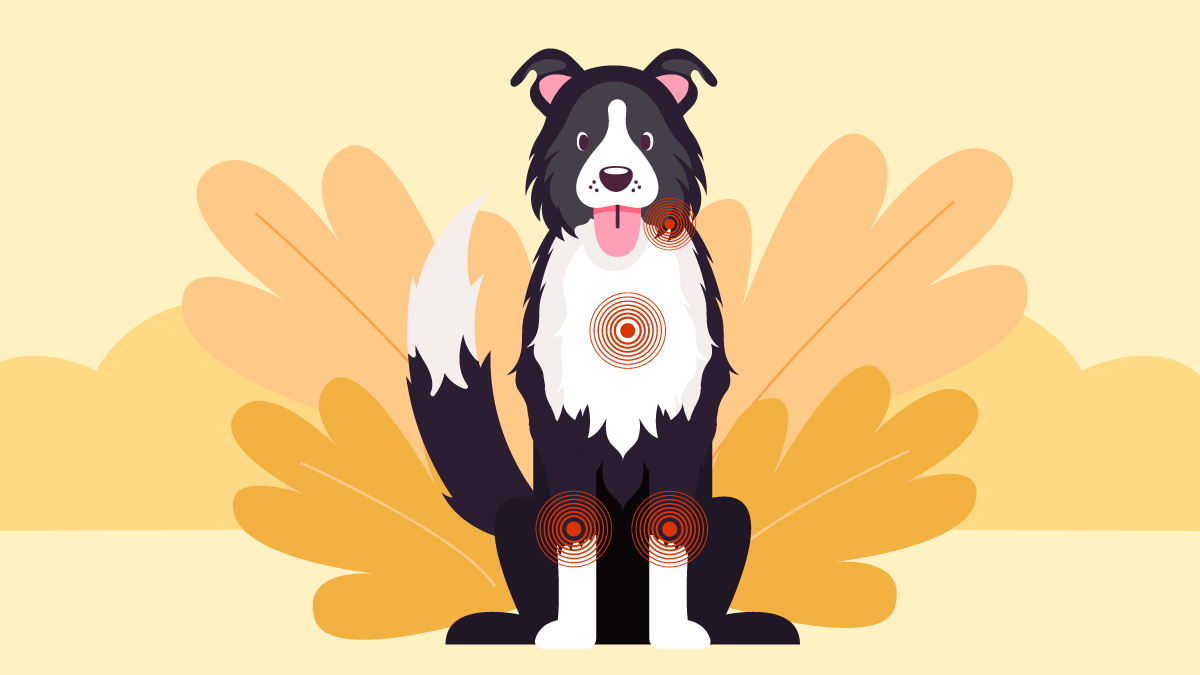 CBD oil has been thought to help our canine friends with lymphoma and manage chemotherapy symptoms or side effects.
What is canine lymphoma? What are the symptoms of it? How is it typically treated? How can CBD help? We are going to answer all of these questions for you in this article.
Understanding Lymphoma in Dogs
Lymphoma is a group of cancers that affect the lymphatic system, as the name implies. This can be found in both canines and humans alike. The lymphatic system is an incredibly important network that is responsible for influencing the immune system and some other bodily functions.
It works to impact physiological processes and interacts with many parts of the body. Lymphoma is not as contained as some other cancers we are familiar with, and it spreads throughout the body relatively quickly.
Dogs diagnosed with untreated lymphoma typically have a life expectancy of 4-6 weeks after diagnosis. Lymphoma infiltrates organs until the organ has no choice but to fail. It begins like many other canine cancers as just a solitary tumor; however, because the lymphatic system's function is to spread fluid throughout the body to various organs, it is not likely to be lonely for long. For dogs on a treatment plan, the life expectancy is more along the lines of a few months, anywhere between 6-12, depending on how they are being treated.
The Lymphatic System
Lymphoma is a type of cancer that starts in the infection-fighting cells of the immune system known as lymphocytes. Lymph nodes, the spleen, appendix, tonsils, lymph vessels, and lymph fluid are all key elements of the lymphatic system. The lymphatic system is a part of your immune system and possesses many functions. The functions include maintaining body fluid levels, protecting you from harmful invaders, absorbing digestive tract fats, and removing cellular waste. Diseases and infections can affect the way it functions, preventing it from working properly.
The lymphatic system is a network of tubes found throughout the body. It is responsible for draining fluid, which is referred to as "lymph," that has seeped out from blood vessels into your tissue, and it empties it back into the bloodstream through means of the lymph nodes.
Lymphocytes are a type of white blood cell found in the immune system. Lymphocytes possess killer cells naturally, which are called T cells and B cells. These are the main types of cells found in the lymph fluid.
When a dog (or person) develops lymphoma, their lymphocytes transform into abnormal cancer cells, growing quickly and uncontrollably. This will cause a compromised immune system, and when these cells make their way throughout the dog's lymphatic system, they force themselves into lymph nodes and cause swelling.
Canine Lymphoma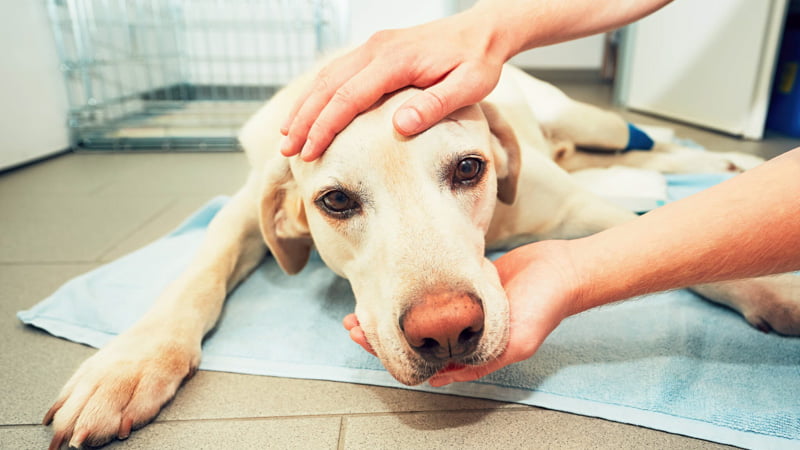 While there are different forms of canine lymphoma, the most common type of lymphoma in dogs is referred to as multicentric lymphoma, and it spreads rapidly. Lymphoma is typically found in middle-aged or senior dogs, and certain dog breeds are more prone to developing this cancer, possibly due to a genetic component.
Some dog breeds that have a higher risk of developing lymphoma include:
Bullmastiffs
Boxers
Golden Retrievers
Basset Hounds
Scottish Terriers
Saint Bernards
Airedale Terriers
Bulldogs
When it comes to lymphoma, there are typically four different types:
Multicentric (systemic) lymphoma. The most common type of lymphoma in canines. Multicentric lymphoma accounts for around 80% of lymphoma cases in dogs. Lymph nodes throughout the body are affected by this type of cancer.
Alimentary lymphoma. This type of lymphoma occurs in the gastrointestinal tract. This is coming in as a close second when it comes to common types of canine lymphoma.
Mediastinal lymphoma. This form of lymphoma is rarer and affects the lymphoid organs found in the chest, such as the lymph nodes or the thymus.
Extranodal lymphoma. This type of lymphoma is also very rare, but it does happen. It targets a specific organ that is not a part of the lymphatic system. It develops in areas like the skin, eyes, kidneys, lungs, or nervous system.
Like human cancers, canine lymphoma is broken into different stages to signify the degree to which it has spread throughout the body.
Canine lymphoma stages are as follows:
Stage I – cancer is contained to one single lymph node in the dog's body
Stage II – cancer is contained to multiple lymph nodes on one side (either the top side or the bottom side of the dog)
Stage III – cancer is only contained in the lymph nodes themselves but is found in various nodes in the dog's body
Stage IV – cancer is located in the dog's spleen and liver, regardless of whether it started there or spread there
Stage V – cancer is located in various parts of the body, or the bone marrow or central nervous system
Symptoms of Lymphoma in Dogs
Unfortunately, we don't know exactly why lymphoma develops in our furry friends. There have been theories about viruses, bacteria, chemical exposure, and physical factors being possible reasons. Suppression of the immune system is a risk when it comes to lymphoma in humans, but the link between suppressed immunity and lymphoma in dogs has not yet been established. More research will have to be conducted for us to fully understand.
The most common and the first physical symptoms of canine lymphoma are firm, enlarged, swollen, non-painful lymph nodes. Lymph nodes affected by lymphoma often feel hard or rubbery beneath your dog's skin. It's easiest to locate the nodes near the neck or the mandibular lymph nodes. These are right under the jaw. Or you can locate the popliteal lymph nodes, the ones that reside behind the knee.
More symptoms include lethargy, weight loss, loss of appetite, swelling of the legs or face (also called edema), and sometimes even increased urination or thirst. If you notice your dog's lymph nodes feel firm and rubbery and your dog has been displaying one or more of these symptoms, you may want to make an appointment with your vet to rule out lymphoma.
Symptoms of Cutaneous Lymphoma
One of the first signs of cutaneous lymphoma is dry, flaky, red, and itchy patches of skin located anywhere on the dog's body. The skin will become moist, irritated, ulcerated, bright red, and thickened as the disease progresses. It can also be found in the mouth, affecting the lips, gums, and roof of the mouth.
Masses in the skin also occur in cutaneous lymphoma. This type of cancer has many times been treated as an allergy or infection before the diagnosis was made. If you find that your dog's lymph nodes are hard and swollen, and your vet suggests it may be allergies or an infection, please keep this in mind. Cutaneous lymphoma of the mouth is also often mistaken for periodontal disease or gingivitis in the early stages. It may be worth getting a second opinion.
Symptoms of Alimentary Lymphoma
Dogs suffering from gastrointestinal lymphoma will often exhibit symptoms such as vomiting, frequent watery or loose stools, lethargy, and noticeable weight loss. Diarrhea will typically be darker in color and foul-smelling. Males have a higher predilection as opposed to females.
Symptoms of Mediastinal Lymphoma
Canines with mediastinal lymphoma usually have difficulty breathing due to a large mass within the chest and/or the accumulation of fluid inside the chest cavity. You may also notice your dog's front legs or face is swollen or puffy-looking.
If you believe your dog may have some type of lymphoma, take them to a licensed veterinarian as soon as possible to be checked out. It's important to realize that not all swollen lymph nodes immediately mean cancer. Similar to humans, infections can cause swollen lymph nodes. However, since canine lymphoma is serious, you'll want to be safe and have it checked out.
While rubbery or hard lymph nodes are the biggest player in canine lymphoma, that doesn't mean it will always be easy to see or feel them on your dog. Sometimes they will be in places that make it difficult to notice. If you don't know if your dog has swollen lymph nodes, but they display some of the other warning signs we mentioned, take them to the vet anyways for a routine checkup.
CBD Oil for Lymphoma in Dogs: Can It Help?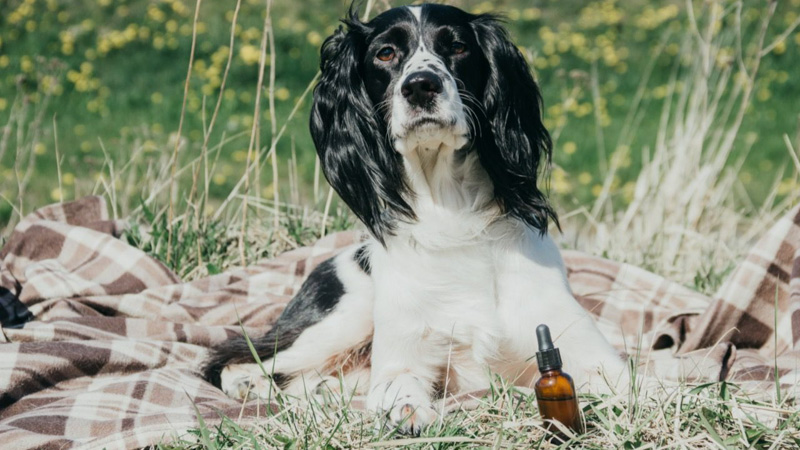 Cannabidiol is pretty successful at managing and controlling symptoms of the disease and the negative side effects of the chemo. CBD has also been used as a health supplement for dogs even if they are not fighting diseases or cancer, as it promotes overall wellbeing in pets.
If your dog is having chemotherapy treatments, administering CBD oil to your dog's tongue regularly may be able to promote a bit of an appetite and give them a mild boost in energy. This will help them maintain their energy levels while undergoing treatment.
CBD is a hemp-derived product; however, it is not intoxicating like THC. It will not get your dog high whatsoever; the most it will do is calm your dog down a little bit and make them feel a bit better if they are in pain.
CBD oil has been regarded as a natural pain reliever, so CBD oil may be a safe choice for helping them through the pain they experience either from the disease itself or the treatment plan. Forms of lymphoma that create a bit more inflammation in your dog's body may be able to be managed by CBD due to its powerful and natural anti-inflammatory benefits.
Another positive about using CBD for dogs undergoing treatment for lymphoma is that the cannabidiol will effectively be able to calm them down and relax them, preventing them from getting wound up or anxious when they have to visit the vet.
Keep in mind that while CBD has been known to help control the unwanted side effects of canine lymphoma, it is not a treatment, cure, or prevention for this disease.
Using and Choosing a CBD Oil for Dogs
Administering CBD oil to your dog is relatively simple. You can usually find it in tincture form, treat form, or capsule form when it comes to canine products. Tinctures don't always go over well with picky pups and capsules may be hard to hide away in a chunk of cheese. However, CBD-infused treats seem to be more tolerable to dogs, as the flavor is masked by other ingredients.
You can also create your own CBD dog treat by simply finding a porous treat that your dog loves, and letting the dose soak into the surface for a minute before giving it to your four-legged friend. So know that you know how to give your dog CBD, you'll want to know how to choose the right product.
Pets are part of the family, so you are going to want to follow the same rules you'd follow if you were shopping for a CBD product for yourself.
Choosing the Form
Like we mentioned before, you'll probably be choosing between tinctures, capsules, or CBD-infused treats. Tinctures are typically the best value, as in you get the most product for your money, it will last longer, you can easily choose and change doses, and it is the fastest-acting method.
If it stresses your dog out to try to get them to open up and take the dropper-full, capsules or treats should be considered as an option.
Quality, Ingredients, and Safety
Ingredients are important. Wouldn't you want to know what exactly is in a product you are ingesting every day? Well, it's up to you to do that for your dog because he can't. Make sure the ingredients are safe and organic, the company is legit and trusted, and the products are lab tested.
Most products will state that they are "all-natural" because it appeals to consumers, but are they? This is why it is important to pay attention to the ingredient list and lab results.
Full-spectrum vs. Isolate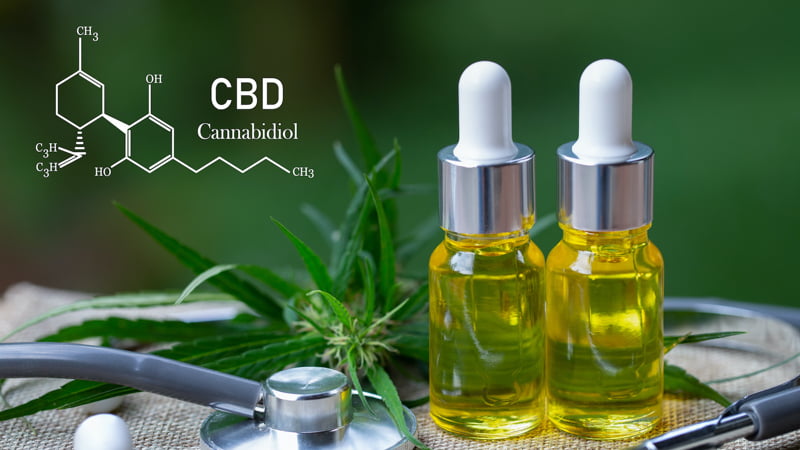 It's also good to note the differences between full-spectrum CBD and CBD isolate. Cannabidiol in full-spectrum form is made from the entire hemp plant, containing nutrients, terpenes, and other cannabinoids, which all work together to maximize the user's benefits.
CBD isolate may not work as effectively on its own, but it is a pure product. If you want CBD and nothing else, you're going to want to go with a CBD isolate. Remember the difference when shopping for a CBD product for your dog.
CBD vs Traditional Treatments for Canine Lymphoma
Unfortunately, canine lymphoma is not curable. It can go into remission, similar to cancer in humans. Canine lymphoma often returns, and the treatments may be able to give your dog around an additional three years of life.
Chemotherapy is the normal option, sometimes with radiation and surgery used in conjunction with other forms of managing cancer. However, surgery is not the first choice due to the disease not wanting to stay in one spot. The goal behind canine lymphoma treatment is to help cancer go into remission and manage the dogs' symptoms so that they can have a better quality of life. If cancer goes into remission, signs and symptoms are typically gone unless it returns.
Treatment should be executed soon after diagnosis. Some owners will put off chemotherapy because their dogs don't seem "too sick" yet, and they fear the treatments will make them sick. However, treatment is much more successful when it is started when the dog is in the early stages, and his or her health has not begun diminishing yet. Remission may not be possible if you wait to start the treatment and allow your dog to progress further on into the disease.
Side Effects of Chemotherapy in Dogs
The side effects on dogs are not as brutal as they are on humans, however, your dog may or may not experience some side effects from the chemotherapy. Some of the side effects that may experience include:
Neuropathic pain following the treatment
Lethargy or fatigue for the days following the treatment
Vomiting
Whisker loss
Decreased appetite
Thinning fur and fur loss (rare)
Extreme tiredness, not wanting to get up or move
Infection
While there isn't a treatment or cure for canine lymphoma, there are ways to potentially lessen the severity of your dogs' symptoms to allow them to live a more comfortable, happy life while they are still with you. That is where CBD comes in. This may also be an option if your dog reacts poorly to the chemotherapy treatments, as your vet may be open to experimenting with this natural alternative.
Final Thoughts
Suppose your dog is facing any type of lymphoma and they are undergoing chemotherapy as a treatment. In that case, CBD may be able to help your dog feel a bit more comfortable and content during this difficult time.
While CBD comes from the hemp plant, it is non-psychoactive and will not get your dog intoxicated. Cannabidiol may be able to increase appetite, reduce physical pain, reduce inflammation in the body, and calm your dog down before their vet visits.
Sources:
Saba Omer, Dawn Boothe, Mohammedohammed Mansour, Muralikrishnan Dhanasekaran and Satyanarayana Pondugula, November 1, 2020 (1) (3 Supplement) PO-28 (1)
Jeremy R. Johnson, Mary Burnell-Nugent, Dominique Lossignol, Elena Doina Ganae-Motan, Richard Potts, Marie T. Fallon, 2010, Pages 167-179 (2)
Osvaldo Marinotti & Miles Sarill (2020) 17:5, 517-526 (3)