CBD Oil and MS: Is Cannabis Oil a Miracle for Multiple Sclerosis?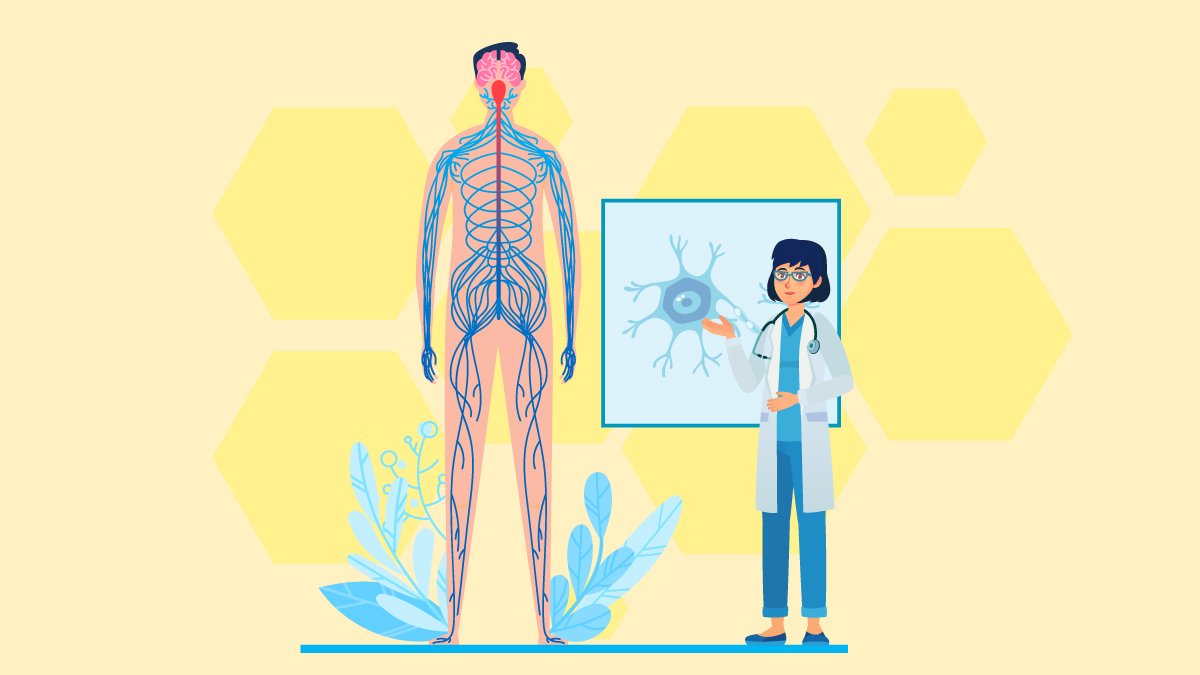 CBD — short for cannabidiol — has a long list of well-documented health benefits. People use CBD oil to improve general well-being and to alleviate a wide range of symptoms, from anxiety to pain, inflammation, and neurological problems.
However, some areas where CBD could potentially help, are yet to be thoroughly examined.
Such is the case of using CBD oil for multiple sclerosis (MS).
Many MS patients are successfully taking cannabidiol, claiming it helps with their symptoms and repairs damaged nerves.
Current research shows that extracts like CBD oil can be effective in reducing pain and spasms in MS patients.
But can CBD oil actually treat multiple sclerosis?
Unfortunately, the research is still inconclusive. In this article, we'll cover the most important aspects of using CBD oil for MS — including the benefits, different consumption methods, and possible side effects.
What is Multiple Sclerosis?
Multiple Sclerosis is a self-aggressive disease where the body's immune system attacks the central nervous system (CNS). Scientists are still trying to discover the exact cause of MS; however, the general consensus is that this disease may be triggered by a combination of genetic and environmental factors.
Currently, about 2.3 million people in the US suffer from MS. The majority of diagnosed patients are between their 20s and 50s — it's unclear why some people have this condition while others don't.
Multiple Sclerosis damages the protective layer around nerve fibers (myelin). When the CNS notices the patches of scars left behind by an aggressive immune system, it starts to send false signals to the brain — leading to an array of symptoms.
In some people, these symptoms are relatively mild like extensive fatigue, while other cases involve severe pain, involuntary muscle cramps, impaired memory and focus, and vision problems.
When left untreated, multiple sclerosis may result in partial or complete paralysis.
Types of Multiple Sclerosis
There are 4 main forms of multiple sclerosis based on the type and severity of symptoms:
Relapsing-Remitting (RRMS)
This is the most prevalent type of MS and affects about 85% of patients diagnosed with MS.
People with RRMS suffer from periodical fare-ups that exacerbate their symptoms, followed by silent periods where the patient remains symptom-free until the next flare-up.
Secondary-Progressive (SPMS)
For SPMS sufferers, symptoms deteriorate over time but without flare-ups. In most cases, RRMS transforms into SPMS.
Primary-Progressive (PPMS)
A less common form of MS, primary-progressive multiple sclerosis affects about 10% of all MS patients.
This form of the disease is marked by worsening symptoms from the beginning, without flare-ups or remissions typical to other types of MS.
Progressive-Relapsing (PRMS)
This is the rarest form of MS and occurs in about 5% of MS sufferers. The symptoms of PRMS worsen steadily over time, with flare-ups and acute relapses but without remission periods.
What is CBD Oil?
CBD oil is a concentrated CBD extract made from cannabis plants — both hemp and marijuana.
CBD is a cannabinoid — a naturally occurring phytochemical — and the second-most recognized active ingredient of cannabis.
Unlike the most popular cannabinoid, delta-9-tetrahydrocannabinol (THC), CBD is non-psychoactive and thus won't get you high. This makes CBD legal in most countries across the world.
The lack of psychoactive effects doesn't make it an inferior cannabinoid. On the contrary, CBD has a long list of well-documented health benefits with only a few mild side effects. Cannabis advocates argue that CBD can help with virtually any condition deriving from a compromised endocannabinoid system (ECS) — the prime neurochemical network in our bodies.
Most CBD stuff sold online and in local dispensaries comes from hemp plants, which takes us to the next question.
How is CBD Hemp Oil Different from Medical Marijuana?
The main difference between CBD from hemp and medical marijuana is the aforementioned THC content.
Hemp plants are high in CBD and very low in THC. The THC content of hemp plants is usually below 0.3%, which isn't enough to produce any psychoactive effects.
On the other hand, marijuana has high THC levels and doesn't offer much CBD. However, some strains are specifically bred to achieve higher CBD levels at the cost of some THC.
Still, you won't buy marijuana products in your local head shop or health store as marijuana remains a controlled substance according to federal law. You can buy medical marijuana if you live in a state that runs a medical marijuana program.
CBD oil from hemp is legal in all 50 states. You can find it in cannabis dispensaries, head shops, and online stores. You don't need a doctor's prescription to try CBD oil for multiple sclerosis.
Different Ways to Take CBD Oil for Multiple Sclerosis
If you're considering trying CBD oil for your MS symptoms, it is available in the form of oil drops, tinctures, sprays, capsules, and edibles, which can be ingested, as well as vape products and creams for topical use.
Can CBD Oil Help With Multiple Sclerosis?
Dr. Ben Thrower, a physician at the Shepherd Center in Atlanta, GA, is very optimistic about using CBD oil for multiple sclerosis, but at the same time, he underlines the importance of THC in the treatment.
"Many of our MS patients have used hemp-based CBD products with 0.3 percent THC or less (…) For the management of spasticity/spasms or burning pain (central neuropathic pain), I have found that most patients need higher THC concentrations."
THC is a well-known pain reliever — this may explain the need for higher levels of THC in CBD products for treating MS symptoms.
However, Thrower points to CBD topicals as a potential solution for fighting localized pain in MS patients
"Some patients do find relief with Low-THC, CBD lotions applied topically," said Thrower.
What Does the Research Say About Using CBD Oil for Multiple Sclerosis
In a 2009 study, researchers investigated previous reports from MS patients who used cannabis for their symptoms to find out whether a mix of CBD and THC may reduce spasticity associated with MS.
Each of the analyzed papers focused on testing THC and CBD in capsules and oral sprays. These products generally involved more THC than CBD, which resulted in a trend of reduced spasticity.
Researchers also concluded that THC/CBD solutions are well tolerated by patients and that the experienced side effects didn't always stem from using cannabis alone.
In 2016, researchers were looking at how a pharmaceutical spray Sativex might reduce muscle spasms in MS sufferers.
Sativex is an oral solution made from CBD and THC in a 1:1 ratio. The spray was developed to reduce neuropathic pain, overactive bladder, spasticity, and other common symptoms of multiple sclerosis.
Researchers examined self-reported data from several hundred MS patients who were using the drug for one year. Results showed a 20% improvement in muscle spasticity for 70% of subjects and a 30% improvement in 28% of patients.
For about 39% of patients, the treatment was ineffective. Although those patients dropped out of the study, the results do provide evidence to support further research on cannabinoids for multiple sclerosis.
Finally, there's a 2018 research review that analyzed existing studies to find indirect that CBD, along with other cannabinoids, can improve the mobility of MS patients.
The paper focused mostly on a high CBD to THC ratio as the potential reliever of muscle spasms and pain in MS patients. It also discussed how cannabis reduces inflammation, contributing to less fatigue in subjects.
Because CBD oil may be able to alleviate so many symptoms of multiple sclerosis — pain, spasticity, inflammation, and fatigue — it's reasonable to assume that CBD can have a positive impact on mobility in MS patients.
What Are the Side Effects of Using CBD Oil for Multiple Sclerosis?
When it comes to unwanted reactions to CBD, Thrower said there are very few. They're also uncommon and generally considered mild.
"I have found the side effect profile of these products to be less than some of the prescription medications," he added. "CBD/THC products tend to be far less sedating than Baclofen or Tizanidine, which are [muscle relaxants] traditionally used for spasticity," he added.
Most often, taking too much CBD oil results in a dry mouth, lowered blood pressure, and dizziness. In very rare cases, high doses of CBD oil can trigger diarrhea.
Key Takeaways: What You Need to Know About Using CBD Oil for MS
So, there you have it — everything we know about using CBD oil for MS so far.
Let's summarize the article in a nutshell:
CBD can be effective in reducing pain and spasms in multiple sclerosis patients
However, CBD alone has limited potential for relieving MS.
It appears that adding THC significantly improves the therapeutic properties of CBD
Some people can have negative reactions to the psychoactive effects of THC, especially if their symptoms call for higher doses of medical cannabis oil.
Moreover, equal ratios of CBD to THC may not work for certain people, as studies have shown.
Full-spectrum cannabis extracts with higher ratios of CBD to THC may be able to relieve a wider range of symptoms and improve mobility in MS patients.
Hemp-derived CBD topicals may be effective in reducing localized pain and inflammation during flare-ups.
I hope this article has helped you understand how cannabinoids work for specific MS symptoms. As always, make sure to contact your GP before taking any CBD product, especially if you're already taking prescribed medications cannabidiol can interact with.