CBDPure CBD Oil Review & Coupon Code (2022 Update)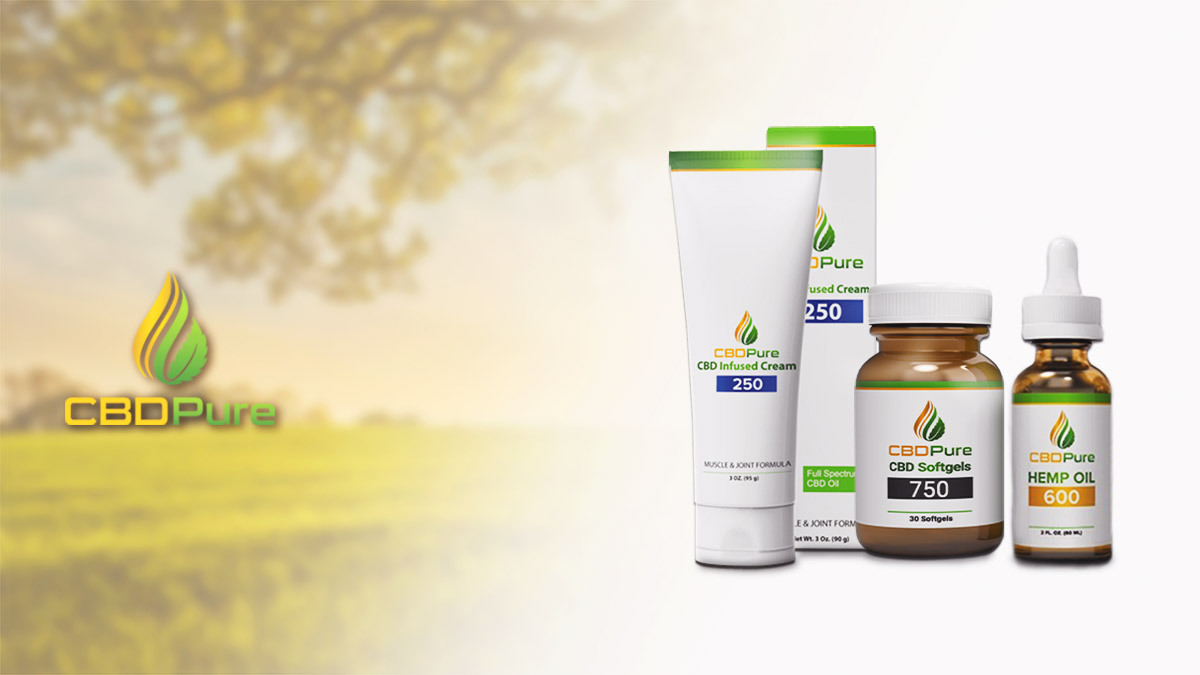 If you're just getting started with cannabidiol, I recommend you find a trustworthy manufacturer that sells basic CBD products made with all-natural ingredients.
You're probably not going to shop through things like CBD vape juices or bath bombs if you haven't tried CBD in its most basic form first.
As more people jump on the CBD craze, many companies are looking to capitalize on the emerging market. Having tons of choices can be a nightmare, particularly if you need to decide on something regarding your health.
For new consumers, the safest bet is to choose a company with a proven track record and plenty of satisfied customers.
In this review, I'll cover CBDPure — a company that offers CBD oils and softgels made from organic hemp. I'll also explain why, in my opinion, CBDPure is a dependable manufacturer and a good place to source CBD products.
About CBDPure
CBDPure was founded in 2016 with the mission of making high-quality CBD oils made from locally grown hemp. Considering how much their customers rave about the brand, they are doing a good job of fulfilling their mission statement.
The company sources its CBD from organic hemp cultivated on Colorado farms, where the farmers don't use any harmful herbicides or fertilizers.
They sell CBD oil in three different strengths as well as softgel capsules that boast a high dose of CBD per serving. Although this is a very modest product range, I can tell you that CBDPure has perfected both of these products.
And to prove that their products are consistent in potency and purity, every batch goes through a third-party laboratory for testing. The lab reports are accessible upon request.
CBDPure Product Highlights
The quality of CBD oil is paramount for me as a mother because it determines the product's safety. CBDPure has met all the criteria on my list. Here's why I recommend them to new consumers:
1. Made from Organic Hemp
CBDPure's hemp oil is sourced from organic hemp grown in Colorado. The plants are cultivated in fertile soil without excessive use of pesticides, herbicides, or chemical fertilizers. That's important because hemp is an effective bioacummulator — which meant that if the soil is polluted the plants will start to accumulate these compounds. Ultimately these contaminants will end up in the final product. Thankfully, with CBDPure, this isn't a problem.
2. Extracted With CO2
CBDPure uses supercritical CO2 extraction, which is a chemical-free method that uses pressurized carbon dioxide forced into a "supercritical" state — which means it's neither a liquid or a gas. This special state gives CO2 the same qualities of an organic solvent like butane or hexane without the toxic side-effects.
Once the pressure is released all the CO2 turns back into a gas — leaving behind pure hemp extract.
3. Tested for Potency & Purity in a 3rd Party Laboratory
I love that CBDPure not only displays their lab reports on their website but they also explain how to read those tests in a simple manner. They even point out which fragments of the lab analysis you should look for to find the information about cannabinoid profiling, pesticide testing, heavy metal testing, residual solvent testing, and microbiological screening.
4. 100% Satisfaction Guaranteed
CBDPure makes a great effort and building their brand and maintaining good relationships with their customers. Thus, if you're not satisfied with how the product works — i.e. you're not experiencing the benefits you want or are simply not happy with the product for any reason — you can send your order back within 90 days for a full refund.
Where Do They Fall Short?
I don't think there's much CBDPure could improve in their manufacturing practices. However, I see some room for a couple of minor improvements elsewhere. Here's what I believe the company could do better:
They Sell Low-potency CBD Oil
For a new customer or a lightweight person who doesn't need much CBD in their life, the CBDPure Hemp Oil is a good match. Their oils contain from 1.66 mg – 10 mg of CBD per mL, which may be enough to soothe mild pains and aches or curb anxiety.
However, for someone with more severe symptoms, these oils might prove cost-prohibitive because of the low potency. You'll most likely end up using more oil to meet your dosage needs than you would with a more potent product.
They Have a Narrow Product Range
CBDPure sells only two types of products: CBD hemp oil and softgel capsules. It's a shame because I bet many people would try a topical, vape, or edible from CBDPure considering how much care they put into their product lineup.
What Products Does CBDPure Sell?
As mentioned, CBDPure sells hemp oil drops and softgel capsules. Below I share more details on each product:
1. CBDPure Hemp Oil
Pros:
Contains the full-spectrum of cannabinoids and terpenes
Extracted with supercritical CO2
Comes with a convenient dropper for precise dosing
Available in three potency options: 100mg, 300mg, and 600mg
Lab-tested for potency
Cons:
Low concentration of CBD per mL
Leaves a bitter aftertaste on the tongue
Priced higher than most oils in this potency range
My Thoughts On CBDPure Hemp Oil:
I've been using the 600mg bottle and was pretty satisfied with the results. The oil did a good job of easing my headaches and it reduced the number of migraine attacks from one or two a week to just one in a month.
However, I would be lying if I told you that the consumption process was enjoyable. In fact, the oil leaves a bitter aftertaste on the tongue. I have a very sensitive palate, so when I was using half the dropper at once it was all I could do to remove the sensation from my mouth afterward. I found that drinking a juice like a pineapple or orange juice did a good job at removing the taste.
Other than that, I had nothing else to complain about. You may just as well be a fan of the botanical taste the oil leaves, so this argument may not be valid in your case.
2. CBDPure Softgel Capsules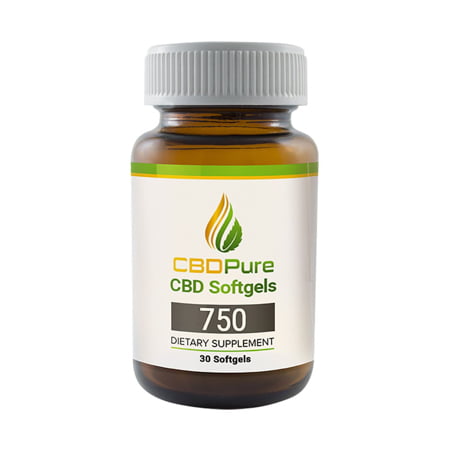 Pros:
They contain the full spectrum of cannabinoids and terpenes — you can benefit from the synergy between the combined hemp compounds
They boast a high dose per serving — each capsule has 25 mg of CBD
They're easy to swallow
They offer convenient dosing due to a fixed dose of CBD in each capsule
Cons:
There are less expensive options in this potency range (and with similar quality)
My Thoughts on CBDPure Softgel Capsules:
I've been saying this very often, I know, but I'll repeat it once again:
I don't like CBD capsules.
Of all other consumption forms, this one is the least enjoyable and the fact that oral CBD has also the lowest bioavailability (up to 20%) doesn't help either. But when I'm testing a CBD brand, I can't help but try every product it offers.
Well, what can I say about those capsules? They're super easy to take. Whether you have problems with keeping the drops under the tongue for the suggested amount of time or you simply don't like the taste of CBD oil, you'll definitely like this option.
Besides, the capsules are more potent than the strongest version of CBDPure Hemp Oil. With 25mg per capsule, the whole bottle packs 750mg of full-spectrum CBD.
Final Verdict: CBDPure Is a Trustworthy Manufacturer for New Consumers and Those Looking for Low-potency CBD Oil
CBDPure is an excellent choice if the dosage and quality of ingredients are your main concerns.
Whether you're just starting out or you need a trustworthy manufacturer to supply you with top-notch cannabidiol you'll likely find something you like in CBDPure products.
However, if you want a more diverse choice when it comes to forms or flavor, you may find this brand to be too limited in what they have to offer. There are no vape oils, flavored tinctures, gummies, or topicals.
But since they have a money-back guarantee which lets you return the product and get a refund in case you're not satisfied with the results, you can give them a try anyway.
Visit their official website at www.cbdpure.com