Terpenes in CBD: What They Are, Benefits, & Effects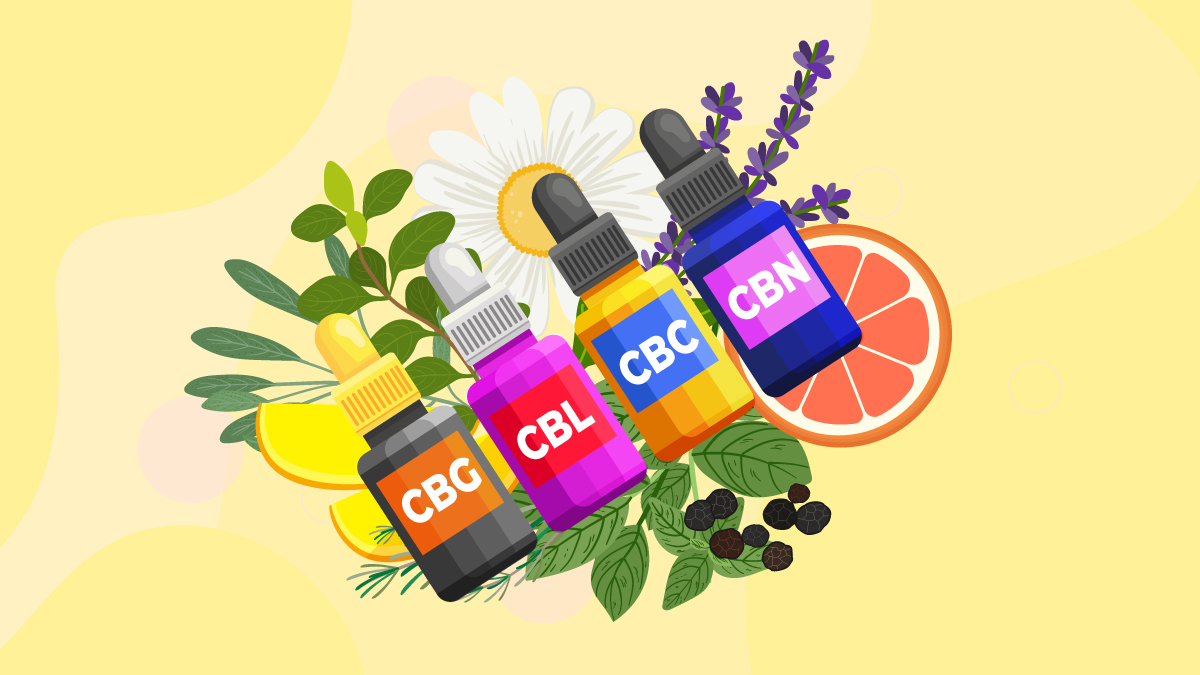 CBD oil is just one of the plethora of natural products containing terpenes.
In fact, you don't need to be familiar with cannabis to consume terpenes — they are present in virtually any plant out there, including herbs, fruits, and vegetables.
Terpenes are a scientific name to describe aromatic compounds that we all interact with within our everyday lives.
For cannabis and terpenes, abundance and diversity are the names of the game. 
But did you know that terpenes are more than just about aromas and flavors? They can also interact with THC and other cannabinoids to create a phenomenon known as the entourage effect. 
Most of the time, terpenes are included in a CBD extract. Sometimes, however, hemp companies separate and reintroduce them to the end product to create different ratios and make a broad-spectrum product or enhance the efficacy of CBD distillates.
Wondering why terpenes are so important for CBD oil? Why are they suddenly on everyone's tongue?
Below you'll find the answer.
What Are Terpenes?
There are over 500 phytochemicals in cannabis, about 140 of which are known as terpenes.
Terpenes are highly volatile, aromatic compounds found in all plants — not only cannabis. However, as we've mentioned earlier, cannabis is particularly abundant in these molecules. 
Terpenes are responsible for how these plants smell and taste. Every time you waft a fruit, herb, or vegetable, or when walking around the garden — you come into contact with terpenes.
Several hundreds of terpenes have been identified globally, and over 100 of them have been linked to hemp plants. However, only a few terpenes occur in hemp in concentrations significant enough to be important for our health.
The main reason why people have become interested in terpenes is the extra health benefits they come with. Researchers have been investigating their therapeutic potential for decades — concluding they have much to offer regarding our physiological and emotional well-being.
As a matter of fact, aromatherapy has been used for centuries due to its holistic, natural effects.
Are Terpenes the Same as Terpenoids?
You may often hear people using the words "terpenes" and "terpenoids" interchangeably — are they right?
The short answer: no.
Terpenes and terpenoids have slightly different chemical structures. Terpenes are found in living cannabis plants in their trichomes (hormonal glands) located on the surface of their flowers. Terpenoids start to form when you dry and cure the herb. These two processes change the molecular makeup of terpenes.
Terpenoids are commonly combined with other natural ingredients to create perfumes, essential oils, and spices. Researchers suggest that terpenoids can lower, increase, or change the potency and duration of the effects induced by cannabinoids aside from giving the buds their unique fragrances and flavors.
Simply put, the effects of CBD are modulated by terpenes; otherwise, they would be bland, and its benefits weakened.
Are Terpenes Safe?
Terpenes are generally considered safe. These organic substances can have a range of positive effects on our health. For instance, they can indirectly increase dopamine levels, positively affecting our mood; terpenes are also known for their stress-relieving and anti-inflammatory properties on top of being able to enhance the therapeutic properties of cannabis.
That being said, research has yet to confirm whether these therapeutic effects of terpenes are clinically significant. Some people can also be allergic to specific terpenes. Although these compounds don't trigger allergies themselves, they can do it upon air exposure, so if your nose gets runny after interacting with certain aromas, it may indicate allergies.
The Most Abundant Terpenes in CBD Oil
Terpenes are known for providing cannabis plants with appealing aromas. Still, at the same time, they also contribute to the entourage effect, increasing the therapeutic potential of other CBD and other cannabinoids. That's the primary reason why most people choose full-spectrum CBD over isolates. Full-spectrum CBD comes from the whole plant, reflecting its original phytochemical profile.
Here are the most abundant terpenes in CBD oil — with their health benefits explained.
Limonene
As you can guess by the name, limonene brings the fragrances of citrus fruits. It's typically found in the zest o citruses, such as lemon, lime, and orange. Limonene has energizing, stress-relieving, and anti-fungal properties; medical researchers have also found it can act as an anti-irritant and improve cannabinoids and other terpenes.
Pinene
You can find pinene in pine needles as well as in a selection of citrus fruits. In Chinese folk medicine, terpene is an anti-inflammatory, antibacterial, and bronchodilating agent.
Myrcene
Myrcene is another common terpene in cannabis. It has a pungent, earthy, and fruity fragrance. Despite being the smallest terpene, it can make it easier for cannabinoids to penetrate the brain-blood barrier — increasing their potency. It also acts as a muscle relaxant and can cause drowsiness in high doses. The scientific literature mentions myrcene as an antibacterial compound that can also reduce pain.
Linalool
If your cannabis strain has a floral smell, it's probably high in linalool. This terpene is commonly found in chamomile and lavender. Hemp companies often use it in topical creams and ointments for its soothing scent and calming effects.
Beta-Caryophyllene
You can find beta-caryophyllene in cloves, cinnamon, black pepper, and broccoli. It's one of the most promising terpenes in terms of their therapeutic effects. It's also known as "the dietary cannabinoid" because it can similarly interact with cannabinoid receptors to cannabinoids. This mechanism enables beta-caryophyllene to reduce pain and inflammation.
Bisabolol
Bisabolol is a fragrant terpene that offers calming effects. It is found mainly in chamomile, but it also occurs in high concentrations in a less popular plant — The candeia tree in Brazil. This terpene is widely used in the skincare space due to its anti-microbial and anti-inflammatory properties.
Terpineol
Terpineol smells similar to trees, lilacs, and lime blossoms; it is also present in many exotic fruits. This terpene is often used to infuse lotions and perfumes. Terpineol has potent anti-oxidative properties, according to scientists.
Trans-nerolidol
This terpene is underlined by notes of apples, roses, and citrus fruits. It commonly occurs in tea trees, lemongrass, and jasmine. Research suggests that trans-nerolidol demonstrates potent antifungal, antiparasitic, and sedative effects.
Benefits & Effects of Terpenes in CBD
Terpenes offer a wealth of health benefits on their own. However, they can also modulate the effects of cannabinoids, including CBD and THC. Humans have evolved to consume cannabinoids, and the endocannabinoid system (ECS) is soundproof that. Both cannabinoids and terpenes can interact with the receptors in the ECS to help the body maintain homeostasis — biochemical balance between all systems and organs.
This unique synergy between cannabinoids and terpenes is known as "the entourage effect" or "the ensemble effect."
How Terpenes Contribute to the Entourage Effect
The entourage effect has been studied by scientists since its introduction in 1998, when Raphael Mechoulam, the father of cannabis research, discovered that whole-plant extracts could produce more pronounced therapeutic effects than every compound from these extracts used in isolation.
This concept was further elaborated on by Dr. Ethan Bud Russo, a neuroscientist, and cannabis expert, in his work "Taming THC: Cannabis Synergy and Phytocannabinoid-Terpenoid Interactions." 
The entourage effect assumes a unique relationship between cannabis, terpenes, and flavonoids in cannabis. When the said molecules are consumed in the form of dried flowers or as an oily extract, they enhance the efficacy of CBD and THC while mitigating potentially unwanted reactions.
The entourage effect isn't unique to terpenes. For example, CBD is known to counteract the psychotropic potential of THC, which may prove useful for people who are sensitive to high doses of the latter. CBD can be used to balance the intoxication from THC, resulting in a more clear-headed sensation.
THC, in turn, can amplify the anti-inflammatory and relaxing effects of CBD when introduced even in small doses. 
Simply put, whole buds and full-spectrum extracts are believed to work better than their broad-spectrum or isolate-based counterparts.
Another interesting study on this phenomenon found that cannabis strains with equal or higher ratios of CBD to THC can improve the plant's therapeutic potential up to 4 times as much as THC alone.
The study's authors concluded that taking twice the amount of a THC isolate had no impact on its therapeutic effects except that the high was dull and more trippy — triggering anxiety and paranoia more often than even the high-THC strains.
How to Use CBD Terpenes
Terpenes aren't as appealing on their own due to their low potency. However, they can make a significant difference when added to a CBD product. They are usually infused into CBD oils to provide it with desired fragrances aside from modulating the effects of CBD and other cannabinoids.
Manufacturers add terpenes using a process known as fractional distillation. Here's how they do it with CBD oils and vape pens.
Add Terpenes into CBD Oil
After CO2 extraction, the hemp extract contains all naturally occurring compounds in hemp. The product can be left unfiltered and sold as "raw CBD oil" or undergo fractional distillation. True to its name, this process isolates individual compounds and places them in different chambers to be reintroduced to the final product.
There are two reasons why hemp manufacturers go for fractional distillation. First, it helps them keep the amount of THC below the legal 0.3% threshold; the manufacturer can precisely infuse the amount of THC they're looking for. Second, this process helps capture the more fragile terpenes that would otherwise degrade during decarboxylation and filtration. Once these steps have been taken care of, the manufacturer can reintroduce terpenes to the final formula.
CBD Vapes with Terpenes
Adding terpenes to CBD vapes is easier than doing the same with CBD oil; you can actually infuse your CBD vape liquid with terpenes at home. Just make sure that you have a high-quality CBD liquid, thinning agents such as vegetable glycerin and propylene glycol, and your favorite terpenes.
Experts say it's best to use a 1% terpene solution to achieve the desired flavors and sweetness. The carriers should make the maximum of your solution; the second place is CBD, and then you can start adding terpenes.
Final Thoughts On Terpenes And Their Role in CBD Products
Researchers and phytopharmacologists interested in the health benefits of cannabis have been investigating the influence of terpenes on cannabis extracts for decades.
Terpenes are more than just aromatic molecules. In fact, they can considerably affect the therapeutic profile of your CBD oil. There's still a lot to discover when it comes to the relationship between cannabinoids and terpenes. Still, these compounds are necessary if you want to experience the full benefits of cannabis.
That's why you won't find single-molecule herbs. They're always accompanied by supportive ingredients like terpenes.
Which terpenes do you like the most in CBD oil? Do you prefer citrusy notes, or are you into floral and earthy hints?
Reference:
Sun, Jidong. "D-Limonene: safety and clinical applications."

Alternative medicine review: a journal of clinical therapeutics

vol. 12,3 (2007): 259-64. 

Salehi, Bahare et al. "Therapeutic Potential of α- and β-Pinene: A Miracle Gift of Nature."

Biomolecules

vol. 9,11 738. 14 Nov. 2019, doi:10.3390/biom9110738 (1)

Jansen, C et al. "Myrcene and terpene regulation of TRPV1."

Channels (Austin, Tex.)

vol. 13,1 (2019): 344-366. doi:10.1080/19336950.2019.1654347 (2)

Buchbauer, G et al. "Aromatherapy: evidence for sedative effects of the essential oil of lavender after inhalation."

Zeitschrift fur Naturforschung. C, Journal of biosciences

vol. 46,11-12 (1991): 1067-72. doi:10.1515/znc-1991-11-1223 

Gertsch, Jürg et al. "Beta-caryophyllene is a dietary cannabinoid."

Proceedings of the National Academy of Sciences of the United States of America

vol. 105,26 (2008): 9099-104. doi:10.1073/pnas.0803601105 

Maurya, Anil K et al. "α-(-)-bisabolol reduces pro-inflammatory cytokine production and ameliorates skin inflammation."

Current pharmaceutical biotechnology

vol. 15,2 (2014): 173-81. doi:10.2174/1389201015666140528152946 

Zengin, Hatice, and Ayse H Baysal. "Antibacterial and antioxidant activity of essential oil terpenes against pathogenic and spoilage-forming bacteria and cell structure-activity relationships evaluated by SEM microscopy."

Molecules (Basel, Switzerland)

vol. 19,11 17773-98. 3 Nov. 2014, doi:10.3390/molecules191117773 (3)

Silva, Marcos P N et al. "Antischistosomal activity of the terpene nerolidol."

Molecules (Basel, Switzerland)

vol. 19,3 3793-803. 24 Mar. 2014, doi:10.3390/molecules19033793

Russo E. B. (2011). Taming THC: potential cannabis synergy and phytocannabinoid-terpenoid entourage effects.

British journal of pharmacology

,

163

(7), 1344–1364.

https://doi.org/10.1111/j.1476-5381.2011.01238.x

(4)

Boggs, D. L., Nguyen, J. D., Morgenson, D., Taffe, M. A., & Ranganathan, M. (2018). Clinical and Preclinical Evidence for Functional Interactions of Cannabidiol and Δ9-Tetrahydrocannabinol.

Neuropsychopharmacology: official publication of the American College of Neuropsychopharmacology

,

43

(1), 142–154.

https://doi.org/10.1038/npp.2017.209

(5)